Delicious slow cooker brisket in a savory and tangy sauce that will quickly become a favorite. So tender it will fall apart as you slice it.
⏬SKIP STRAIGHT TO RECIPE⏬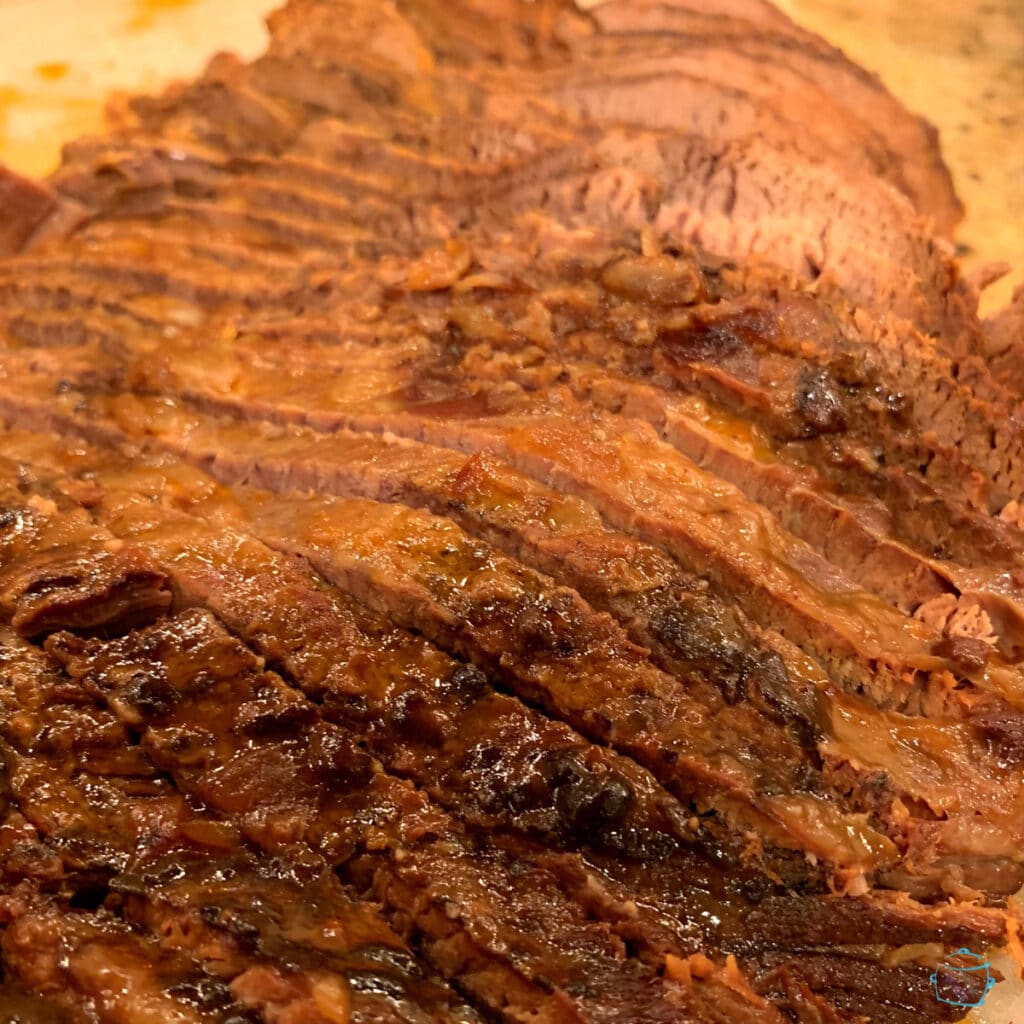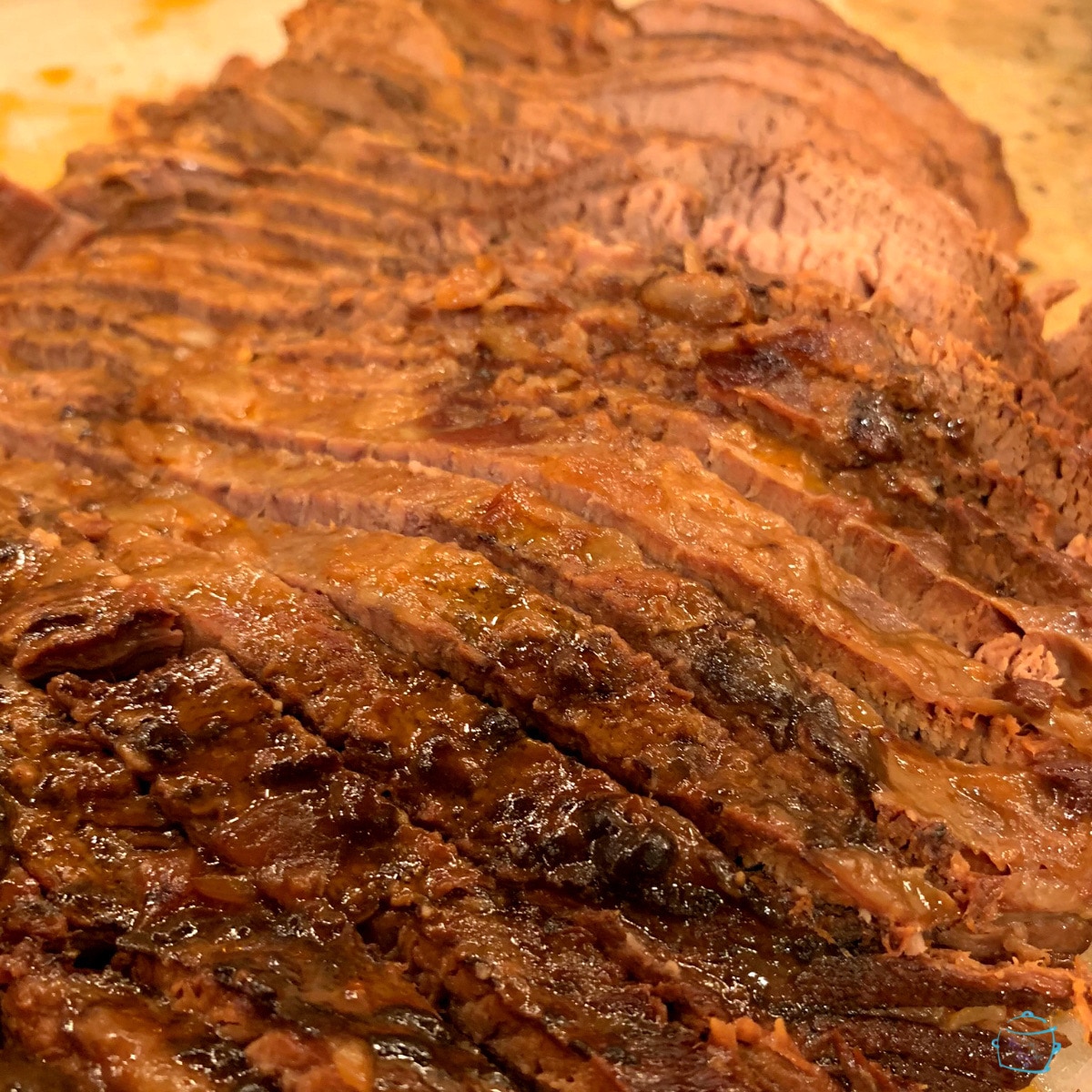 Jump to:
Growing up, Lazy Mama (yes, that is my mother) hosted just about every family holiday. It was pretty much a solo act. Other than being asked to set the table, I don't remember being included in the prep process much.
Right around the time Mr. Wonderful and I bought our first house, she suggested that "maybe" it was our turn to host. She and Lazy Papa (you can guess who that is) promptly retired, sold their house and moved about two hours away.
As they passed by while speeding of town, they slowed down just enough to toss me some old cooking utensils. I was left holding the...soup pot. And basically no idea what to do with it.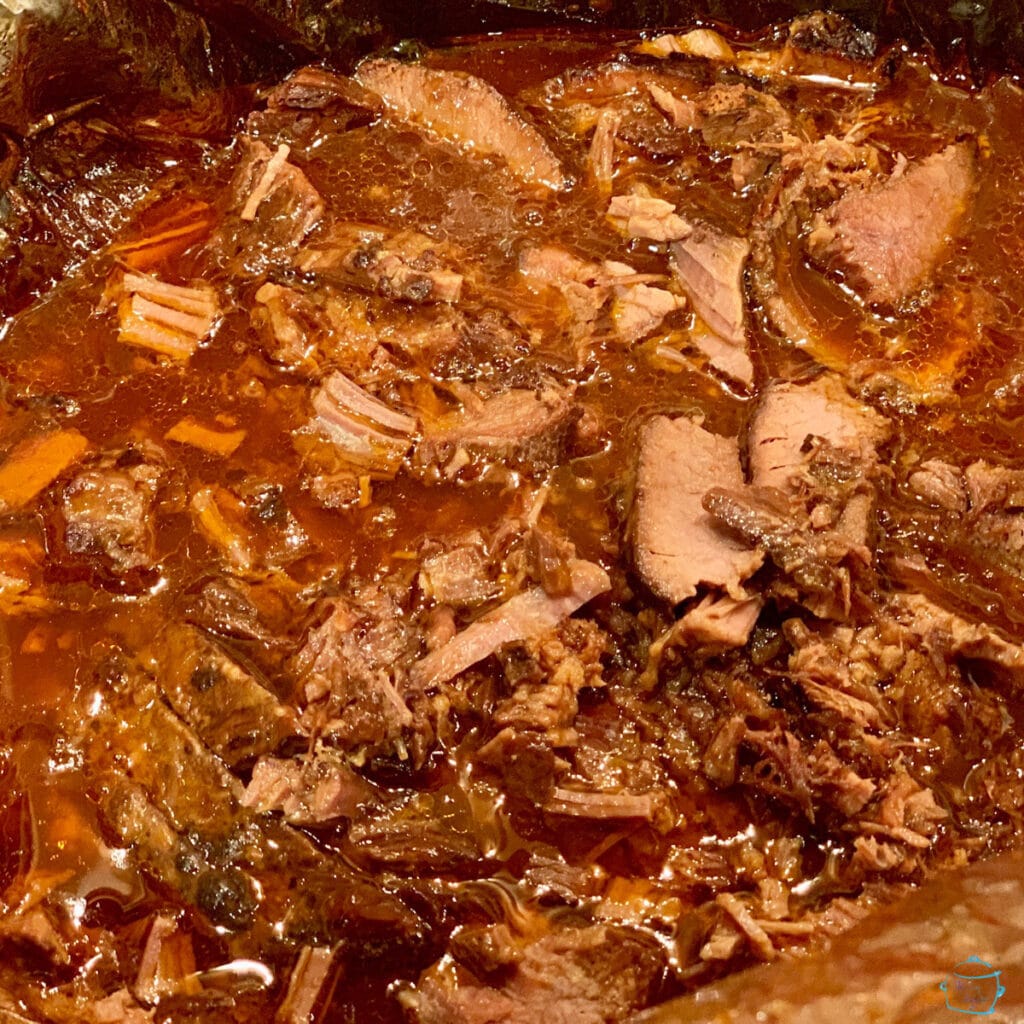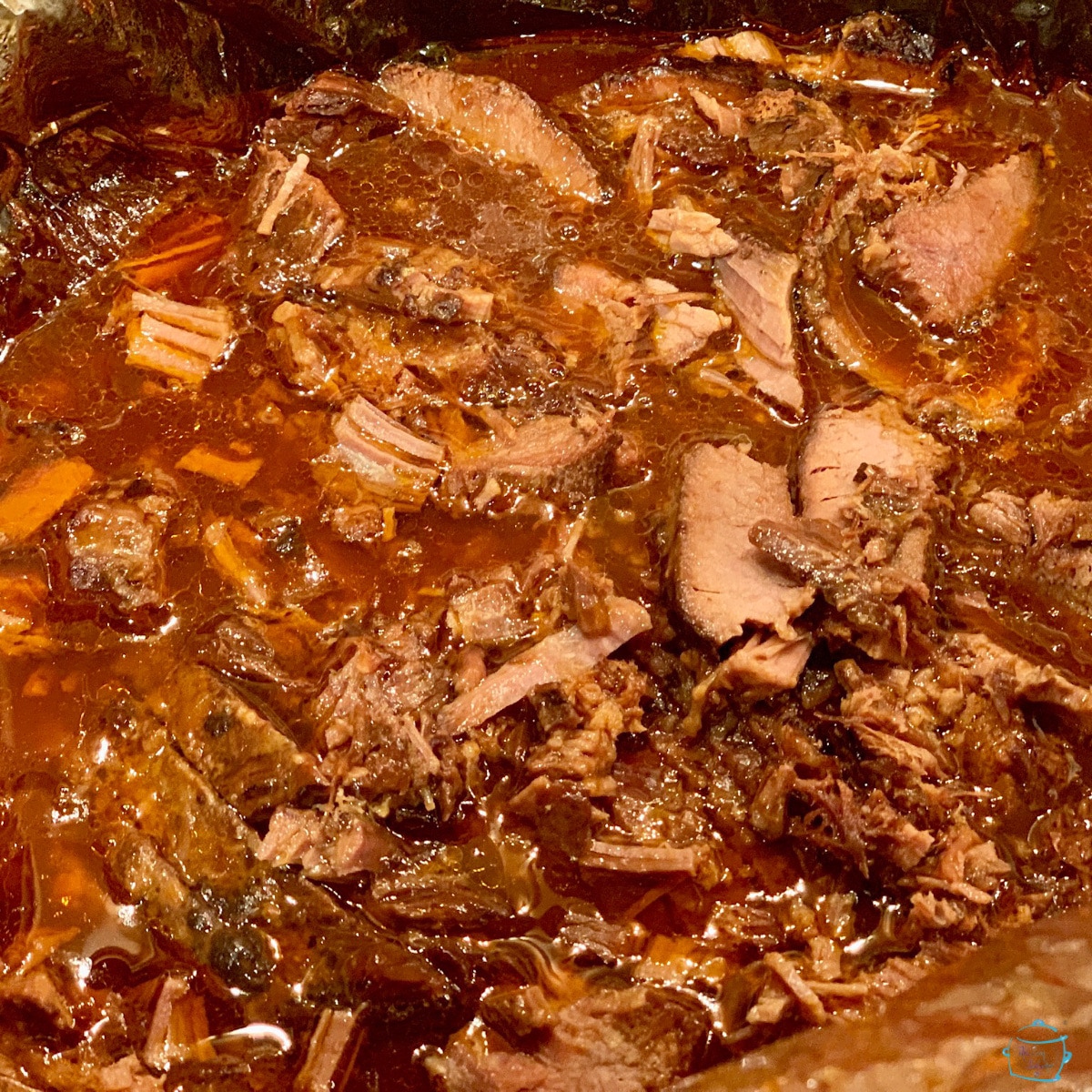 This brisket recipe is a slight tweak of one a friend shared. A few years ago, I adapted it to the Slow Cooker and never looked back. Crockpots and briskets are made for each other.
The low and slow cooking performs the double function of both tenderizing the meat and intensifying the flavors. If it didn't appear on our holiday dinner table, I think there would be revolt!
📃Shopping list
To make this easy brisket, you will need the following:
brisket
aluminum foil (or a slow cooker liner)
onion
minced garlic
French salad dressing
onion soup mix
🌟Exact quantities and detailed instructions can be found HERE🌟
🥩Preparing The Meat
When I make brisket, I make a lot of brisket! This recipe freezes really well for future reheat and eat meals. As such, I generally buy a large, flat, first cut brisket.
This flat brisket sometimes comes with a good amount of fat on side. The first thing I do is remove as much fat as I can. This is an optional step. Some people feel that keeping the make makes the meet more moist and tender. This dish will be super moist and tender (and healthier!) without it.
Some recipes call for removing the fat after cooking. I personally like mine off before hand.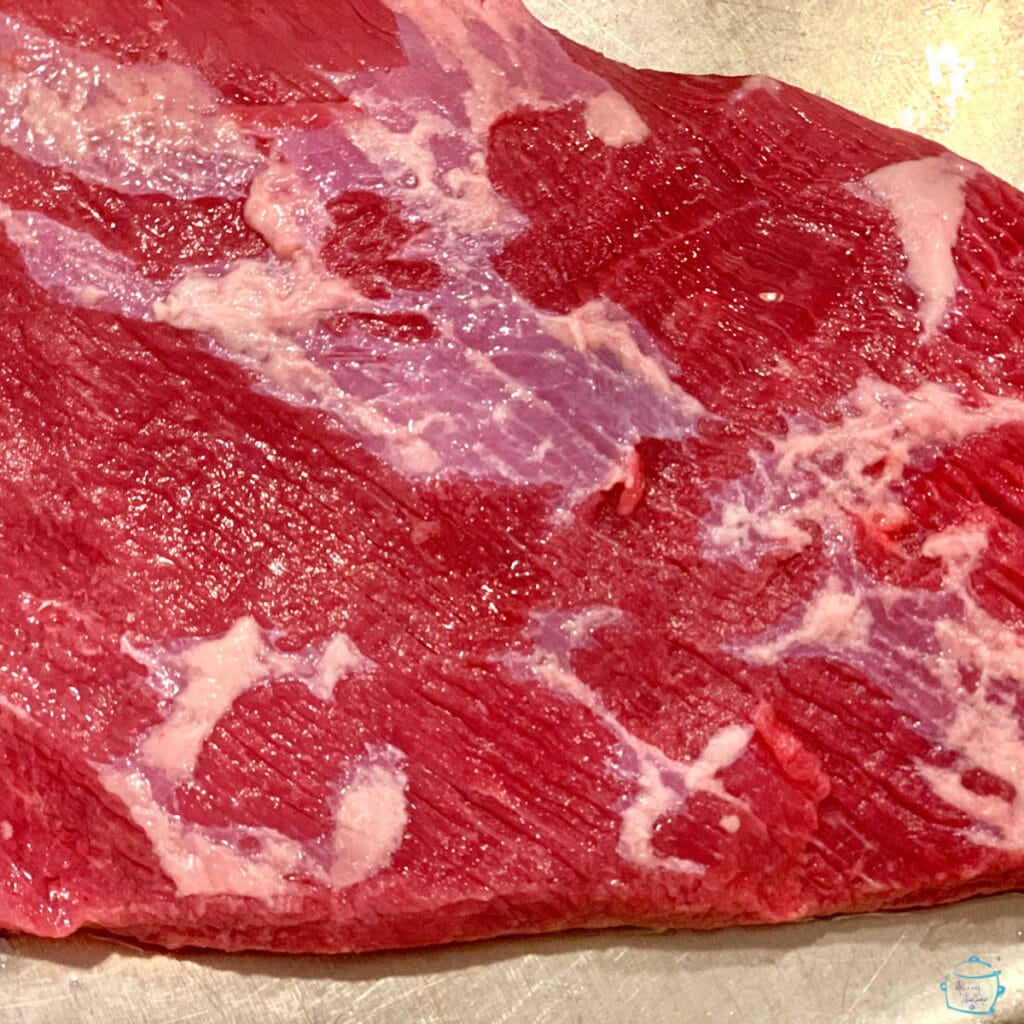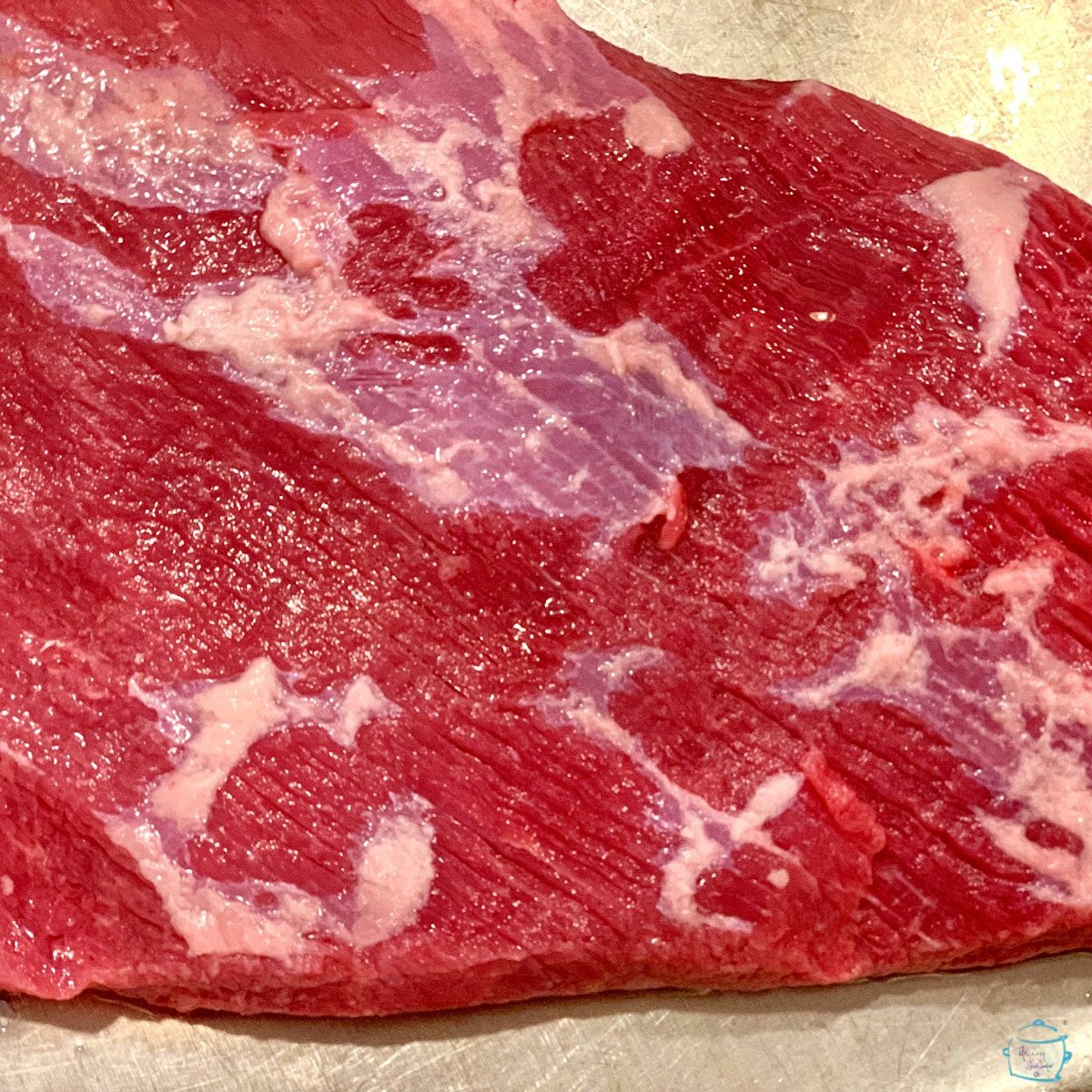 🥣Method of assembly
If you are a fan of slow cooker liners, the first step here is to place one in your slow cooker. If you would prefer not to use a liner, line your slow cooker with a very long piece of foil. You will later use the foil (or bag) to cover over your meat, as such, you will need to make sure that your foil is long enough to reach all the way around.
Next place onions and garlic in your crockpot. Place your beef on top of the onion and garlic chunks. Don't worry if it seems like it won't all fit, just cram it in there. The beef will shrink during cooking. I generally fit a 6-7 lb brisket in my 6 quart slow cooker.
Pour contents of dressing bottle over beef and fill bottle halfway with water. Shake the bottle so that as much dressing flavor as possible gets into the water and pour over the brisket. Sprinkle onion soup packet over the top of your brisket.
Finally, fold the extra foil or slow cooker liner over the top of the brisket so it is as if the meat is in a cocoon. Place lid firmly on slow cooker and cook on low for 8-10 hours.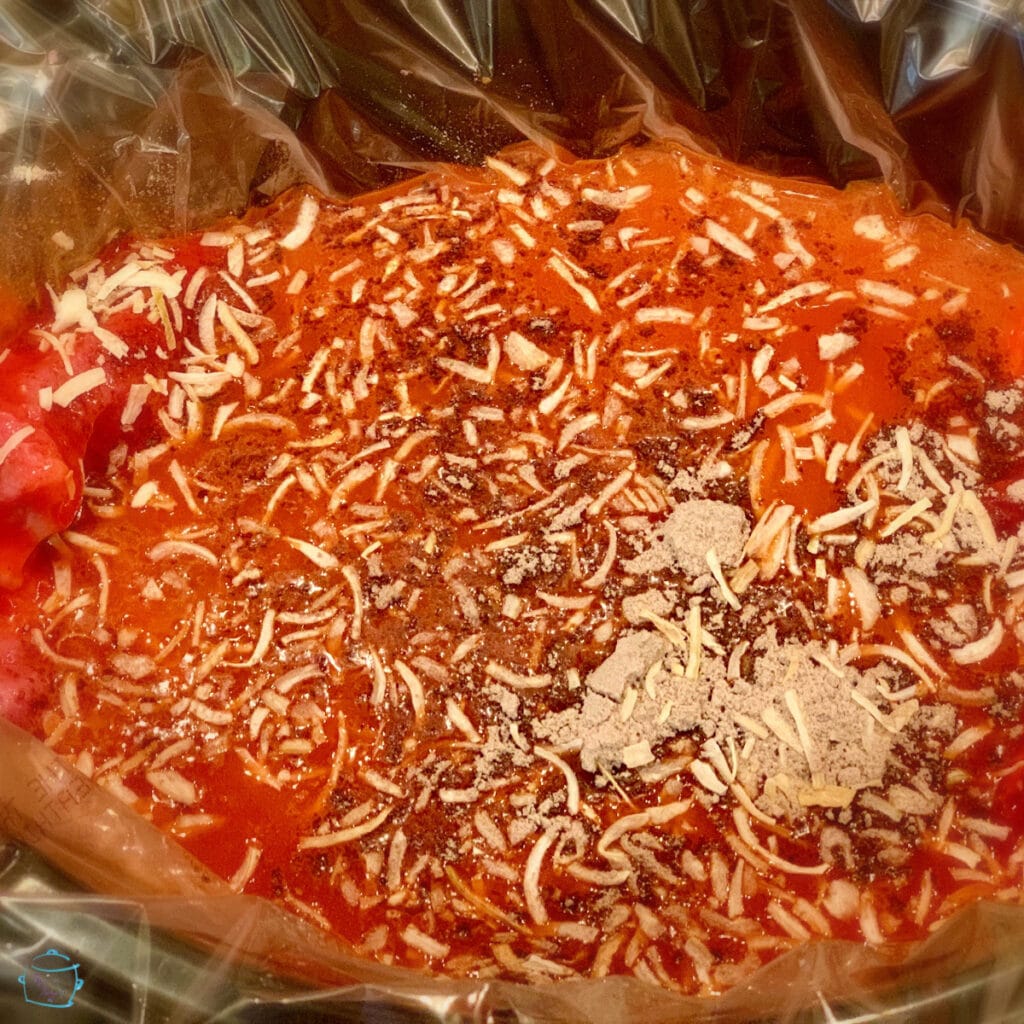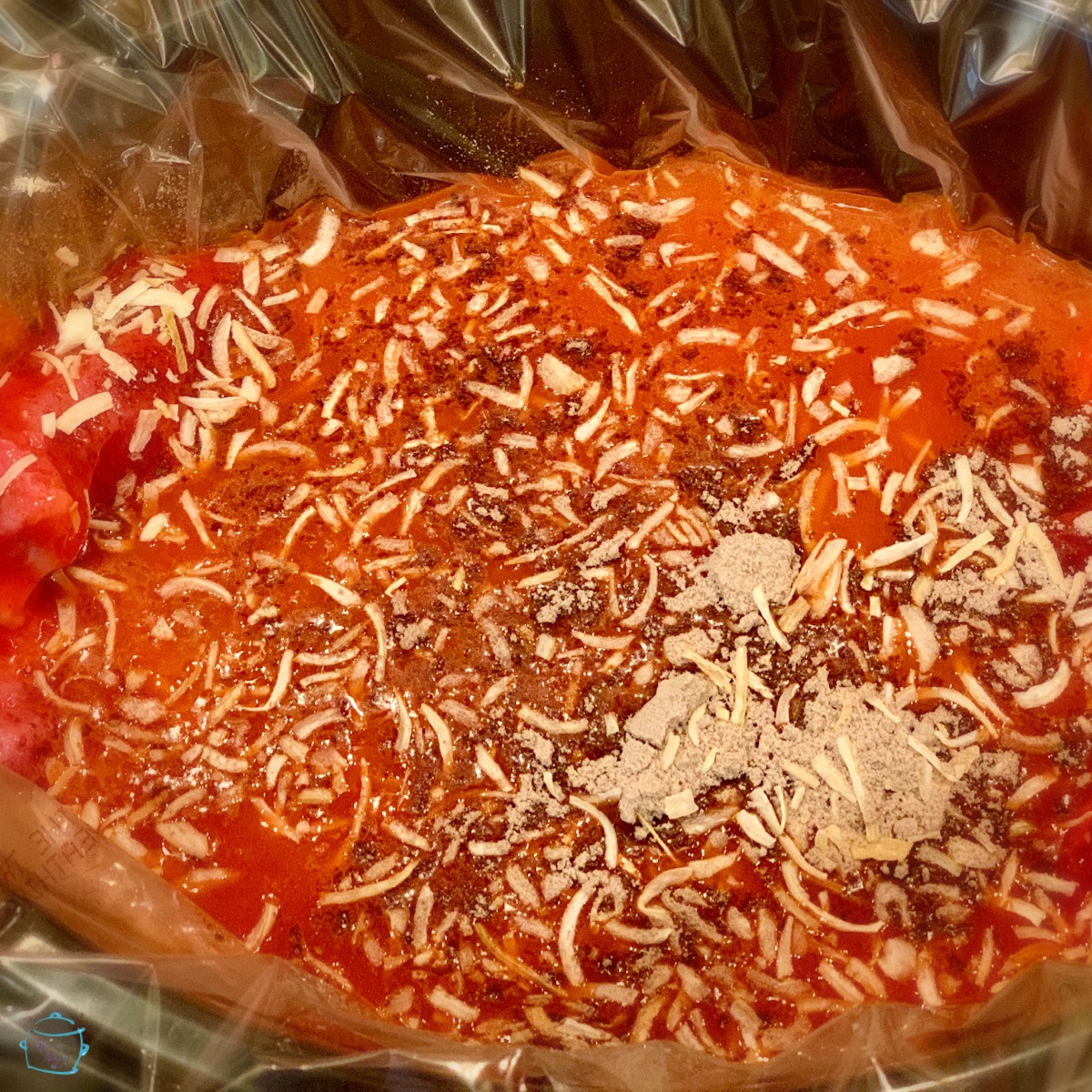 🍽Serving Suggestions
Once your brisket is fully cooked, you have some choices.
Shredding versus slicing
Shredding or pulling the brisket apart into chunks is one way to prepare this meat for serving. This can be easily accomplished using two forks. The other is slicing.
Slicing a slow cooked brisket is not easy. It will be so tender, that it will want to fall apart. To make slicing easier, always allow the meat to rest for a while after cooking. An electric knife can make the job quite a bit easier. Be sure to cut perpendicular to the way the grain of the beef is running (against the grain).
Once sliced or shredded, return brisket back to your slow cooker and let is soak up all those awesome juices and heat back up to serving temperature.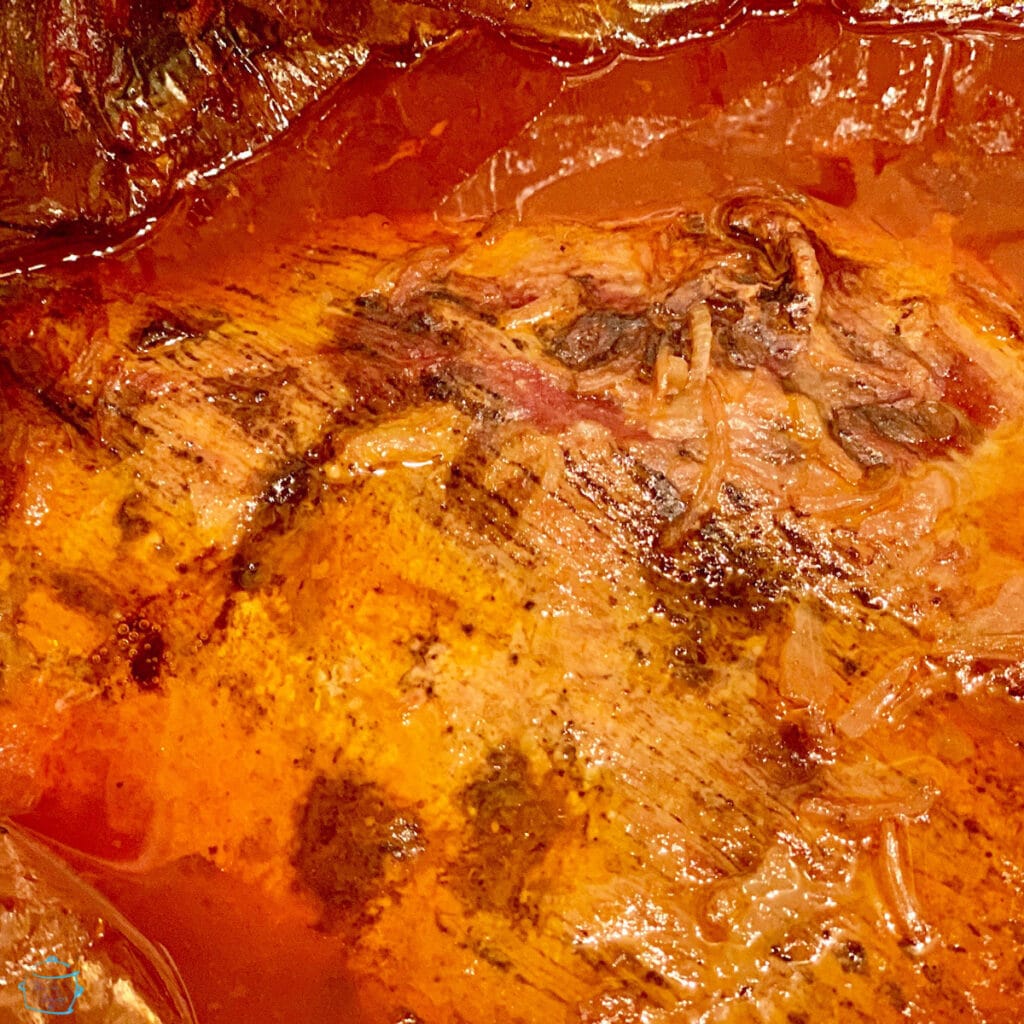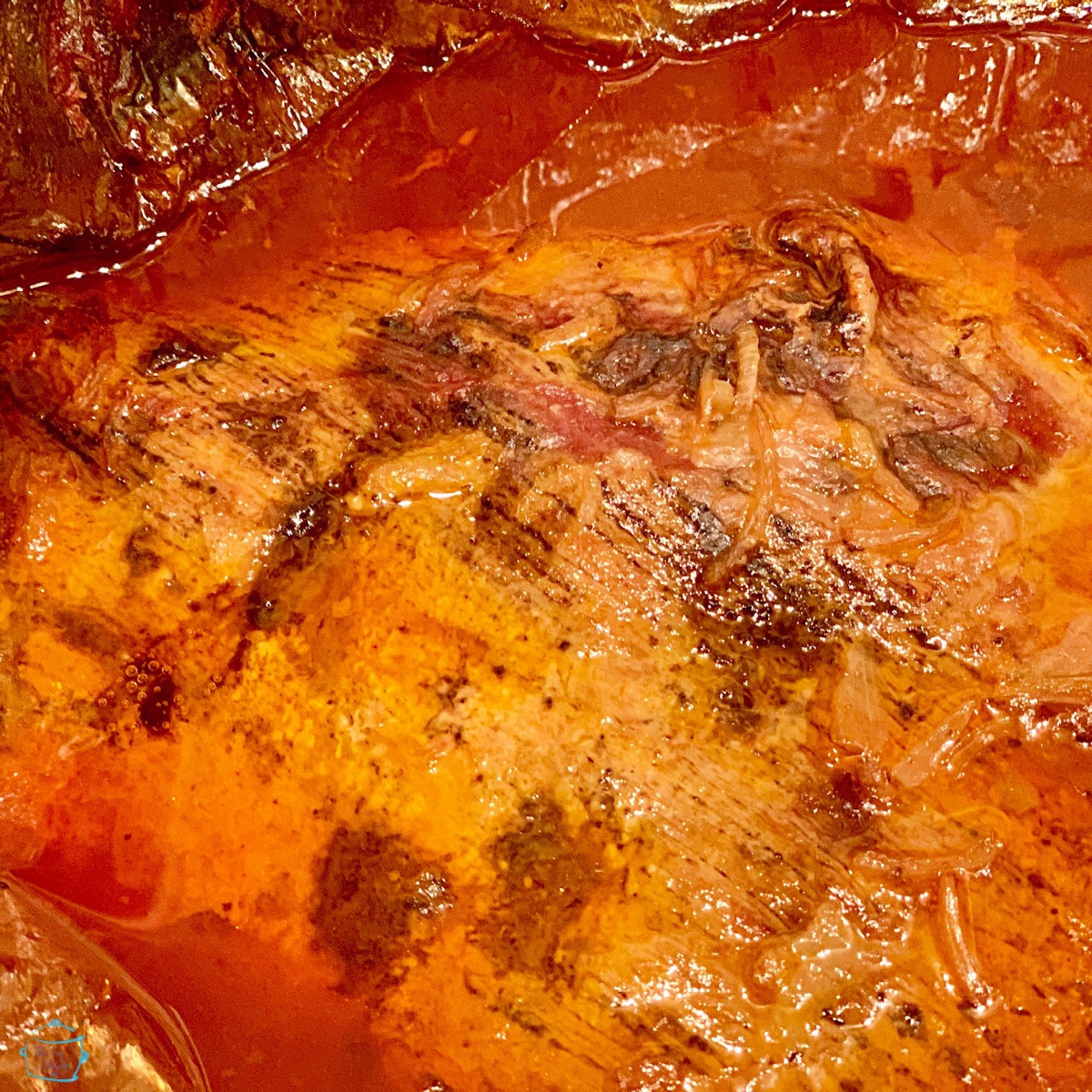 There are so many wonderful ways to serve this dish!! I love it in the old, traditional style with baked potato and some asparagus or green beans. The sauce it so delicious that it is perfect to serve with a side dish that can soak up the extra such as mashed potatoes, mashed cauliflower or rice. It is also terrific served as a sandwich in a crusty French baguette or Italian roll.
If you love this recipe, please let me know in the comment section below!
Storing leftovers
This dish is delicious right out of the slow cooker. But, leftovers are my personal favorite. Somehow, it is even tastier when it is reheated. Leftovers can be stored in airtight containers or zipper top bags. Storing in meal sized portions makes for easy future meals. Your brisket will last 3-4 days in the fridge and 3-4 months in the freezer.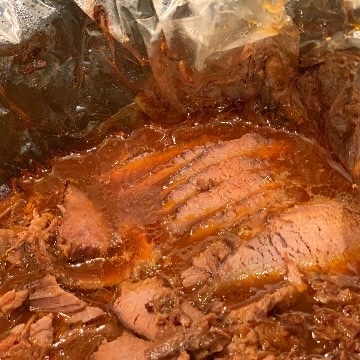 😉Hints & Hacks
Brisket can be a bit fatty. Some people feel that is its charm. I don't! Not a fan of the fat, I cut off as much of it as I can before I cook it.
Brisket fat can be hard to trim. I use my electric knife to make it easier. Just make sure to wash it really well in very hot, soapy water before using it to slice the finished brisket.
I always use a slow cooker liner when making this dish. This is a fully optional step, but without it, clean up can be quite a job. If you don't use a liner, I suggest spraying your slow cooker with a non-stick spray before cooking,
Make more than you think you need. This will be gobbled up. On the slight chance it isn't, it freezes and reheats really well!
This recipe calls for French dressing. My preference is one of the darker (non-creamy dressings) such as Milani's 1890 or Ken's Steak House Original.
This is a great dish if your people will be eating at different times. After the cooking time, turn your slow cooker to low and everyone can have a warm and filling meal, no matter what time they are ready to eat.
Q. What if I need to make more brisket than can fit in my slow cooker?
This dish can be made in the oven as well. Line a roasting pan with enough foil to fully wrap your beef. Add all ingredients as listed above. Fully wrap your beef in the foil.
Cook in the oven on 325℉ 4 hours. Remove it and allow it to rest for an hour prior to slicing. Once sliced, mix with juices in the pan and cover with foil.
Return to a low oven (just on warm) until ready to serve.
More great slow cooker beef dishes
As an Amazon Associate, I earn from qualifying purchases and affiliate links.
📖 Recipe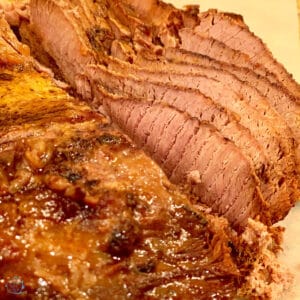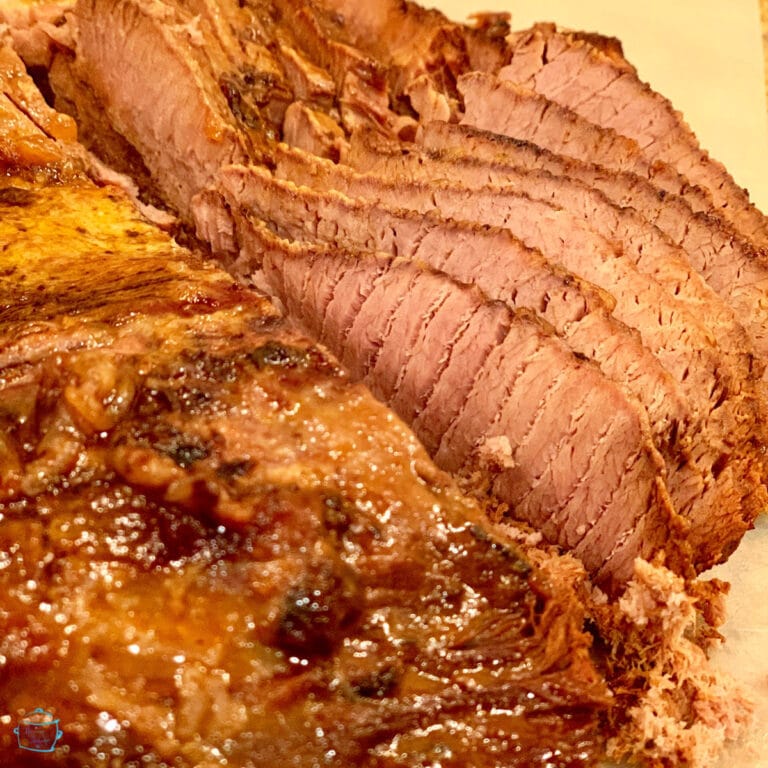 Lazy Slow Cooker Brisket
The easy and delicious way to make a slow cooked brisket that will please everyone.
Print
Pin
Rate
Save
Saved!
Equipment
6 qt or larger slow cooker

Knife and cutting board

slow cooker liner or aluminum foil

electric knife
Ingredients
1

large

brisket

the one shown was just over 6lbs

1

small

onion, chopped

5

cloves

garlic, minced

I used roasted, but raw is fine too

16

oz

French salad dressing of choice

I prefer to use one of the darker colored dressings

water

1

packet

onion soup mix
Instructions
Optional first step:

For a leaner finished product, trim fat

Either place slow cooker liner in pot OR line pot with foil sheet large enough to ultimately fold over the entire piece of meat (if you prefer not to use a liner)

Sprinkle chopped onions and garlic on bottom of pot.

Place brisket in pot. Don't worry if it doesn't fit in nicely. Just stuff it in there. It will shrink as it cooks. The 6 lb brisket shown was cooked in a 6qt Crock-Pot.

Pour French dressing over brisket using the whole bottle

Fill the empty dressing bottle about half way with water and give it a good shake. Pour the contents over the brisket. Between the water and the dressing, the brisket should be completely covered.

Sprinkle packet of onion soup mix over top of the dressing.

Close up plastic liner OR fold foil over brisket until it is fully wrapped. This not only helps with the cooking process, but it allows you the option of adding an additional item to cook, such as potatoes or vegetables.

Remove from pot and allow to rest for about 15 minutes

Slice brisket against the grain using an electric knife

Return sliced brisket to pot and allow to cook on low for another hour or until serving.
Notes
This item freezes really well and I almost always make it in advance and freeze it. If you plan to freeze it, you do not need to cook for another hour after slicing. Freeze the meat together with sauce from the pot. I usually freeze in whatever container I plan to use to serve it. Make sure it is an oven safe container so you can go right from freezer to oven when you are ready to heat it up!
Nutrition
Calories:
842
kcal
|
Carbohydrates:
18
g
|
Protein:
64
g
|
Fat:
56
g
|
Saturated Fat:
12
g
|
Polyunsaturated Fat:
17
g
|
Monounsaturated Fat:
17
g
|
Cholesterol:
187
mg
|
Sodium:
1407
mg
|
Potassium:
1123
mg
|
Fiber:
1
g
|
Sugar:
13
g
|
Vitamin A:
352
IU
|
Vitamin C:
5
mg
|
Calcium:
50
mg
|
Iron:
7
mg
Check out our latest on Intagram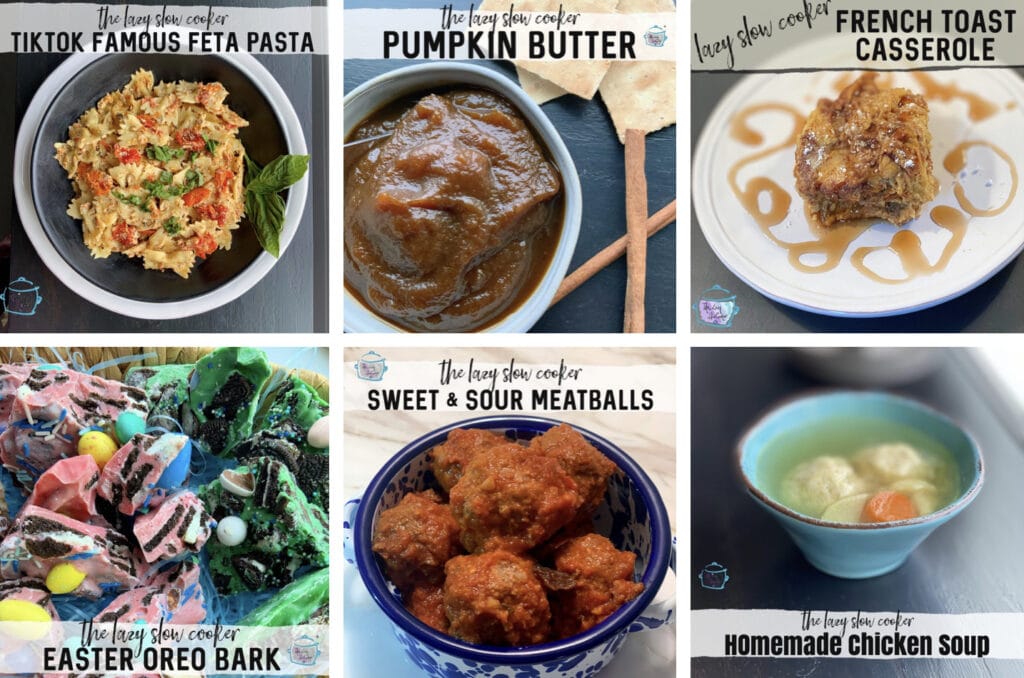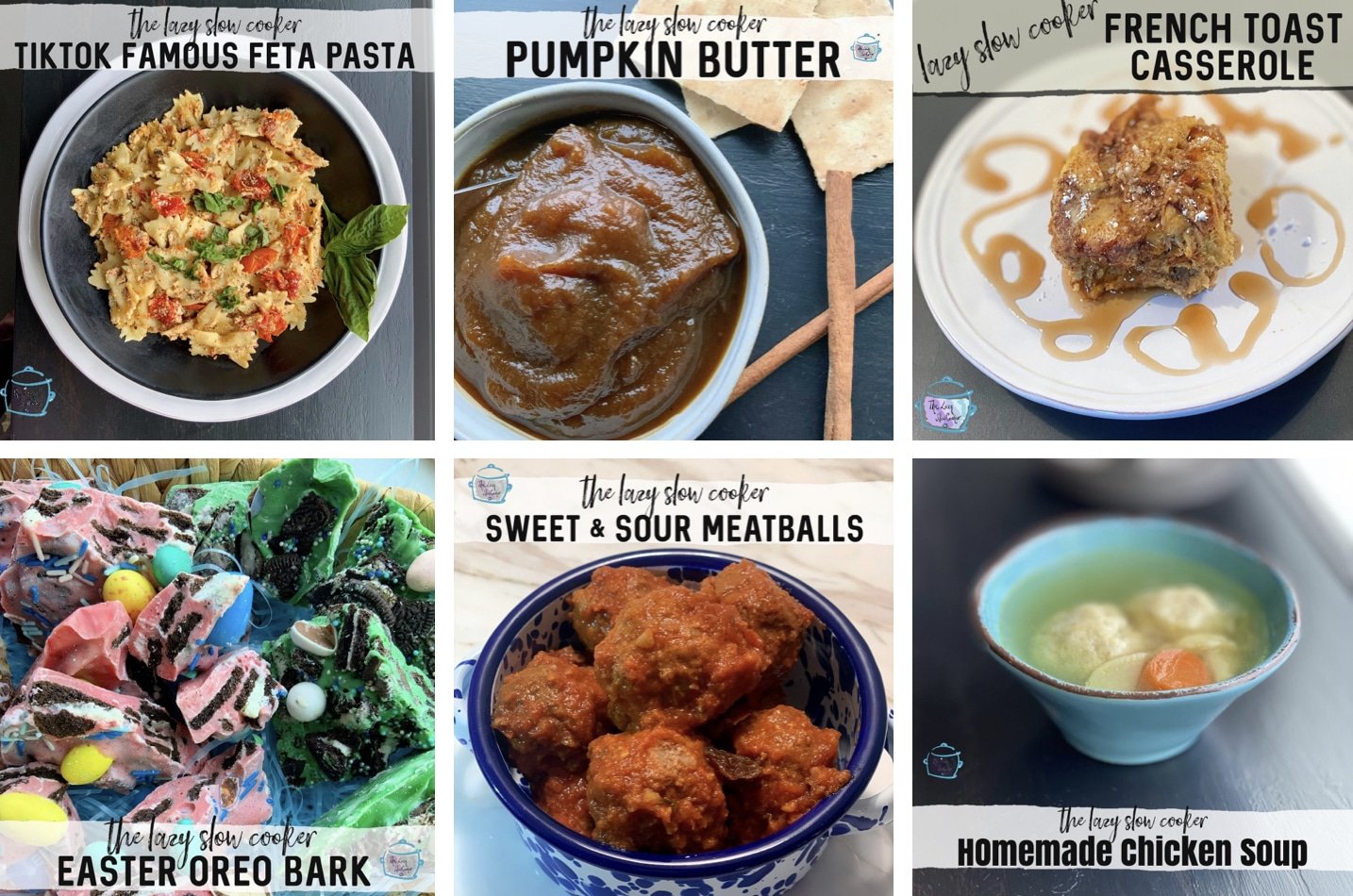 Have you tried this recipe?? Please let us know your thoughts in the comment section below!