Lazy Slow Cooker Mashed Potatoes: dairy and dairy free!
🔽 JUMP STRAIGHT TO RECIPE🔽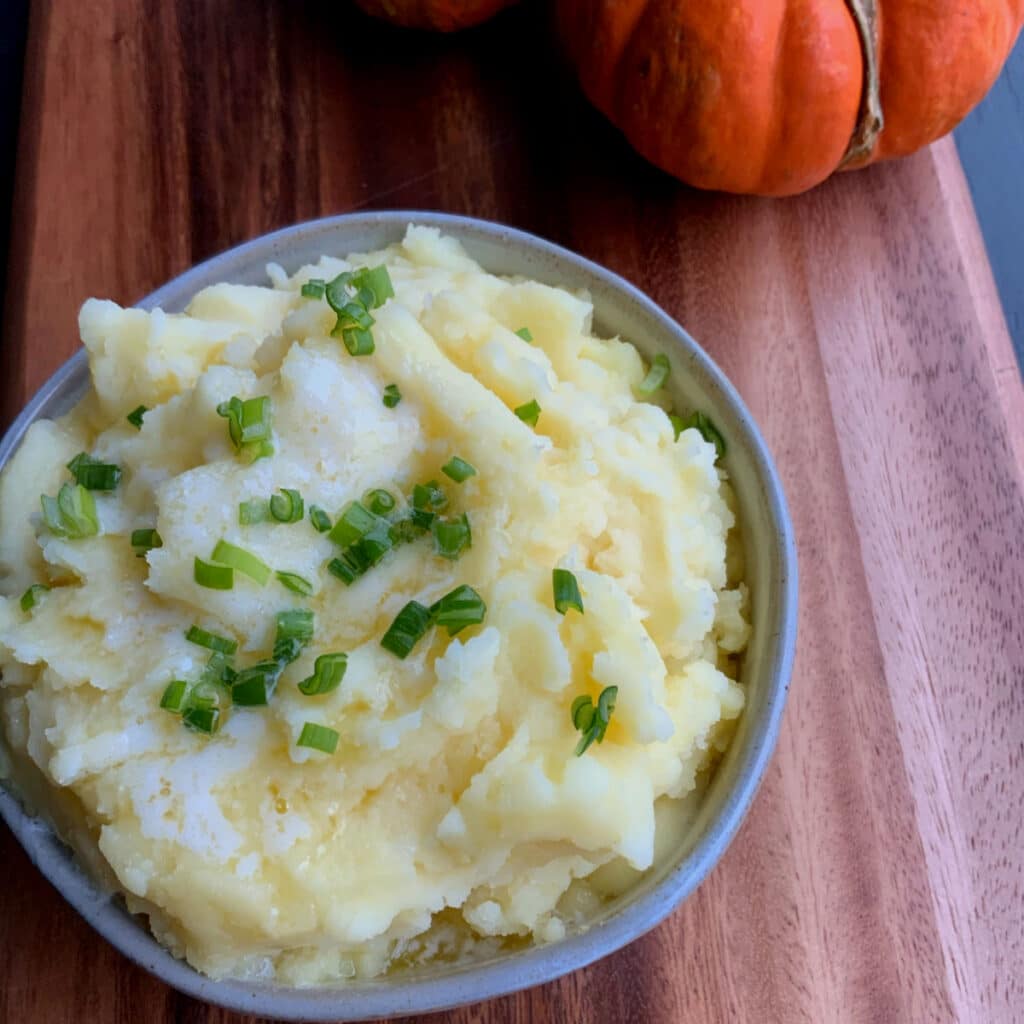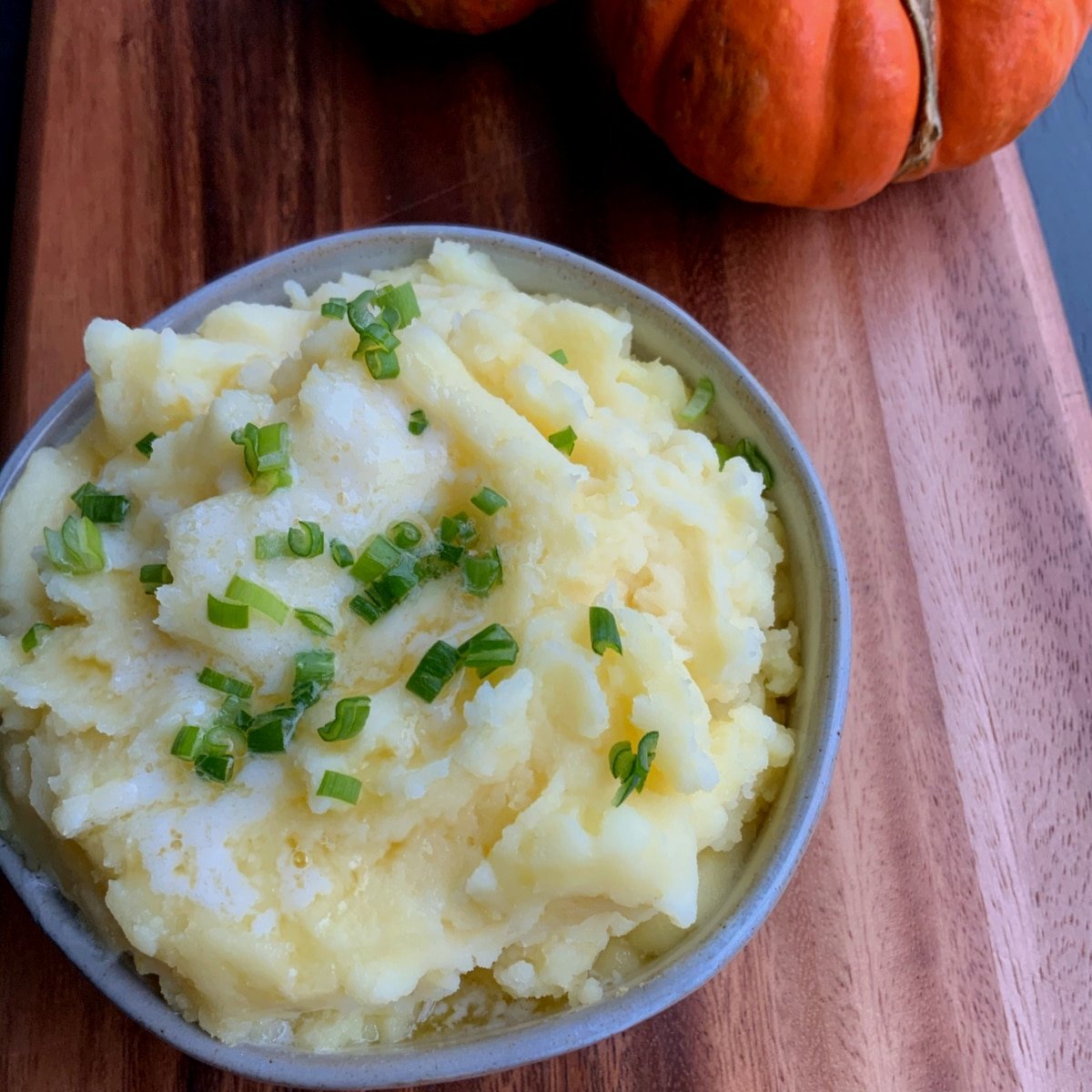 Mashed Potatoes - they are classic. From weeknight dinner tables to holiday buffets and down-home diners to elegant wedding receptions, the mashed potato is never out of place.
It's neutral coloring goes with every outfit. I know that to be fact, because I have washed droppings of it off every color and type of clothing!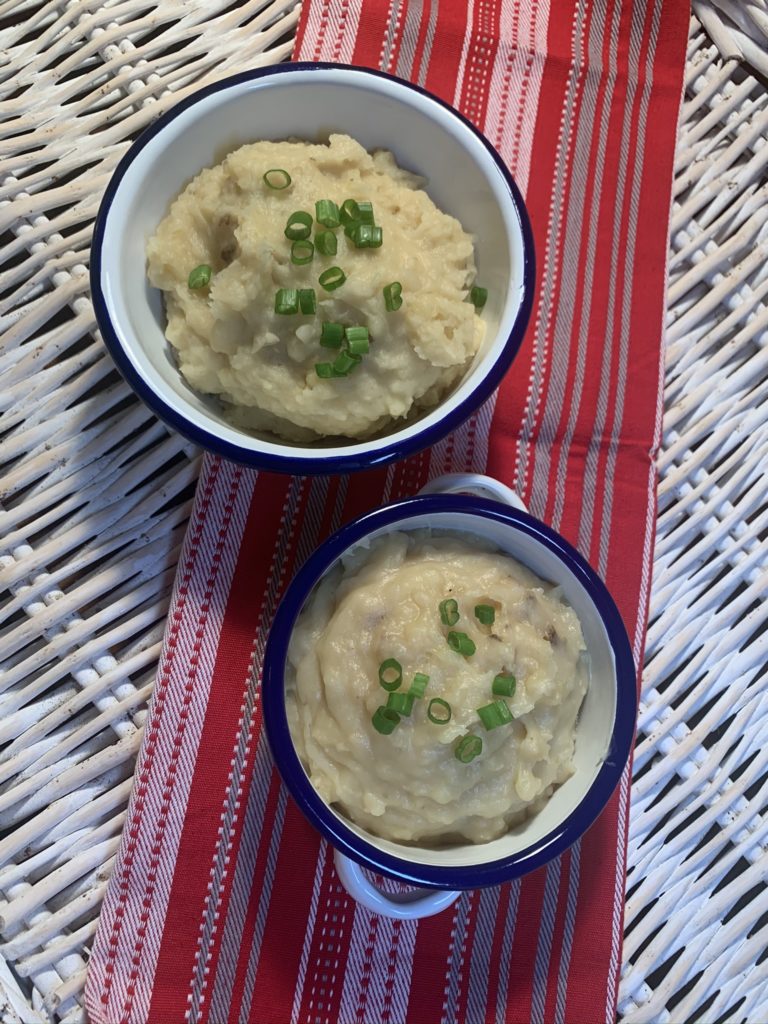 The most decadent "mash-po" recipes feature cream, cheese and cream cheese making them rich in flavor and texture, but heavy in calories. The lighter versions contain stock and sometimes skim milk and while not as creamy, are still delicious.
These Lazy Slow Cooker recipes fall somewhere in the middle. Healthy enough to serve on a regular basis, yet still creamy and tasty enough to make holiday appearances.
The challenge was to develop a super easy dairy-free recipe that lives up to the dairy version in every way. So, we took out the dueling slow cookers, ran some trials, and conducted side-by-side comparisons.
When the final dairy-free version was served next to its dairy cousin, the team could not tell them apart. Lazy Slow Cooker Mashed Potato success!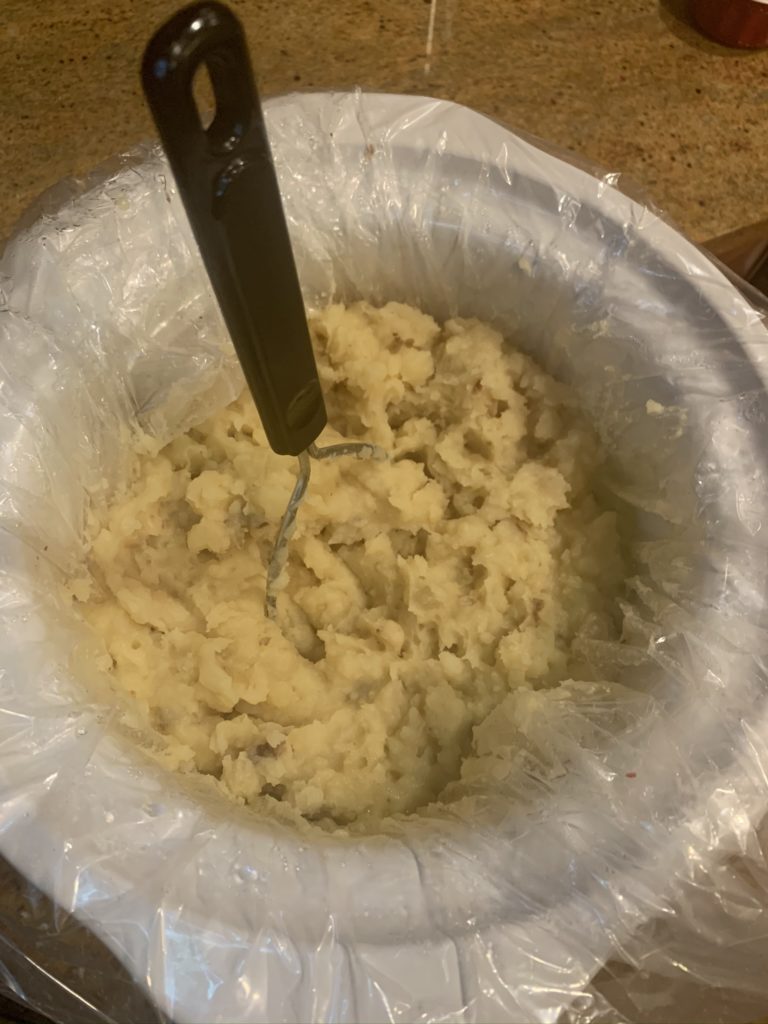 If you love this recipe, please let me know in the comment section below!
Lazy Slow Cooker Mashed Potato Hacks
There is tons of information online about what types of potatoes mash best. My favorite for mashing is Yukon Gold or Butter potatoes
The laziest way to make these recipes is to buy potatoes that are pre-cleaned and peeled.
Contrary to my usual lazy self, I did not follow step 2! BUT....I did discover a peeling/cutting hack! I used my apple peeler/corer. It quickly and easily took the skin right off and spiralized the potatoes. I was able to put them right into the slow cooker without any further cutting. Since it is meant for apples, the device pulls out a "core". I just cut off the ends and tossed those into the slow cooker too.
If you don't have an apple corer/peeler, I did discover that there is an electric potato peeler on the market. I don't know anything about it other than it looks really cool. If anyone has tried it, please let me know if you like it and if you think it is worth investing in.
These recipes call for mashing the potatoes by hand. Nothing fancy, not much in the way of extra dishes to wash and the end result is creamy and delicious.
Both the dairy and dairy-free versions of this recipe involve introducing milk towards the end of the cooking time. Regardless of whether you are using dairy milk or an alternative, it is important to slightly warm the milk and only stir in a small amount at a time.
For the non-dairy version of these potatoes, I used original flavored Nutpods as my "milk".
I am a big fan of slow cooker liners because I am lazy and like the easier clean-up. They are always optional, of course.
As an Amazon Associate, I earn from qualifying purchases and affiliate links.
📖 Recipe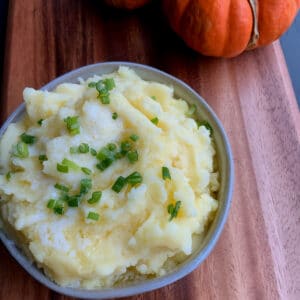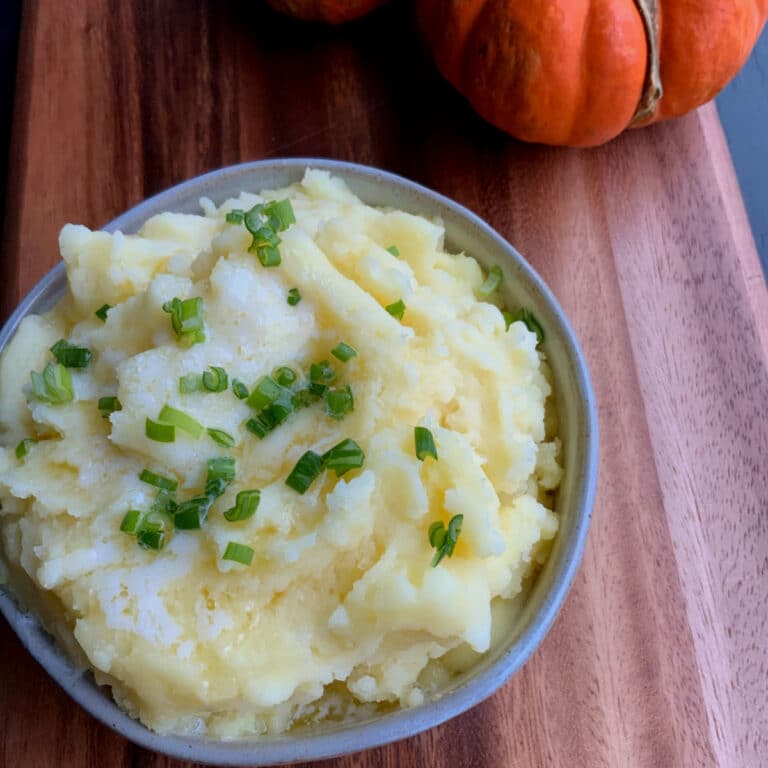 Lazy Slow Cooker Mashed Potatoes (dairy and dairy-free option)
Creamy, fresh slow cooker mashed potatoes, diary and dairy free options.
Print
Pin
Rate
Save
Saved!
Equipment
3.5 or larger slow cooker

potato masher

apple peeler/corer (optional)

knife

cutting board

Optional: slow cooker liner for easier clean up
Ingredients
5

lbs

butter potatoes, peeled and chopped

its not pretty, but a traditional apple peeler/corer can really helpful with this step. See Lazy Hacks above for link.

1

cup

turkey broth

½

cup

butter product

I used regular, salted butter for the dairy version and Earth's Balance for the non.

1

cup

milk of choice

for the dairy version, I used whole milk. For the non-dairy, I used Nutpods original flavor. See Lazy Hacks for link.

2

teaspoon

freshly ground garlic salt
Instructions
Peel and cut potatoes into cubes or pieces 1" or smaller (this where I used my apple corer/peeler)

Place into slow cooker and cover with turkey broth

Place lid on slow cooker and cook on high 4-6 hours or until potatoes are easily mashed by hand.

When potatoes are soft, use hand potato masher to fully mash potatoes. I have read of potatoes that become gummy from over mashing. I have not experience this myself and I am thinking that it is because I mash them by hand and do not use an immersion blender or mixer.

Add butter or butter substitute into hot mashed potatoes and allow to melt then stir in.

slightly warm milk (I used the microwave for this) and add in a few tablespoons at a time until desired consistency is reached. I did not wind up using the full cup for either the dairy or non-dairy recipe. Adding too much liquid will make your potatoes soupy.

Once fully mixed, turn slow cooker to warm and keep potatoes warm until it is time to serve them.
Notes
Note: nutritional information assumes the use of a butter substitute and almond milk.
Nutrition
Calories:
108
kcal
|
Carbohydrates:
1
g
|
Protein:
1
g
|
Fat:
12
g
|
Saturated Fat:
2
g
|
Polyunsaturated Fat:
3
g
|
Monounsaturated Fat:
6
g
|
Cholesterol:
1
mg
|
Sodium:
865
mg
|
Potassium:
11
mg
|
Fiber:
1
g
|
Sugar:
1
g
|
Vitamin A:
508
IU
|
Vitamin C:
1
mg
|
Calcium:
43
mg
|
Iron:
1
mg
Check out my latest on Instagram