🔽 JUMP STRAIGHT TO RECIPE🔽
Slow cooker baked potatoes are an easy set it and forget side dish. Freshly baked potatoes requiring no oversight are a great addition to any meal. Throw in a packet of green beans towards the end of your cooking time and your sides are set!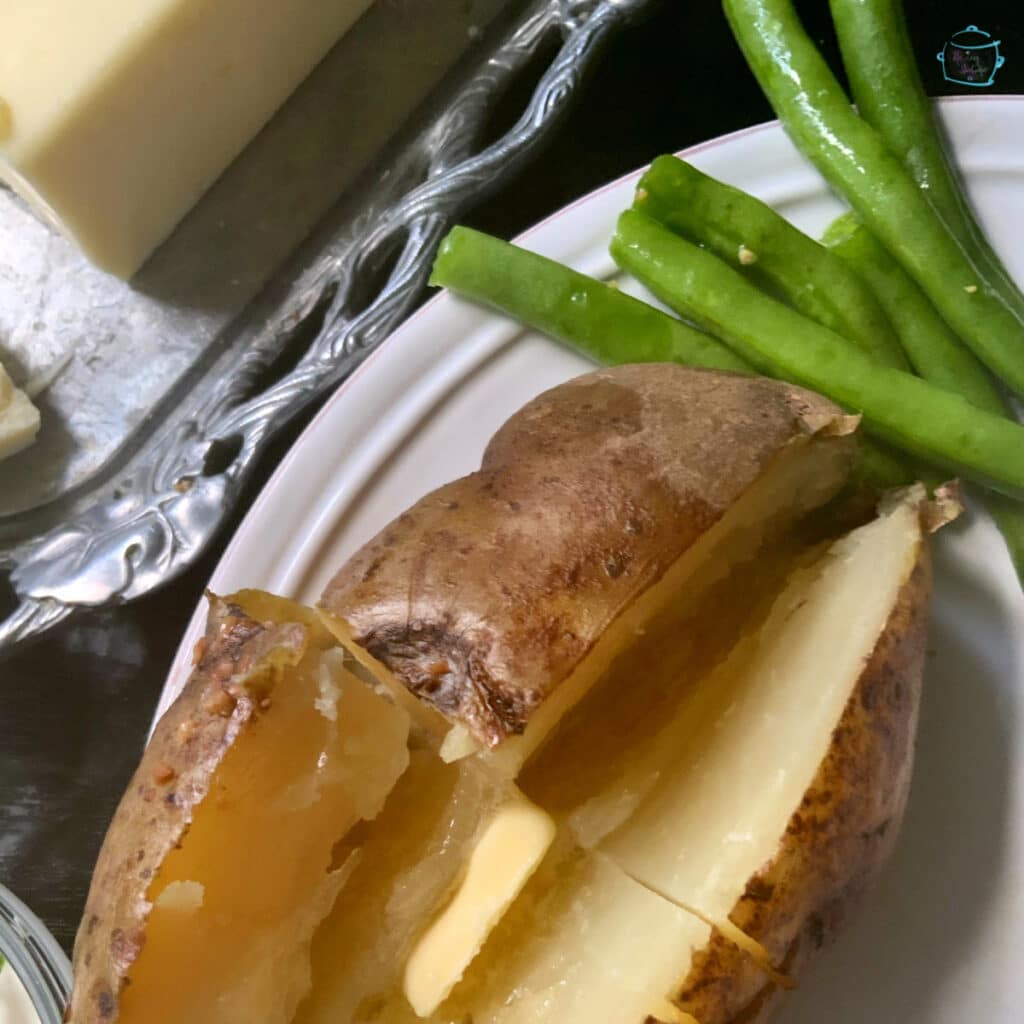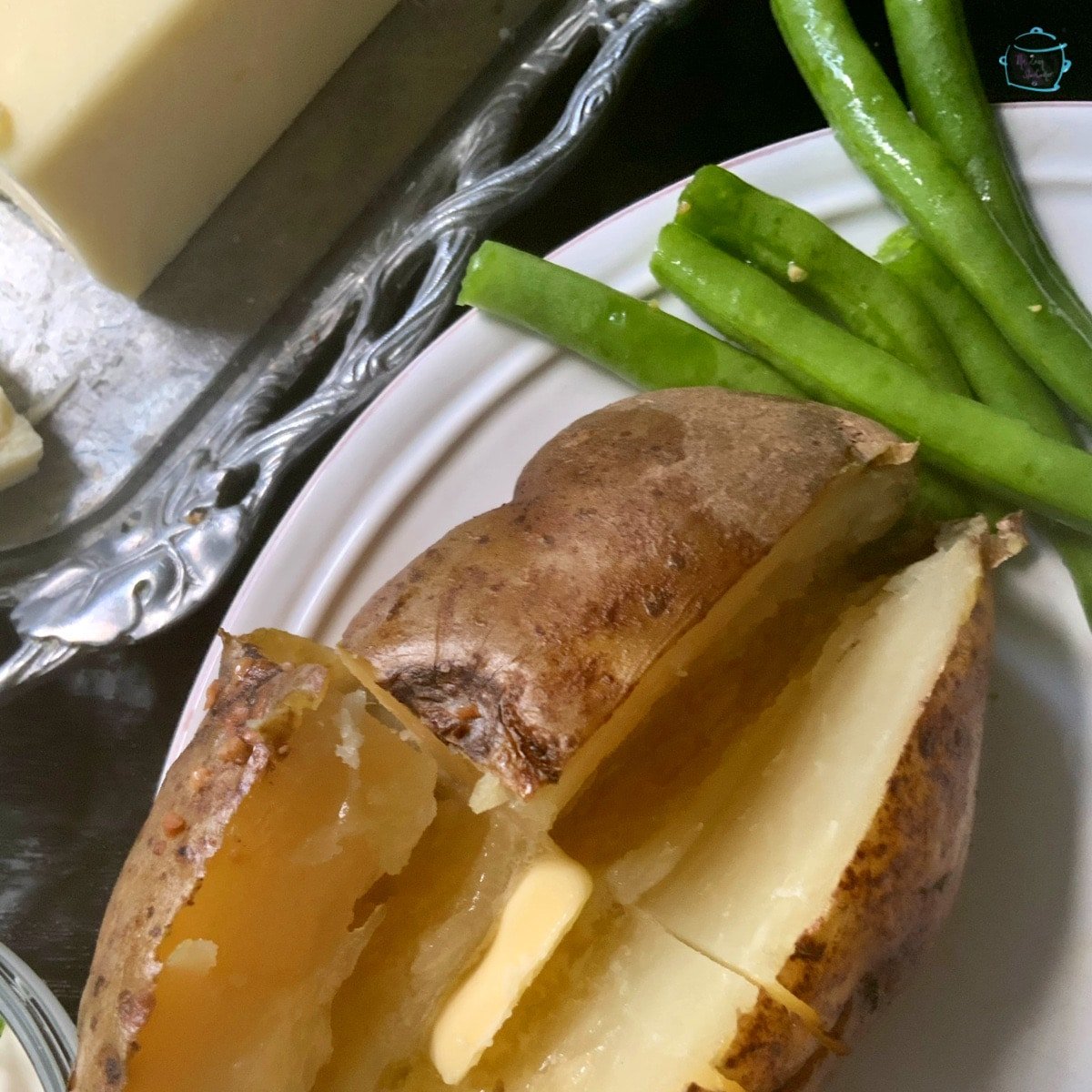 Jump to:
Baked potatoes are like that kid at school that everyone knows and who is loved by half the class and fully shunned by the other. Through the years, the potato has morphed from an everyday dinner table basic to a having its own store in the mall (where it was sold to-go with gourmet/designer toppings) to being fully demonized and shunned for having too many carbs.
Ask six different people and you are likely to get six different opinions on whether or not potatoes are a good part of an average diet.
Regardless of your opinion on potatoes, they are here to stay. They are generally abundant, inexpensive, filling and all natural. AND...they are so yummy cooked in a crockpot!
Toss them in and walk away for the day. Added bonus: you can toss an easy veggie in with them and all your sides will be taken care of with minimal effort.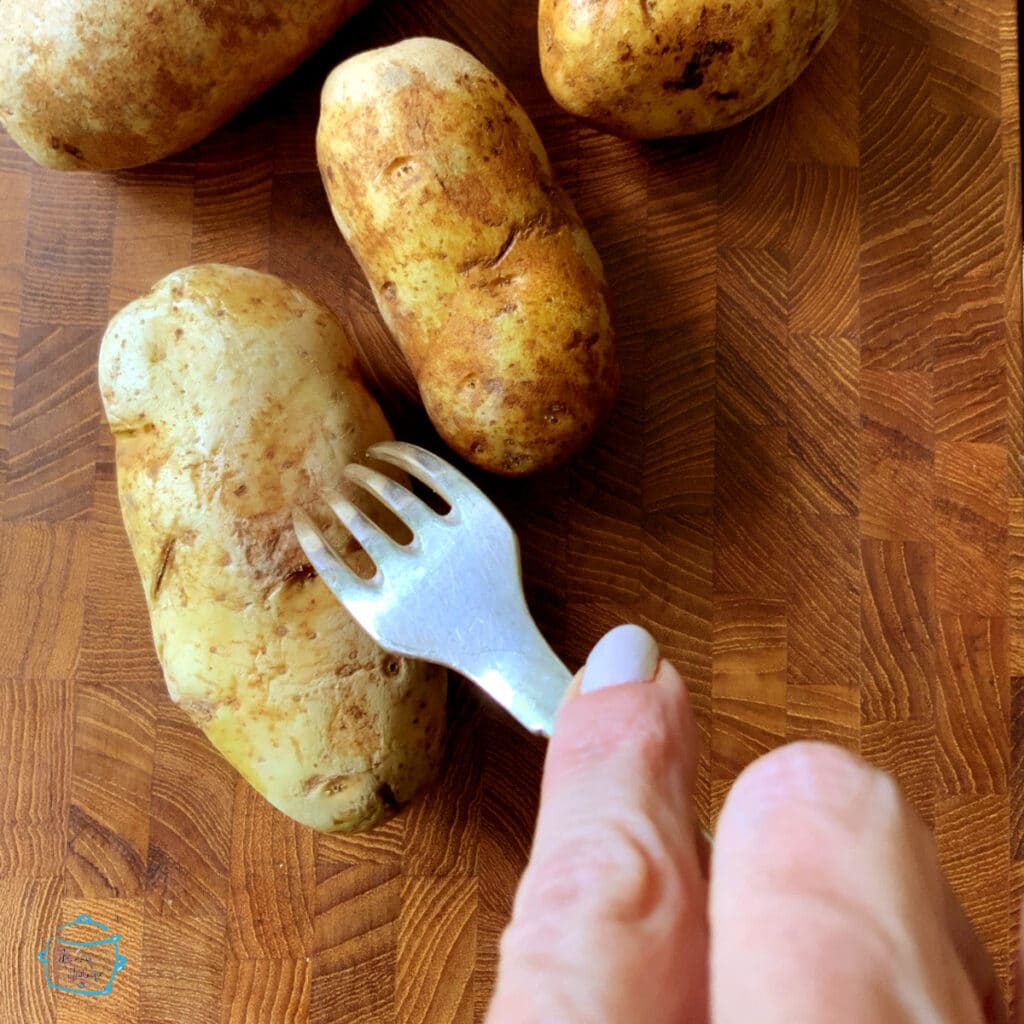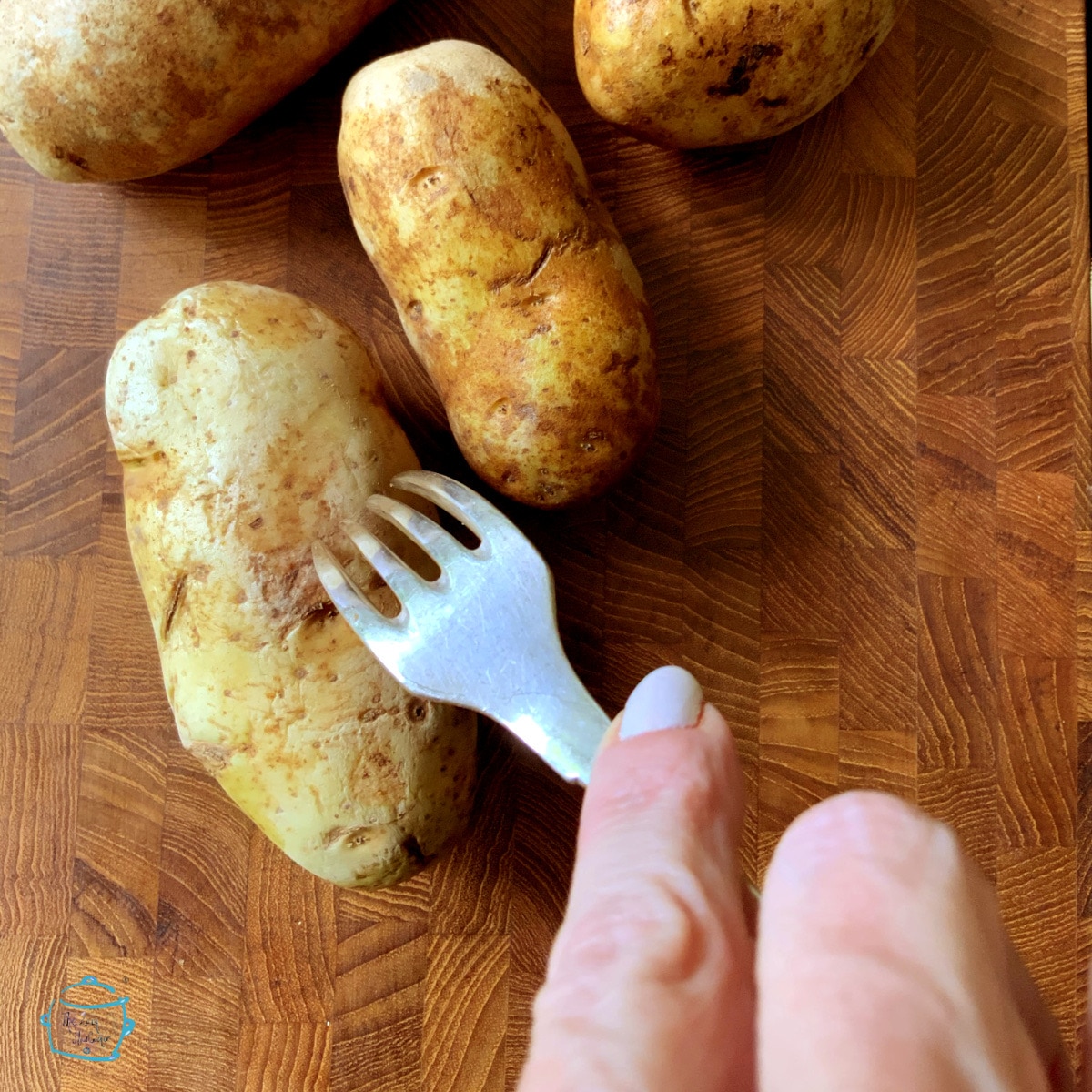 🥔Shopping list
To make the best slow cooker potatoes you will need:
potatoes
olive oil
sea salt or garlic salt
aluminum foil
(optional) string beans
🥣Cooking instructions
Scrub potatoes clean and thoroughly dry. Prick each potato a few times with a fork. Lay each potato on its own piece of foil. Be sure the foil pieces are large enough to wrap fully around the potato. Coat potatoes lightly with oil.
Lightly sprinkle potatoes with salt (or garlic salt if you want to add a little extra flavor). Fully wrap each potato in foil and place into slow cooker. Cover and cook on high for about 4 hours or low for 6-8 hours.
Potatoes are fully cooked when you can easily pierce the skin with a fork and push the fork into the center most part of the potato without any change in resistance.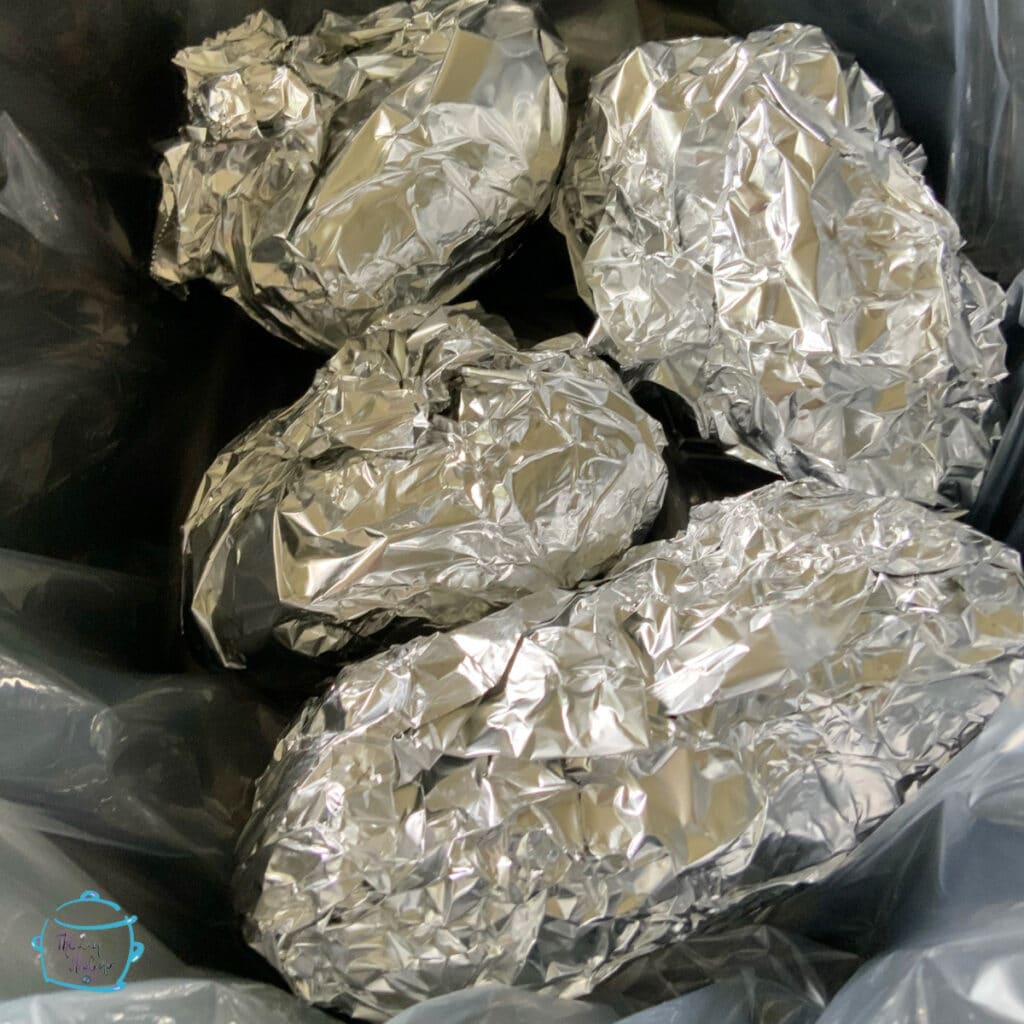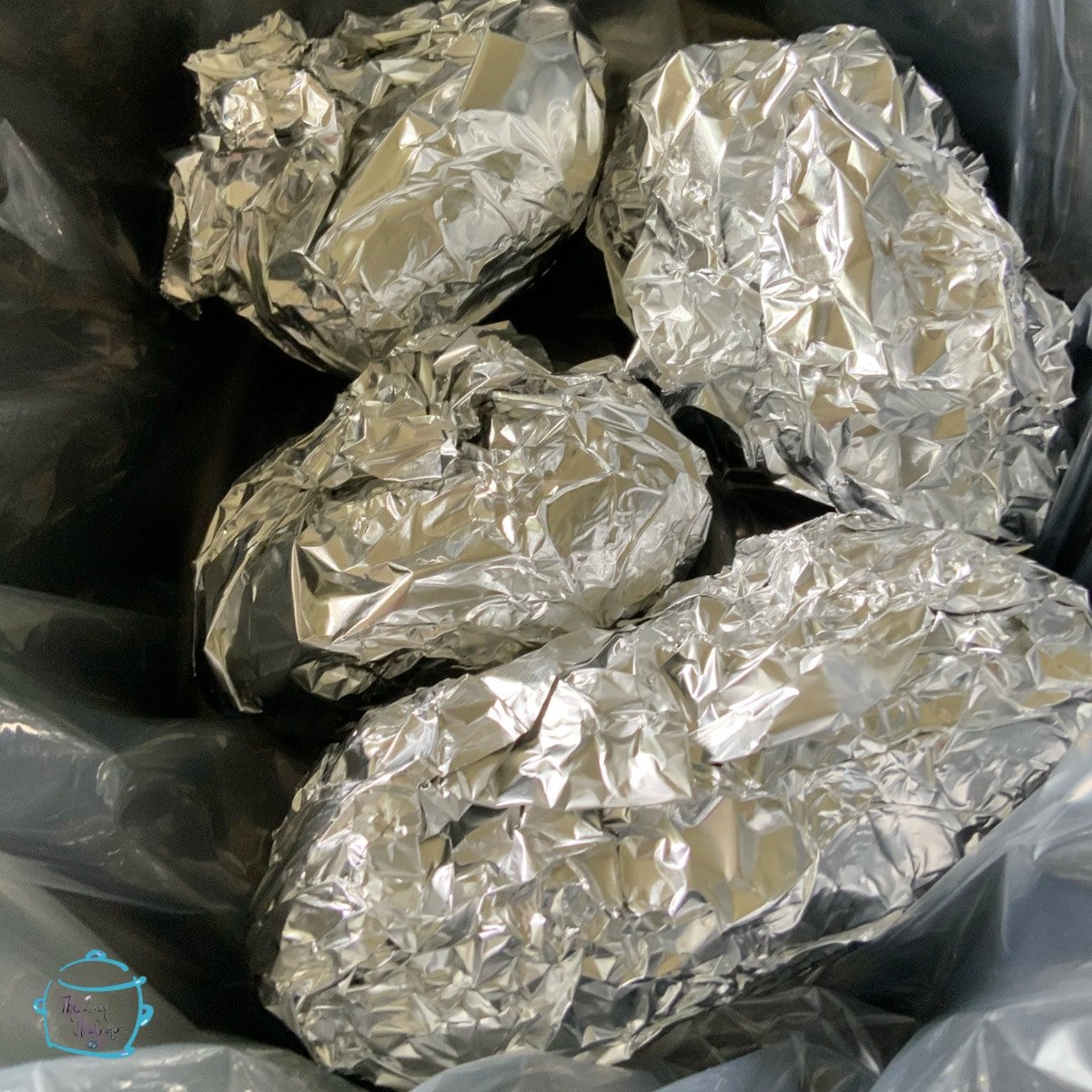 If you are interested in taking this one step further by a adding a cooked green vegetable to your meal, green beans are an easy and healthy addition. While cleaning your potatoes, wash and trim your string beans.
Place them on a piece of foil large enough to fully envelope all beans. Add olive oil and salt (or garlic salt) to green beans - just as you did the potatoes. Wrap beans into a foil packet and store in the refrigerator.
Forty-five minutes prior to serving potatoes that were cooked on high (or about an hour prior to serving potatoes that were cooked on low), add bean packet into your slow cooker.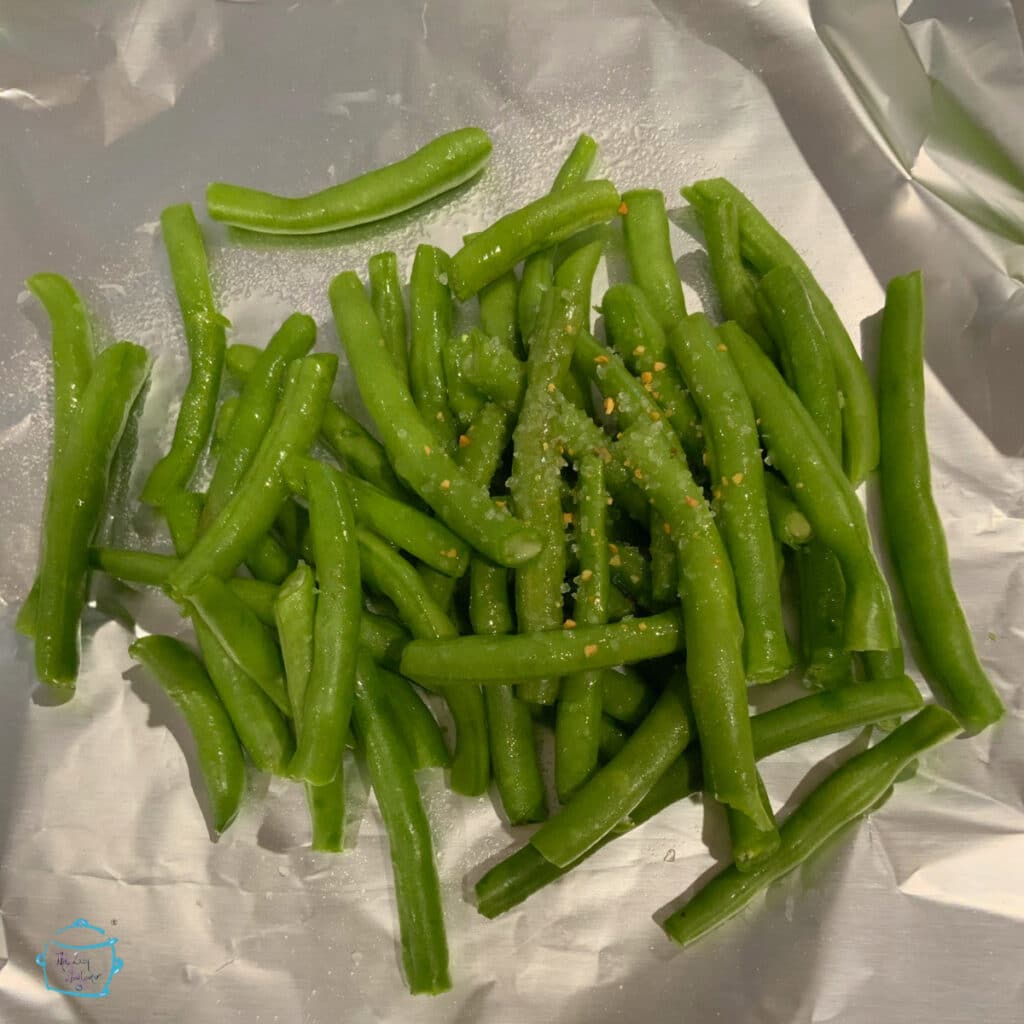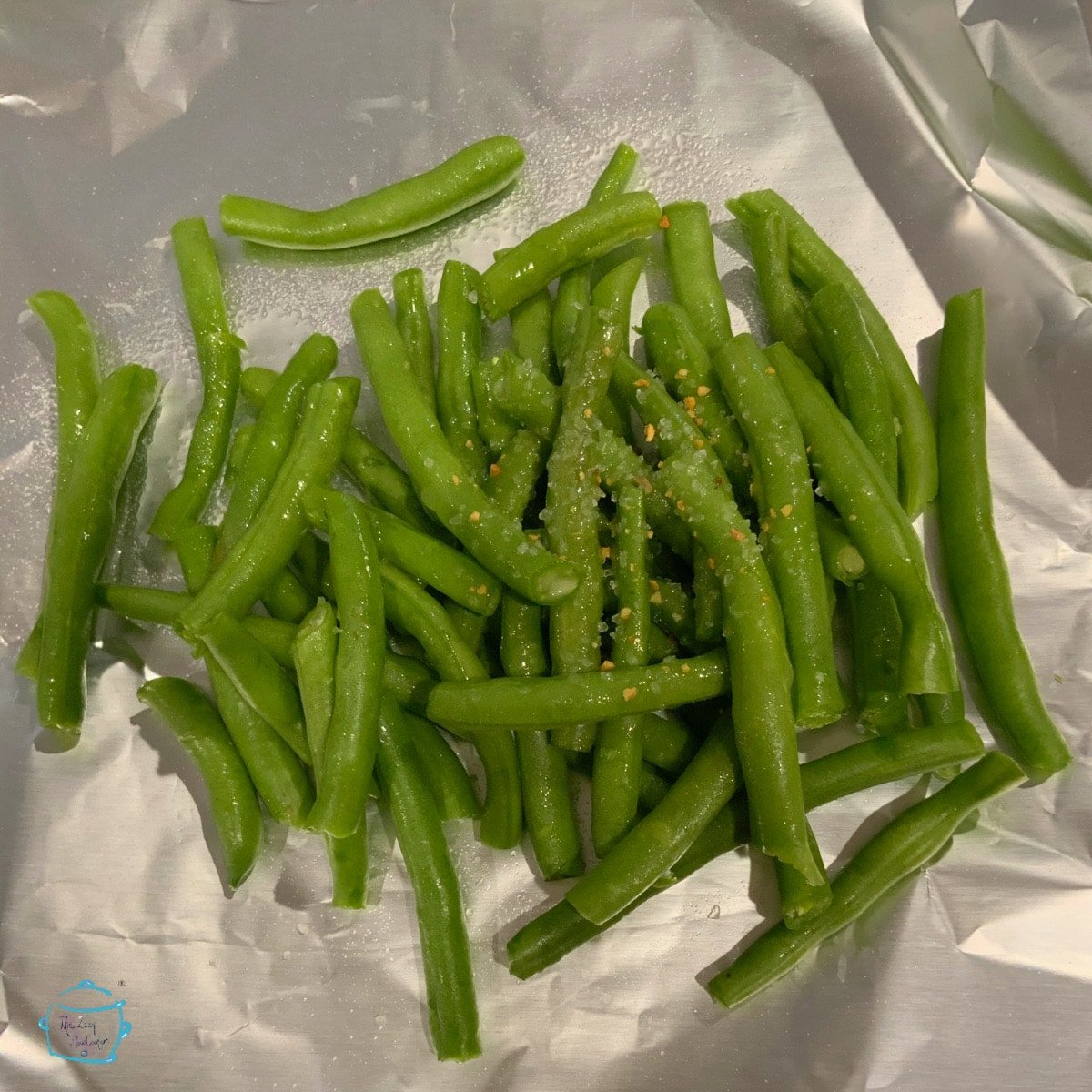 This cooking method will yield perfect, steak-house like, fluffy baked potatoes and lightly cooked (almost al dente like), delicious and crisp green beans.
🍽Serving suggestions
All your favorite potato toppings apply here, including but not limited to: sour cream, butter, salsa, shredded cheese, crumbled bacon and chives. Potatoes also make a great base for dishes such as shredded beef chili or taco fillings.
If you love this recipe, please let me know in the comment section below!
Storing leftovers
Leftover slow cooker baked potatoes store and reheat very well. They will keep in their foil wrappers for 3-4 days in the refrigerator. They can also be frozen for 3-4 months in airtight bags or containers. Leftovers can easily be reheated in the oven or microwave.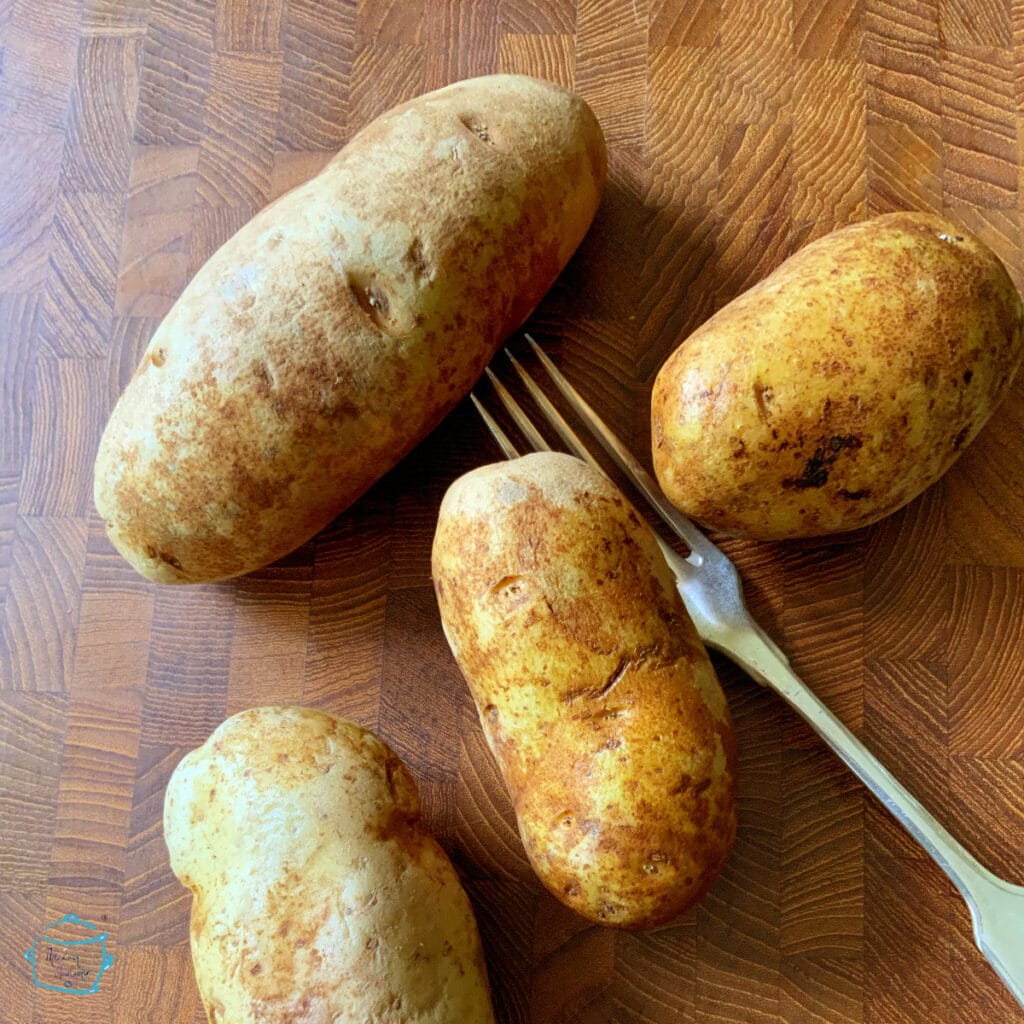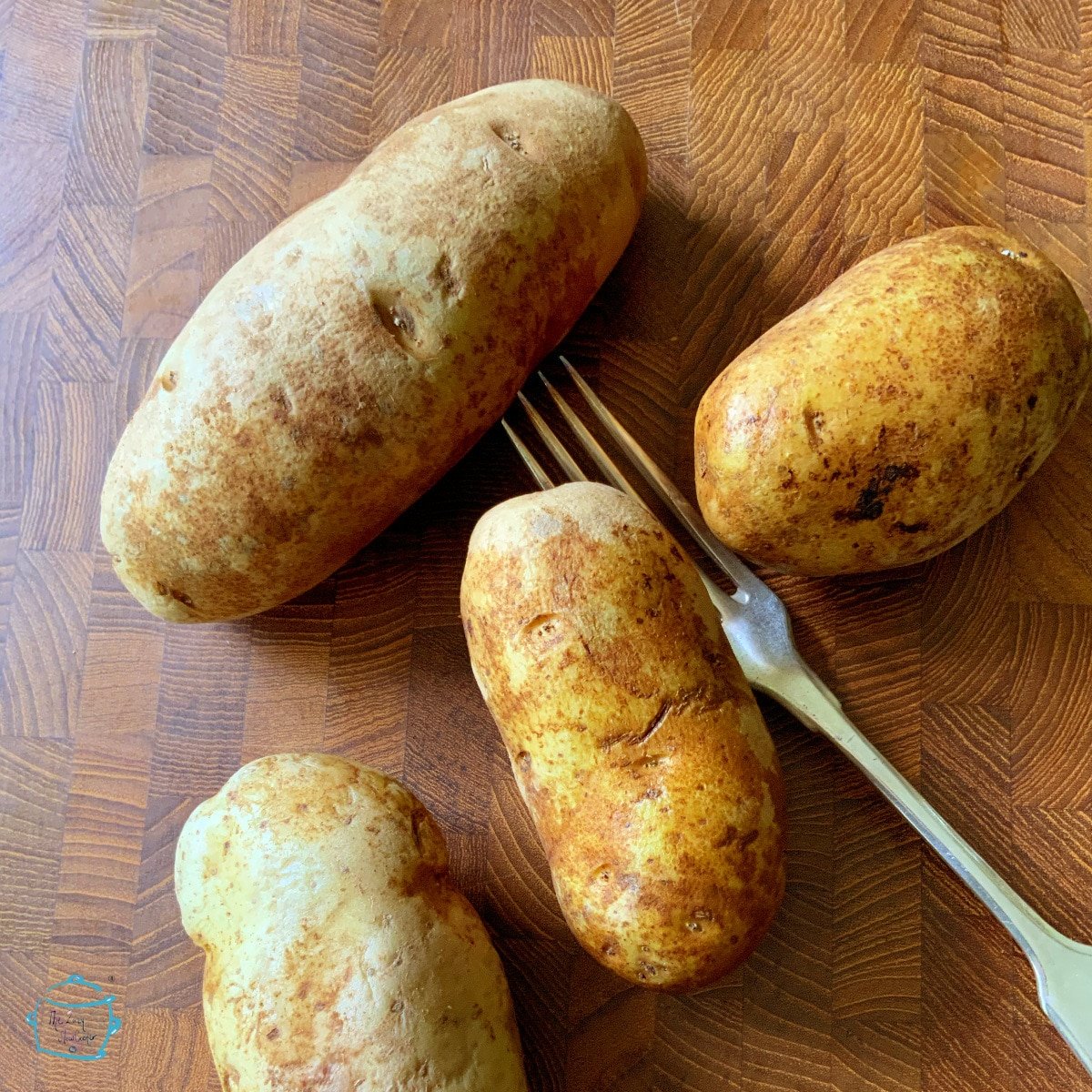 😉Hints & hacks
The easiest and neatest way to coat your potatoes in olive oil without overdoing it is by using an oil sprayer.
Not a fan of green beans? This cooking method works really well with with other veggies, such as asparagus and broccoli, too!
Even I don't always use a liner for this recipe, it barely makes any mess at all. However, liners are always the best way to guarantee you will have minimal dishes. I purchase my liners in bulk for a less expensive per-piece price. Here are the liners I buy.
Not a fan of slow cooker liners? Parchment paper works with this recipe too and will also guarantee you virtually zero slow cooker clean up.
This is a great dish to make in a casserole crockpot!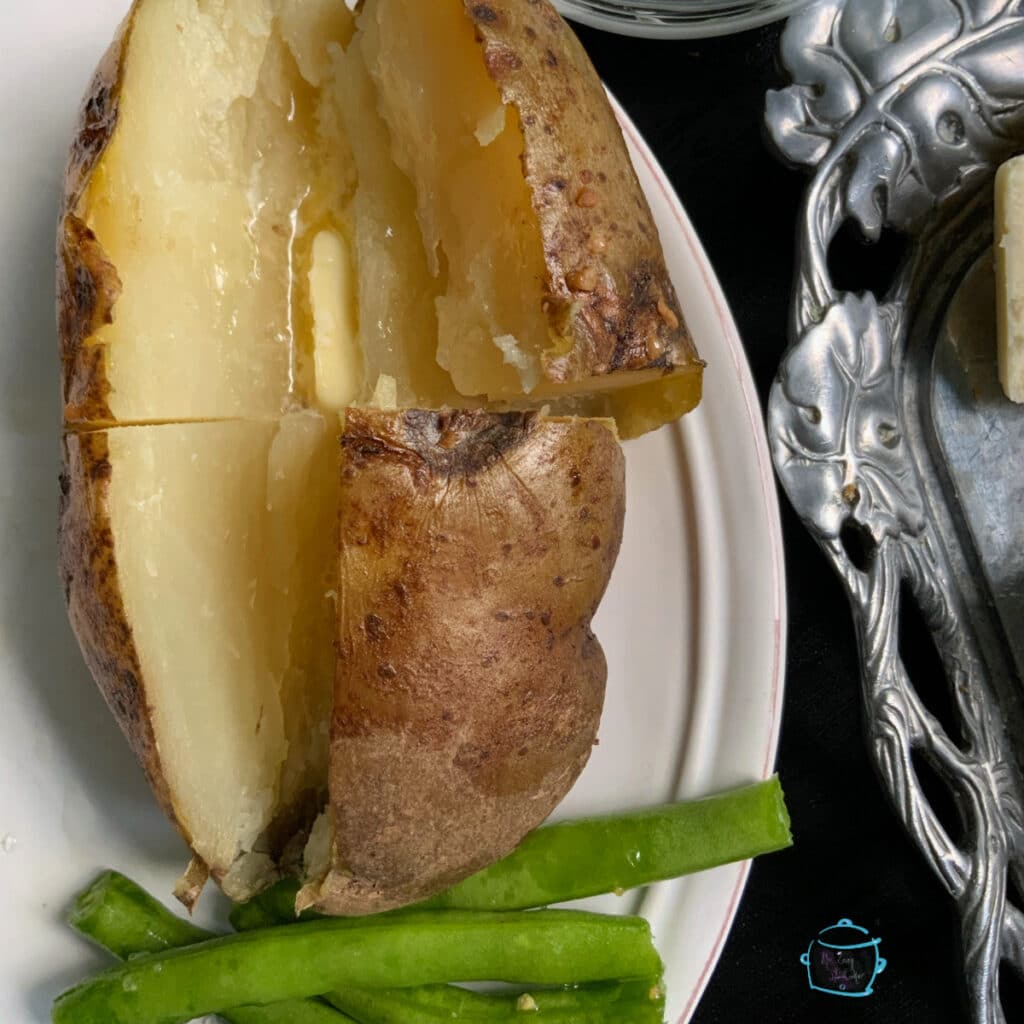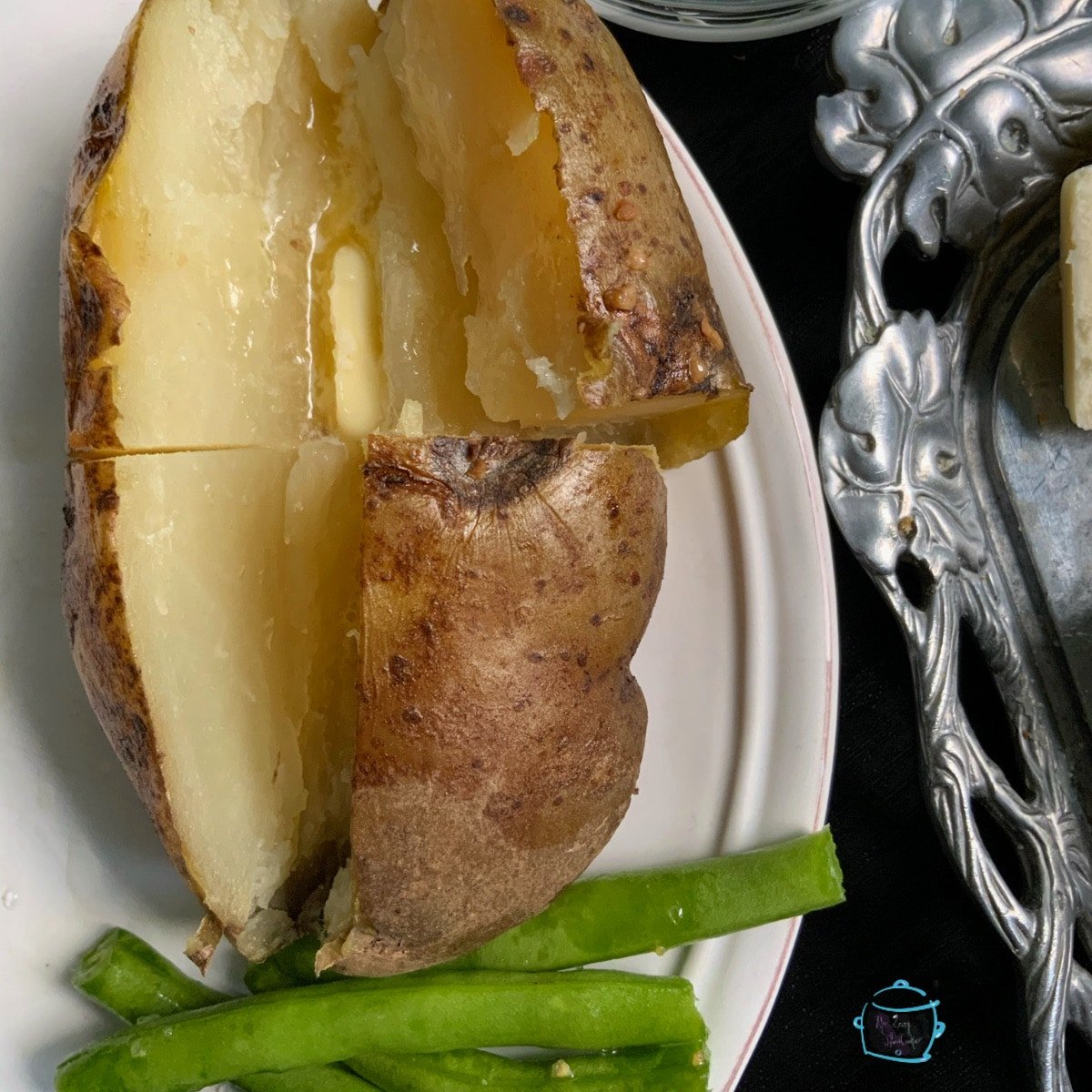 ❓Frequently asked questions
What is the best way to clean a potato?
Potatoes grow in the ground so they are naturally covered in dirt. Before cooking, run your potatoes under cool water and use a vegetable brush or mildly abrasive sponge to clean away remaining dirt particles.
How many potatoes can I make this way?
As many as you can fit in your crockpot and still securely place the lid on top without any gaps. Note: adding multiple levels of potatoes may increase cooking time.
Why use a crockpot to bake a potato??
Of course you can easily bake your potatoes in the oven. But, there are times when slow cooker baked potatoes make more sense. This recipe is perfect if you want to set up a side dish and then leave home for a few hours. You can toss in your potatoes and head out the door. On your way home, pick up a rotisserie chicken. Add in the green beans while you set the table and a whole meal is ready to serve without adding stress to a long day. Crockpot baked potatoes are also great when your oven is already overflowing with other goodies, or if you don't have access to an oven.
Great slow cooker recipes to serve with baked potatoes
As an Amazon Associate, I earn from qualifying purchases and affiliate links.
📖 Recipe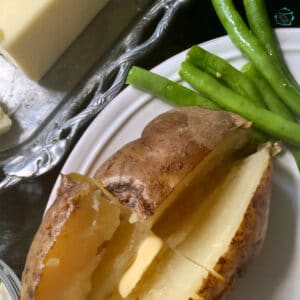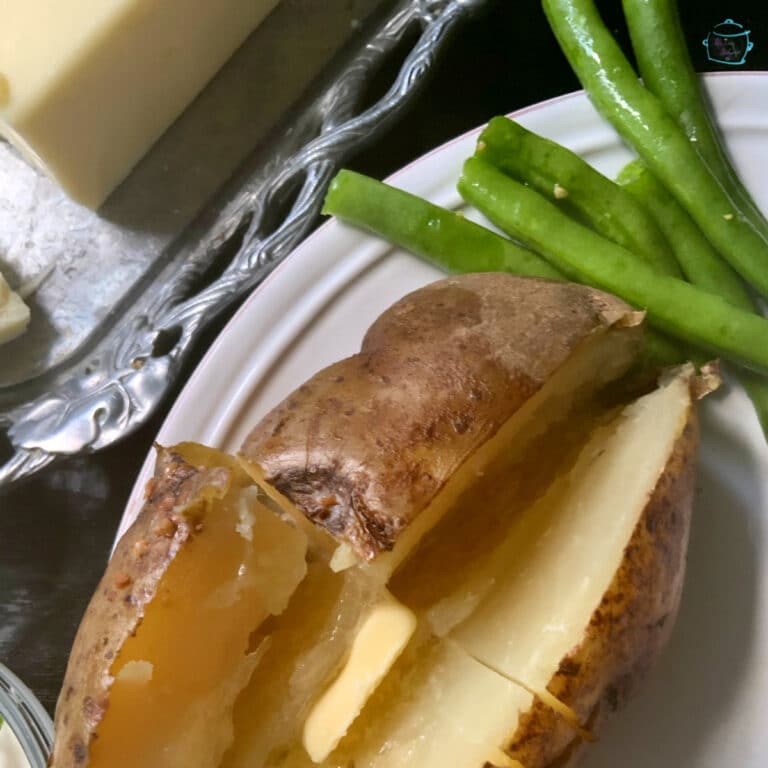 Lazy Slow Cooker Baked Potatoes
Slow cooker baked potatoes are an easy set-it-and-forget-it side dish. Freshly baked potatoes that require no oversight are a great addition to any meal. Throw in a packet of green beans towards the end of your cooking time and your sides are set!
Print
Pin
Rate
Save
Saved!
Equipment
4 quart or larger slow cooker

slow cooker liner or parchment paper (optional)

fork

aluminum foil wrap
Ingredients
Potatoes
4-8

baking potatoes

olive oil

a sprayer or pour bottle works well

sea salt or garlic salt
Optional addition: Green Beans
16

oz

washed and trimmed green beans
Instructions
Potatoes
add liner or parchment paper to slow cooker, if using

wash and dry all potatoes

use a fork to pierce your potatoes a few times

lay each potato on it own flat piece of foil

spray or pour enough olive oil over each potato to lightly coat all around

sprinkle or freshly grind salt (or garlic salt) over each greased potato

fully wrap each potato individually with the sheet of foil it's laying on

place potatoes in slow cooker, cover with lid and cook on high for 4 hours or low for 6-8 hours.
Green Beans
wash, dry and trim beans and place them on their own sheet of foil

coat lightly with olive oil and sprinkle with sea or garlic salt (as above)

wrap foil around green beans to form a foil packet

45-60 minutes prior to serving, add bean packet to slow cooker on top of potatoes
Notes
Note: Calories listed are based on potato only and does not include any toppings or string beans.
Nutrition
Check out our latest on Instagram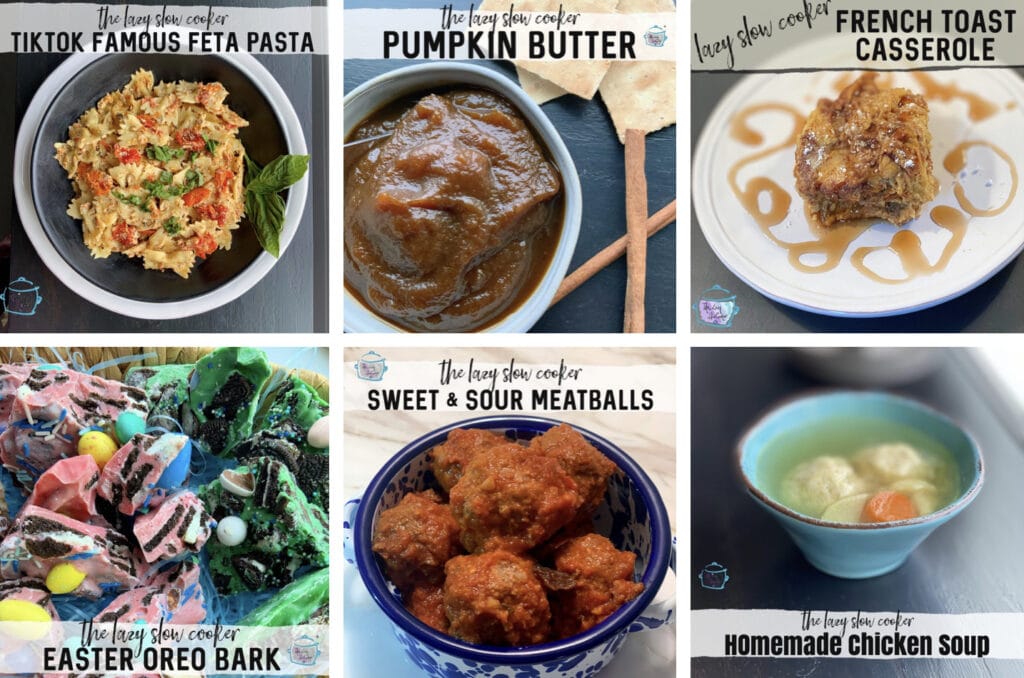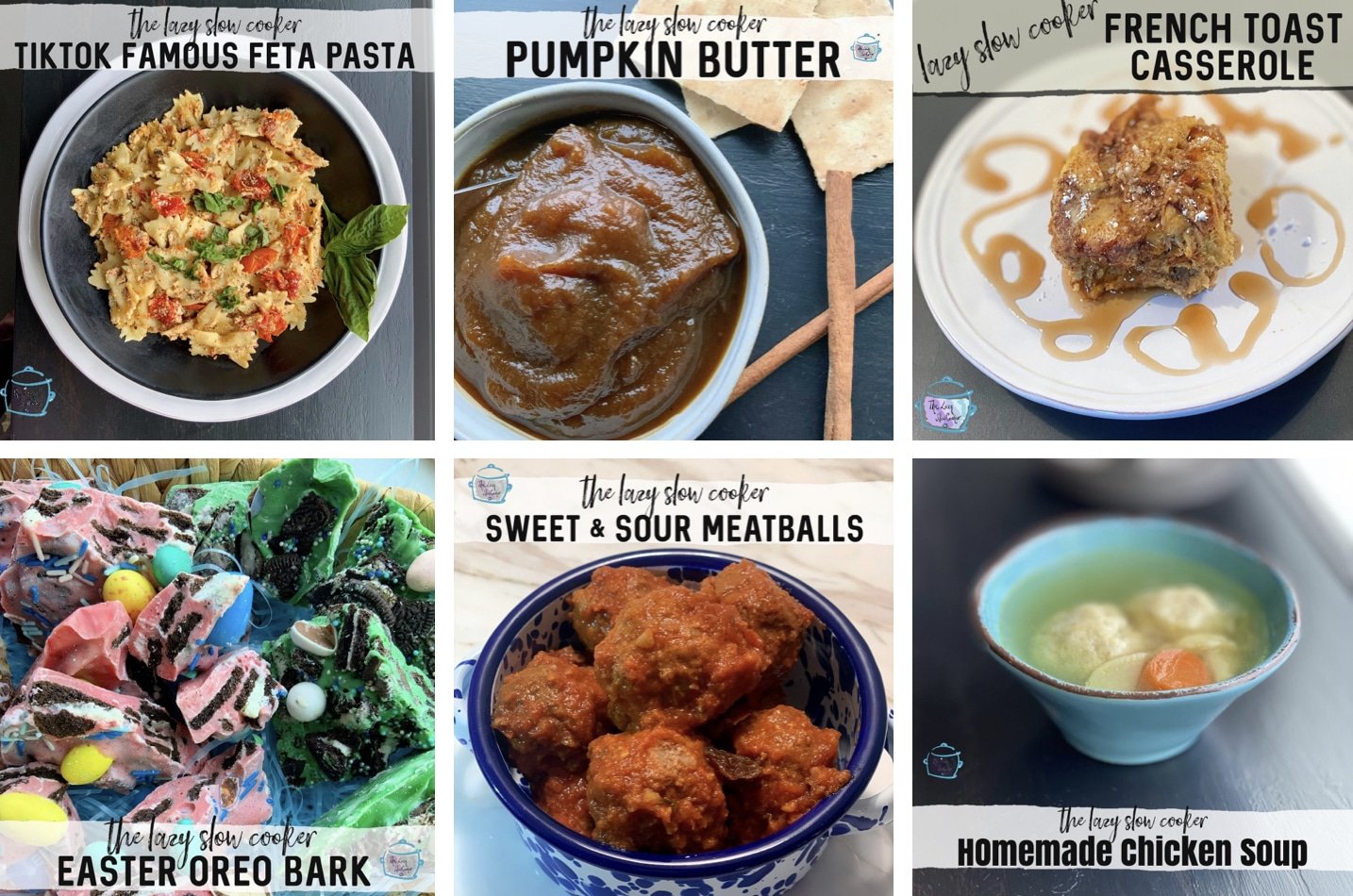 Have you tried this recipe? We would love to hear your thoughts in the comments section below! 💕