Jump to Recipe
Use your crockpot to make browned ground beef in large quantities then freeze it in meal sized containers for use in future dishes. Little clean up, lot of time saved!
I am a big freezer..
Hmmm, that doesn't sound right. I am not a large appliance that stores food below 32 degrees. But I am a big fan of freezing food. It helps with the lazy!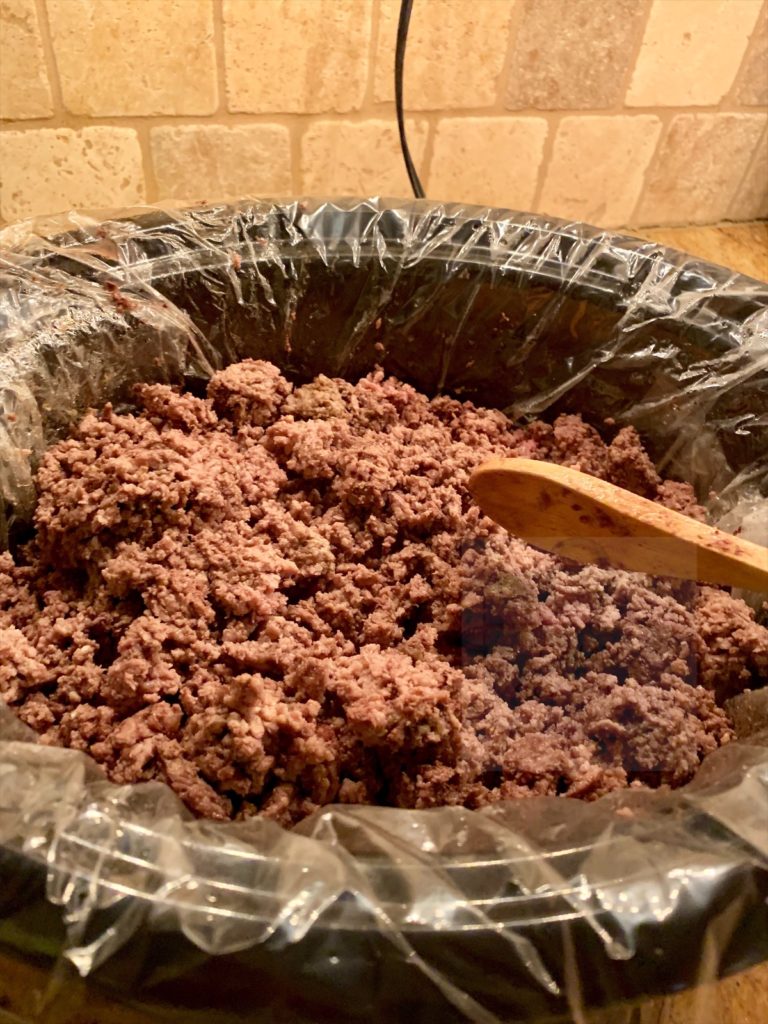 How To Cook Ground Beef In A Crockpot
One of the items that I find really helpful to have on hand in my freezer is ground beef. Lazy Chili, Lazy Beef Tacos, Lazy Meat Sauce - they all start with browned ground beef. But, did you know that you can brown beef right in your slow cooker? I generally buy lean beef in bulk/those family sized packages and brown it all at one time in my slow cooker. After, I freeze it in containers that hold approximately two pounds worth. A little planning ahead = a lot of lazy!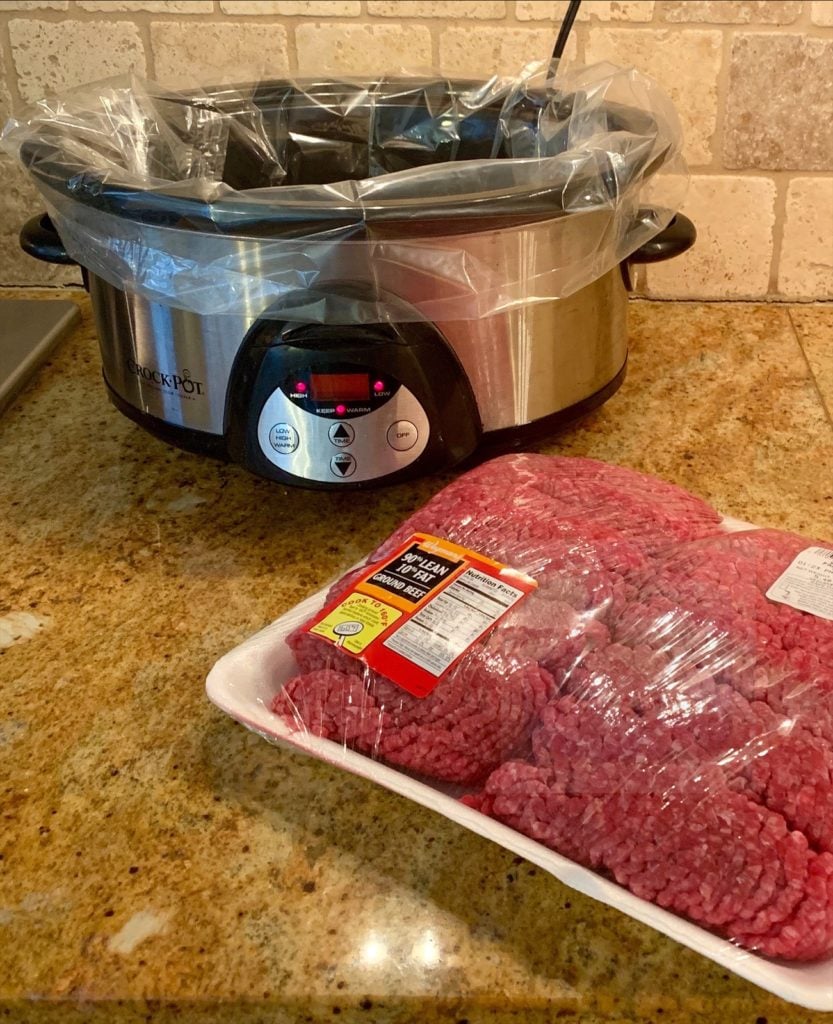 The timing of this will depend on the amount of beef you use. I generally make about 6 lbs at a time and cook it on high. I check on it and stir it every half an hour or so to break up any clumps. The nice thing about doing this in the slow cooker is that you don't have to stand over it the same way you would if you were browning it on the stove top. That, combined with the lack of grease splatter and a slow cooker liner make clean beyond easy! That alone makes this the easiest way to brown lots of ground beef (and turkey).
Lazy Browned Ground Beef (or Turkey) Hacks
I prefer to use the leanest ground meat I can find.
Regardless of this, there is always still some fat that cooks out of the meat. I have found that if I can use the tops of the liner to pull it out of the pot, I can (holding it over the sink) use a fork to poke some tiny holes in the bottom of the bag. This allows the fat to drain right into the sink. Please note: This is not one of the recommended uses for the liners according to their manufacturers. Plus, the contents will be EXTREMELY HOT!! Always use protective gloves and use EXTREME CAUTION if you want to try this!
If you intend to freeze your browned meat for future use, I suggest labeling your freezer containers with the contents and date. This will make for easier freezer sorting in the future.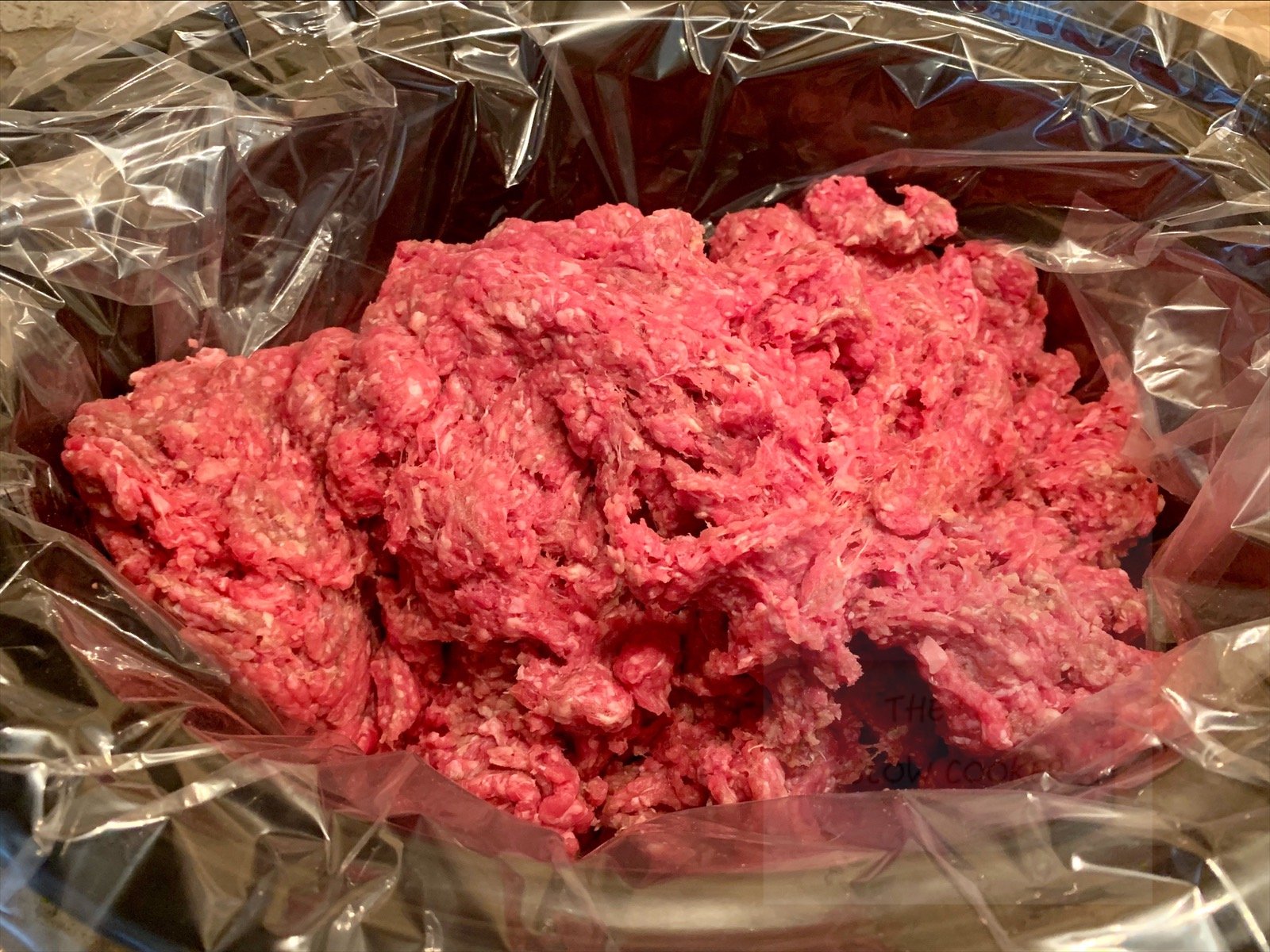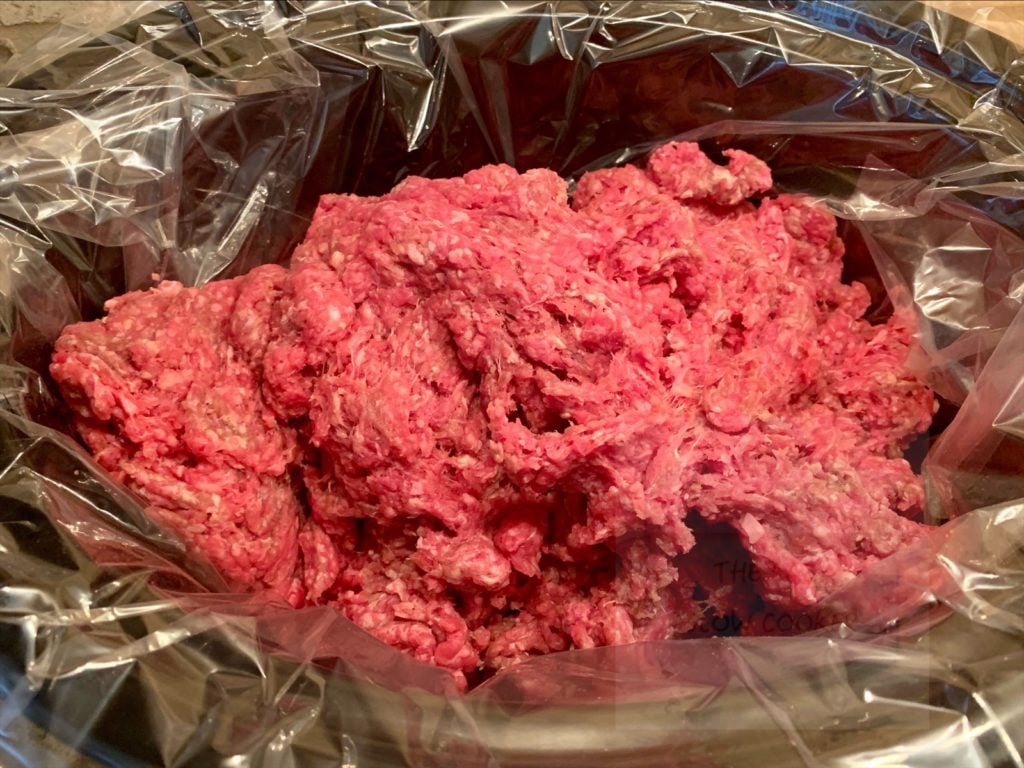 Lazy Browned Ground Beef (or turkey)
Use your crockpot to brown ground beef in large quantities then freeze it in meal sized containers for use in future dishes. Little clean up, lot of time saved!
Equipment
slow cooker

Large spoon to stir

slow cooker liner (optional)
Instructions
I recommend a slow cooker liner for easiest clean up

Place ground beef in to slow cooker, cover and cook on high.  Check in every half hour or so and stir/break up any clumps.  Sometimes a potato masher can be helpful

Continue until all meat is thoroughly cooked.  Time shown above is just a rough estimate.

Freeze in portion sized containers for future use!
Notes
calorie information assumes ¼ cup of ground lean beef.  
*This post contains Amazon Affiliate links. As an Amazon Affiliate, I earn from qualifying purchases. This helps to offset the costs of running this website. **Please note that all nutritional, serving size and calorie information is estimated and based solely on the ingredients used, not the offered replacement options or any other substitutions.