Jump to Recipe
Use your crockpot to make browned ground beef in large quantities. Then freeze it in meal-sized containers for use in future dishes. Little clean-up, and a lot of time saved!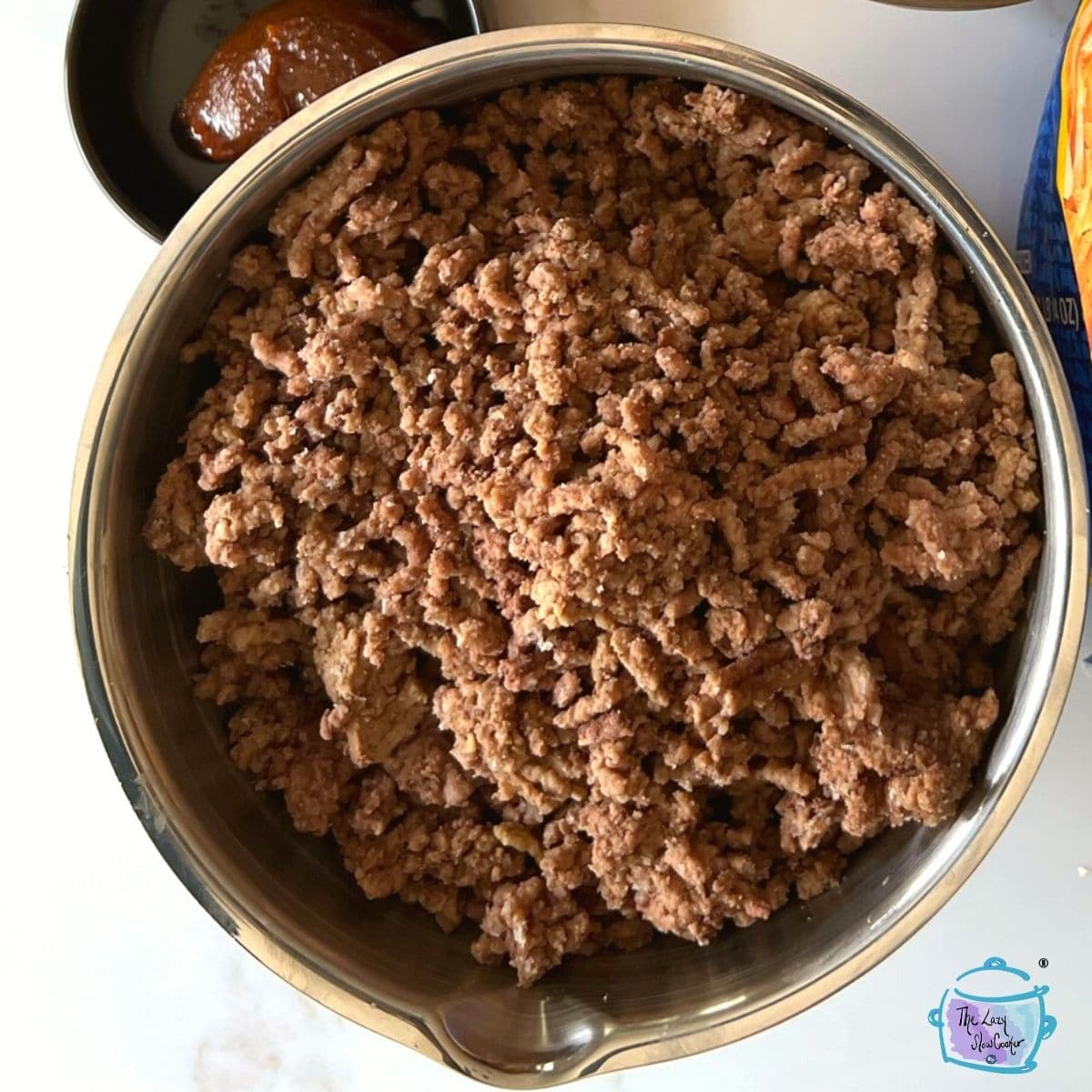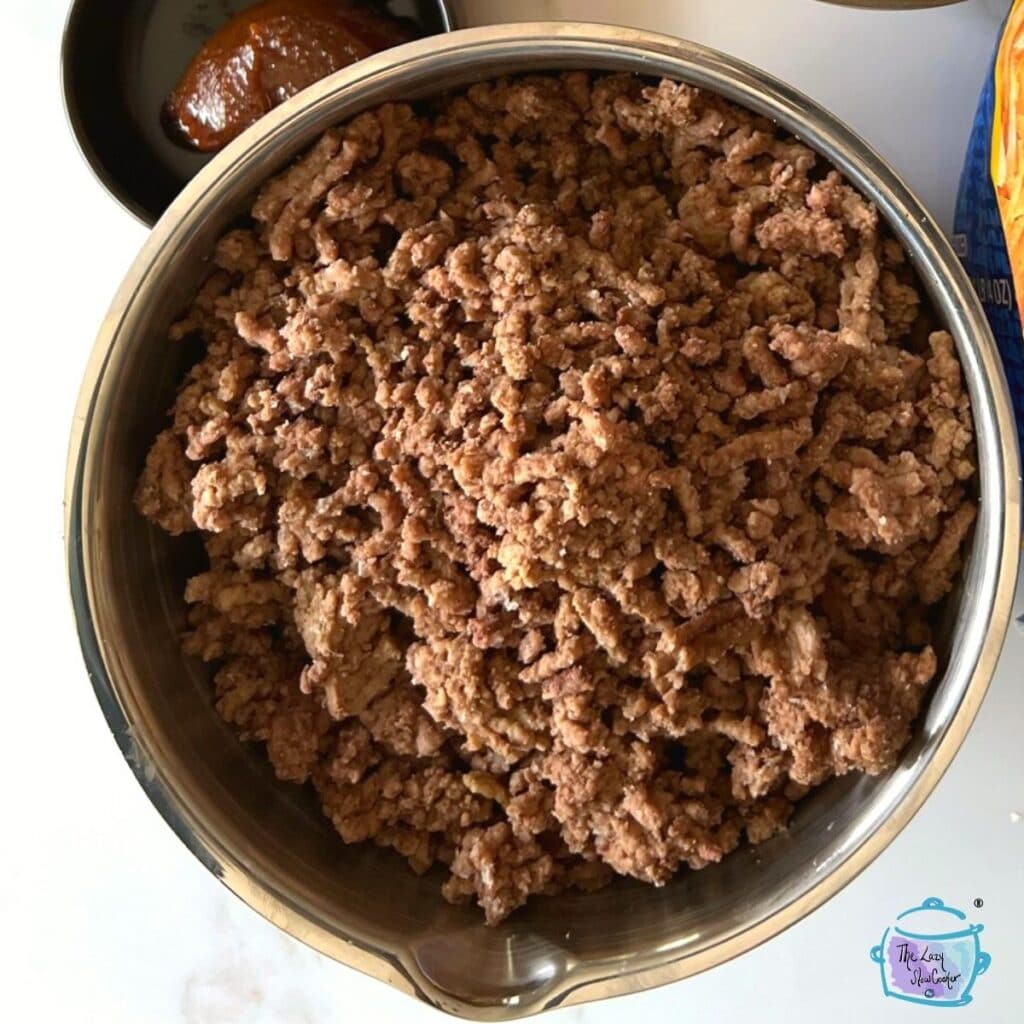 Yes! You can brown ground beef in a slow cooker! Many amazing slow cooker recipes call for the ground beef to be cooked in advance. But that is an extra step involving an extra pot to wash. Not my idea of lazy!
Ground meat is just perfect to use in slow cooking. It is less expensive than other kinds of red meat. It is more forgiving than chicken meaning it is great in dishes with longer cooking times. AND - it is yummy.
However, using raw ground beef in a slow cooker recipe will make for a final dish with lots of excess grease. Greasy soup, chili, and meat sauce are yucky! So, using previously cooked meat is recommended.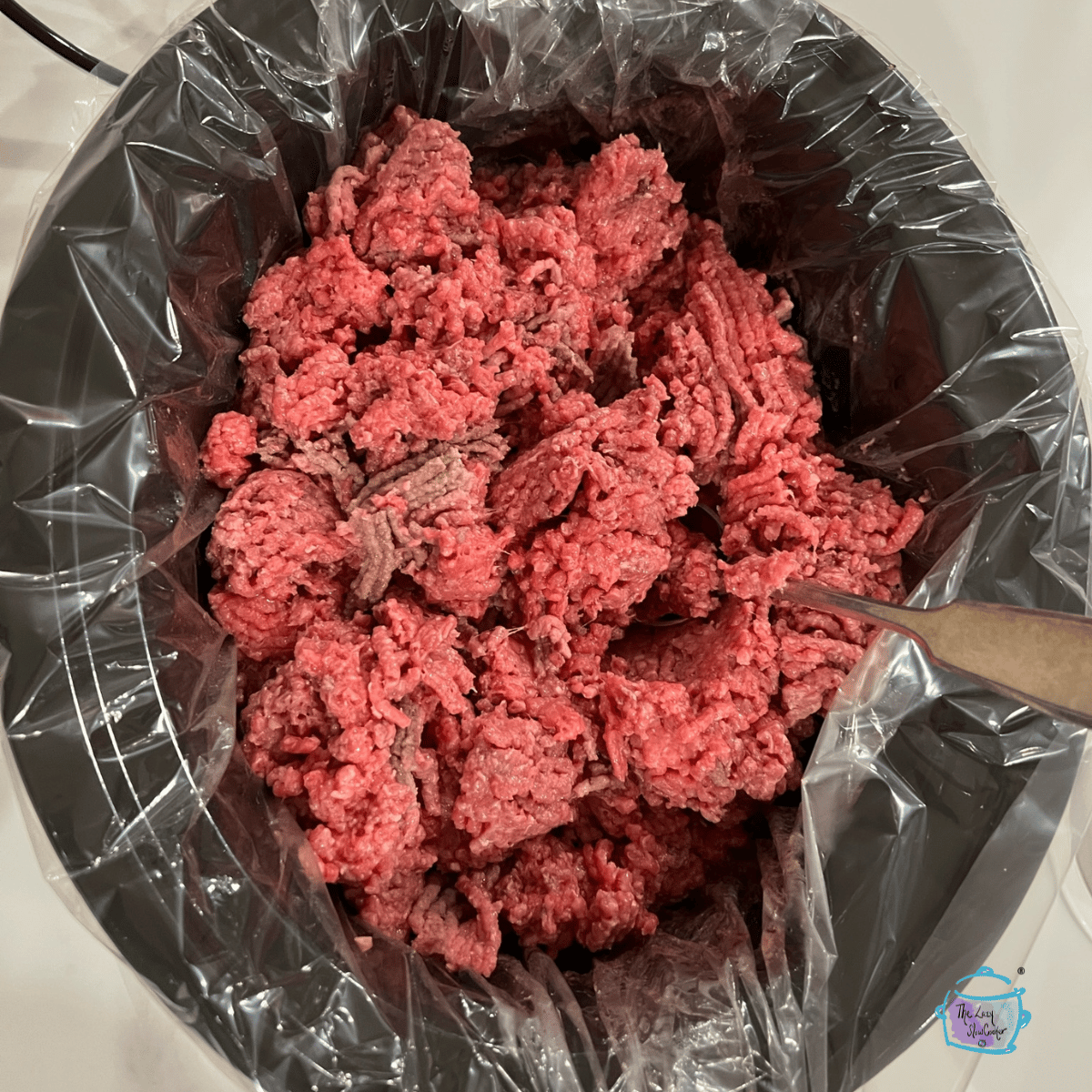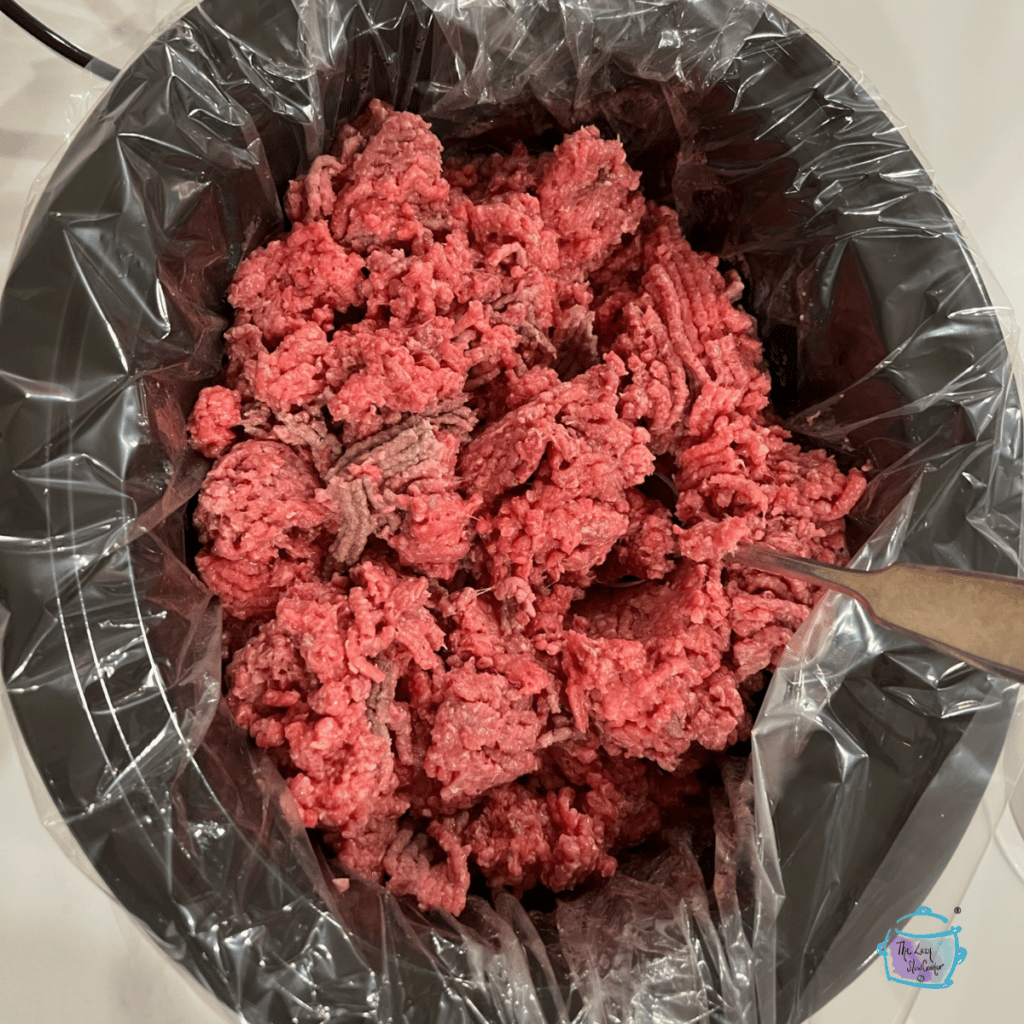 Why use a crock pot for this?
There are more conventional cooking methods. Ground beef is most commonly cooked stovetop. You place your ground beef into a skillet and cook over medium to high heat until the beef is cooked through.
It's not hard, but it can be messy. Grease can splatter during the cooking process leaving you with lots of wiping up to do. And THEN you still have a pot to wash. A hot, dirty skillet with bits of stuck-on brown beef can be a hassle.
Using a crockpot for this chore erases much of the extra work. It is a great way to cook raw meat in bulk. Plus, you can actually walk away for extended periods of time! No need to babysit the raw beef as it cooks.
Storing cooked beef in recipe-sized portions can make a huge difference in your daily meal prep. It allows you to turn many amazing recipes into simple dump-and-go meals.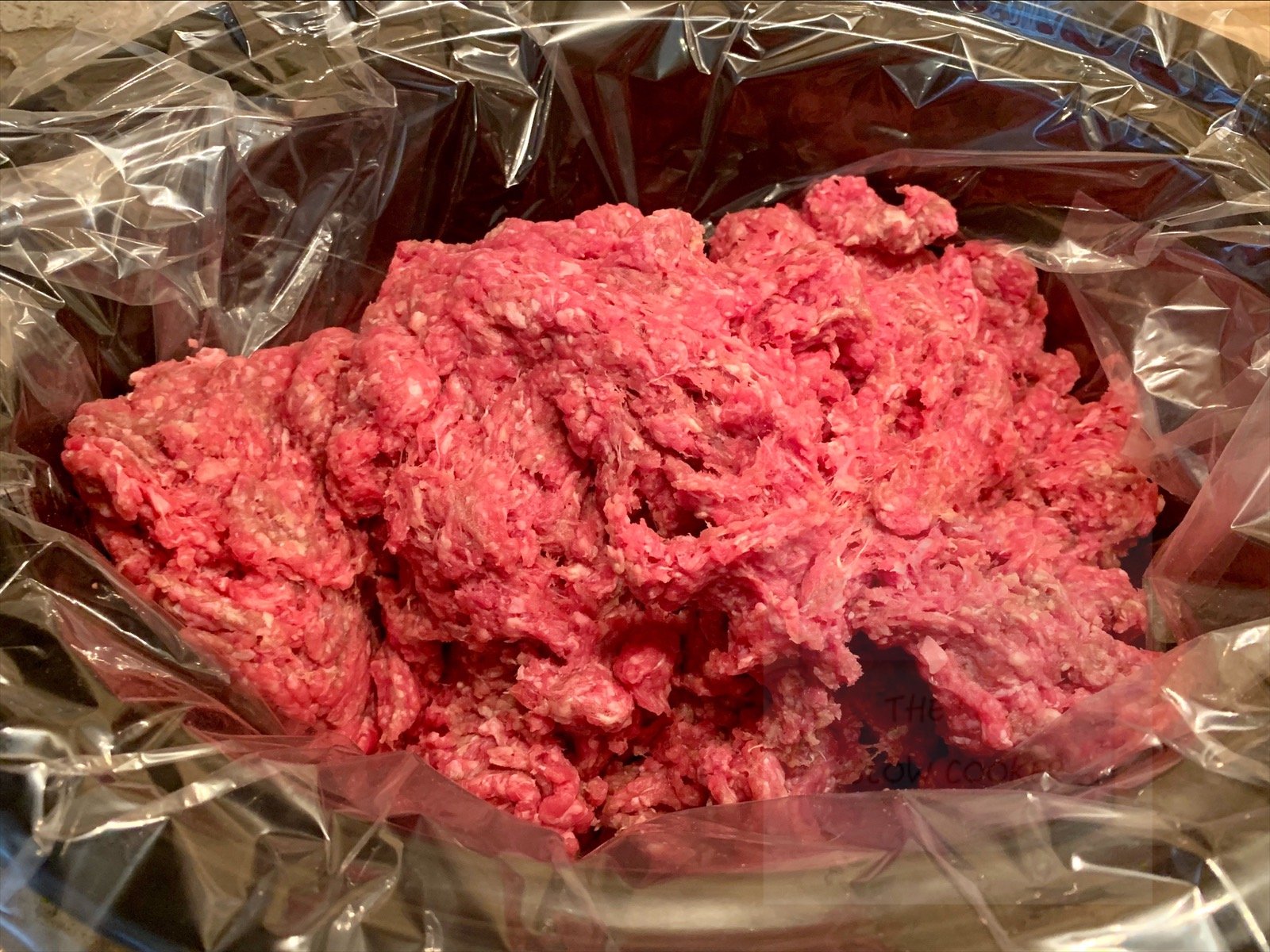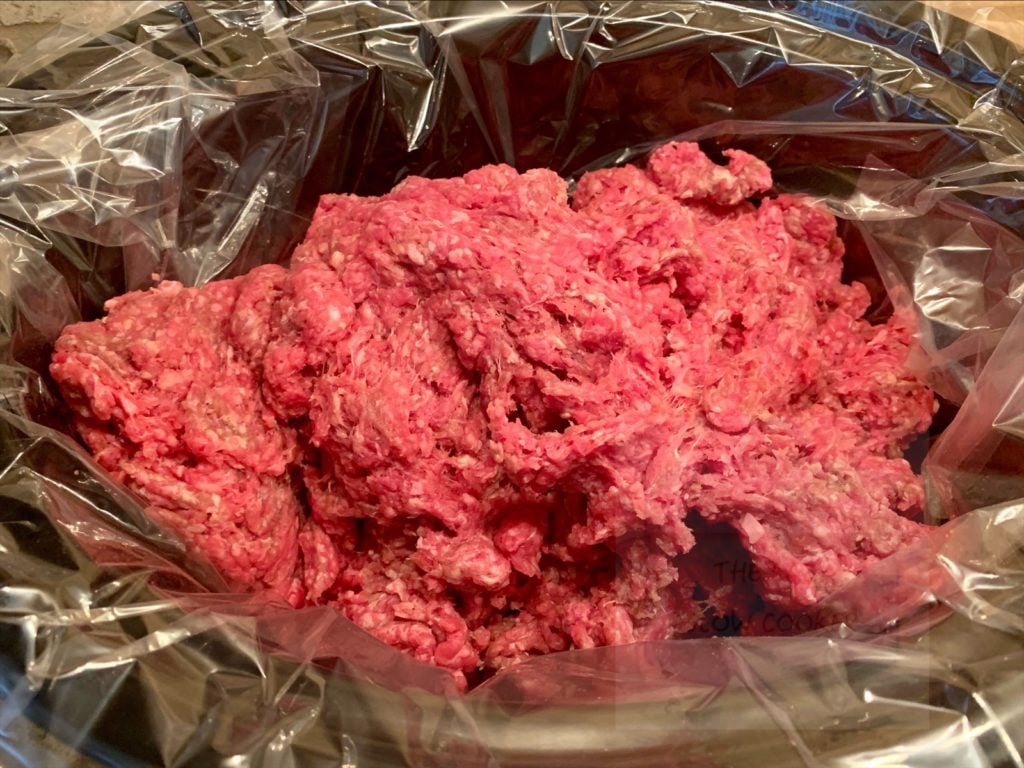 What kind of beef is best?
Purchasing several pounds of hamburger meat can often be more economical than buying just an individual pound of beef. Look for meat labeled "club pack" or "bulk purchase". Buying in bulk can help you significantly lower the cost of your slow cooker meals.
Ground beef comes with a beef-to-fat ratio listed on the package. These ratios range from 70/30 to 90/10. These numbers represent the percentages of beef and fat. So, for example, 70/30 is 70% lean beef and 30% fat.
Meat with a higher percentage of fat tends to be a little bit more flavorful and moist. However, it will require more draining of excess fat.
Tip: The leaner the beef, the more expensive it tends to be. If you will be ultimately using beef in a saucy dish such as a ground beef casserole or chili, drier meat won't matter as much.
Shopping list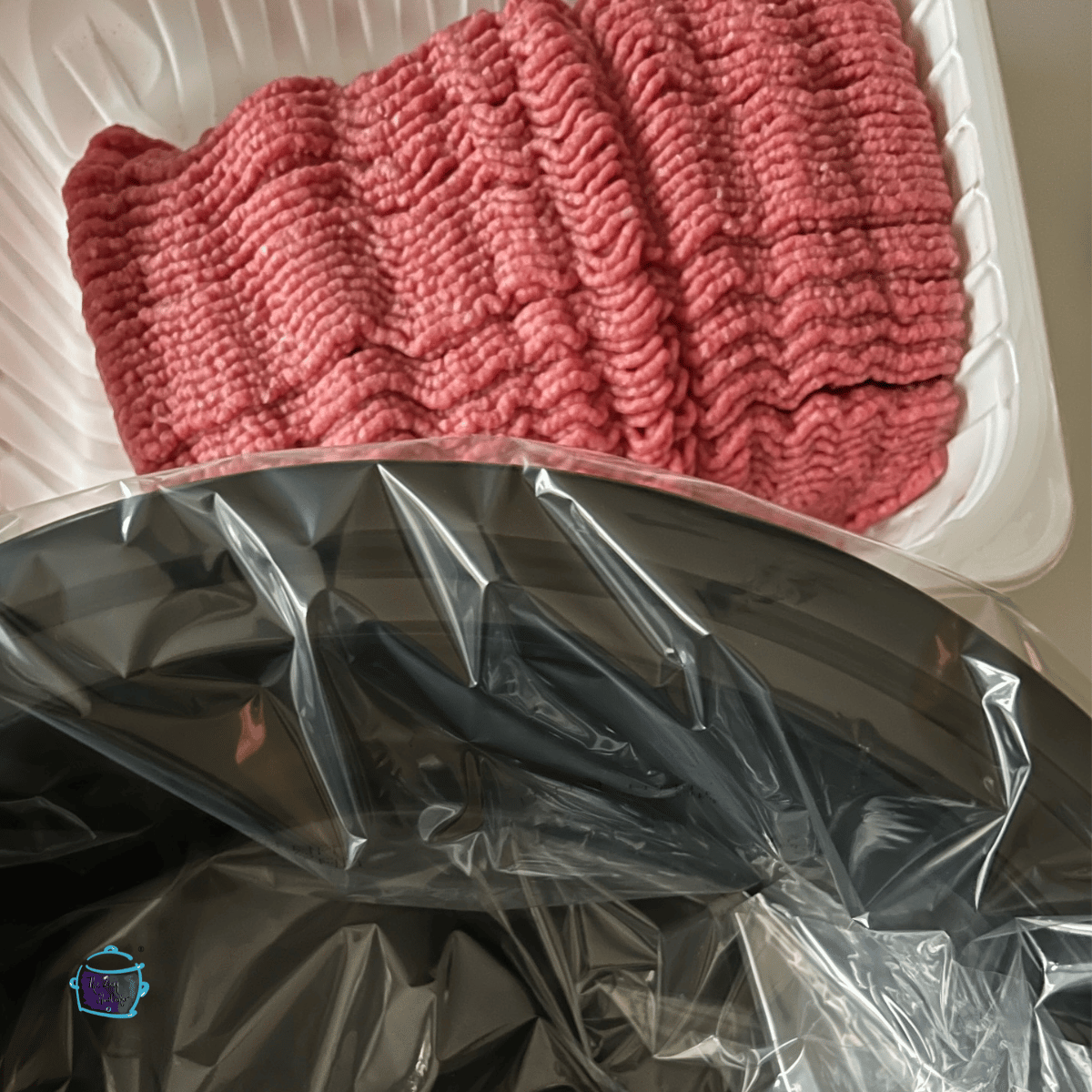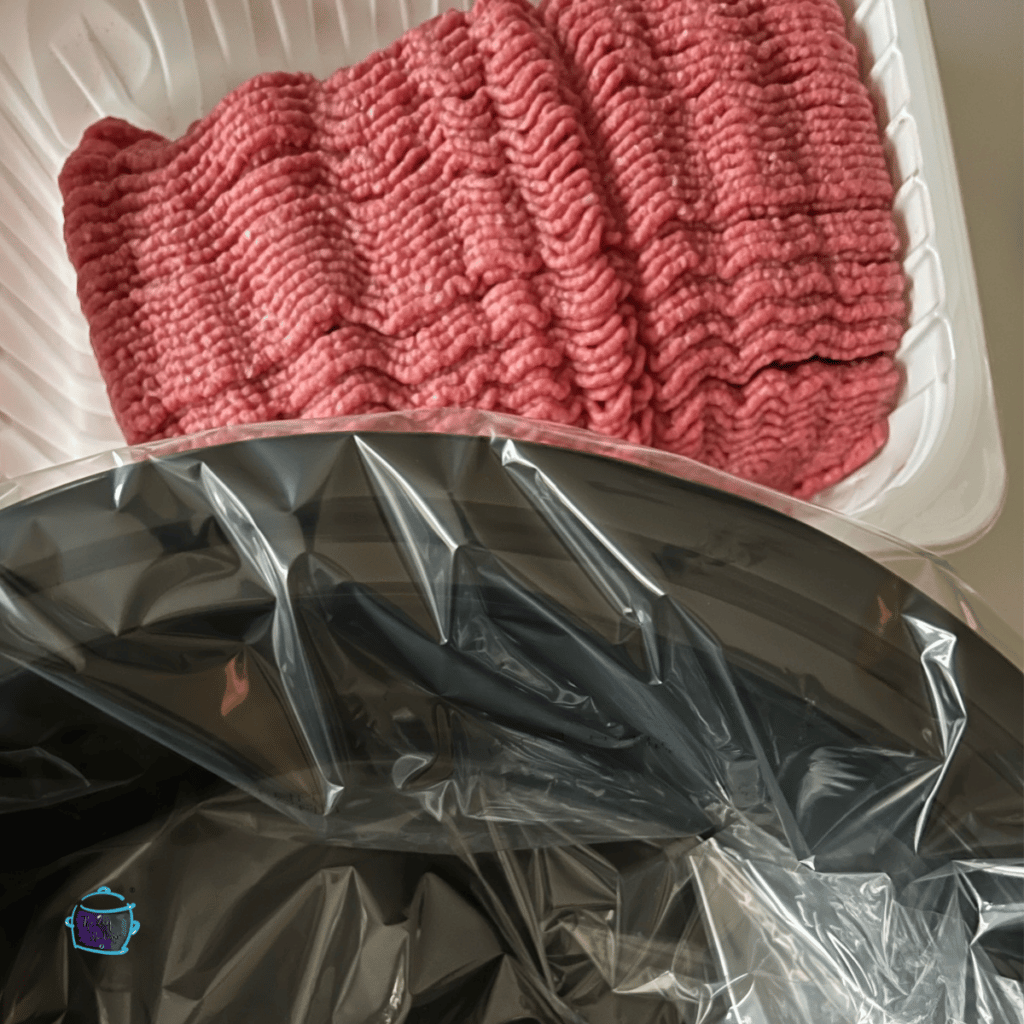 Jump to recipe card for exact details
Ground beef - I have used up to 6 pounds of ground beef
6 quart or larger slow cooker
large spoon, spatula or potato masher
Non-stick cooking spray or slow cooker liner (optional)
Slotted spoon or fine mesh strainer.
Cooking instructions
Start by spraying your slow cooker with non-stick cooking spray. Place all ground beef on the bottom of a 6-quart slow cooker bowl. Use a spoon, spatula or potato masher to break it up a bit.
If your slow cooker seems super full, don't worry, the meat will shrink a bit as it cooks.
Once or twice during cooking time, remove the lid from the slow cooker and stir beef to break up any clumps. You will want to make sure to fully brown meat prior to removing it from the heat.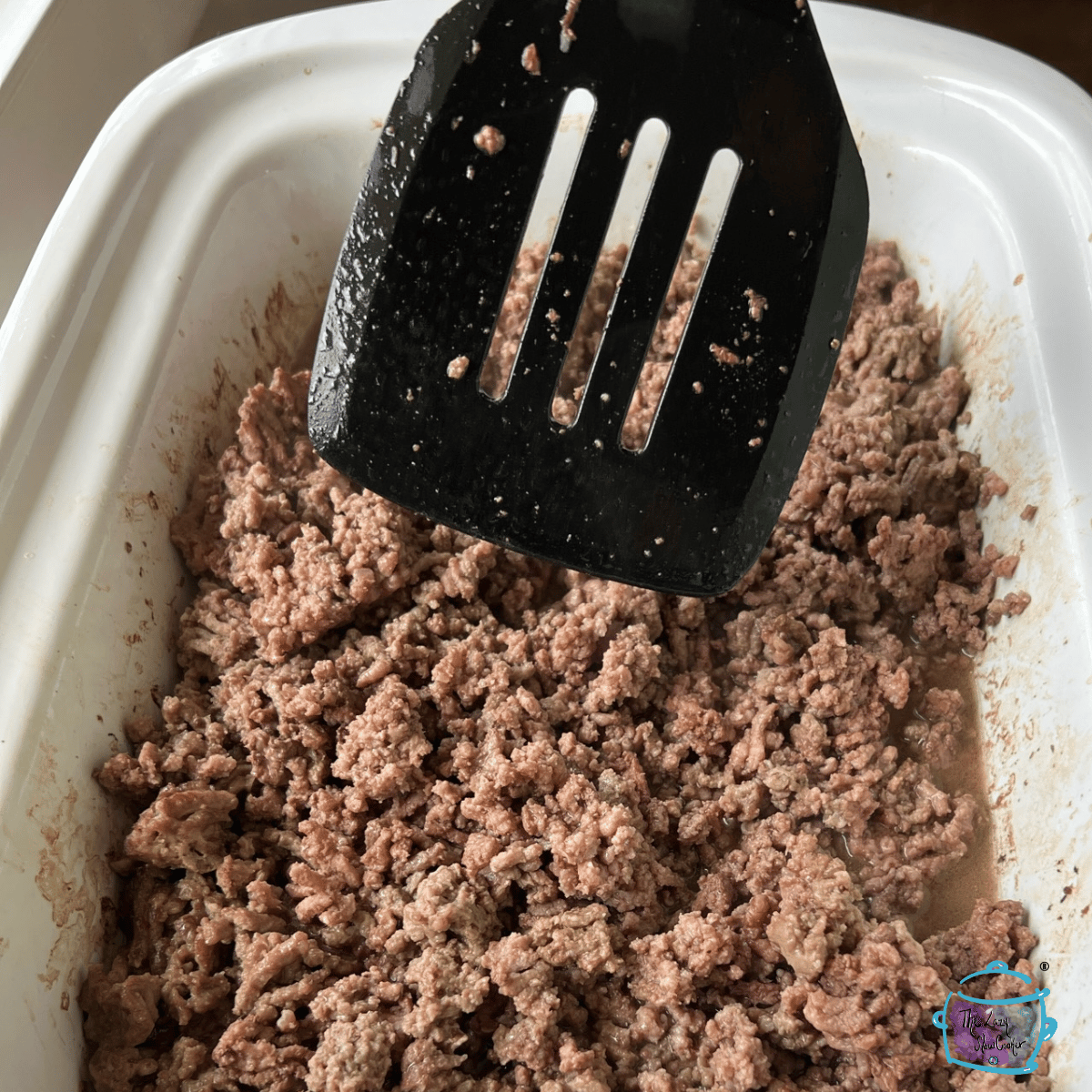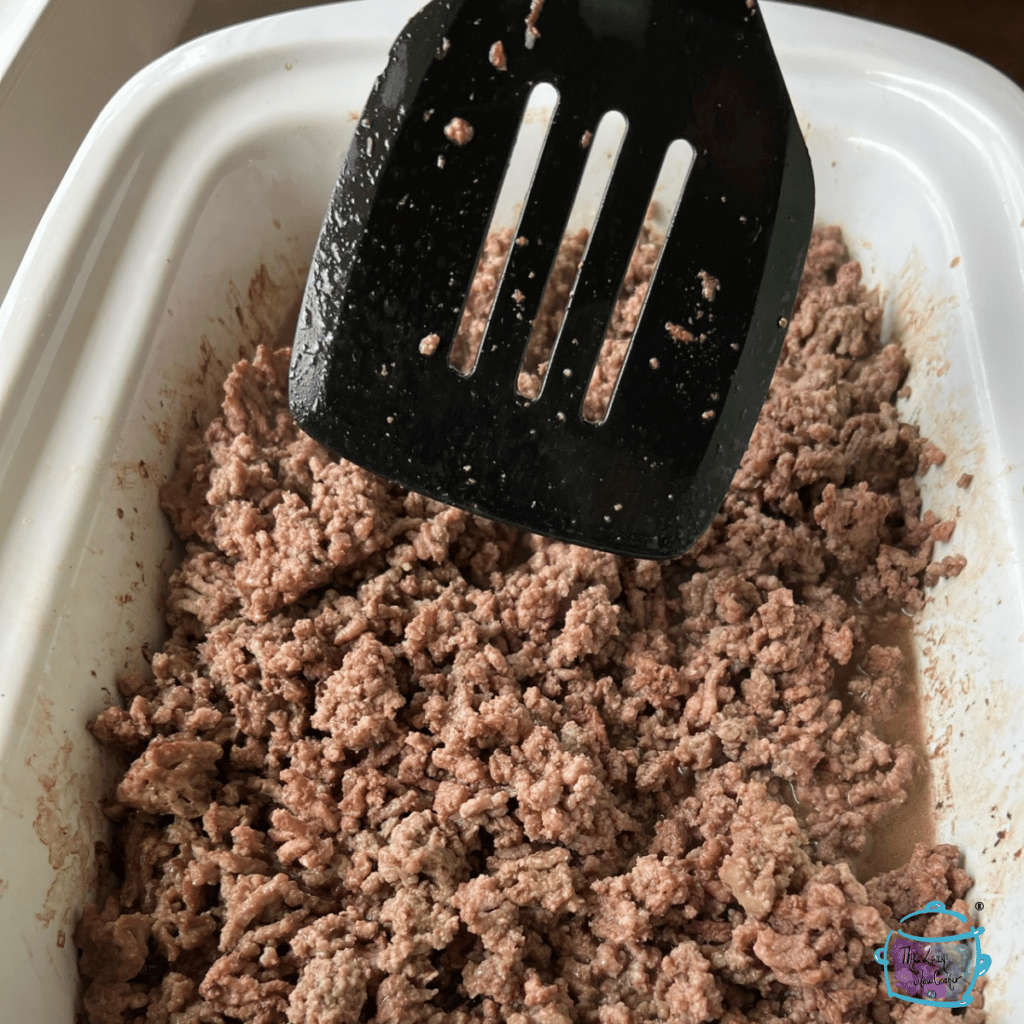 Draining fat
While your beef cooks, it will accumulate a lot of liquid fat. This will need to be drained and discarded.
Draining can be accomplished by pouring the fat from your slow cooker through a large, fine-mesh strainer over a bowl. Proceed cautiously as your cooked beef will be hot and will produce a lot of hot steam and hot oil.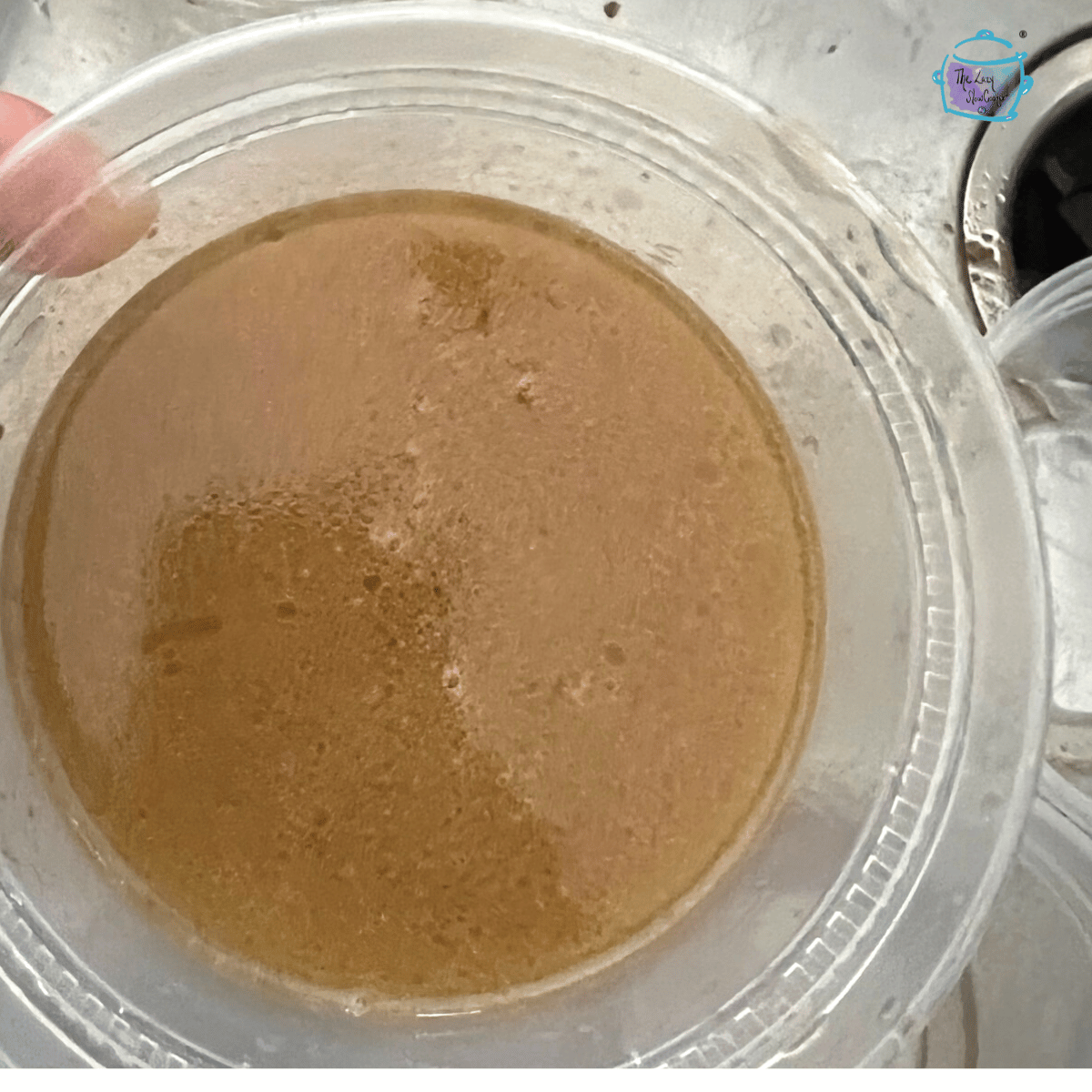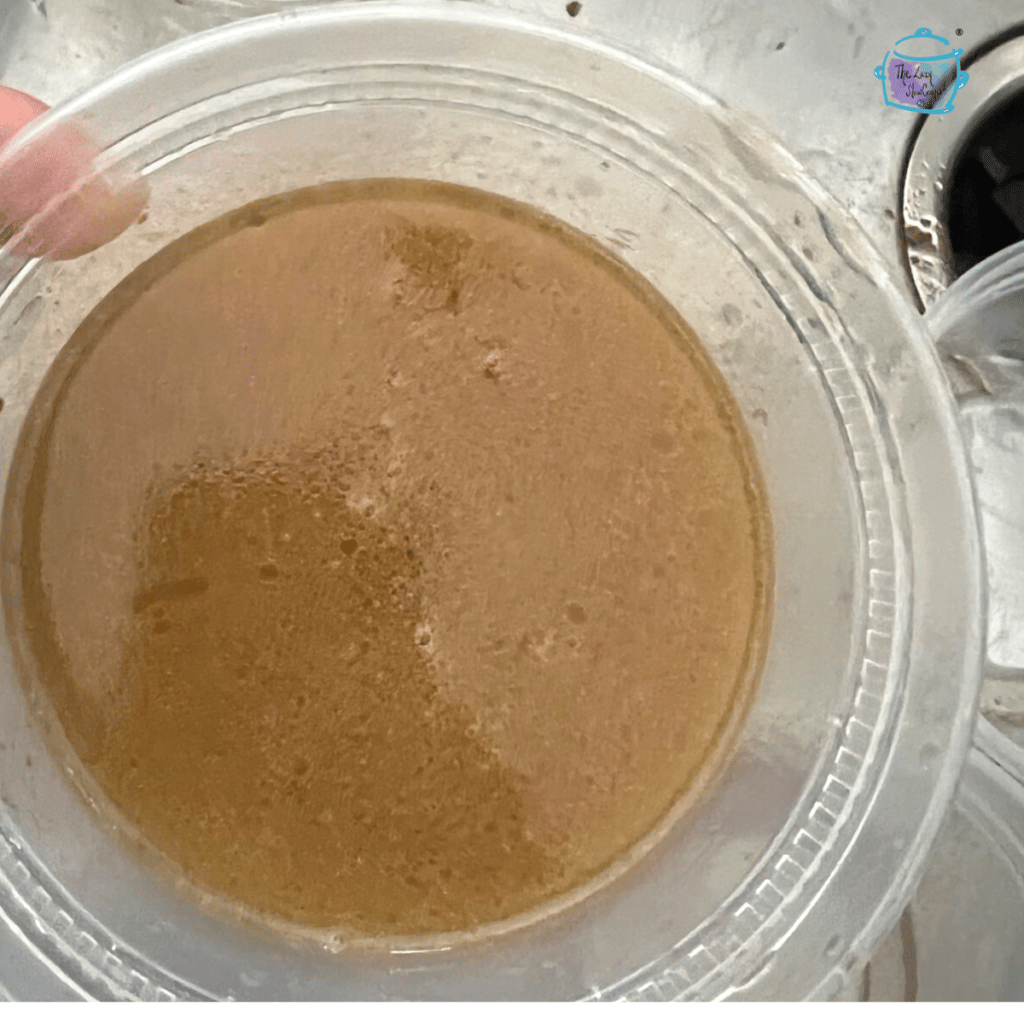 How to store cooked ground beef
Once your beef is cooked and drained, allow it to cool a bit and get ready to package it up.
You may want to freeze your cooked beef for use in future slow cooked recipes. If so, you will want to store cooled beef in recipe sized portions. Airtight containers or freezer bags work best for this.
Slow cooked ground beef will last 3-4 days in the refrigerator and about 3 months in the freezer. Be sure to allow frozen meat to thaw in the fridge prior to use in subsequent recipes.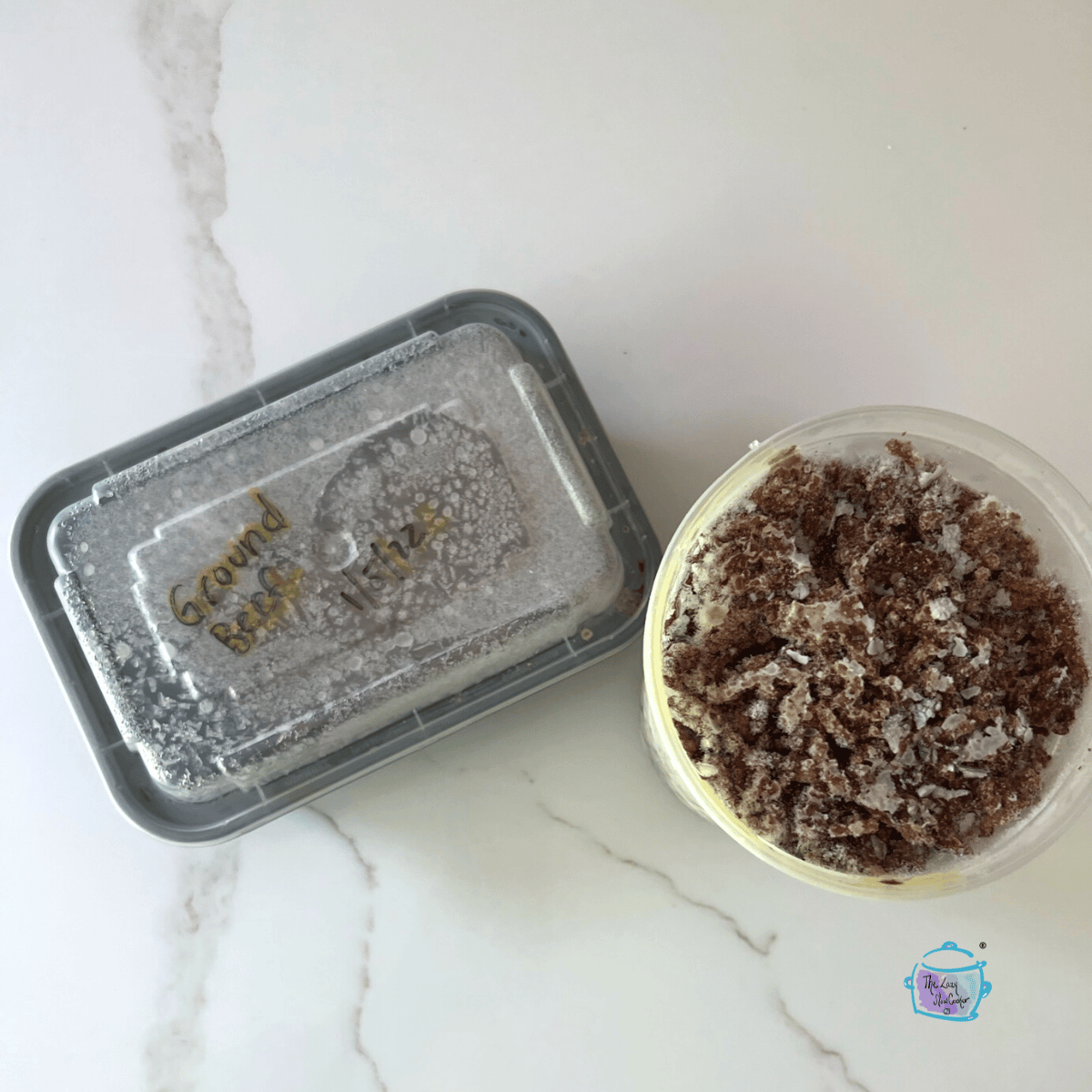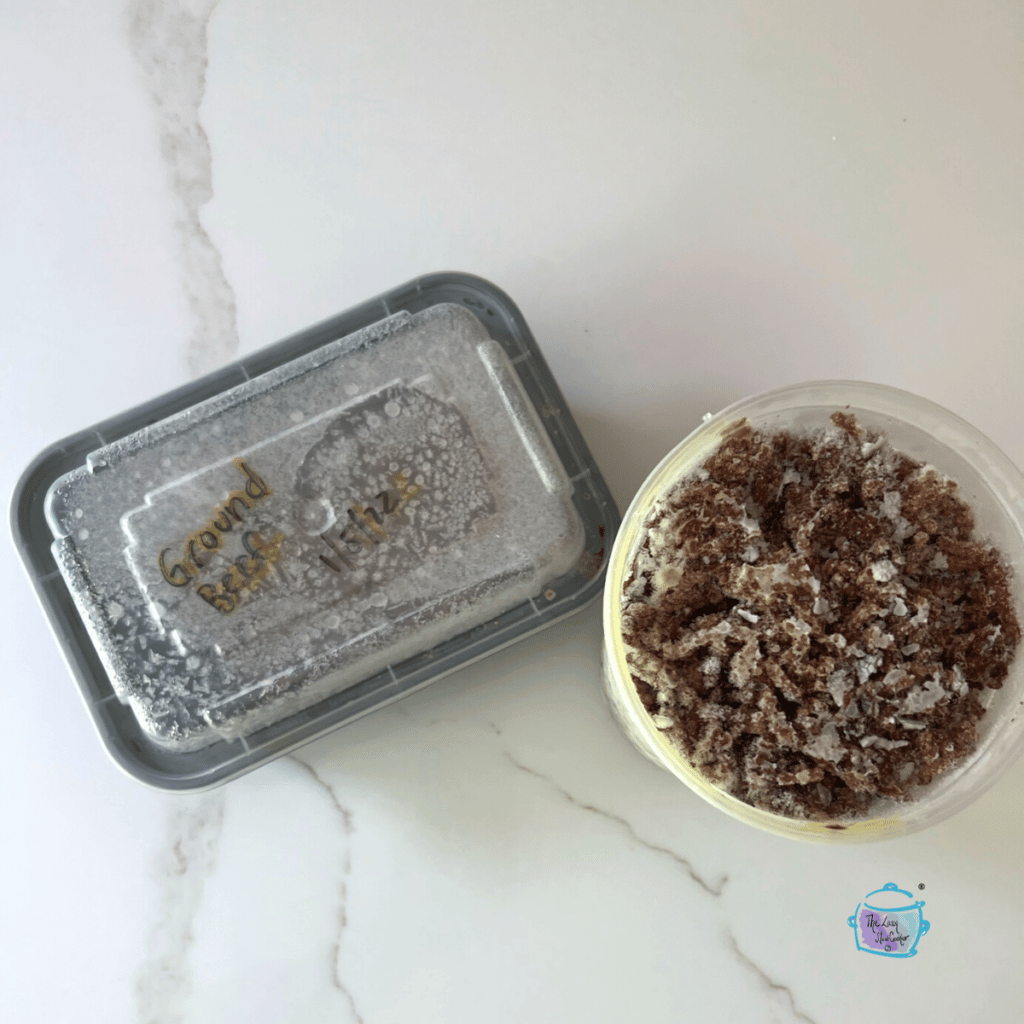 Ground Beef Recipes For The Crock Pot
Having cooked ground beef on hand will allow you to make many delicious crockpot recipes with very little effort. Everything from slow-cooker chili recipes, to casseroles can be made quickly and easily.
Some Lazy Slow Cooker favorites include:
Hints and hacks
Do not place frozen ground beef directly in your slow cooker. According to the USDA, it should be defrosted in the refrigerator first.
Looking to confirm that your beef is fully cooked You can use a meat thermometer to ensure that the internal temperature has reached the FDA-recommended temperature of 160ºF
I am a huge fan of slow cooker liners. They are a great help with this particular recipe. If you prefer not to use them, spray your slow cooker with non-stick cooking spray prior to adding any other ingredients.
In the market for a slow cooker? I love mine!
As an Amazon Associate, I earn from qualifying purchases and affiliate links.
📖 Recipe
Check out my latest on Instagram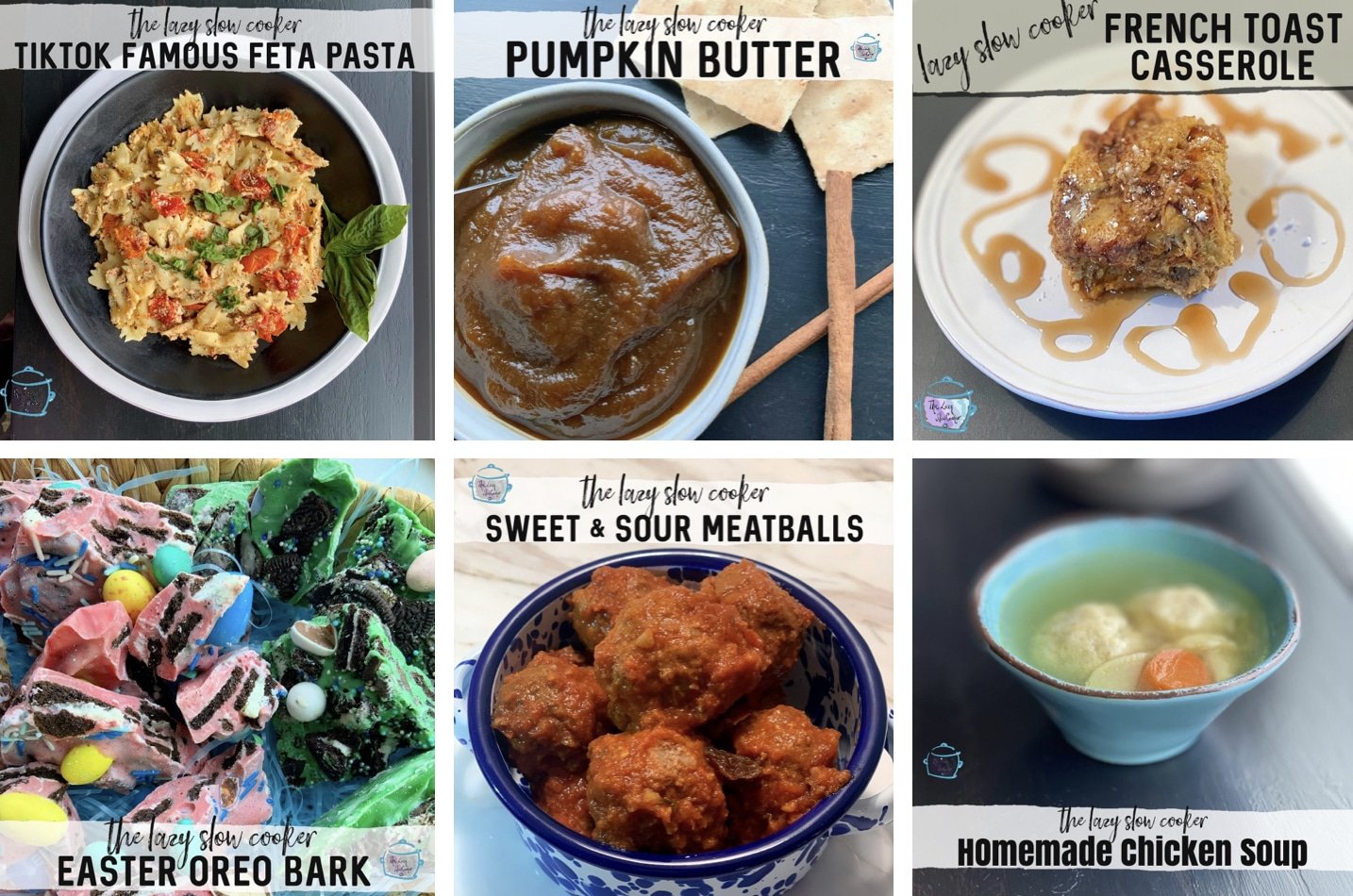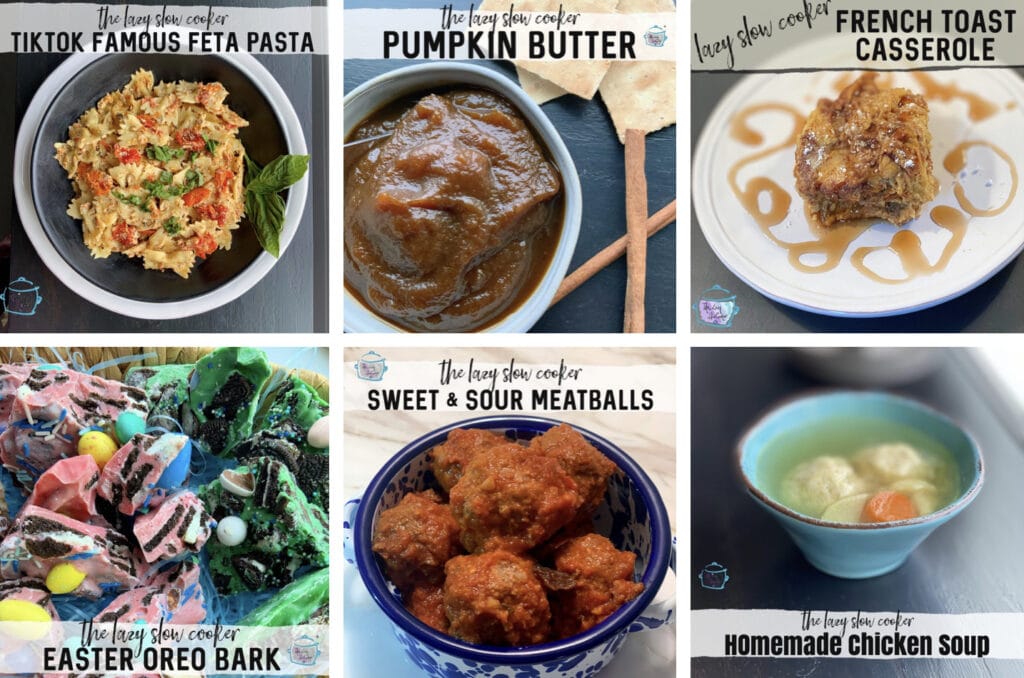 Have you cooked ground beef in your slow cooker? If so, I would love to hear your thoughts in the comment section below!