Jump to Recipe
Farmer's market fresh zucchini and squash cooked to perfection in a light parmesan, lemon and garlic sauce. All in your crockpot! Just add chicken and you can turn this gem into a full one-pot meal!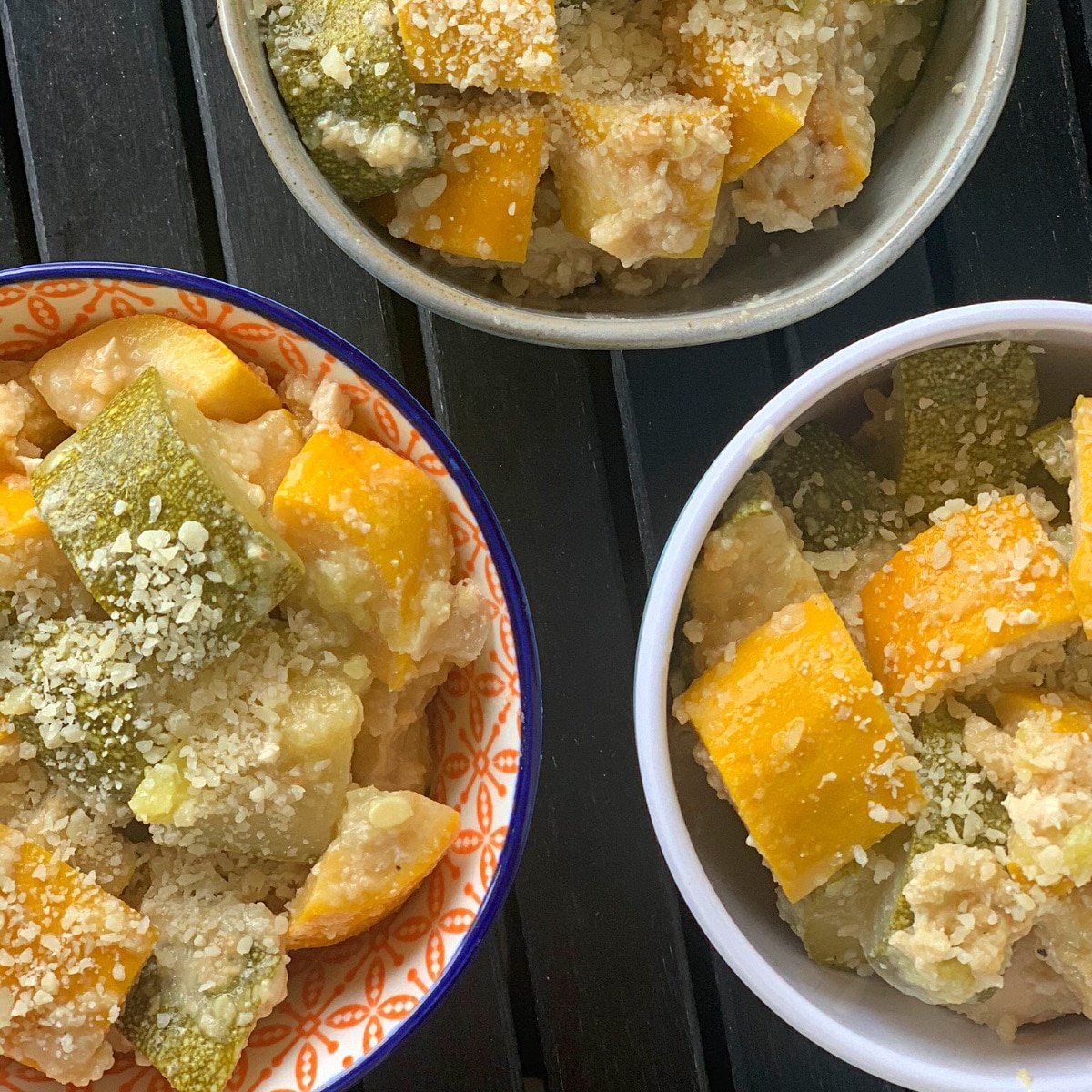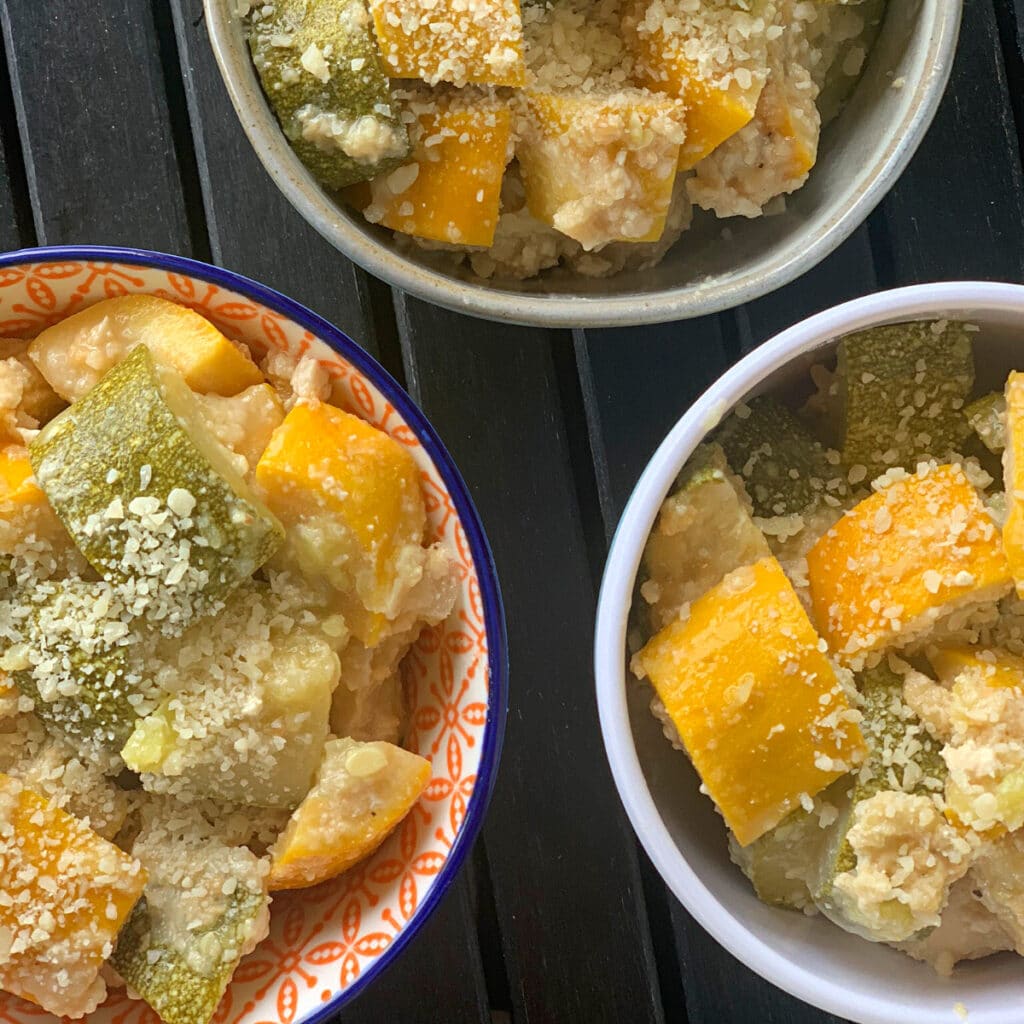 I don't know what it is about a farmer's market that I find so appealing. I just know I can't drive past one without stopping for a quick look. Something about all those freshly grown fruits, veggies and meat gets me excited about the idea of running back to my kitchen to start creating different and delicious dishes.
Not all of my creations are delicious, of course. Sometimes, combinations of foods and various cooking strategies come out better in my head than they do in reality, Lucky for you, I only post the tried and true successes (the team is not so lucky, they have to live through the delicious AND the not so delicious) .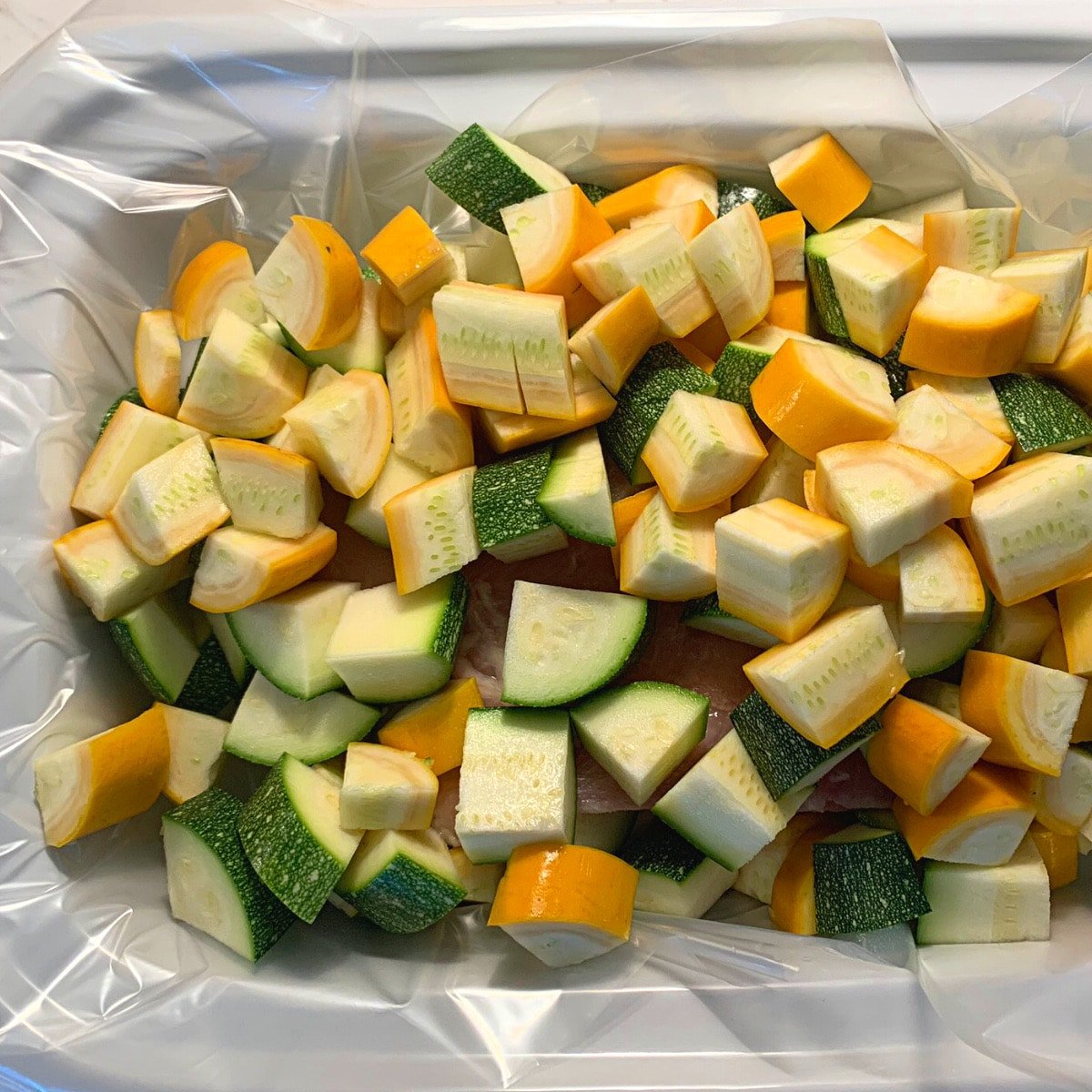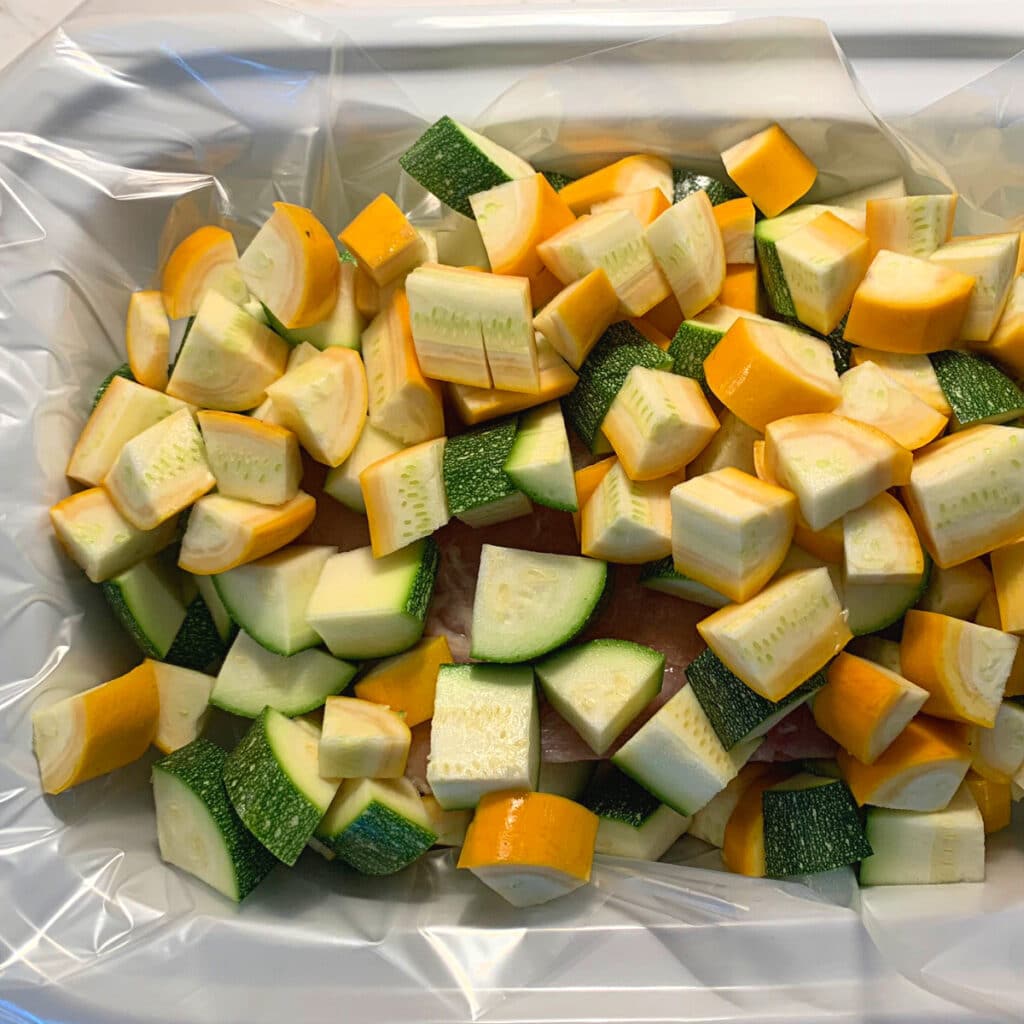 This recipe is the result of coming home with some delicious, seasonal produce that I wanted to cook ASAP. My goal was to keep the fresh flavors in tact, yet create a hot and delightful dish and it worked! The most amazing part of all: Number two (the one who doesn't eat veggies) loved it and couldn't get enough. Even the squash and zucchini parmesan leftovers were amazing!!
How To Make This Delicious Crockpot Recipe
Chicken Or No Chicken?
To start, you need to decide if you want to make your zucchini and squash parmesan as a full chicken entree or just as a vegetarian dish/side dish. Both are delicious and equally easy! You will need the following ingredients: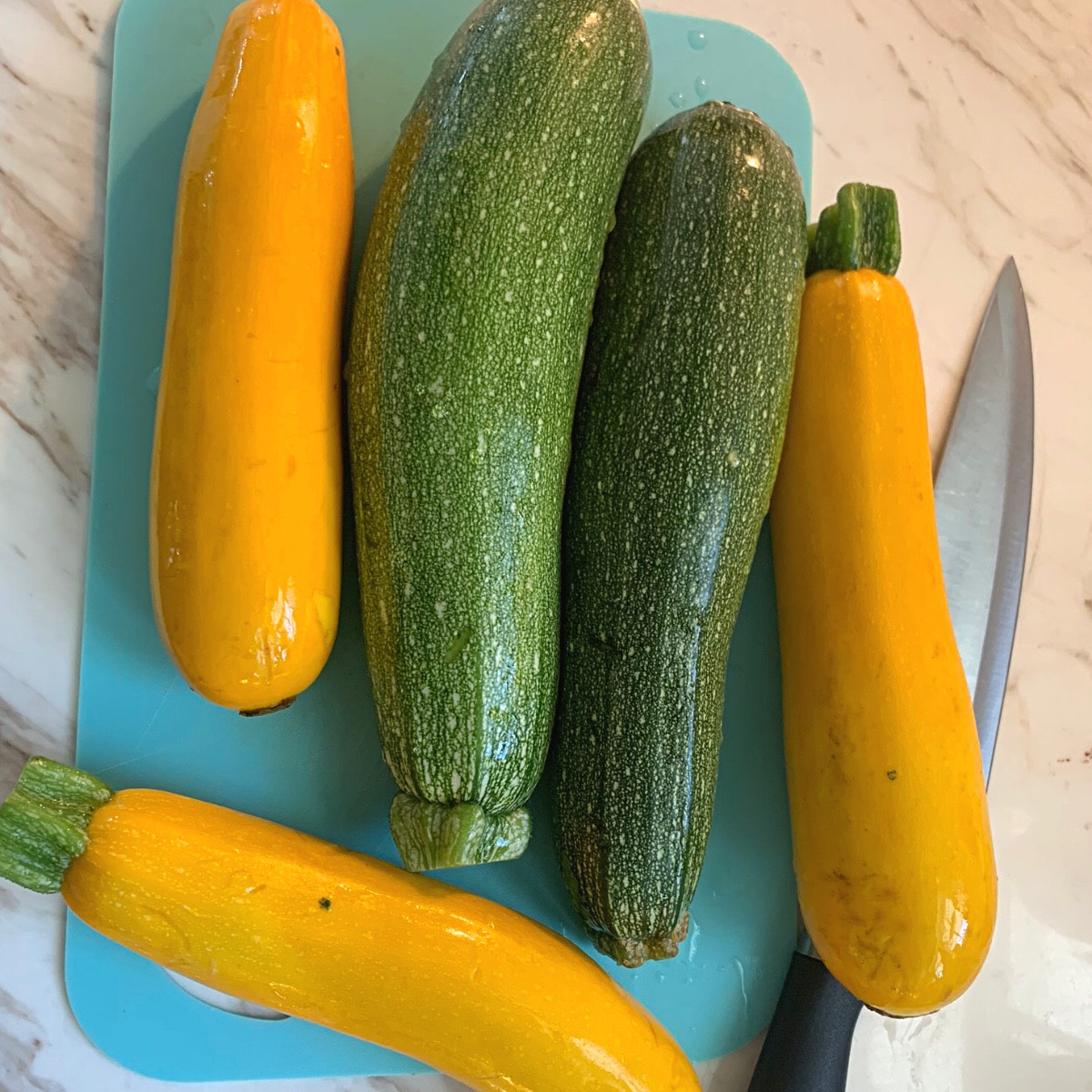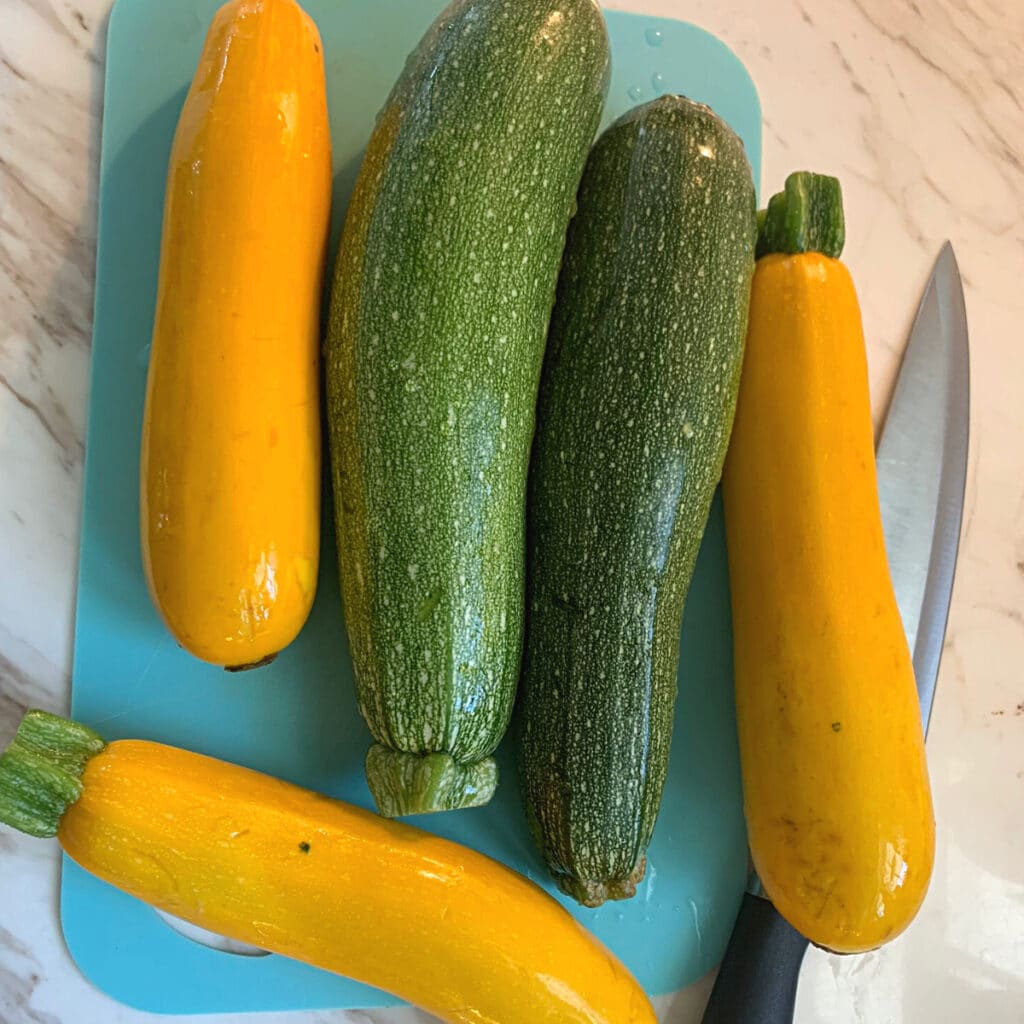 zucchini, cut in bite size chunks
summer squash, cut in bite size chunks
diced onion
chicken broth
lemon juice
minced garlic
garlic salt
fresh ground pepper
lots of grated parmesan (freshly grated is especially delicious!)
olive oil
and....if you want to make into a chicken dish - chicken!!
What Kind Of Chicken To Use
This dish is meant for boneless, skinless chicken pieces. Since we have both white meat and dark meat fans in our house, I generally create recipes using both to satisfy as many members of The Team as possible. White meat chicken is always drier, especially when slow cooked. Dark meat is more forgiving and can be cooked longer without drying out. However, thighs (dark meat) are smaller and tend to have more connective tissue. If you don't have a preference taste wise, thighs are the way to go. However, if you are a fan of less fatty chicken, stick with those breasts! If you do decide to use breasts and feel they are a little too dry, a great option is to shred them and mix the shreds back into the sauce.
Putting It All Together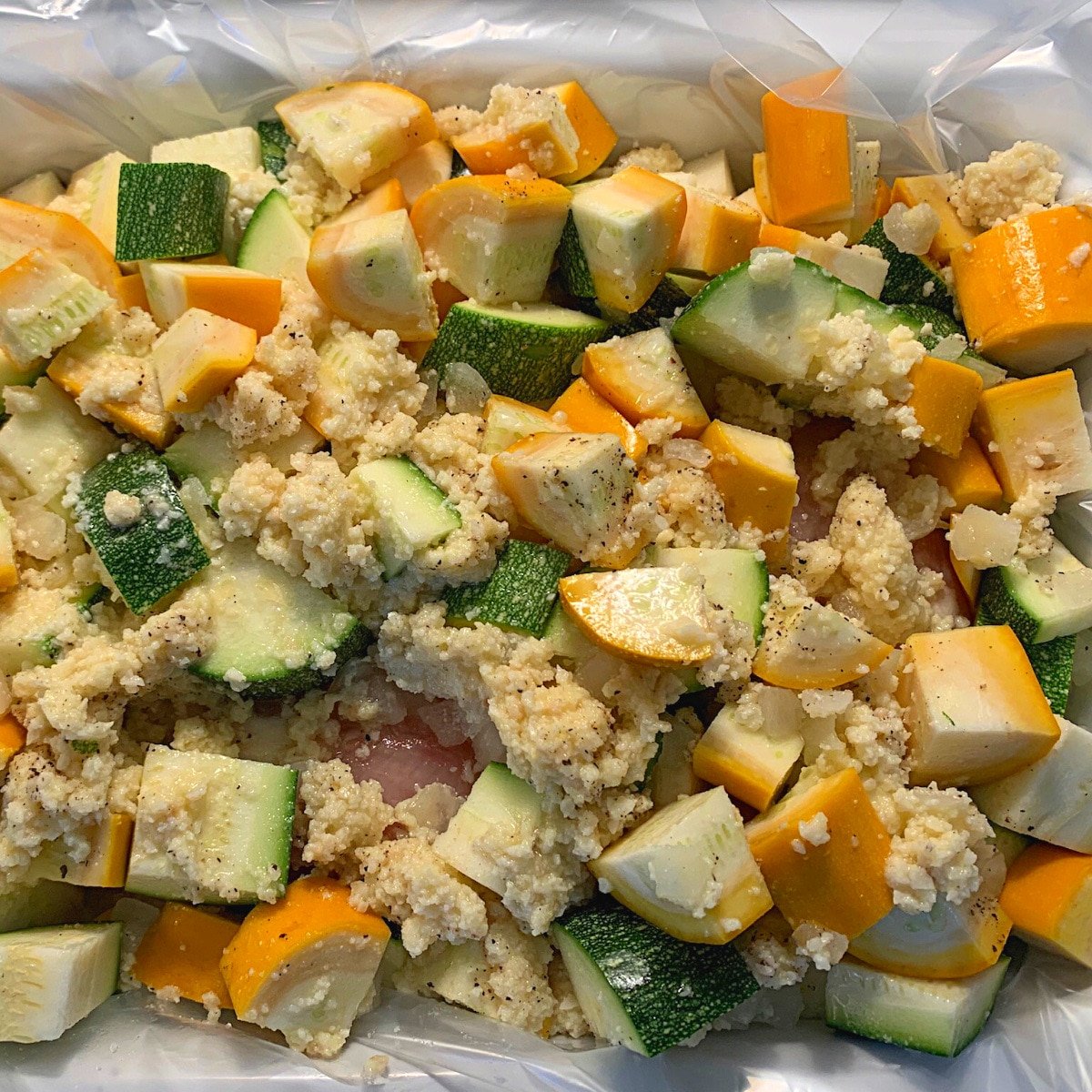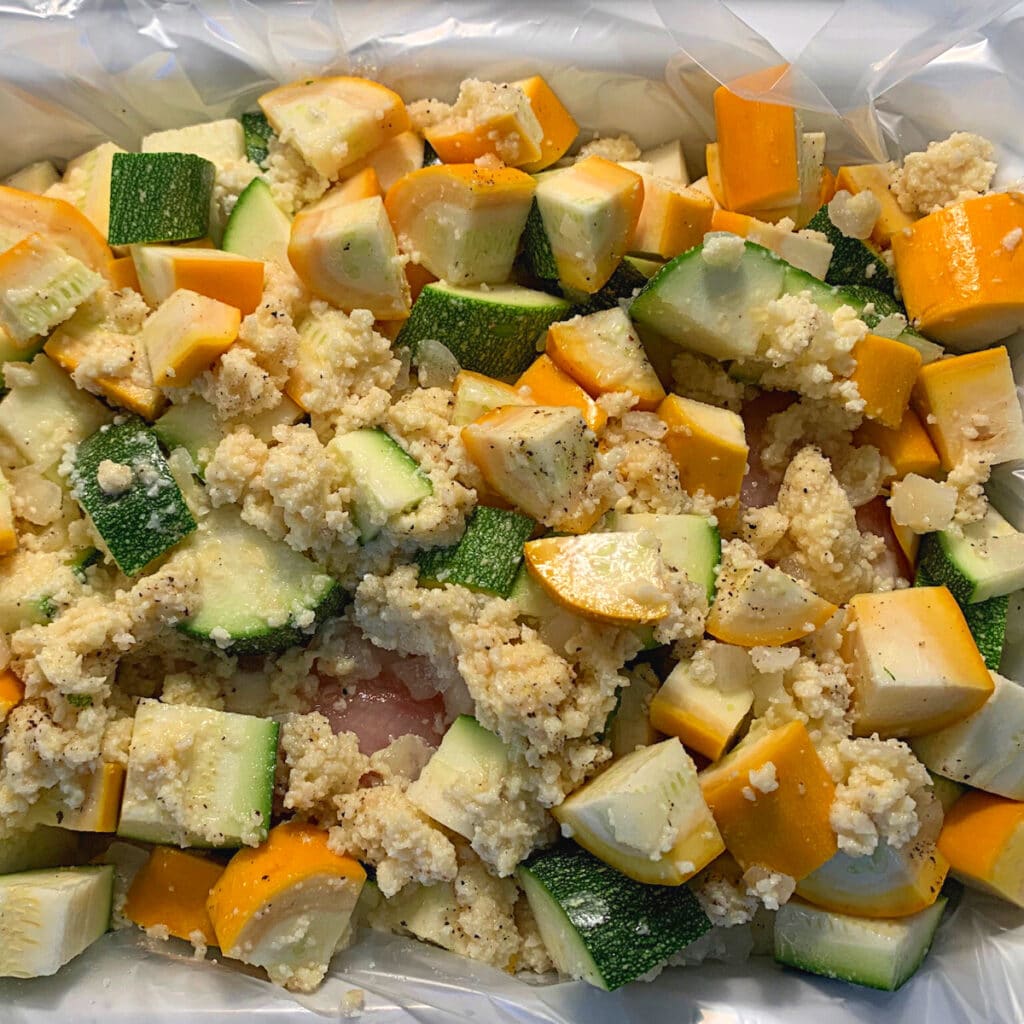 If you are using a slow cooker liner, that is always the first step (although an easily forgotten one!) Once all your ingredients are gathered together, place veggies (and chicken, if using) chunks into slow cooker and sprinkle with garlic salt and pepper. Mix the remaining ingredients together in a separate bowl and pour over items in slow cooker. Cover and cook on low for 4-5 hours. One to two hours before serving, sprinkle more parmesan over top, cover and cook until ready to serve!
Serving Suggestions For This Easy Crockpot Recipe
With or without chicken, this colorful dish will make an incredible and delicious starting point for any great meal. It goes really well with a basic pasta, a crisp side salad and some crusty bread. If you are choosing to make it without chicken, it makes for a great companion for a whole cooked chicken or a steak dinner!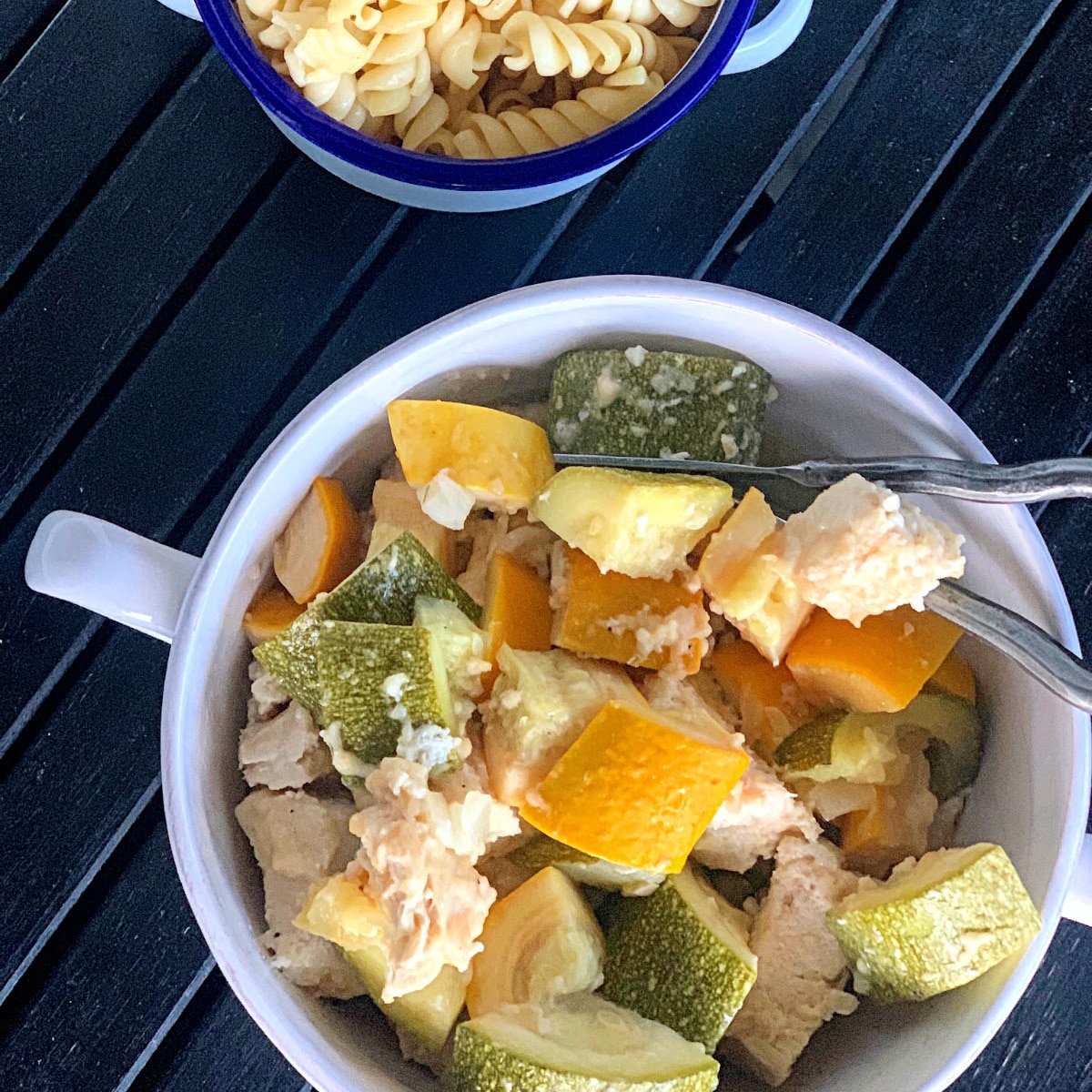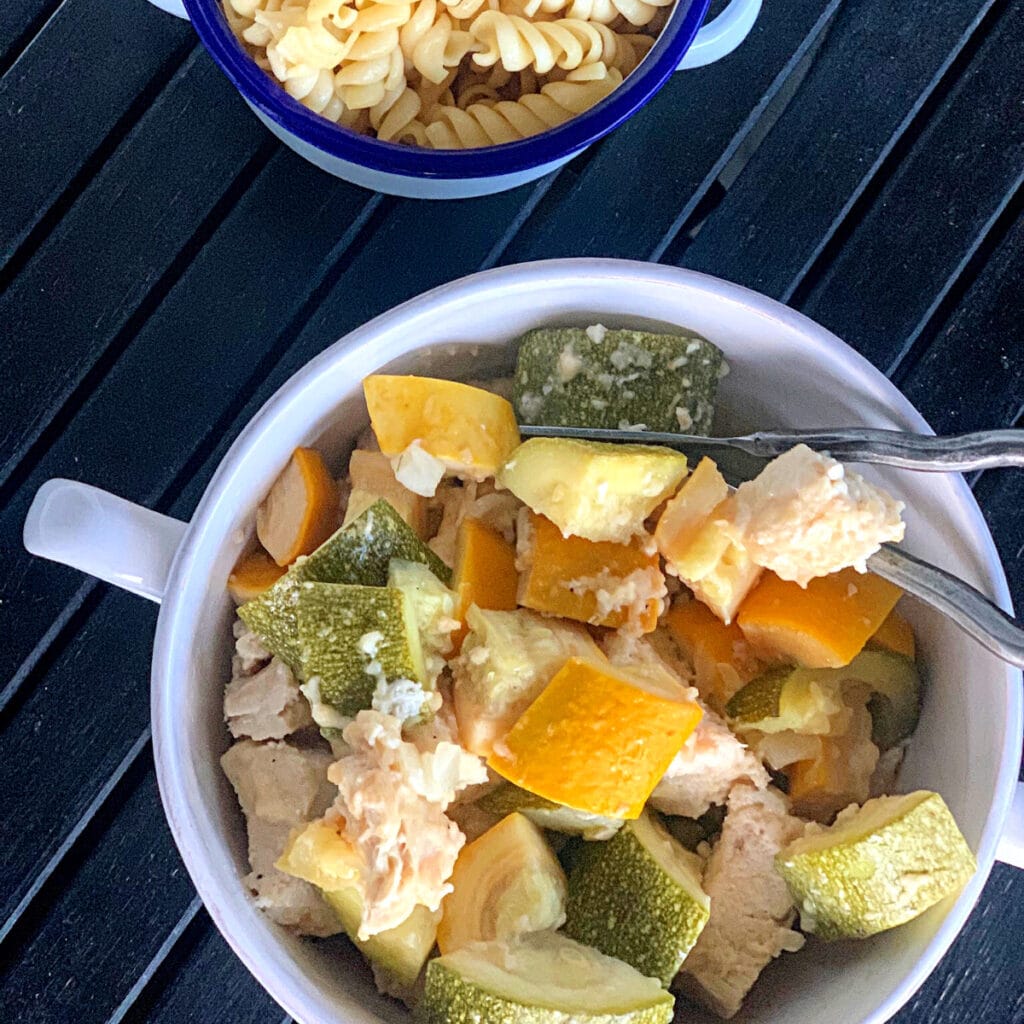 Hints and Hacks
Since fresh and wonderful veggies are the key to any dish of this sort, feel free to go with what looks best. If the zucchini at your place of purchase don't look great, replace with extra squash and vice versa. This dish will work perfectly well with all squash or all zucchini.
This dish will work really well with chicken tenders!
Leftovers are delicious warm or cold!
To confirm when chicken is finished cooking, I suggest a meat thermometer. Chicken that is over cooked will be dry and rubbery. According to the FDA, chicken is safe to eat when it reaches an internal temperature of 165°F. Here is my favorite meat thermometer.
Slow cooker liners are an optional but helpful hack whenever using a crockpot. They allow you to cook with little to no cleanup. I like to buy mine in bulk for a better per-piece price. Click here to see what I buy.
In the market for a new slow cooker? Here is the one I am currently lusting after.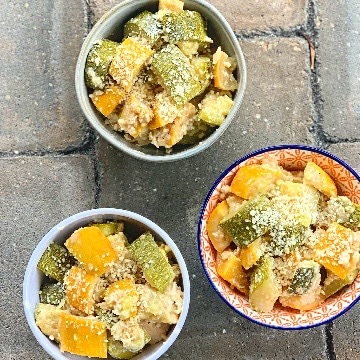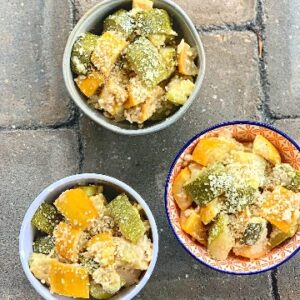 Lazy Zucchini and Squash Parmesan
Farmer's market fresh zucchini and squash cooked to perfection in a light parmesan, lemon and garlic sauce. All in your crockpot! Just add chicken and you can turn this gem into a full one-pot meal!
Print
Pin
Rate
Equipment
3.5 quart slow cooker or larger

measuring cups and spoons

slow cooker liner (optional)
Ingredients
Zucchini and Squash Parmesan
3

medium

zucchini, cut in bite sized cubes

3

medium

yellow summer squash, cut in bite sized cubes

½

cup

diced onion

fresh ground pepper to taste

¼

cup

chicken broth

3

tablespoon

lemon juice

2

tbsp

olive oil

1

tablespoon

minced garlic

2

teaspoon

garlic salt

2.5

cups

grated parmesan cheese, divided
To Turn Dish Into An Entree
1.5

lbs

chicken cut into cubes

dark meat will stay more moist, but breasts will work if you prefer your chicken drier
Instructions
place cubed zucchini and squash and onion into lined slow cooker (if using liner)

If you are making the chicken version of this dish, add in cut up chicken

sprinkle garlic salt and pepper over top

In a separate bowl, mix together chicken broth, lemon juice, olive oil, minced garlic and 1.5 cups parmesan

Pour mixture over ingredients in slow cooker and cover

cook on low for 4-5 hours

open lid and top with another cup of grated parmesan cheese

cover and cook another 1-2 hours on low.
Notes
** Calorie count estimate is based on dish without chicken
Nutrition
Great Crockpot Vegetable Dishes
Check out our latest on Instagram
Check out my latest on Instagram