Jump to Recipe
This slow cooker whole chicken recipe is the simplest way to make a homemade, rotisserie-like chicken. Add some barley to absorb all of the chicken's savory juices and you and have a delicious and easy meal!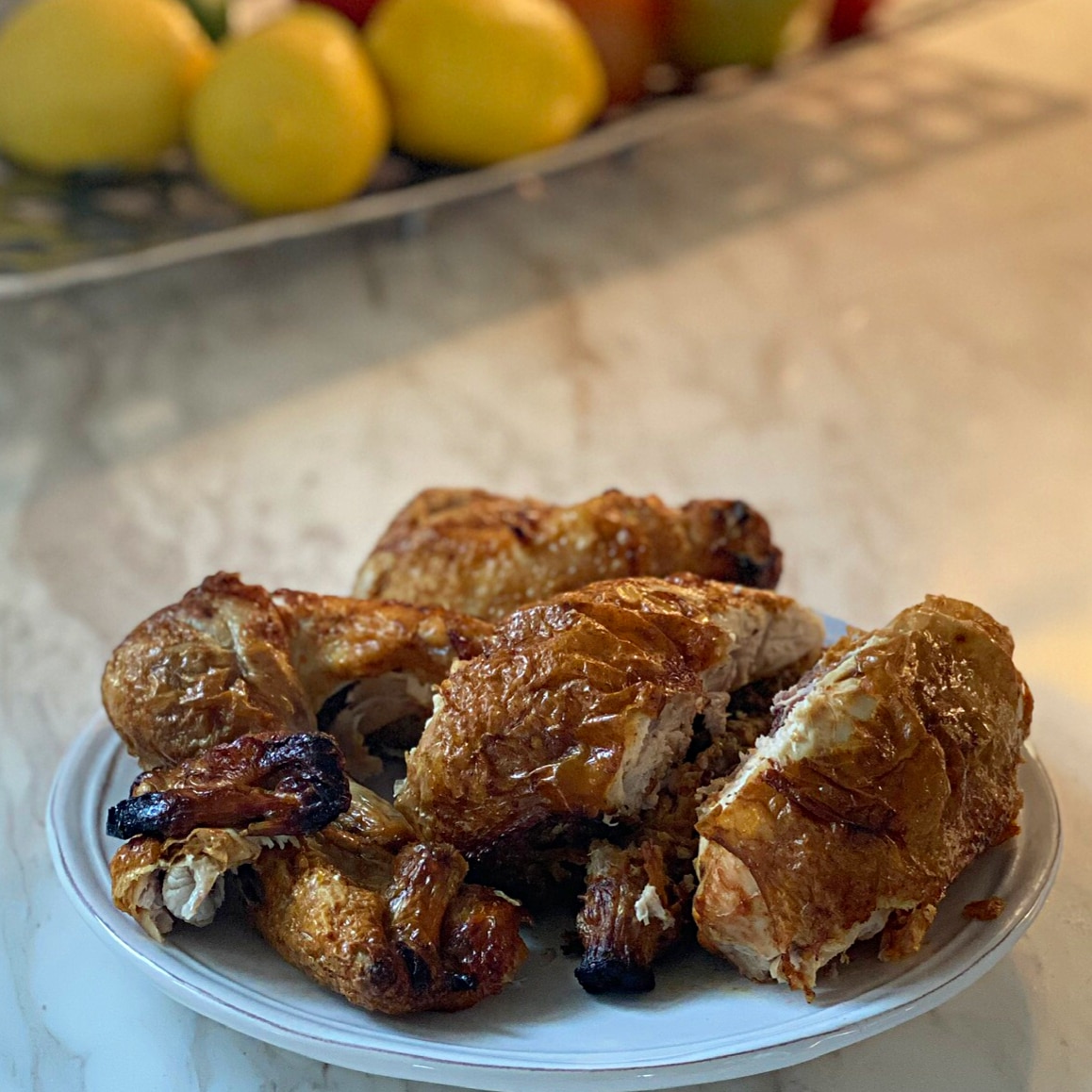 How good does it smell when you walk past the rotisserie ovens at your local market? Mouthwatering, right? And so easy, just reheat and dinner is served!
So, why then would anyone need this recipe? There are a few compelling reasons:
Although the prices on the rotisserie chickens have gotten very reasonable, the size of the birds often aren't. Sometimes they are so tiny that they barely feed two people. How do they even find chickens that small?
Since you often pay per chicken, rather than per pound, it isn't really as inexpensive as it may seem.
Reheating rotisserie chicken at home often dries it out
When you make your own whole chicken, you can control exactly what seasonings, etc are put on your food.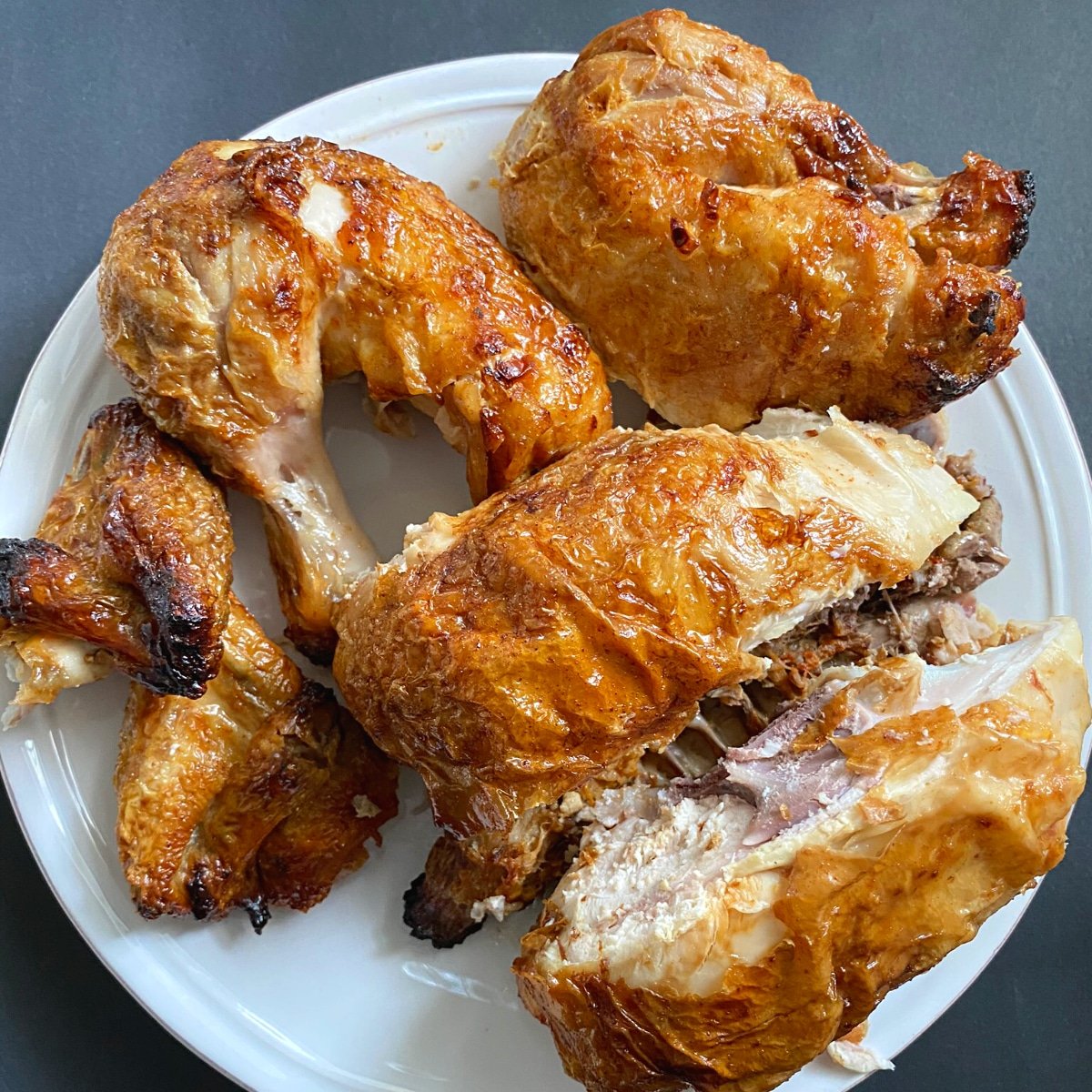 How To Make A Whole Chicken In A Crockpot
Barley
The barley in this easy slow cooker recipe goes into the bottom of the vessel along with some chicken stock before adding the whole chicken. This way, the barley can absorb all of the delicious juices that run out of the chicken as it cooks.
Chicken
Remove the giblets and neck which are generally stored inside the chicken. Place the chicken in the slow cooker breast side down. Cooking a whole chicken with the breast down keeps the breast meat moist by allowing the juices to run into it. Rub spices (garlic, onion, paprika, rosemary) into the chicken's skin. To keep things even lazier, you can use a pre-mixed rotisserie chicken seasoning like this one.
Cover and cook for 6-8 hours on low or 4-5 on high. You can confirm that your chicken is fully cooked by inserting a meat thermometer into the thickest part of the thigh without touching the bone. Chicken is considered safe to eat when it reaches an internal temperature of 165°F
Crisping The Chicken Skin (optional step)
If want crispier chicken skin, after cooking, spray the chicken with olive oil (this is my favorite oil sprayer) and put it under the broiler for a few minutes before serving. Be sure to remove your chicken very carefully from the slow cooker before transferring to an oven-safe dish. It will be so tender it will want to fall apart when you lift it.
Serving suggestions
This amazing chicken is great with many different sides. Since it already has the barley, I most often pair with a vegetable like eggplant bake, garlic parmesan mushrooms, or whole cauliflower.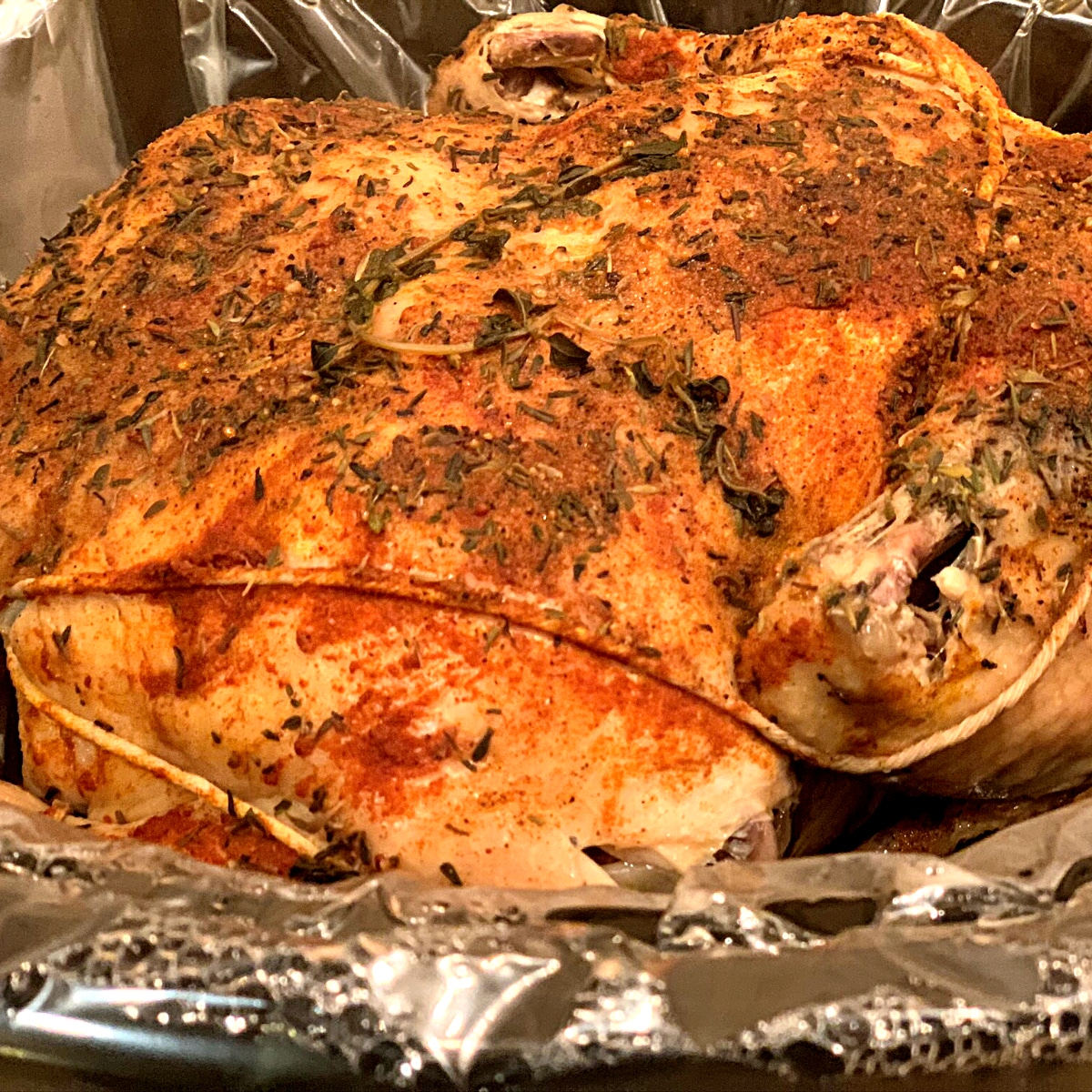 Crockpot Chicken Hints and Hacks:
I always recommend using a slow cooker liner for easy clean-up. This is a fully optional step. I usually buy liners in bulk for the best per-piece price. Click here to see what I buy.
Not a fan of barley? I have also made this dish with long grain brown rice and buckwheat. No matter which grain you choose, be aware that the consistency will be mushier than when cooked by other methods. However, the taste is so good that it is more than worth a softer consistency! Potato chunks or even baby potatoes would work here as well.
If you just want to make the chicken with no grains or potatoes beneath it, I suggest using something to elevate the chicken a bit. My slow cooker came with a small rack insert (and I do believe you can buy versions of these as well). If you don't have a rack to use, you can make snakes or balls out of aluminum foil and place them in the slow cooker below your chicken.
Some recipes recommend trussing (tying up) the chicken before cooking. I have slow-cooked it both ways and have found no appreciable difference so I stay lazy and skip this step. However, if you do want to decide you want to truss the chicken, here is a great instructional video that shows how to do it.
Looking for a new slow cooker? This is the one I am currently lusting after. It has a built-in thermometer which is so helpful when cooking chicken.
As an Amazon Associate, I earn from qualifying purchases and affiliate links.
📖 Recipe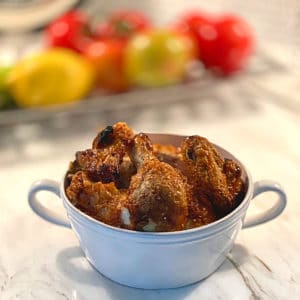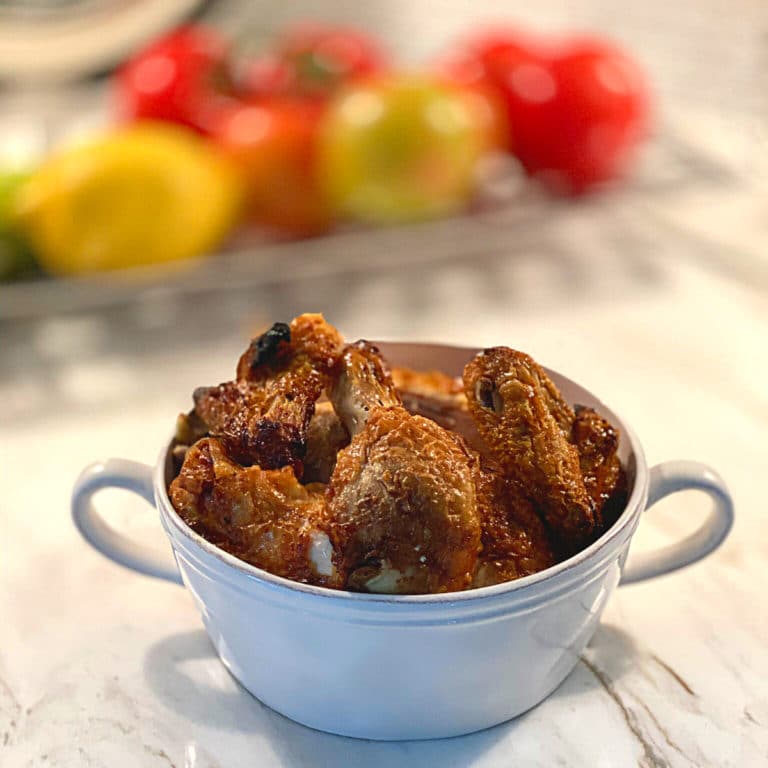 Lazy Slow Cooker Whole Chicken & Barley
This slow cooker whole chicken recipe is the simplest way to make a homemade, rotisserie-like chicken. Add some barley to absorb all of the chicken's savory juices and you and have a delicious and easy meal!
Print
Pin
Rate
Save
Saved!
Ingredients
Chicken
1

5-6 lb

whole chicken

2

teaspoon

smoked paprika

2

teaspoon

onion powder

2

teaspoon

garlic powder

1

teaspoon

kosher salt

1

teaspoon

rosemary

¼

teaspoon

black pepper
Instructions
rinse barley and check for stones (as per package)

place barley in slow cooker and add in chicken stock.

place chicken in slow cooker, breast side down (so the juices will run into in and keep it moist)

mix paprika, onion powder, garlic powder, salt and pepper together and rub over chicken skin

cover and cook 5-6 hours on low or 3-4 hours on high. Be sure to check the internal temperature of your chicken to confirm it is fully cooked. It should be 165°F at the deepest part of the thigh without the temperature probe touching bone.

Optional step: to crisp chicken skin, carefully remove chicken from slow cooker and place in an oven safe pan, spray with a little olive oil and place under the broiler for a few minutes.
Nutrition
Calories:
36
kcal
|
Carbohydrates:
5
g
|
Protein:
3
g
|
Fat:
1
g
|
Saturated Fat:
1
g
|
Polyunsaturated Fat:
1
g
|
Monounsaturated Fat:
1
g
|
Cholesterol:
7
mg
|
Sodium:
1941
mg
|
Potassium:
128
mg
|
Fiber:
1
g
|
Sugar:
2
g
|
Vitamin A:
665
IU
|
Vitamin C:
1
mg
|
Calcium:
24
mg
|
Iron:
1
mg
Check out my latest on Instagram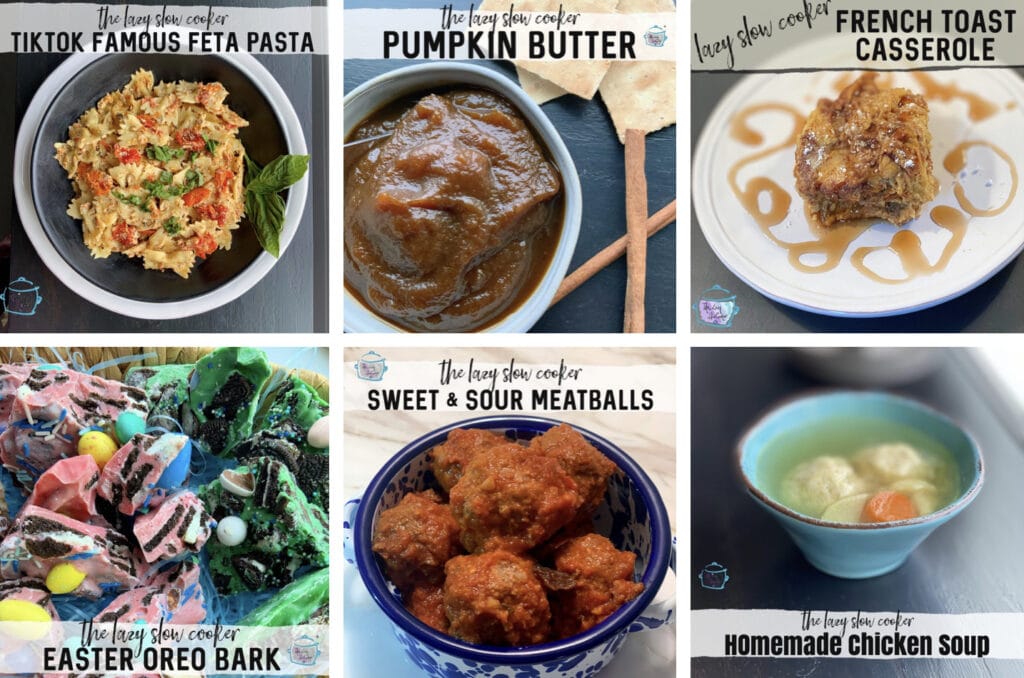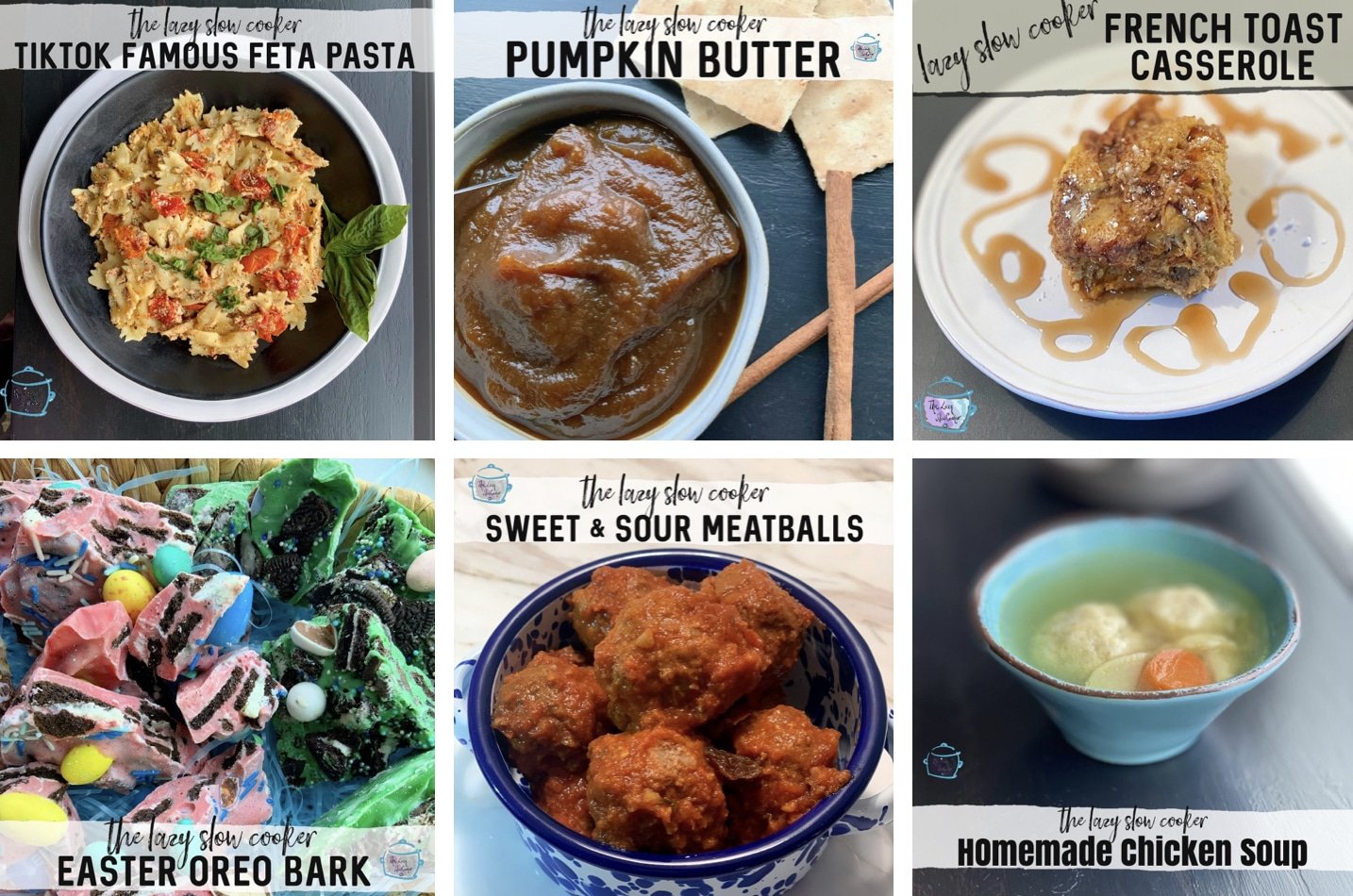 If you try this recipe, please let me know in the comments below! I'd love to hear your thoughts!