Jump to Recipe
The easiest way to make delicious bean free white chili.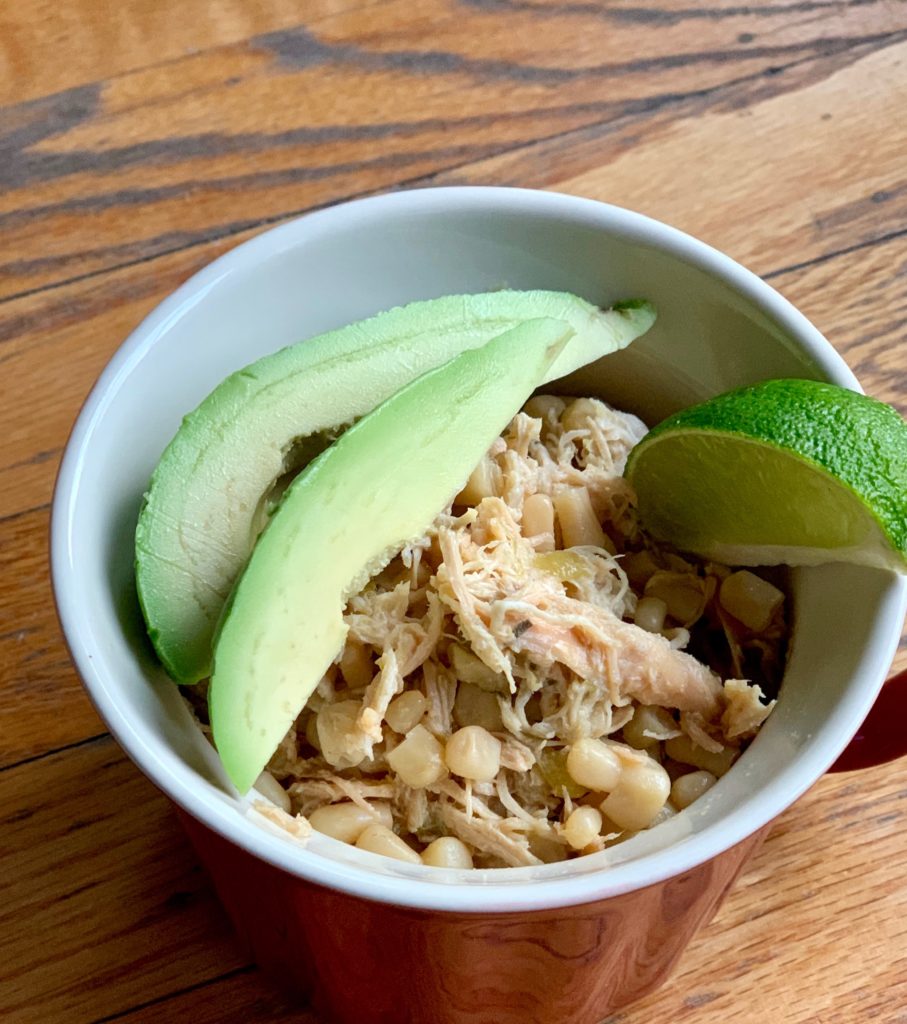 Have I mentioned that I don't really like red meat? And that Mr Wonderful doesn't do dairy? And that Number Three doesn't eat beans? When everyone has a different opinion, but you still want to make an easy hot meal, where do you turn? This one always does the trick for me! When Lazy Bean Free White Chili entered our world it was a game changer. It is delicious, filing and versatile. I have been know to freeze the left-overs and then repurpose them as either taco or enchilada filling.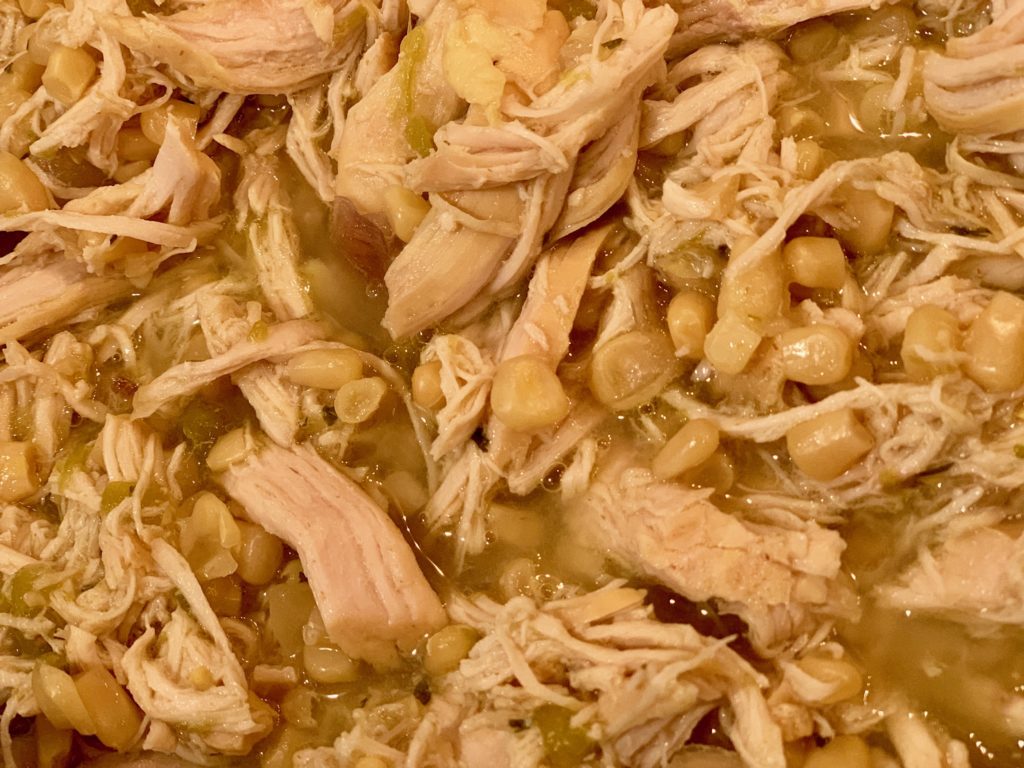 It is also a fun meal to cover with tons of different toppings. This allows us each to add a little bit of our own personalities to our plates. In addition to avocado and lime (shown), shredded cheese, sour cream, salsa verde, onion and crushed tortilla chips have all made appearances. You can get as creative as you like. It also works as a healthier alternative on a homemade nacho dish.
I prefer to keep mine on the mild side, but you can easily turn up the heat by adding more jalapeños or hot chili peppers. It is the easiest, most versatile way to make delicious bean free chicken chili.
Lazy Bean Free White Chili Hacks:
Probably the "hardest" step in this process is having to take the chicken out of your slow cooker to shred it. I prefer the most basic shredding method of using two forks and just pulling the meat apart. However, there are other methods. It seems that the two most popular are using the beaters of a hand mixer and using a potato masher. I have not personally tried either of these. In my mind, both of these just create more dishes to wash. But, I suppose if you are making enough chicken for a very large crowd, the hand mixer could save a lot of manual effort.
This chili is very versatile. You can serve it as chili on its own, use it to top potatoes or use it as fillings for tacos and burritos.
I recently discovered that chopped onion is available in bags in the frozen veggie section of the market. This is a game changer for me because my eyes are super sensitive to chopped onion. I will never cut a fresh onion for a dish like this again.
Lazy Bean Free White Chicken Chili
This is an easy, healthy, dairy and bean free meal that can be repurposed multiple times. I serve it as chili initially and freeze left overs to be used as taco or enchilada filling.
Equipment
6 qt slow cooker

measuring spoons and cups

two forks to shred chicken

slow cooker liner (optional)
Ingredients
1

small

onion, chopped

3-4

chicken breasts

2

11 oz cans

white corn

1

4.5 oz can

chopped green chillies

½

4.5 oz can

chopped jalapeño peppers

I used half a can of mild peppers, but you can use hot or add more based on your preference

5

cloves

roasted garlic, mashed

1

teaspoon

minced garlic, raw

1

teaspoon

cumin

1.5

teaspoon

dried cilantro

2

cups

chicken broth

1

lime

salt and pepper to taste
Instructions
sprinkle chopped onion on bottom of pot

add frozen (or fresh) chicken breasts

place lid on pot and cook on low for 6 hours

return chicken to pot and keep on warm until time to serve
*This post contains Amazon Affiliate links. As an Amazon Affiliate, I earn from qualifying purchases. This helps to offset the costs of running this website. **Please note that all nutritional, serving size and calorie information is estimated and based solely on the ingredients used, not the offered replacement options or any other substitutions.