Delicious farmer's market fresh slow cooker roasted beets are tasty and versatile. Cook in bulk right in your slow cooker for a super easy, hands-free experience.
🔽 JUMP STRAIGHT TO RECIPE🔽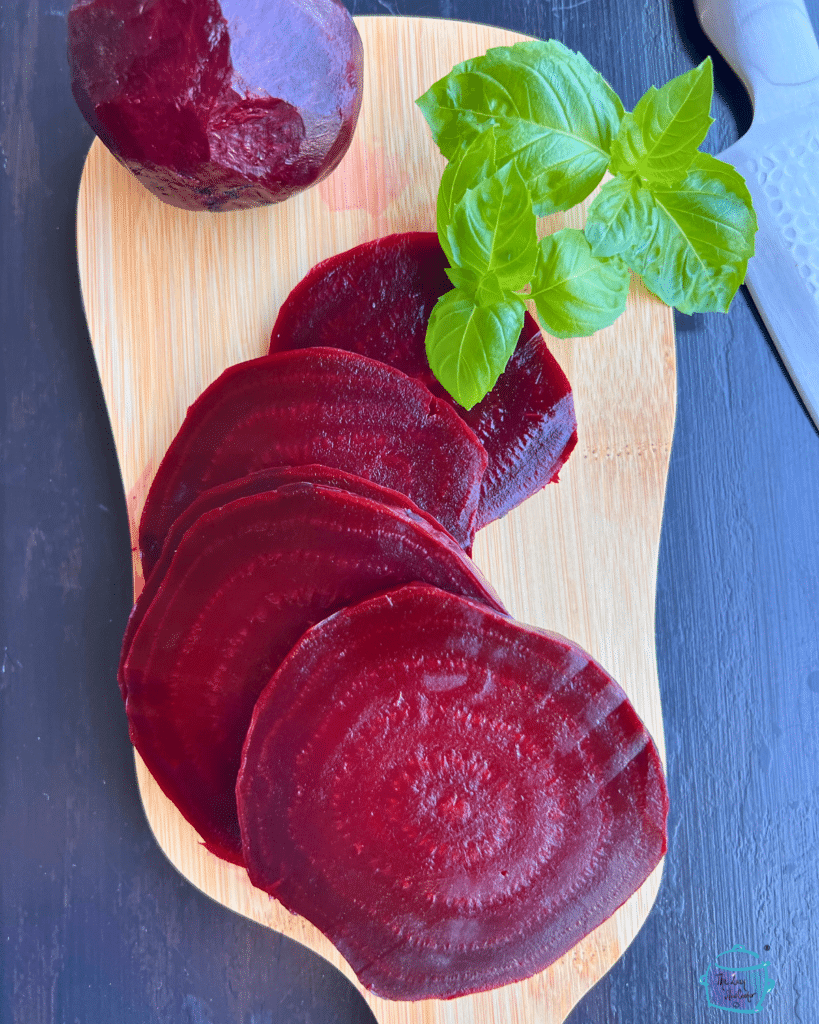 Fresh beets are currently making multiple appearances on every menu ranging from fine dining establishments to make-your-own eateries. Not only are they (in my opinion) delicious, beets are filled with vitamins and nutrients. Slow cooking a bunch of whole beets is the easiest way to make sure you always have some ready to go.
📝Shopping list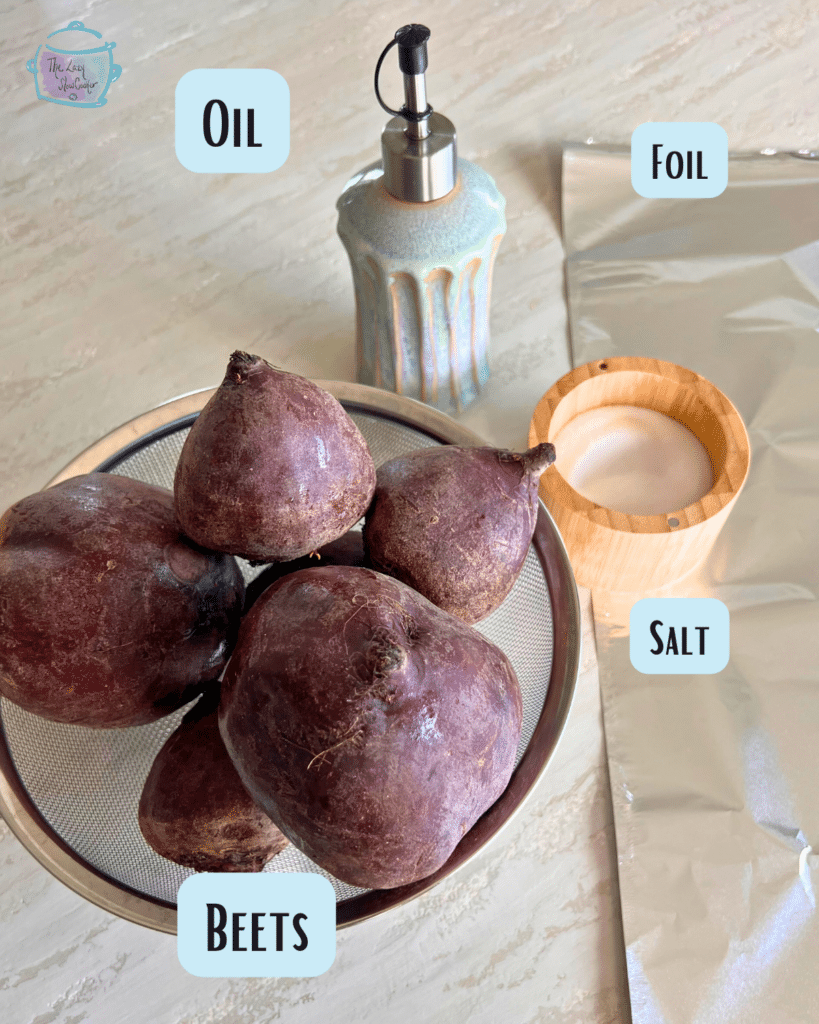 To make this easy crock pot beets recipe all you need is:
Whole beets - greens removed
Olive oil
Salt (optional)
Tin foil
🚀Jump to recipe card for exact quantities and detailed instructions
🔪Instructions
Start by thoroughly washing beets in cold water and cutting off the beet greens (also known as beetroot tops) Don't toss these! There are tons of easy recipes for these healthy greens!
Do NOT remove the skin off your beets before cooking. Cooking raw beets with the skin on is the best way to maintain the nutrients and flavor.
Place beets on a piece of foil that is large enough to fully cover all the beets. Drizzle (or spray) oil over beets. Sprinkle with some salt if you like and then fully wrap beets up in a big foil package.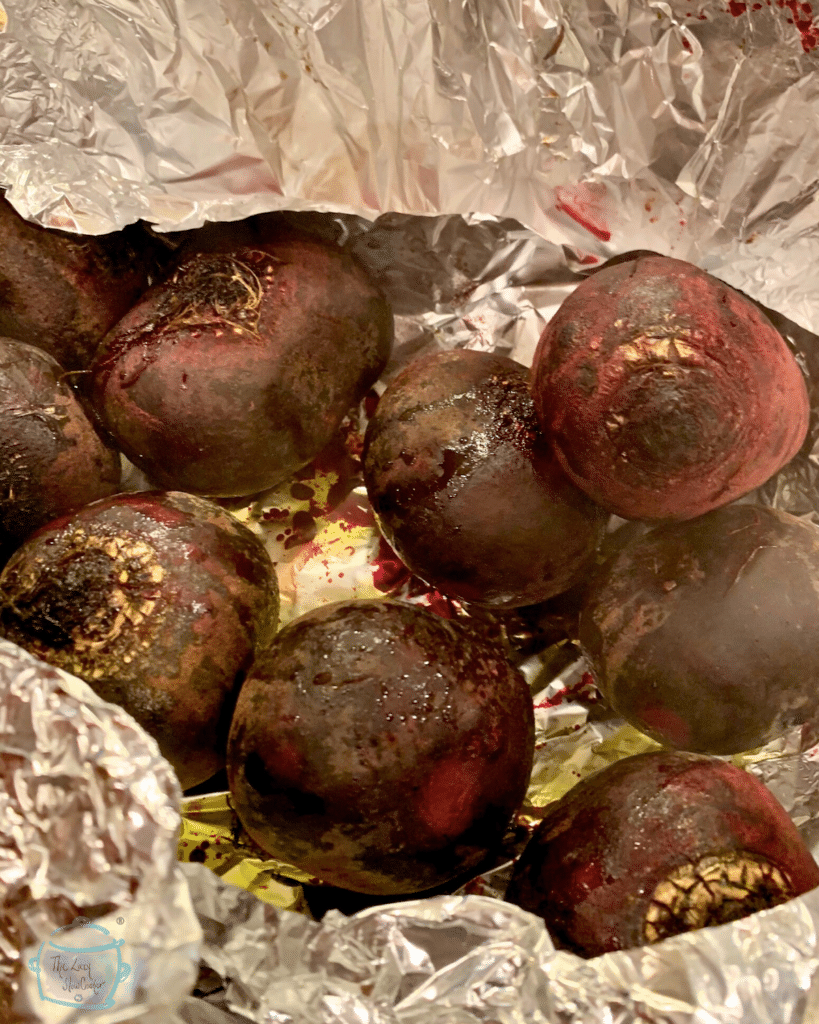 Place the foil package into your slow cooker and cook on high for 4-6 hours. The actual timing will depend on both your slow cooker and the size of the beets.
Larger beets will take longer to cook. Your flavorful beets are ready to eat when the largest can be punctured with a fork with little resistance.
Once cooked, the skin of the beets can be easily rubbed off using a paper towel.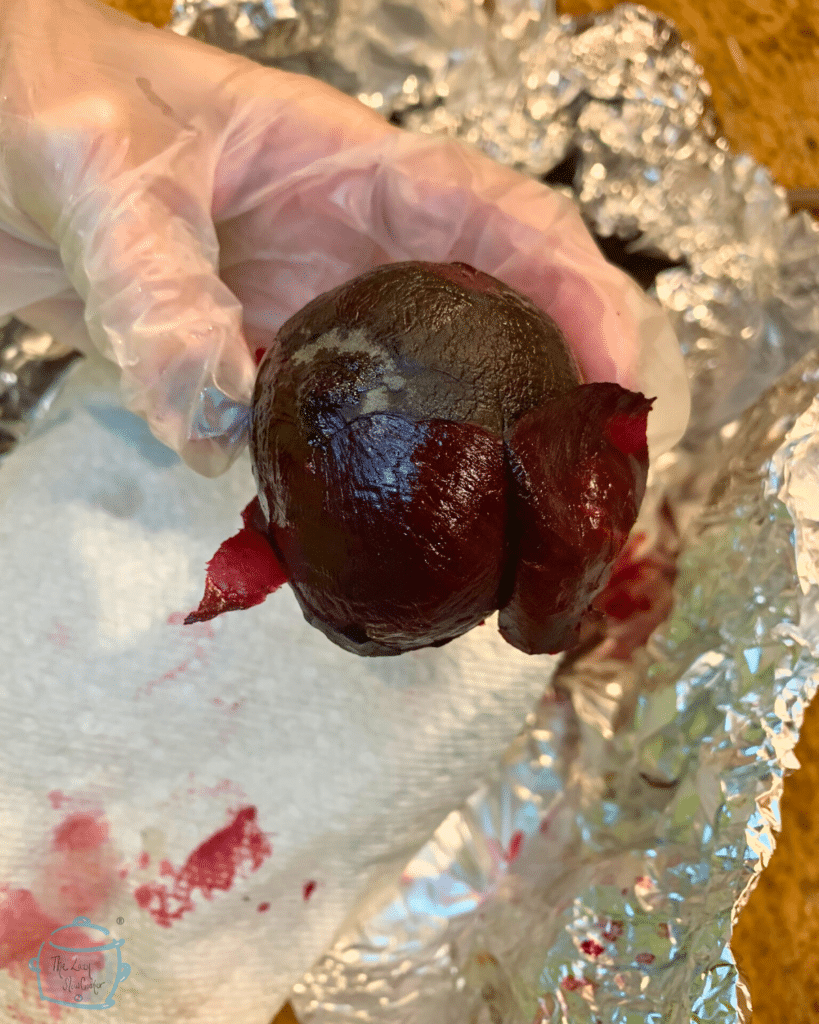 🍽Serving suggestions
There are so many ways to use beets! They are the perfect side dish for any entree. Among my favorite ways to eat them is in a simple beet salad drizzled with balsamic vinegar and goat cheese. There are a ton of great beet recipes out there. Everything from smoothies to soup!
I have even noticed that my local supermarket's bakery section is now using beet juice as a healthier alternative to food coloring - and I can see why. These root vegetables will stain just about anything a vibrant reddish/purplish color. I highly suggest using gloves when handling cooked, peeled beets, unless you want red fingers for days.
I love serving beets with so many other slow cooker recipes. They are the perfect side dish for whole chicken and barley, salmon and horseradish roast.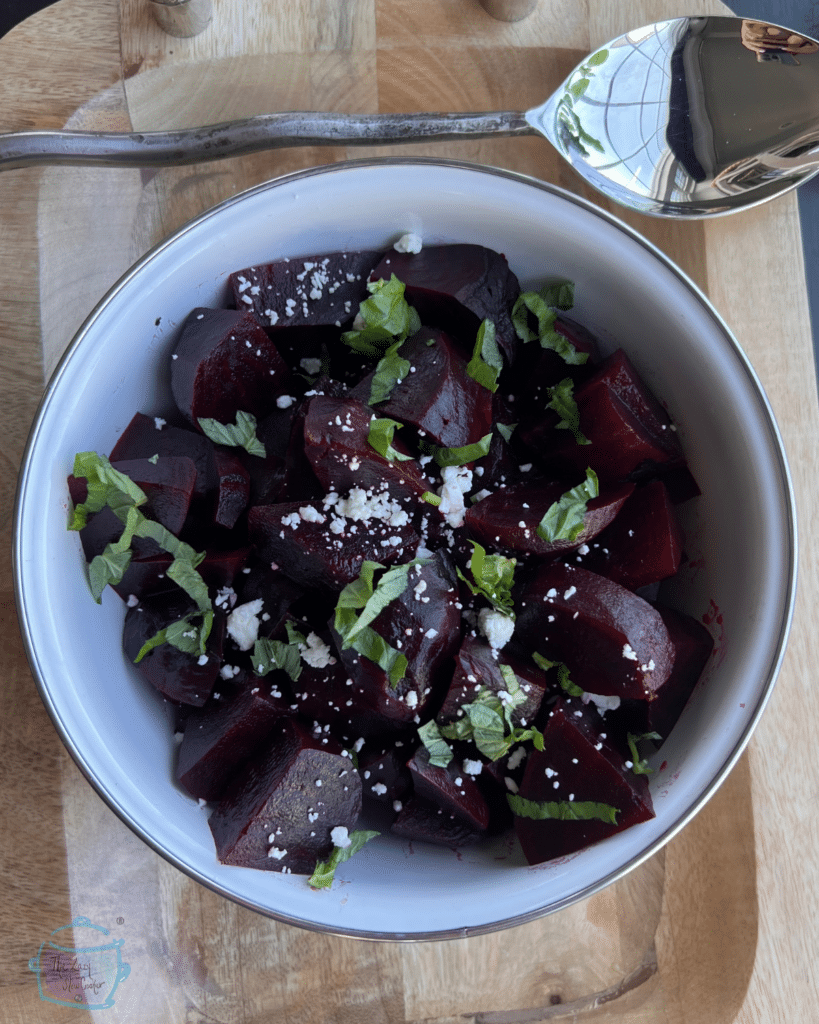 🍽Substitutions
I generally use red beets because I love the deep ruby color. However, golden beets, yellow beets, white beets and rainbow beets all work the same with this cooking process.
Storing cooked beets
Beets should be sliced or cut into cubes prior to storing. Store your slow cooked beets in an airtight container or zipper top freezer bag. Cooked beets with last 3-5 days in the refrigerator or 10-12 months in the freezer.
Frozen beets can be easily defrosted in your refrigerator for future use.
Why use a slow cooker when cooking beets?
There are plenty of other ways to cook beets. They can be roasted in the oven, steamed, or boiled. However, Using your crock pot allows to you set them and forget them. The ultimate simple method of hands free cooking.
Slow cookers are also a great alternative when your cooktop and oven are filled with other dishes. Plus, it is great when you want to cook a large number of beets. This easy cooking method is a simple and delicious way to ensure you always have this healthy root veggie on hand.
If you love this recipe, please let me know in the comment section below!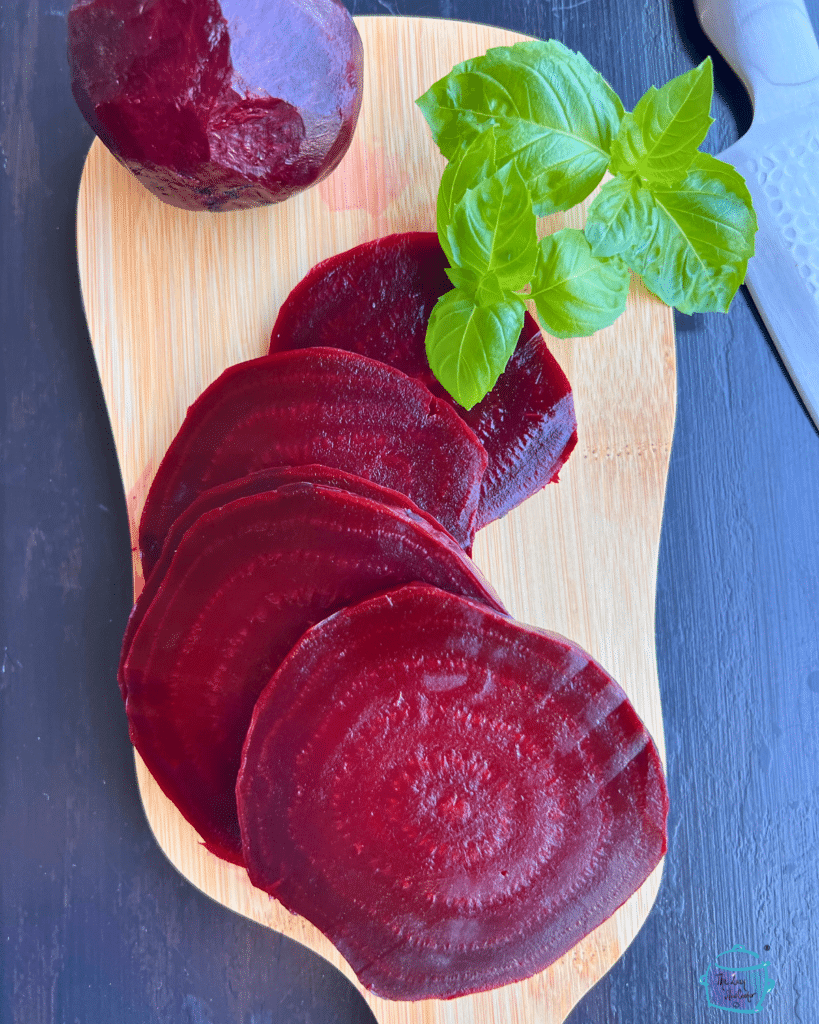 😉Hints & hacks
Beets do not need to be peeled! If you wash them well, there is no reason to remove that healthy outer layer.
If you choose to peel your beets, as I did, the outer layer is super easy to remove after the beets are cooked. I used a paper towel and basically just gently rubbed the skin right off. Underneath that skin, they are beautiful and shiny!
Using gloves when handling cooked beets is always a good idea. This will keep your hands from staining.
I love to use slow cooker liners for easy cleanup.
If you aren't using a liner, cooking spray or oil is the next line of defense for easy clean up.
In the market for a new slow cooker? I love mine!
Don't forget to plug your slow cooker in and turn it on! 😏
As an Amazon Associate, I earn from qualifying purchases and affiliate links.
📖 Recipe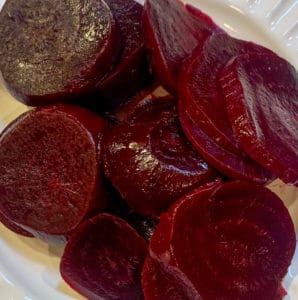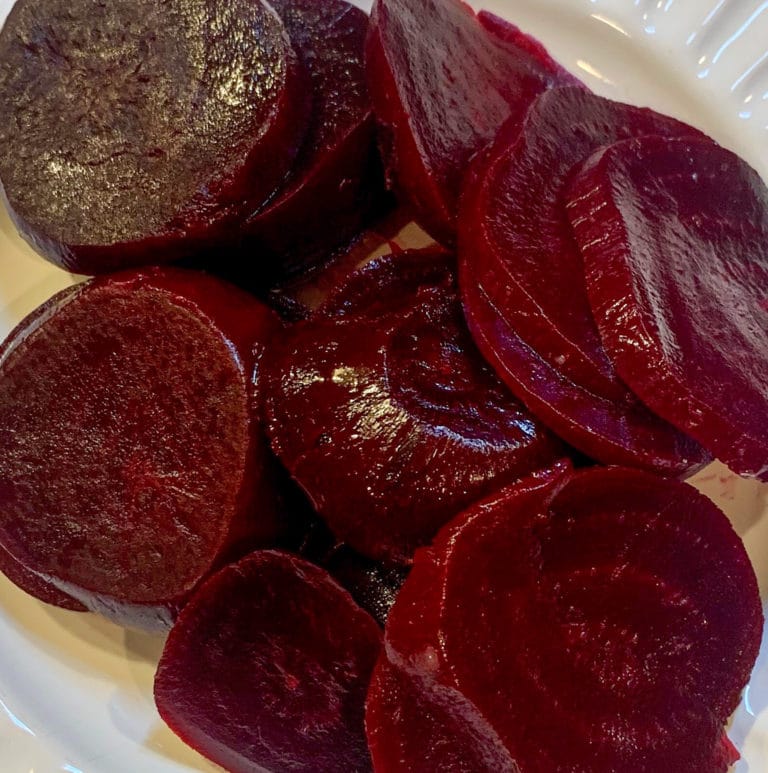 Equipment
4 or 6 quart slow cooker

aluminum foil

Paper towel
Ingredients
3

lbs

beets

3

tablespoon

olive oil

sea salt

optional
Instructions
Wash beats thoroughly to get off all dirt. Beets are root vegetables and could be quite dirty

Lay out a piece of foil large enough to make a pocket around your all of your beets

drizzle (or spray) a few tablespoons of olive oil over the beets

If you would like to use salt, sprinkle or grind a little over all the beets

Close foil around beets and place the whole packet into your slow cooker

Cook on high for 4 - 6 hours

You will know your beets are done when they are easily pierced with a fork

Carefully remove the hot foil package from your slow cooker and allow it to cool before further handling.

remove beets from foil and "wipe" off skin with a paper towel (optional step)

Store in airtight container in refrigerator
Nutrition
Calories:
96
kcal
|
Carbohydrates:
13
g
|
Protein:
2
g
|
Fat:
4
g
|
Saturated Fat:
1
g
|
Polyunsaturated Fat:
1
g
|
Monounsaturated Fat:
3
g
|
Sodium:
106
mg
|
Potassium:
442
mg
|
Fiber:
4
g
|
Sugar:
9
g
|
Vitamin A:
45
IU
|
Vitamin C:
7
mg
|
Calcium:
22
mg
|
Iron:
1
mg
Check out my latest on Instagram