Jump to Recipe
Slow cooker peanut butter fudge is a sweet, creamy and nutty creation that all peanut butter lovers will find down right addicting. This easy and delicious treat will make you the most popular person in the room - every time you make it!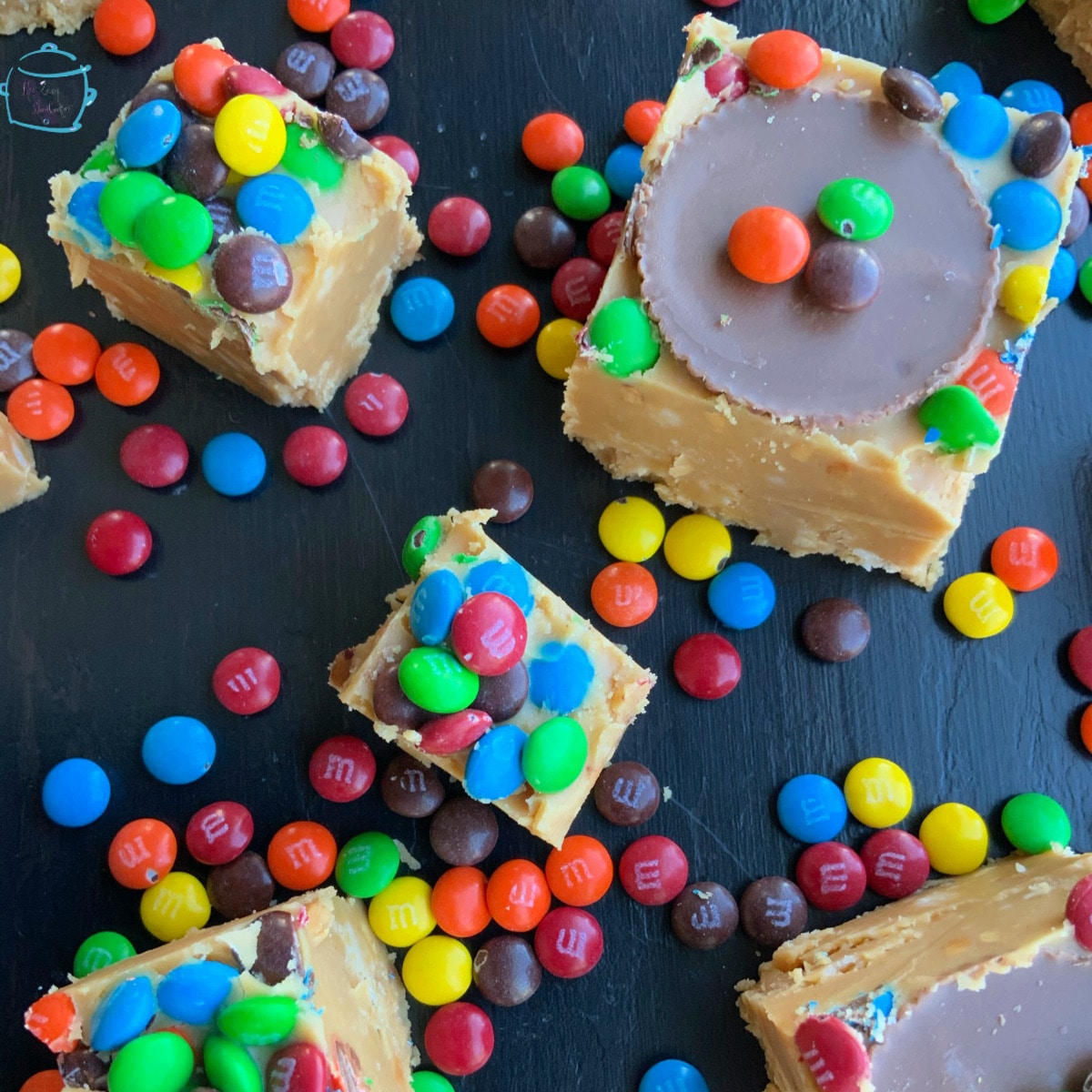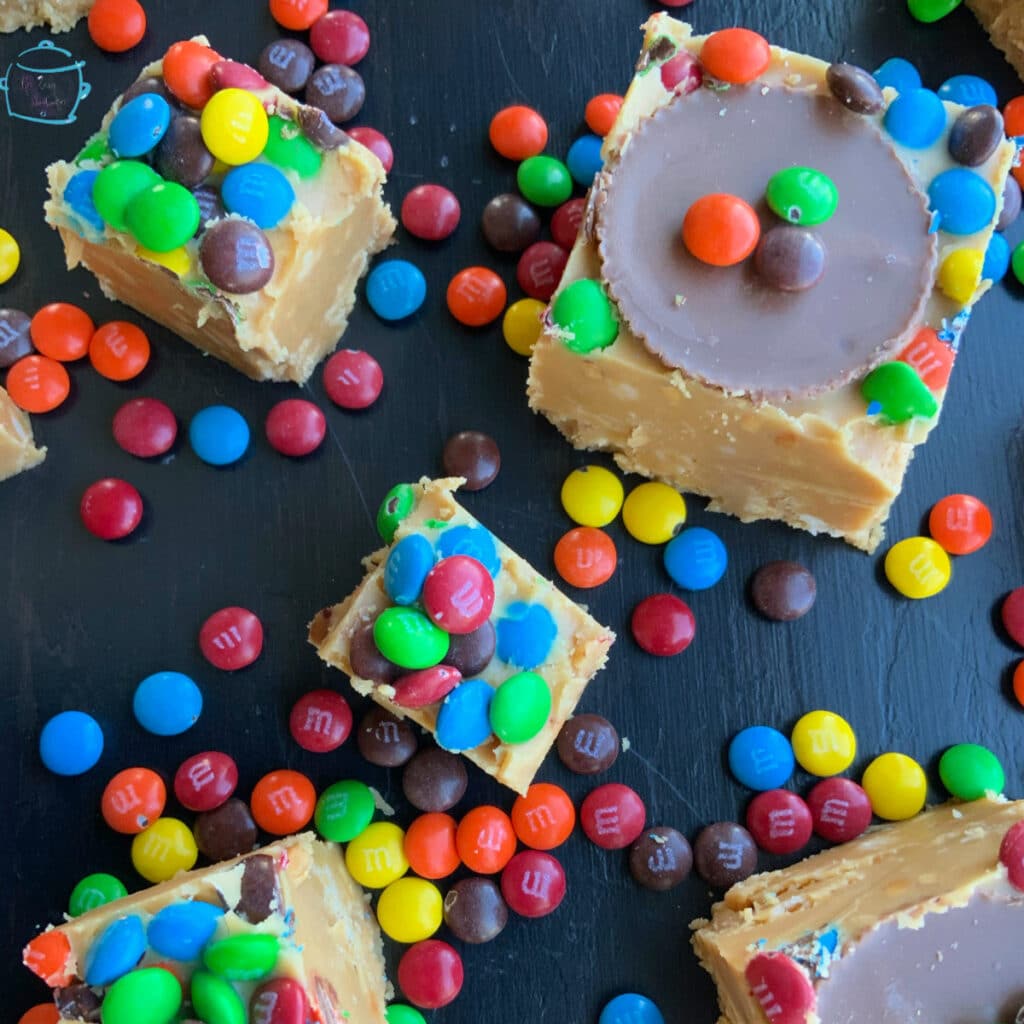 If you are allergic to peanuts, I am sorry! And, I highly suggest you quickly click away to a different dessert option. This dish is so easy and SO delicious - any one who isn't allergic should grab a jar of peanut butter and their crockpot ASAP! It's the easiest fudge ever!
🥜Shopping list
To make this amazing slow cooker dessert, you will need:
creamy peanut butter
chunky peanut butter
peanut butter chips
vanilla extract
sea salt
exact quantities can be found here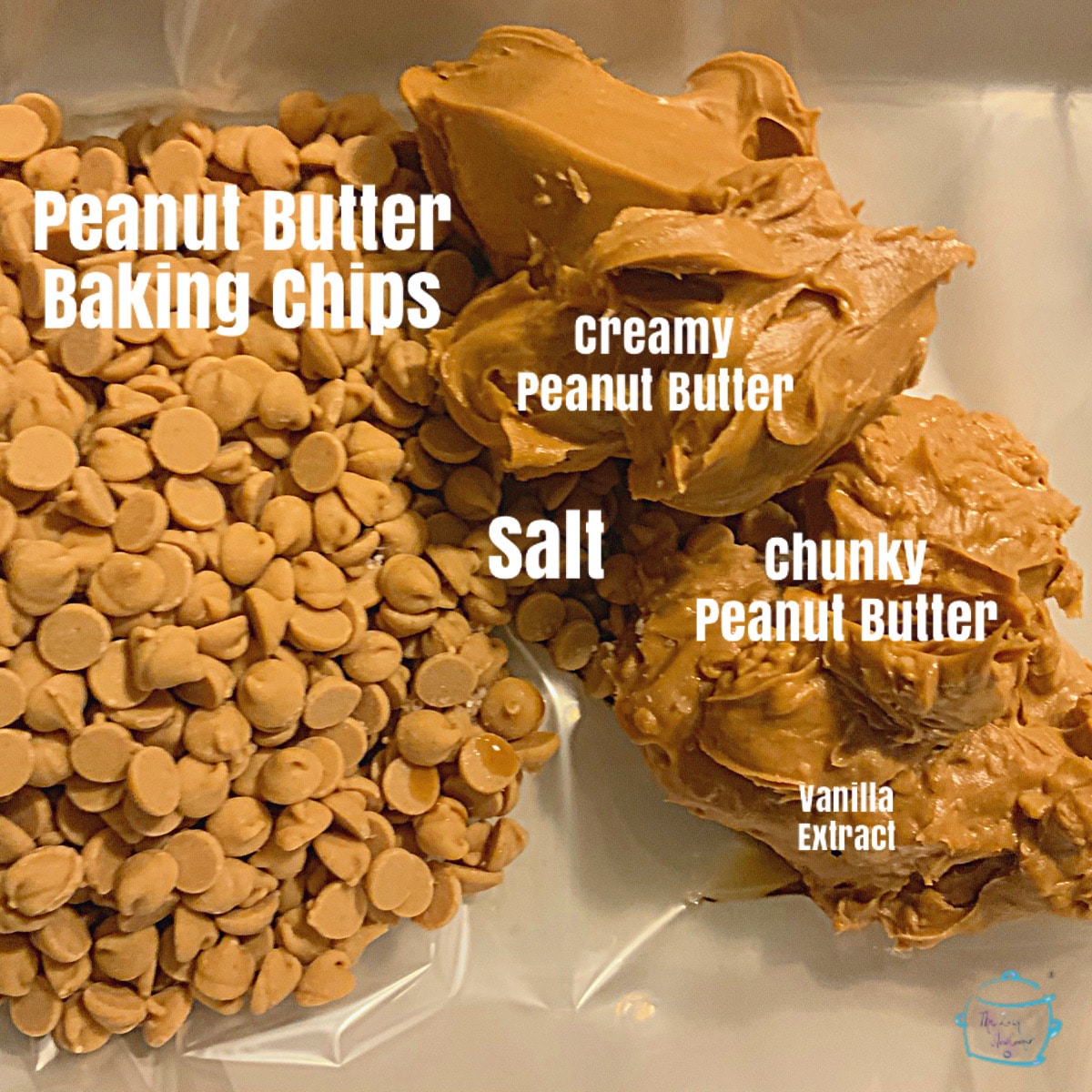 🥣Cooking method
If you are a fan of slow cooker liners, adding one into your crockpot is always the first (and most often forgotten) step. If you are not a fan, lining your crockpot with parchment paper is also a great option and will save you a ton of clean up later down the road. It will also allow you to extract your finished dish from your slow cooker much more easily.
To make the dish, add all ingredients into slow cooker. Cover and cook on high for 30 minutes. After 30 minutes, remove lid and stir ingredients to combine. Cover and cook for 15 additional minutes. Repeat this "stir and cook" process in 15 minute intervals until all ingredients are fully melted and well mixed. I have made this dish in 3 different slow cookers. Each one finished at a slightly different time. The one that runs hottest was done in 45 minutes of total cooking time, while the coolest one took 1 hour and 15 minutes.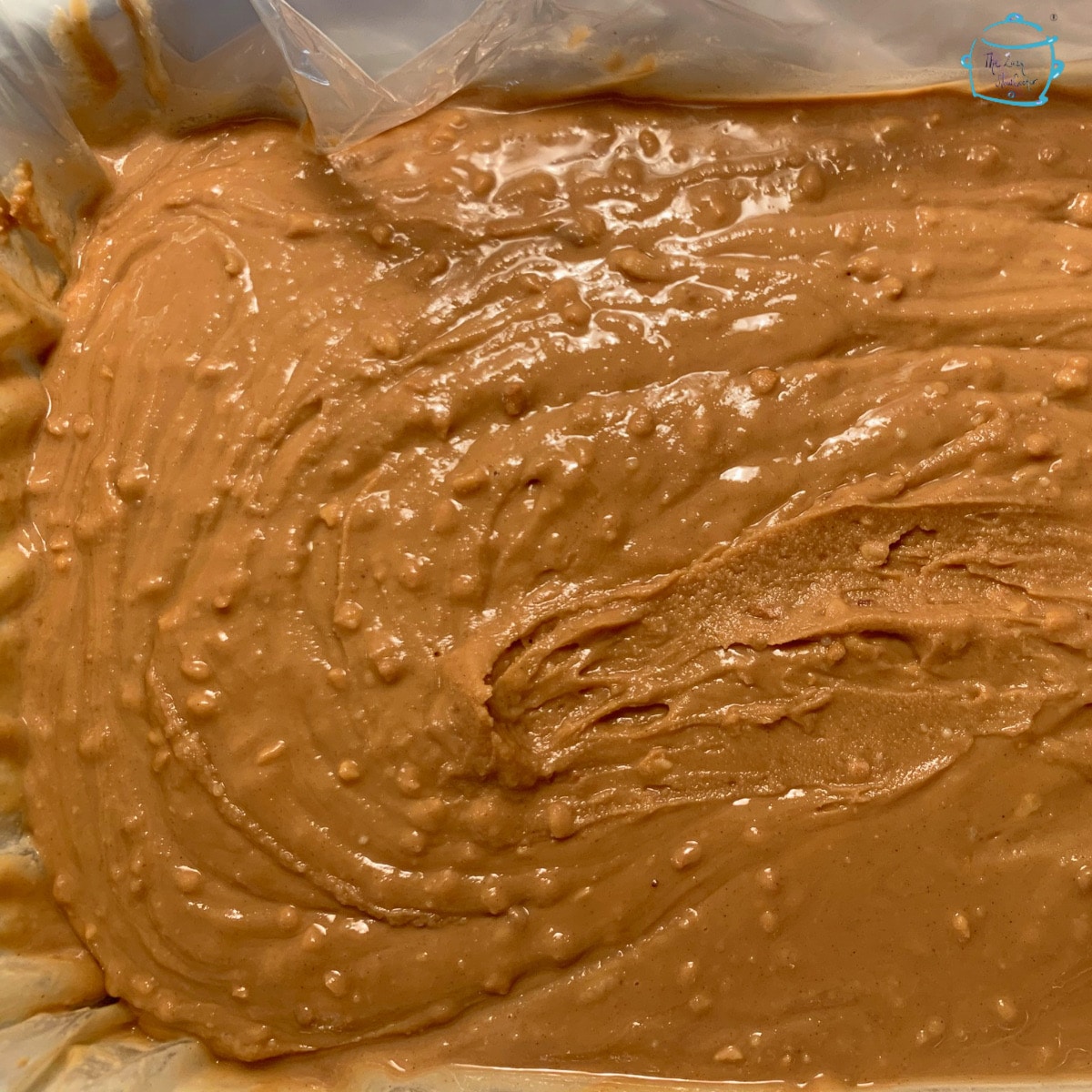 Once all ingredients are melted and mixed, turn off your slow cooker. If you would like to add toppings to your fudge, this is the time to do it. Allow the fudge to cool and harden. When fudge has fully solidified slice into squares. If you are a peanut butter fan, be sure to hide some away for yourself....this will go fast!
🍬Decorating suggestions
We all know that peanut butter and chocolate are "two great tastes that taste great together" (comment below if you can remember what famous brand used that line in an advertising jingle!!). As such, toppings like chocolate chips, M&M's and crushed chocolate candy bars are heavenly. If you are a fan of peanut butter and jelly, gummy strawberry, cherry and grape candies also make delicious décor. Other yummy (but less colorful) toppings include marshmallow fluff and mini marshmallows!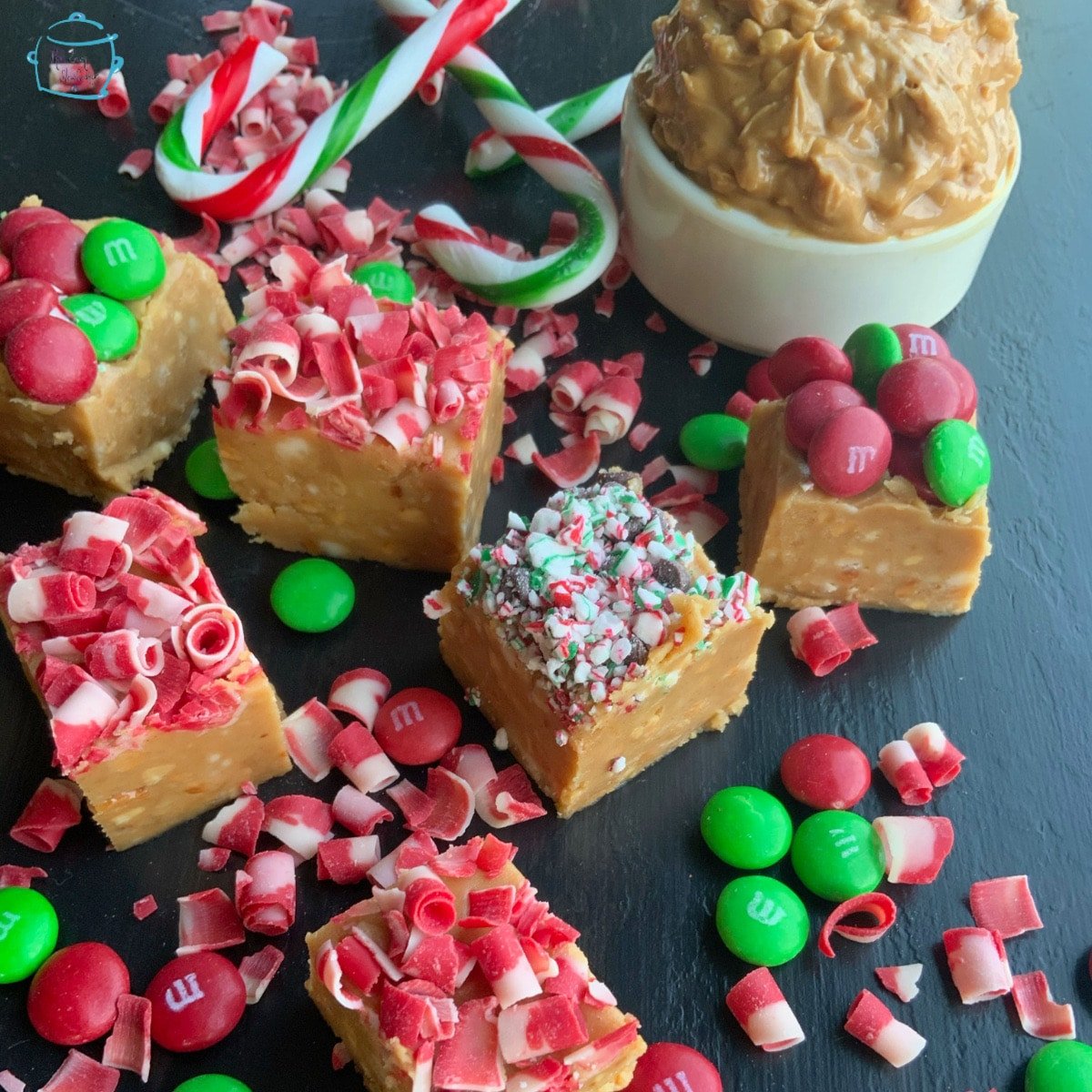 Storing leftovers
The best way to store your slow cooker peanut butter fudge is in airtight bags or containers. It can be stored at room temperature, but I prefer this particular recipe stored in the fridge as it can get a little soft if stored on the counter. It will last several weeks in the refrigerator. Peanut butter fudge can also be stored in the freezer for several months.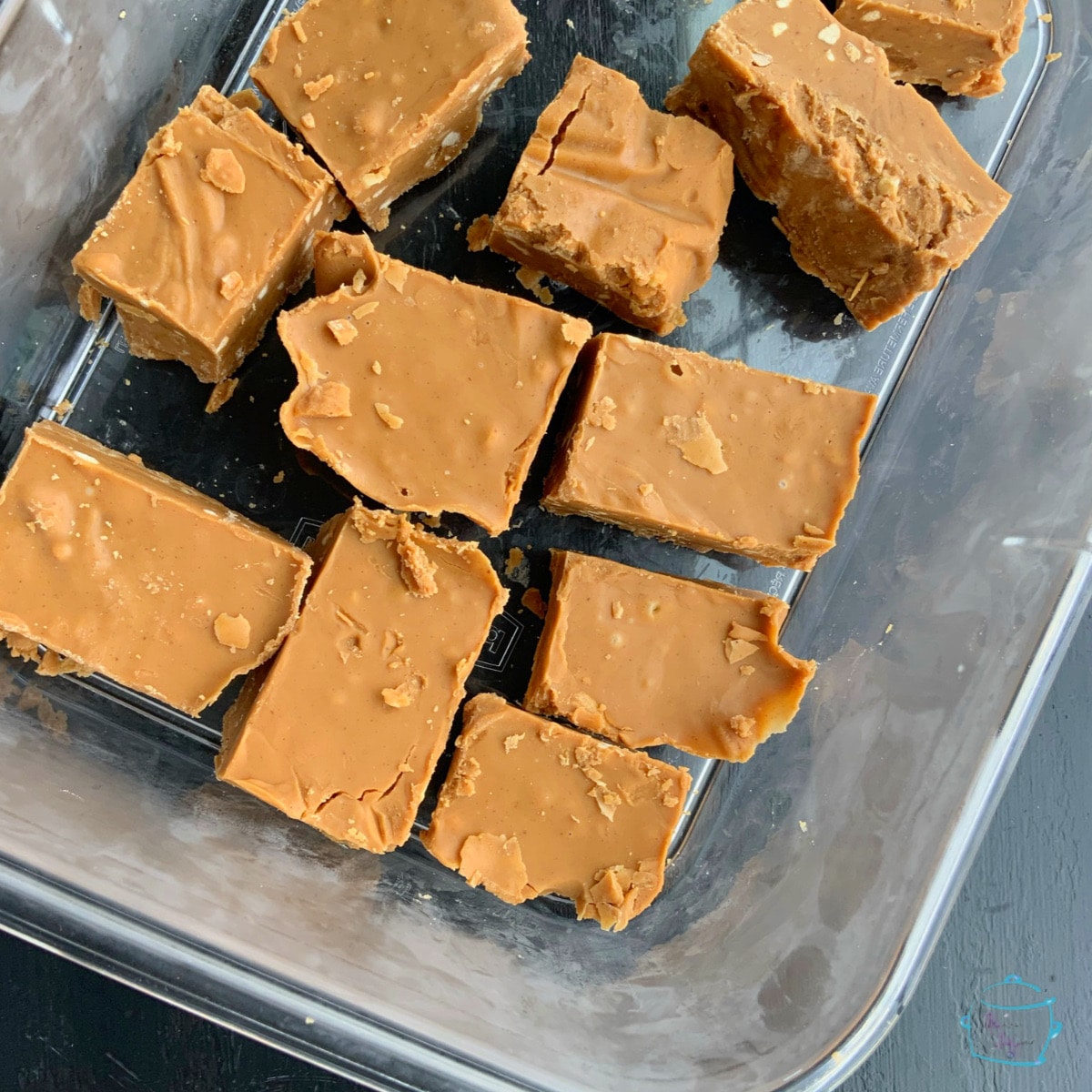 😉Hints & hacks
If you are eager to eat your fudge faster, you can aid the cooling process by removing your slow cooker insert from the heating element and placing on a heat safe surface to cool.
Want it to cool even faster? Carefully lift the hot and melted mixture by the edges of your slow cooker liner or parchment paper and quickly transfer to an appropriate sized casserole shaped aluminum foil baking tin. The tin can then be placed in the refrigerator which will really speed up the solidifying process. Please be sure NOT to place your hot ceramic slow cooker insert into the refrigerator as this could cause it to crack.
This is a great dish to make in a casserole crockpot!
Slow cooker liners are an optional but helpful hack whenever using a crockpot. They allow you to cook with little to no cleanup. I like to buy mine in bulk for a better per-piece price. Click here to see what I buy.
This recipe works equally well with Parchment paper.
In the market for a new slow cooker? Here is the one I am currently lusting after.
❓Frequently asked questions
Why do the edges taste different than the middle
If the edges are softer than the middle or if the edges taste different, this generally means that the ingredients were not fully mixed when in the melted state. Be sure to stir and mix completely before allowing fudge to harden.
Why use a crockpot to make this recipe?
This recipe can also be made stove top over a double boiler. It will be delicious either way. But - the crockpot has less clean up (especially with the liner/parchment paper) and requires much less oversight.
As an Amazon Associate, I earn from qualifying purchases and affiliate links.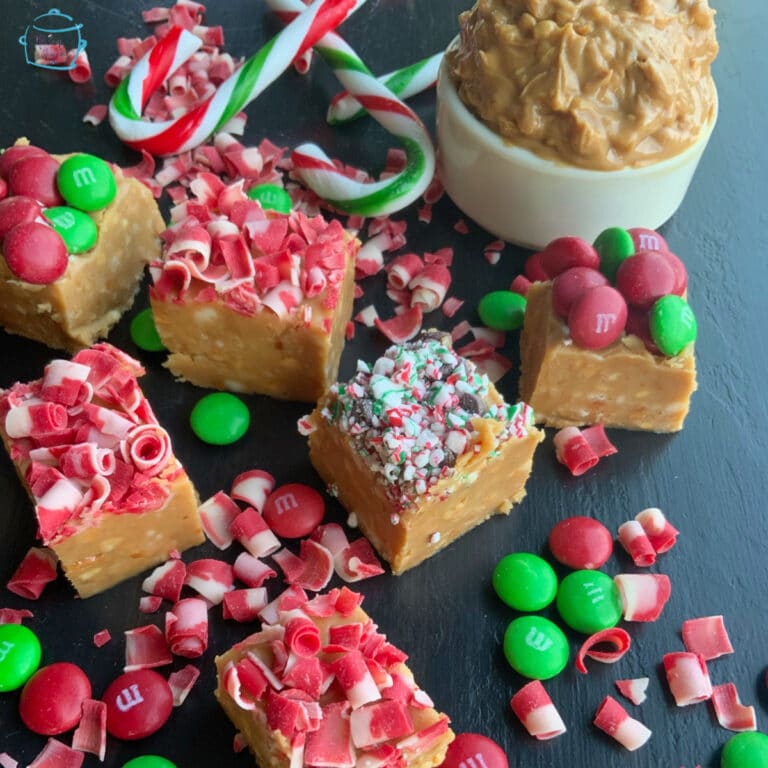 Lazy Slow Cooker Peanut Butter Fudge Recipe
Slow cooker peanut butter fudge is a sweet, smooth, and nutty creation that all peanut butter lovers will find down right addicting. This easy and delicious treat will make you the most popular person in the room - every time you make it!
Print
Pin
Rate
Save
Saved!
Equipment
3.5 quart slow cooker or larger

mixing spoons

slow cooker liner or parchment paper (optional)

rubber spatula or knife for smoothing

sharp knife
Ingredients
20

oz

peanut butter baking chips

1

cup

smooth peanut butter

1

cup

chunky peanut butter

2

teaspoon

vanilla

pinch of salt
Instructions
place slow cooker liner or parchment paper into slow cooker

add peanut butter chips, peanut butter vanilla and salt into slow cooker

cover and cook on high for 30 minutes

after 30 minutes, stir to mix ingredients, place lid back on slow cooker and continue to cook

every 15 minutes after the initial 30, open slow cooker and stir ingredients to make sure sides and bottom don't burn and that everything is fully melted and combined. Depending on your slow cooker, this process should take a total of 45-90 minutes.

Once all ingredients are fully melted and stirred together, use a knife, or spatula to smooth out into a flat surface, turn off slow cooker and allow to cool and harden. You can carefully remove slow cooker insert from heating element to help speed up this process.

If you would like to add toppings or decorations like those in the photos, they should be added once the mixture starts to thicken a bit (so they don't sink) but before the fudge has fully set so toppings will stick.

once fudge has fully set, lay on a flat surface and use a sharp knife to cut into squares for serving.
Notes
**Please note calorie count was calculated for one small square of fudge and does not include any toppings.
Nutrition
Calories:
203
kcal
|
Carbohydrates:
14
g
|
Protein:
8
g
|
Fat:
14
g
|
Saturated Fat:
6
g
|
Polyunsaturated Fat:
2
g
|
Monounsaturated Fat:
4
g
|
Cholesterol:
4
mg
|
Sodium:
117
mg
|
Potassium:
112
mg
|
Fiber:
2
g
|
Sugar:
9
g
|
Calcium:
7
mg
|
Iron:
1
mg
Check out our latest on Instagram: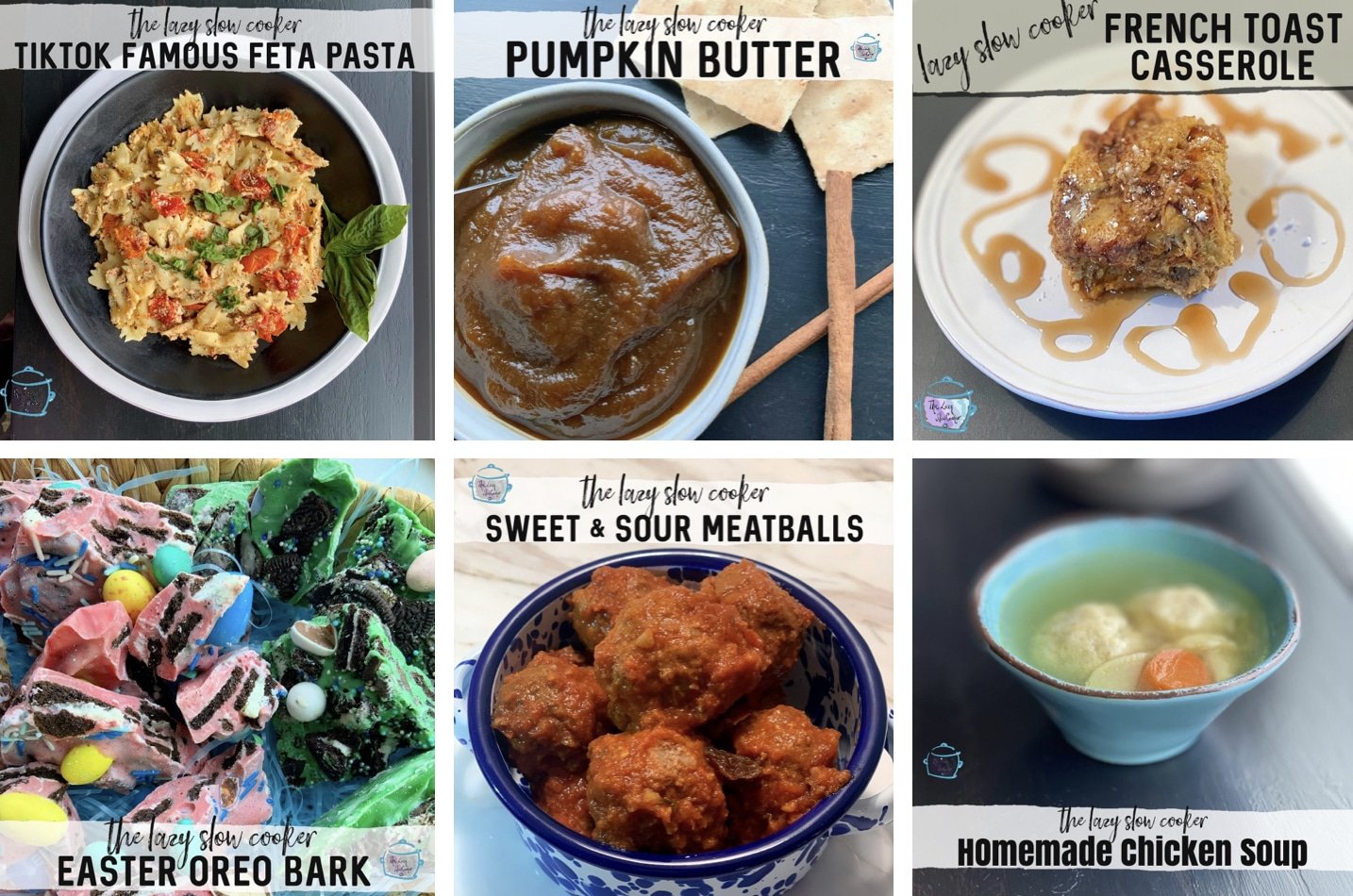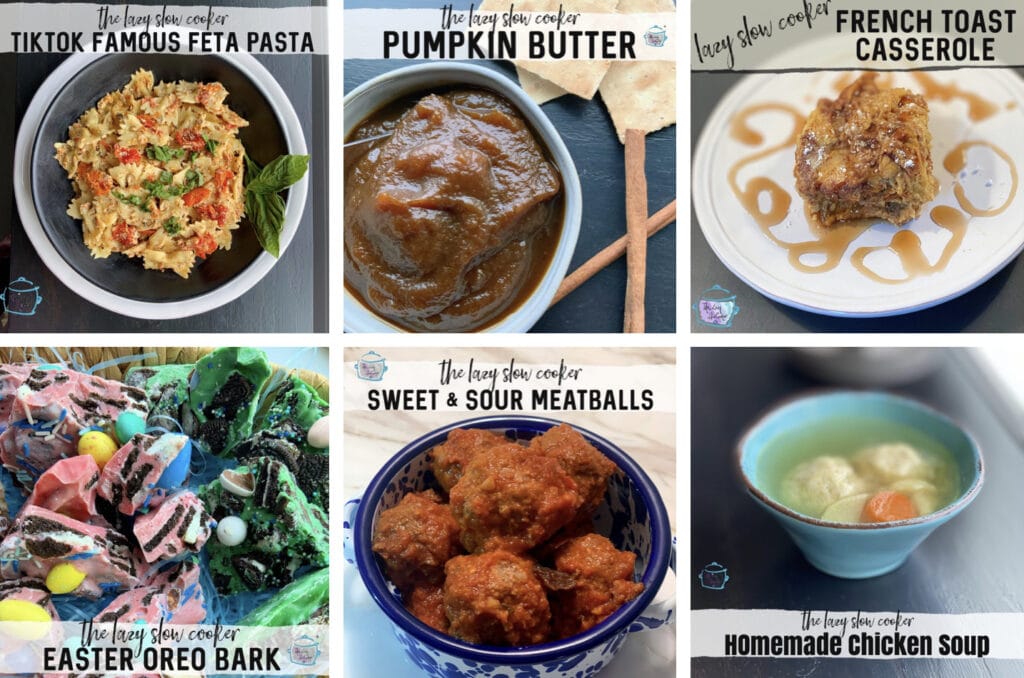 Have you tried this recipe? We would love to hear your thoughts in the comment section below!