Slow Cooker chicken Parmesan is an easy and delicious way to make an old classic. Its the perfect meal to make any night of the week feel special!
Jump to Recipe
I'll admit it....right here, right now on the internet for the whole world to see (literally!): I was wrong. You may want to take a screen shot of that because I don't really like to admit when I am wrong and there is always a chance that I will change my mind and alter this post!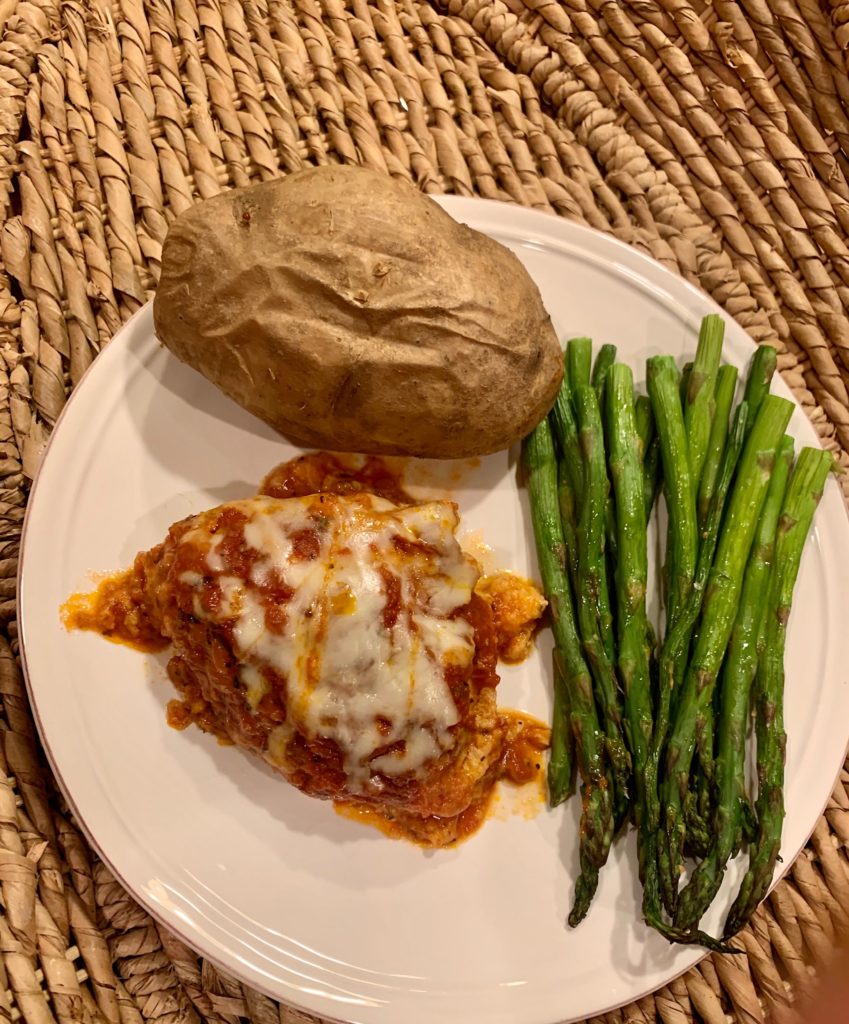 I did not believe that a Chicken Parmesan recipe could be made in a slow cooker. I just could not conceive of skipping the process of pay frying the chicken prior to smothering it with sauce and cheese. It seemed to me that this was a necessary step to bind the breadcrumbs to the chicken. A delicious and necessary albeit not very healthy step.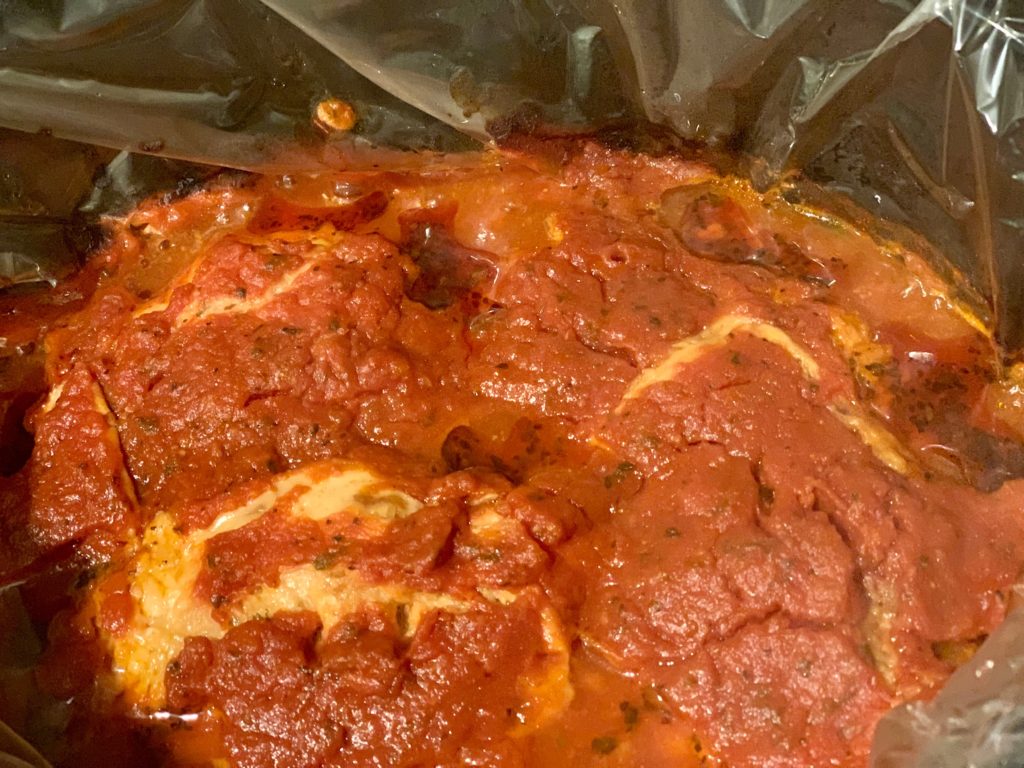 However, I still felt a need to test my theory. And luckily I was wrong (look at that... I said it twice in the same post!). You can bread chicken, put it in a slow cooker cover it with cheese and sauce and have an amazing chicken parmesan recipe that does not require you to clean up all the little splatters of oil that come with pan frying (or even the frying pan itself, for that matter),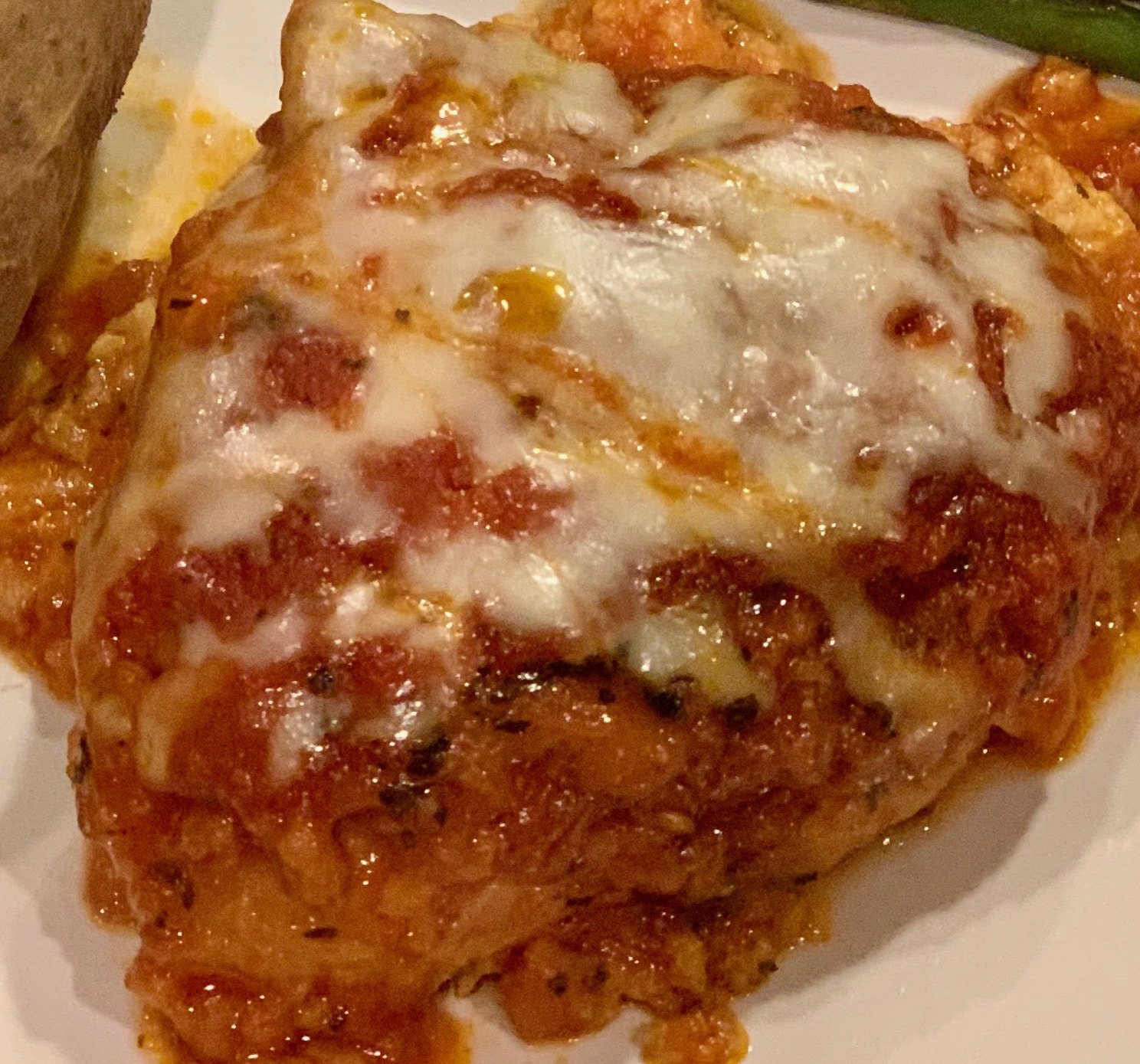 So here it is: the easiest way to make delicious crockpot chicken parmesan that also happens to be just a little healthier. And...it must have super powers too, because it somehow got me to type those three little words I dislike together most: I. Was. Wrong!
Easy Chicken Parmesan Hints & Hacks
I usually make this dish with both boneless, skinless breasts and boneless, skinless thighs - just to please all members of The Team. Cooking time is about the same. Just note that thighs will always remain juicer. Breasts tend to dry out faster the slow cooker. To help avoid this, I use a meat thermometer to make sure I don't over cook the breasts. Chicken is considered safe to eat when it reaches an internal temperature of 165 degrees F.
I tend to keep my dishes mild. If you prefer spicy, feel free to add some pepper flakes to kick this up.
There a lots of difference kinds of bread crumbs out there. I like to use Panko for this recipe.
You can use any kind of pre-made sauce you prefer for this recipe OR...you can make your own like this one!
Lazy Slow Cooker Chicken Parmesan
Easy Parmesan crusted chicken breast smothered in cheese and sauce. The perfect meal to make any night of the week feel special.
Equipment
6 quart slow cooker

2 mixing bowls

measuring spoons and cups

slow cooker liner (optional)
Ingredients
4

pieces

boneless, skinless chicken

I generally use two breasts and two thighs

2

eggs, beaten

½

cup

panko crumbs

½

cup

grated Parmesan cheese, divided

1

tablespoon

McCormick Italian Seasoning

Or, make your own: 1 teaspoon dried oregano, 1 teaspoon dried rosemary and 1 teaspoon dried basil

1

teaspoon

garlic powder

½

teaspoon

kosher salt

¼

lbs

sliced mozzarella cheese

3-4

cups

red sauce
Instructions
Mix panko, ¼ cup Parmesan and spices together in one bowl

Place eggs in separate bowl and beat

Place one piece of chicken at a time into the beaten egg and make sure it is well coated - then press egg drenched piece of chicken into the panko crumb mixture and turn to coat with crumbs on all sides

Place each breaded piece of chicken into the slow cooker

Lay one slice of mozzarella cheese on top of each piece of breaded chicken

Fully cover all cheese-topped chicken with marinara sauce

Place lid on pot and cook 4 - 6 hours on low.

About ½ an hour before serving, sprinkle remaining grated Parmesan cheese over top of sauce and finish cooking; allowing cheese to melt.

The best way to determine when your chicken is ready is by using a meat thermometer. Chicken must reach an internal temperature of 165° to be considered properly cooked and safe for consumption.
Great Crockpot Chicken Recipes
*This post contains Amazon Affiliate links. As an Amazon Affiliate, I earn from qualifying purchases. This helps to offset the costs of running this website. **Please note that all nutritional, serving size and calorie information is estimated and based solely on the ingredients used, not the offered replacement options or any other substitutions.