Jump to Recipe
Slow cooker beef stroganoff is a delicious and easy meal worthy of a regular spot on your dinner table. Tender chunks of beef and flavorful mushrooms in a rich creamy sauce served over pasta - don't expect leftovers!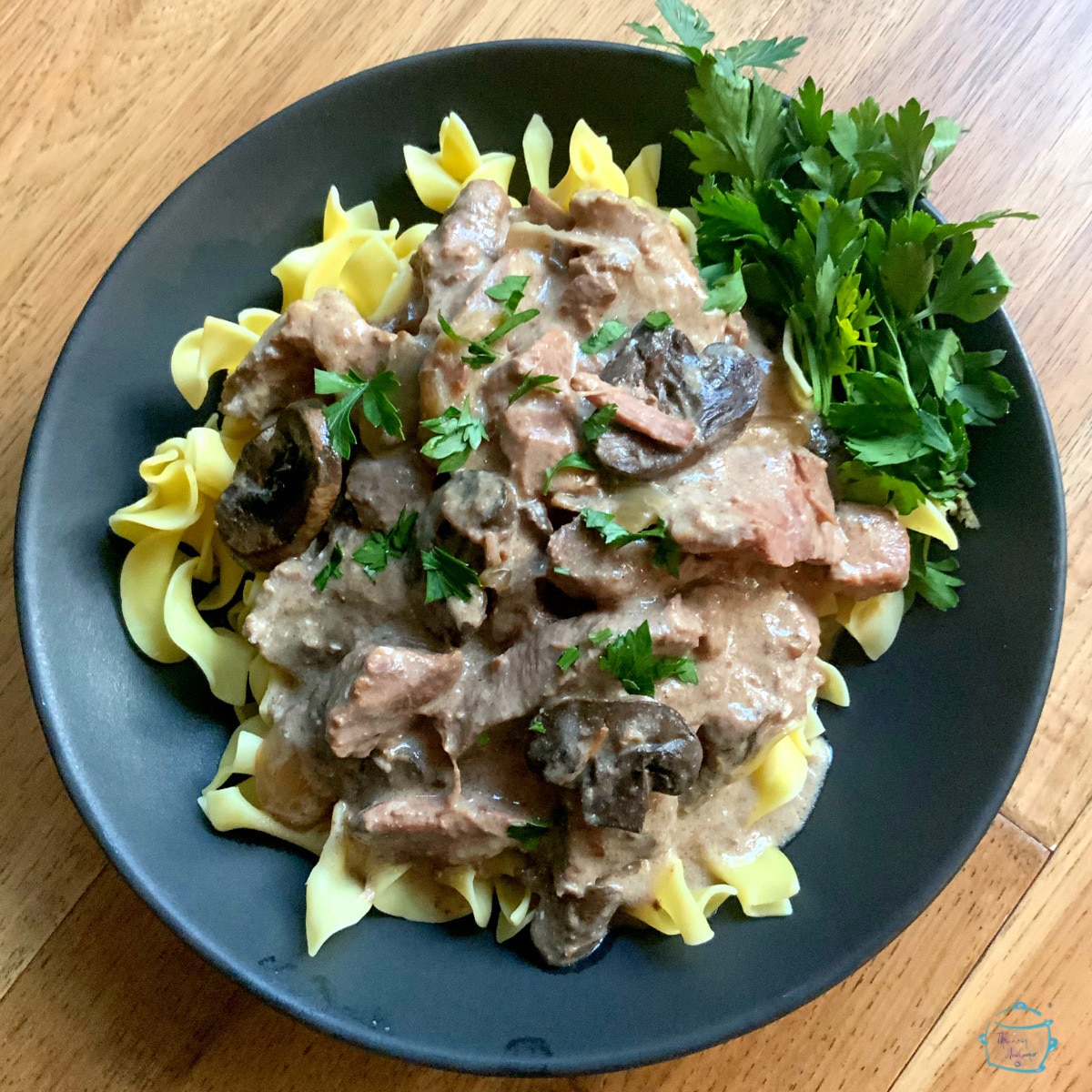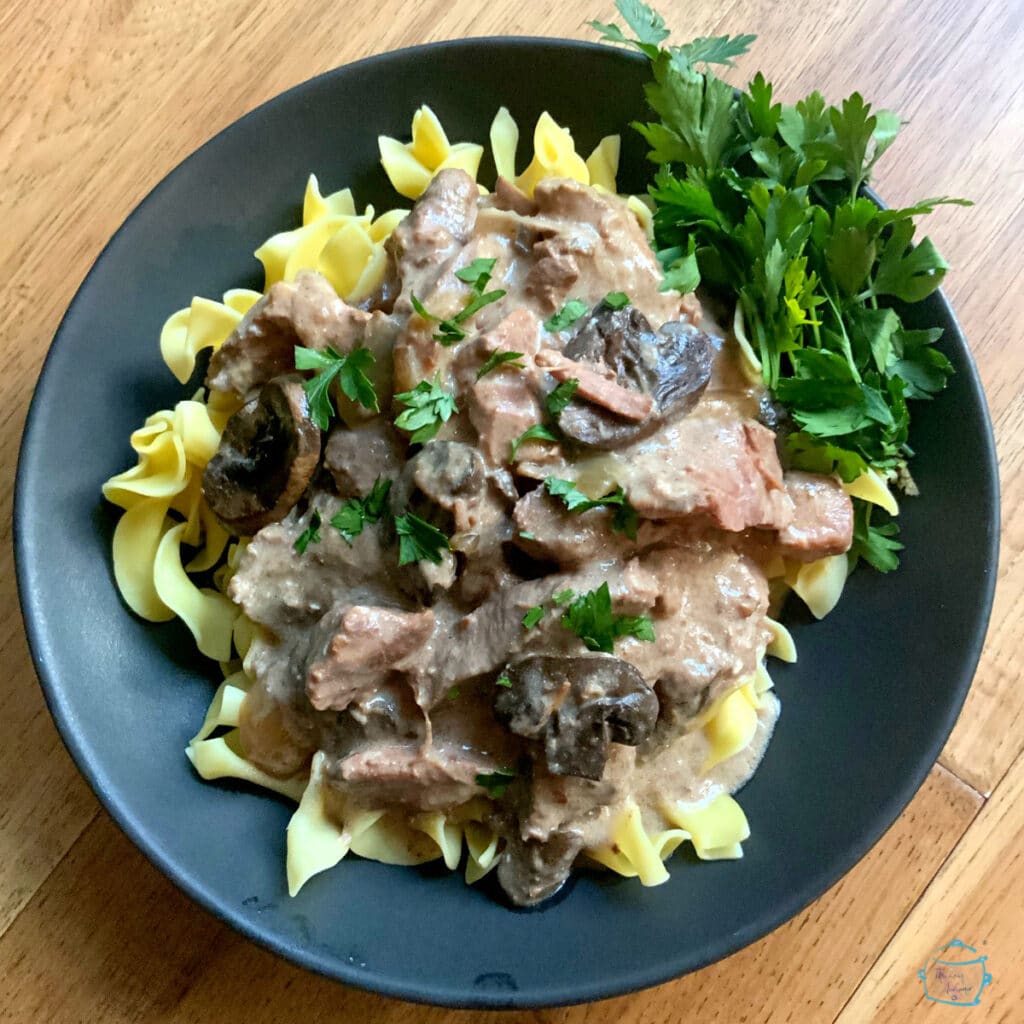 One of the most commonly asked questions regarding slow cooker recipes is: What can I make with stew meat besides stew. This dish is the perfect answer. It is a simple, but deliciously different twist on typical beef stew.
Jump to:
🥩Shopping list
To make beef stroganoff in your crockpot, you will need:
beef stew meet, cut into cubes
mushrooms, sliced (white button or cremini)
flour
onion, sliced
beef broth
Dijon mustard
Worcestershire sauce
fresh ground pepper
sour cream
egg noodles
corn starch (optional)
Jump to exact quantities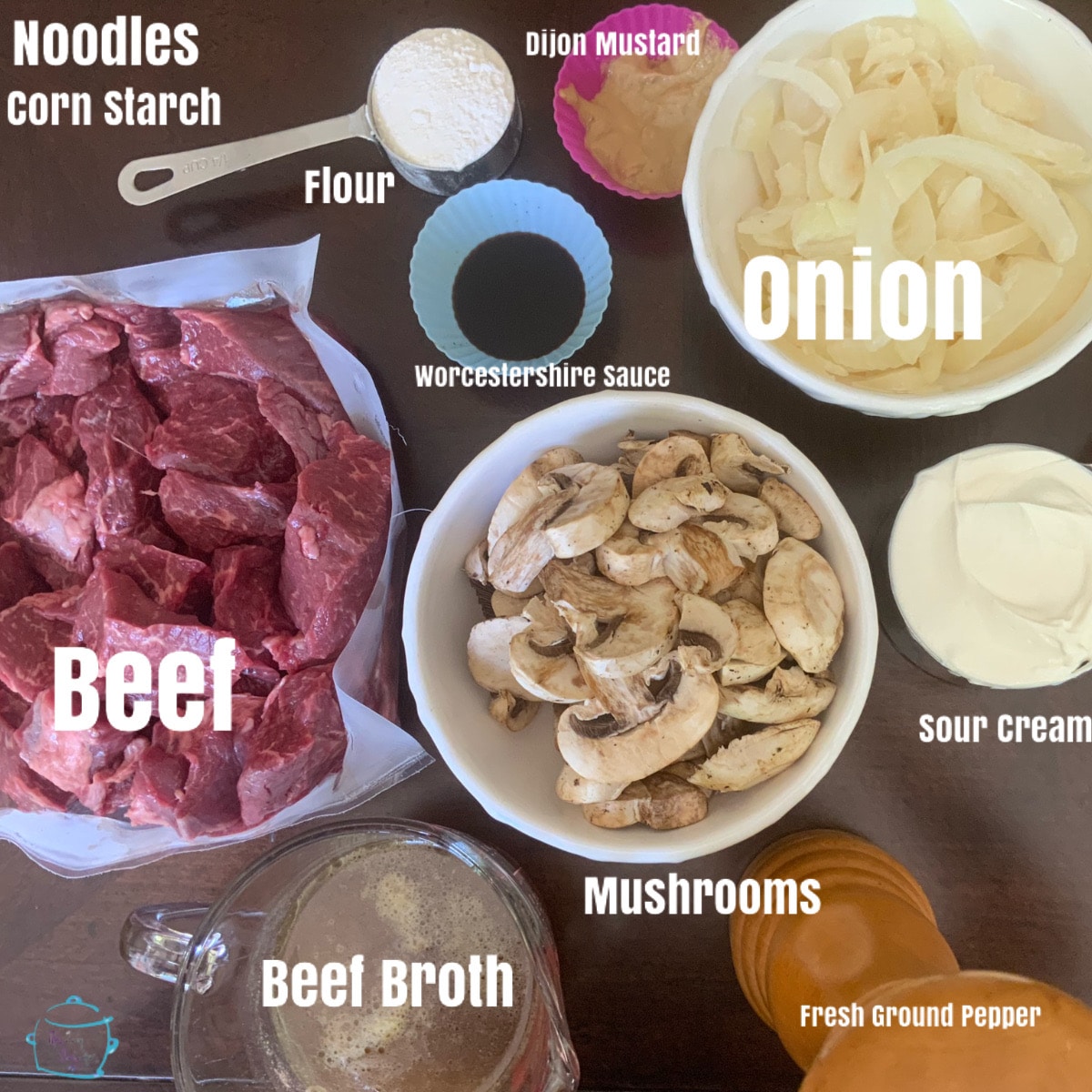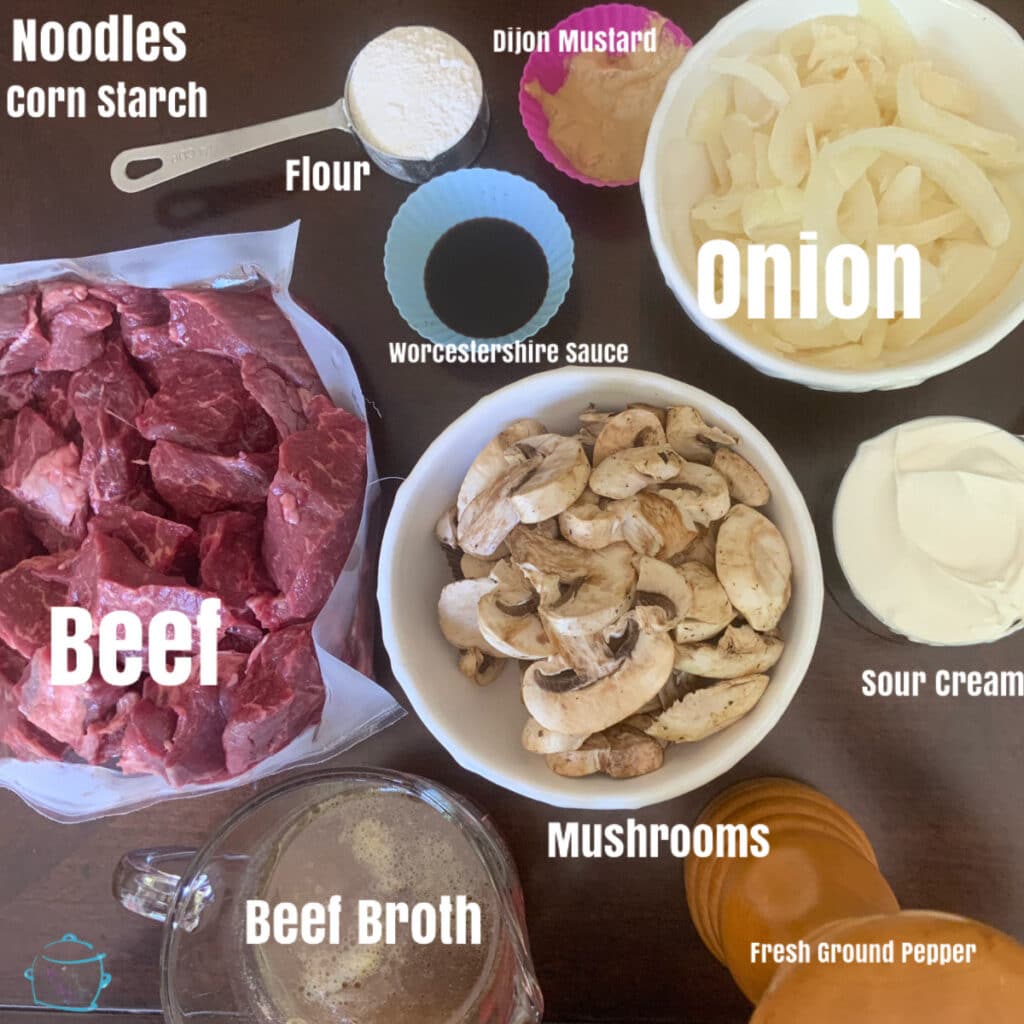 🥣Preparation method
If you plan to use a slow cooker liner, adding it to your slow cooker is always the first (and most often forgotten!) step. To start the actual recipe, place flour, pepper and beef into a bag that can be fully closed such as a zipper lock type bag. Shake bag until all beef is lightly coated with flour mixture. Dump bag contents into slow cooker and add all other ingredients except sour cream, corn starch and noodles. Stir ingredients to combine, cover and cook on low for about 6-8 hours.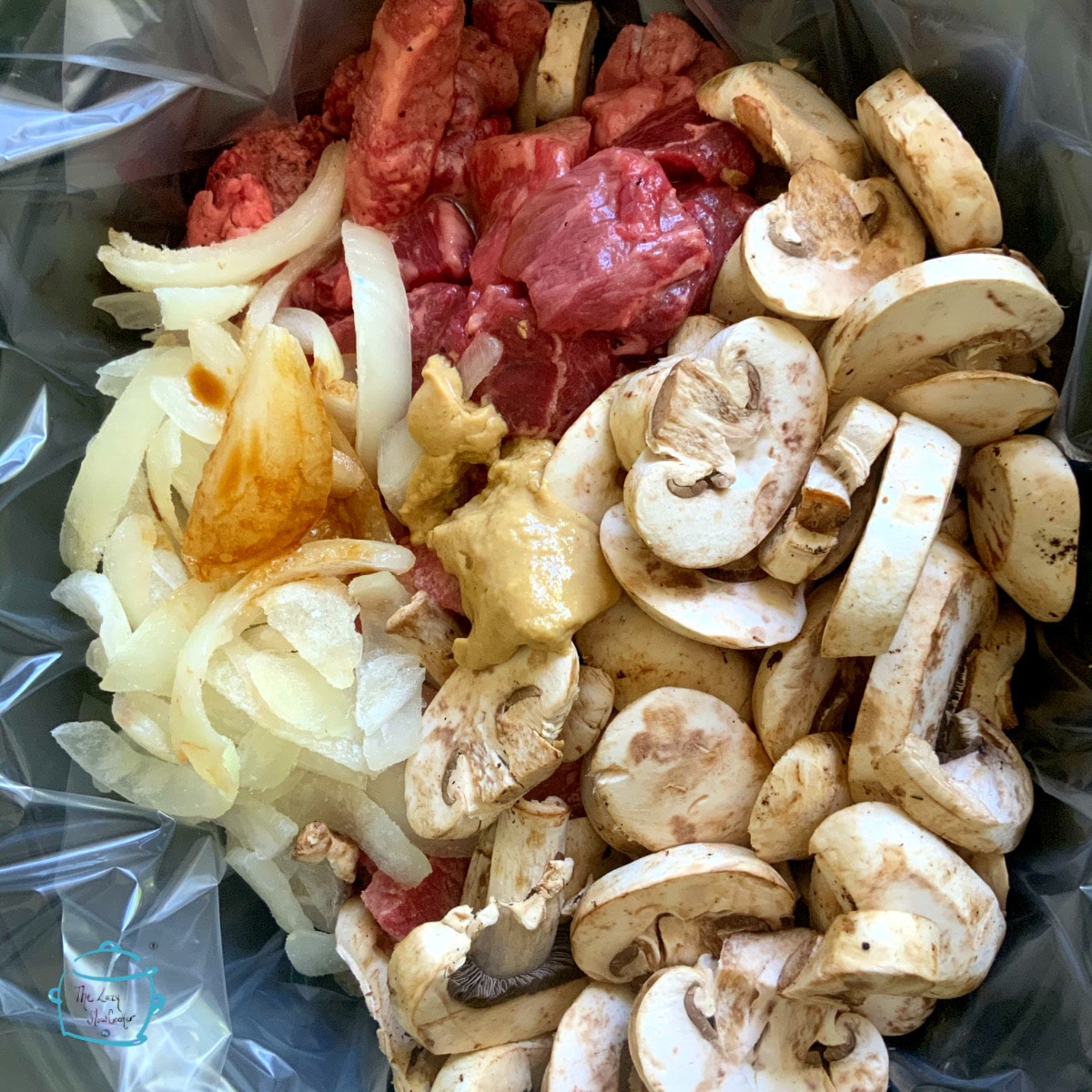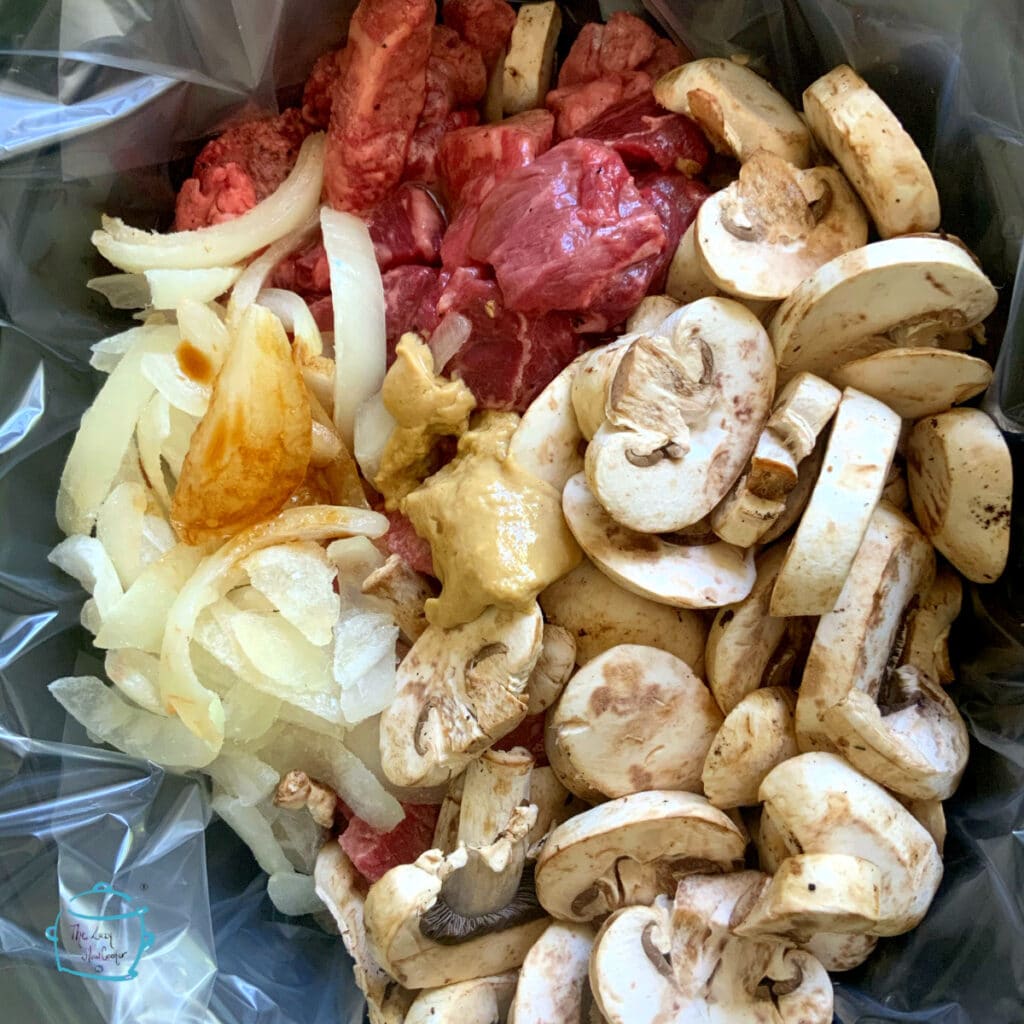 Thirty minutes or so prior to serving, cook noodles according instructions on the package. In a small separate bowl, combine sour cream with a ladle full of the hot juices from your slow cooker and stir to temper. This will prevent your sour cream from curdling. Once fully mixed, add the sour cream mixture back into your slow cooker and stir to fully combine.
After the sour cream has settled in, you can choose to thicken the sauce further. To thicken, use a separate bowl to mix corn starch with a few tablespoons of the hot gravy from your slow cooker. Stir, fully smoothing out any lump. Add corn starch mixture into slow cooker. Stir and allow to cook for 15 - 30 minutes more.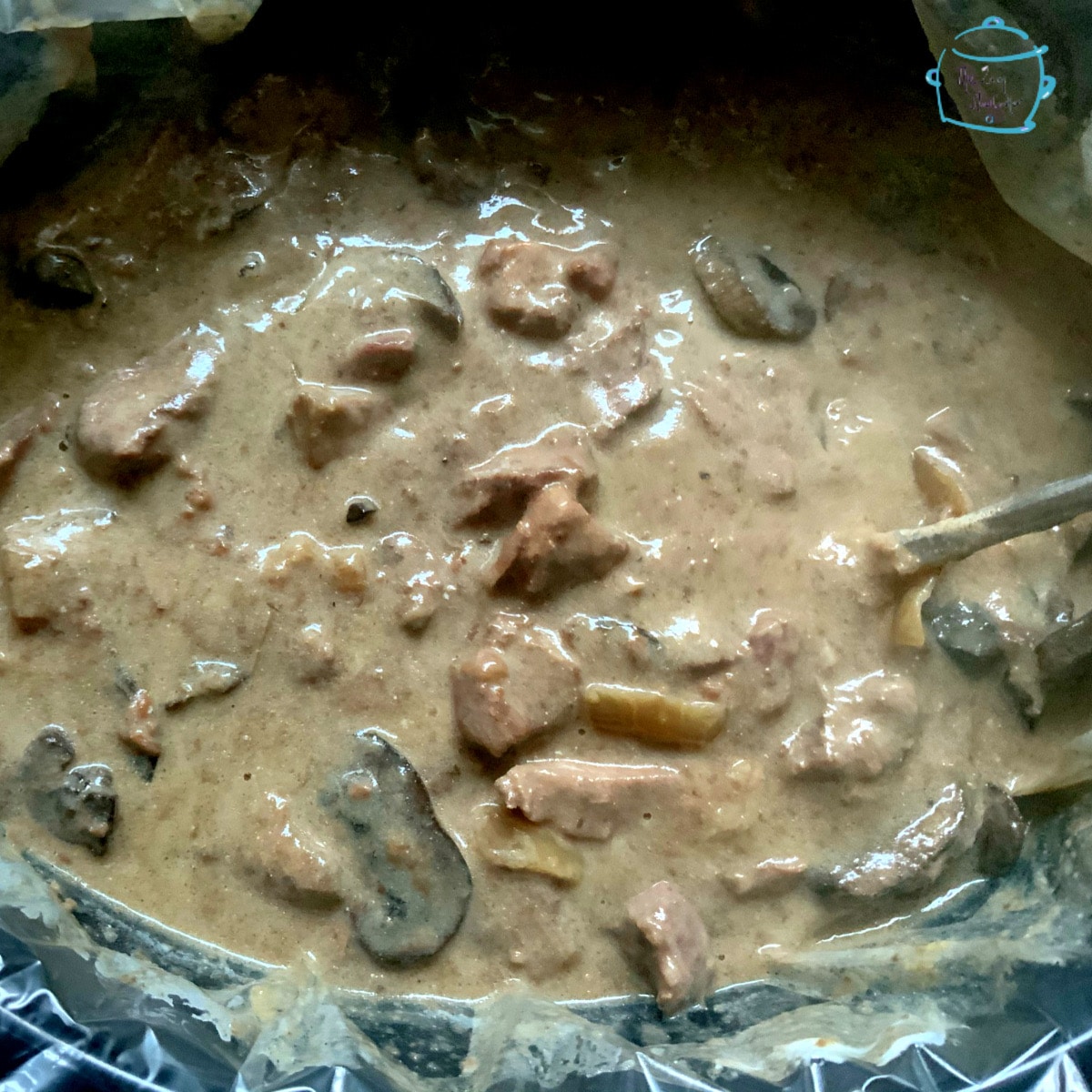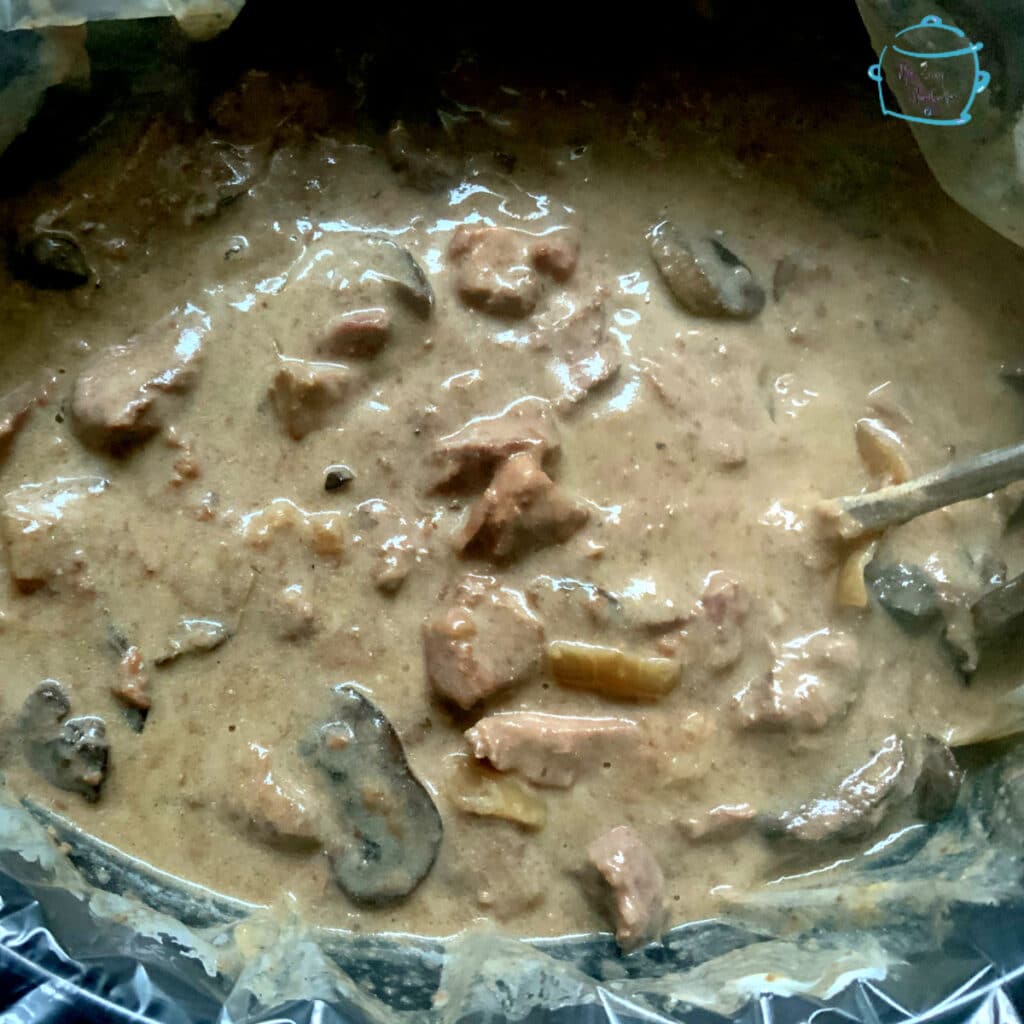 🍽Serving suggestions
Slow cooker beef stroganoff can be served on top of noodles. However, you can also choose to mix the noodles into the beef/sauce mixture right in your slow cooker. It is great served with a crispy side salad, some crusty bread, zucchini and squash parmesan or mashed cauliflower.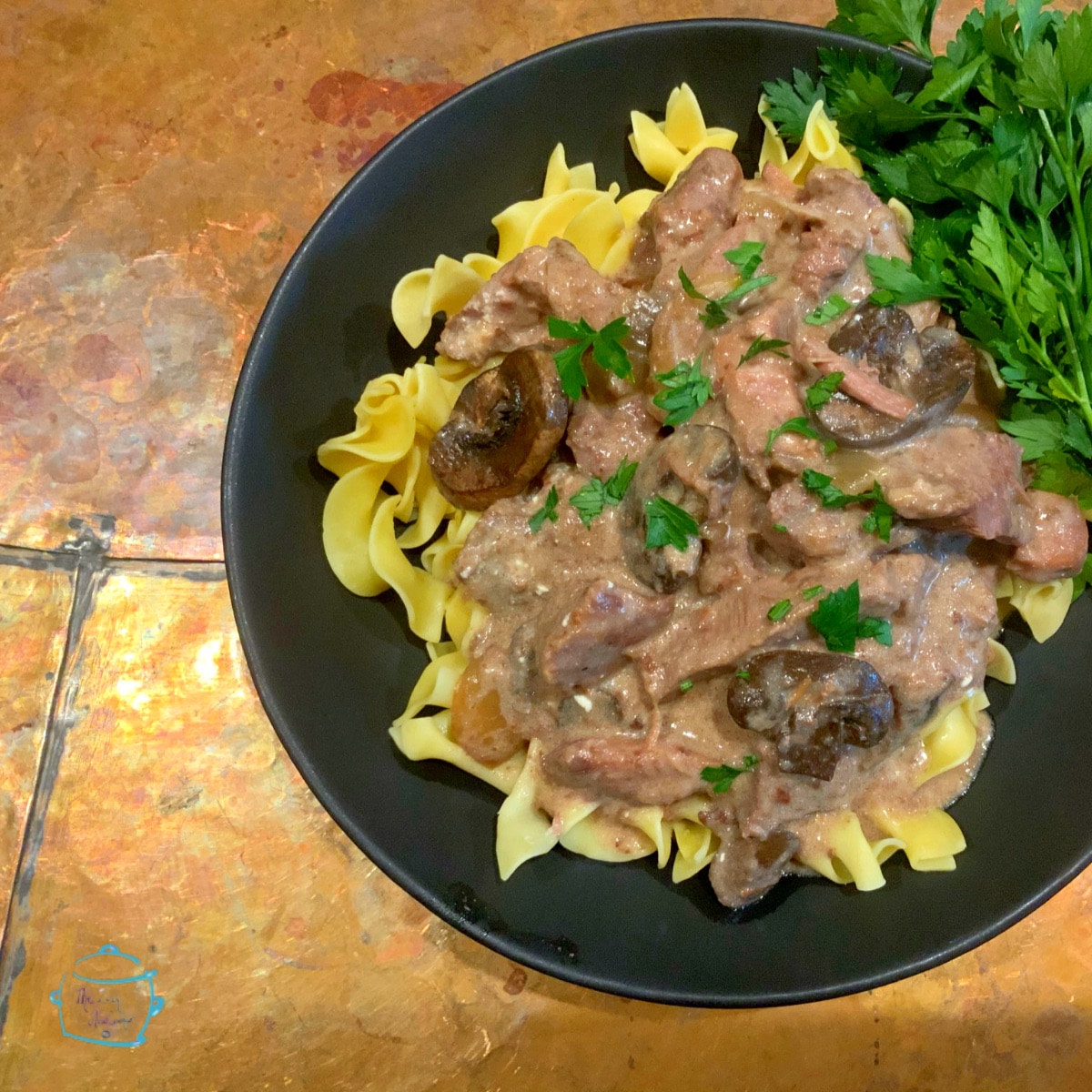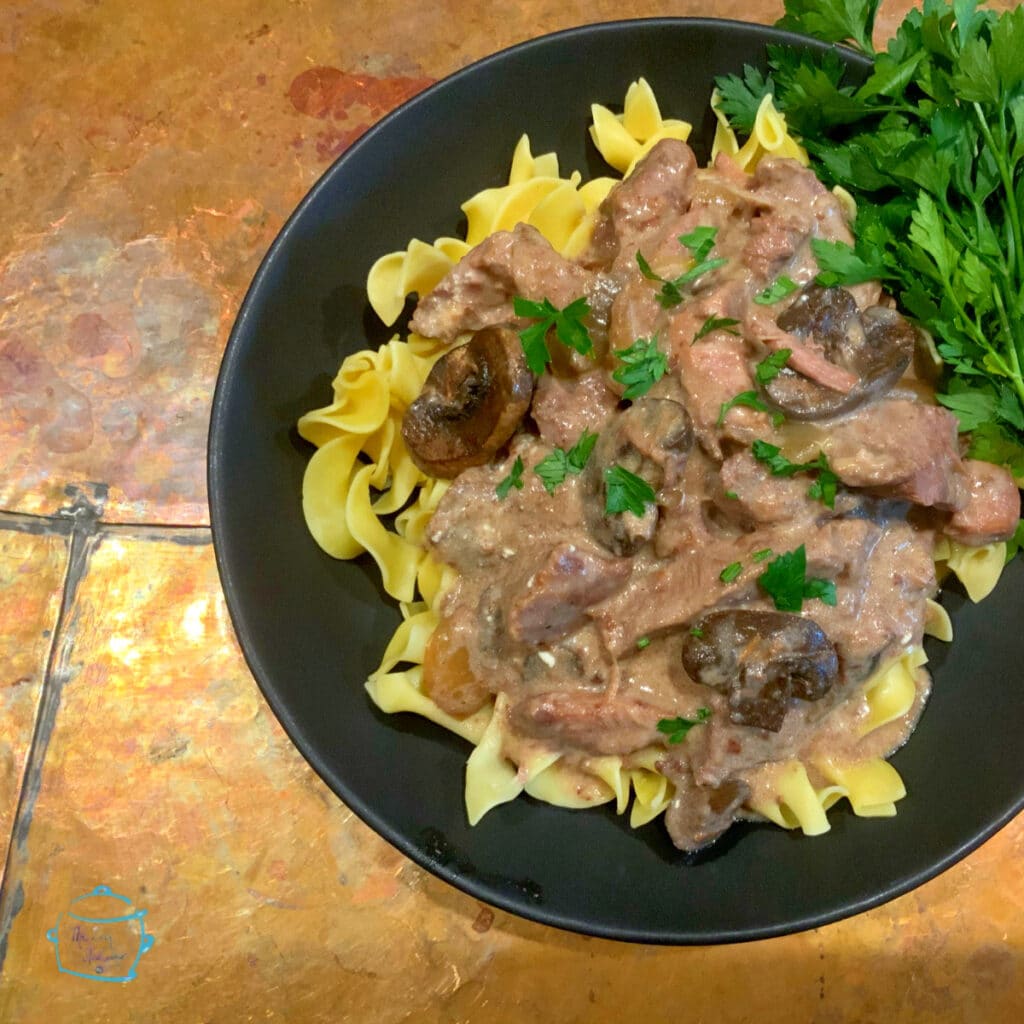 Storing leftovers
If you think you will have leftovers, it is best to serve this dish on top of your noodles rather than mixing them all in. Cooked noodles don't tend to freeze and reheat well in sauce. Without the noodles, your beef mixture can be stored in air tight containers or bags for 3-4 days in the refrigerator or up to 3 months in the freezer. You can also store any leftover cooked noodles on their own in the refrigerator or freezer. Alternatively, you can serve the reheated beef mixture with fresh noodles.
😉Hints & hacks
To make the easiest version of this dish, purchase stew meat that has already been cut into chunks. You can also purchase both mushrooms and onions pre-sliced. Can't find stew meat but pre-cut beef strips are on sale? Those work really well too!
If you want thicker gravy but don't have time to wait for a corn starch slurry to thicken it up, add instant mashed potato flakes. At the end of the cooking process, stir potato flakes one tablespoon at a time right into the pot until the gravy reaches the desired consistency.
I generally recommend the use of a slow cooker liner. As always, this an optional step. I like to purchase my liners in bulk for a less expensive per-piece price. Here are the liners I buy.
In the market for a new slow cooker? Here is the one I am currently lusting after.
This is a great dish if your people will be eating at different times. After the cooking time, turn your slow cooker to warm and everyone can have a delicious and filling meal, no matter what time they are ready to eat. If you will be serving this dish at different times throughout the evening, spooning it over noodles, rather than mixing them together works best.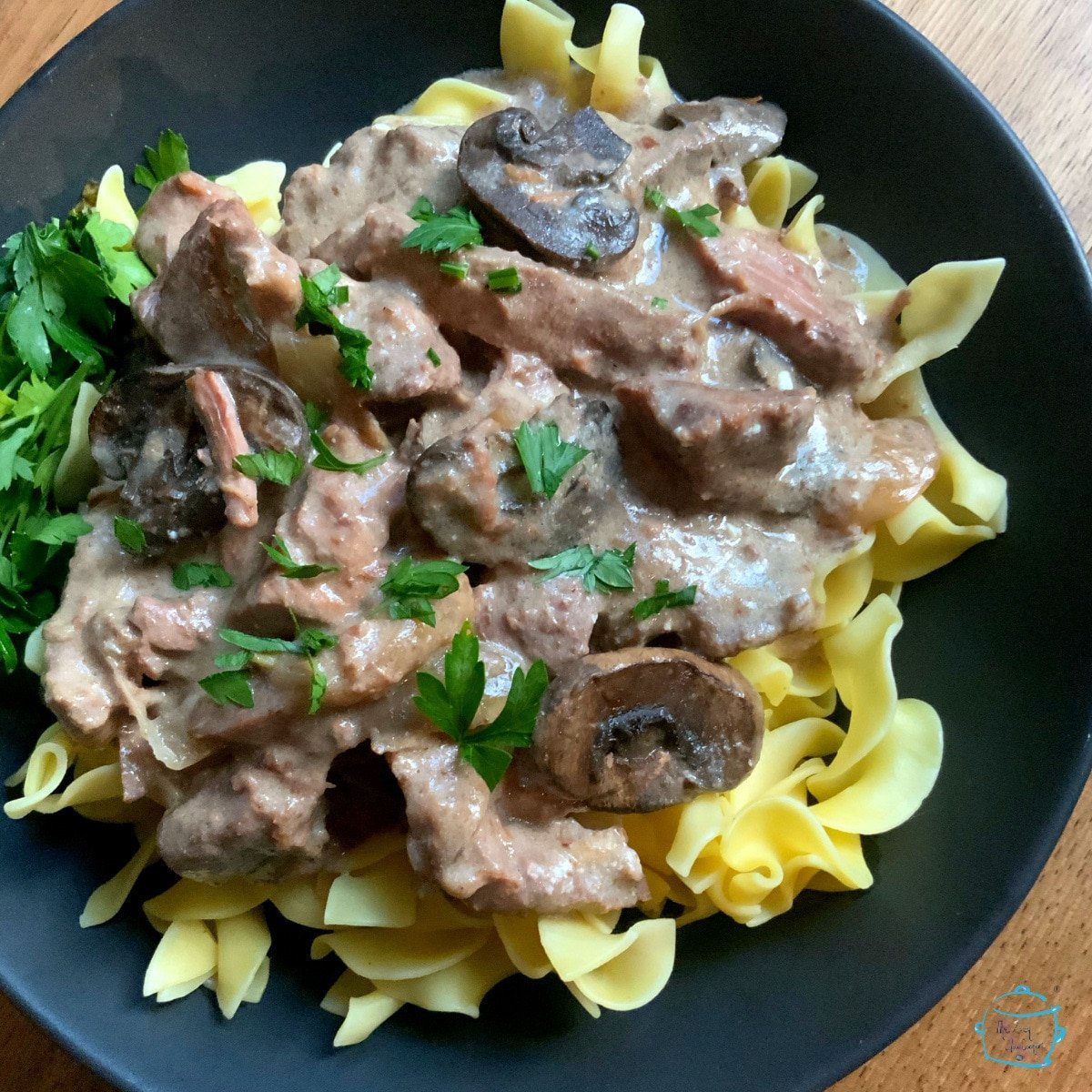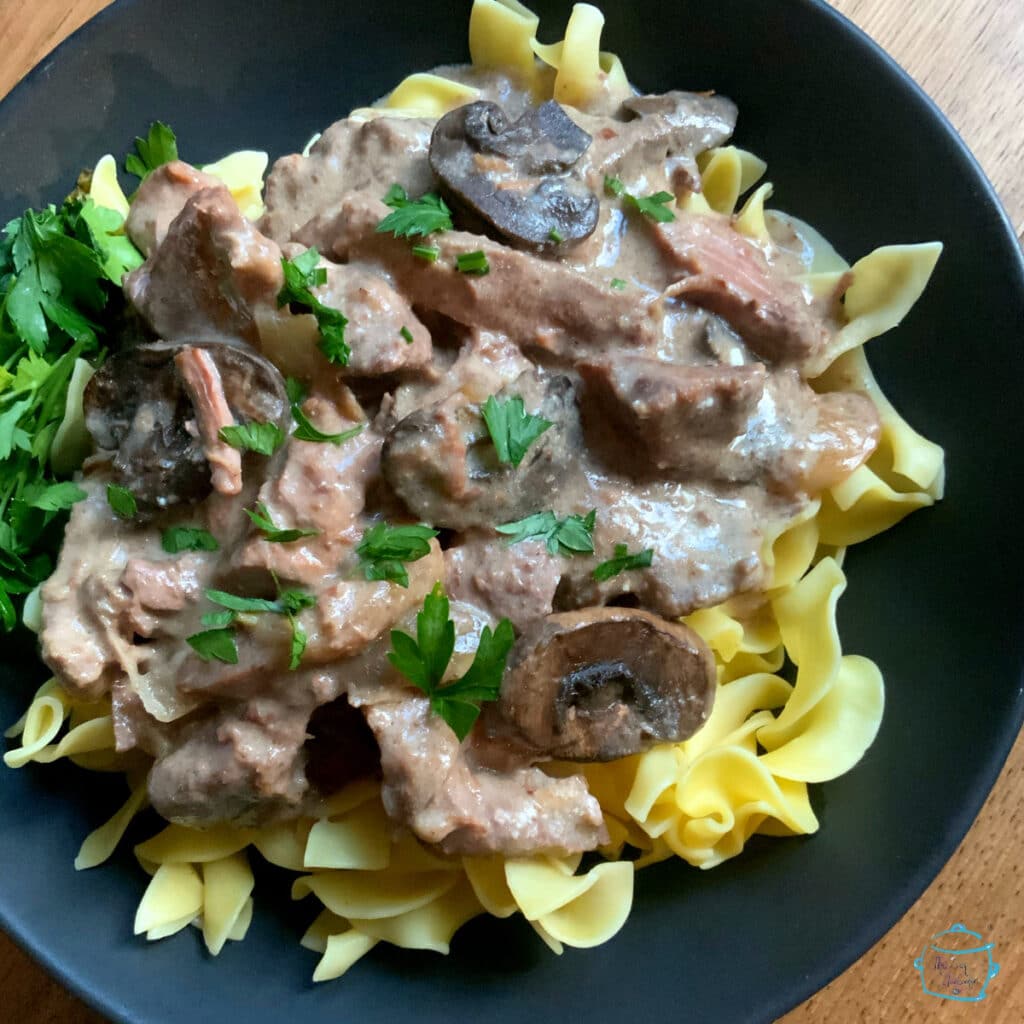 ❓Frequently asked questions
If I mix the noodles with the beef, is there still a way to store leftovers?
Yes! You can still refrigerate or freeze leftover beef and noodles that have been mixed together. You just need to be aware that noodles may become very soft and/or break apart during the reheating process. It will still taste wonderful, it just wont look as good and the texture may be slightly altered.
I don't have any sour cream. Is there anything else I can use?
Yes, plain Greek yogurt works just as well and tastes delicious.
What does it mean to temper food.
Tempering food is basically the process of converting two different temperature foods to the same temperature. In the case of this recipe, you will temper the sour cream by adding in some of the hot juices from your slow cooker.
What will happen if I don't temper the sour cream?
Adding cold sour cream to your hot crockpot will cause the cream to "curdle" or separate and look lumpy. Although it may look as though it has gone bad, it hasn't. It just won't combine into a smooth and creamy finished dish.
*This post contains Amazon Affiliate links. As an Amazon Affiliate, I earn from qualifying purchases. This helps to offset the costs of running this website. **Please note that all nutritional, serving size and calorie information is estimated and based solely on the ingredients used, not the offered replacement options or any other substitutions.
More slow cooker recipes using stew meat
📖 Recipe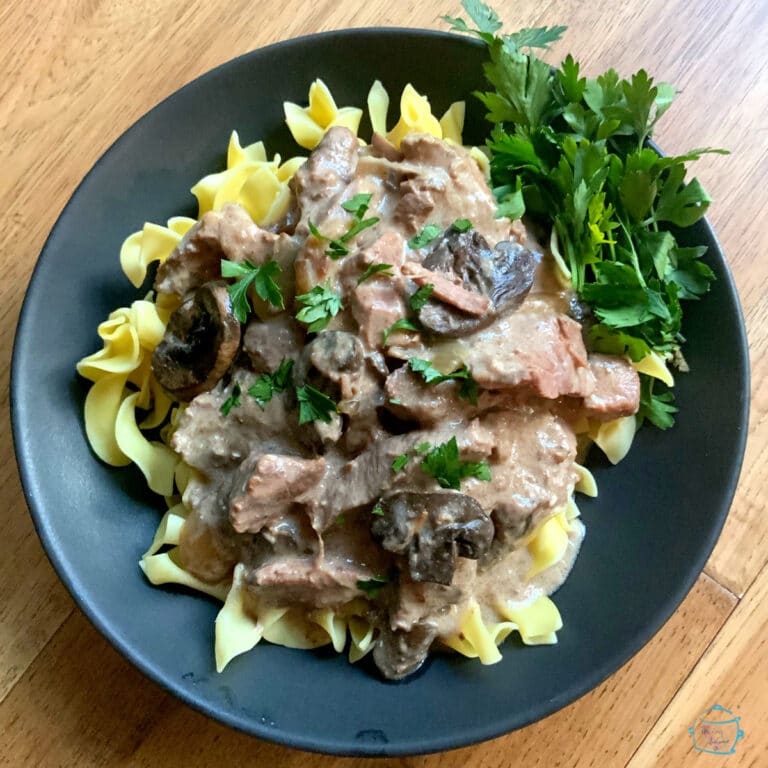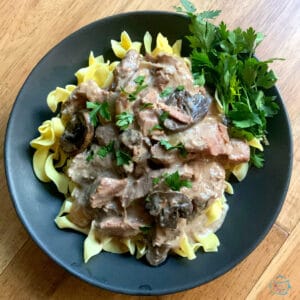 Lazy Slow Cooker Beef Stroganoff
Slow cooker beef stroganoff is delicious meal worthy of making on repeat. Tender chunks of beef and mushrooms in a rich creamy sauce served over pasta - don't expect leftovers!
Print
Pin
Rate
Equipment
4 qt slow cooker or larger

measuring spoons and cups

Mixing Spoon

slow cooker liner (optional)

zipper top or other bag/container that fully closes
Ingredients
2

lbs

beef, cut into strips or chunks

stew meat works well

¼

cup

flour

I use all purpose

½

teaspoon

fresh ground black pepper

16

oz

mushrooms, sliced

white button or cremini mushrooms work well

1

medium

onion, sliced

1

cup

beef broth

1

tablespoon

Dijon mustard

1

tablespoon

Worcestershire sauce

1

cup

sour cream

12

oz

egg noodles

cooked according to package al dente instructions

3

tablespoon

corn starch

(optional)
Instructions
place slow cooker liner in slow cooker, if using

place flour and pepper in a zipper top bag or container that fully closes

add all beef to flour mixture, close bag and shake well until beef chunks are lightly coated

add flour coated beef to slow cooker

place mushrooms, onions and all seasonings into slow cooker. Only the sour cream, noodles and corn starch should remain out of the slow cooker

cover slow cooker with lid and cook on low for 6-8 hours (or high for about 4 hours)

about 30 minutes prior to serving, use a seperate bowl to mix sour cream together with a ladleful of the hot juices from the slow cooker to temper. once fully mixed, add sour cream mixture into slow cooker and stir to fully combine.

if you would like to thicken the sauce further, use a separate bowl to mix cornstarch with a few tablespoons of hot liquid from slow cooker, once fully mixed, add to slow cooker and stir to combine.

cover and allow to cook for 15-30 minutes more

serve over noodles or mix noodles into slow cooker and serve combined.
Nutrition
Check out our latest on Instagram: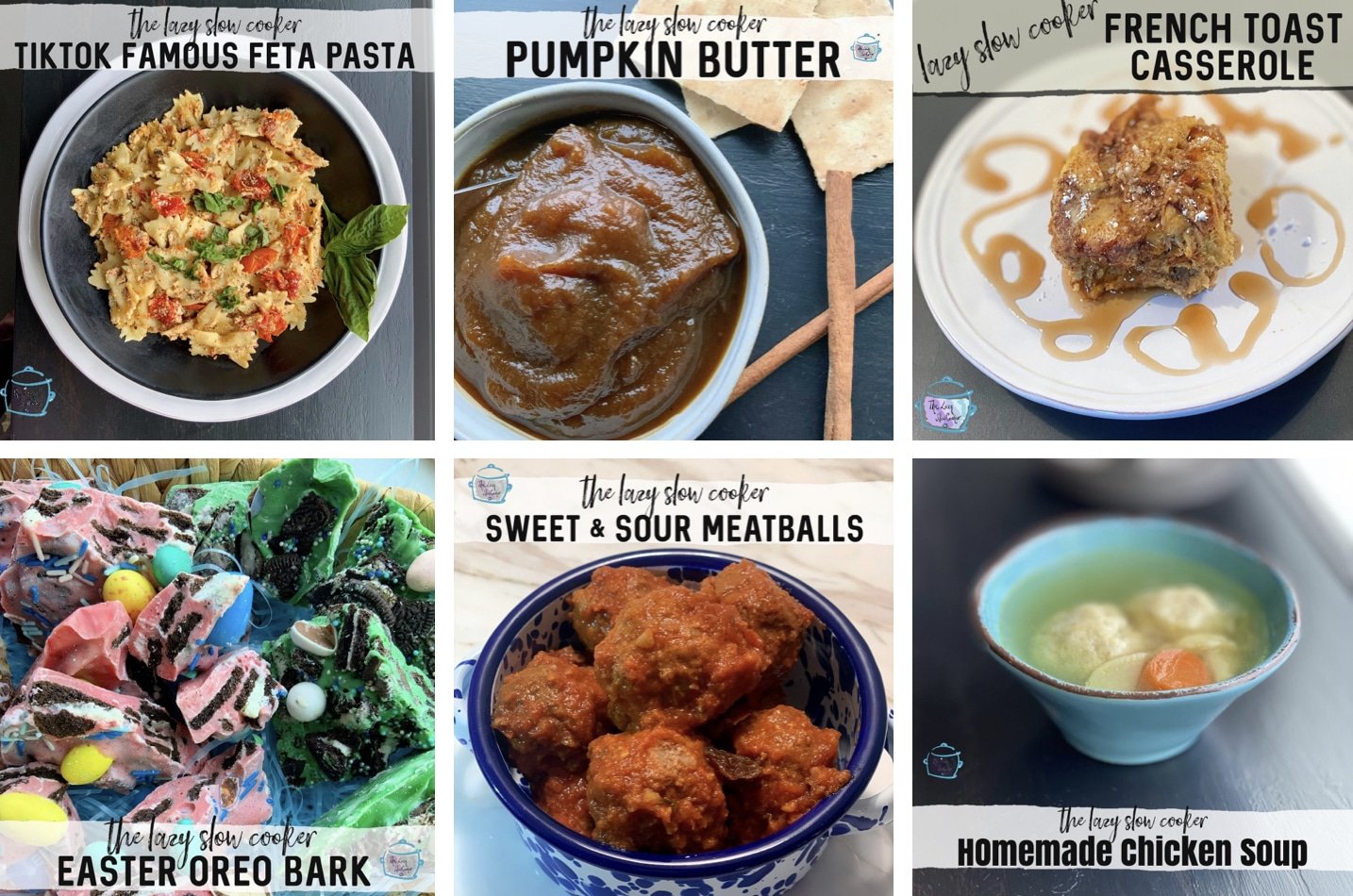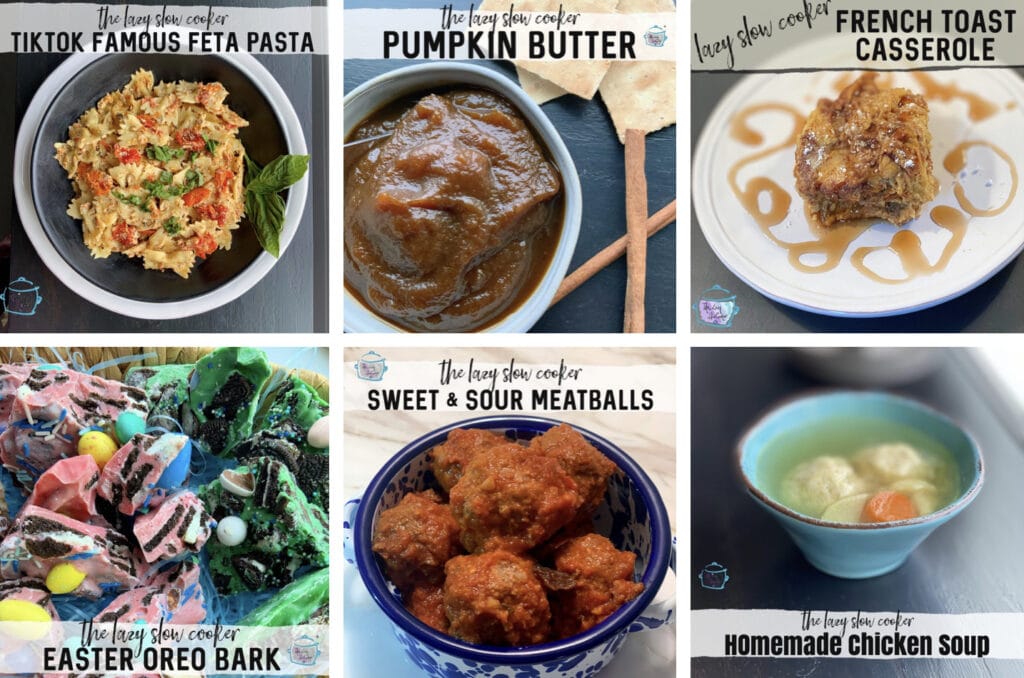 Have you tried this recipe? We would love to hear your thoughts in the comment section below!