Jump to Recipe
This honey garlic crockpot chicken recipe is a delicious and easy dish. Tender, slow cooked chicken smothered in a wonderful sweet and savory sauce. Toss some broccoli into your slow cooker during the last minutes of cooking for a full meal.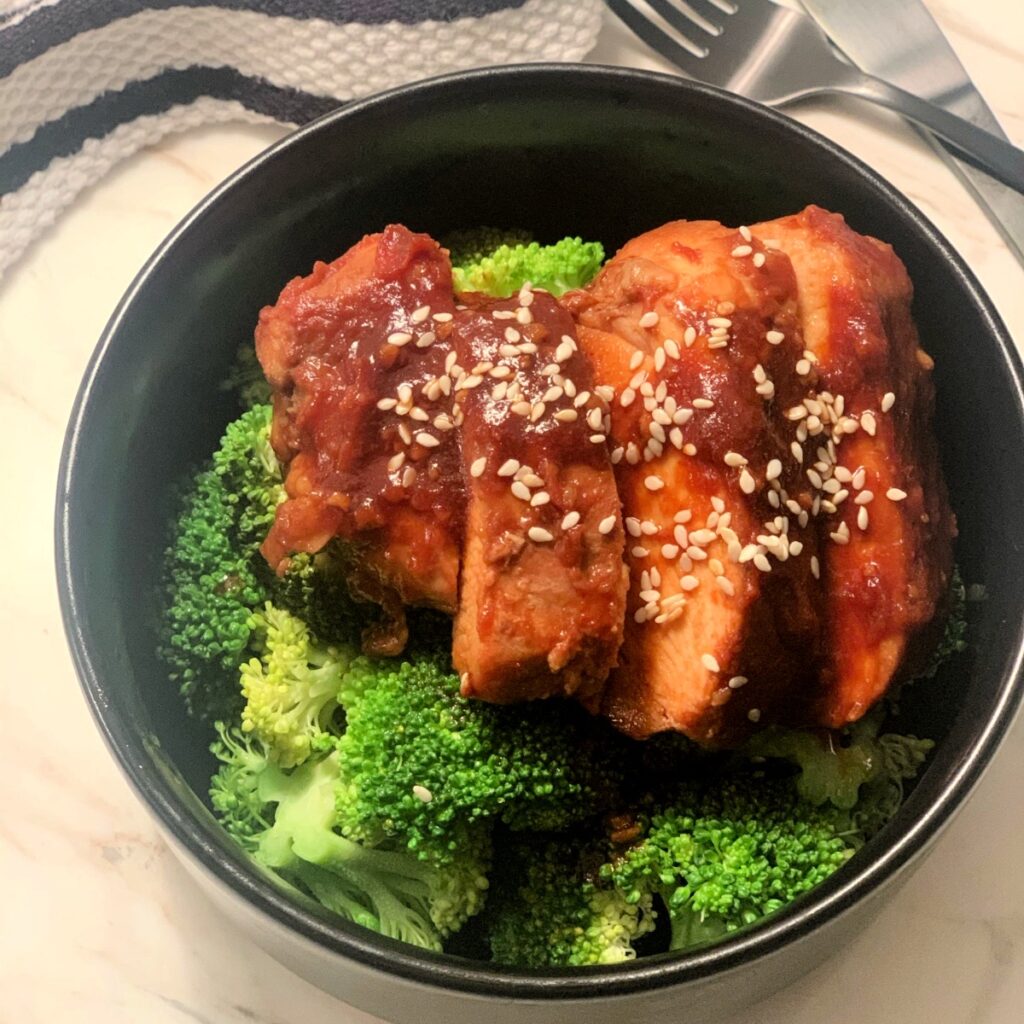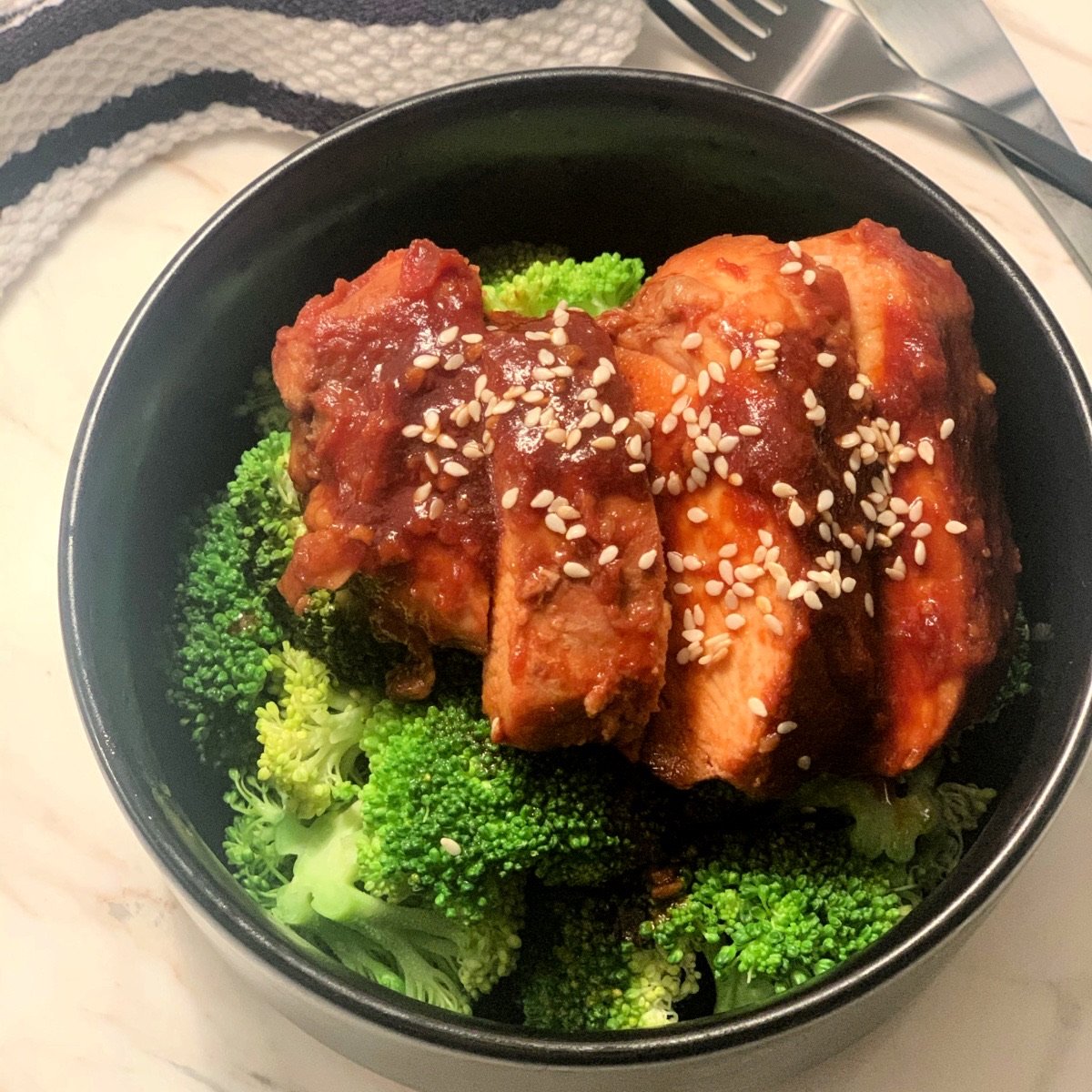 How is it that days can go so slowly, but weeks, months and even years can seem to just slide by so smoothly you hardly notice? As the days roll into each other, some of the more repetitive tasks, like making dinner, become daunting. It seems like everytime I turn around, it is time for me to put dinner on the table - again!!
This dish was designed for those days when you have absolutely no inspiration when it comes to dinner. It is crowd pleasing and delicious. The flavor can be addicting, yet it is easy to make. Plus, the side dish options are endless.
Jump to:
How To Make Easy Honey Garlic Crockpot Chicken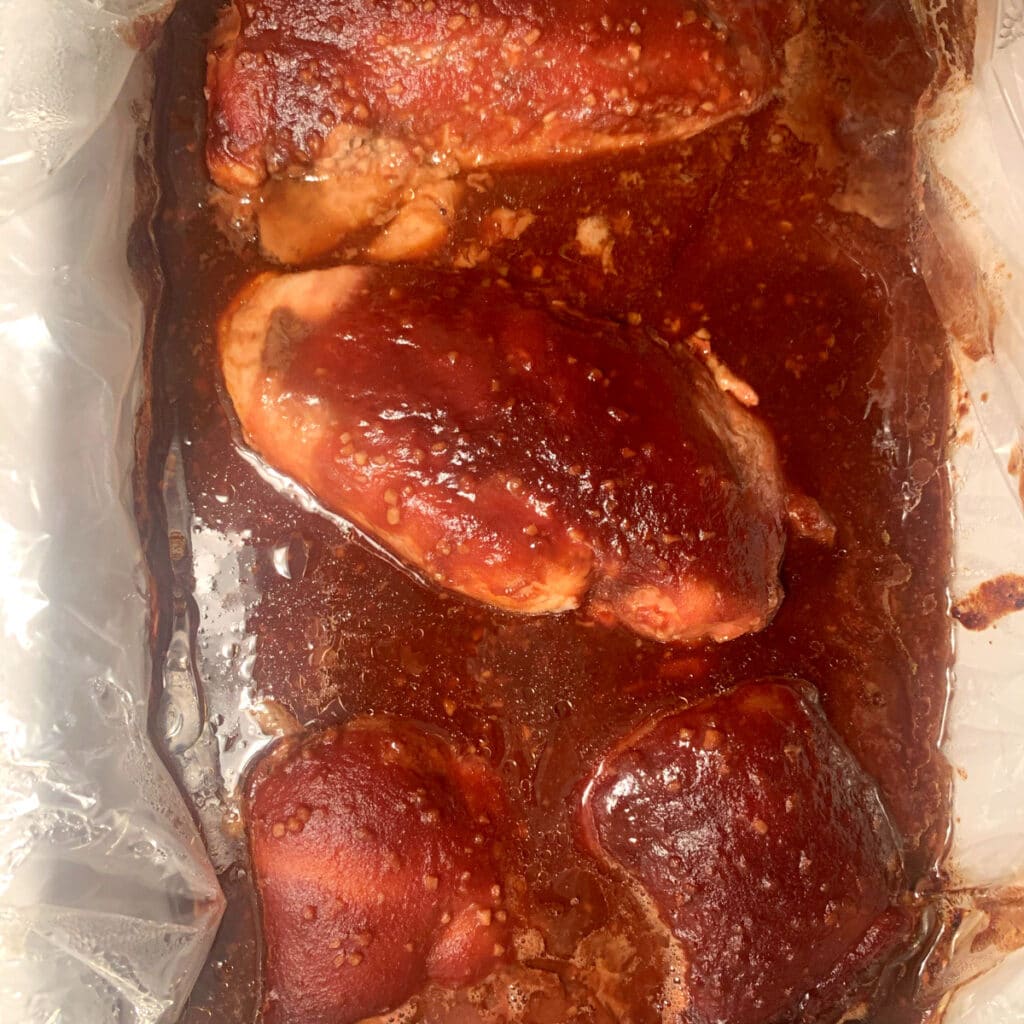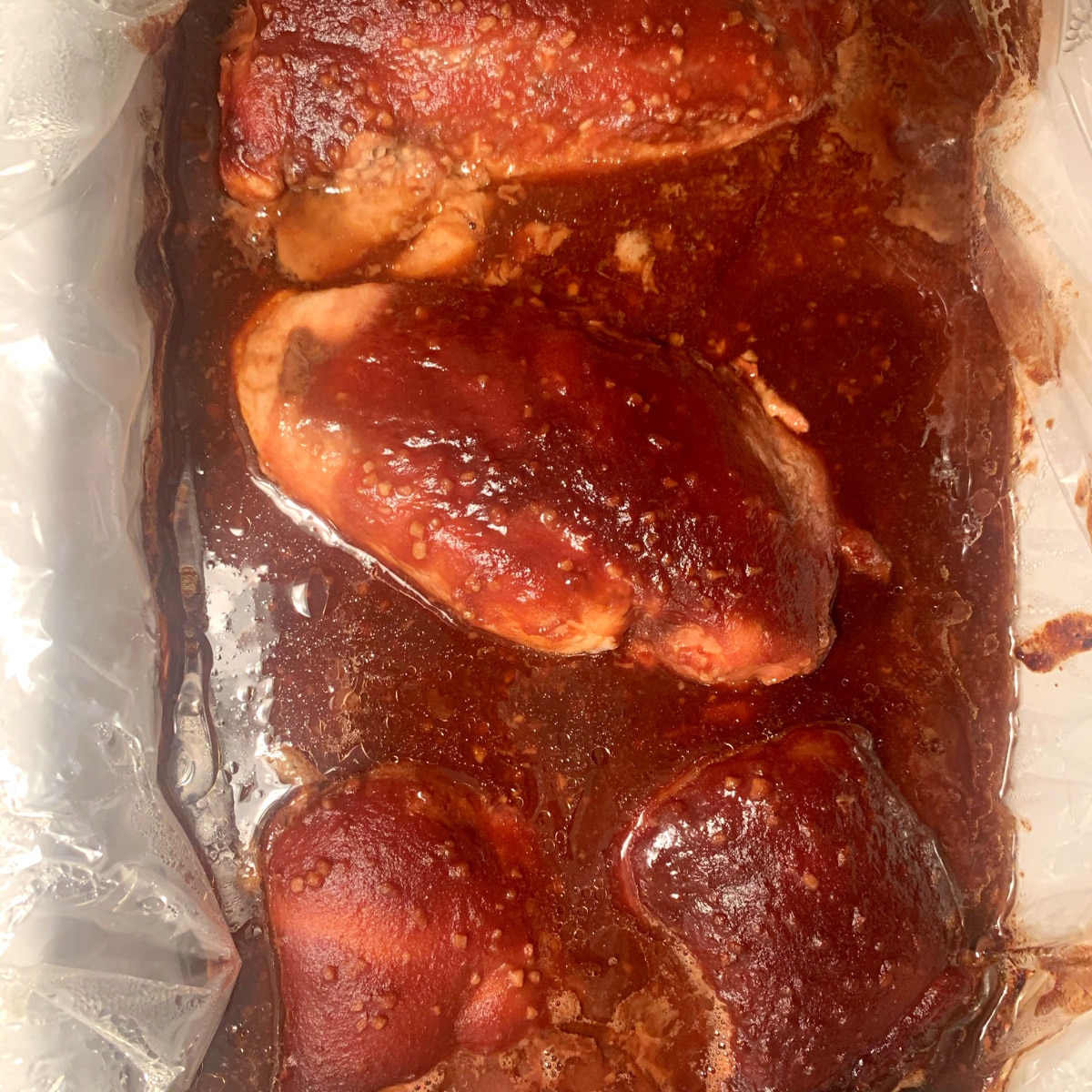 The Chicken
This dish is meant for boneless and skinless chicken pieces. Since we have both white meat and dark meat fans in our house, I generally create recipes using both to satisfy as many members of The Team as possible. Chicken breast is always drier, especially when slow cooked. Thighs are more forgiving and can be cooked longer without drying out. However, thighs (dark meat) are smaller and tend to have more connective tissue. If you don't have a preference taste wise, thighs are the way to go. However, if you are a fan of less fatty chicken, stick with those breasts! If you do decide to use breasts and feel they are a little too dry, slicing or shredding them will help them to absorb more sauce.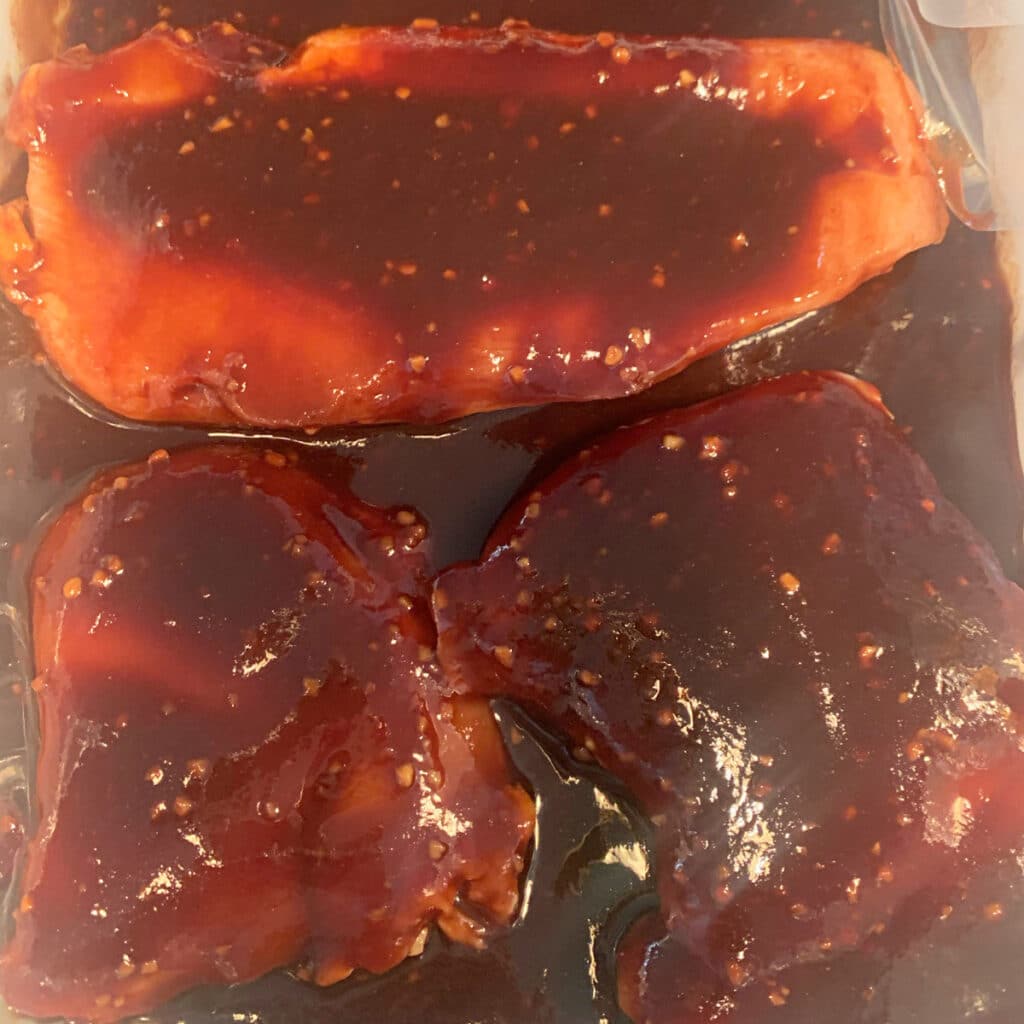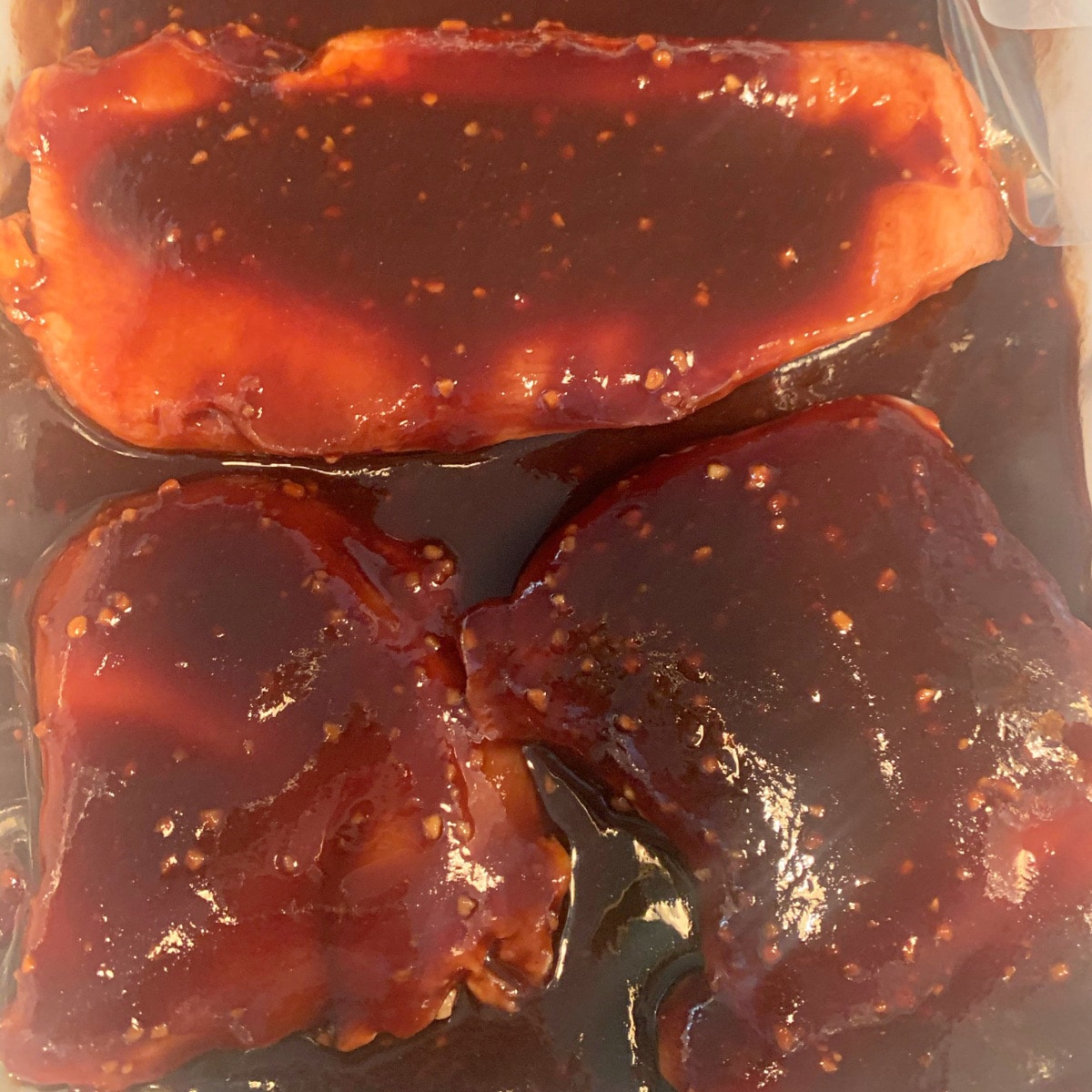 The Sauce
This dish is as easy as mixing a few ingredients for the sauce, adding it all to your slow cooker and walking away. To start you will need:
honey
garlic
soy sauce
ginger
tomato paste
chicken
sesame seeds (optional)
broccoli (optional)
**Exact quantities can be found in the printable recipe card at the bottom of this page.
Start by placing chicken pieces into your slow cooker. In a separate bowl, whisk together honey, garlic, soy sauce, ginger and tomato paste. Pour whisked mixture over chicken, cover and cook on low.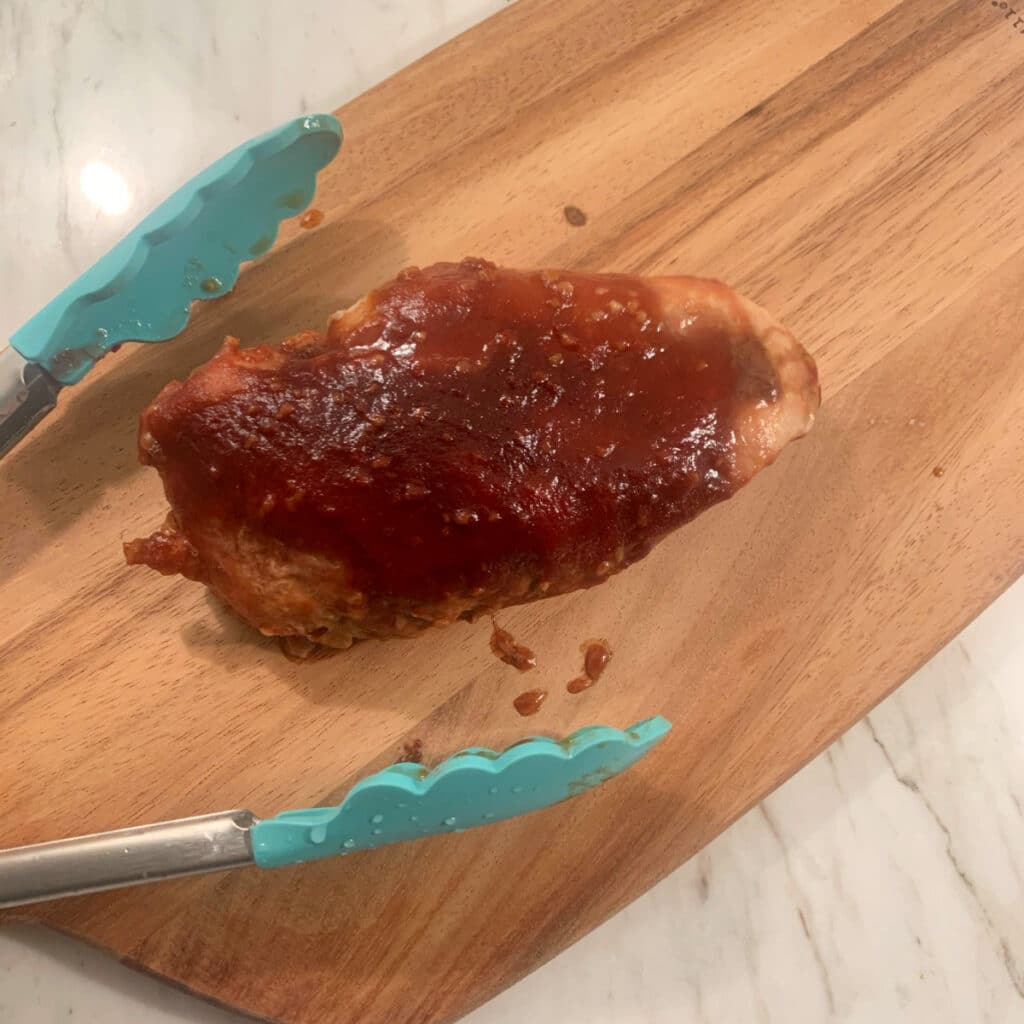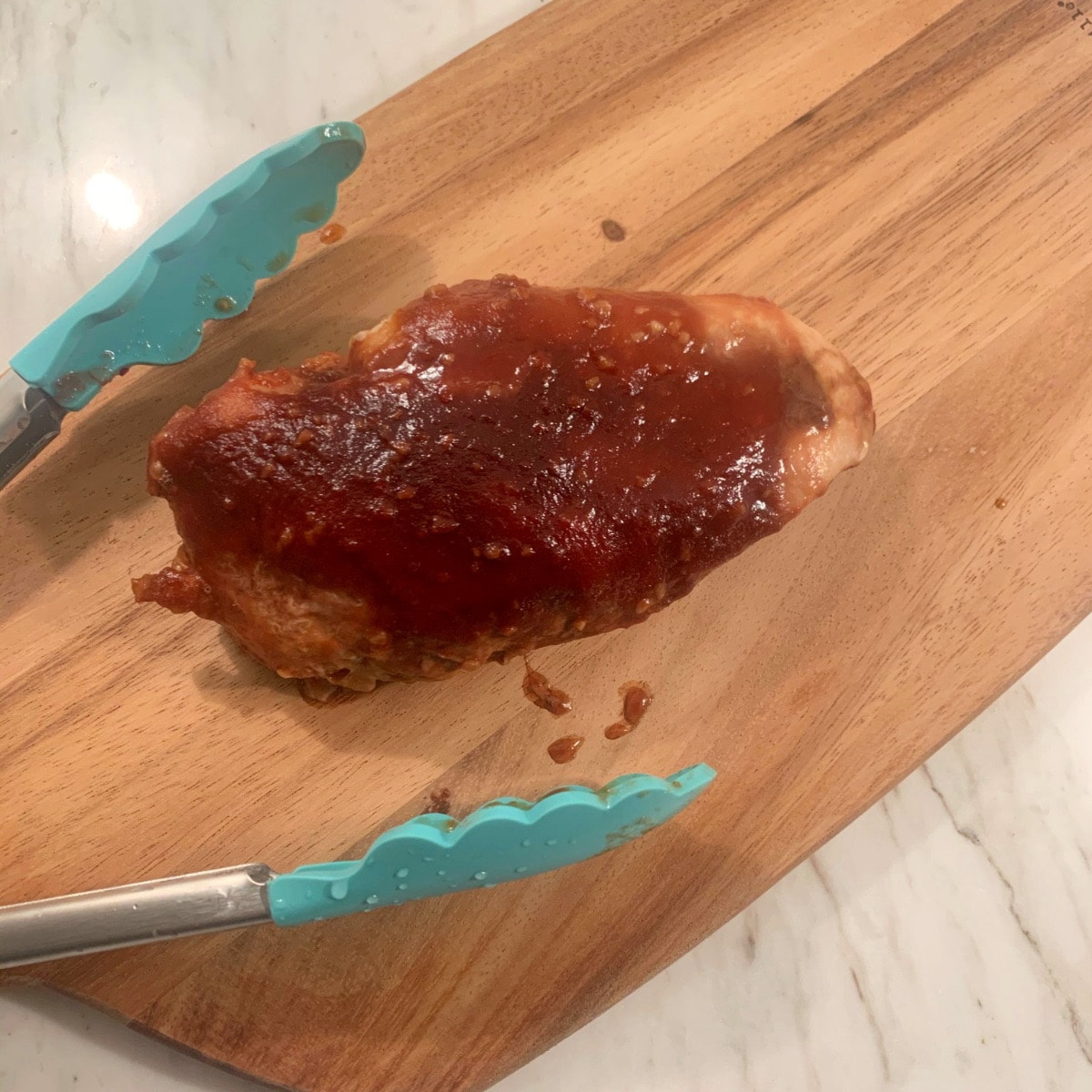 Why Use Your Crockpot To Make This Dish?
By making the sauce for this dish yourself, you know exactly what goes into it. Absolutely nothing artificial and no preservatives here!
Using your crockpot to make a dish like this leaves more space in the oven for other things. If you already have an appetizer, a side dish and dessert going in the oven, calling on your slow cooker to help out can be lifesaving!
When cooking in your crockpot, you can use either parchment paper or a slow cooker liner leaving you with virtually zero clean up!
Using your crockpot to make this easy chicken dinner is great for when you don't have the time to babysit a dish in the oven. Oven cooked dishes can go from done to overdone in the blink of an eye. Since crockpots are slow and steady, they are a little more forgiving of people who (like me) sometimes run late or lose track of time. If crockpot cooking time says 2 hours but you have an errand, call or meeting that runs 15 minutes over, chances are your dish will be just fine! Additionally, many slow cookers are programmable and can be set to turn down to "warm" at a predetermined time.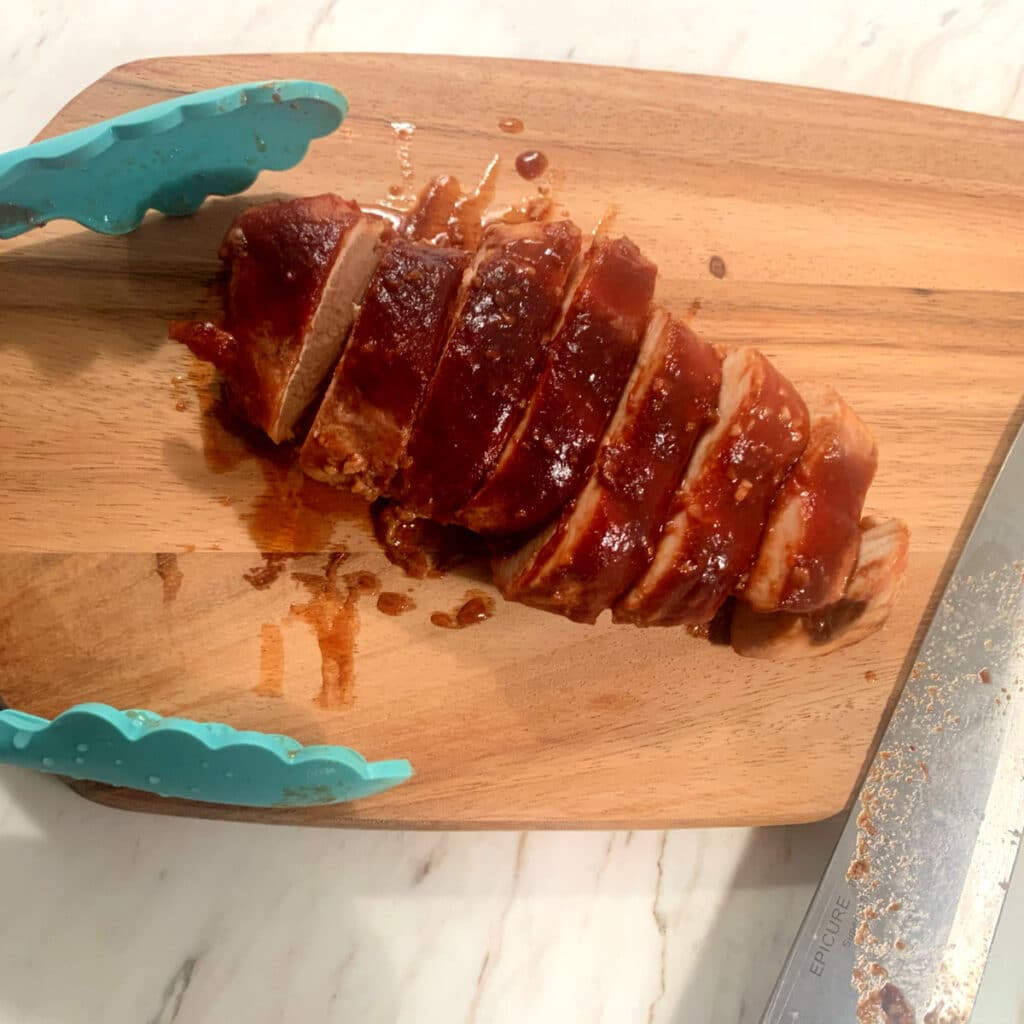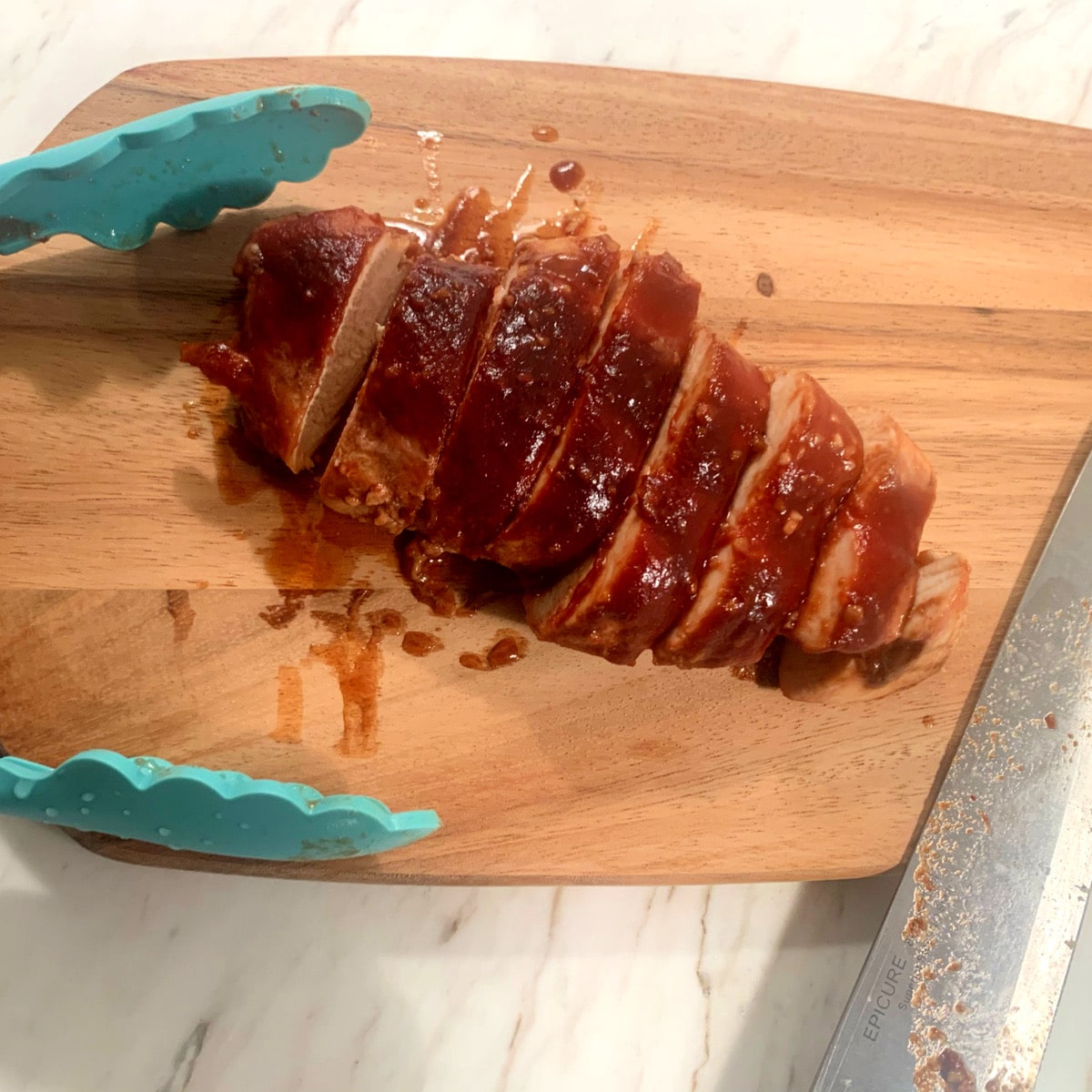 If you love this recipe, please let me know in the comment section below!
How To Serve This Slow Cooker Chicken Recipe
You can pretty much tell just from the name that you will want to enjoy every last drop of this sauce. To take advantage of as much of this delicious sauce as possible, I suggest serving with a starch (such as rice or potatoes) or a veggie (such a broccoli or cauliflower) that will be able to soak up the extra flavor. Riced cauliflower or riced broccoli would also be a great choice.
The broccoli pictured below was cooking in the crockpot right alongside the chicken. To do this, just lay a piece of foil on top of the chicken in your slow cooker 30-45 minutes prior to serving. Add fresh, cleaned broccoli florets on top of the foil, replace the cover and you are set!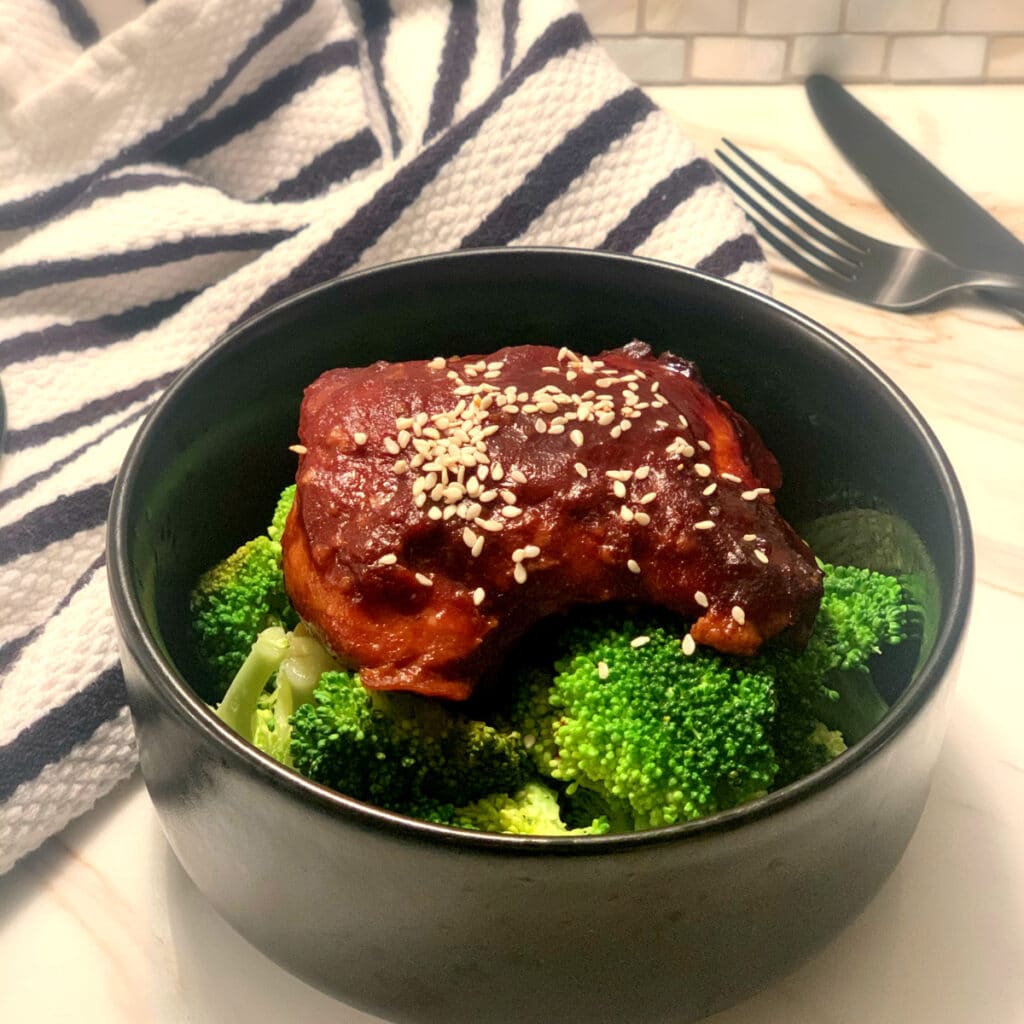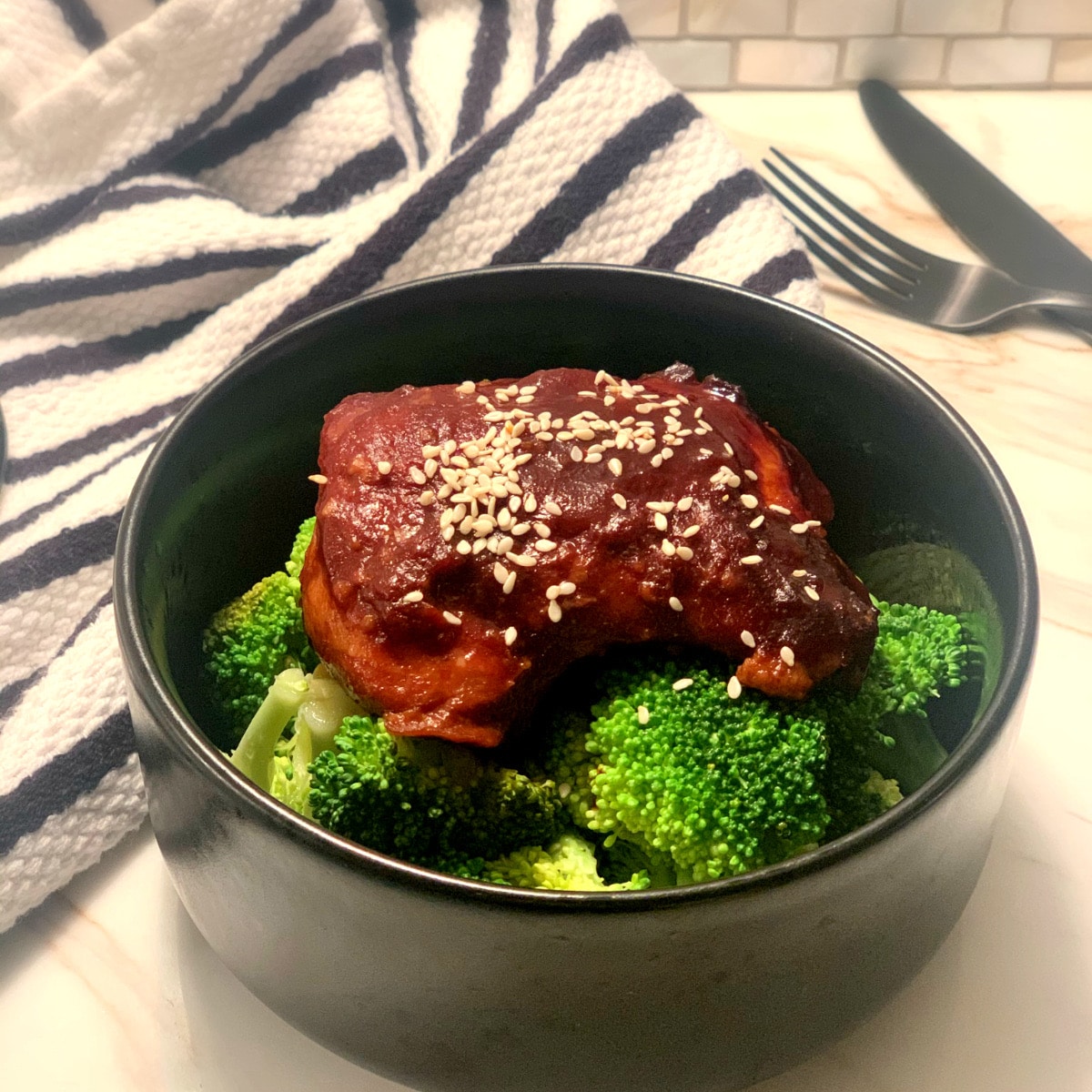 Honey Garlic Chicken Hints & Hacks
This honey garlic crockpot chicken recipe works really well with both thighs and breasts. If you choose breasts, you may want to shred or slice your chicken after it is cooked to help it stay more moist by absorbing more of the sauce.
This dish is delicious served warm or cold and makes for great leftovers!
To confirm when chicken is finished cooking, I suggest a meat thermometer. Chicken that is over cooked can be dry and rubbery. According to the FDA, chicken is safe to eat when it reaches an internal temperature of 165°F. Here is my favorite meat thermometer.
Slow cooker liners are an optional but helpful hack whenever using a crockpot. They allow you to cook with little to no cleanup. I like to buy mine in bulk for a better per-piece price. Click here to see what I buy.
In the market for a new slow cooker? Here is the one I am currently lusting after.
To make this dish gluten free, substitute the say sauce with a natural liquid amino such as this one.
As an Amazon Associate, I earn from qualifying purchases and affiliate links.
📖 Recipe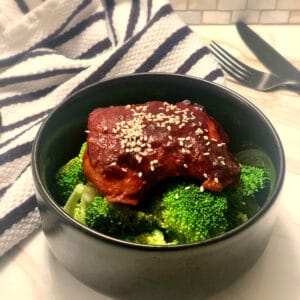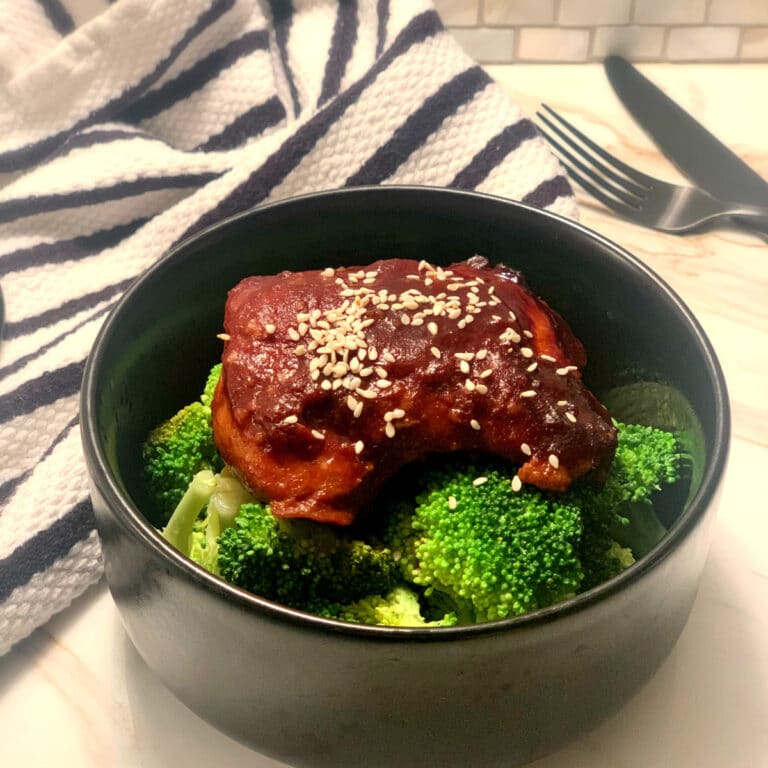 Lazy Honey Garlic Crockpot Chicken Recipe
This delicious and easy chicken dish is smothered in a wonderful sweet and savory honey garlic sauce. Toss some broccoli into your slow cooker for the last 45 minutes of cooking to make a terrific, full meal!
Print
Pin
Rate
Save
Saved!
Equipment
3.5 or larger slow cooker

measuring cups or spoons

slow cooker liner or parchment paper (optional)
Ingredients
3-4

pieces

boneless, skinless chicken

I use two breasts and two thighs. You can sub with either 3 breasts or 6 thighs.

6

oz

tomato paste

1

cup

soy sauce

⅔

cup

honey

2

tablespoon

minced garlic

½

teaspoon

ground ginger

sesame seeds

Optional

broccoli

optional
Instructions
place liner or parchment paper in slow cooker, if using

place chicken pieces in slow cooker

in a separate bowl, whisk together tomato paste, soy sauce, honey, garlic and ginger

pour mixture over chicken pieces. spoon sauce over any areas that may have been missed

cover slow cooker and cook on low for 3-4 hours

for breasts: after three hours, remove breasts and slice or cut into chunks. thighs will stay more moist and can served as one piece if you prefer.

after chicken reaches and internal temperature of 165°F, turn slow cooker to warm

to cook broccoli in your crockpot along with the chicken, 30 - 45 minutes prior to serving, place a piece of foil over chicken in slow cooker. place cleaned and trimmed broccoli florets on top of foil and re-cover slow cooker.

Optional: sprinkle with sesame seeds just prior to serving.
Nutrition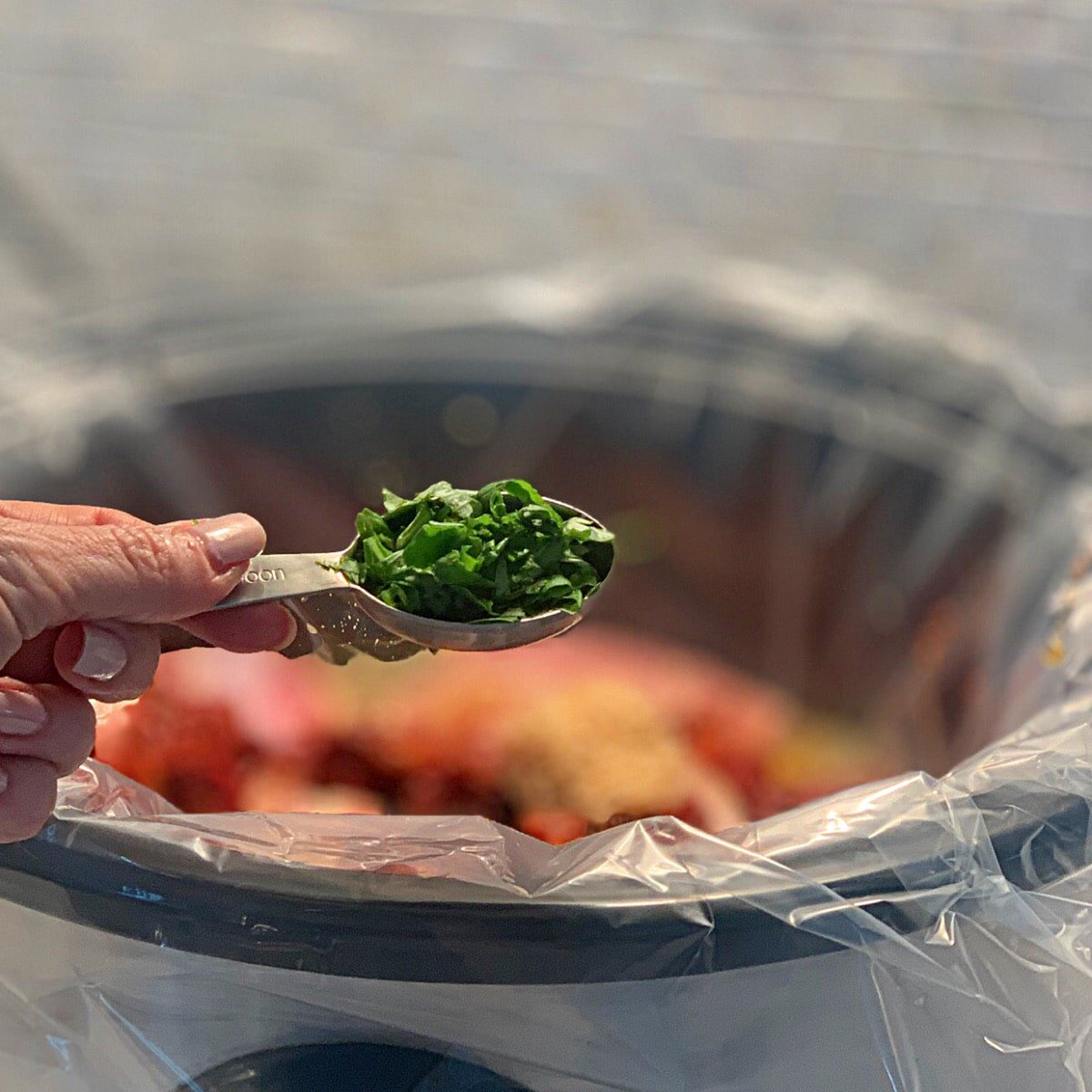 More Crockpot Chicken Recipes
Slow Cooker Chicken Parmesan
Check out my latest on Instagram