Jump to Recipe
Leftover turkey soup is the perfect crockpot meal in a bowl. It is a great way to repurpose all your leftover turkey bones and meat to make another wonderful and delicious dish. Nothing goes to waste!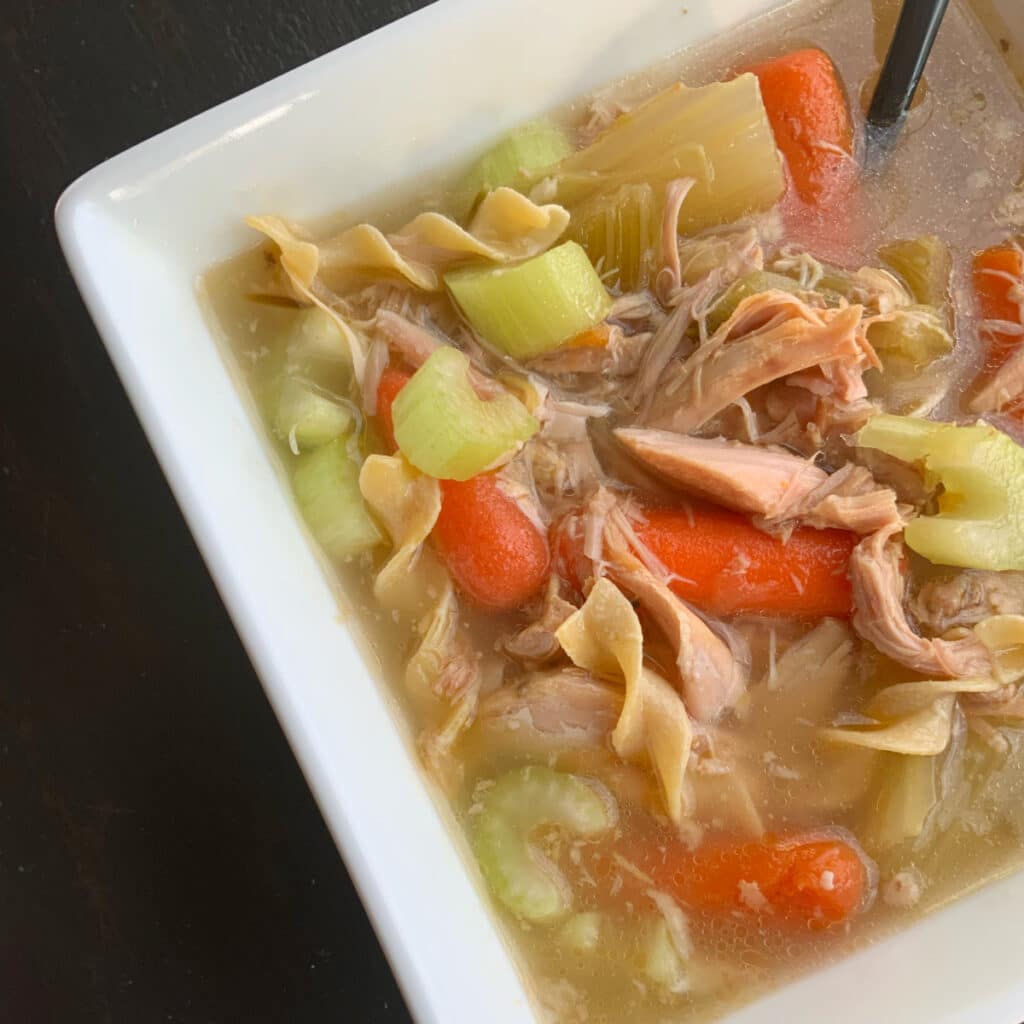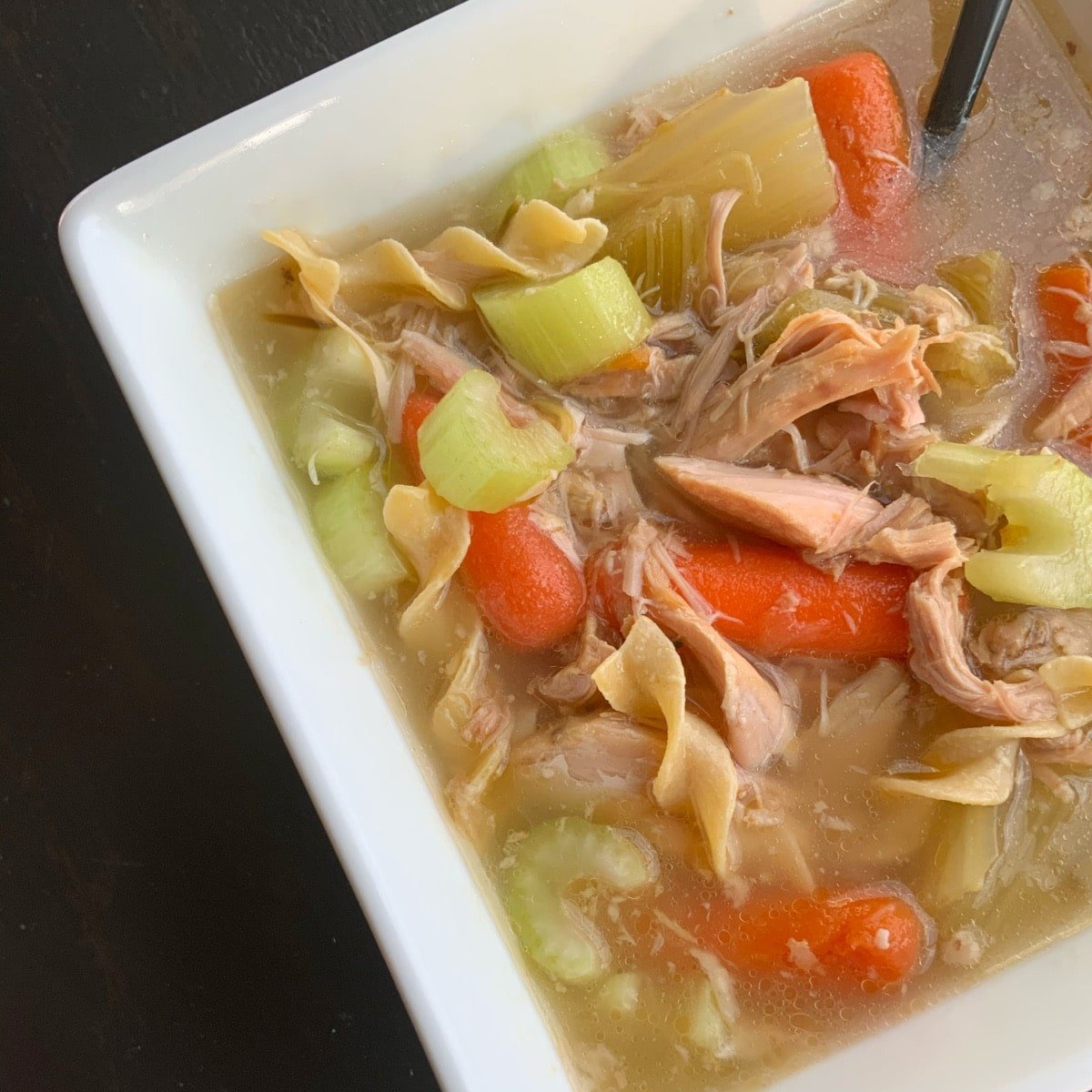 Homemade turkey is a treat! Regardless of whether you make it just for the holidays or it is something you include as a part of your regular meal rotation. And, as delicious as a turkey dinner can be, the fun part is all the creative extra meals that can come from the leftovers. Turkey sandwiches and turkey salad are two great examples.
There is, however, one leftover dish that stands head and shoulders above the rest: turkey soup! Turkey soup is delicious, easy to make and it freezes really well. It allows your turkey to keep feeding you long after that first meal is done!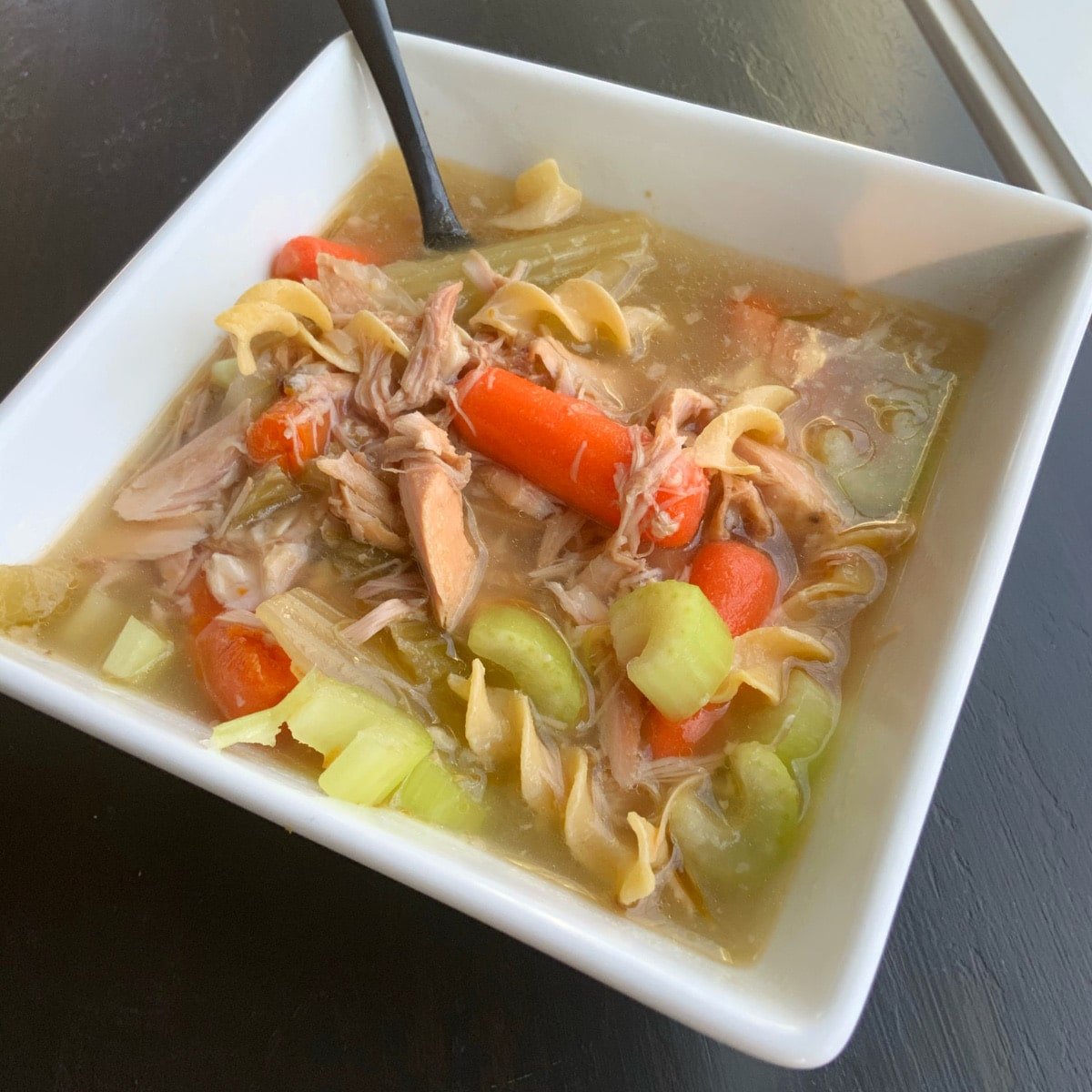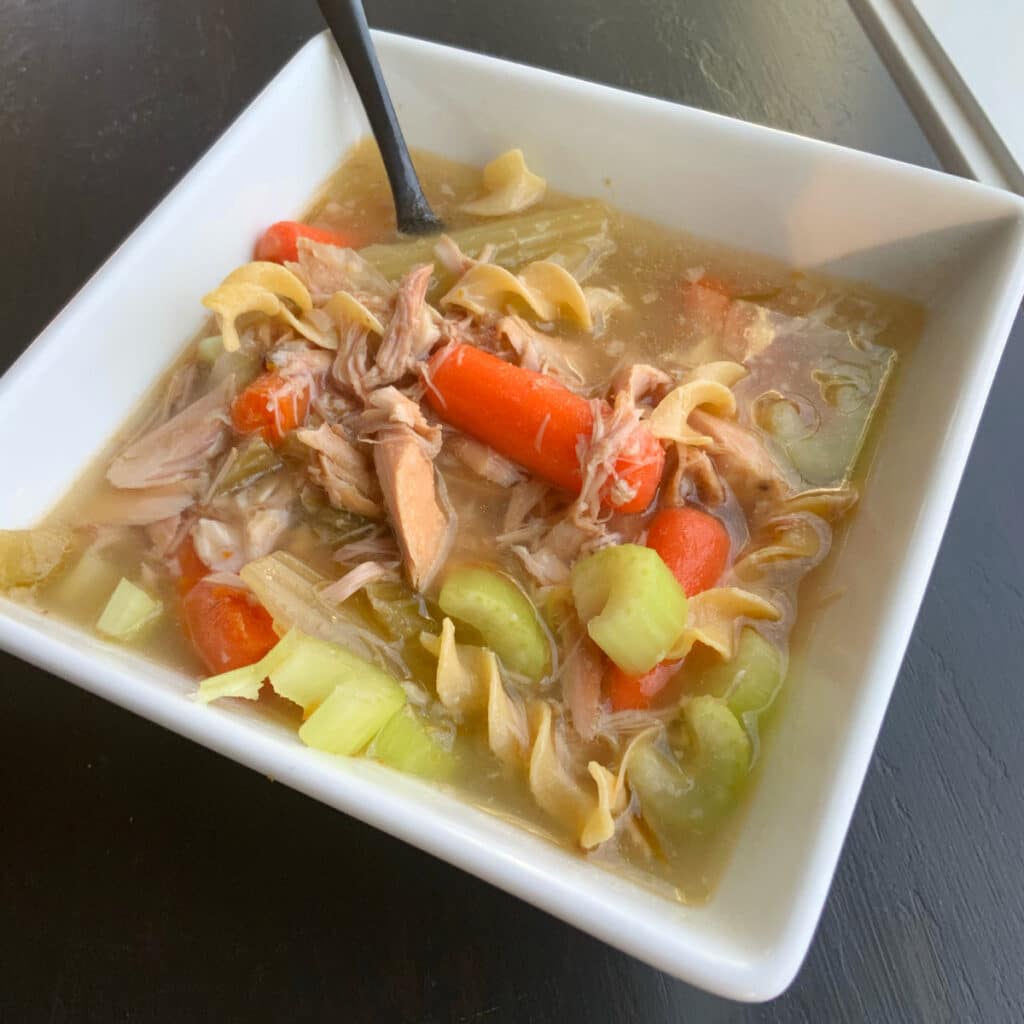 Why Use A Slow Cooker For This Dish
Slow Cookers are just made for this type of soup. The low and slow cooking temp and time are the perfect way to draw all of the flavors and nutrients out of the turkey carcass. Leftover meat pieces that are stuck to the bone are a bonus and will easily pull away after a long warm soak in your crockpot. Let your slow cooker babysit this dish while you go about your day (or head off to bed for the night!).
How To Make Leftover Turkey Soup
This dish can be easily made right after your turkey dinner by simply adding all the ingredients right into your crockpot. No need to worry about storing or dealing with the bones if you take this route.
But, if you are too tired from all the cooking and cleaning that goes into a big turkey dinner, no problem! You can refrigerate leftovers and make this the next day. Still exhausted the next day? Just freeze your leftover carcass and make this dish whenever your schedule allows.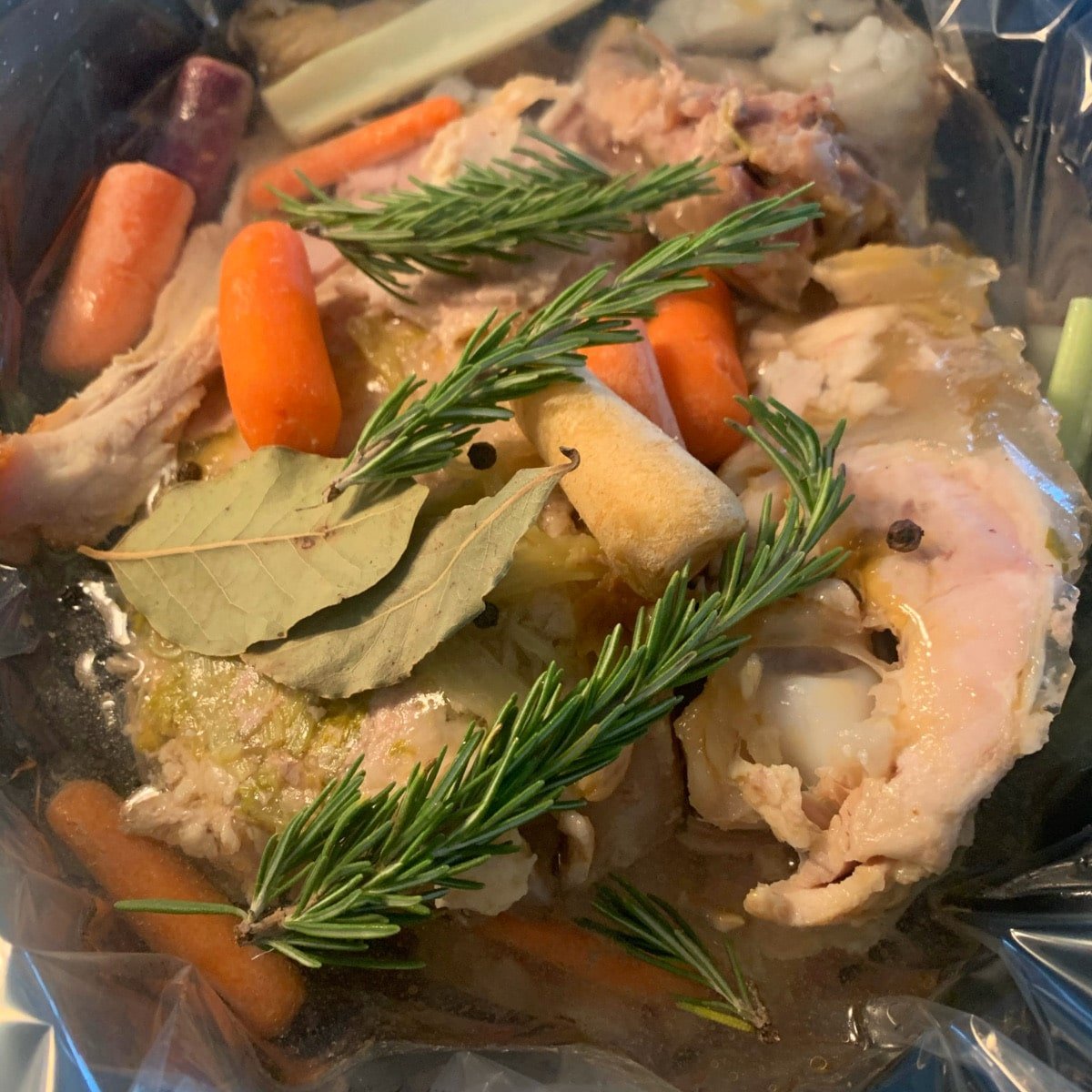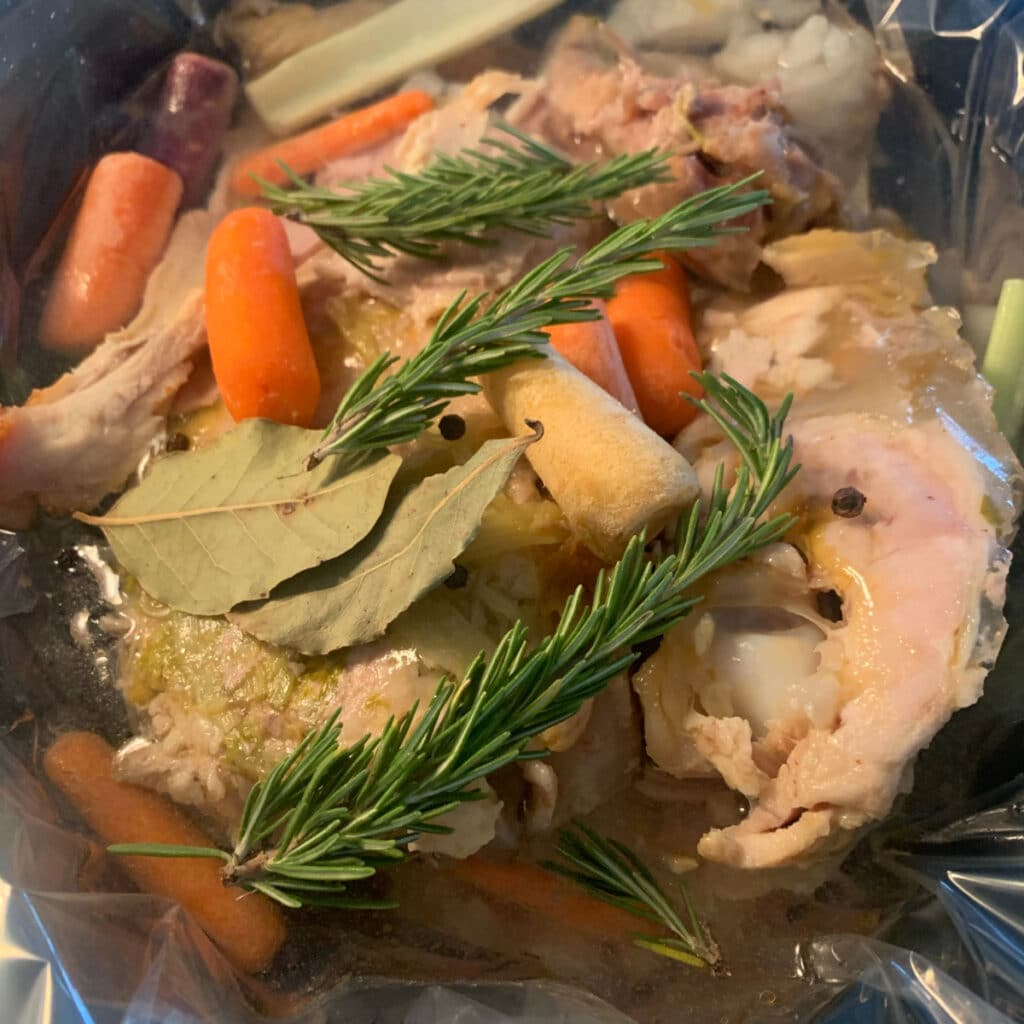 To make the soup, start by adding the turkey carcass to your crockpot. Breaking up the bones just a bit may help them to fit in your slow cooker better and to release some of the goodness found in the bone marrow.
No need to break them up too small, your crockpot will handle that part for you. They will naturally break down a little during the cooking process.
You will also need to add the following to your slow cooker:
carrots
celery
onion
bay leaves
peppercorns
garlic
rosemary
salt
water
Add cut-up vegetables and seasoning in with the turkey parts. Fill slow cooker with water to about one inch from the top of the rim. Cover and cook for 10-12 hours. That's it!
This is a great time to use up older vegetables that you may have laying around. If I am making this after a holiday, for example, I use veggies leftover from the crudites appetizer making both this soup and clean up even easier!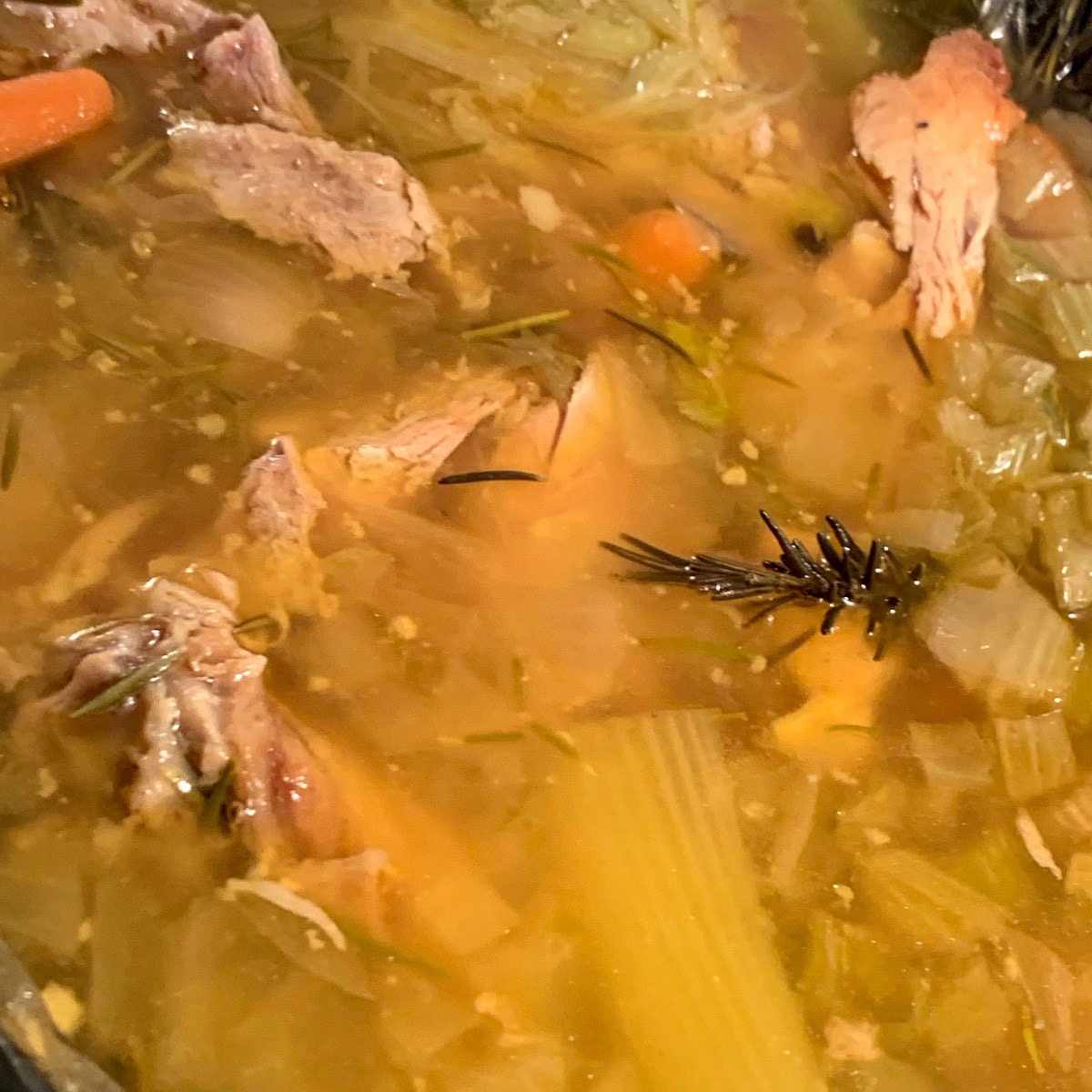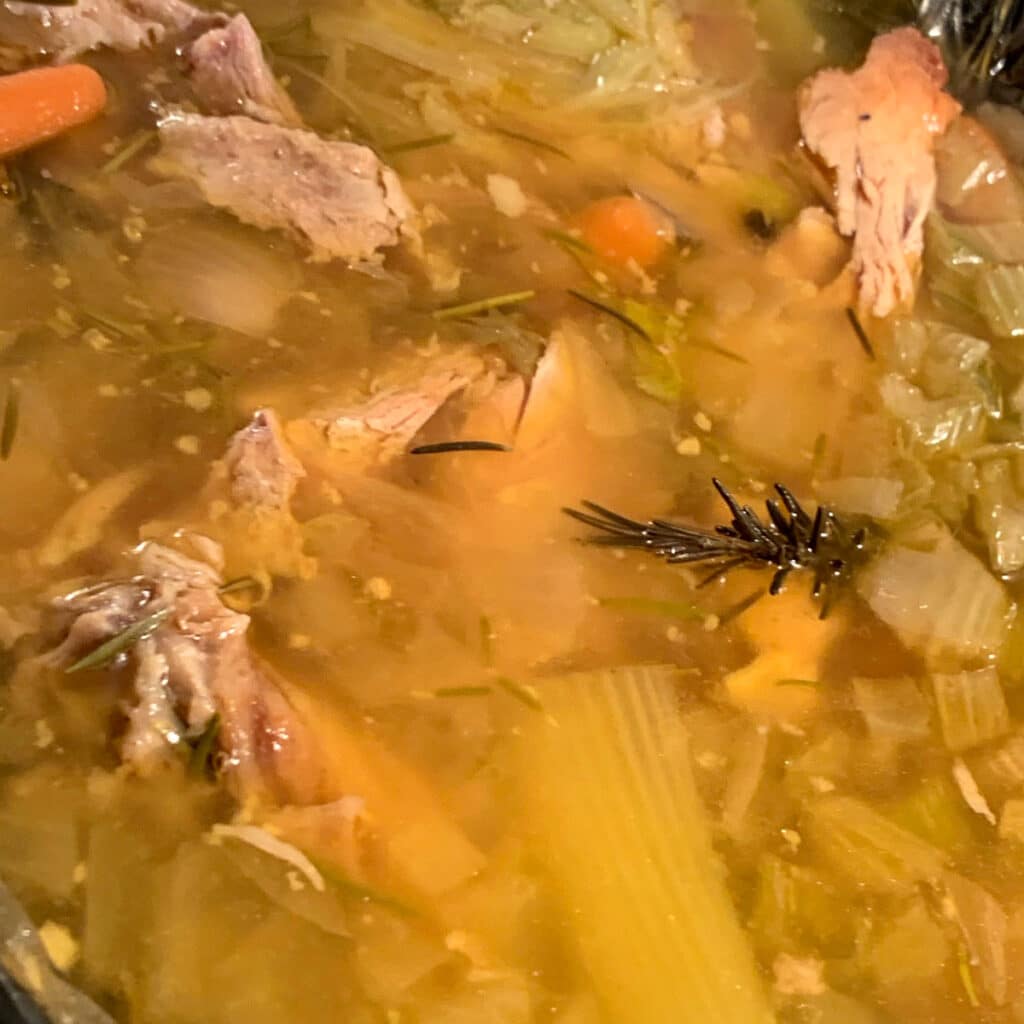 Once done cooking, strain the broth through a fine-mesh sieve or a cheesecloth to remove bones and you have a healthy and wonderful broth that can be used right away or stored for future dishes.
How To Serve This Easy Soup
Once your broth is ready to go, you can tailor it just about any way you like. If you plan to use it right away, you can put it right back in the slow cooker after straining.
Adding in vegetables and some leftover turkey meat is one fantastic and easy option. Throwing some cooked pasta in is always a fan favorite. Serving as a simple, healthy broth is also a great option!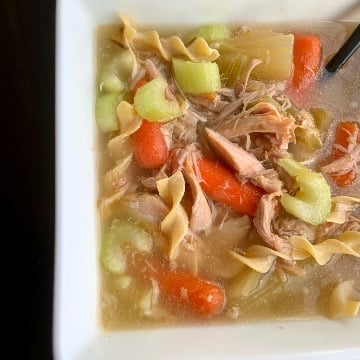 How To Store Soup
If you don't plan to serve your turkey soup right away, you can store it using airtight containers. This can be accomplished in one large container or in individual serving-sized containers.
Soup will remain fresh for 3-4 days in the refrigerator. If you would like to keep it longer, you can freeze it for up to 6 months.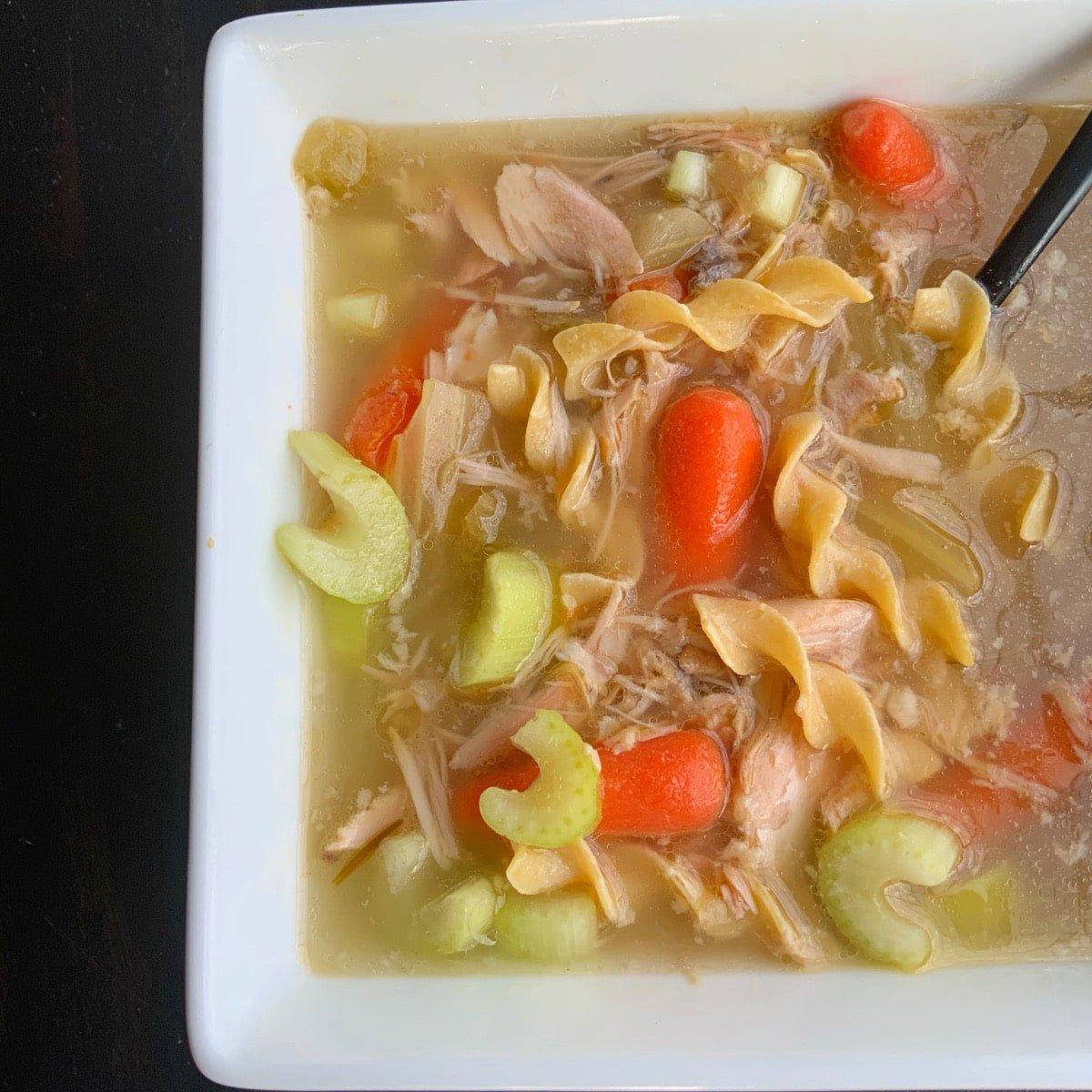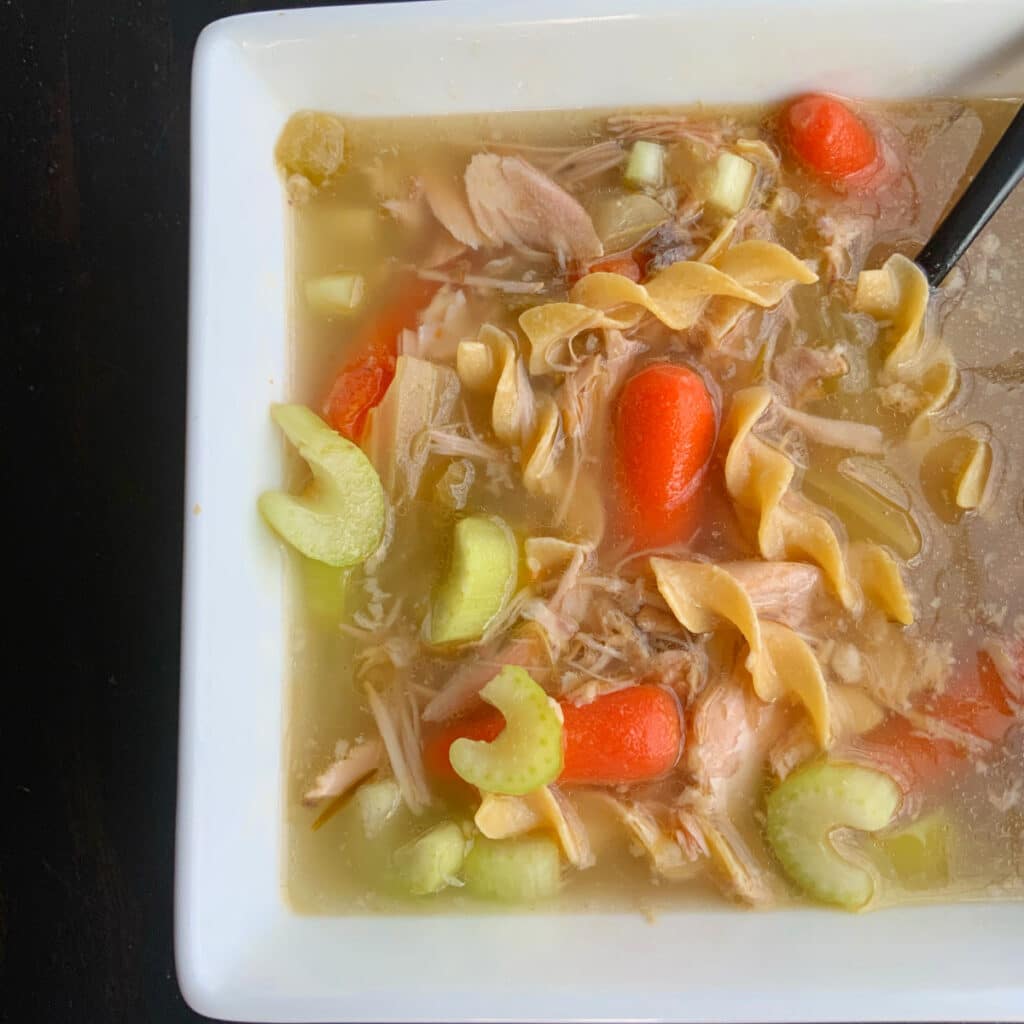 Leftover Turkey Soup Hints & Hacks
This easy turkey soup recipe calls for carrots, celery, and onion pieces. If you don't have veggies already cut up, you can keep things extra lazy and purchase them pre-cut. Both fresh and frozen work equally well. Because I am always looking for shortcuts, I cut up older celery, onion, and carrots before they go bad and freeze them. This way I always have them on hand for dishes like this one and no vegetables go to waste.
Turkey soup is s a great dish if your people will be eating at different times. It can stay in your slow cooker on the warm setting for a few hours. If you plan to serve at different times and want to include noodles in your soup, it is best to add already cooked noodles to each bowl separately, just prior to serving time. This will keep the noodles from becoming mushy.
This is a great freezer soup. I like to freeze leftovers in meal-sized portions for easy reheat-and-eat at a later time. Once again, it is best to add noodles at serving time. You can freeze soup that already has noodles in it, but they will be soft and mushy and may even break up into small pieces when reheating.
I always recommend the use of a slow cooker liner. Of course, this is an optional step. I like to purchase my liners in bulk for a less expensive per-piece price. Here are the liners I buy.
In the market for a new slow cooker? Here is the one I am currently lusting after.
As an Amazon Associate, I earn from qualifying purchases.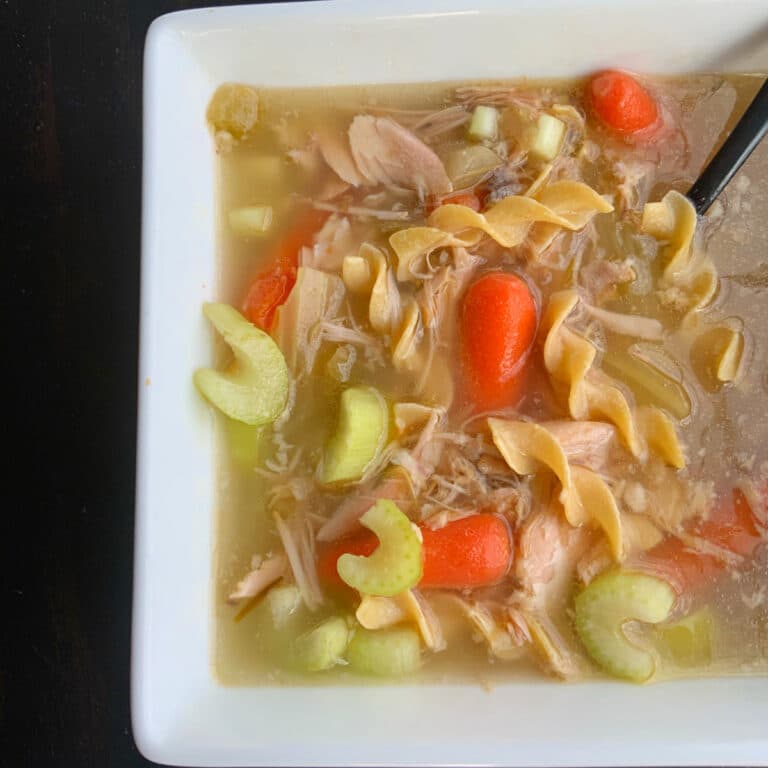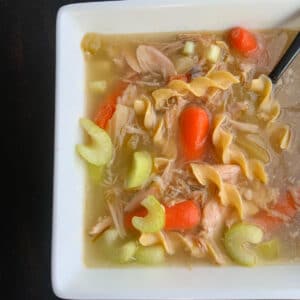 Lazy Leftover Turkey Soup Slow Cooker Recipe
Leftover turkey soup is the perfect crockpot meal in a bowl. A great way to repurpose all those leftover turkey bones and meat to make a new and wonderful, but different dish that everyone will love.
Print
Pin
Rate
Save
Saved!
Equipment
6 quart or larger slow cooker

Knife and cutting board
Ingredients
leftover turkey carcass and any meat that may be left on the bones

1-2

carrot stalks

1-2

celery stalks

1

small

onion, cut in quarters

diced onion works here as well

2

bay leaves

6-8

peppercorns

2-3

raw garlic cloves

a tablespoon of minced garlic works as well

water

2-3

sprigs

fresh rosemary

can use dried as a substitute

salt and pepper to taste
Instructions
place slow cooker liner in slow cooker, if using

break apart carcass just enough to fit into slow cooker.

leftover turkey carcass and any meat that may be left on the bones

add large pieces of carrot and celery (this is a great way to use up any leftover veggies from holiday crudite, if you served one)

1-2 carrot stalks,

1-2 celery stalks

add onion, garlic, bay leaves, salt, and peppercorns

1 small onion, cut in quarters,

2 bay leaves,

6-8 peppercorns,

2-3 raw garlic cloves

Fill slow cooker with water to within on inch of top

lay rosemary sprigs on top, cover and cook on low for 10-12 hours

2-3 sprigs fresh rosemary

after cooking, allow to cool slightly and run through a fine mesh strainer or cheesecloth

If you just want broth, you are done!!

If you want turkey soup, you can add the veggies and meat from what was strained out back into broth. be careful not to add back in any small bones.

Alternatively, place fresh leftover turkey meat and vegetables into the broth when you are ready to serve it and allow then to cook for a few hours on low until everything is heated through and the vegetables are soft.

to make turkey noodle soup, add desired amount of al dente cooked noodles to slow cooker 10-15 minutes prior to serving.

add salt and pepper to taste
Notes
*calorie information does not include noodles
Nutrition
Calories:
65
kcal
|
Carbohydrates:
15
g
|
Protein:
2
g
|
Fat:
1
g
|
Saturated Fat:
1
g
|
Polyunsaturated Fat:
1
g
|
Monounsaturated Fat:
1
g
|
Sodium:
49
mg
|
Potassium:
342
mg
|
Fiber:
3
g
|
Sugar:
6
g
|
Vitamin A:
10232
IU
|
Vitamin C:
11
mg
|
Calcium:
54
mg
|
Iron:
1
mg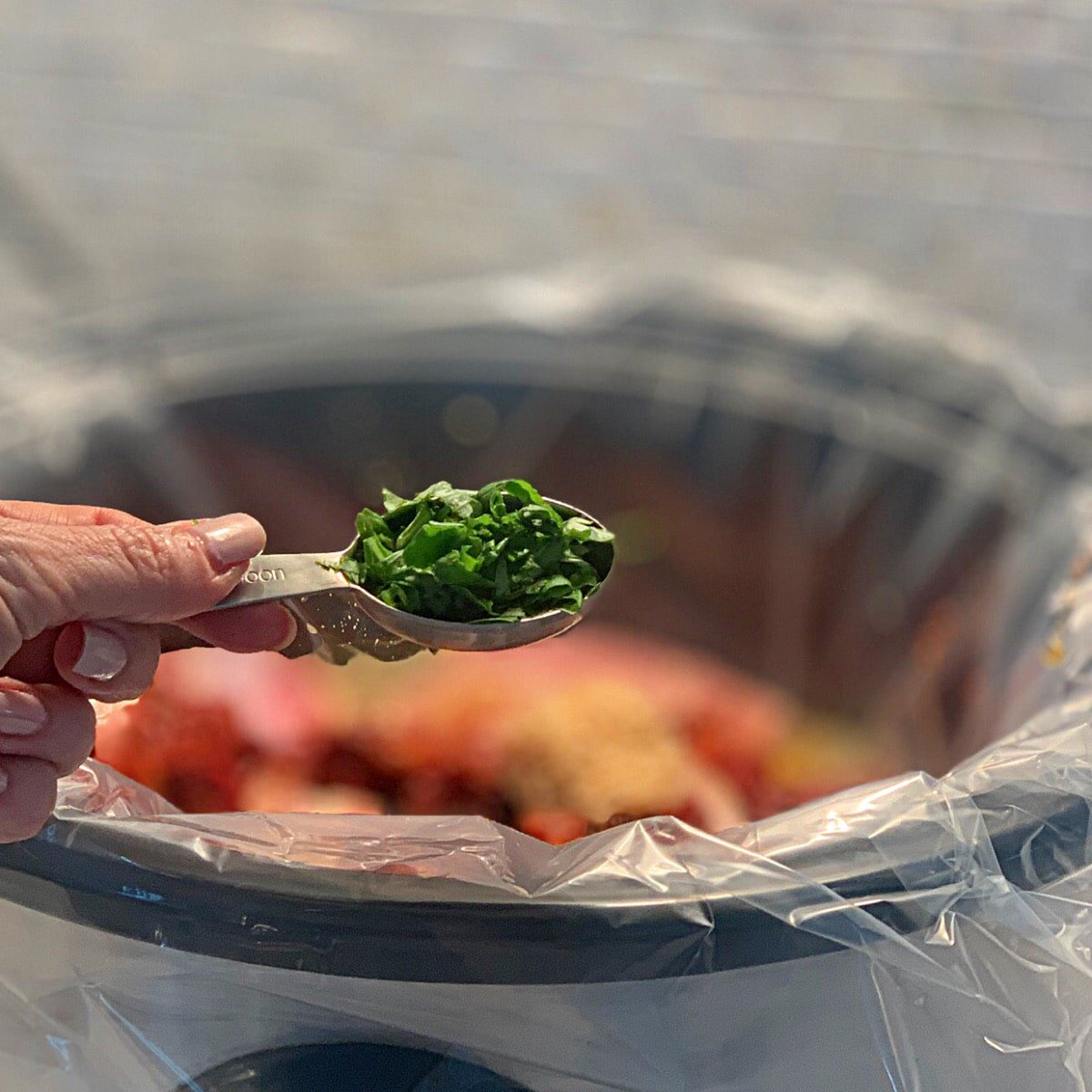 Great Crockpot Soup Recipes
Turkey Sausage Tortellini Soup
Check out my latest on Instagram