Jump to Recipe
This delicious crockpot green chili bake is a great meal that everyone will love! Tender shredded chicken (or turkey), soft rice, savory cheese, and tangy chili peppers make for an easy and winning combination.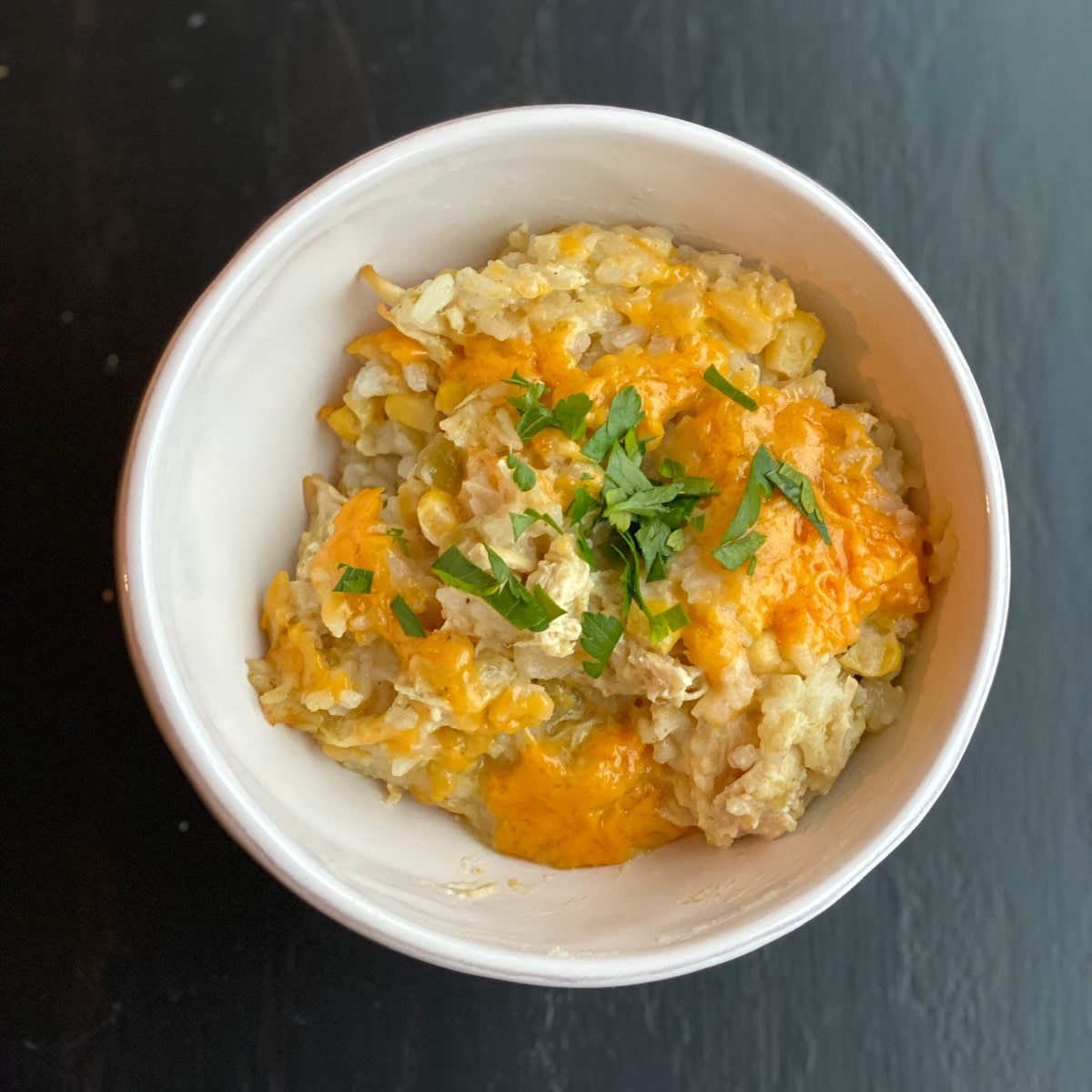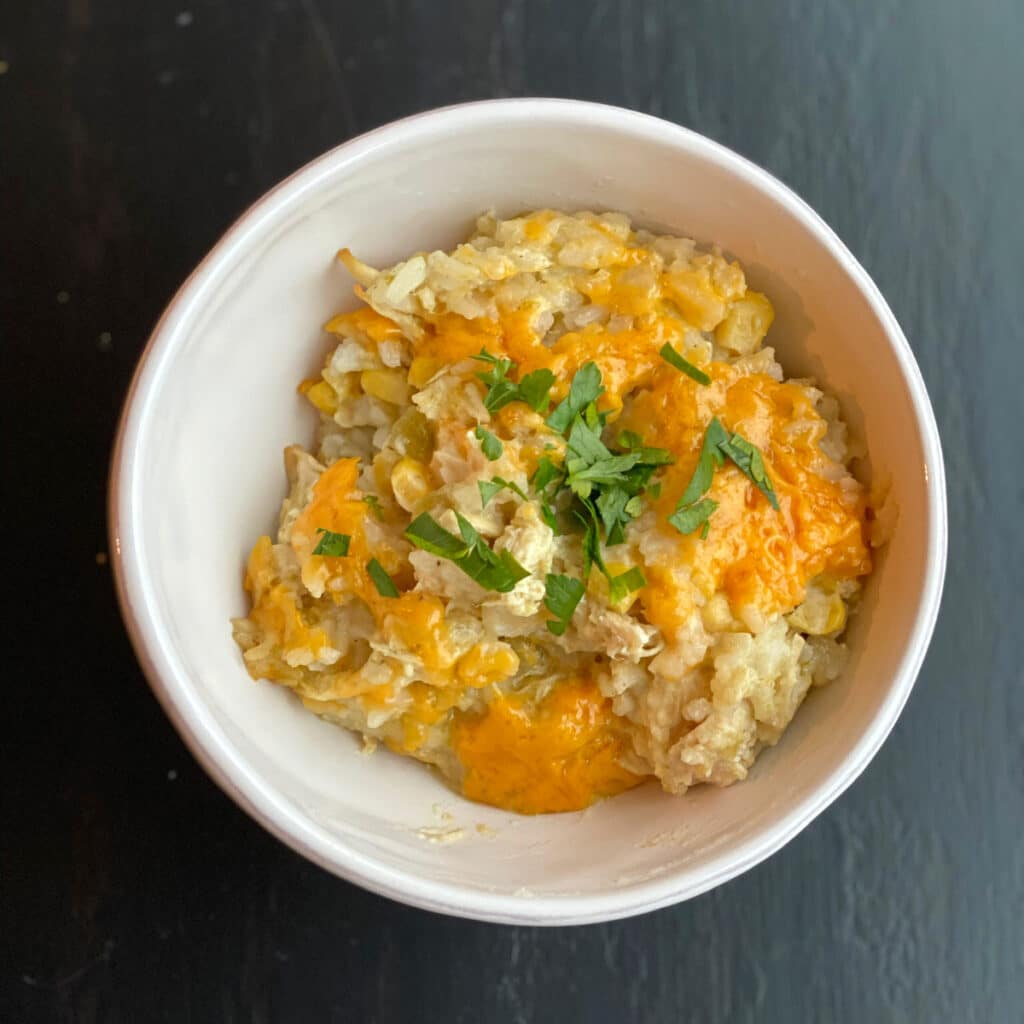 Some like it hot. Others do not. There seem to be very few in the middle. Either you love spicy or you don't. Spice, like many things in life, goes along with the old adage that you can always add more, but you can't take it away.
This creamy green chili bake was developed with just that in mind. As written, it is not a spicy dish. However, there are tips regarding places to add in heat if you are one of those who do like it hot! Keep in mind that skipping the spice does not mean skipping the flavor and this chicken (turkey) green chili casserole certainly has plenty of flavors!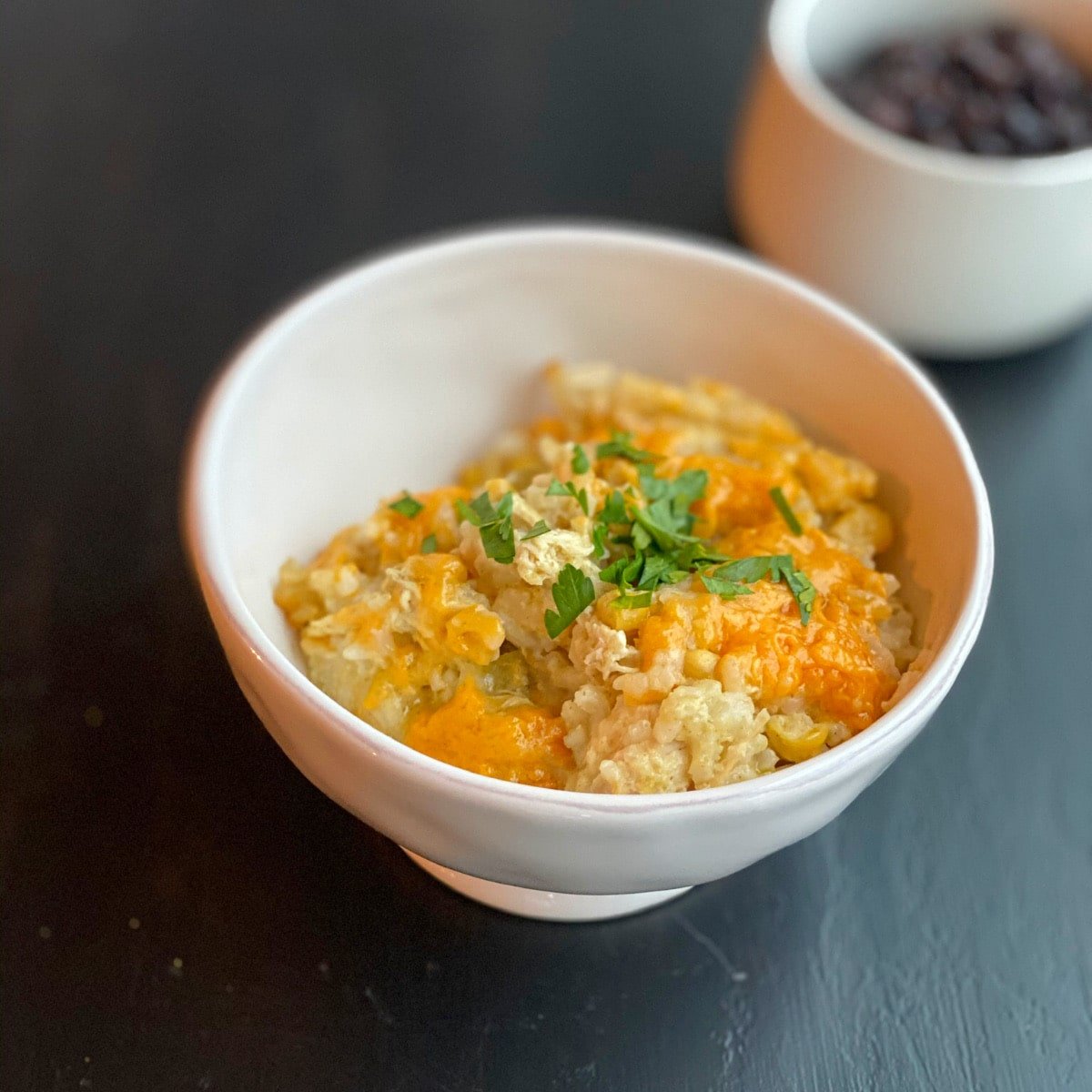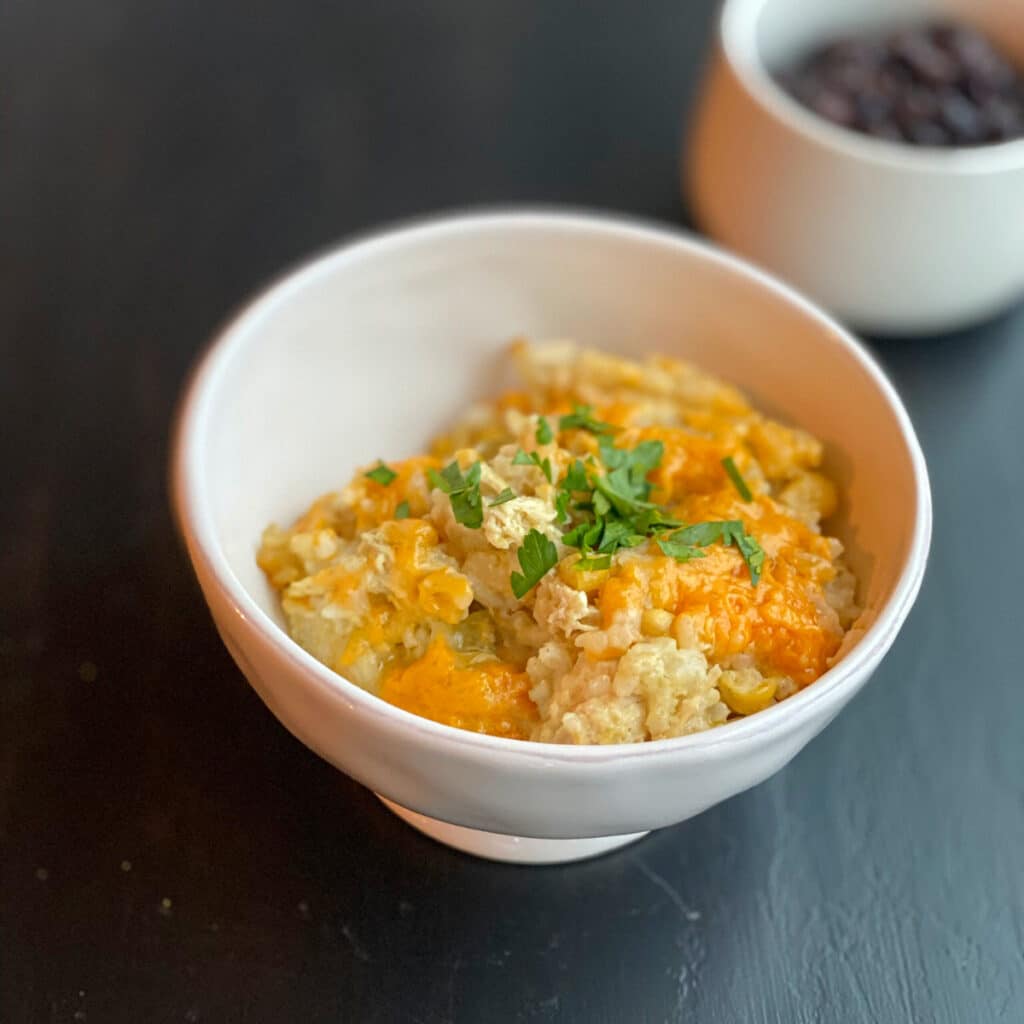 How to Make this Delicious Chili Bake Recipe
This recipe starts with raw chicken. However, if you already have leftover cooked chicken or turkey, this is the most amazing way to use it up and you can skip this part. Starting with pre-cooked poultry will cut the total cook time of the recipe in half. In addition to chicken, you will need:
chicken broth (only if you are starting out with raw chicken)
cooked white rice
sour cream
shredded Monterey Jack cheese
shredded cheddar cheese
canned corn
ground cumin
onion powder
minced garlic
Cooking the Chicken
In keeping with our ultra-lazy / uber-easy theme, I often cook the chicken used in this dish right in the same pot that the entire dish will be made in. That part is as easy as tossing the chicken and some broth into a slow cooker and letting it go. Once it is cooked through, (usually 3-4 hours on low or closer to 2 on high), you can remove the chicken, shred it, and return it to your slow cooker
Assembling The Dish
To start, shred the chicken or turkey and add it to your slow cooker. Next, add all remaining ingredients, except the shredded cheddar. Stir and allow to cook together for 3-4 hours on low. Half an hour prior to serving, sprinkle the cheddar cheese on top, replace lid and allow the cheese to melt.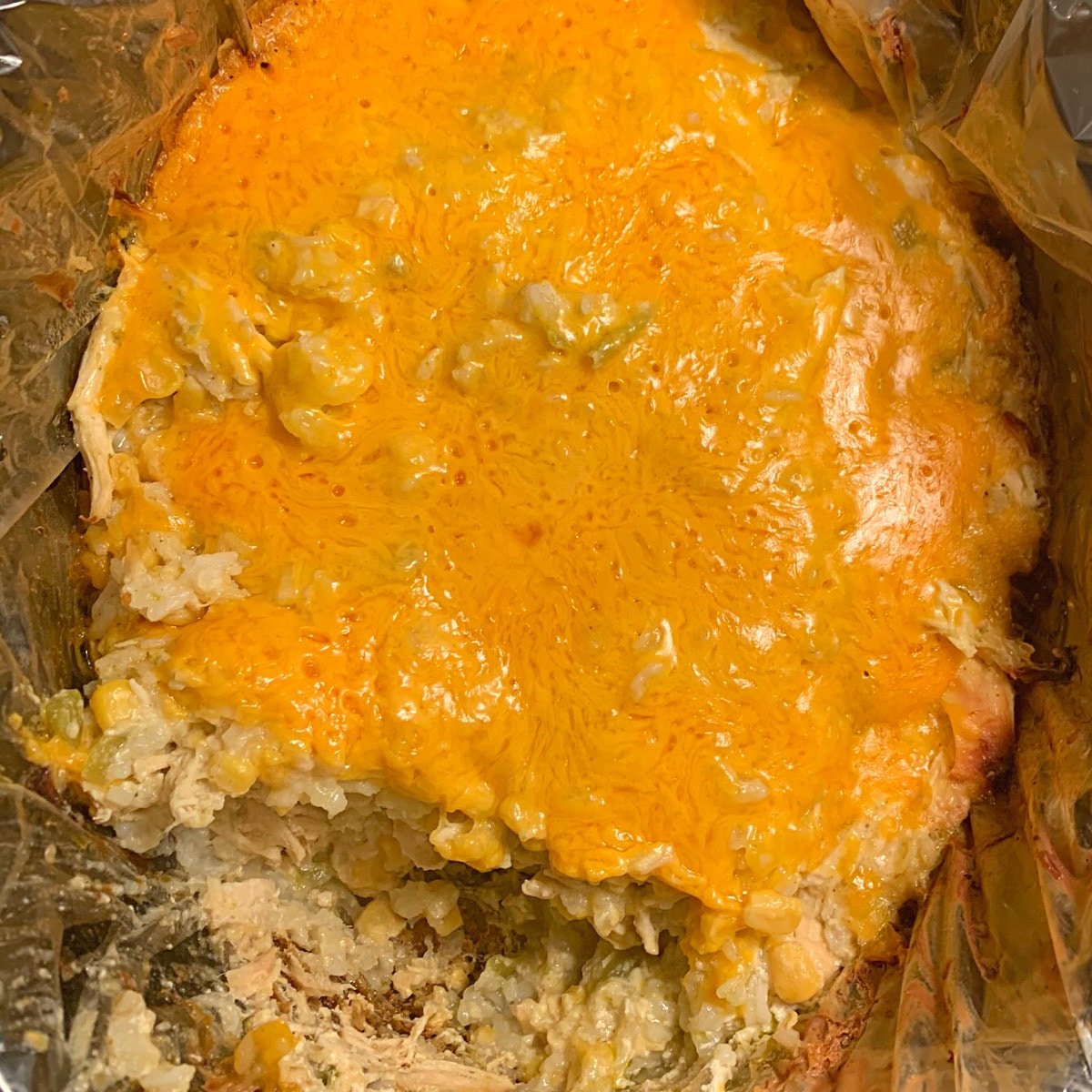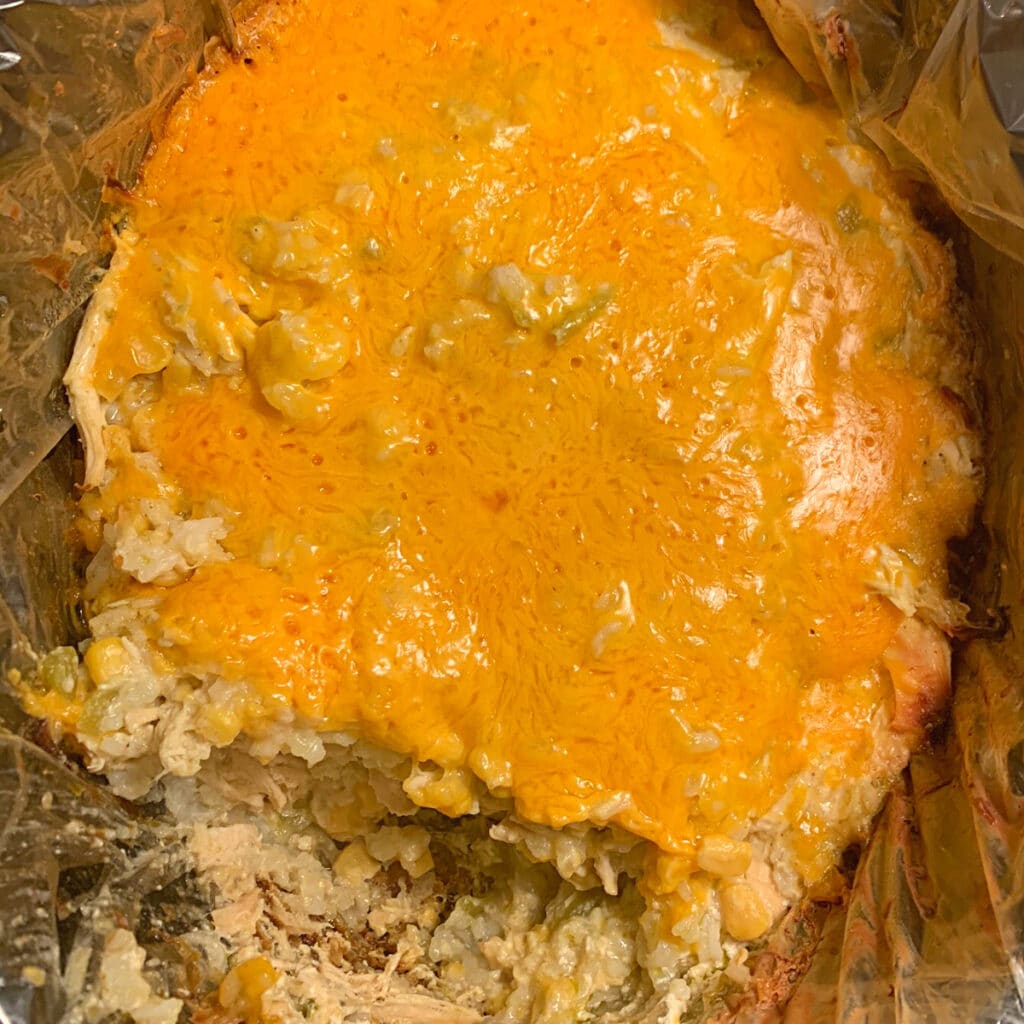 How To Serve This Delicious Chicken/Turkey Meal
Since this is a poultry and rice casserole, you already have a protein and a carb built right in. All you need to do is add a vegetable! In the summer months, a garden salad is the perfect accompanying dish. In colder months, a warm vegetable dish or soup is a great balance. This delicious crockpot meal is great accompanied by Lazy Roasted Brussels Sprouts and Lazy Mashed Cauliflower. It also goes really well with a side of black beans!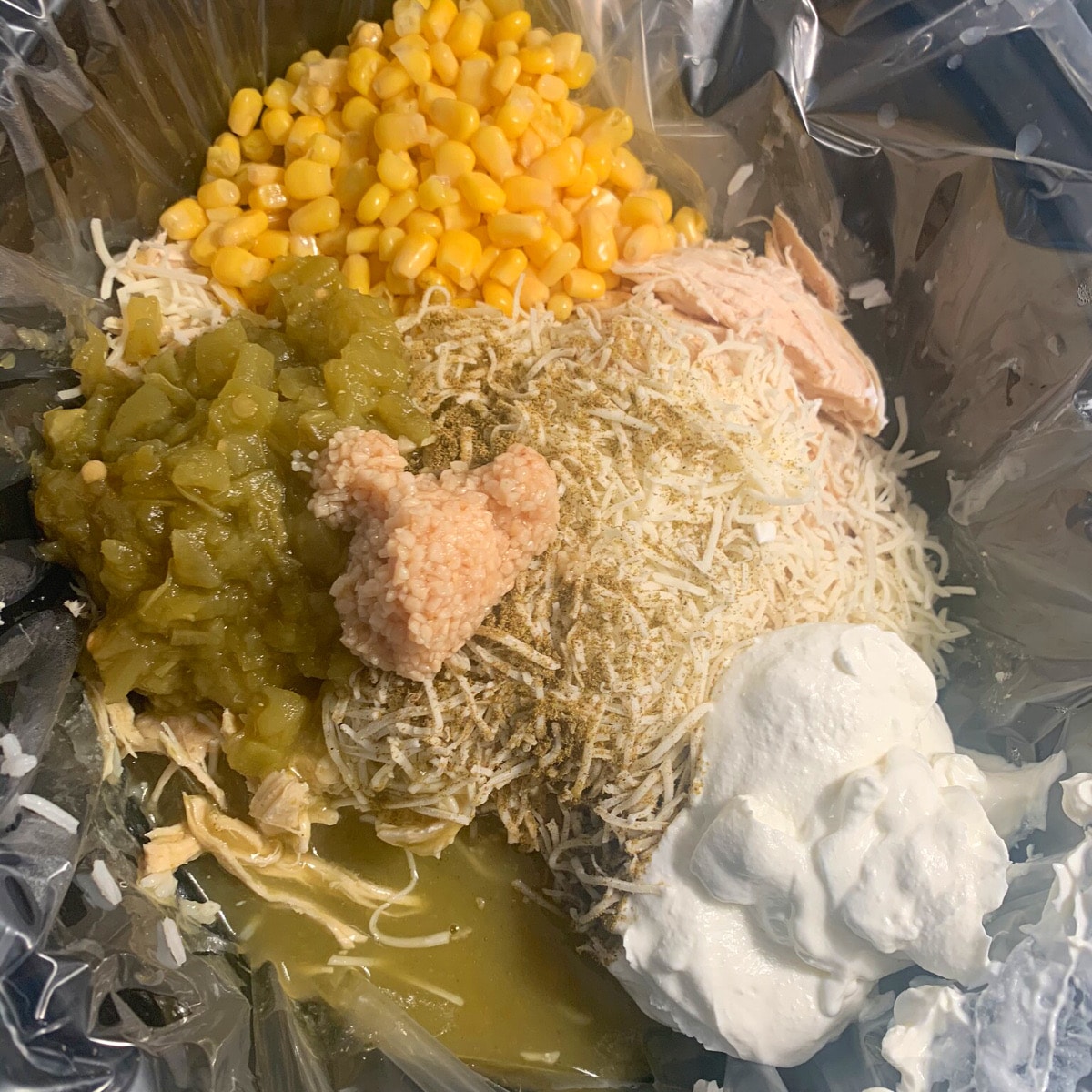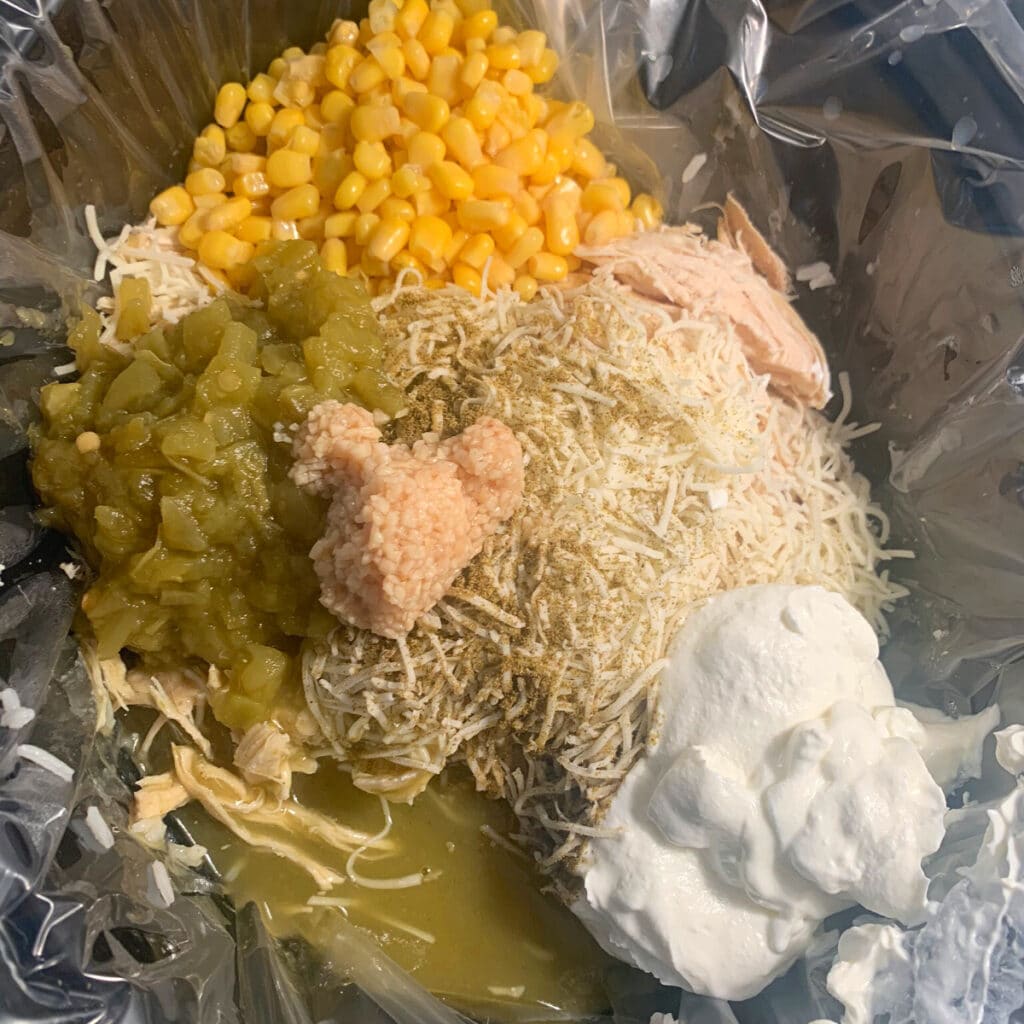 Chicken Chili Bake Hints and Hacks
This dish works really well with breast meat. It has less fat, shreds well and mixes really well with the creamy ingredients.
This great recipe works perfectly for those occasions when your people will be eating at different times. After the cooking time, turn your slow cooker to low and everyone can have a warm and filling meal, no matter what time they are ready to eat.
There are a lot of different opinions regarding the best way to shred chicken or turkey. Some people prefer to use a potato masher while others use the beaters of a handheld mixer. I prefer to shred with two forks. Fewer dishes to wash. Keeping it simple!
If you are cooking chicken specifically for this recipe and want to confirm when it is finished and ready for the next step, I suggest a meat thermometer. According to the FDA, chicken is safe to eat when it reaches an internal temperature of 165°F. Here is my favorite meat thermometer.
I always recommend the use of a slow cooker liner. Of course, this is an optional step. I like to purchase my liners in bulk for a less expensive per-piece price. Here are the liners I buy.
In the market for a new slow cooker? Here is the one I am currently lusting after.
As an Amazon Associate, I earn from qualifying purchases and affiliate links.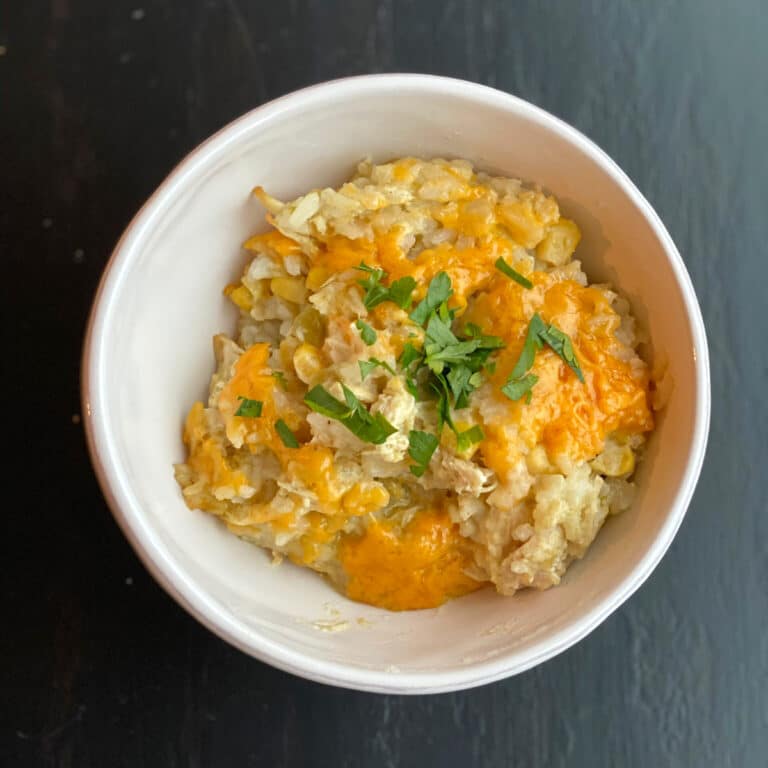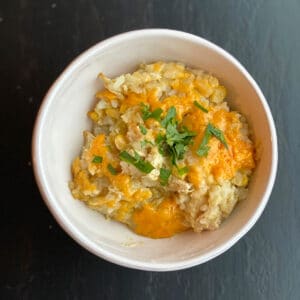 Lazy Slow Cooker Green Chili Bake Recipe
This delicious crockpot green chili bake is a great meal any night of the week. Tender chicken or turkey, soft rice, savory cheese and tangy chili peppers make for an easy and winning combination!
Print
Pin
Rate
Save
Saved!
Equipment
4 quart slow cooker or larger (casserole crockpot works!)

Spoon

two forks for shredding

measuring cups and spoons
Ingredients
Chicken
2

large

chicken breasts

or one small turkey breast

½

cup

chicken broth

(if you plan to cook chicken for this recipe)
Casserole
2.5

cups

cooked rice

15

oz

can of corn

10

oz

green enchilada sauce

4.5

oz

can chopped green chili peppers

We prefer mild, but if you like heat, use medium or hot

1

cup

Monterey Jack cheese

1

cup

sour cream

reduced fat works well

1

tablespoon

minced garlic

1

teaspoon

onion powder

1

teaspoon

ground cumin

1

cup

shredded cheddar

to melt on top during last half hour of cooking
Instructions
Chicken (if not using pre-cooked)
Place slow cooker liner is slow cooker, if using

place chicken broth into slow cooker and add chicken breasts

cook on low 4-6 hours on low
Casserole
use two forks to shred chicken or turkey breasts and add to slow cooker

Add rice, corn, enchilada sauce, chili peppers, Monterey Jack cheese, sour cream, garlic, onion and cumin to slow cooker

Stir all ingredients in slow cooker until well mixed.

cover and cook on low 3-4 hours

half an hour prior to serving, sprinkle cheddar cheese over the top of your mixture. Cover and allow cheese to melt
Notes
Note: If you are looking to dial up the heat even further, you can add a small can of chopped jalapeno peppers in addition to hot green chili peppers.
Nutrition
This recipe was inspired by Green Chili Chicken Bake by Dishing Out Delish.
Delicious Slow Cooker Chicken Recipes
Check Out Our Facebook Page For More Slow Cooker Recipes!!
Check out my latest on Instagram