⏬SKIP STRAIGHT TO RECIPE⏬
Got blueberries? Delicious blueberry toppings are just a crockpot away with this simple recipe. Whether you are looking for pourable blueberry syrup, blueberry sauce, or spreadable blueberry butter, you have come to the right place.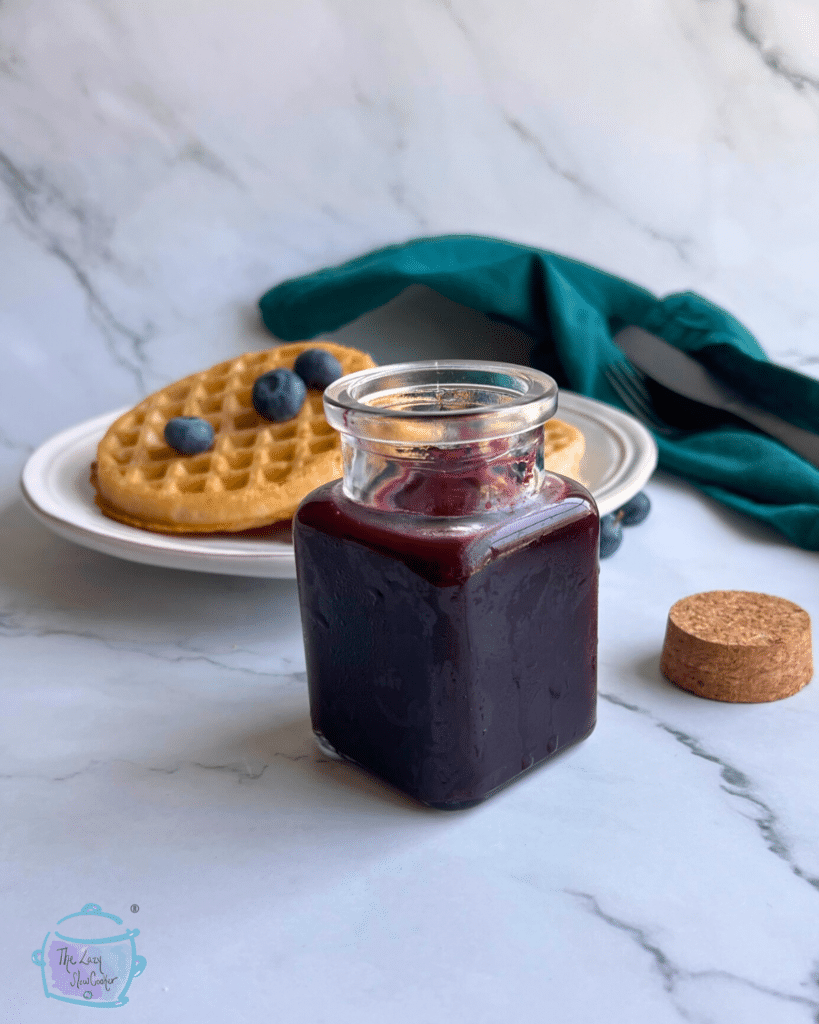 Juicy blueberries are heavenly! We love picking them, but it's hard to stop once you start. If you need ideas for what to do with a LOT of blueberries, This is you answer!!
This easy recipe is the perfect way to use fresh berries. However, it can also be made with frozen blueberries. Allowing you to bring a little taste of summer into your home all year long!
📝Shopping list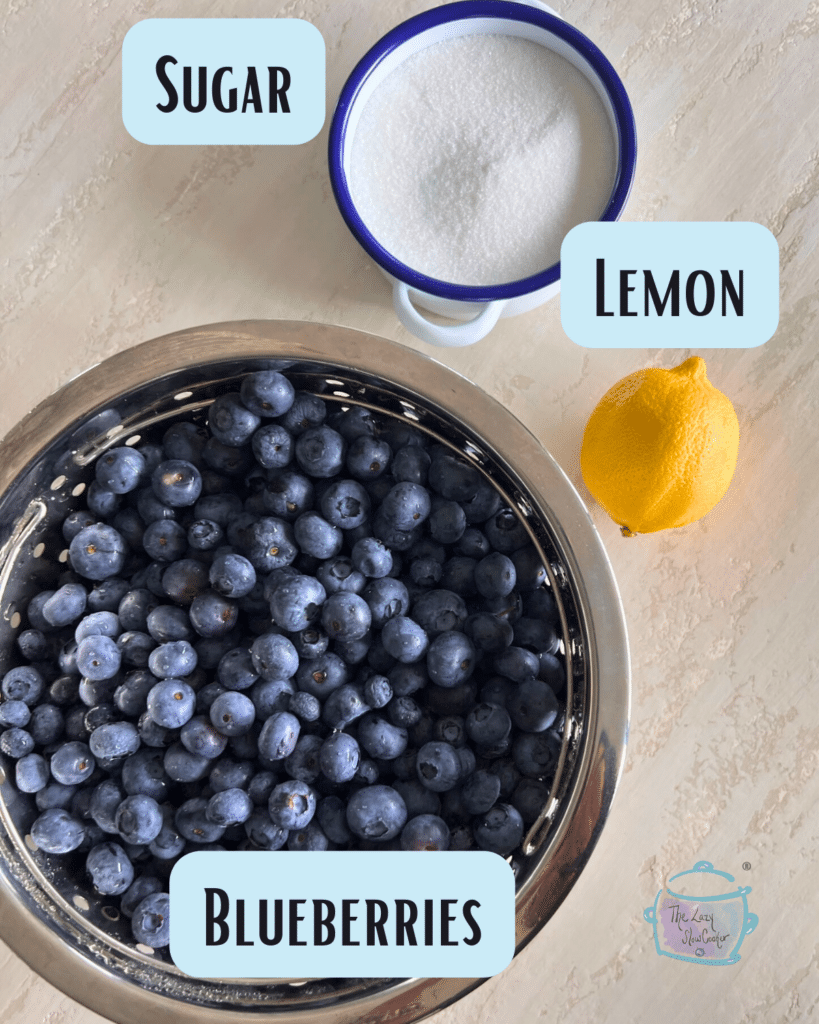 To make these amazing blueberry toppings, you will need these simple ingredients:
Whole blueberries - fresh or frozen
Sugar - just the plain old-fashioned kind
Lemon - fresh lemon juice works best
🚀Jump to recipe card for exact quantities and other details
🔪Instructions
Prepare your slow cooker
Prepare your slow cooker by coating it with a non-stick cooking spray or oil.
NOTE: some slow cooker inserts come with a nonstick surface. Use of a non-stick agent is still suggested. However, oil is sometimes recommended over spray to protect the longevity of the non-stick surface. Check the slow cooker's manual if you have any concerns.
Although slow cooker liners are a great way to protect your slow cooker, this dish involves the use of a blender. If you will be using an immersion blender, DO NOT use a slow cooker liner as it can get caught on the blender's blade.
Adding ingredients
Add all ingredients to the bottom of the slow cooker and cover. Cook on low for about 4 hours or high for 2 hours. Your blueberries should start bursting at this point.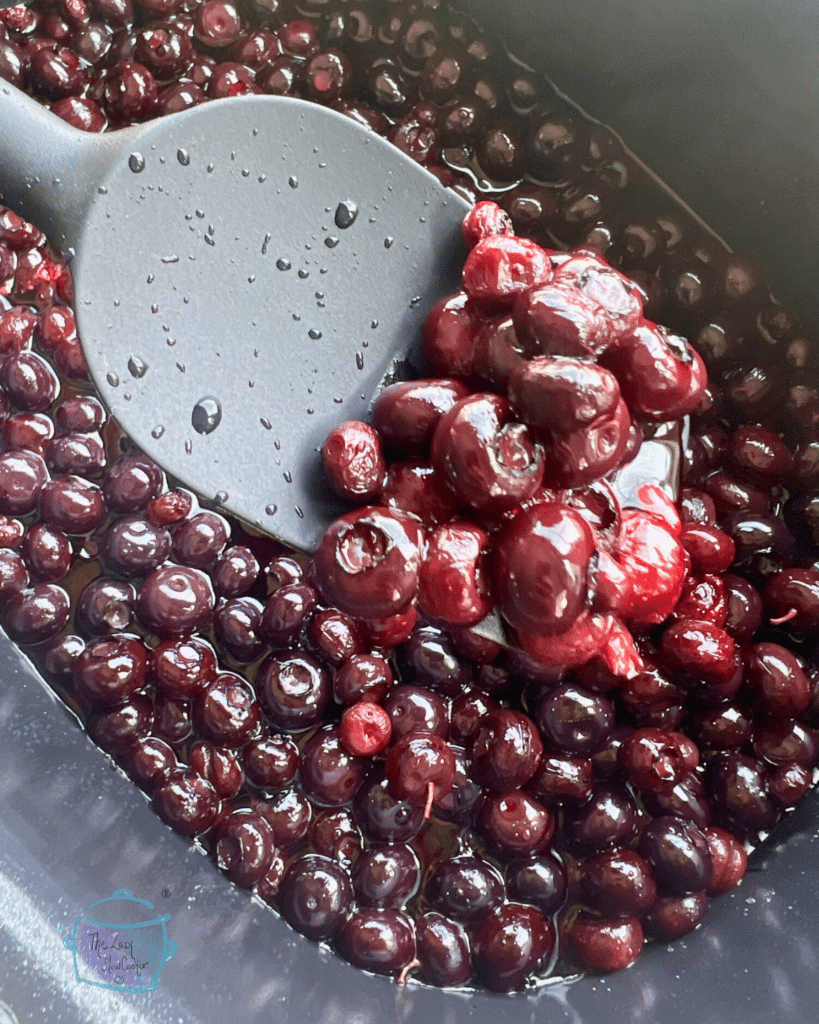 Use an immersion blender to blend your blueberries into a beautiful deep blue-purple sauce with a silky texture. If you prefer it on the chunky side, just stop blending once you have reached your desired consistency. You now have a wonderful, homemade blueberry syrup.
For a topping with a more spreadable consistency, continue to cook your blueberry syrup, but leave your slow cooker lid off. Another hour or so will thicken your blueberries into an easy, slow cooker blueberry butter.
NOTE: if you go the extra step and aim for a thicker end product, stir every 15 - 30 minutes. Your blended blueberries may start developing a "skin" on top that can be stirred in to help with thickening.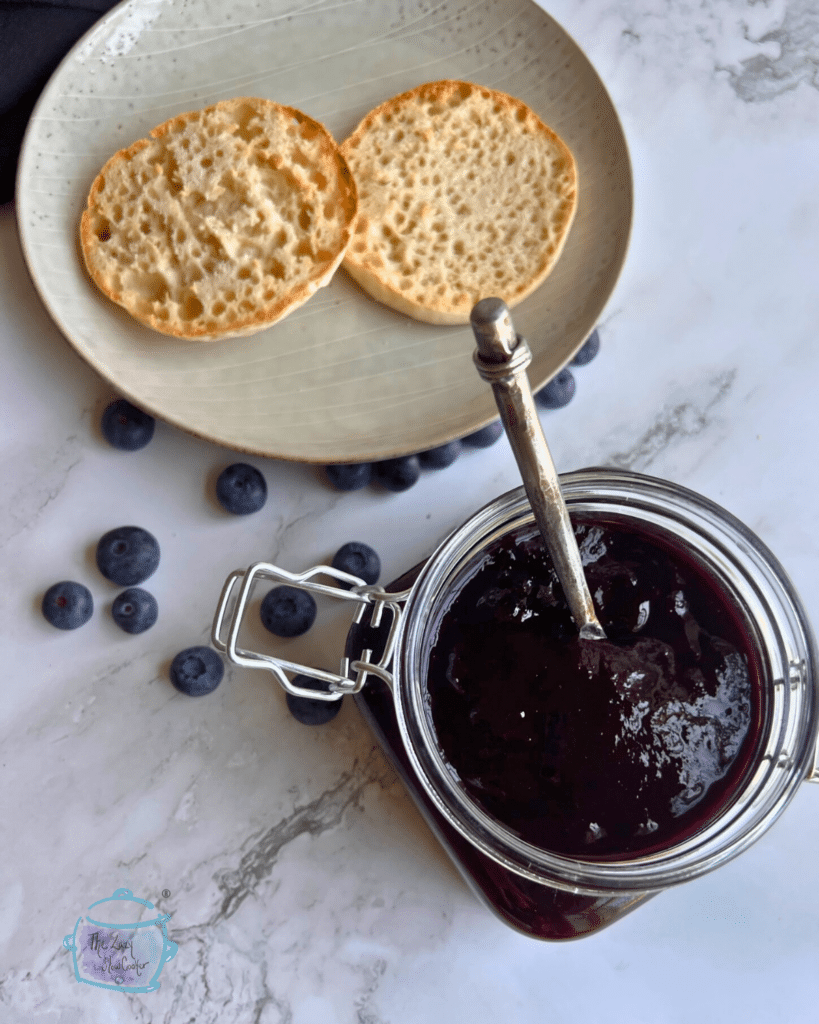 🍽Serving suggestions
Of course, the best part is all the amazing ways to eat it! Your blueberry sauce/syrup can be used so many different ways:
Pour it on top of pancakes, waffles, or french toast in place of maple syrup.
Use it to top a scoop of vanilla ice cream for an easy dessert recipe with a homemade touch.
Drizzle it on top of pound cake or angel food cake.
Mix it into some greek yogurt.
Stir it in to a warm bowl of oatmeal or cream of wheat.
Drizzle it on top of other fruity desserts such as a raw cantaloupe or honeydew.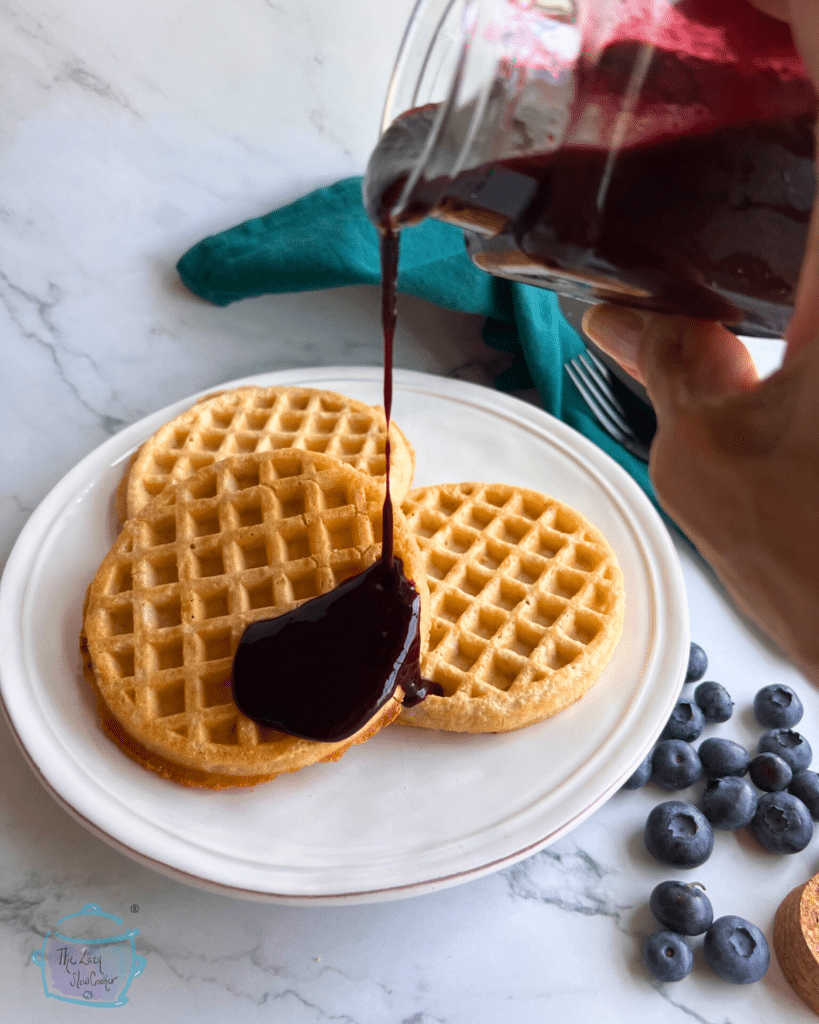 Thicker spreadable blueberry butter, can be used just like apple butter or other fruit butter. We love to spread it on everything from English muffins to bagels to our morning toast! Plus:
It is a great addition to any charcuterie! A little bit of this delicious spread goes a long way.
Some sharp cheddar cheese with a swipe of this blueberry spread on a cracker is beyond awesome!
Peanut butter and crockpot blueberry butter sandwiches are an out-of-this-world treat!
🔁Substitutions
1. If you don't have an immersion blender, your cooked blueberries can be blended in a traditional blender or food processor. Just be very careful when you the pour blueberry mixture from your slow cooker to your blender. It will be very hot!
2. If you don't have white sugar, brown sugar can be used in its place. It will change the flavor a bit, but still be delicious!
3. Frozen blueberries can be used in place of fresh. They are always readily available in the grocery store - all year long. Not just during blueberry season!
If you love this recipe, please let me know in the comment section below!
Storing
Store leftovers of this easy blueberry sauce recipe in an airtight container. Your homemade fruit butter will last 2-3 weeks in the refrigerator and several months in the freezer.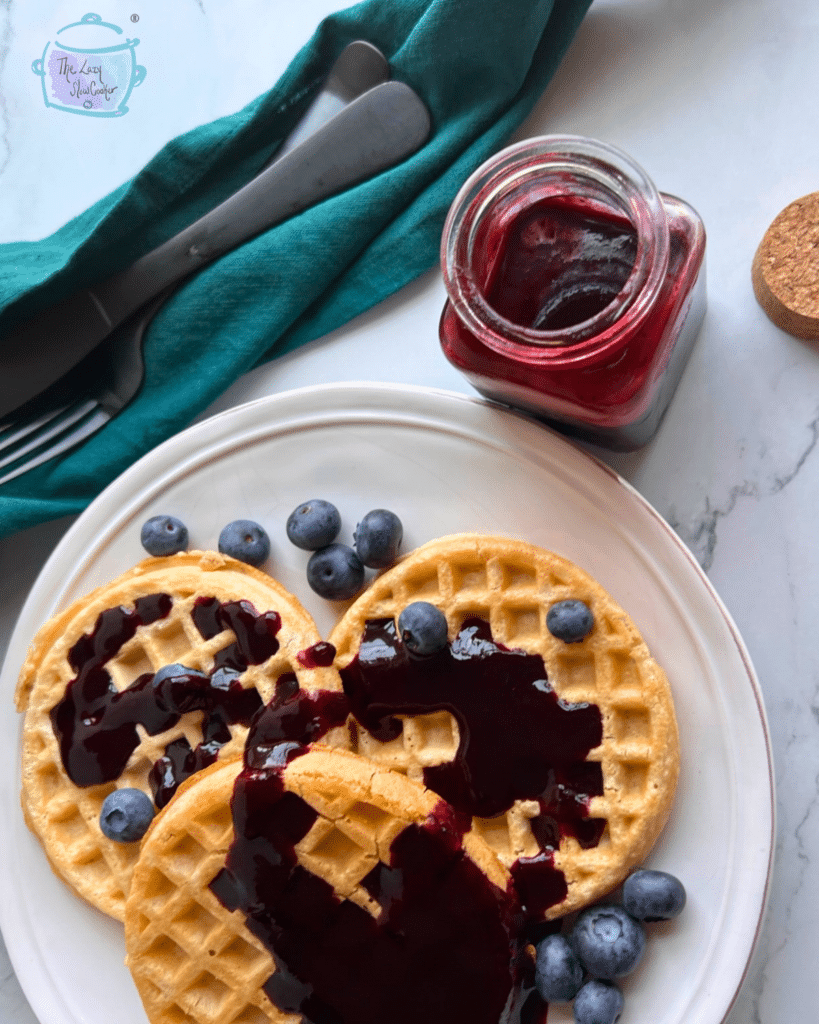 😉Hints & hacks
If you have an abundance of fresh blueberries, slow cooker blueberry cobbler recipe is also a delicious dessert!
Homemade blueberry toppings make great gifts! I like to fill small mason jars with it and tie them up with ribbon. Nothing is better than a homemade gift made with love!
I am generally a big fan of slow cooker liners. However, I do not recommend using them for recipes involving an immersion blender. The blade of the blender can too easily catch on the liner and shred it into the food.
If there are blueberry field anywhere near you - go blueberry picking!! It is fun, nutritious, and educational. Grocery store blueberries are great but, nothing beats fresh-picked blueberries in this amazing recipe.
In the market for a new slow cooker? I love mine!
Always check to confirm that your slow cooker has been plugged in and properly turned on!
As an Amazon Associate, I earn from qualifying purchases and affiliate links.
📖 Recipe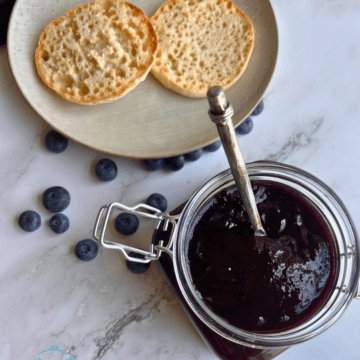 Slow Cooker Blueberry Topping Recipe
Delicious blueberry toppings are just a crockpot away with this simple recipe. Whether you are looking for pourable blueberry syrup, blueberry sauce, or spreadable blueberry butter, you have come to the right place.
Print
Pin
Rate
Save
Saved!
Equipment
3 quart slow cooker or larger

measuring cups
Ingredients
3

lbs

Blueberries

fresh or frozen

1.25

cups

Sugar

1

Lemon

I like to squeeze a fresh lemon
Instructions
coat slow cooker with a non-stick spray or oil

place blueberries into slow cooker

add sugar and lemon juice into slow cooker and stir to combine.

Cover and cook on low for 4 hours or high for 2 hours.

Use immersion blender to blend cooked berries.

to make the berry mixture thick enough for spreading, cook for an additional hour or so with the lid of your slow cooker completely OFF. Stir every half an hour as blueberries thicken into a spreadable blueberry butter
Notes
You can choose how smooth or chunky you would like your finished product to be by adjusting the blending time.
See above for tips and serving suggestions.
Nutrition
Calories:
12
kcal
|
Carbohydrates:
3
g
|
Protein:
0.1
g
|
Fat:
0.04
g
|
Saturated Fat:
0.003
g
|
Polyunsaturated Fat:
0.01
g
|
Monounsaturated Fat:
0.005
g
|
Sodium:
0.1
mg
|
Potassium:
8
mg
|
Fiber:
0.2
g
|
Sugar:
3
g
|
Vitamin A:
5
IU
|
Vitamin C:
1
mg
|
Calcium:
1
mg
|
Iron:
0.03
mg
Check out my latest on Instagram