⏬SKIP STRAIGHT TO RECIPE⏬
Delicious and wholesome crockpot acorn squash is an easy addition to any meal! Tender and sweet roasted acorn squash halves filled with tasty dried cranberries.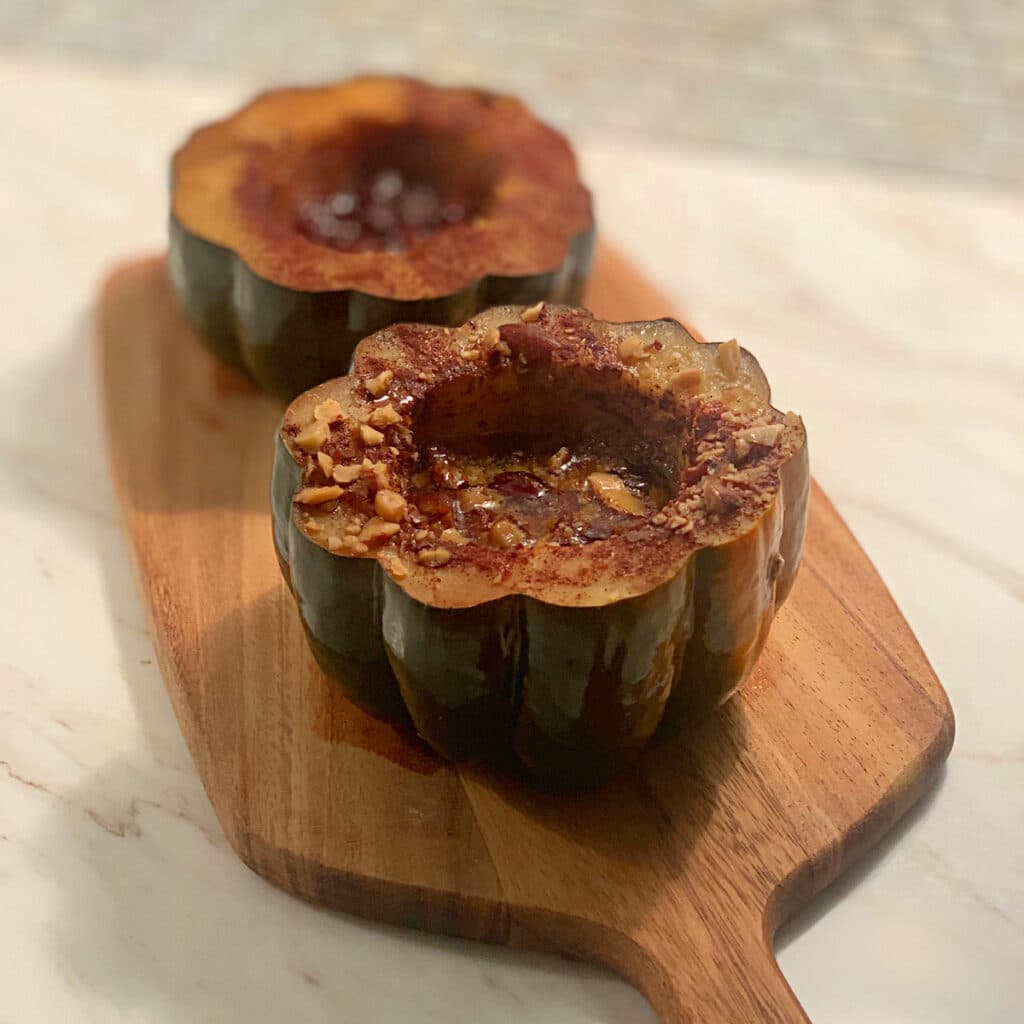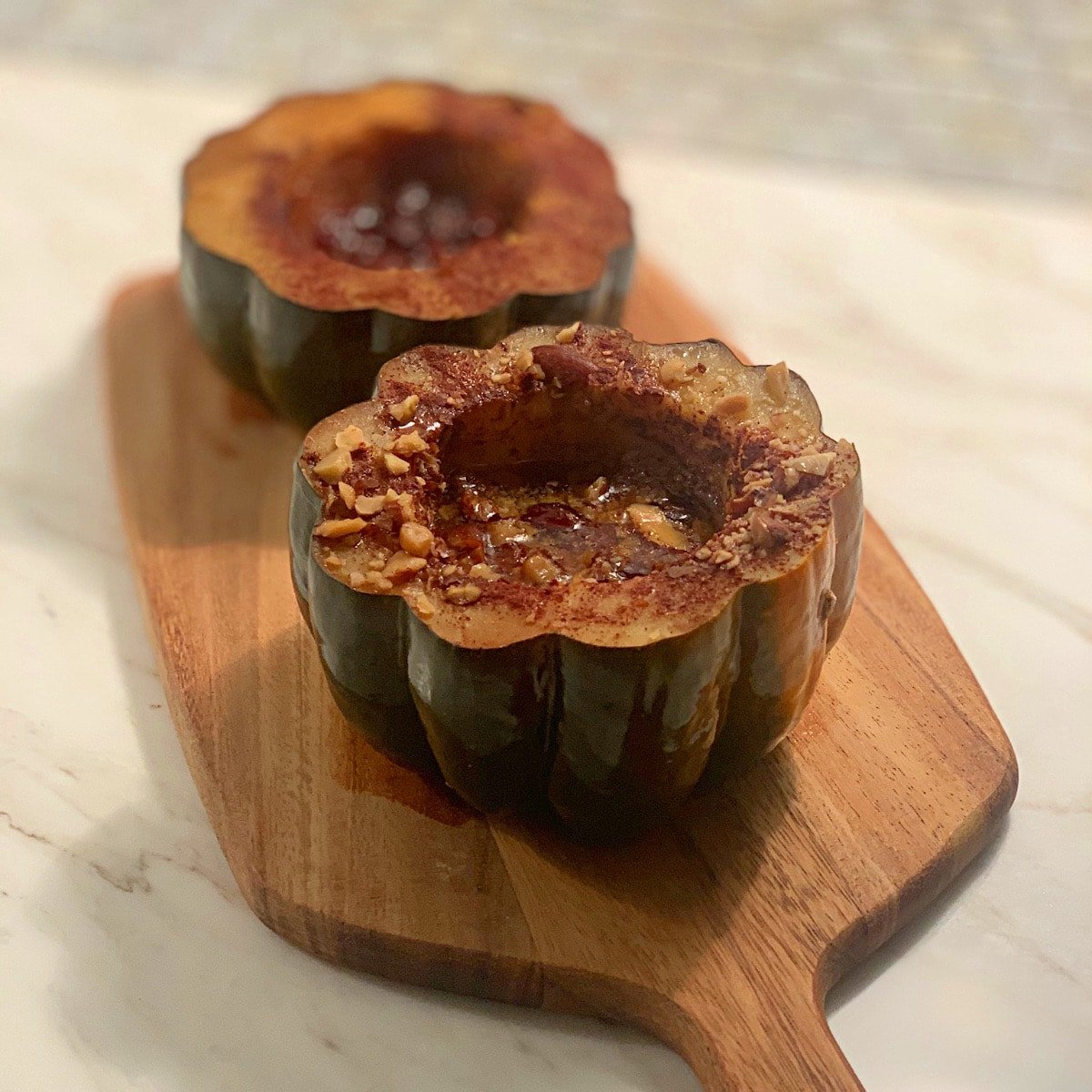 What Is Acorn Squash?
Acorn squash is a winter vegetable that generally appears in the market in early fall through late winter. It has a very thick skin, similar to pumpkin, making it a great squash to store for a longer period of time. An especially good trait if you want to buy it but aren't really sure when it will fit into your cooking rotation.
Is it slightly sweet with a typical squash consistency when cooked. And like some other thick skin squash, it contains large seeds in its belly.
🔪Cutting Acorn Squash
This starchy vegetable has a very thick skin that is often coated in a light layer of edible wax. This combination makes it really hard to cut. I recommend cutting off the end first and them making one big cut down the middle.
If you want to split up further, it is much easier to divide after it is cooked.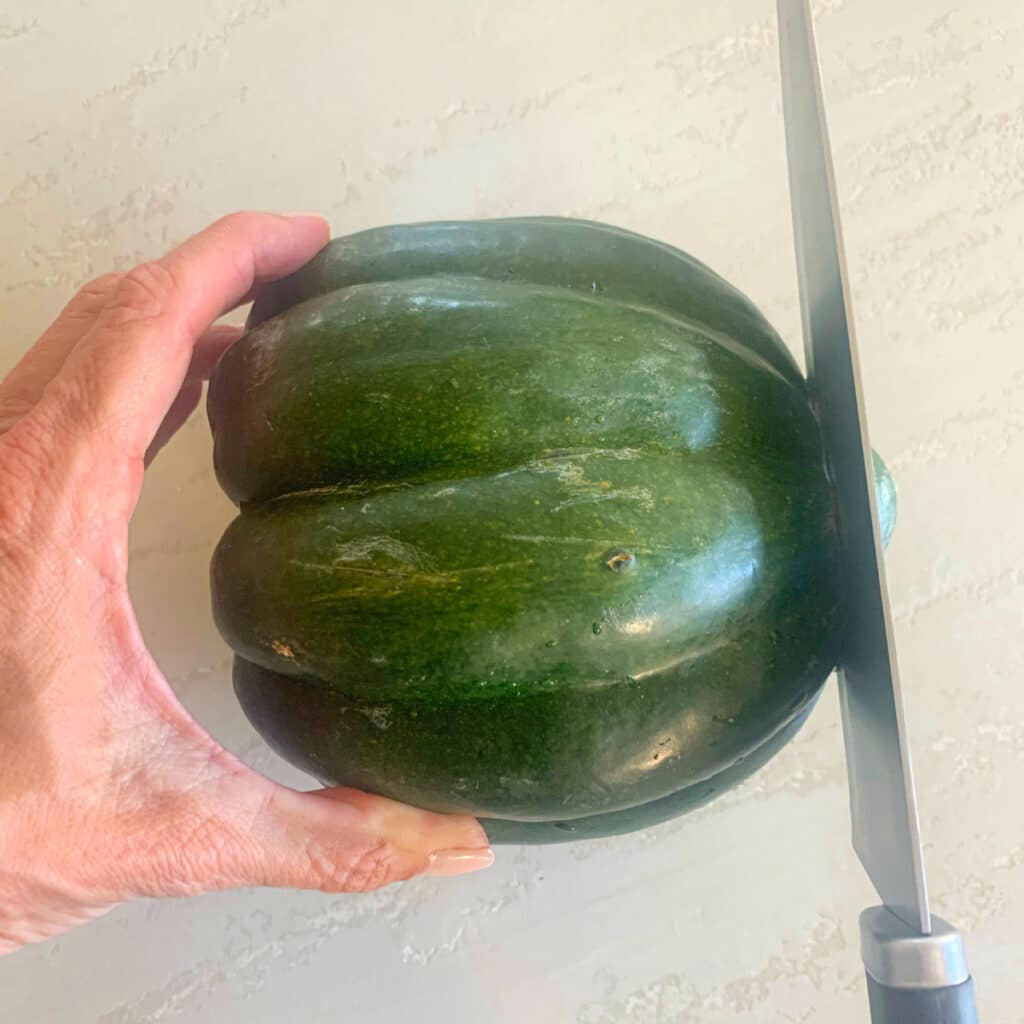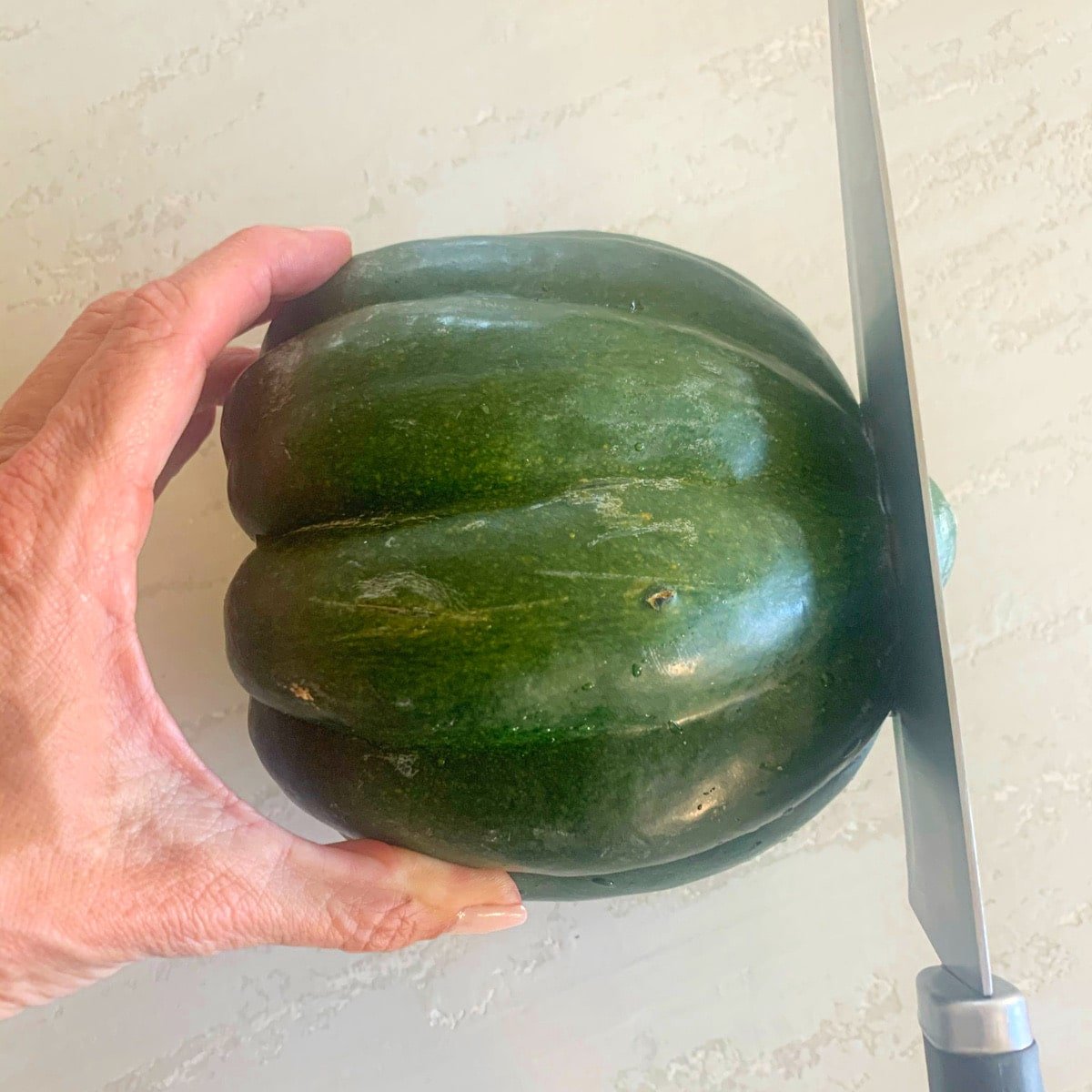 🧹Cleaning
As with all vegetables, prior to cutting, it is a good idea to wash your squash off in running water to remove any unnecessary debris. After you have it cut open, use a spoon to scrape out all of the seeds and the pulpy fibers that are attached to them.
The seeds are actually edible and can be roasted similar to pumpkin seeds.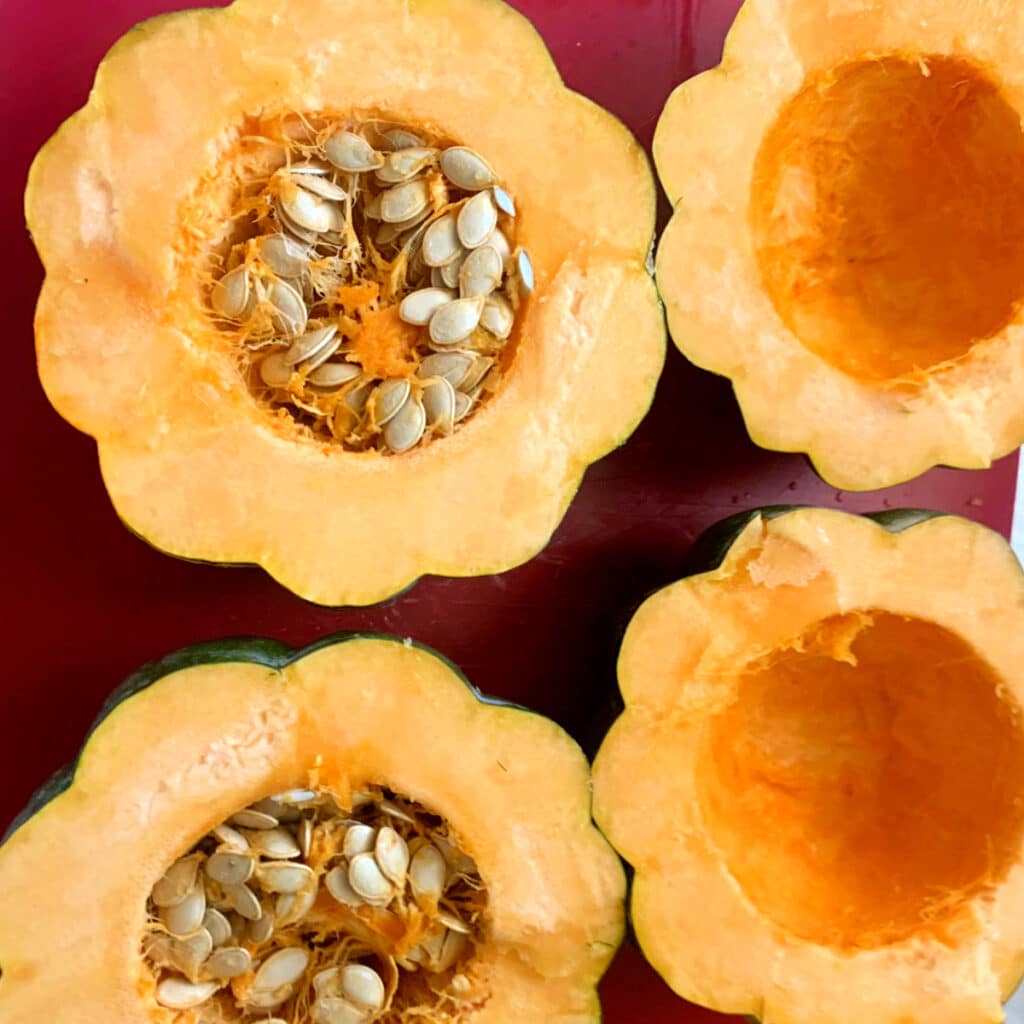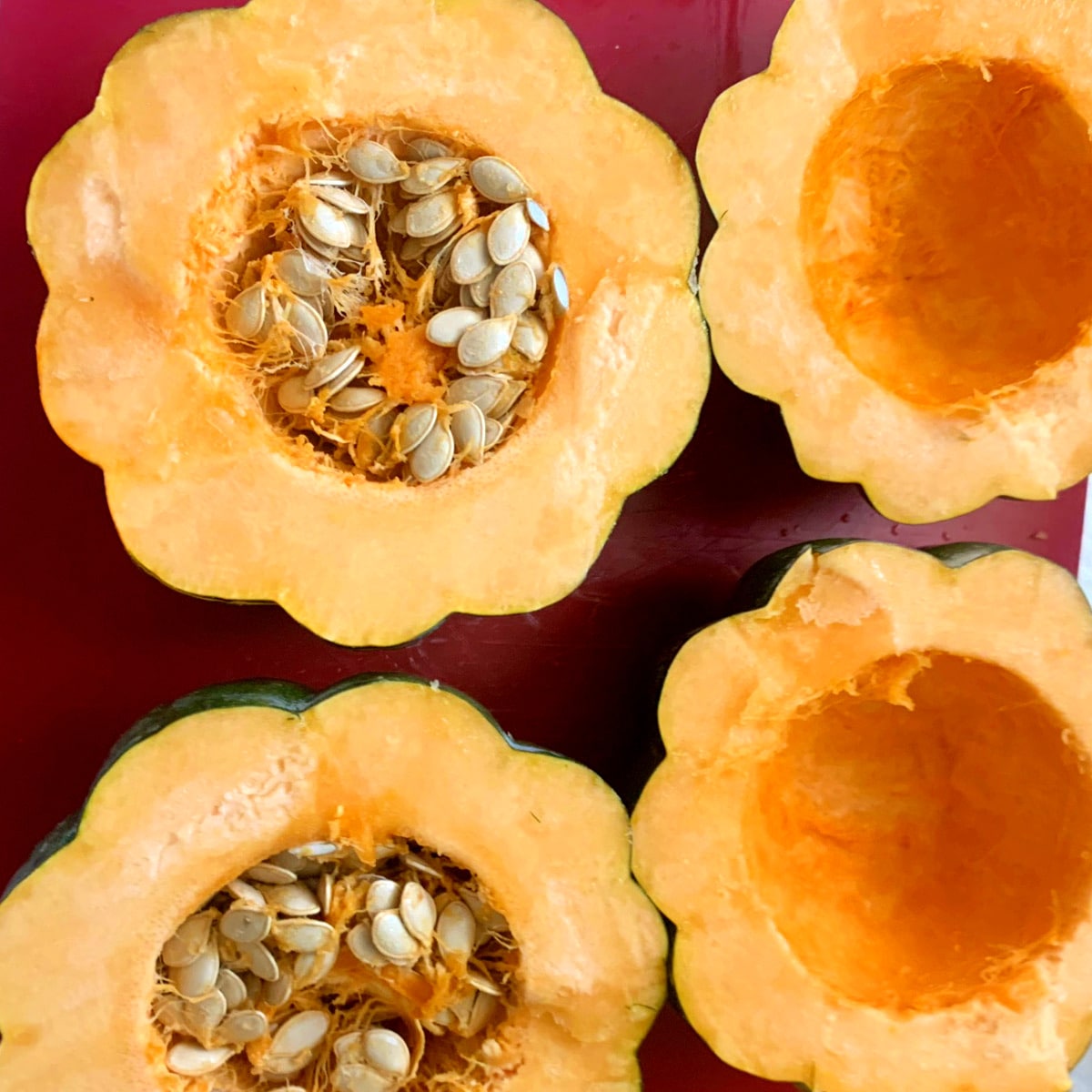 🍳Cooking
After your acorn squash is cut in half, place it in your slow cooker on top of about ½ cup of water. The next step is the flavoring. For this you will need:
brown sugar
cinnamon
butter
optional: nuts such as walnuts or cashews
Place brown sugar and dried cranberries (and nuts if you would like) into the open cavity of each squash half. Top the filling with a piece of butter and sprinkle the top with cinnamon. Then you just cover your slow cooker and let it work its magic!
If you love this recipe, please let me know in the comment section below!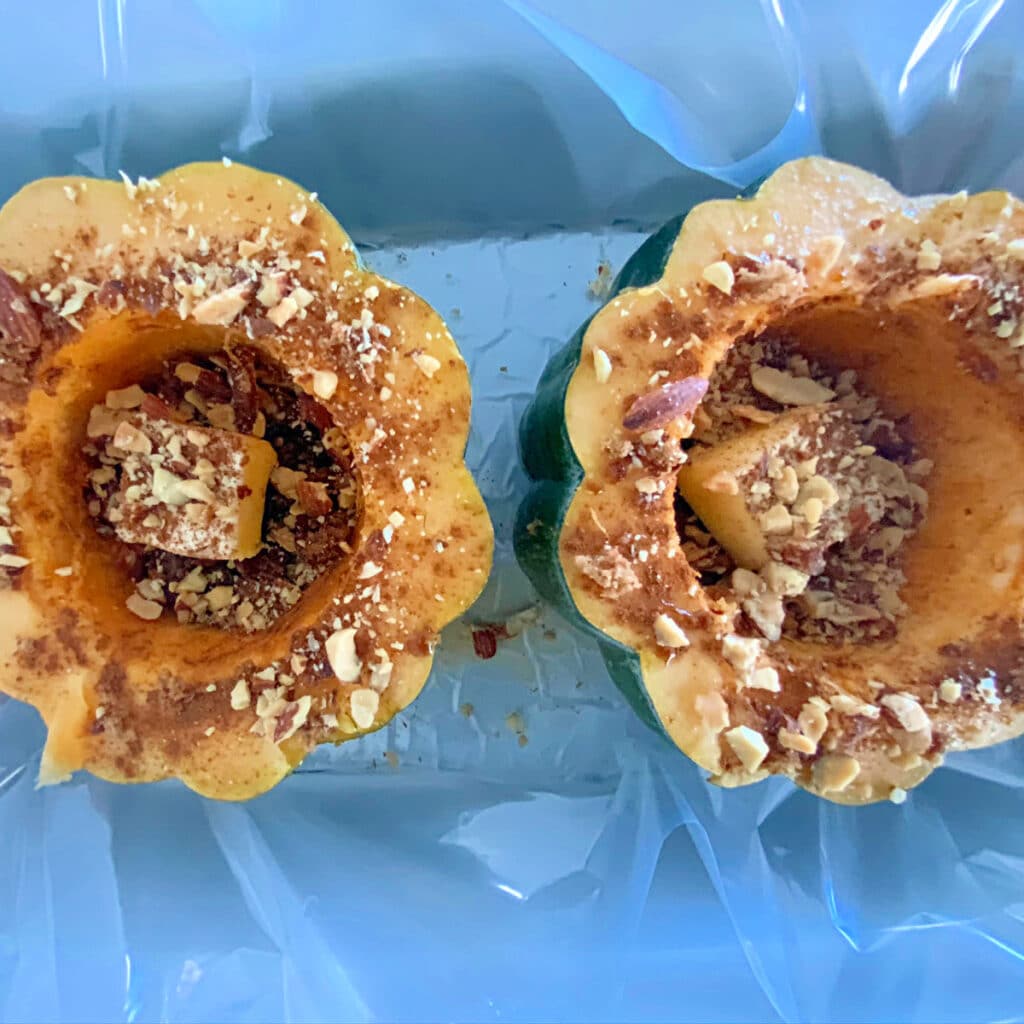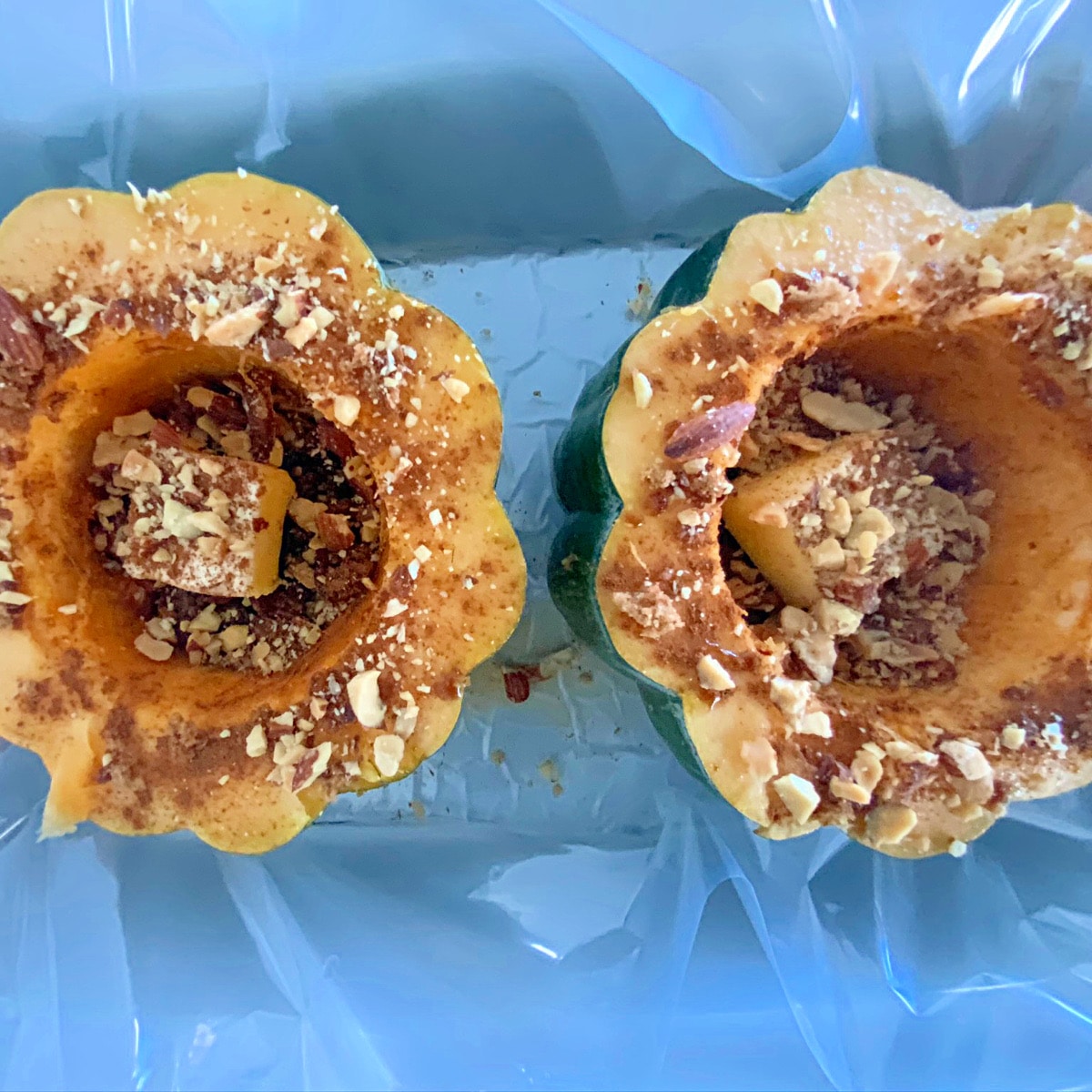 Why Use A Slow Cooker For This Recipe
Of course, you can bake this dish in the oven. However, there are a lot of great reasons why a slow cooker is a better idea:
Using your crockpot to make this easy squash recipe is great for when you don't have the time to babysit a dish in the oven. Oven-baked goods can go from done to overdone in the blink of an eye. Since crockpots are slow and steady, they are a little more forgiving of people who (like me) sometimes run late or lose track of time. If crockpot cooking time says 2 hours but you have an errand, call or meeting that runs 15 minutes over, chances are your dish will be just fine! Additionally, many slow cookers are programmable. They can be set to turn off or down to warm at a predetermined time.
Using your crockpot to make a side dish like this leaves more space in the oven for other things. If you already have an entree, appetizer and dessert going in the oven, using your slow cooker to make this dish can be lifesaving!
When using in your crockpot, you can use either parchment paper or a slow cooker liner leaving you with virtually zero clean up!
Crockpots are a great way to cook with children! Since they don't get super hot the way ovens do AND since you generally don't turn them on until all ingredients are in, they are very family friendly. Please note that you CAN still burn yourself with a slow cooker. Always supervise children carefully anytime you are in the kitchen!.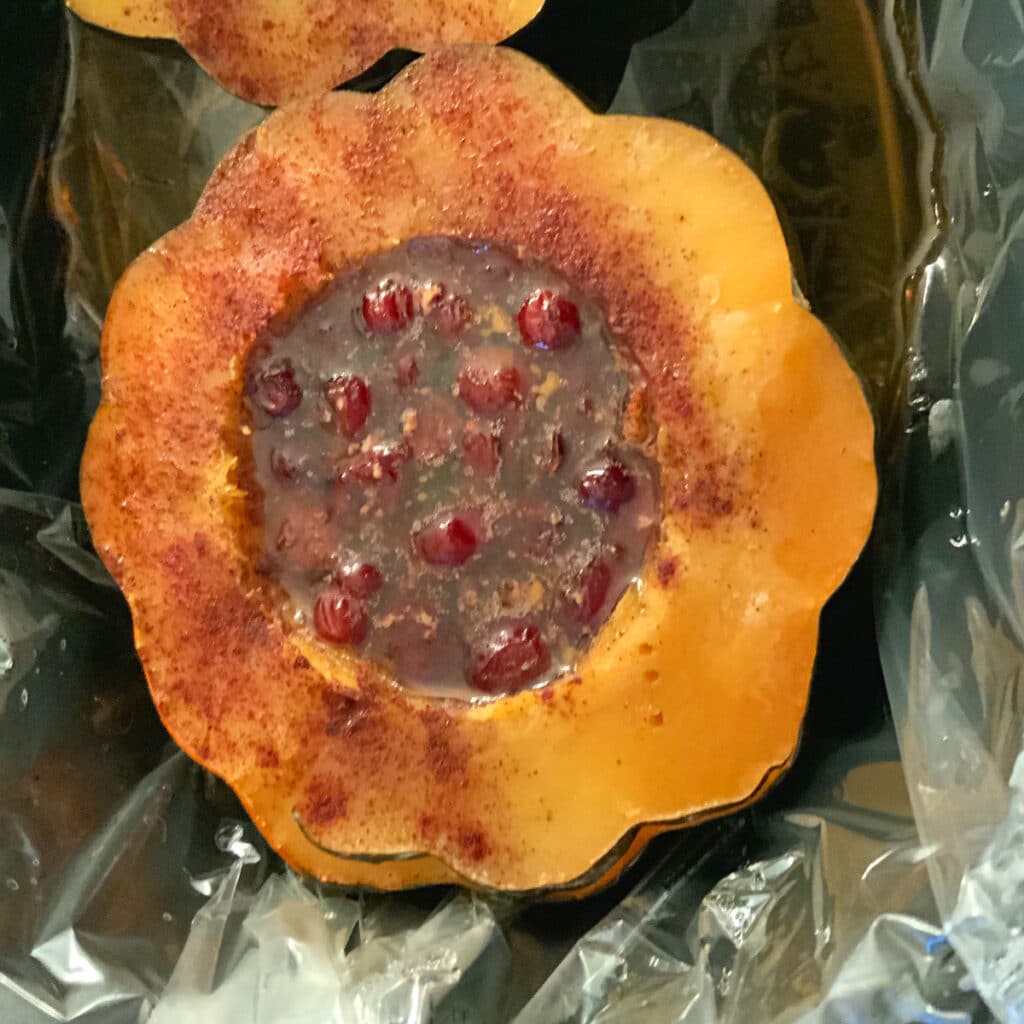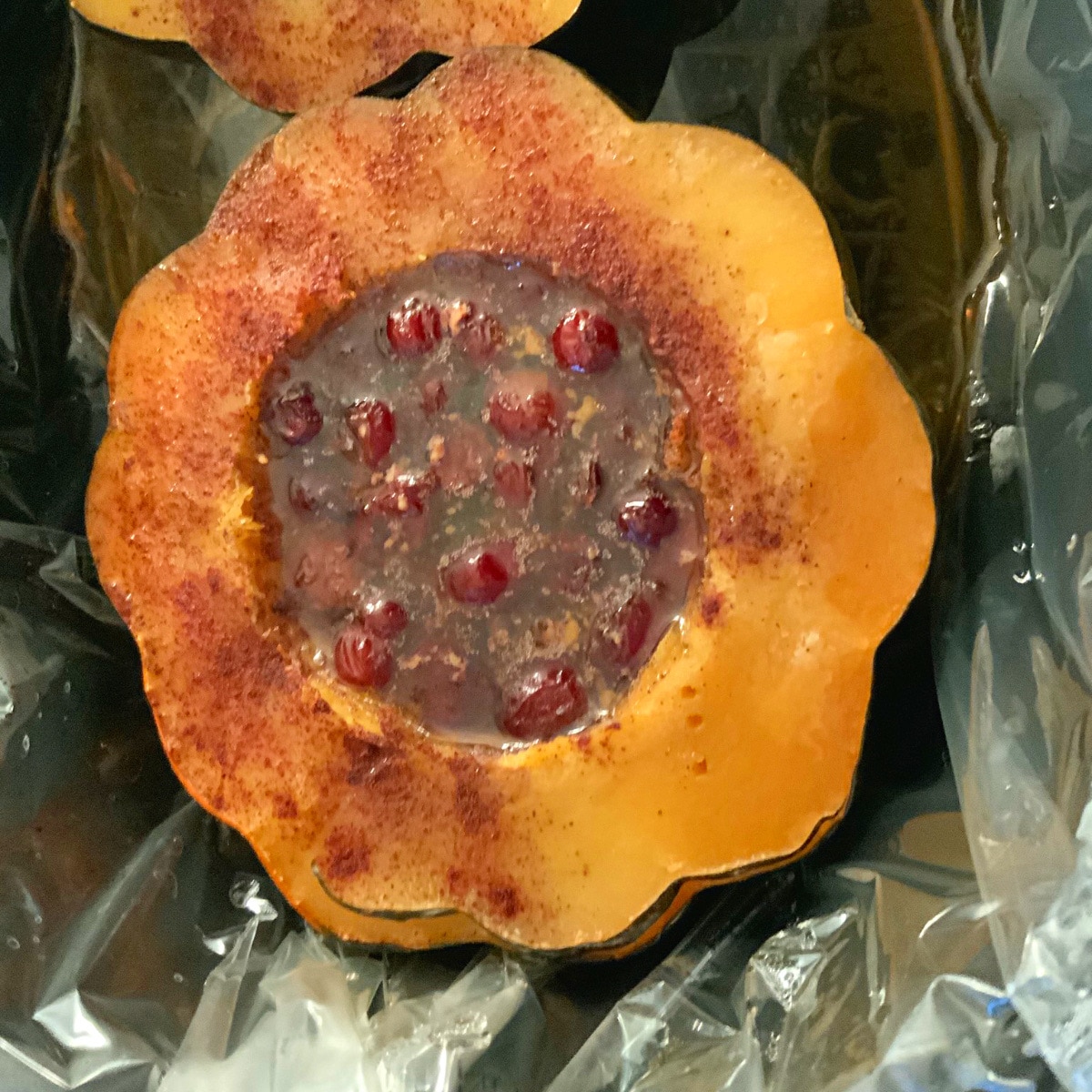 😉Hints & Hacks
Leftovers are delicious warm or cold!
If you want to make you squash even sweeter, drizzle with a little maple syrup just before serving.
This delicious recipe is great if your people will be eating at different times. After the cooking time, turn your slow cooker to low. Each dinner can have a warm and filling dish, no matter what time they are ready to eat
I always recommend the use of a slow cooker liner. This is, of course, an optional step. I like to purchase my liners in bulk for a less expensive per-piece price.
In the market for a new slow cooker? I love mine!
As an Amazon Associate, I earn from qualifying purchases and affiliate links.
📖 Recipe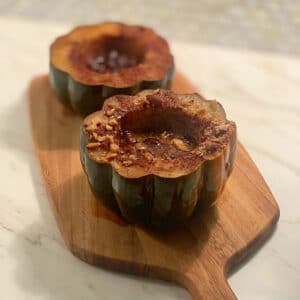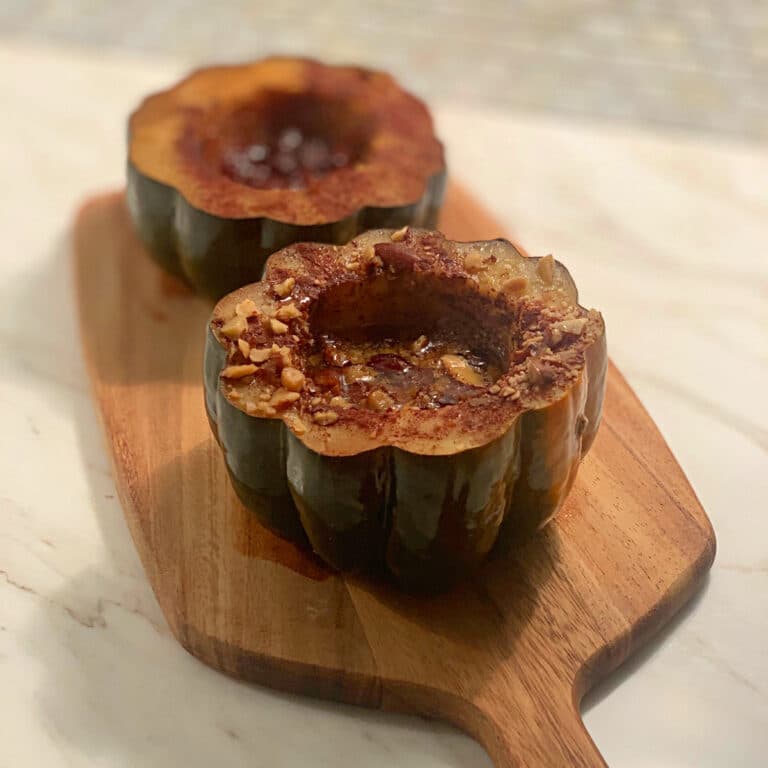 Lazy Slow Cooker Acorn Squash
Delicious and wholesome crockpot acorn squash is an easy addition to any meal! This recipe will provide you with tender and sweet roasted acorn squash halves filled with naturally flavor enhancing craisins.
Print
Pin
Rate
Save
Saved!
Equipment
Larger slow cooker (either 6 quart or a casserole crockpot)
Ingredients
1

acorn squash, cut in half, seeds removed

½

cup

water

½

cup

dried cranberries or raisins

¼

cup

crushed nuts (optional)

2

tablespoon

butter

or non dairy butter alternative

2

tablespoon

brown sugar

or brown sugar alternative

2

dashes

cinnamon
Instructions
place liner in slow cooker and fill with ½ cup water

cut acorn squash in half and remove seeds.

1 acorn squash, cut in half, seeds removed

cut off pointy tip of the bottom of squash so each half and stand up without tipping over and place both halves in slow cooker

add ¼ cup raisins or dried cranberries to middle of each squash half

½ cup dried cranberries or raisins

add 1 tablespoon brown sugar (or substitute) to each half

place one pat (1 tablespoon worth) of butter or butter substitute into each half

if using nuts, sprinkle on top of each half

¼ cup crushed nuts (optional)

sprinkle lightly with cinnamon

cover slow cooker and cook on low for 3 - 4 hours.
Notes
Note: Calories based on use of sugar and butter rather than substitutes and almonds.
With a calorie free sweetener, a dairy free butter alternative and no almonds, calories are closer to 300.
Nutrition
Calories:
344
kcal
|
Carbohydrates:
65
g
|
Protein:
5
g
|
Fat:
10
g
|
Saturated Fat:
2
g
|
Polyunsaturated Fat:
2
g
|
Monounsaturated Fat:
6
g
|
Cholesterol:
2
mg
|
Sodium:
32
mg
|
Potassium:
911
mg
|
Fiber:
7
g
|
Sugar:
34
g
|
Vitamin A:
821
IU
|
Vitamin C:
24
mg
|
Calcium:
125
mg
|
Iron:
2
mg
Check out my latest on Instagram