🔽 JUMP STRAIGHT TO RECIPE🔽
Who doesn't love to play with their food? This healthy, homemade version of the famous canned soup lets you eat your food AND play with it. All while being educational. Consider it dinner with benefits - for the whole family.
I was so excited when I came across alphabet pasta on the shelf in my local grocery store. It immediately brought back many childhood memories. I couldn't wait to experiment to see if I could make a version of the soup I grew up on.
Jump to:
📝Shopping list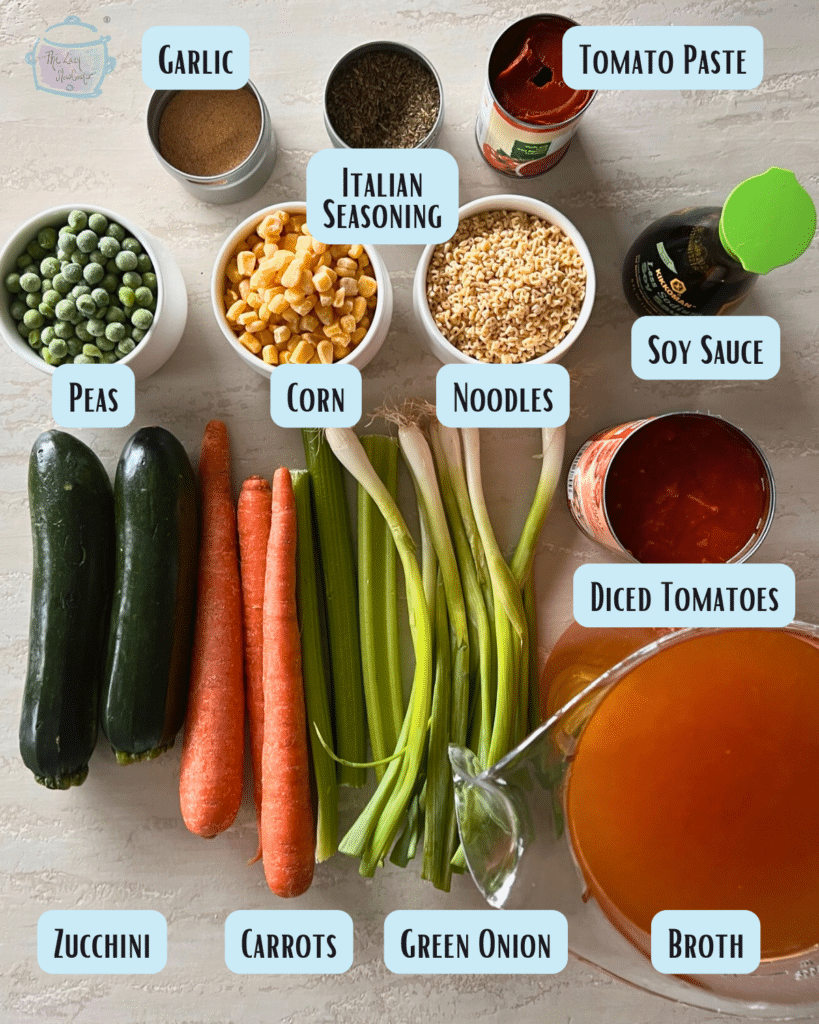 Cooking
Add all ingredients into your slow cooker, other than your pasta. Stir it briefly to mix all the ingredients together and cover.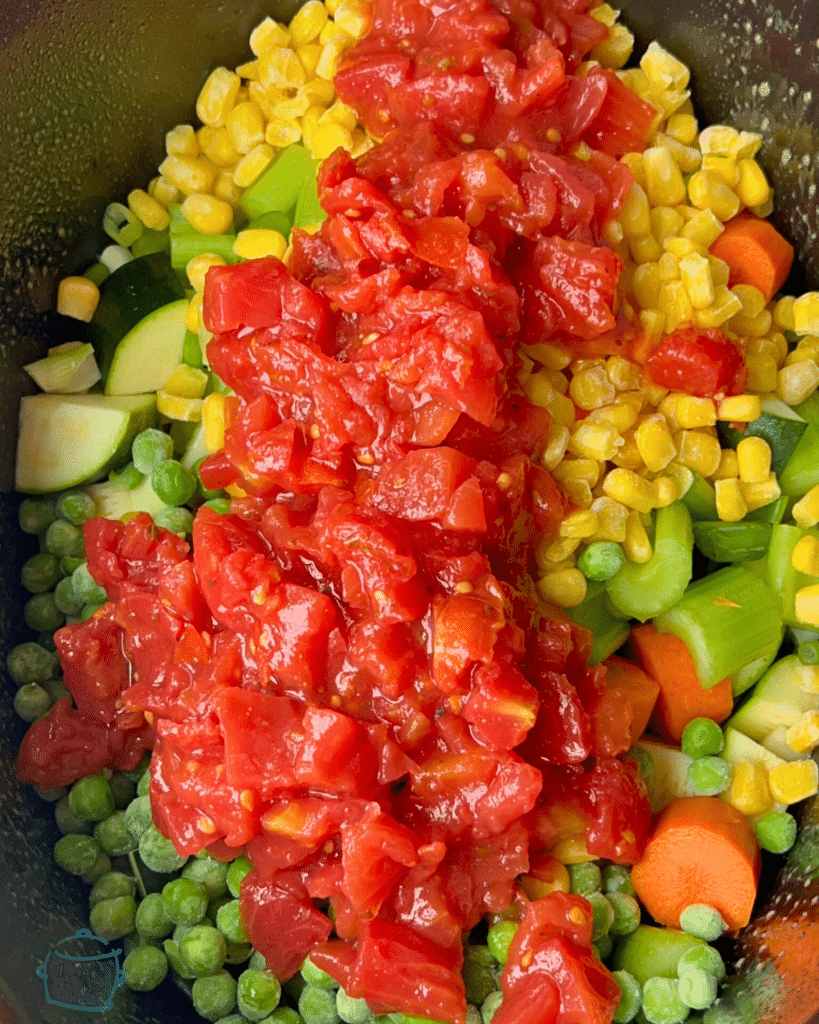 Cook on low for 6-8 hours or high for 3-4 hours. Your soup is ready for the next step when all your vegetables are cooked all the way through.
30-45 minutes prior to serving, stir in the pasta. Continue to cook until pasta is soft. Taste test and add salt and black pepper to your liking. Serve and enjoy!
🍽Serving suggestions
Serve your yummy homemade alphabet soup with a sprinkling of chopped fresh herbs, like parsley and sliced green onion. Grated parmesan cheese makes a spectacularly delicious garnish. To keep it vegan, use nutritional yeast in instead.
A crusty sourdough bread along with a crisp garden salad make for the perfect sides. We love to serve this soup alongside a whole chicken or some delicious homemade turkey salad or chicken salad.
🔁Substitutions
One of the best features of this delicious alphabet soup is how easy it is to customize. If you don't want to use alphabet pasta, any small shaped pasta will do. Orzo and ditalini are both great shapes that would work well with this recipe.
Frozen vegetables and fresh vegetables can be used interchangeably in this crock pot recipe. I use fresh carrots, celery zucchini, and green onion, but frozen green peas and corn.
Other fresh or frozen veggies that are delicious in this soup include green beans, sweet potato, and red pepper. Canned beans, such as white beans, kidney beans, or lima beans are a great way to add fiber and protein. Feel free to play around with this hearty soup and add your favorite vegetables/beans to customize to your liking.
To change up the flavor a bit, you can swap out the vegetable stock for chicken broth or beef broth. To turn up the heat, add some red pepper flakes or a dash of sriracha sauce.
Looking to turn this simple alphabet soup recipe into a full one-pot meal? Add some browned ground beef or turkey into your slow cooker along with the other ingredients.
If you love this recipe, please let me know in the comment section below!
Storing
Store homemade alphabet vegetable soup in an airtight container or bag. Leftover slow cooker soups like this one last last 3-4 days in the refrigerator or 3 months in the freezer. It is easy to defrost and reheat - and sooo much better than the canned stuff.
Keep in mind that the abc pasta will continue to absorb liquid as it sits. If your reheated soup is thicker than you like, add in some additional broth.
😉Hints & hacks
This is one of those slow cooker recipes that are great if your people will be eating at different times. After cook time, turn your slow cooker to warm and everyone can have a hot and filling meal - anytime.
To prep this easy weeknight dinner in advance, mix together all ingredients other than the fun alphabet noodles. Store in an airtight container or zipper top bag in the refrigerator until you are ready to slow cook.
The perfect way to store leftovers of this slow cooker recipe is in individual serving-sized containers. This makes for easy grab-and-go future meals.
I like to freeze leftovers in meal-sized portions for easy reheat-and-eat.
I always recommend the use of a slow cooker liner. Of course, this is an optional step. I like to purchase my liners in bulk for a less expensive per-piece price.
In the market for a new slow cooker? I love mine.
Don't forget to plug your slow cooker in and turn it on! 😏
As an Amazon Associate, I earn from qualifying purchases and affiliate links.
📖 Recipe
Check out my latest on Instagram