🔽 JUMP STRAIGHT TO RECIPE🔽
Leftover candy bark is an easy recipe for repurposing candy pieces into a delicious treat. This simple dish will make you look forward to the day after Halloween, Easter, Valentine's Day, and every other candy-laden celebration!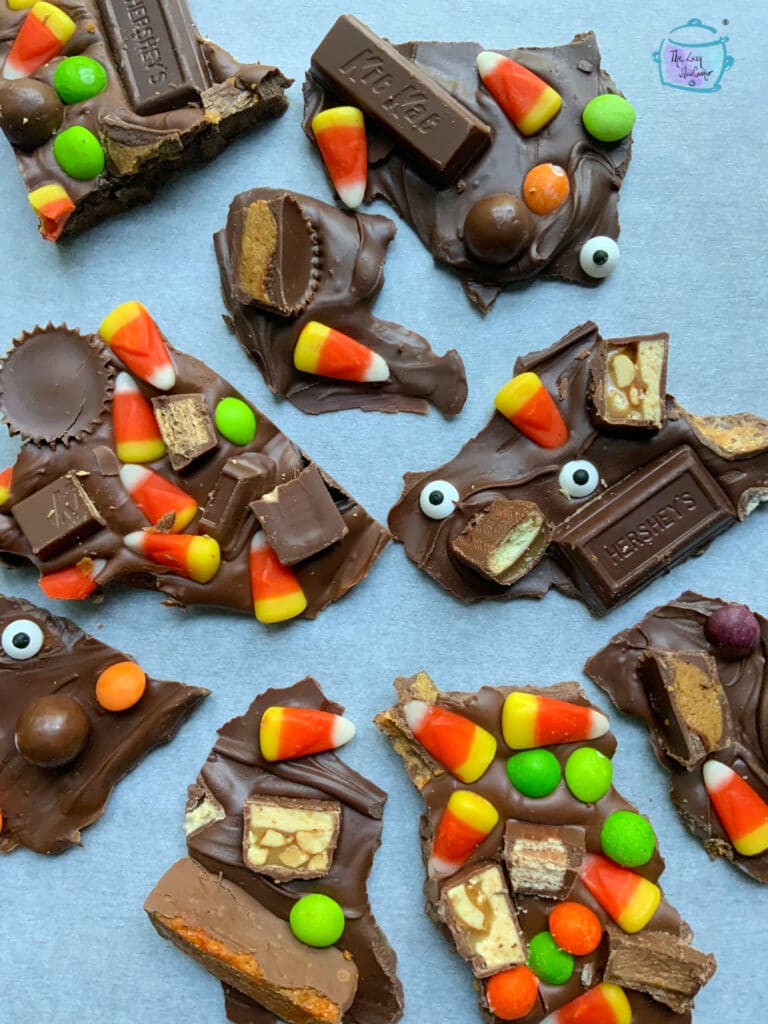 I am a chocoholic and I am proud of it. All holidays involving candy (Halloween and Valentine's day, I am looking at you!) are my favorite. December is my favorite month of the year (for obvious reasons). You get the point.
GIVE ME ALL THE CANDY ..especially this easy leftover candy bark!
📝Shopping list
To make this sweet treat you will need:
Chocolate chips - milk chocolate, semi-sweet, and white chocolate chips would all be delicious choices
Mini candy pieces - This can be anything you have, want, or just plain love. To keep the dish lively, some candy with bright colors always looks great. M&m's, skittles, and gummy bears are all be great choices.
Parchment paper - Usually a liner is optional. For this recipe, it is a must!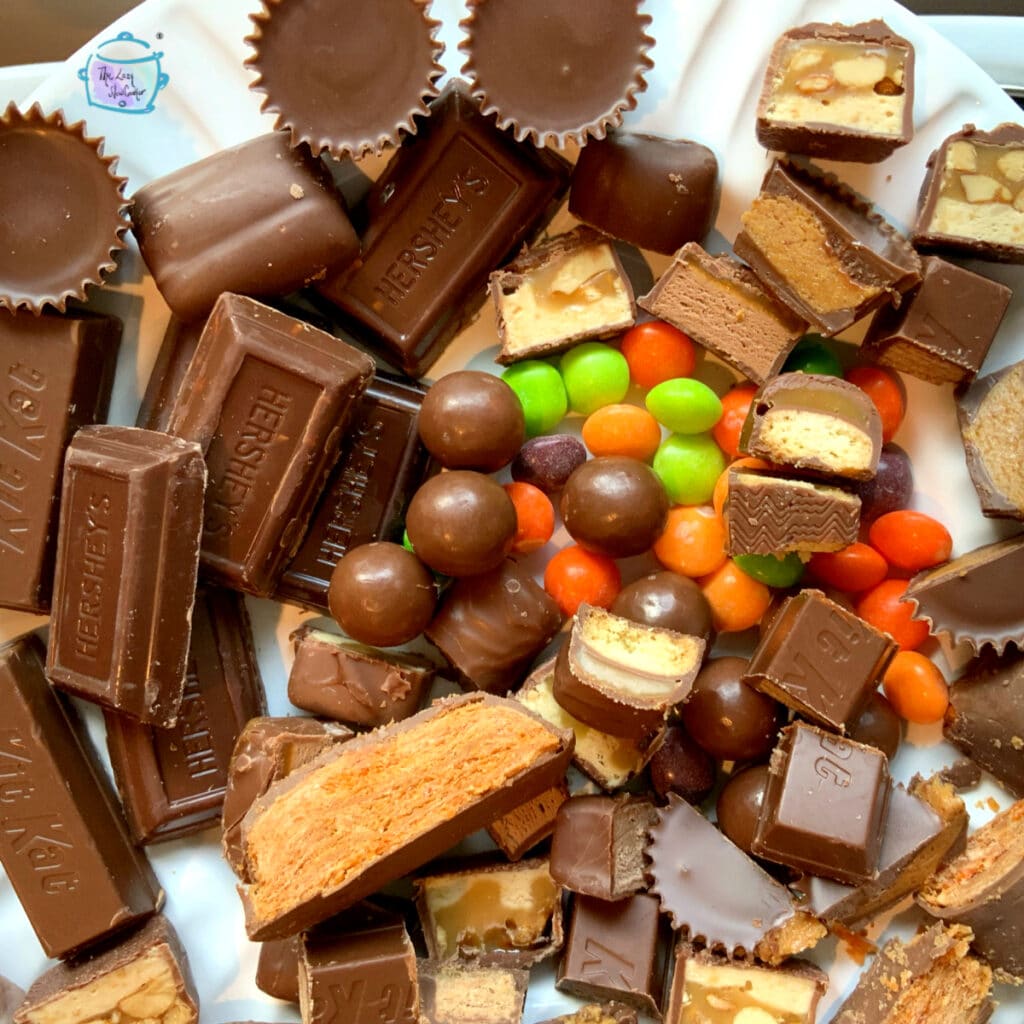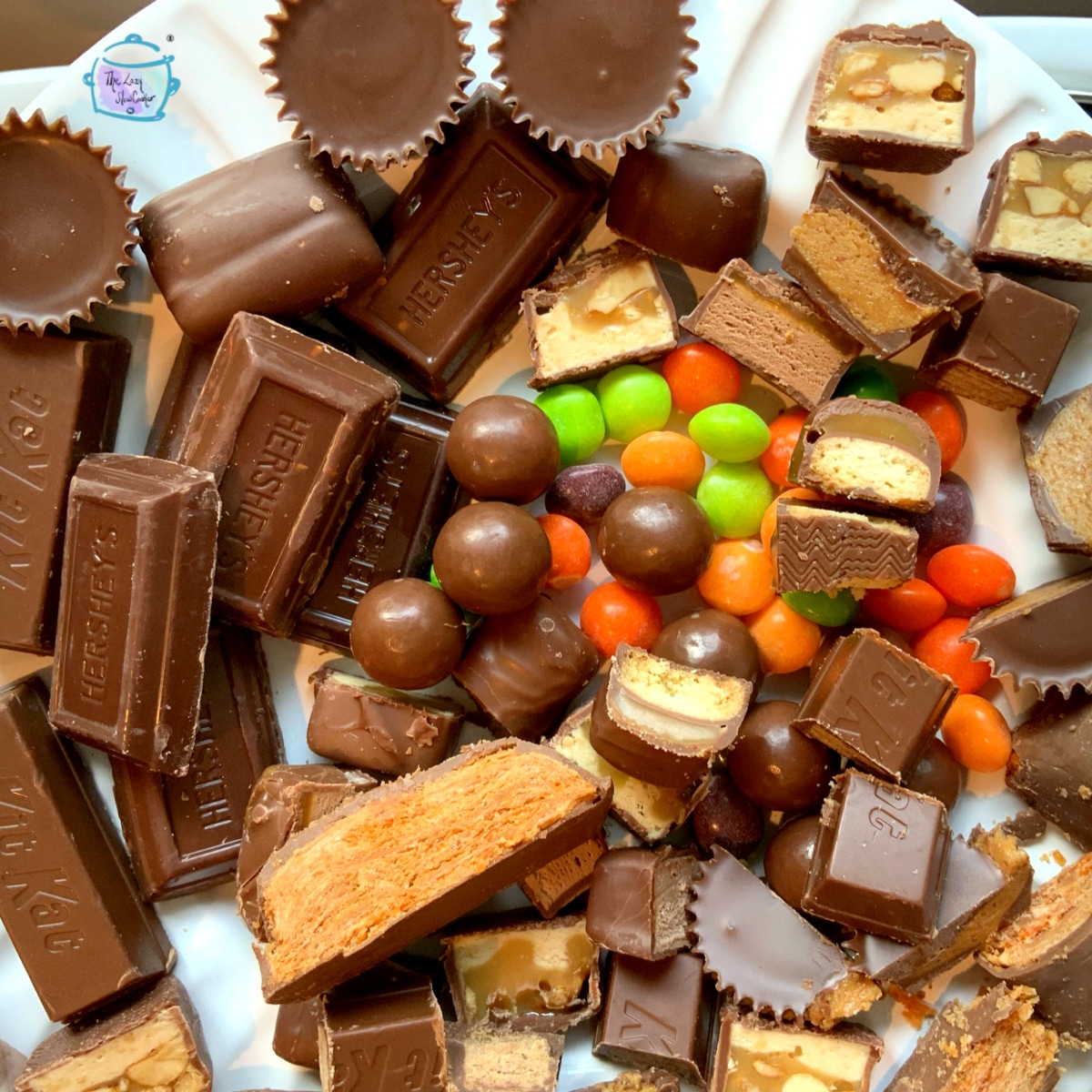 🥣Instructions
Start by lining your slow cooker with parchment paper. If you can, try placing it so it curls down rather than up. This will make it a little easier to add in the chocolate morsels.
Next, cover the bottom of your slow cooker with chocolate morsels. I am a milk chocolate lover. However, semi-sweet or bittersweet chocolate would be delicious too.
White chocolate chips, butterscotch chips, and peanut butter chips are also great alternatives.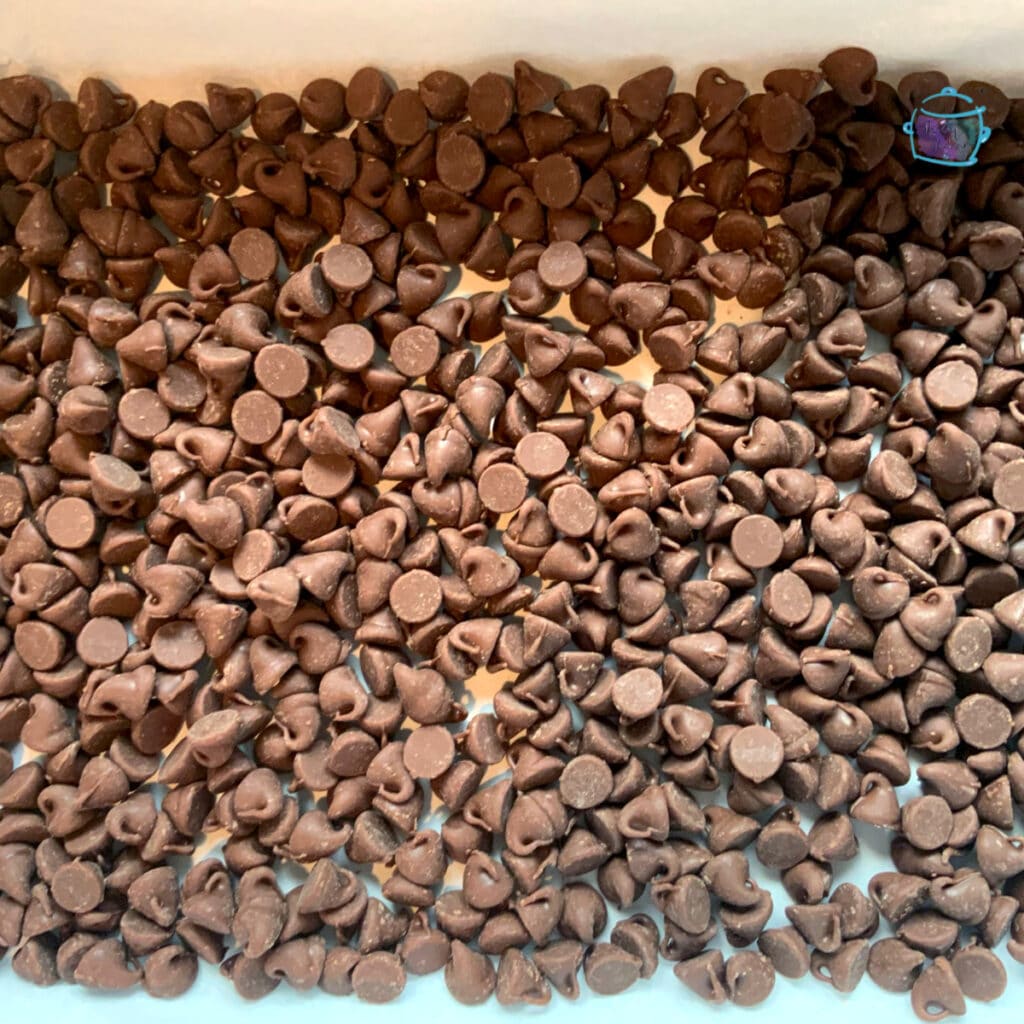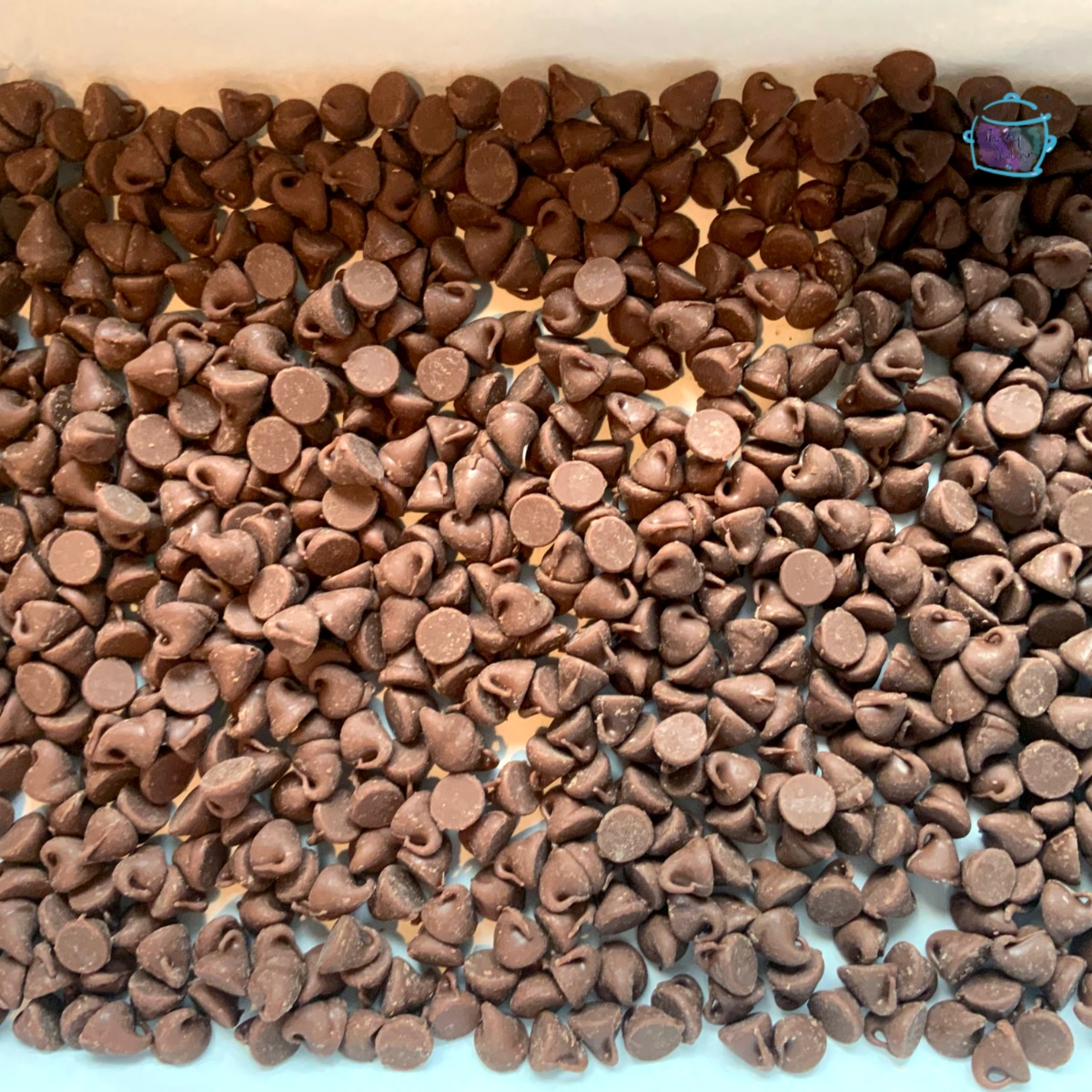 If you love this recipe, please let me know in the comment section below!
Place the lid on your slow cooker and cook on high for 15 minutes.
While your chocolate is melting, unwrap and prep your toppings. Small, bite-sized pieces are perfect for toppings. You may need to cut some larger candy into pieces to accomplish this.
Pro-Tip: Do not eat all the candy as you unwrap it 😉
After 15 minutes, check on your chocolate. It should look shiny and wet. This is a sign that it is melted and ready to go.
Use a rubber spatula or icing spatula to spread the chips into a solid chocolate bark layer. If the chips won't spread, you can place the lid back and check again in a few minutes.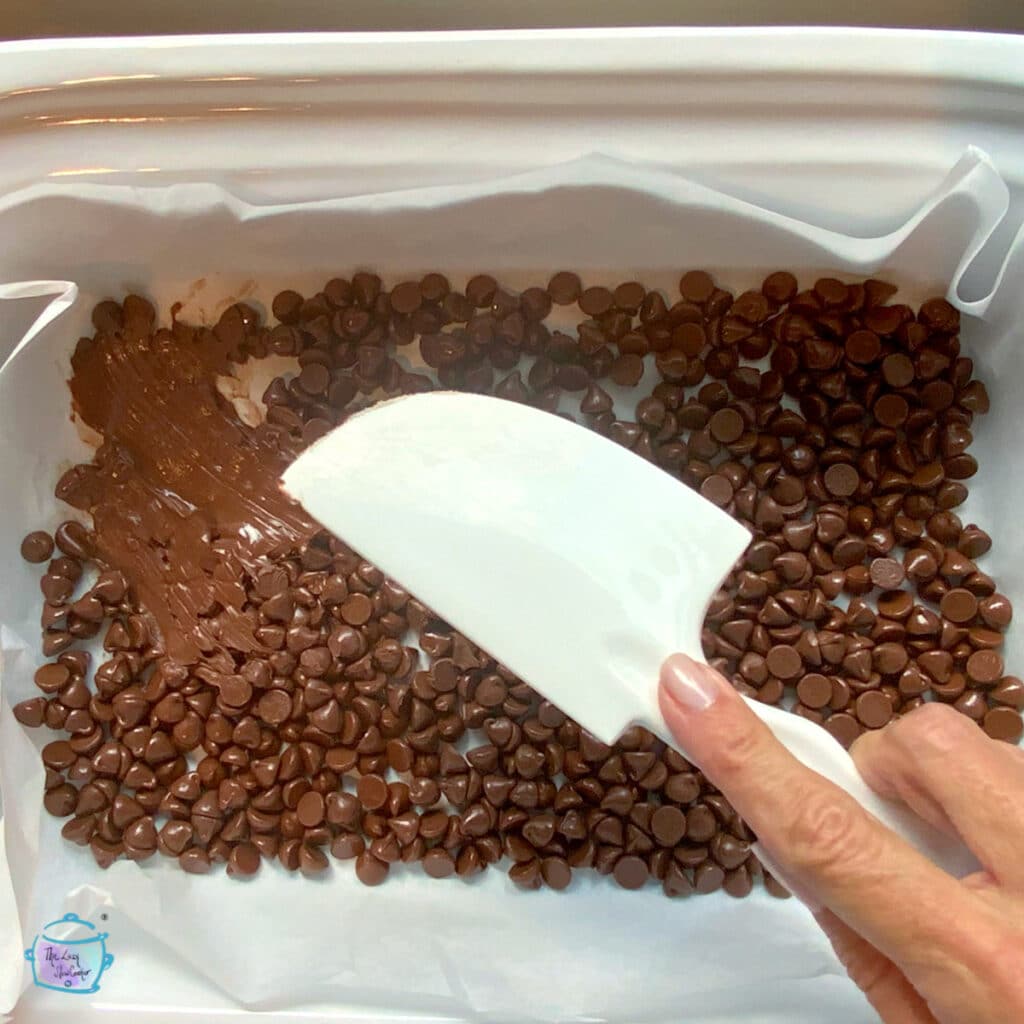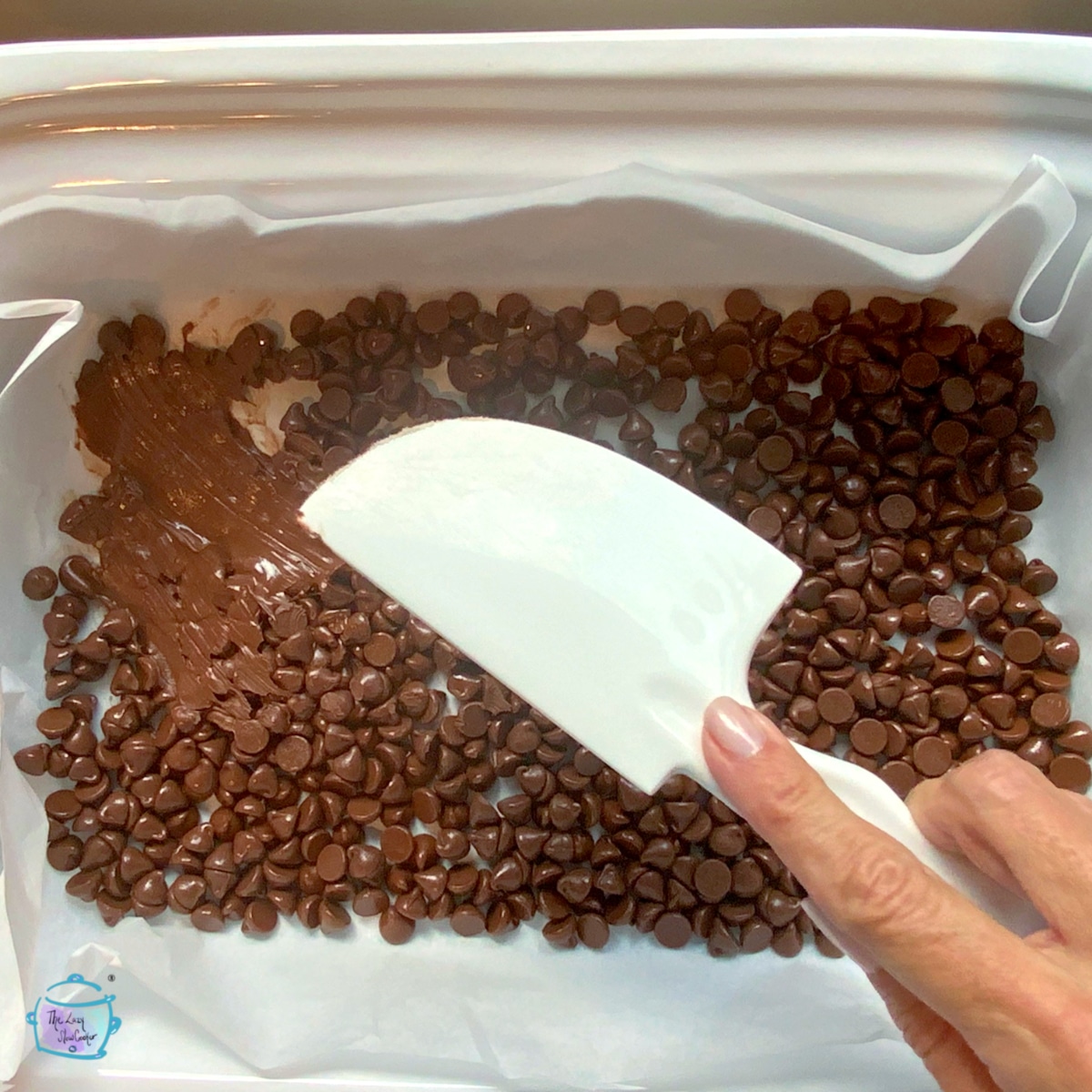 Next, turn off your slow cooker and carefully remove your chocolate bark using the ends of the parchment as handles. Slicing it onto a large cookie sheet right out of the slow cooker will make it easier to move.
Decorating
Decorate your leftover Halloween bark by gently pressing the bite-sized candy pieces into the melted chocolate. Make sure they are pressed in enough for the chocolate to securely hold them in place once it has hardened.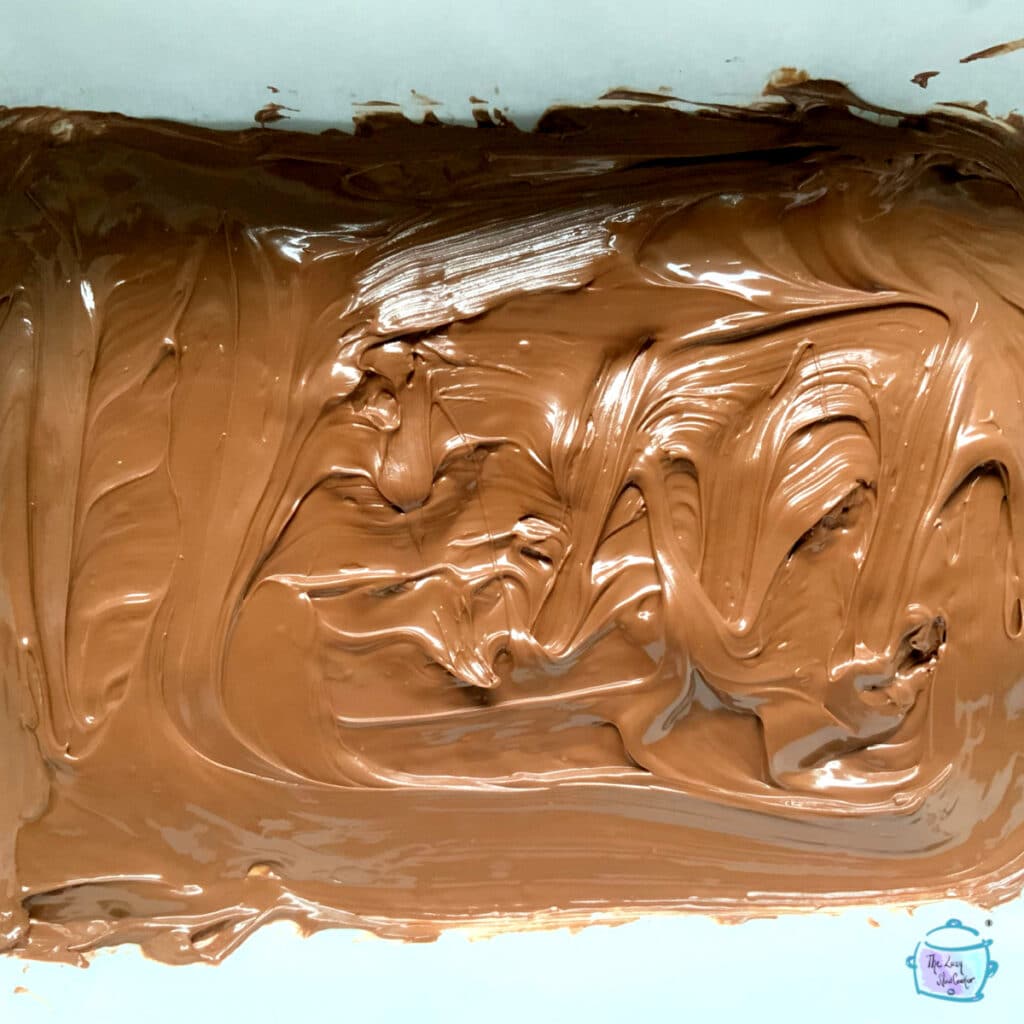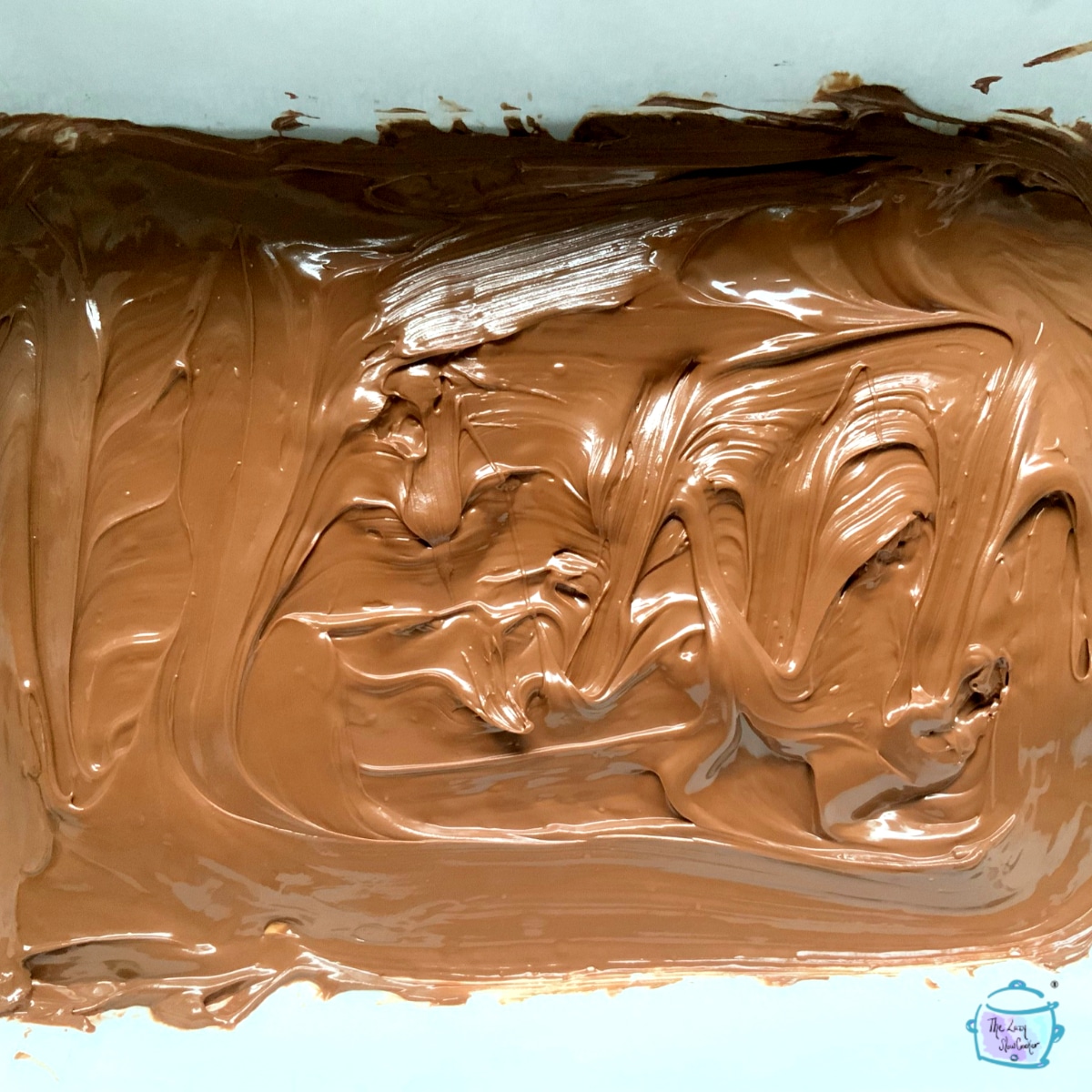 Allow your fun treat to harden fully before serving. You can do this by leaving it to sit out at room temperature. To speed the process up, place it on a flat surface in the refrigerator.
Once fully hardened, break or cut into serving-sized pieces.
Important note: chocolate pieces can go from melted to burned very fast. If the morsels closer to the outside of your slow cooker spread more easily than those in the middle, use your spatula to stir/smoosh the middle ones. This will help them melt and catch up to the outer morsels.
Topping suggestions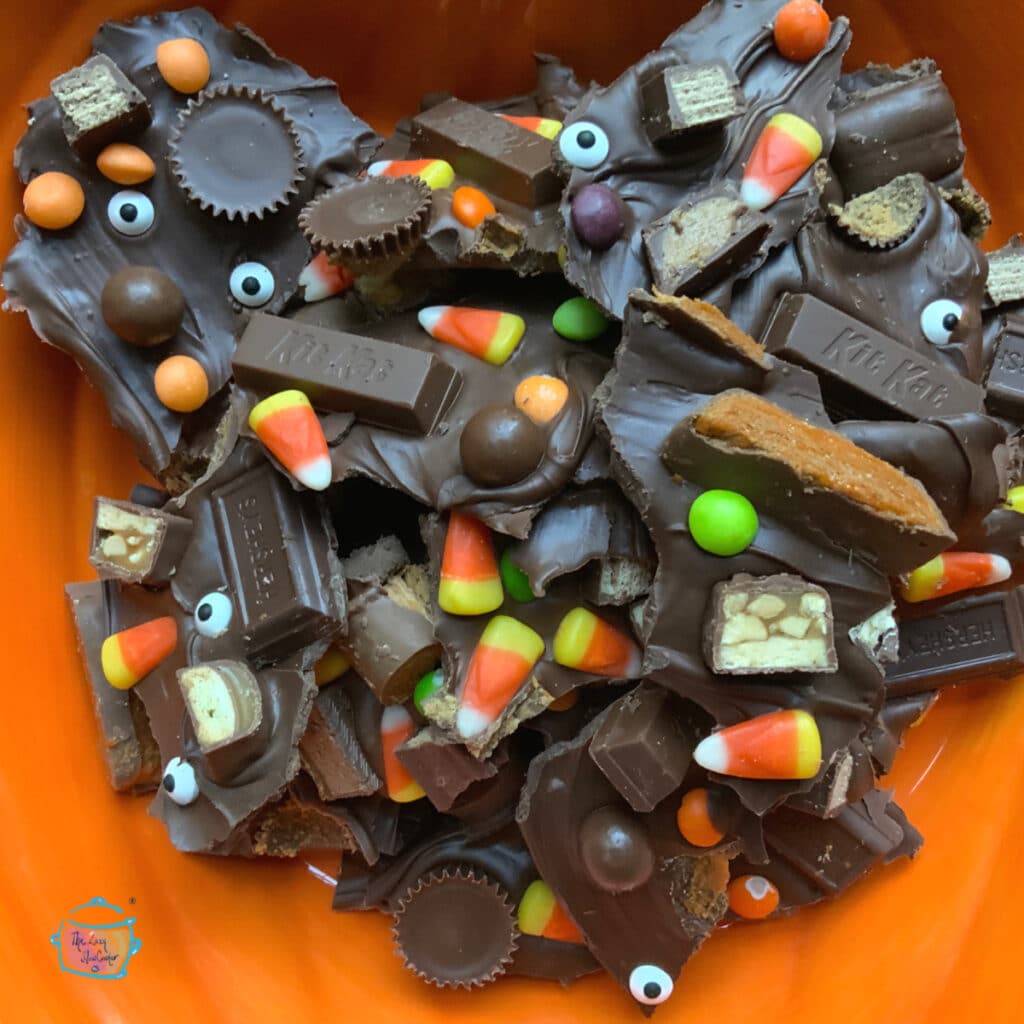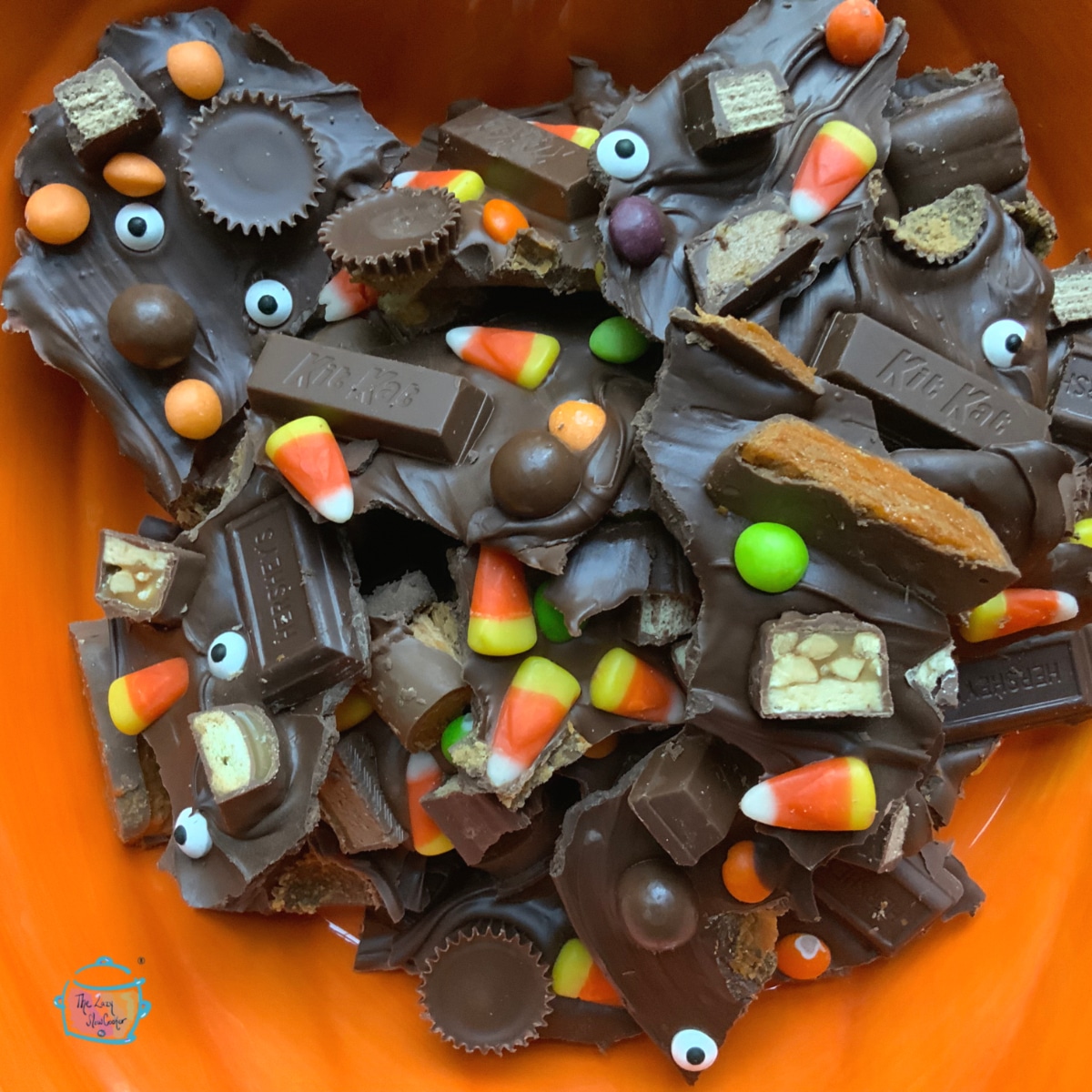 To decorate, I use a variety of whole "fun-size" candies mixed with some cut-up pieces. Placing cut pieces on their sides allows you to show off the yummy fillings.
While this recipe was designed for leftovers, supplementing for added variety and color is always fun too.
Some great topping suggestions:
Reese's pieces
Snickers bars
Reese's peanut butter cups - the mini ones are just right. If you have larger Reese's cups, cut them.
Mini Oreo cookies
Kit Kats
Candy eyes - this is especially fun if you make this great recipe to serve during Halloween
Milky ways
Chocolat Easter eggs
Shredded coconut
M&M's
Skittles
Candy corn or mini candy pumpkins
Marshmello chicks
Pretzel pieces - small or broken ones are best
any other favorite candies!
Pro tip: To get a clean cut of a chocolate bar, run a sharp knife under super hot water and dry it off. It will make cutting the chocolate much neater.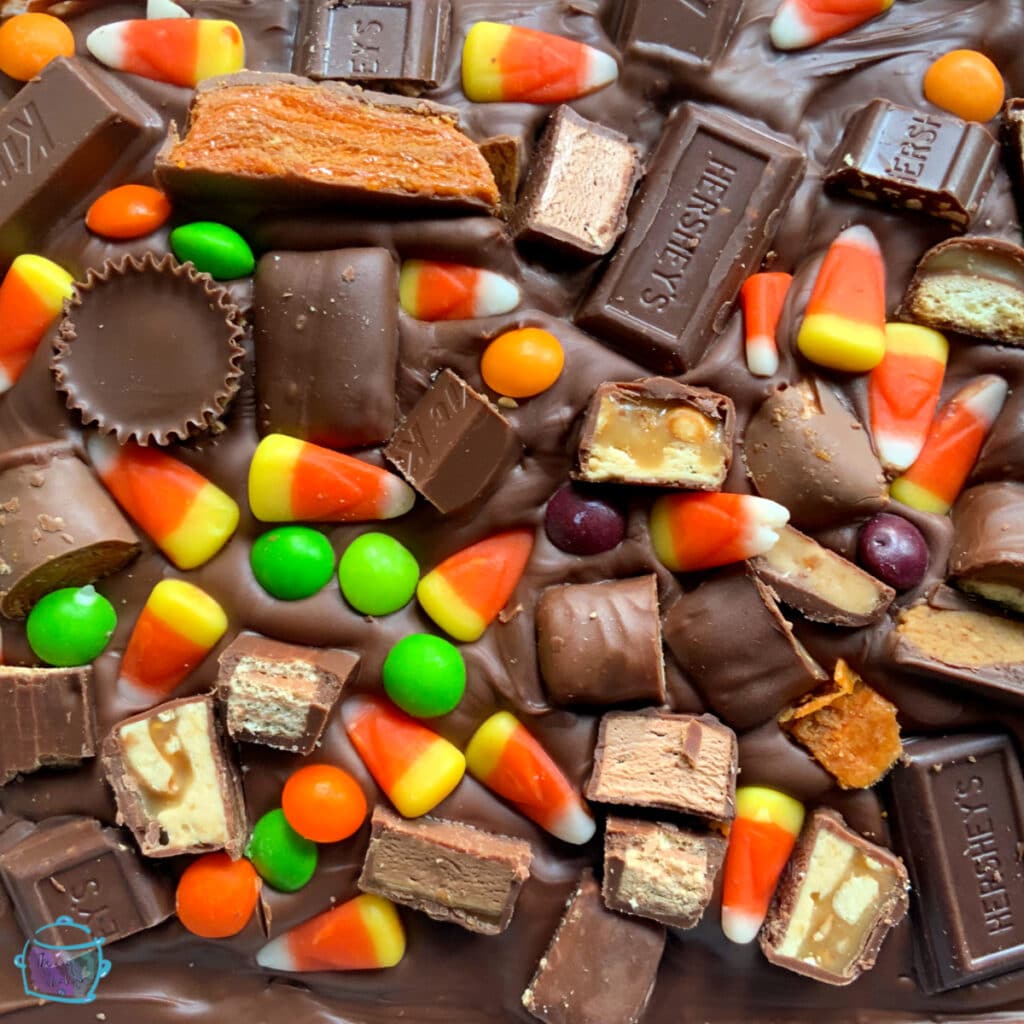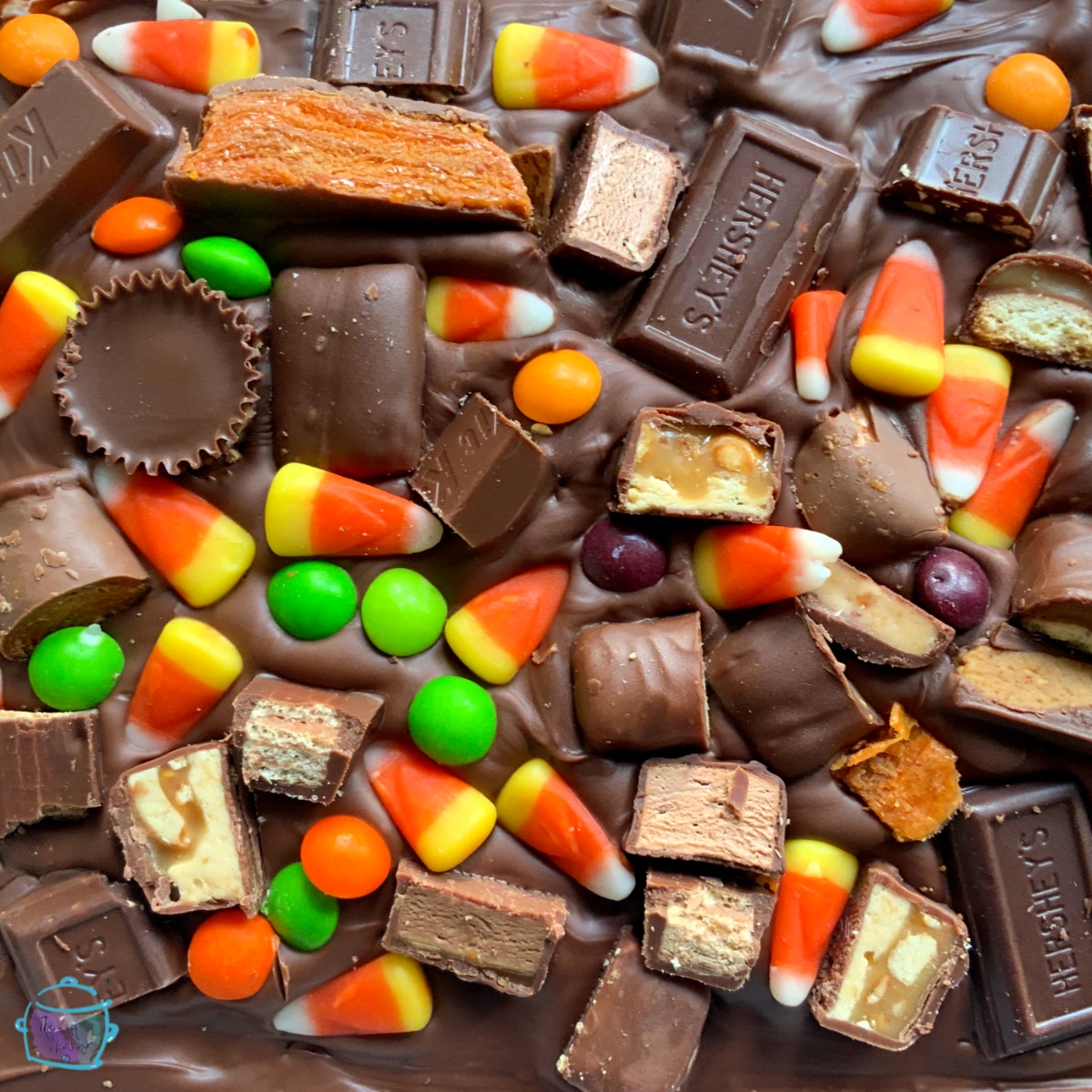 Storing leftovers
Store this easy Easter (valentines day, Halloween, etc) dessert in an airtight container or bag. It can be kept on the countertop at room temperature or in the refrigerator or freezer.
Freezing is perfect if you plan to serve it in the future (I often serve Halloween leftovers at Thanksgiving !) Or if (like me) you just want to have some on hand to feed your sweet tooth.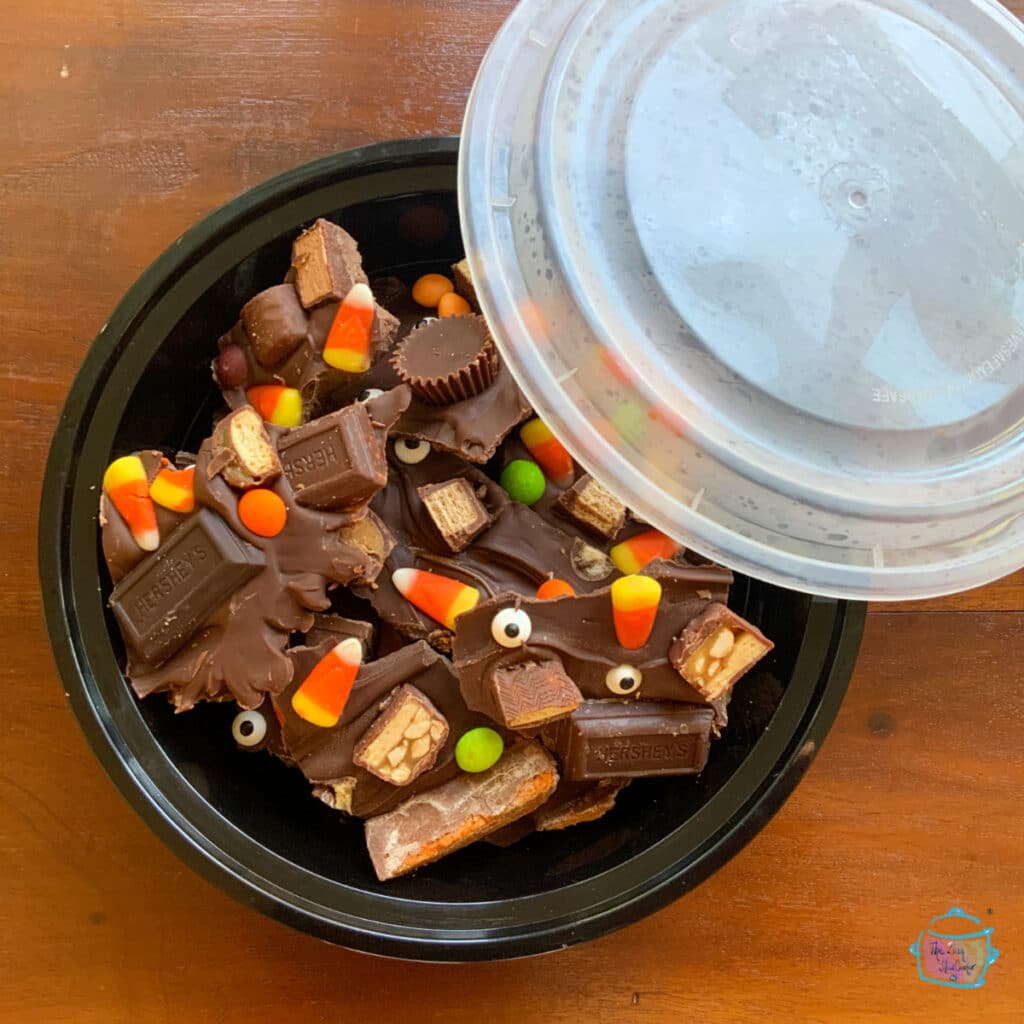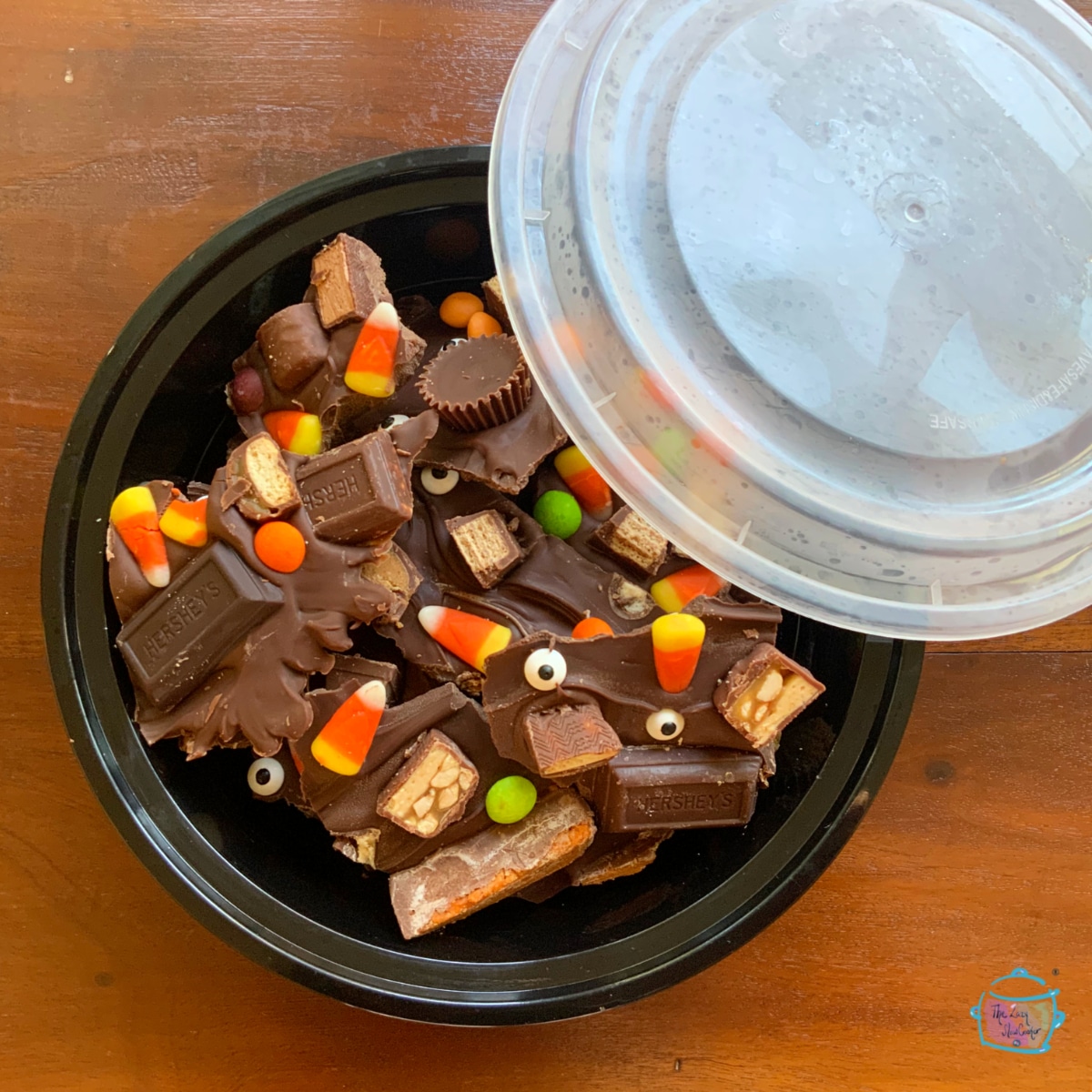 😉Hints & hacks
This is not just a leftover Halloween candy bark recipe. It is the perfect way to make an easy treat any time of year or holiday season. It is great with leftovers from Christmas, Valentine's Day, Easter, and more. Candy canes, conversation hearts, and chocolate eggs are amazing additions to this crock pot goodie.
Spray your spatula with non-stick spray before using it to keep chocolate from sticking and help with clean-up.
This doesn't have to be made with just leftovers! Use your favorite chocolate bar or pieces of candy in advance of an upcoming event too. This recipe can be the best way to customize a dessert for everything from a baby shower to a birthday party.
This is one of those simple recipes that is fun to make with kids. Just make sure to keep them a safe distance from the slow cooker as it and the melted chocolate will be hot!
If you have more leftover cookies than candy, Oreo bark is another amazing slow cooker chocolate recipe. Nuts are also perfect for making delicious crockpot candy.
As an Amazon Associate, I earn from qualifying purchases and affiliate links.
📖 Recipe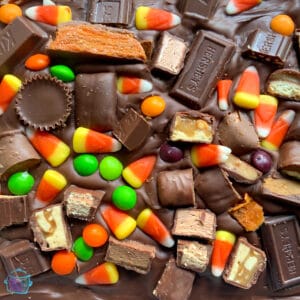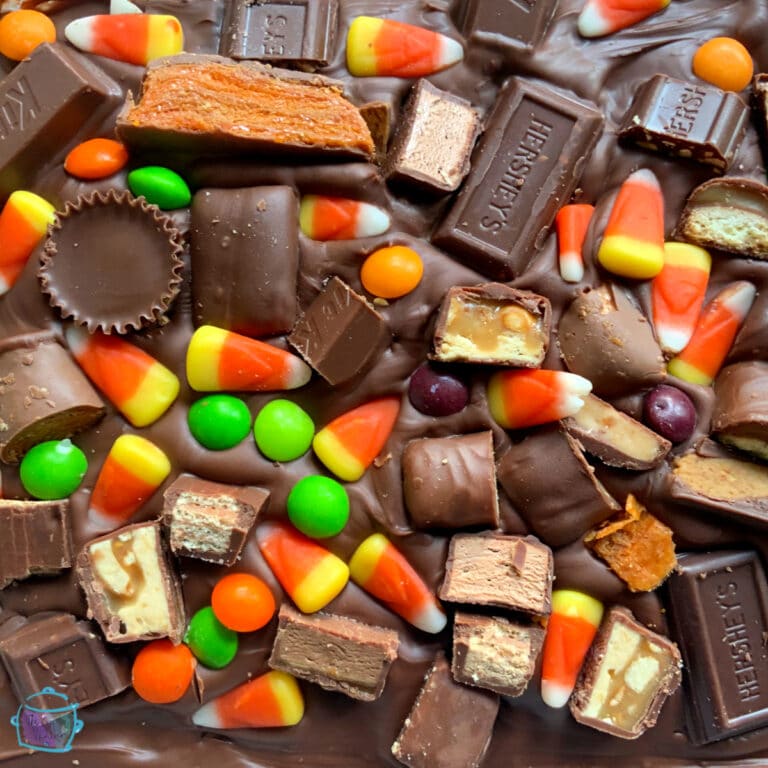 Leftover Candy Bark [Slow Cooker]
Leftover candy bark is an easy recipe designed to repurpose extras into a yummy treat worthy of being served to guests. This easy dish will make you look forward to the day after Halloween, Easter, and every other candy-laden celebration!
Print
Pin
Rate
Save
Saved!
Equipment
3.5 quart slow cooker or larger

parchment paper

Rubber spatula
Ingredients
16

oz

milk chocolate chips

leftover candy

You can supplement with some of your choosing for color or variety
Instructions
line slow cooker with parchment paper

While chocolate is melting, cut all candy into bite-sized pieces. If all of your leftovers are one color (such as all milk chocolate, you may want to supplement your stash with some color and/or different flavors).

cover bottom of slow cooker with a single layer of chocolate chips. The chips should be tightly packed together, but remain mostly in just one layer.

place lid on slow cooker and cook on high for 15 minutes

check on chocolate chips. They should look mostly glossy and melted enough to spread easily. The very middle may be a little less done and that is ok.

use your spatula to spread chocolate chips into one even layer all around the bottom of your slow cooker.

remove carefully from slow cooker using the ends of your parchment paper.

Press broken candy pieces into melted chocolate.

Allow to cool until all chocolate has rehardened. To speed this process up, you can place your creation on a flat shelf in the refridgerator. Be very careful moving your melted chocolate, you may need to support the middle with a board or plate to keep it from bending during the move.

Once all chocolate is cooled and hardened, break into serving-sized pieces.
Nutrition
Calories:
252
kcal
|
Carbohydrates:
31
g
|
Protein:
4
g
|
Fat:
13
g
|
Saturated Fat:
9
g
|
Polyunsaturated Fat:
1
g
|
Monounsaturated Fat:
1
g
|
Cholesterol:
6
mg
|
Sodium:
63
mg
|
Potassium:
101
mg
|
Fiber:
1
g
|
Sugar:
28
g
|
Calcium:
19
mg
|
Iron:
1
mg
Check out my latest on Instagram: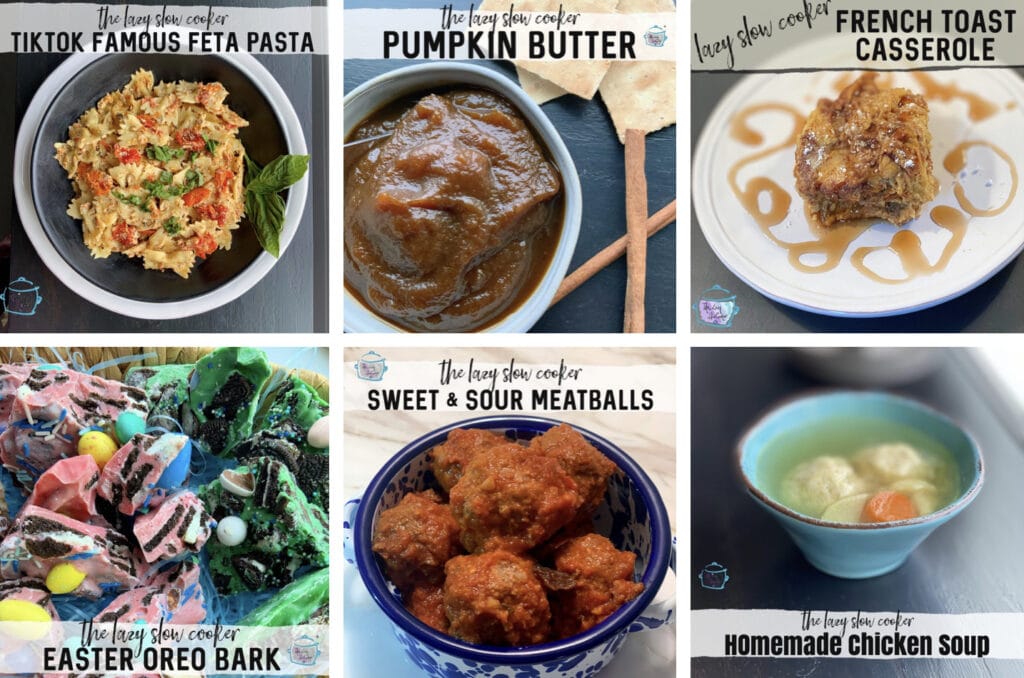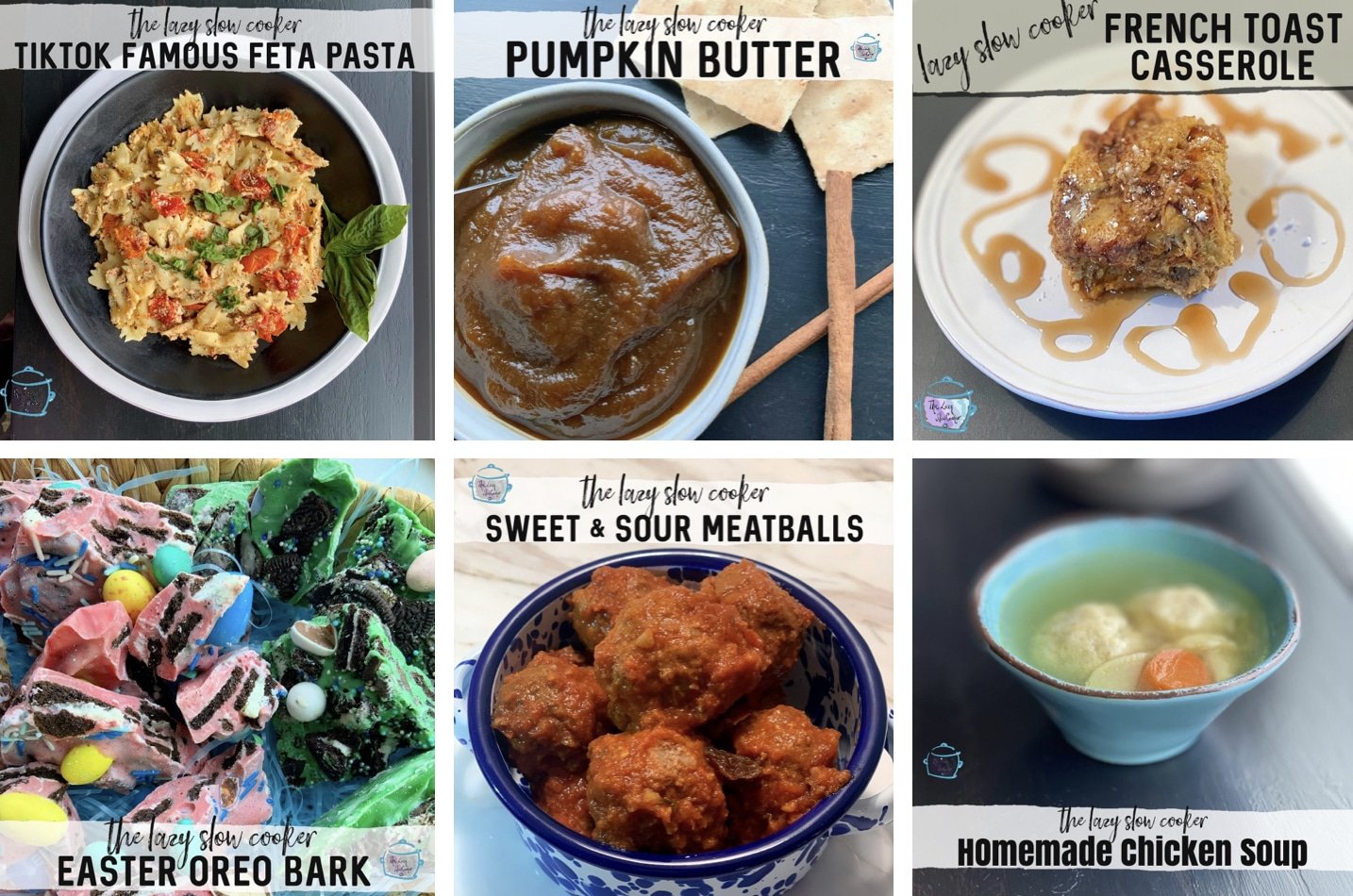 If you have tried this recipe, please let me know what you thought in the comment section below. Thanks!