Jump to Recipe
Slow cooker Oreo bark is an easy, sweet treat that is fun to make. Melted chocolate, crushed Oreos and your choice of candy decorations make this a wonderful addition to any celebration.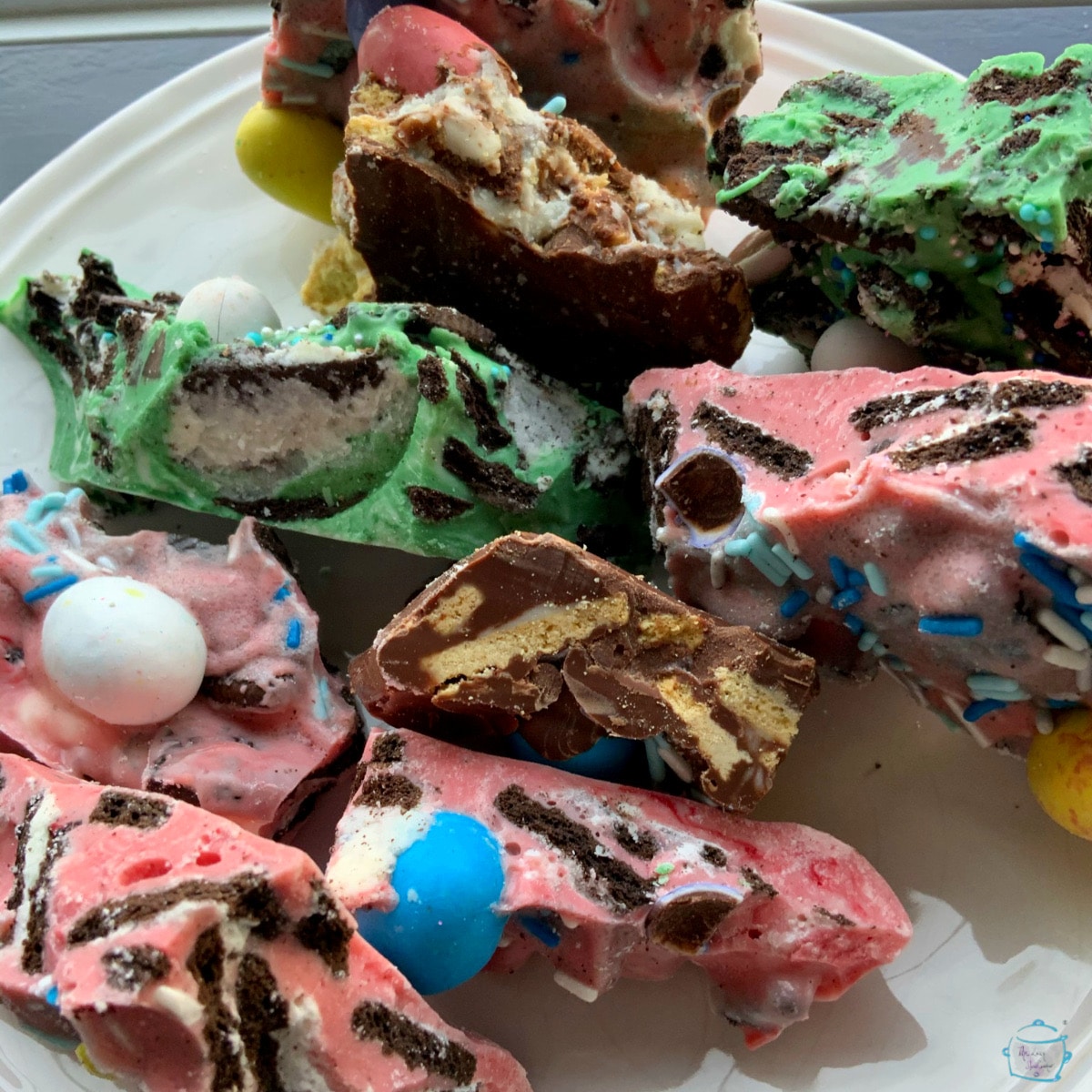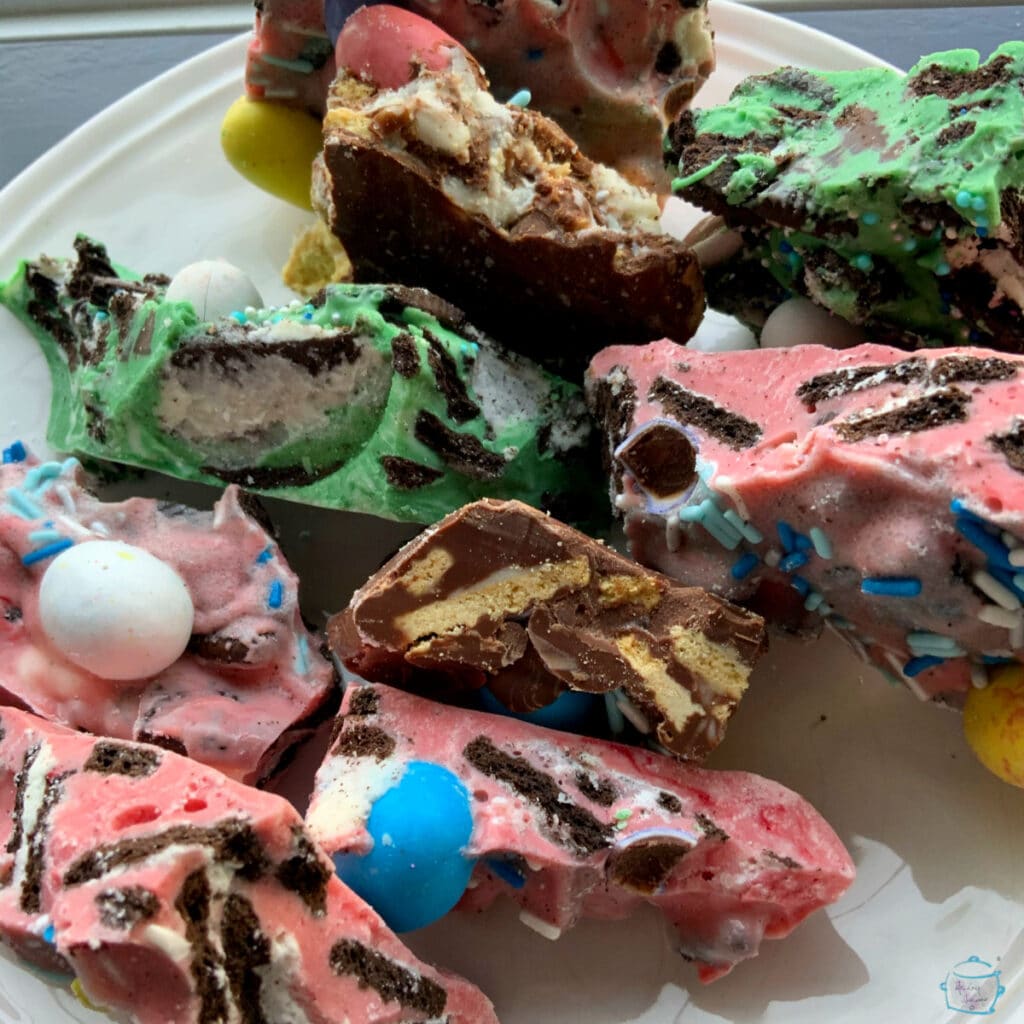 Where are all my chocoholics at? This one's for you! Never enough chocolate, as far as I am concerned and this recipe, made with chocolate and Oreos, is a real winner.
Needless to say, this is fun to make. Even the "mistakes" are awesome. So break out that slow cooker and practice, practice, practice!
Jump to:
🍫Ingredients
To make this yummy chocolate treat you will need:
Chocolate morsels. (White, semi sweet or milk chocolate)
Oreos
Fun toppings
And...if you are making it for a themed event/holiday, some colored melting/coating wafers.
Click here for exact quantities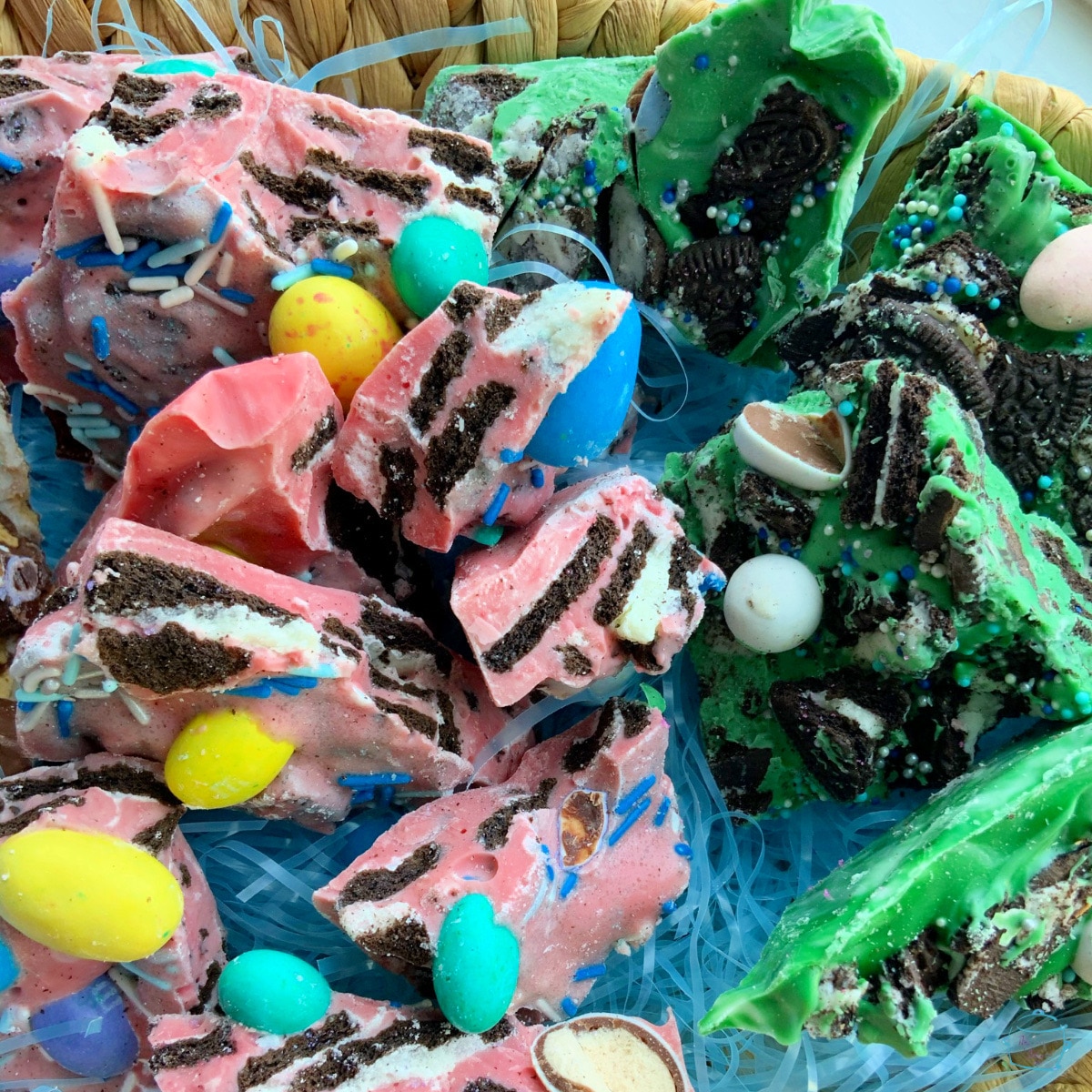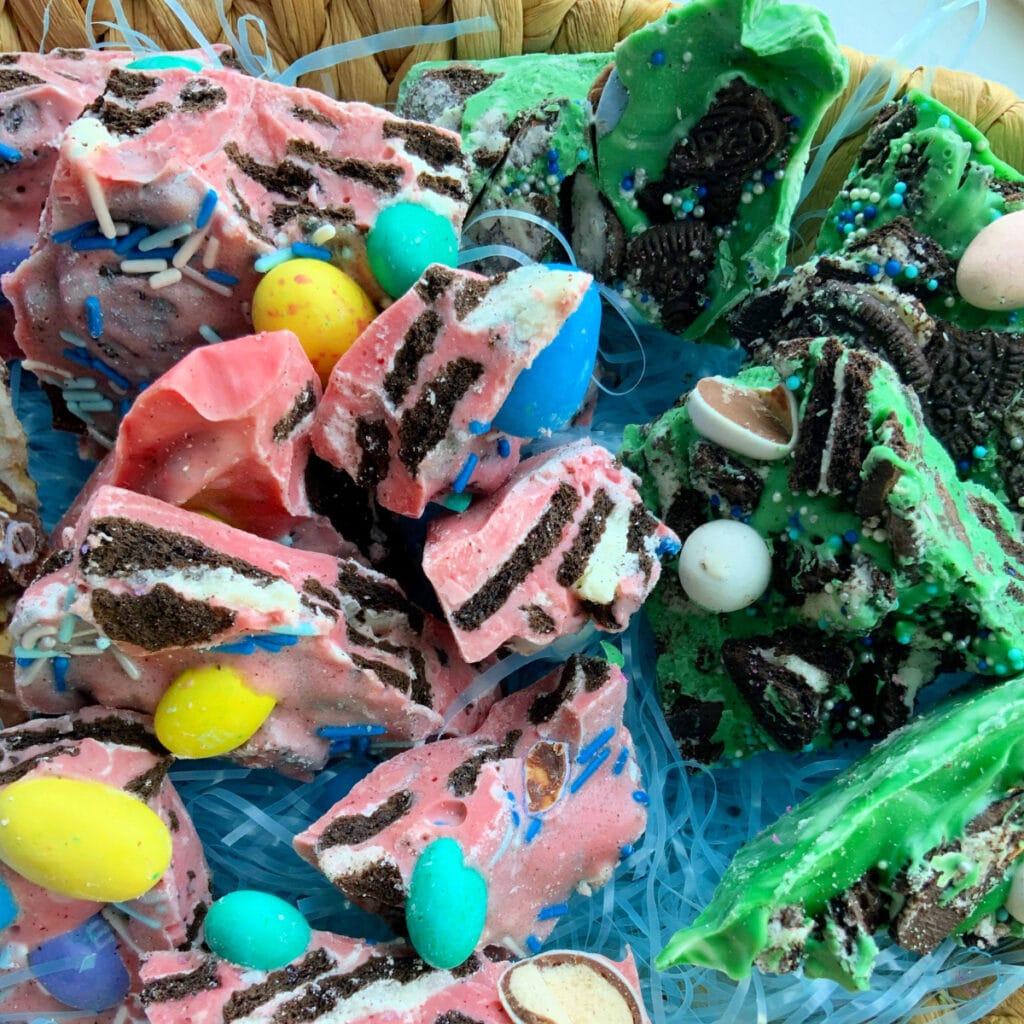 Select your pairings
Your first choice is what flavor/color morsels to use. White chocolate is the most flexible because you can turn it into just about any color bark by adding in a small handful of colored melting wafers.
To make the light green color pictured, use two bags of white chocolate morsels and 30 dark green melting wafers. To make the pink bark pictured, use the same amount of white chocolate with about 20 red wafers.
Milk chocolate and semi sweet chocolate are delicious in their own right (so delicious, in fact, who cares what color they are!?!).
The next decision is the chocolate/Oreo pairing. I like to use chocolate Oreos pretty exclusively. But, when using milk or dark chocolate chips, golden Oreos make for a nice visual contrast.
Feel free to experiment with any Oreo/chocolate combo that sounds fun to you. Oreo has come out with so many new flavors and filling colors that you can really have fun with this!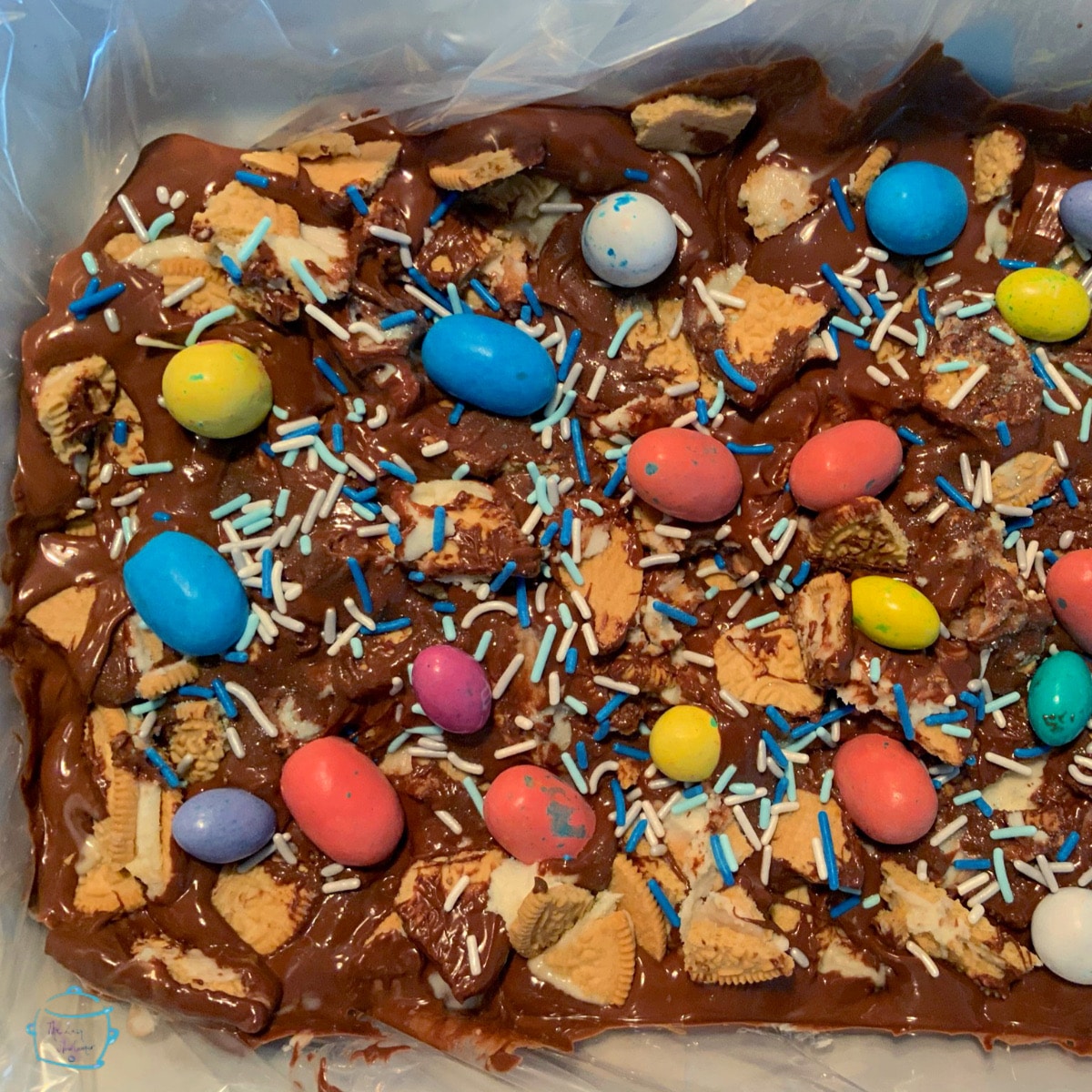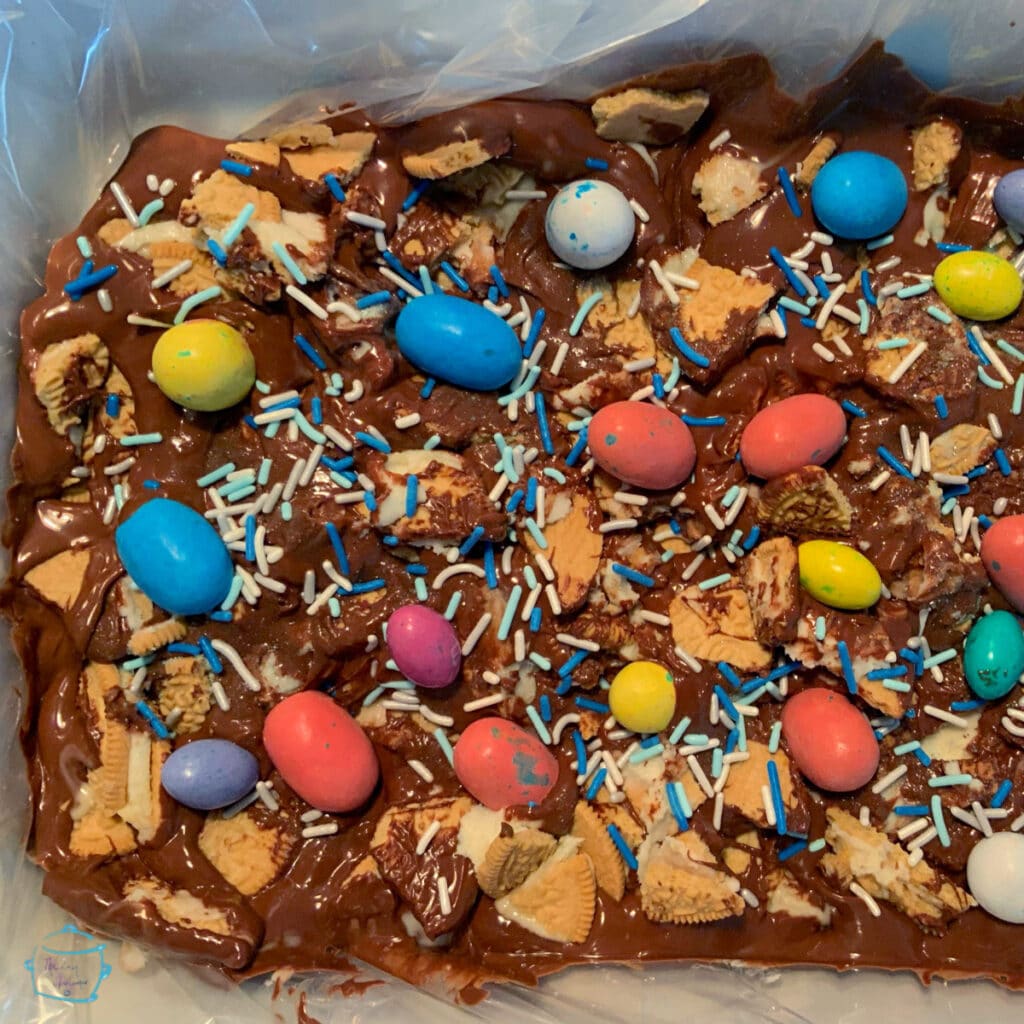 🍲Method
1. Starting
Start by lining your slow cooker. I have made this cookies and cream bark with both slow cooker liners and parchment paper. The liner was a little easier to work with, but the parchment paper did the job just as well, if that is your preference
Next, add chocolate morsels and melting wafers (if using) to your crockpot. Cover and cook on high for 15 minutes. After 15 minutes, remove lid and stir. Replace lid and repeat every 15 minutes until chocolate is fully melted and smooth from stirring.
In my Casserole Crock-Pot, morsels melt fully within about about 30 minutes. But, each slow cooker is different. This is not a recipe you can leave for long periods of time like most slow cooker dishes. The chocolate will burn if unattended.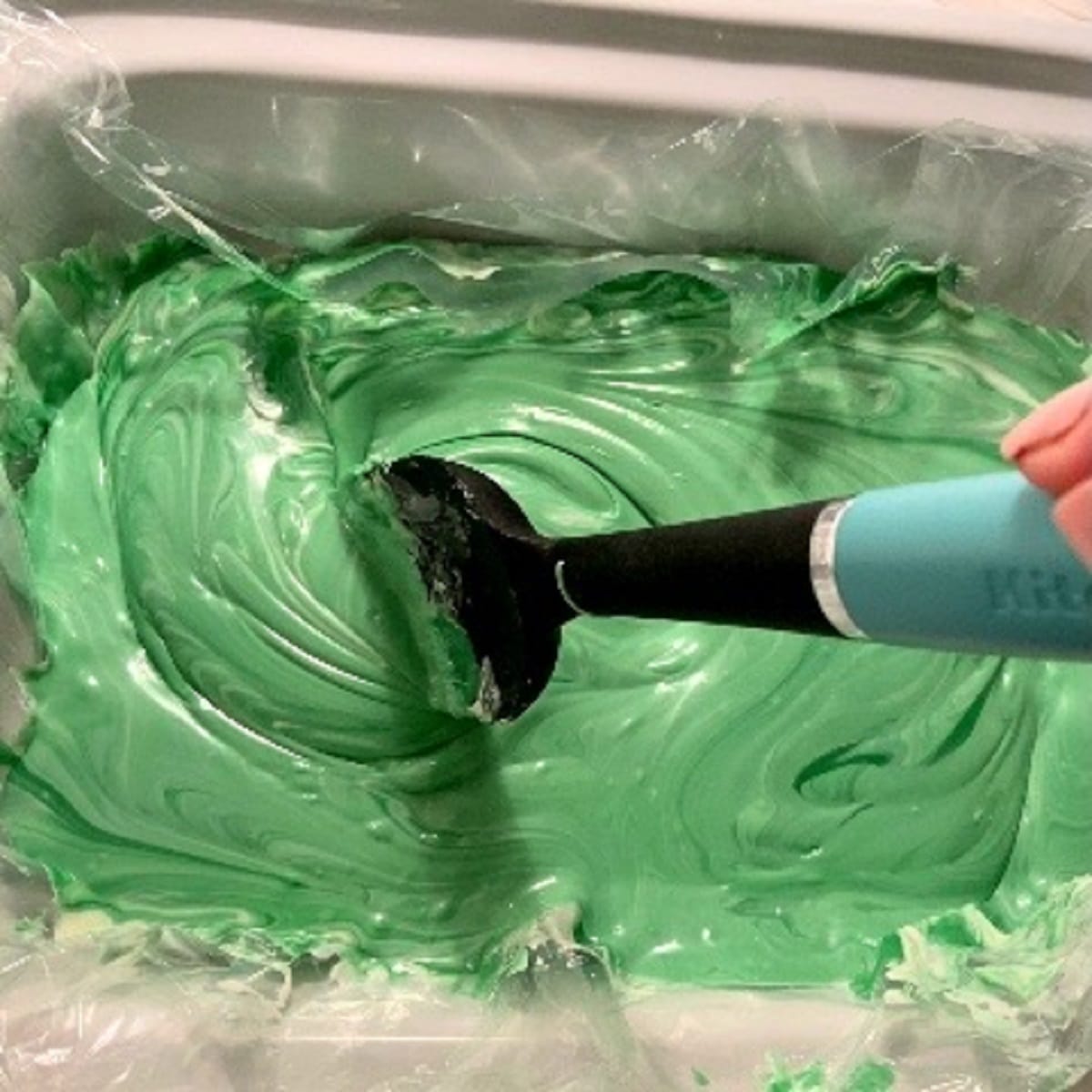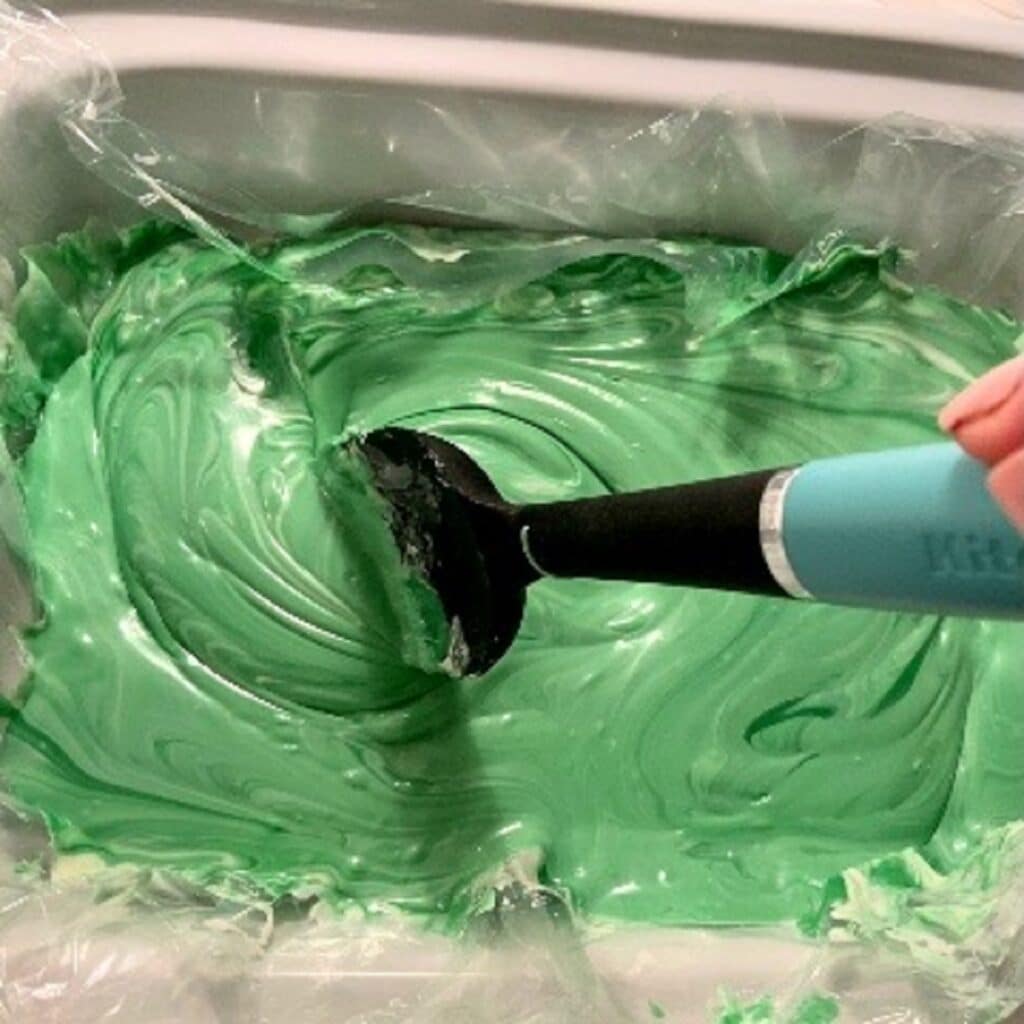 2. Combining
While morsels melt, place Oreos in a fully close-able bag, such as a zipper top bag. Break up Oreos in the bag. I prefer to do this by hand because I like larger chunks (and it is a great way to get out any pent up frustration!). However, a rolling pin works if you would prefer to really crush your cookies. This is a fun task for any little helpers you may have!
When chocolate is fully melted and smoothly stirred, turn your slow cooker off, add crushed Oreos and stir gently again to combine. If you want pieces of cookie visible on top, leave some sticking out and not fully coated with melted chocolate.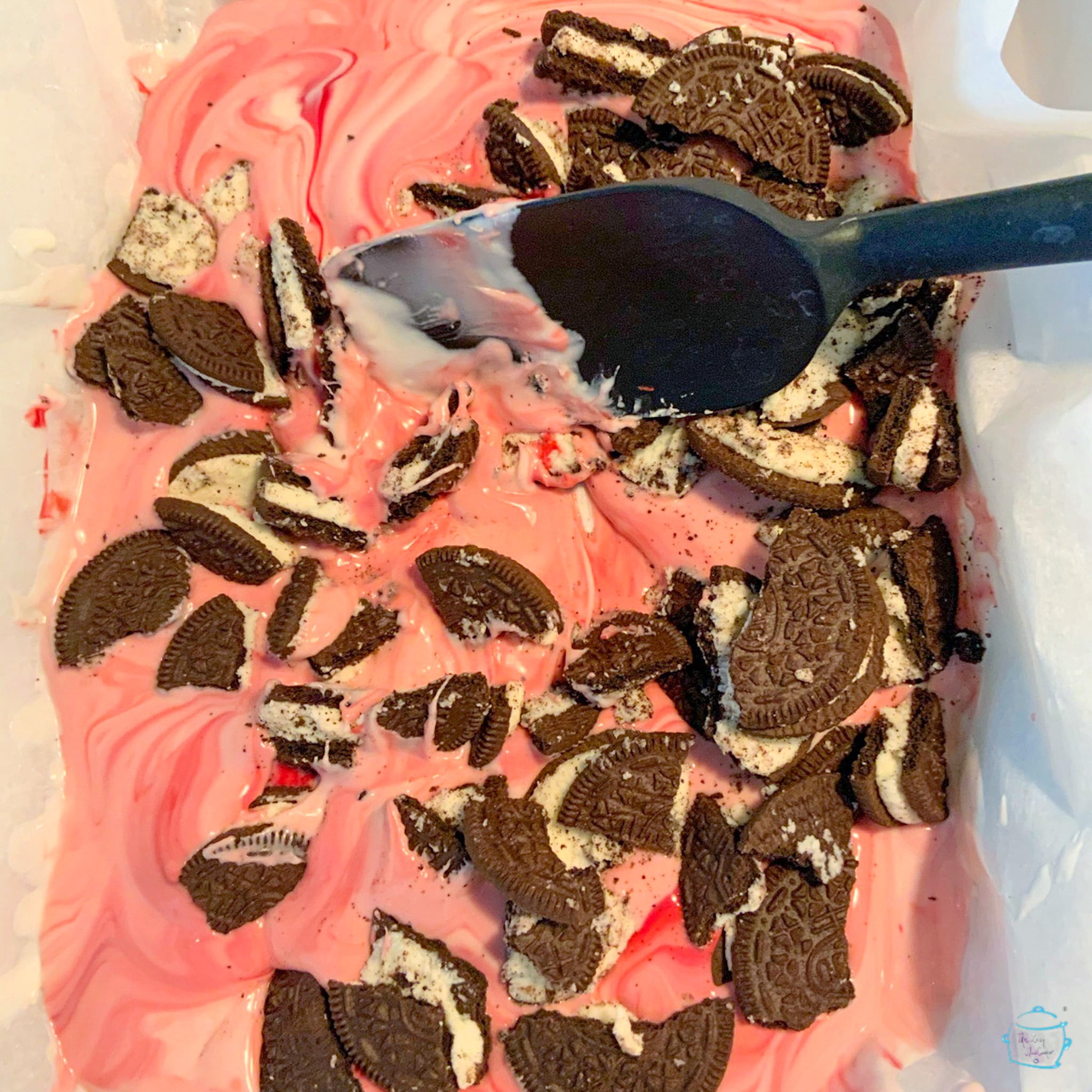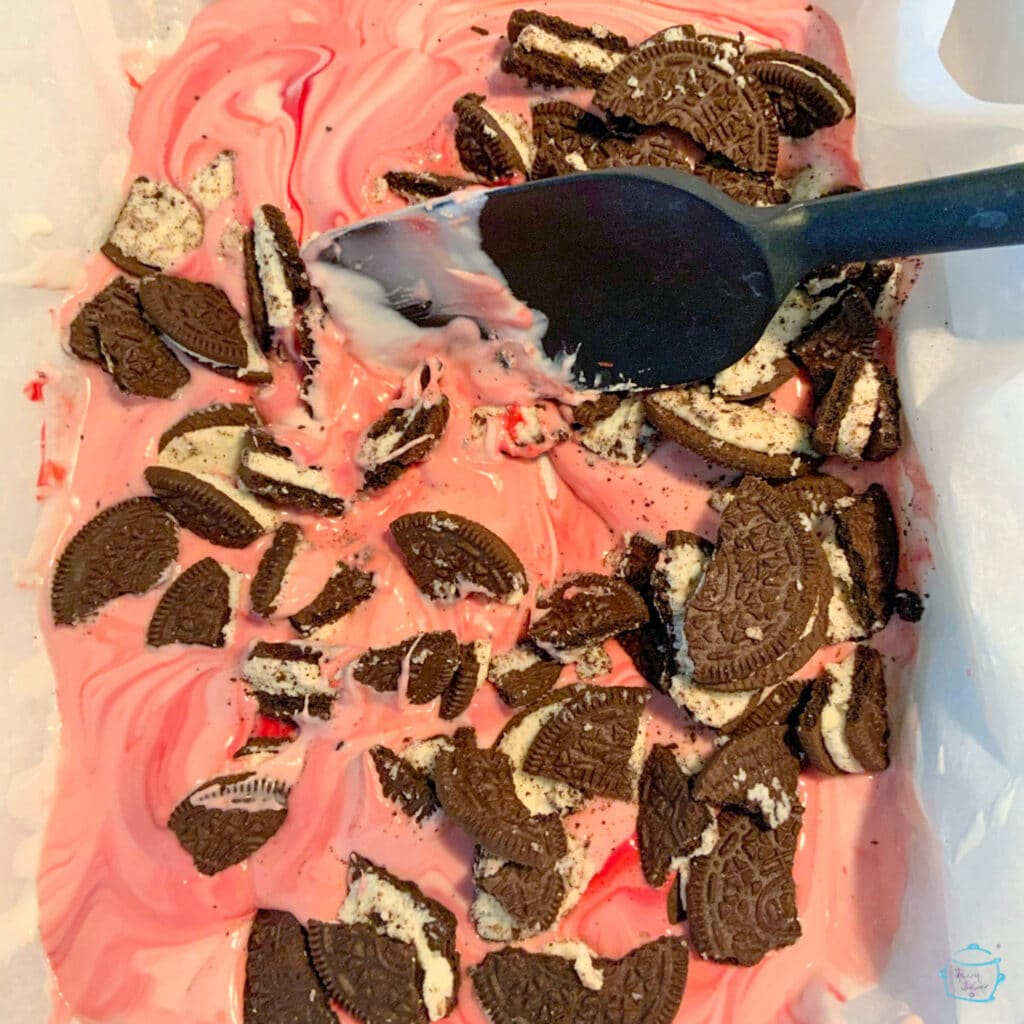 3. Finishing
Once your ingredients are as mixed as you would like them, use a spatula or spoon to spread mixture out around your slow cooker in an even layer. Your bark is technically finished at this point - OR - you can decorate! The bark pictured below is decorated with using egg shaped M&Ms, malted milk eggs, sprinkles and colored sugar. Just be sure to add decorations before chocolate has a chance to harden.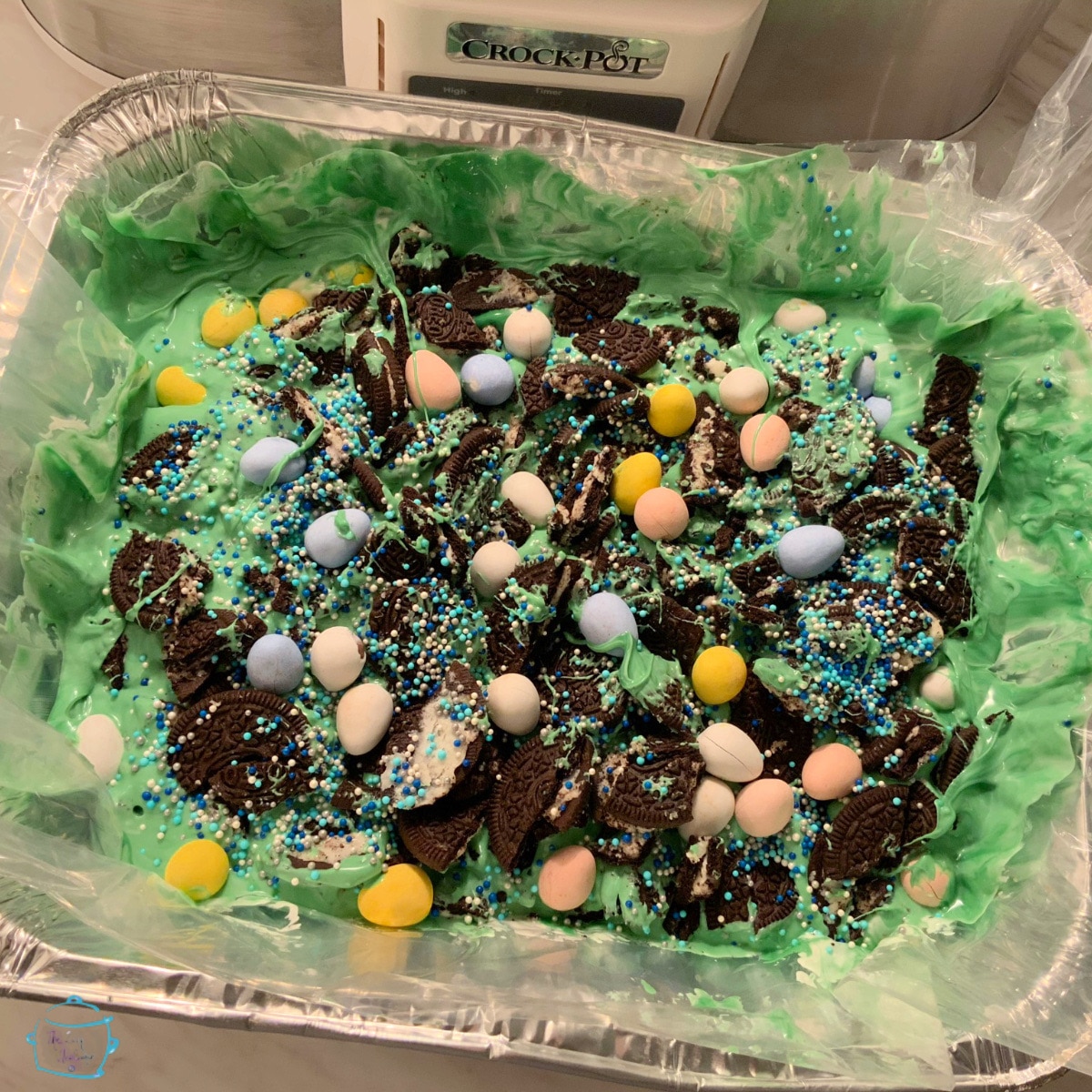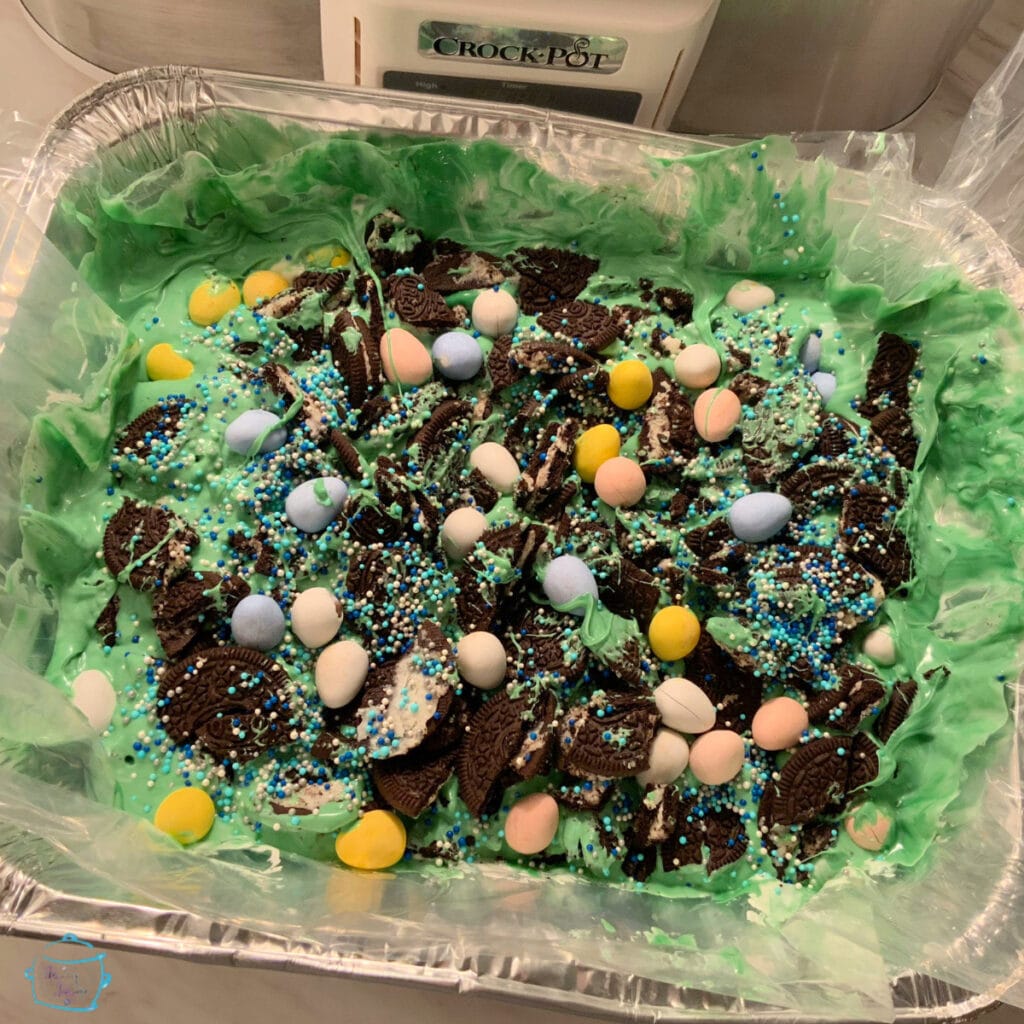 If you are not in a rush, you can just leave your bark where it is to cool and harden. However, it can take quite a while if you leave it as is. Some faster cooling options are:
Remove ceramic insert from slow cooker (carefully with oven gloves, it will be hot) and place on a heat safe surface (such as a cook top or trivet). This will speed up the process a little
To speed things up more, you can grab the ends of the liner you are using and carefully move your hot bark from the slow cooker vessel to a cool , but structured pan, such as a casserole dish.
In a real rush? Place the casserole dish holding your melted bark into your refrigerator. Your slow cooker oreo bark should be ready in about an hour or so.
When cooled, break or cut bark into serving sized pieces.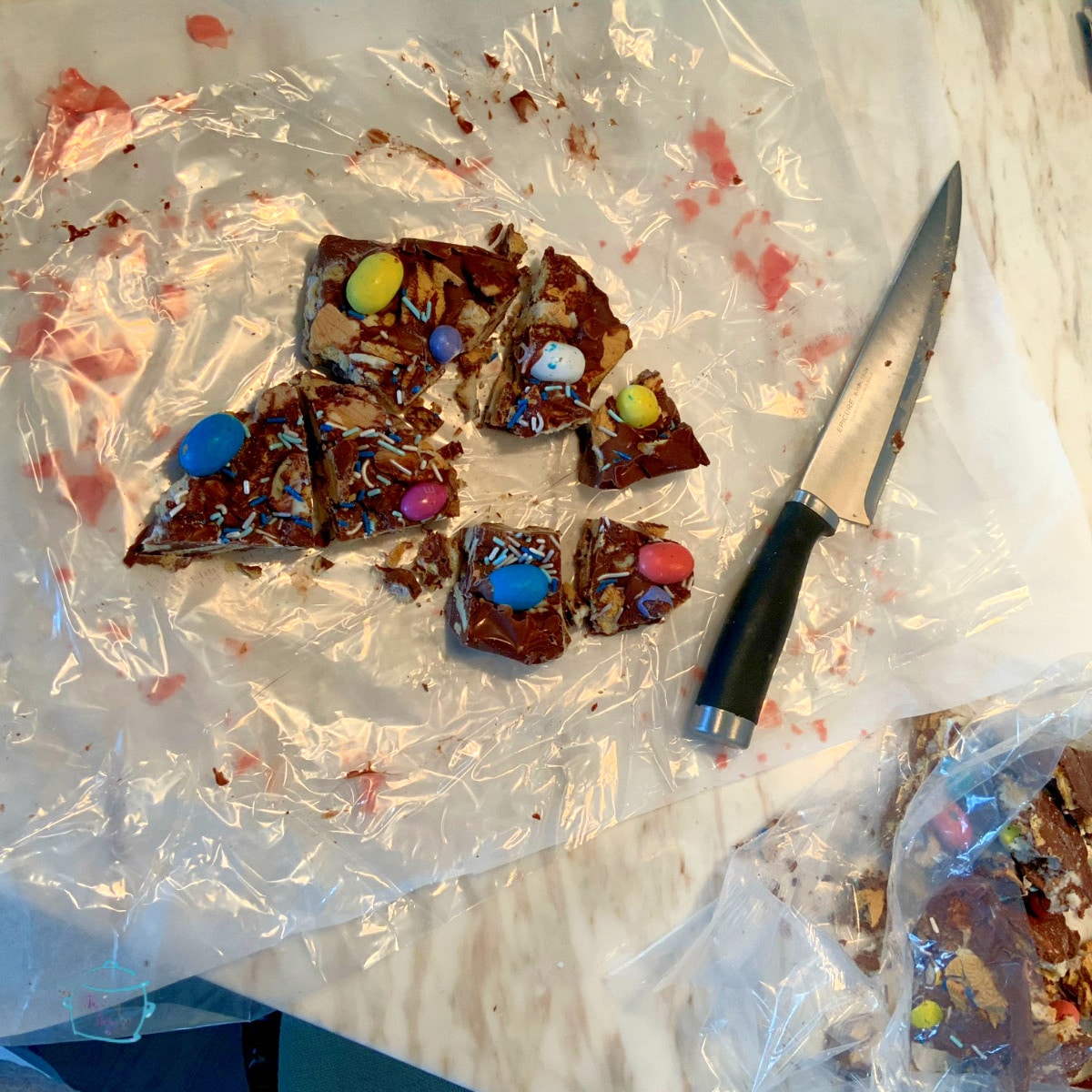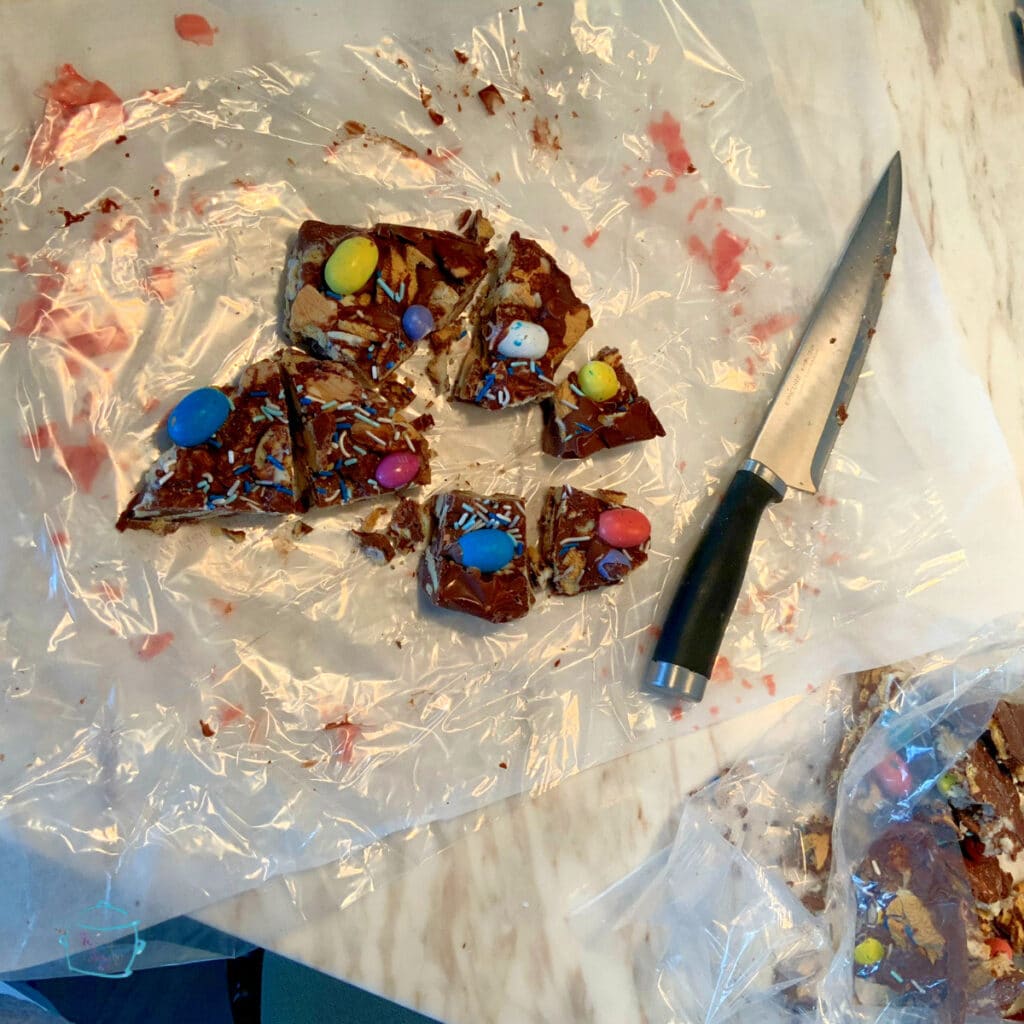 😉Hints and hacks
Any brand sandwich type cookies would work here, they don't have to be Oreo brand.
To help cool bark fast, place in the refrigerator. Do NOT place ceramic insert in to refrigerator.
Love how easy it is to use your slow cooker to melt chocolate? Trying using it to make chocolate dipped strawberries and other goodies.
I always recommend the use of slow cooker liners. This is, of course, optional. I like to purchase my liners in bulk for a less expensive per-piece price. Here are the liners I buy. Parchment paper works just as well with this particular recipe.
In the market for a new slow cooker? Here is the one I am currently lusting after.
As an Amazon Associate, I earn from qualifying purchases and affiliate links.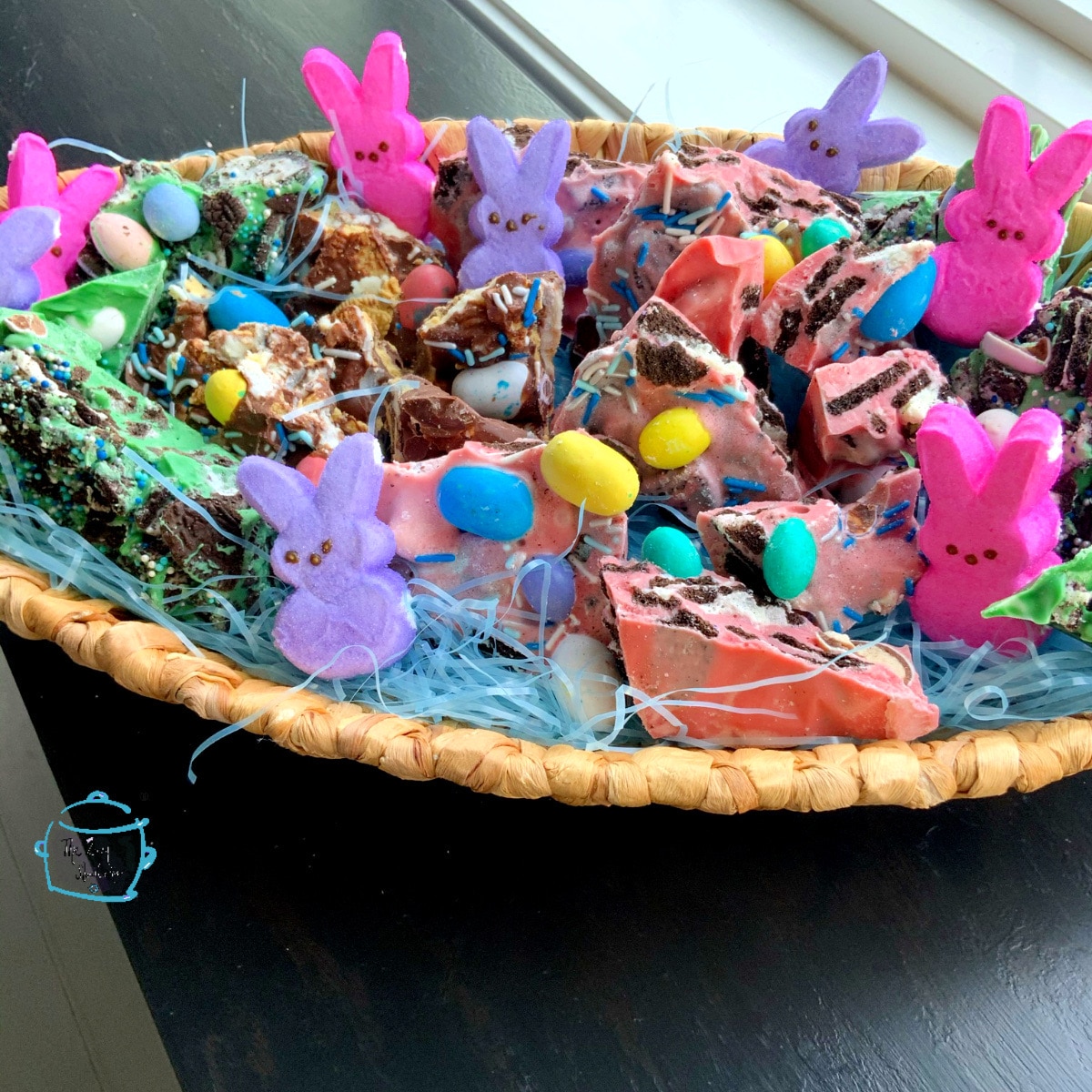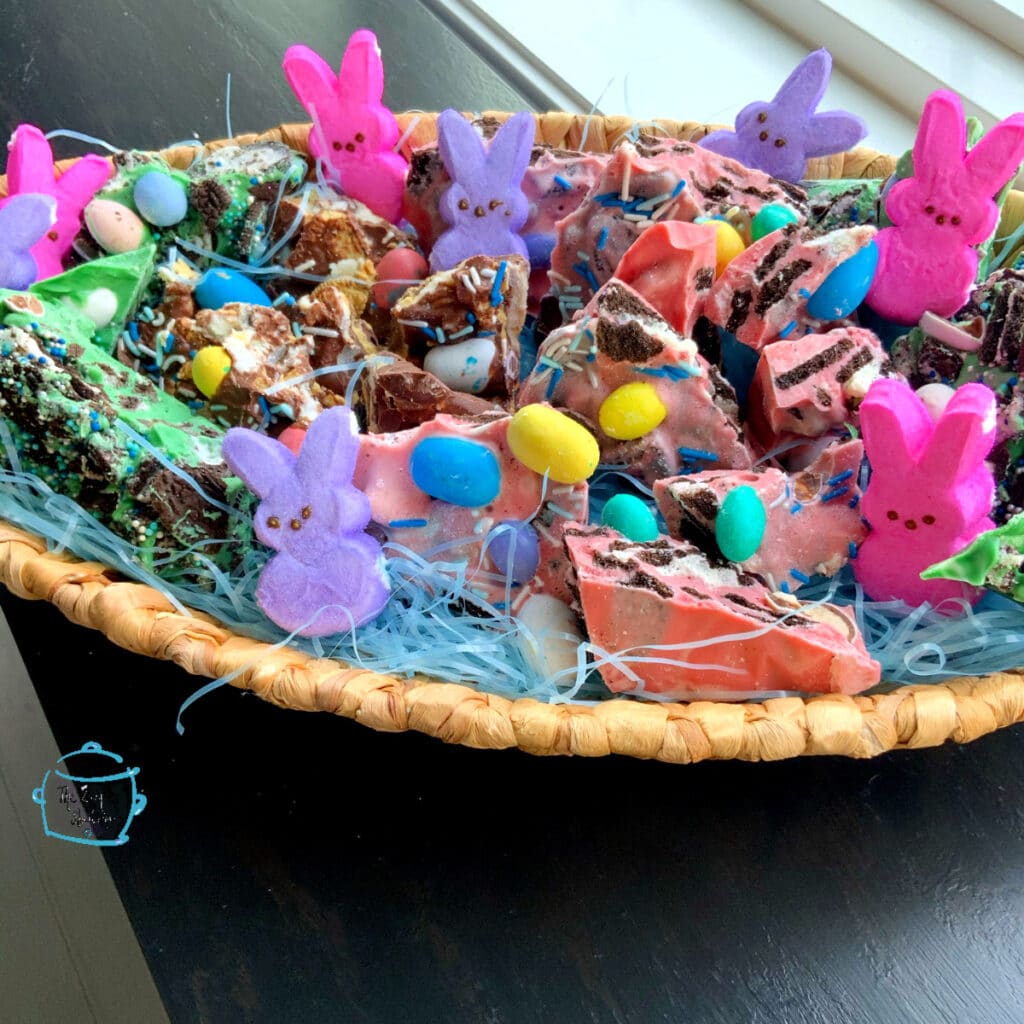 ❓Frequently Asked Questions
Can chocolate cookie bark be customized based on the occasion?
The beauty of this recipe is that it can be customized to any holiday or occasion. You could make pink or blue for a baby shower, green bark with red Mu0026M's would be great for Christmas, white is perfect for a bridal shower. It is only limited by your imagination
Can slow cooker oreo bark be made with kids?
It can be. Certainly Oreos crushing and decorating would be a lot of fun for a smaller helper. However, you should always be mindful of the fact that the crockpot will be really hot as will the melted chocolate. This will require extra diligence on the part of the assisting adult.
Which toppings can I use for my bark?
This part is really only limited by your imagination. But, here are some fun ideas:
1. gummy worms (this is a fun one if you are using milk chocolate and chocolate Oreos - so it is "dirt-like")
2. Swedish fish (this is great if you are making blue bark!)
3. jelly beans
4. mini candy bars and Mu0026Ms
5. crushed nuts
6. crushed pretzels
7. melted caramel drizzle

if you make this with a unique topping or decoration, please let us know in the comments below. Pictures are also welcome!
What size crockpot should I use?
I have made this in both a 6 quart and a casserole crockpot. The casserole Crock-pot is my favorite, but it really works just fine in any slow cooker. If using a small round slow cooker, I would recommend cutting all ingredients in half.
How should I store my chocolate bark?
Bark can be stored in a airtight container or bag on your kitchen counter or pantry. If you live in a super hot area without air conditioning, the refrigerator may be your best storage spot. Room temperature bark will keep for several weeks.
Can bark be frozen?
Yes, you can use the same airtight containers/bags in your freezer. Frozen bark will last up to 6 months.
More Delicious Slow Cooker Desserts
📖 Recipe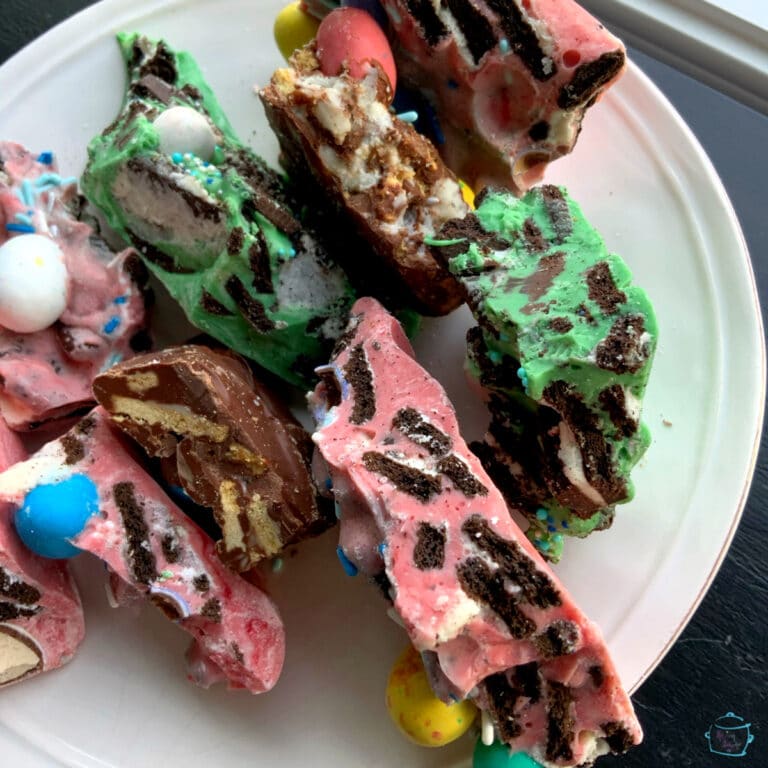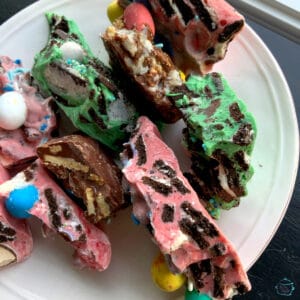 Lazy Slow Cooker Oreo Bark Recipe
Slow cooker Oreo bark is an easy, sweet treat that is fun to make. Melted chocolate chips, crushed Oreos and your choice of candy decorations make this a wonderful treat for any celebration.
Print
Pin
Rate
Save
Saved!
Equipment
3.5 quart slow cooker or larger

Mixing Spoon

Plastic zipper top bag

Slow cooker liner or parchment paper (optional but highly recommended)
Ingredients
2

12oz bags

chocolate morsels (baking chips)

white or milk chocolate

24

double stuffed Oreos

Traditional or golden depending on on which flavor chocolate morsels you are using and your preference.

30

Colored melting wafers

use if you want to make your white bark into a color.

Toppings and decorations

so many to choose from. See above for ideas!
Instructions
Line slow cooker with liner or parchment paper

Add chocolate morsels (and melting wafers if using white chocolate that you would like to color)

Cover and turn slow cooker to the "high" setting

While chocolate is melting, place Oreos into tightly closed or sealed bag and break chunks.

Check slow cooker contents and stir after 15 minutes.

Check and stir every 15 minutes until all chips are melted and smoothly mixed. Note: This took just about 30 minutes in my casserole crockpot.

Stir in large Oreo chunks. You can choose to leave them partially sticking out or to try to fully coat them with melted chocolate based on how you want your final product to look.

Use back of spoon or spatula to smooth out mixture to edges of slow cooker

Allow to mixture to cool and harden. To speed this process up, you can carefully life the melted, decorated mixture from your slow cooker by gently lifting the edges of the parchment/liner you are using and quickly transferring it to a 9"x11" baking pan (confirm size). Use a spatula to even it out throughout the pan and then refrigerate.

After mixture has thoroughly cooled and hardened, break or cut into serving sized pieces.
Notes
**note: Calories are for 1/24 of the entire pan and do not include any toppings.
Nutrition
Calories:
59
kcal
|
Carbohydrates:
9
g
|
Protein:
1
g
|
Fat:
3
g
|
Saturated Fat:
1
g
|
Polyunsaturated Fat:
1
g
|
Monounsaturated Fat:
1
g
|
Trans Fat:
1
g
|
Cholesterol:
1
mg
|
Sodium:
56
mg
|
Potassium:
26
mg
|
Fiber:
1
g
|
Sugar:
5
g
|
Vitamin A:
1
IU
|
Vitamin C:
1
mg
|
Calcium:
3
mg
|
Iron:
1
mg
Check Out Our Facebook Page For More Slow Cooker Recipes!!
Check out my latest on Instagram
Our latest on Instragram