Jump to Recipe
Slow cooker chocolate candy is an easy, fun and delicious treat. This family friendly recipe is the perfect homemade gift (although, you really won't want to give any of it away!). Great for Valentine's Day or any day!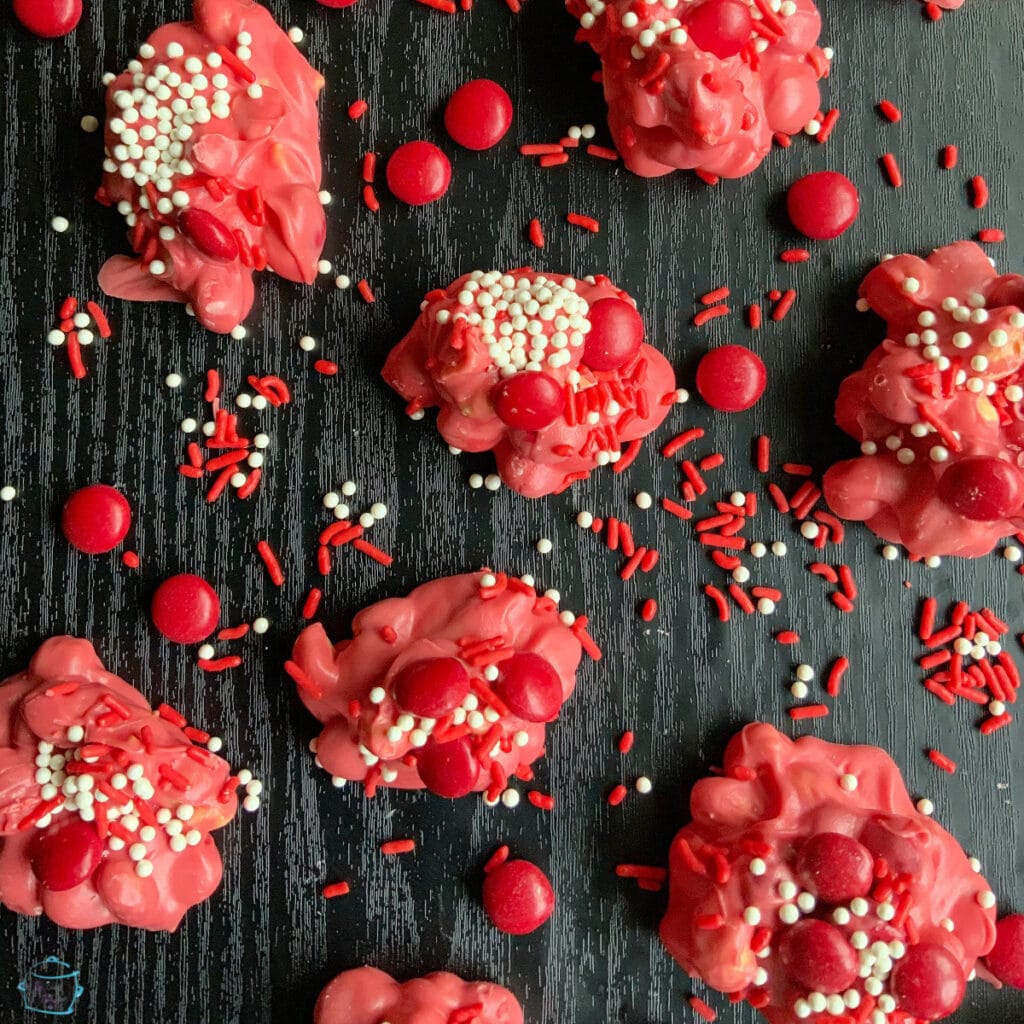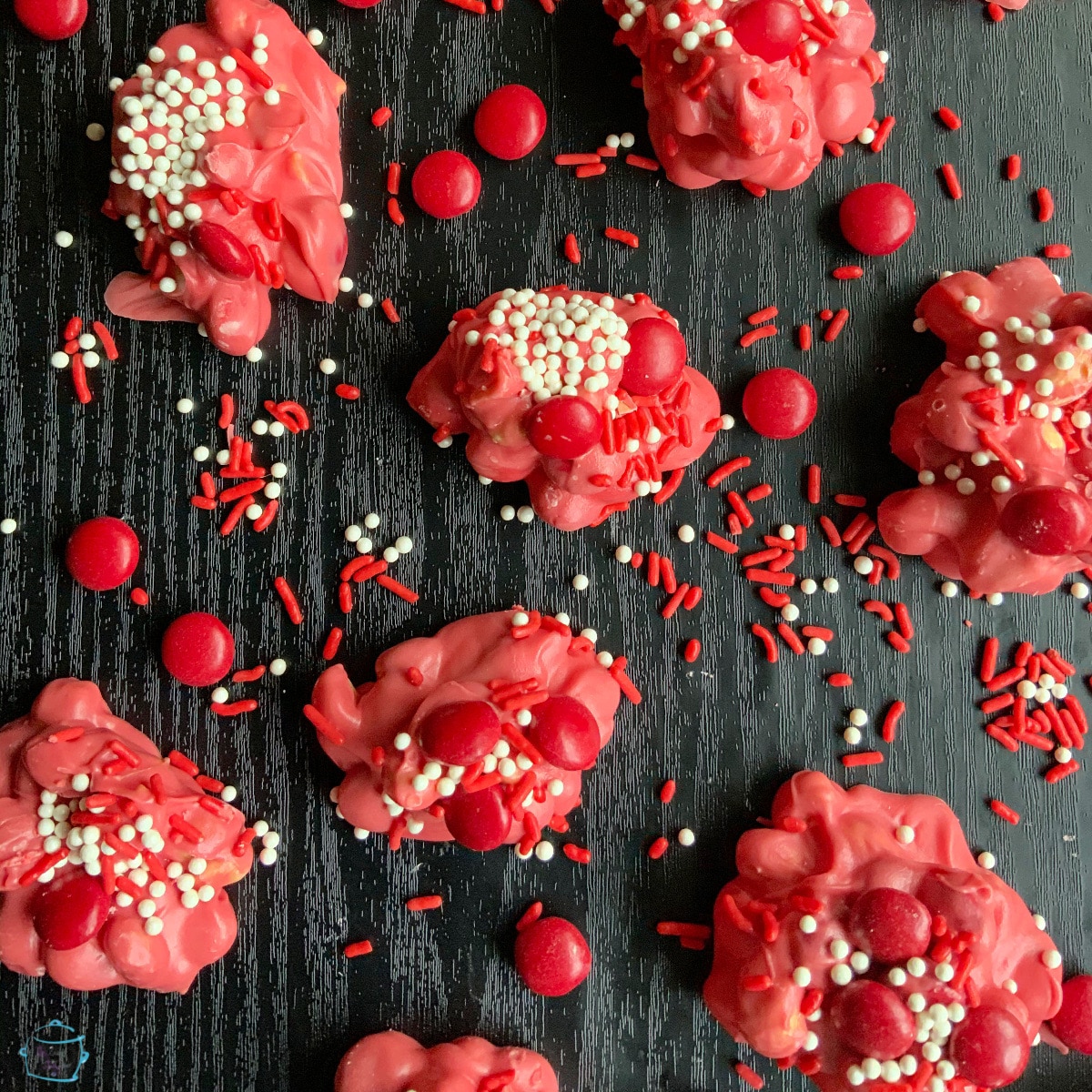 All the world's ills can be cured with chocolate. I am not sure how - but I believe it to be true. It calms the savage human beast! So, what could be better than using your slow cooker to make your own chocolate candy? Whether you intend to just eat it all on your own (who me???) or share some, this is one easy crockpot recipe that you won't want to skip!
How To Make Slow Cooker Chocolates
To make this decadent treat, you need:
white chocolate chips
salted, shelled peanuts
colored candy coated chocolate (such as M&M's)
decorations (such as sprinkles, crushed candies or crushed nuts)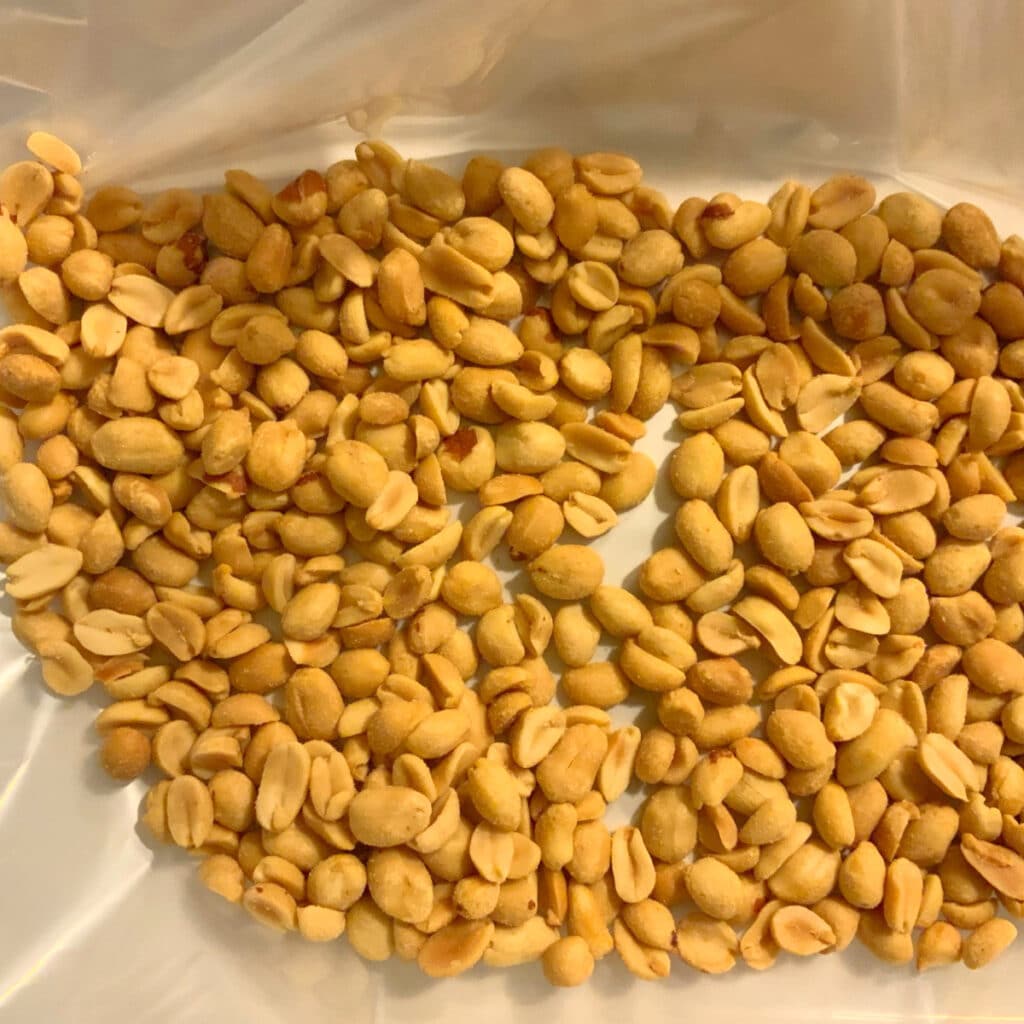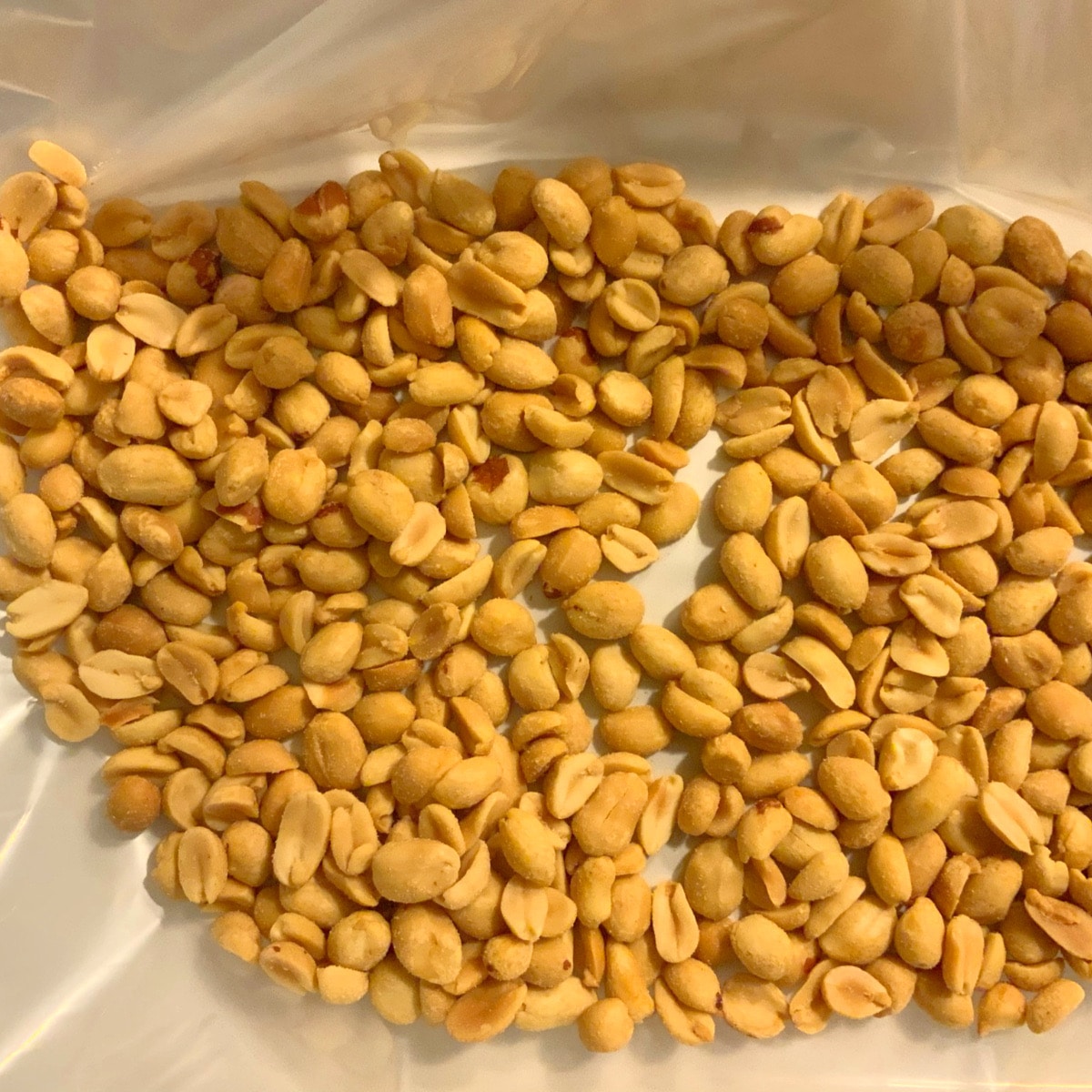 Place peanuts, white chocolate chips and colored melting wafers into slow cooker. Cover and cook on high. After 15 minutes, remove cover and stir to assist melting process and avoid burning on the bottom. Repeat every 15 minutes until all white and colored candy has fully melted and can be smoothly stirred together. This generally takes about an hour, depending on your slow cooker.
Place a large piece of non stick paper (such as wax paper or parchment paper) on to the counter next to your slow cooker. Add color candy coated chocolates (M&M's) and stir just enough to fully mix them in. Don't over stir at this point or the color may start to come off of the M&M's. Drop large spoonfuls of the melted mixture from your slow cooker on to the non-stick paper to form candy mounds. If you plan to decorate your mounds with sprinkles or other toppings, you will need to make sure to add them before the mounds harden so that the toppings stick properly. This means you will need to pause a few times in your mound-making to decorate. Allow candy mounds to fully cool and harden before moving,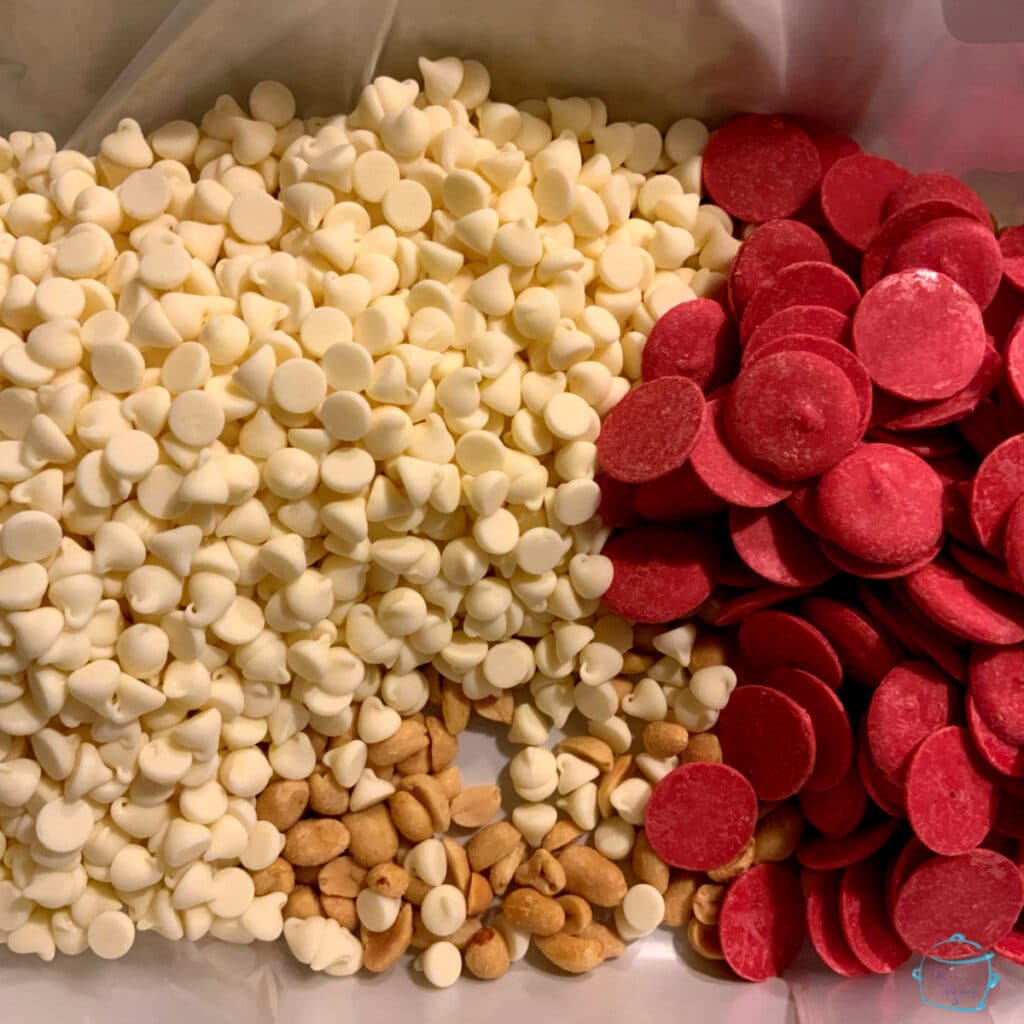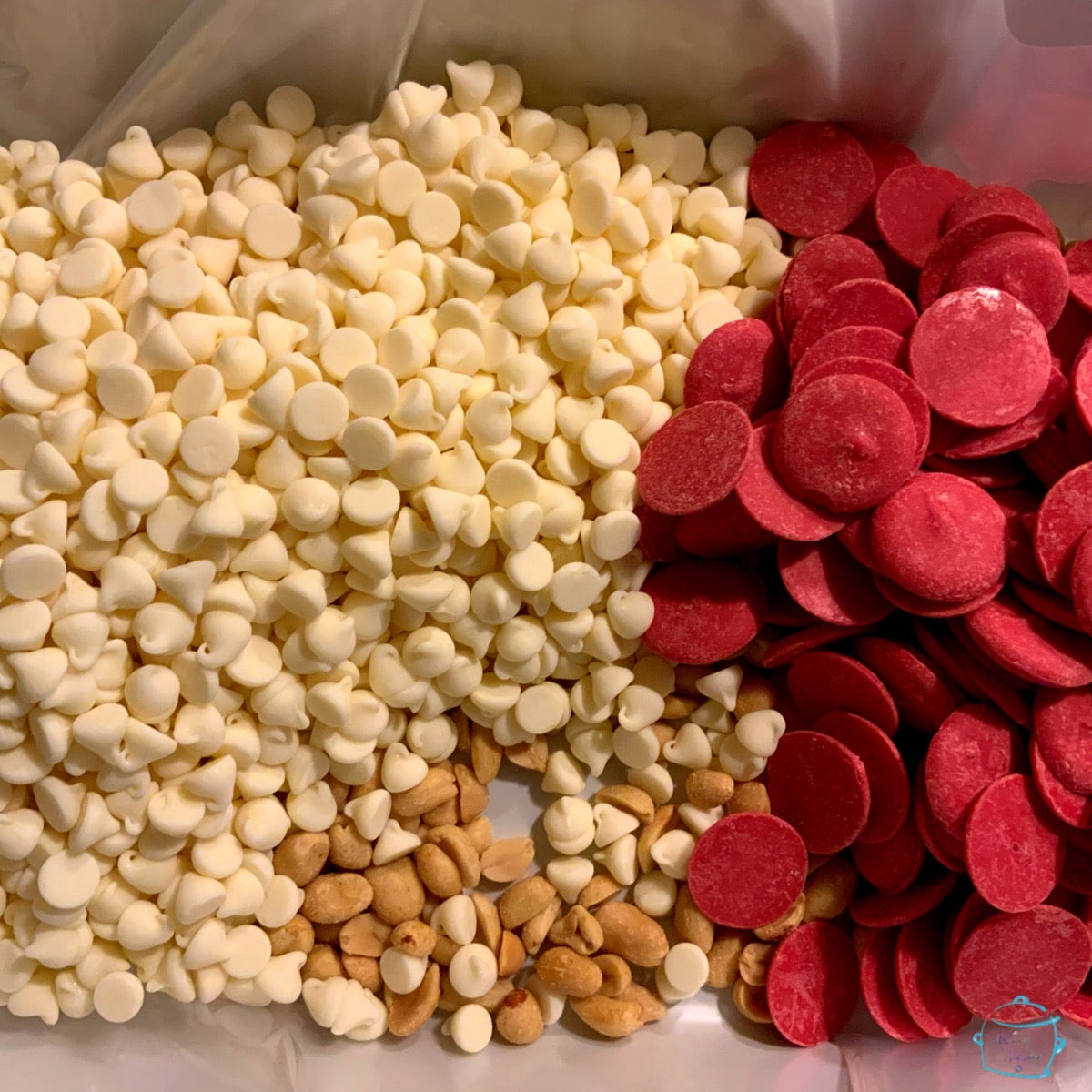 When To Make This Treat
There is no wrong time for chocolate! This versatile treat can be made for so many occasions. While the sample pictures used in this post are from Valentine's Day, you can switch up the colors for just about any occasion. Pink and/or blue for a baby shower, green for St. Patty's day, orange for Halloween and of course red/green for Christmas. You are only limited by your imagination.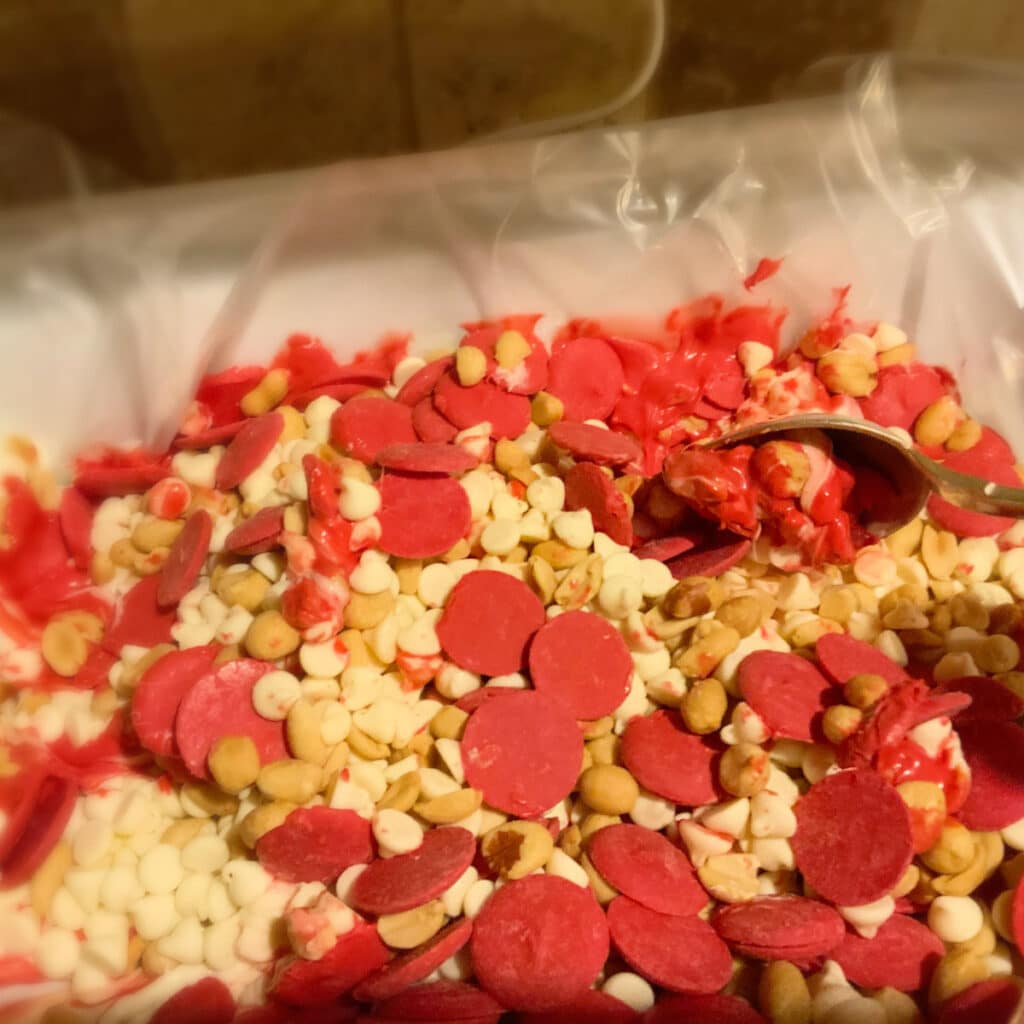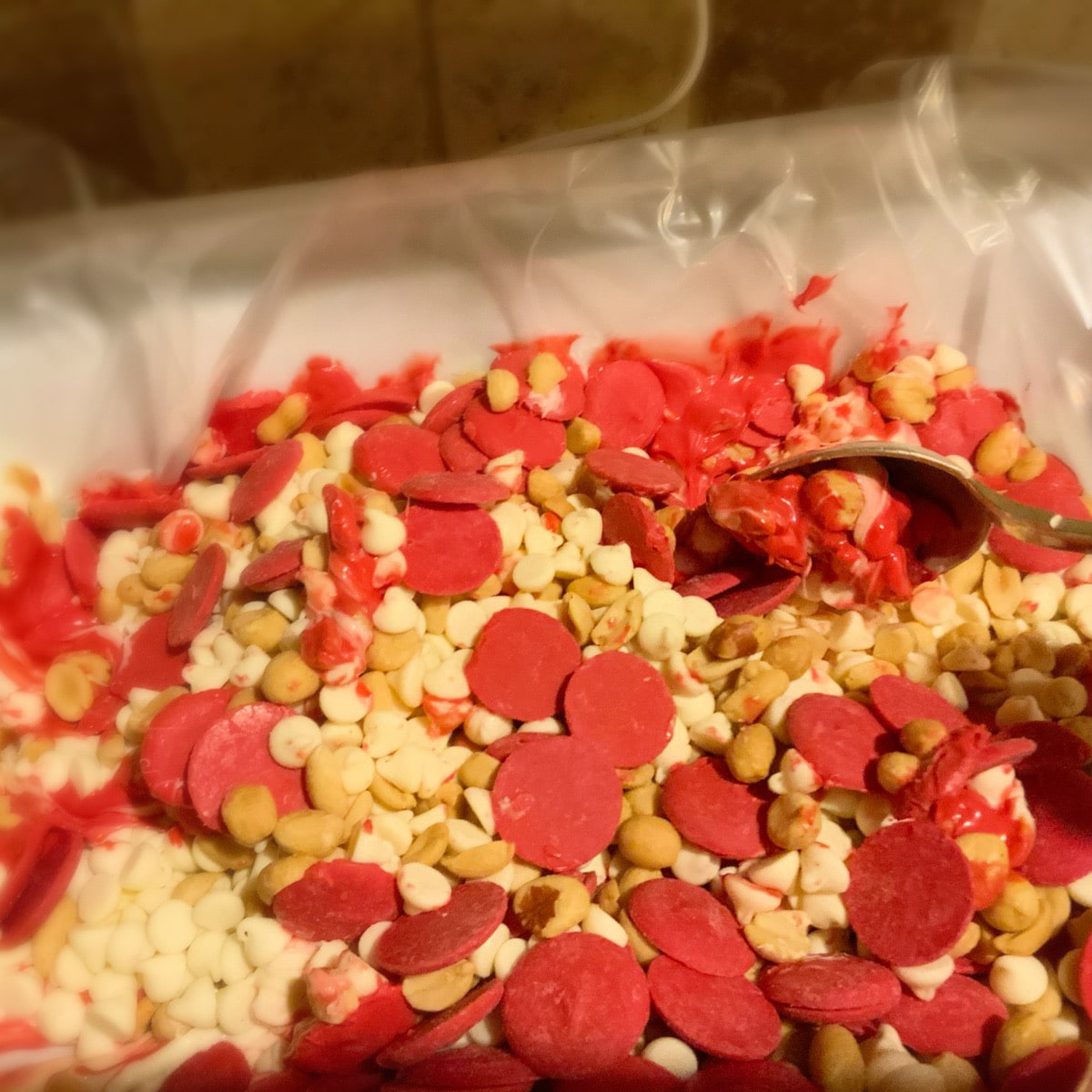 How To Store Slow Cooker Chocolate
This candy is great stored in an airtight container or bag on a shelf. It can also be stored in the refrigerator (refrigeration is definitely recommended if you are making it in a non-air conditioned kitchen on a hot day). The candy will technically last for a few weeks stored on a shelf or in the refrigerator (although it has never been around in my house long enough to really find out!). Alternatively, this candy can be frozen. Frozen chocolate will stay fresh longer. Some people freeze it so they won't eat it - but that doesn't work for me, I happily eat it frozen (disclaimer: I don't recommend eating frozen chocolate as it can lead to broken teeth!).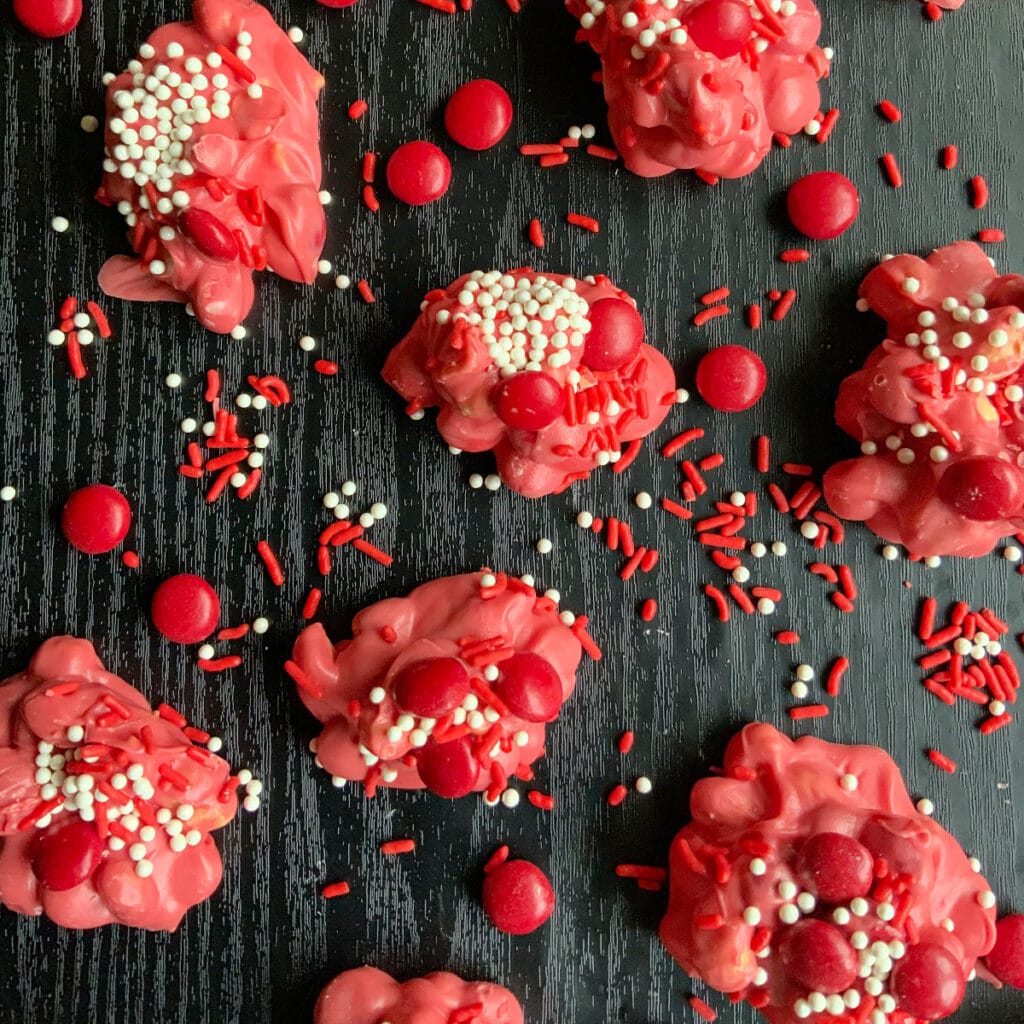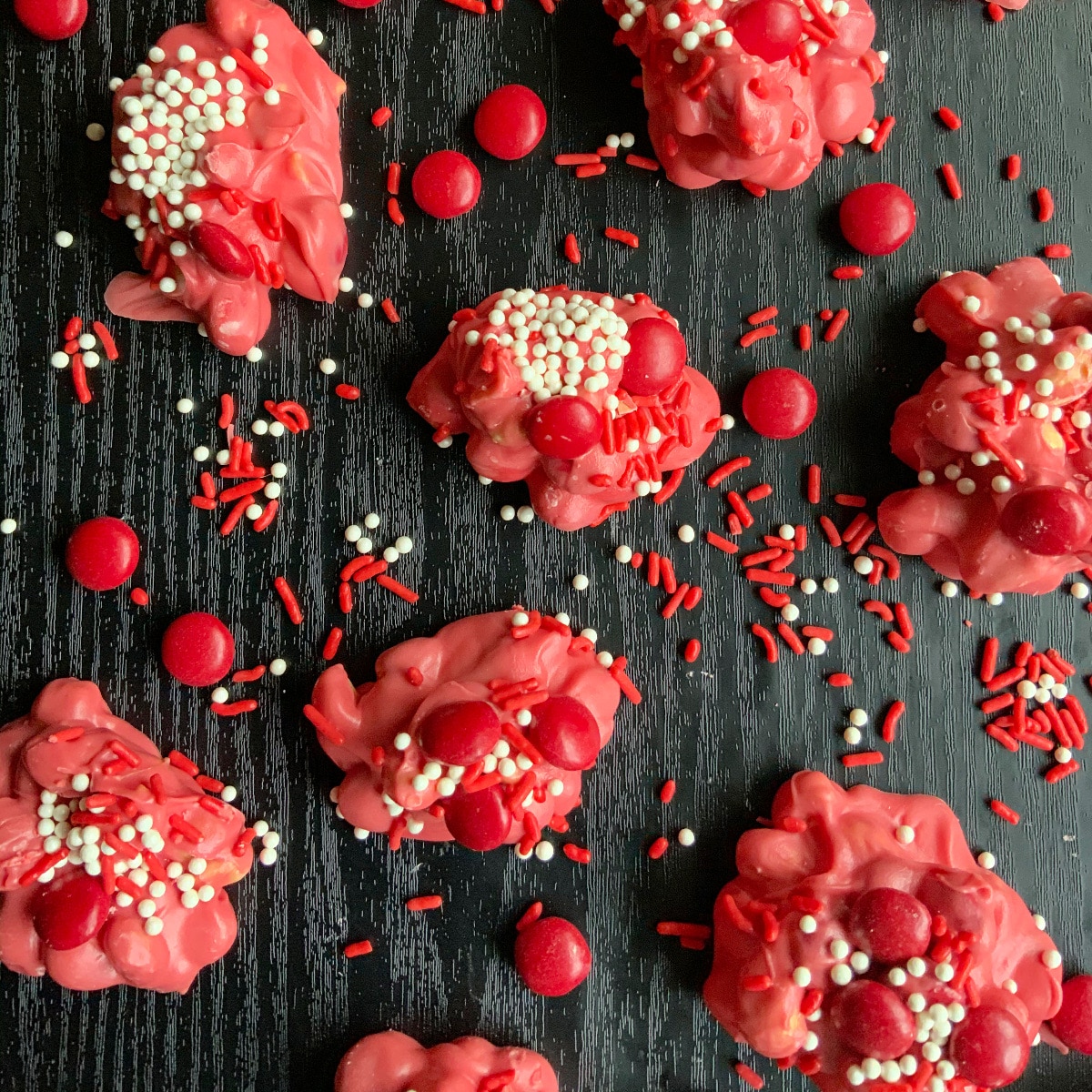 Crockpot Chocolate Candy Hints & Hacks
Fun hint: buy red and green M&M's, or other brand of candy coated chocolate, right after Christmas when they are on sale. The red will be perfect for Valentine's Day and the green for St. Patrick's Day!
When choosing what color candy you would like to make, remember that the white morsels will mute the color in the melting wafers you choose. For example, dark red wafers were used to make pink candy pictured here.
Need your candy to set faster? Place it in the refrigerator on a cookie sheet. It will be ready to munch on in half the time.
This candy is great to give as a home made gifts. It is easy to wrap and stores well. It also makes beautiful and easy party favors!
Be creative when you decorate! Don't feel as though you are limited to sprinkles and M&M's. Crushed nuts, crushed hard candies, pieces of candy canes, cookie pieces and mini marshmallows are some examples of different decorations that would be fabulous.
I always recommend a slow cooker liner or parchment paper for easy clean up. This is, of course an optional step.
In the market for a new slow cooker? Here is the one I am currently lusting after.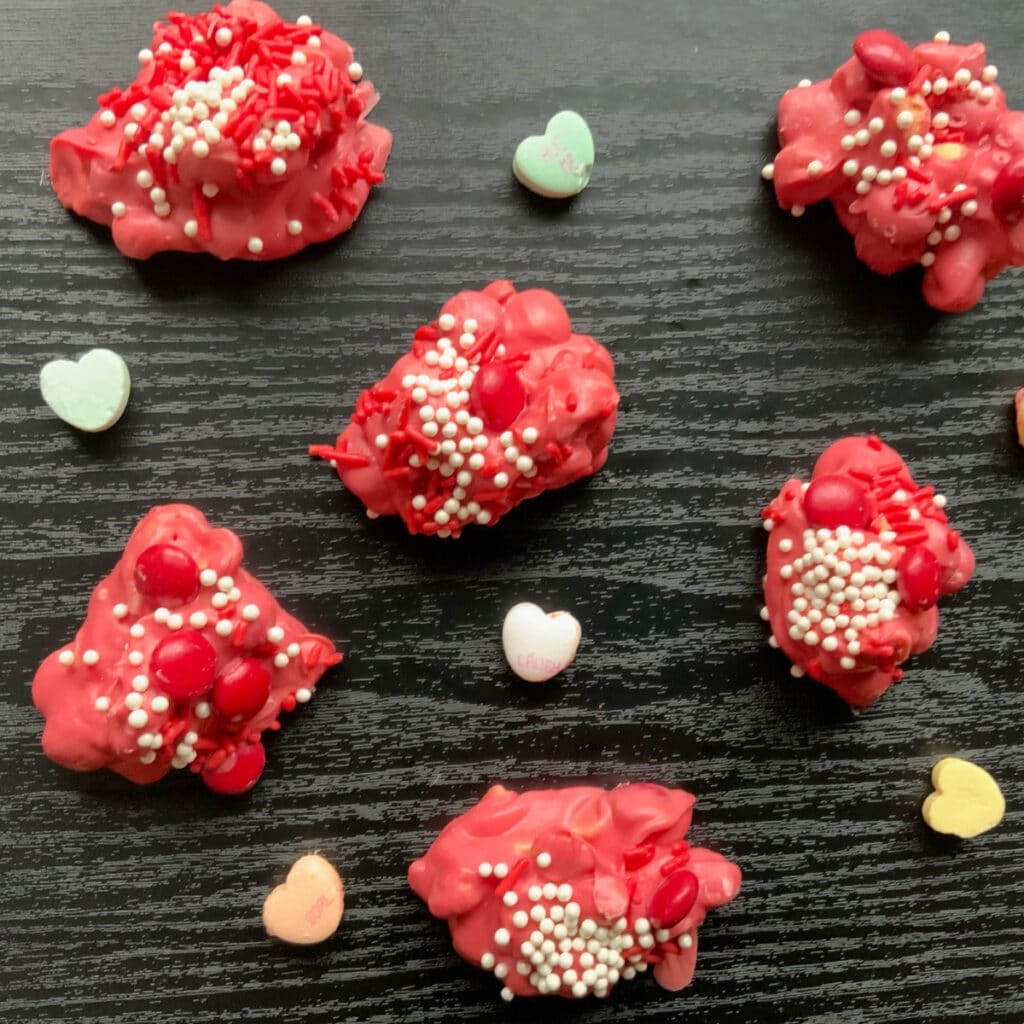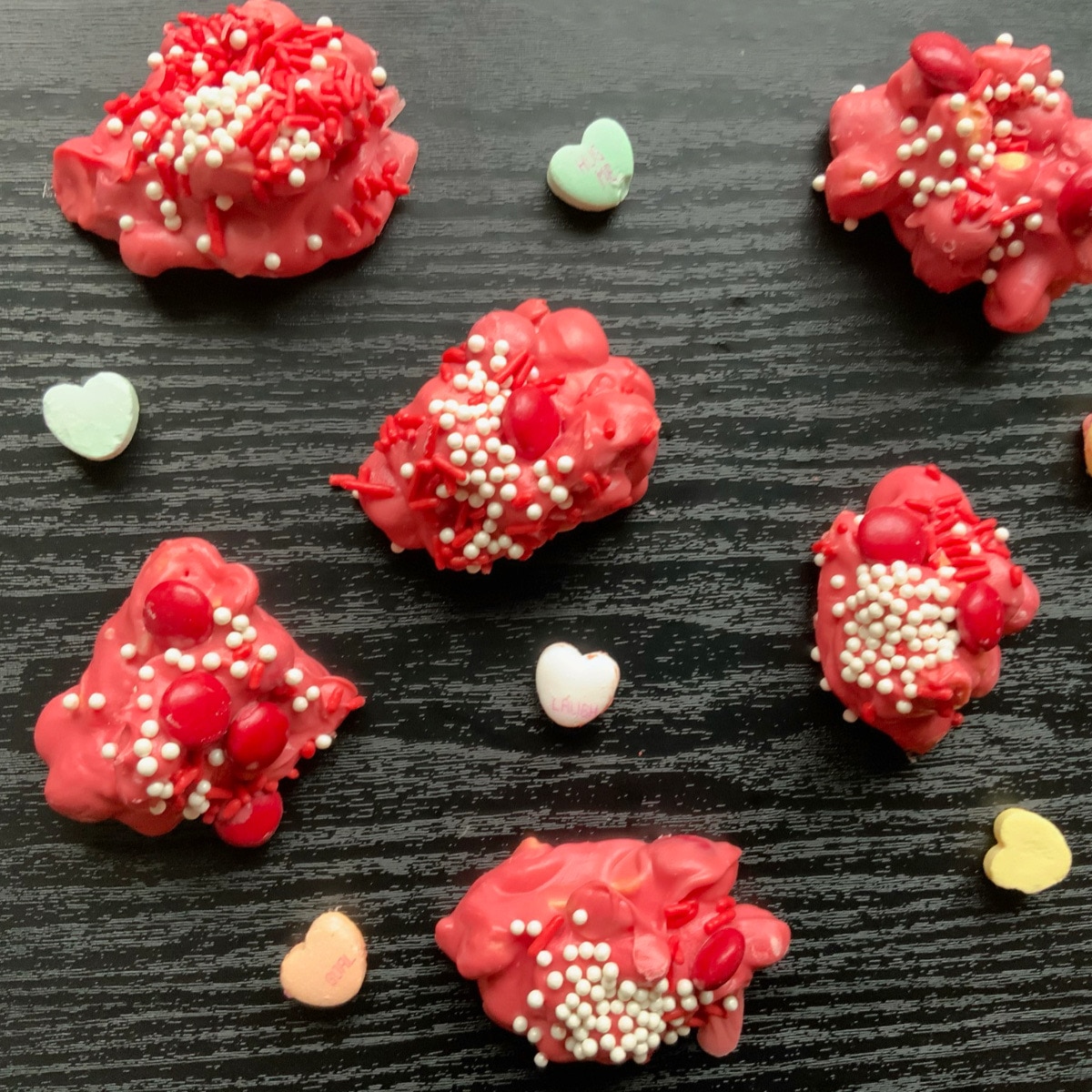 📖 Recipe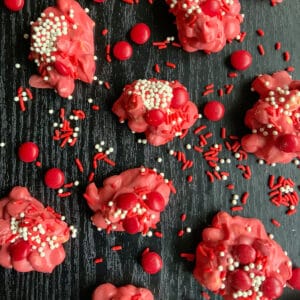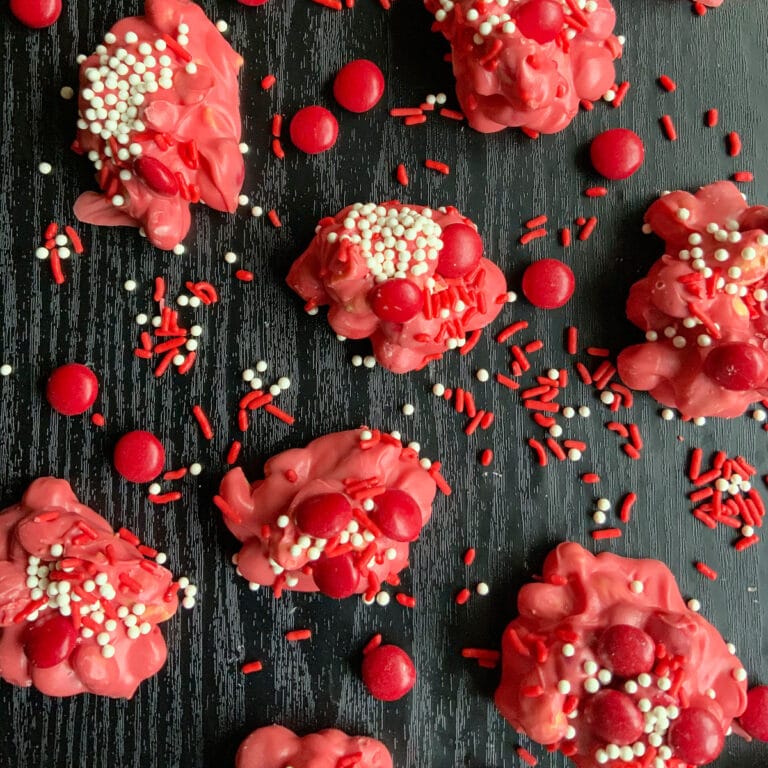 Lazy Slow Cooker Chocolate Candy Recipe
Slow cooker chocolate candy is an easy, fun and delicious treat. This fun, family friendly recipe is the perfect homemade gift (although, you really won't want to give any of it away!).
Print
Pin
Rate
Save
Saved!
Equipment
3.5 quart slow cooker or larger

measuring cup

Mixing Spoon

wax paper or parchment paper for counter

slow cooker liner or parchment paper (optional)
Ingredients
2

12oz

bags, white baking chips

1

12 oz

bag, melting candy wafers

( I used red for Valentine's Day in these pictures)

16

oz

salted peanuts

16

oz

candy coated chocolate pieces, divided

such as M&M's
Instructions
line crockpot with liner or parchment paper, if using

add peanuts, white chocolate chips and candy coating wafers to slow cooker

cook on high until full melted this should take anywhere from 30-60 minutes. Stir every 15 minutes or so to make sure the edges or bottom don't start to burn.

when fully melted, stir to mix and blend until all chocolate is one color. In the case of those pictures here, I mixed red wafers with white chips to make a pink candy.

add about 14 oz candy coated chocolate pieces (such as M&M's) to slow cooker and stir to combine, reserve remainder for decorating

drop tablespoons full of chocolate mixture onto sheets of non-stick paper, such as wax paper or parchment paper, to make free-form candy mounds

add sprinkles, reserved M&M's or other toppings to decorate (optional). Make sure that toppings are added before candy mounds cool and harden to ensure that toppings stick properly.

allow to cool and fully harden before moving (about and hour)
Nutrition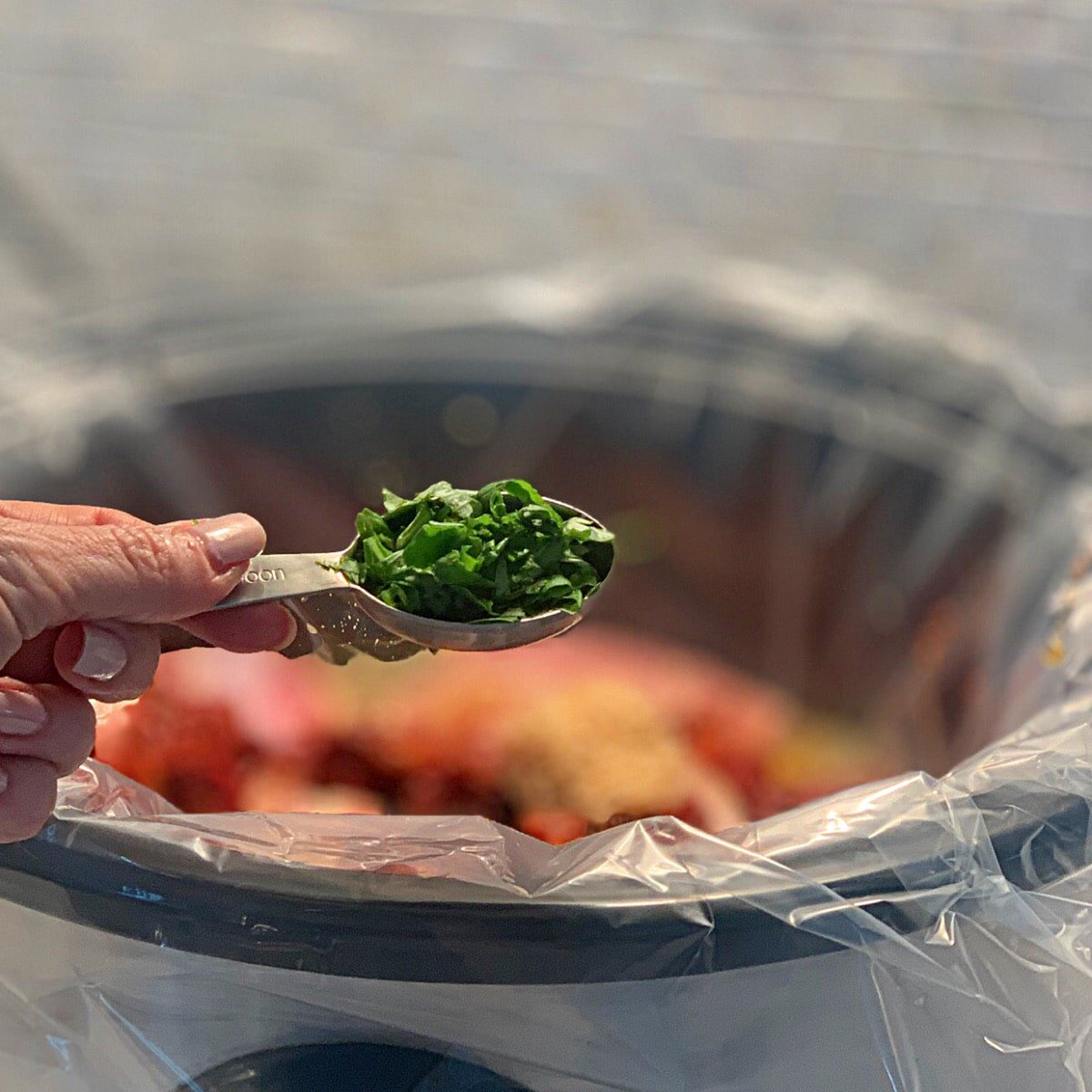 Great Crockpot Homemade Gifts
Banana Chocolate Chip Brownies