Jump to Recipe
Slow cooker eggplant casserole is an easy and great recipe made with fresh eggplant, portabella mushrooms, sauce, and lots of cheese. This vegetarian dish is a perfect dinner that works as both a main dish and side course.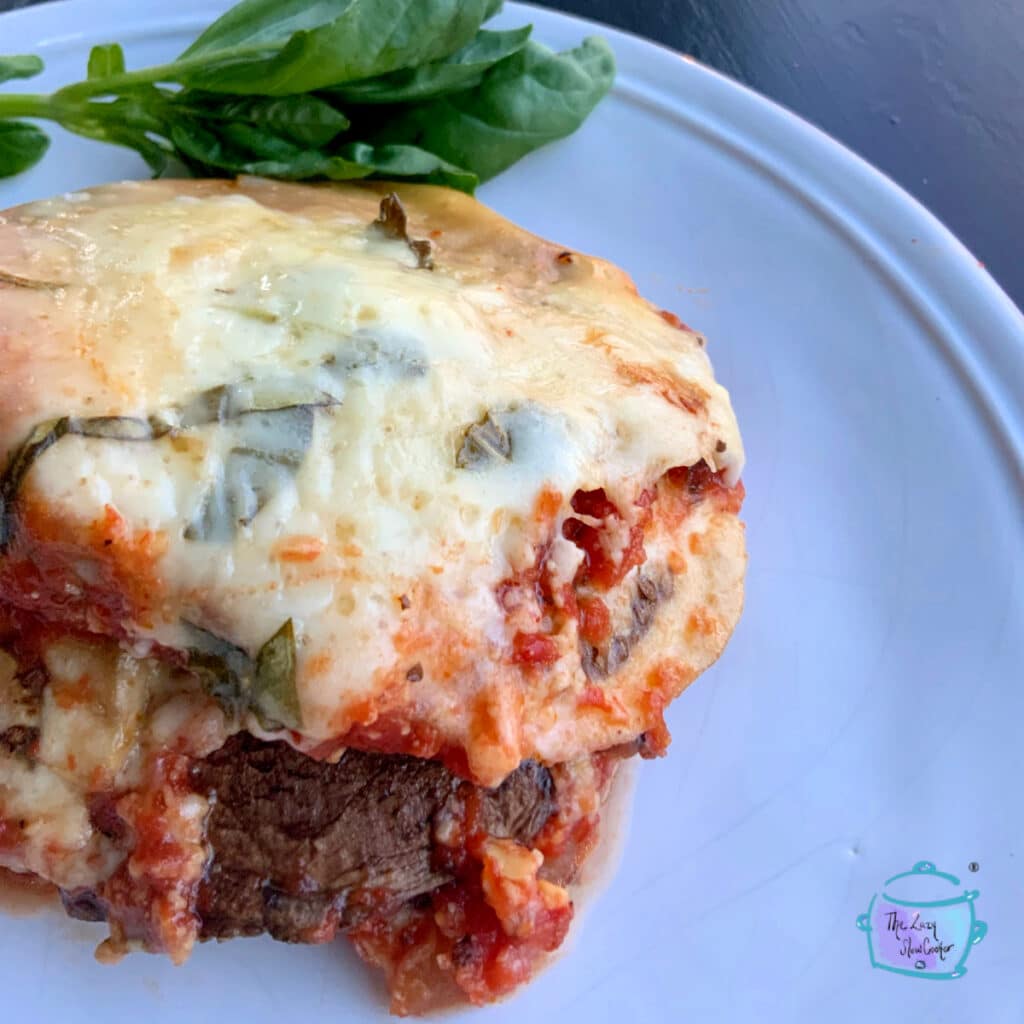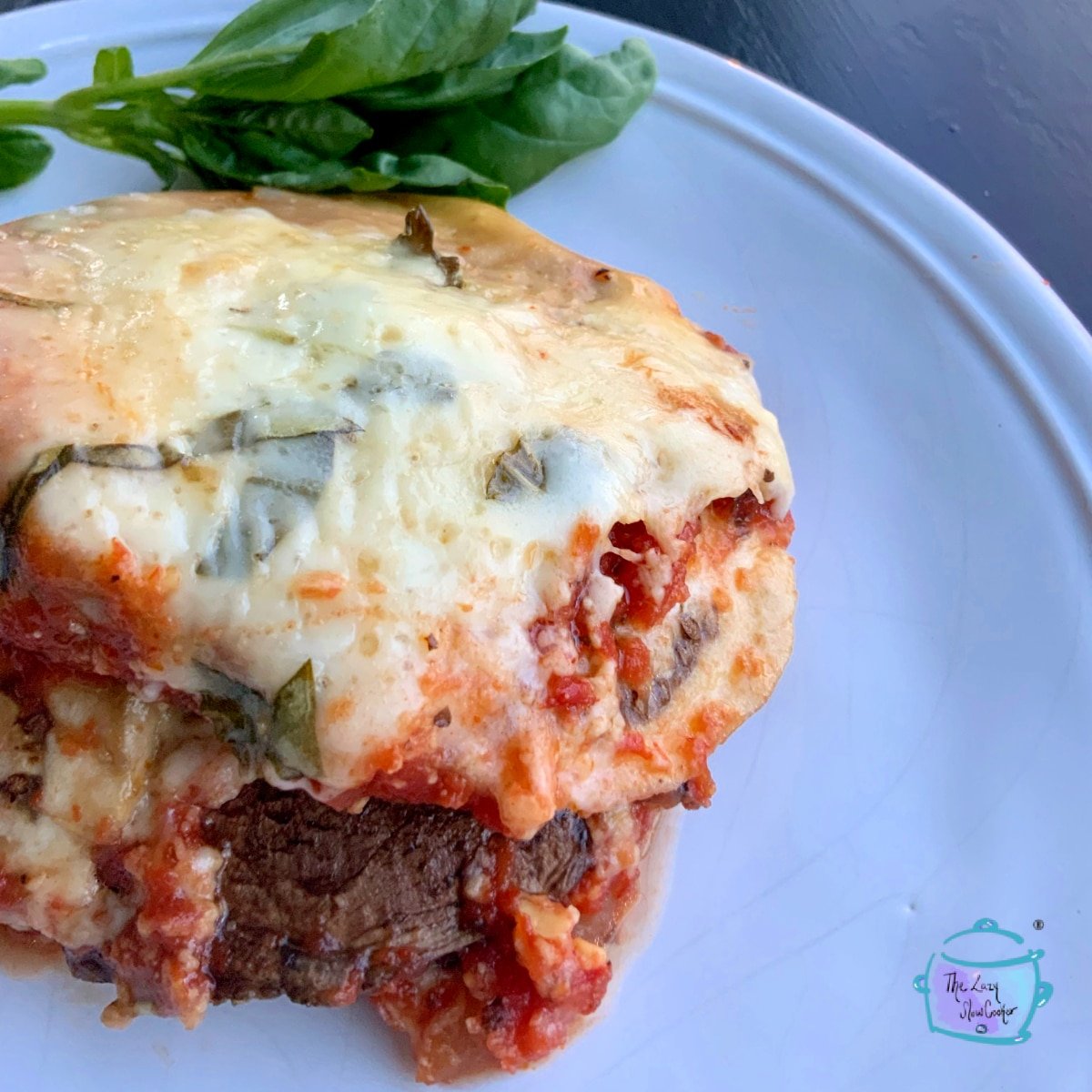 Jump to:
What do you call layered slow cooker recipes with lots of cheese, eggplant, portabella mushrooms, and sauce? It's not a slow cooker eggplant lasagna or eggplant parmesan recipe, it's sort of a casserole - or eggplant bake. Whatever it is, I call it a DELICIOUS recipe!
ADDED BONUS: If is one of those super easy recipes that is delicious any night of the week.
📝Shopping list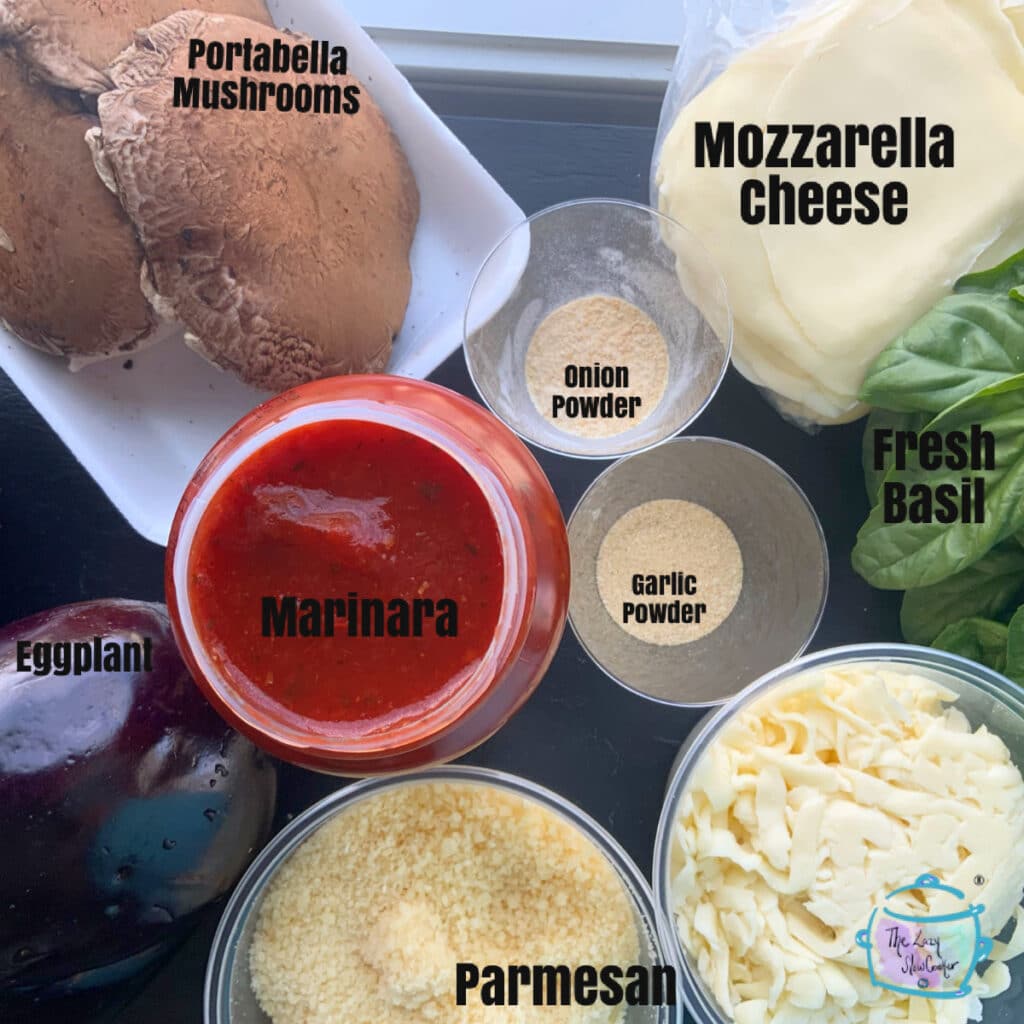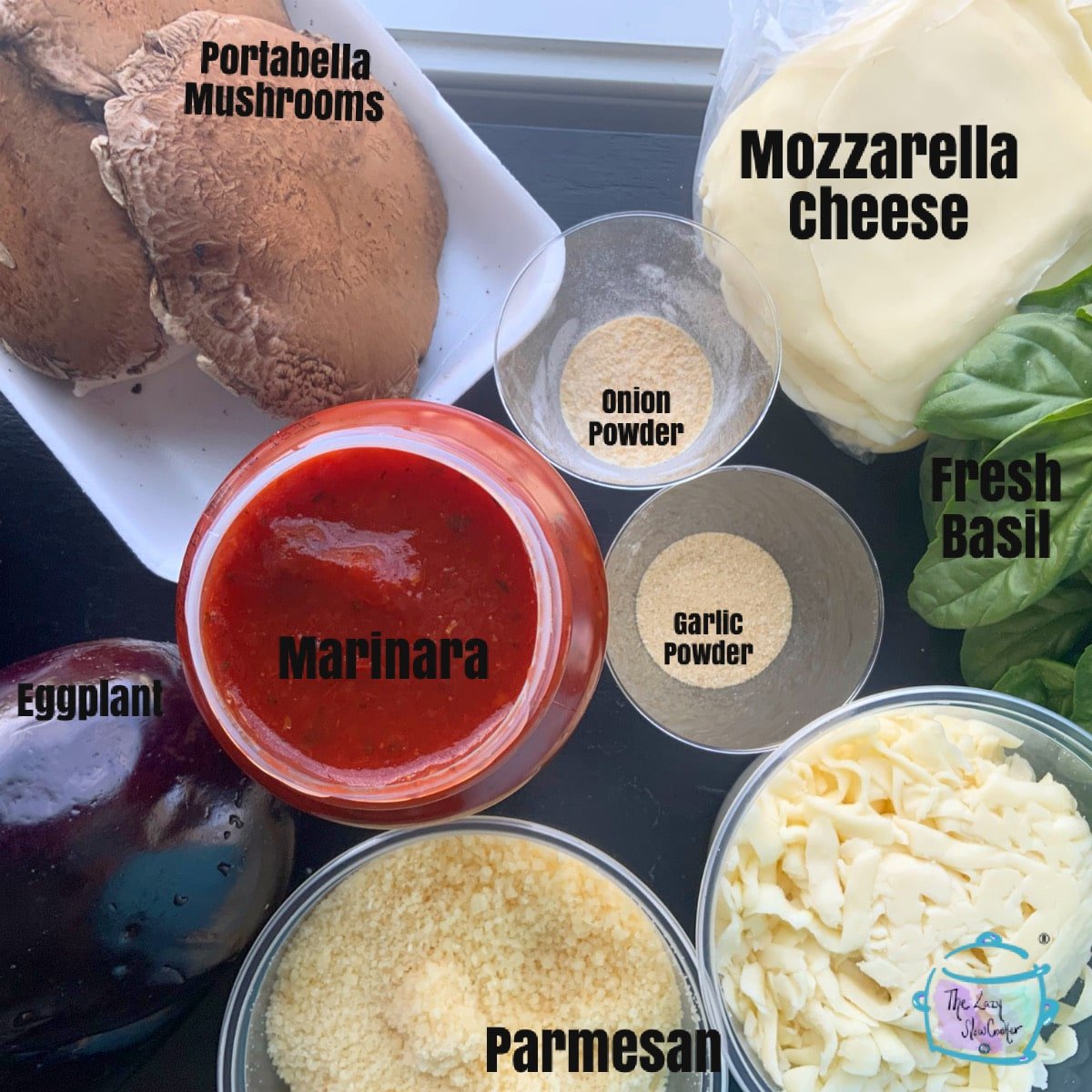 To make this amazing crockpot eggplant recipe you will need:
Eggplant - Two medium or possibly one large eggplant should suffice, depending on the size and shape of your slow cooker. The fresher the better - freshness is what makes this one of the best eggplant recipes.
Portabella mushroom caps - The exact quantity will depend on the size and shape of your slow cooker and your mushrooms.
Grated Parmesan Cheese - freshly grated parm always tastes best, when possible
Marinara Sauce - fresh or from the jar, both work well
Mozzarella cheese - sliced (shredded will work too)
Basil - fresh chopped basil is best
Garlic powder
Onion powder
Exact quantities can be found here
🥣Preparation
One of the first steps is optional: peeling off the skin of the eggplant (you can choose to leave it on. Next, slice and place the eggplant place it in a colander over a medium bowl and sprinkle liberally with salt liberally. This is a great way to both draw out some of natural moisture and to remove any potential bitterness. After draining for 30 minutes, use paper towels to wipe salt and excess water from eggplant slices.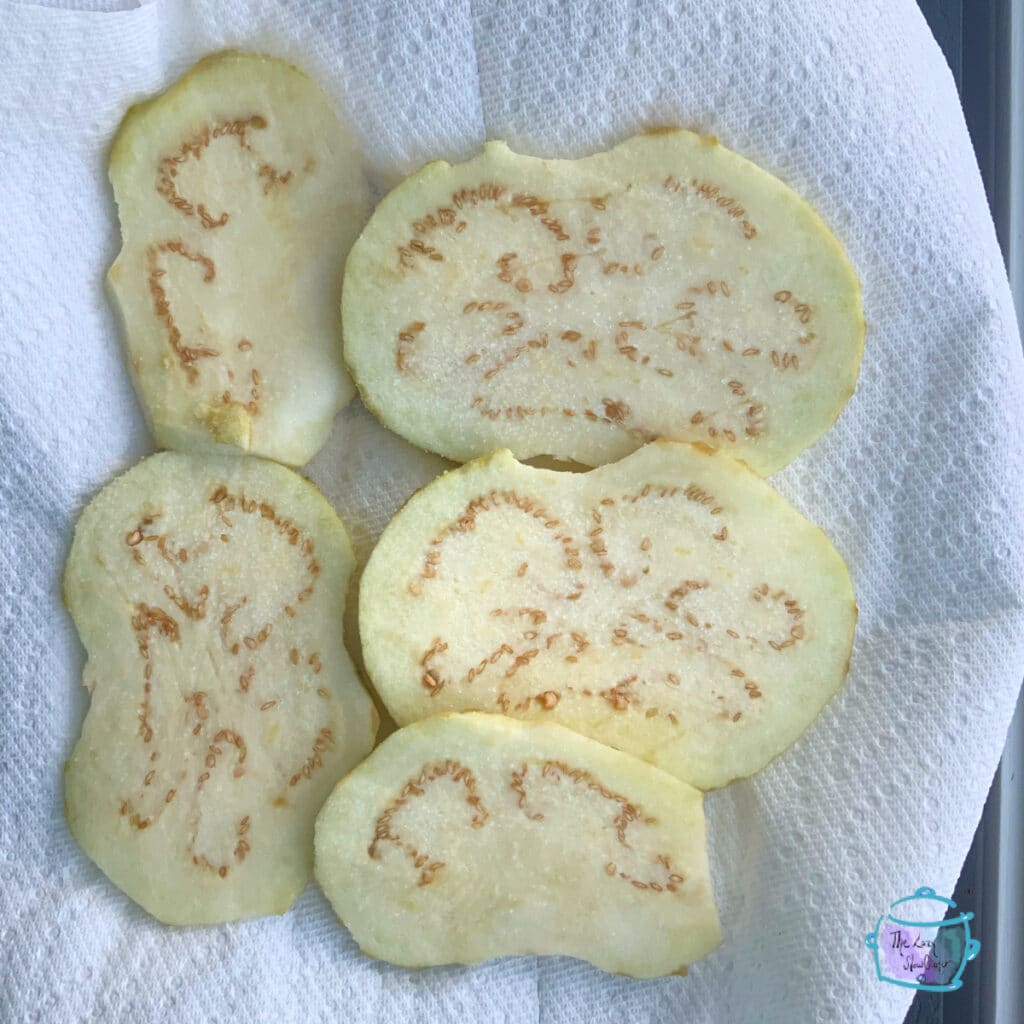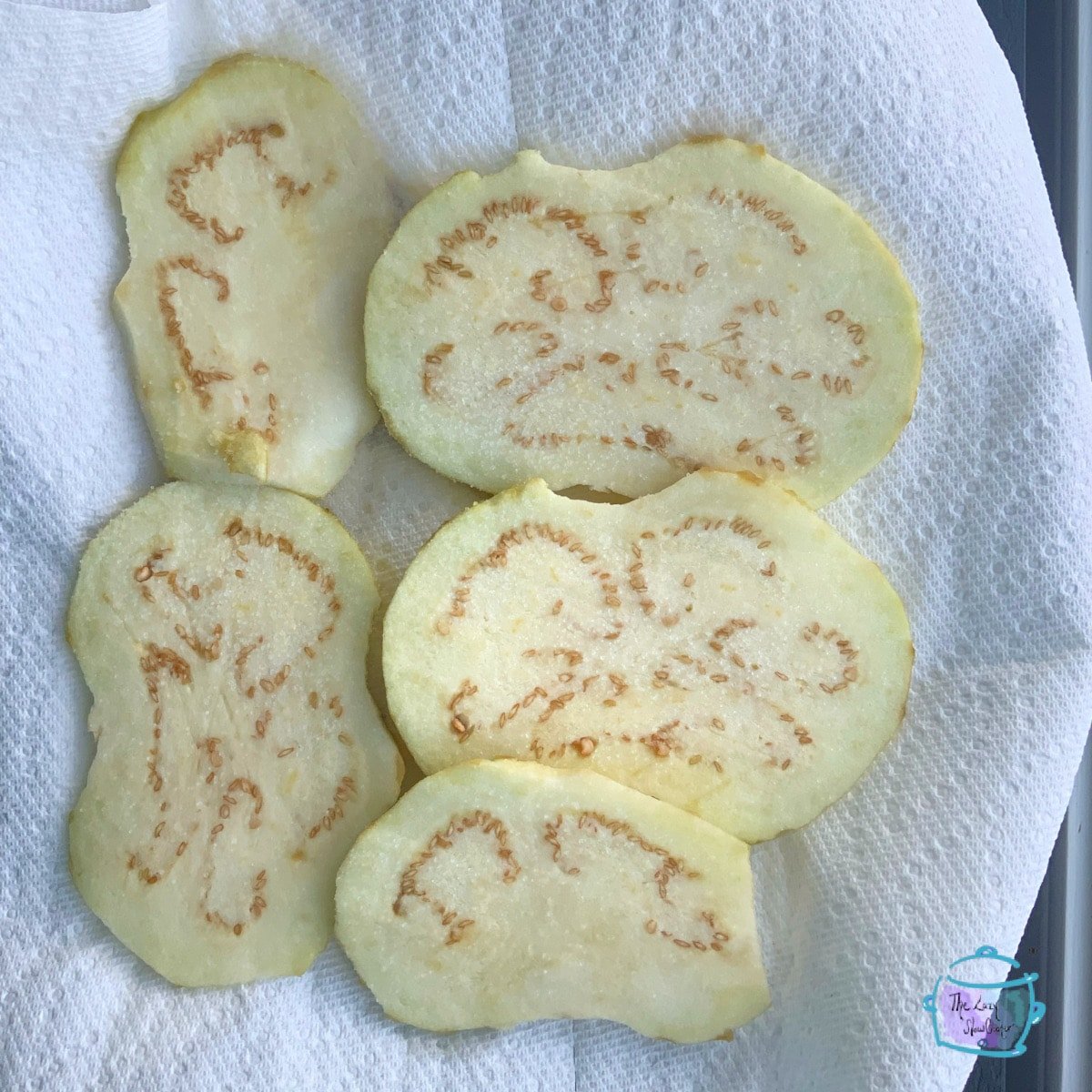 Next, layer your dish similarly to how you would layer lasagna. Spread a thin layer of tomato sauce on the bottom of your sprayed slow cooker. Add a layer of each of the following: eggplant, sauce, grated parmesan plus spices, and sliced mozzarella.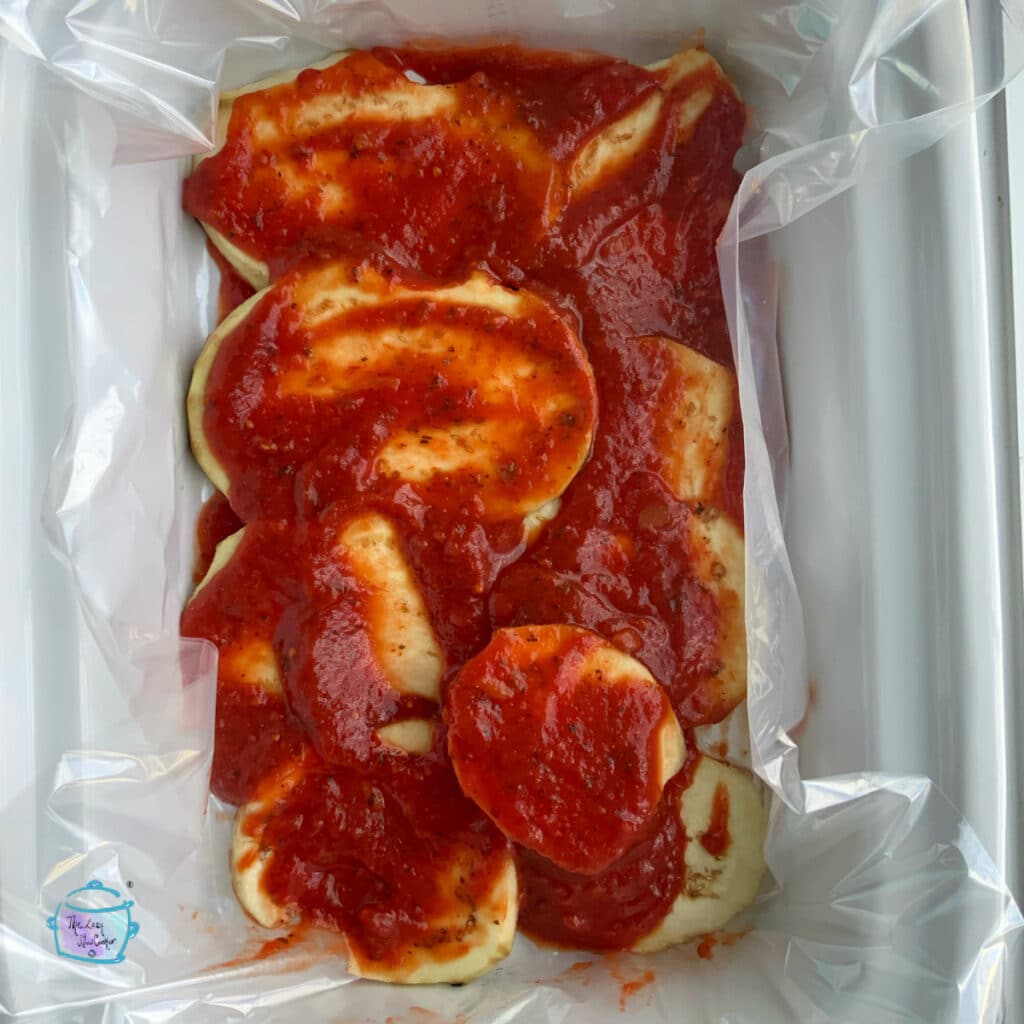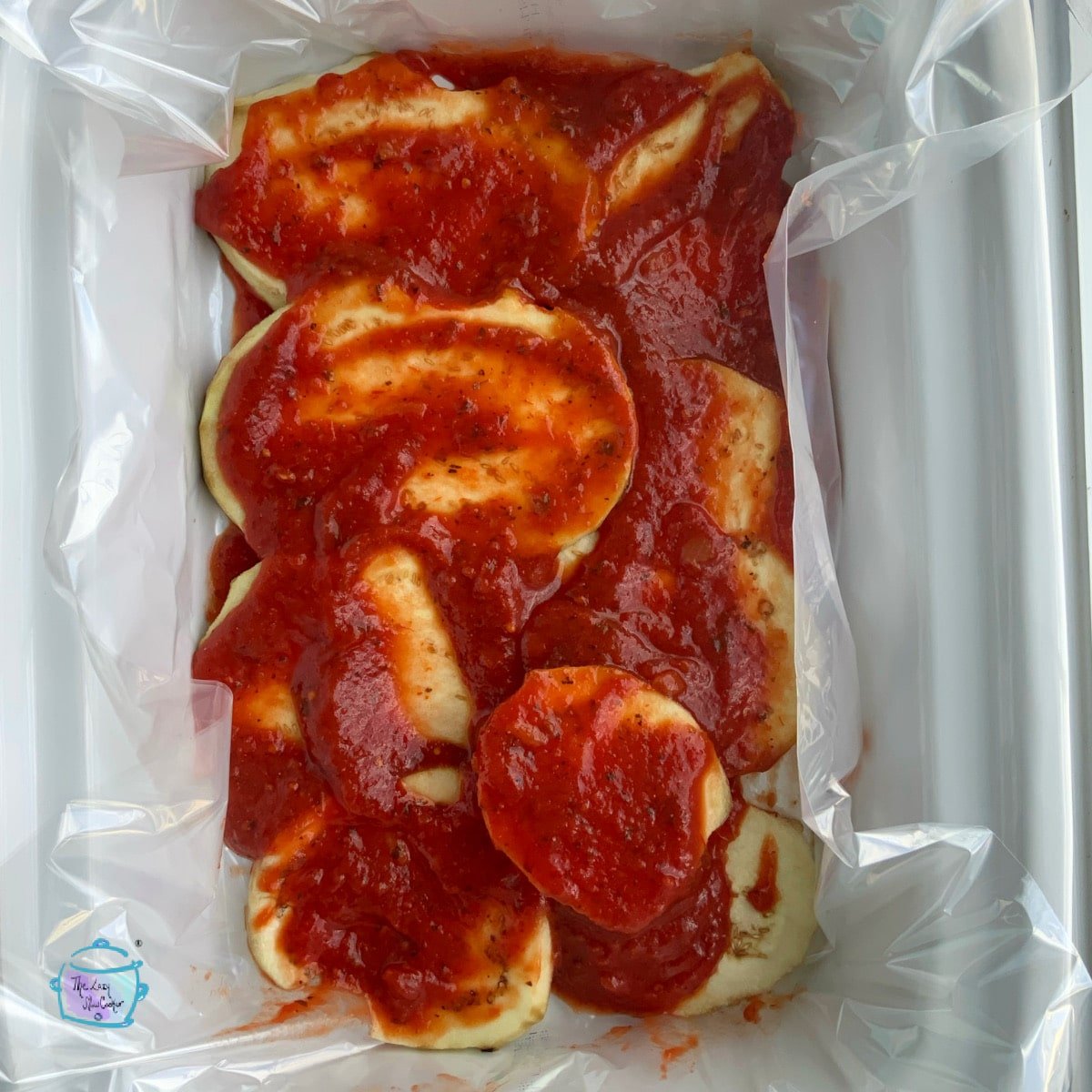 Repeat all four layers, but with portabella mushroom in the place of eggplant slices for the second round, The third round will be an exact duplicate of the first - with layers of eggplant. Be sure the final product ends with the remaining sauce and a nice thick layer of cheese on the very top.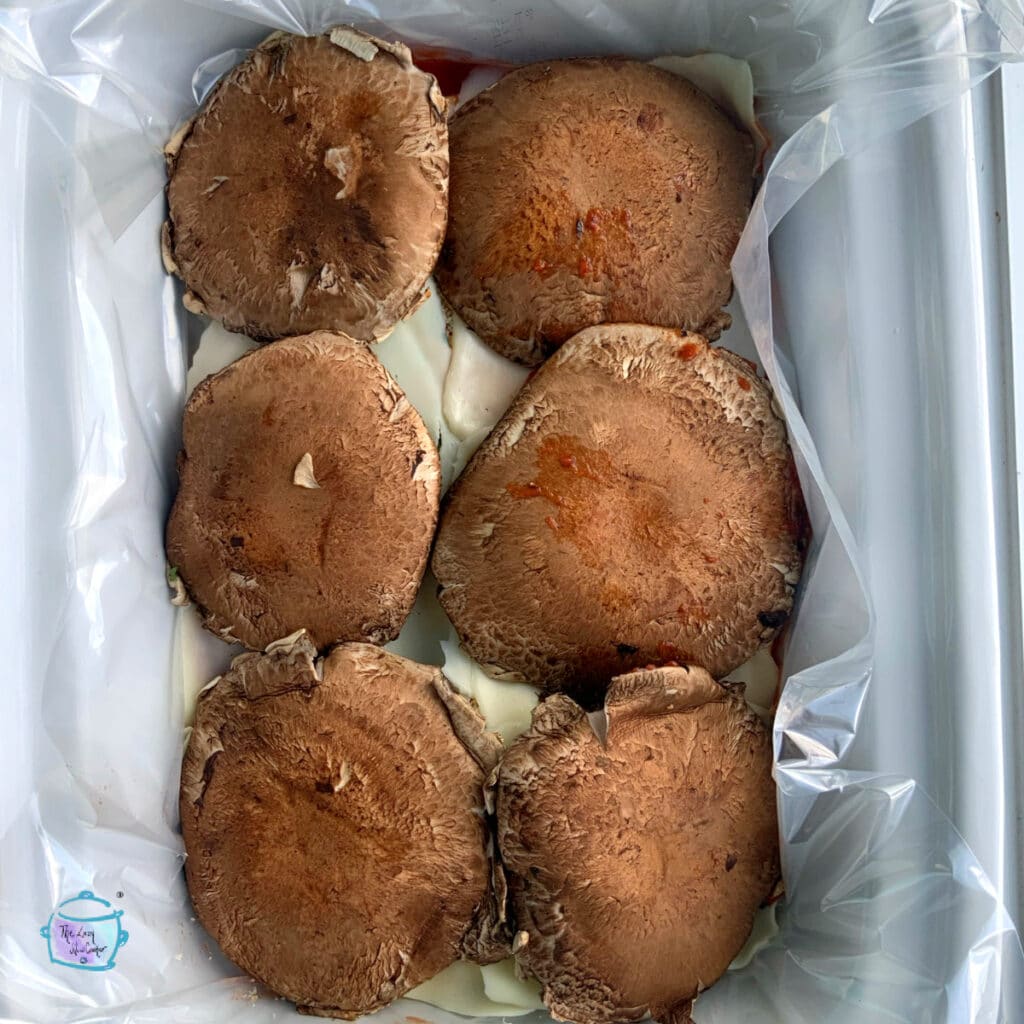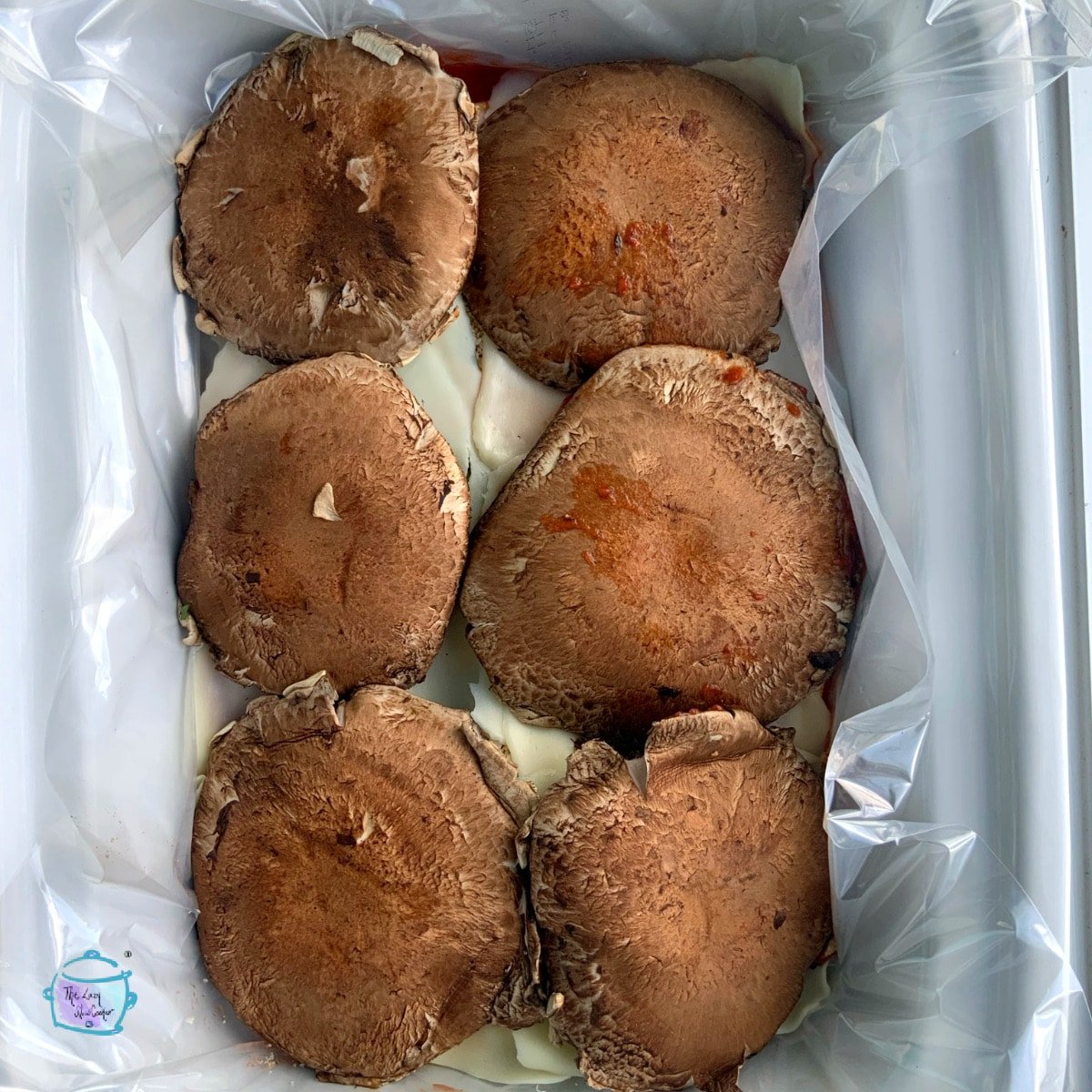 Total cooking time will be 4-6 hours until all vegetables are cooked through.
🍽Serving suggestions

This excellent recipe is basically a complete meal on its own. It is great served with a nice thick loaf of crusty Italian bread.
It is also a great side dish for simple chicken recipes such as pizza chicken or chicken parmesan. My favorite way to serve this dish is right alongside an Italian roast served on top of cauliflower rice!
It is delicious topped with some sliced green onions or fresh parsley. If you would like to spice things up, sprinkle with chilli flakes It pairs beautifully with dry white wine or even red wine.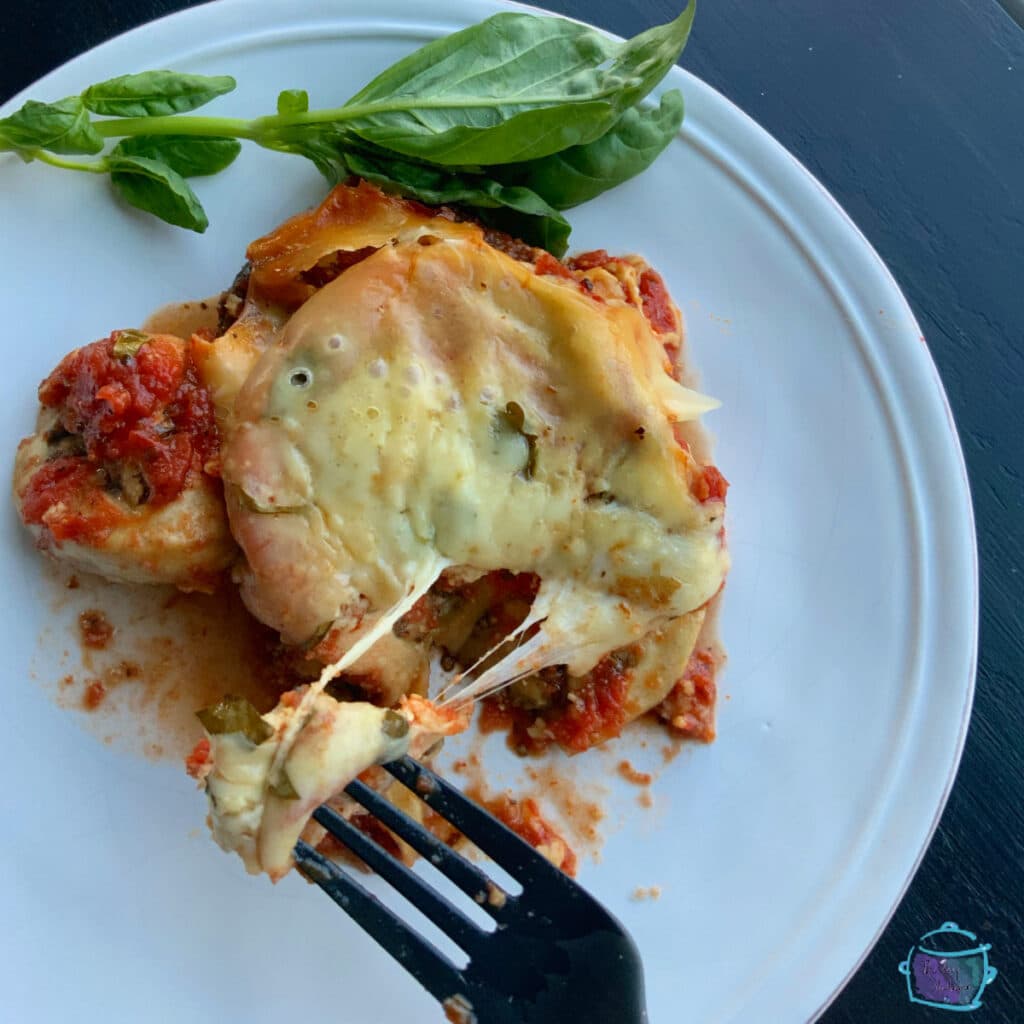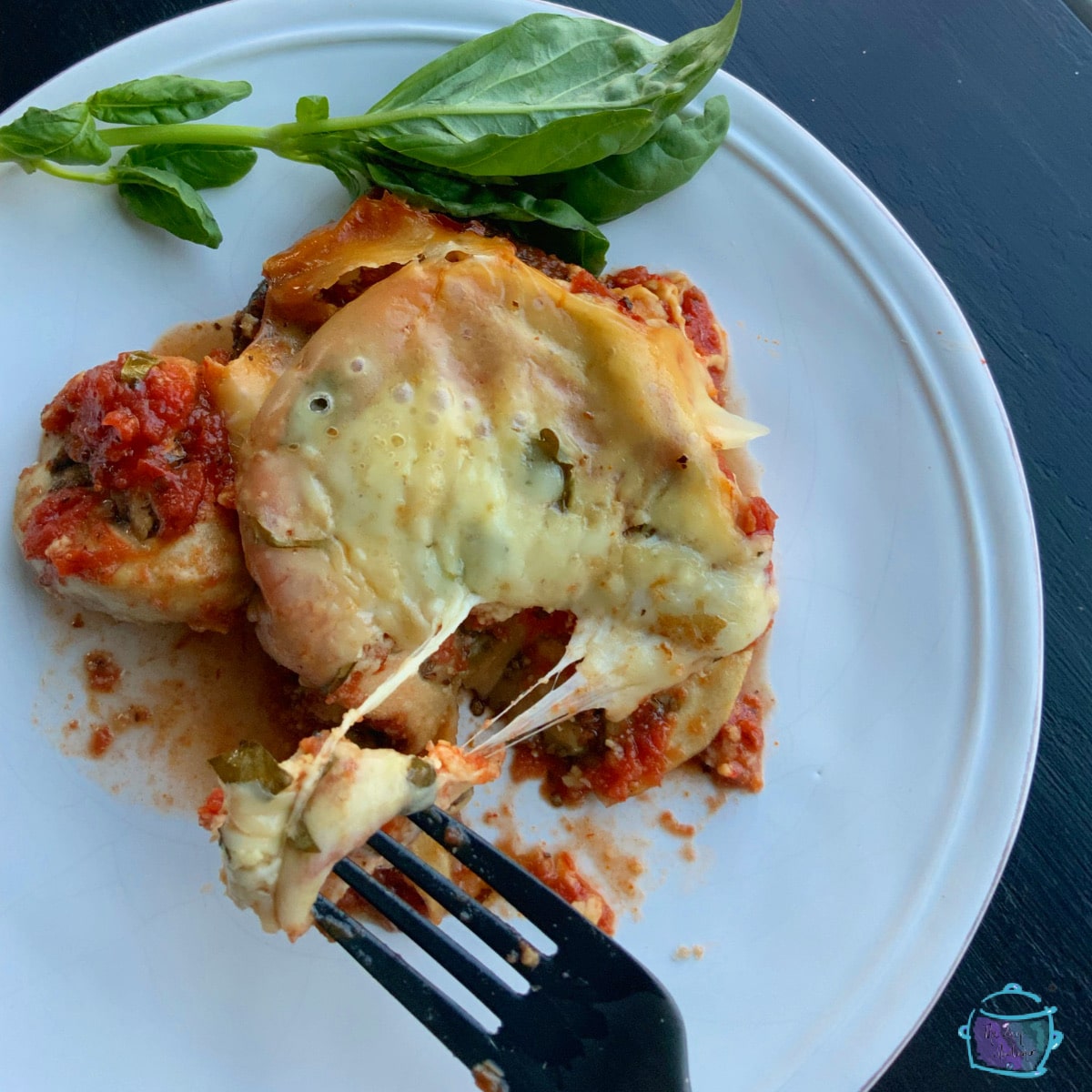 Storing leftovers
The best thing about this slow cooking recipe is how well it keeps. Leftovers can be stored in the refrigerator in an airtight container or bag for 3-4 days. Storing in meal-sized portions makes for easy reheat-and-eat future meals. Leftovers can also be frozen for up to 3 months and easily reheated in the microwave.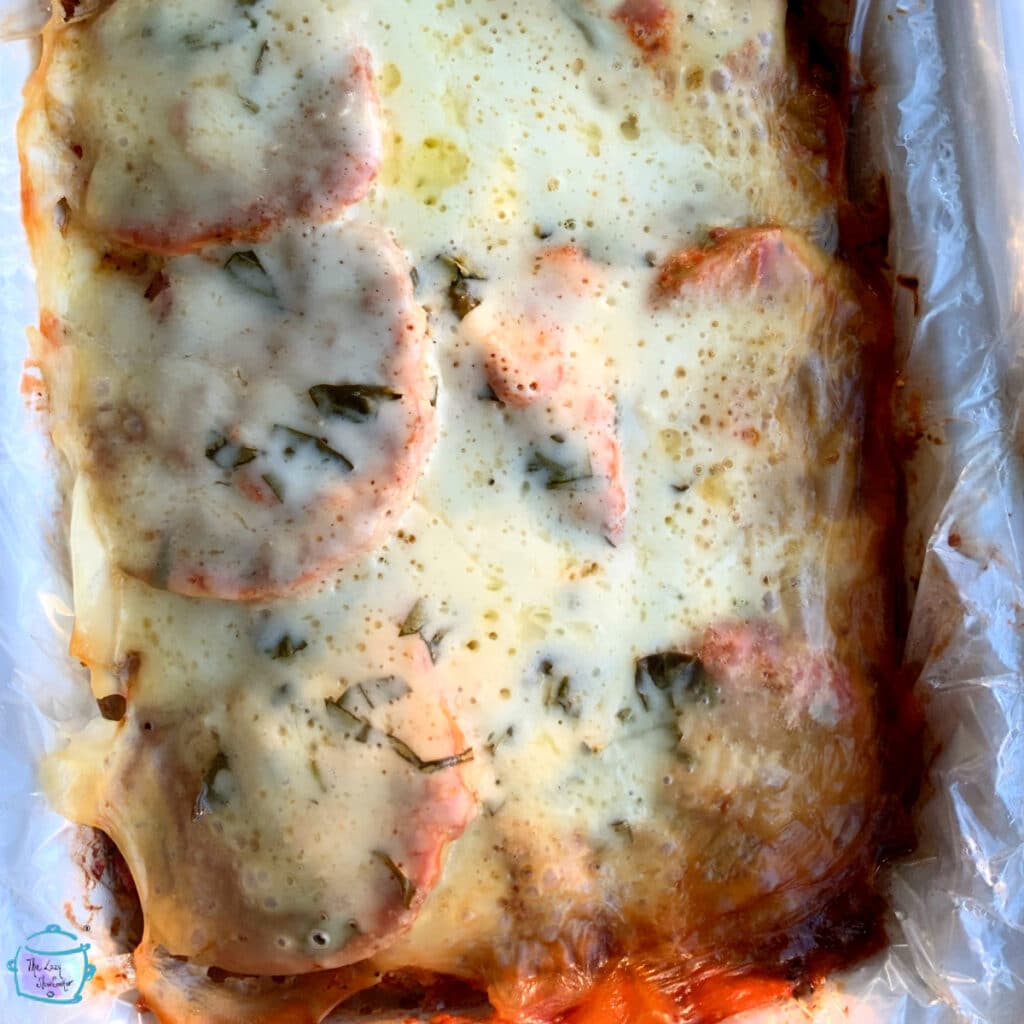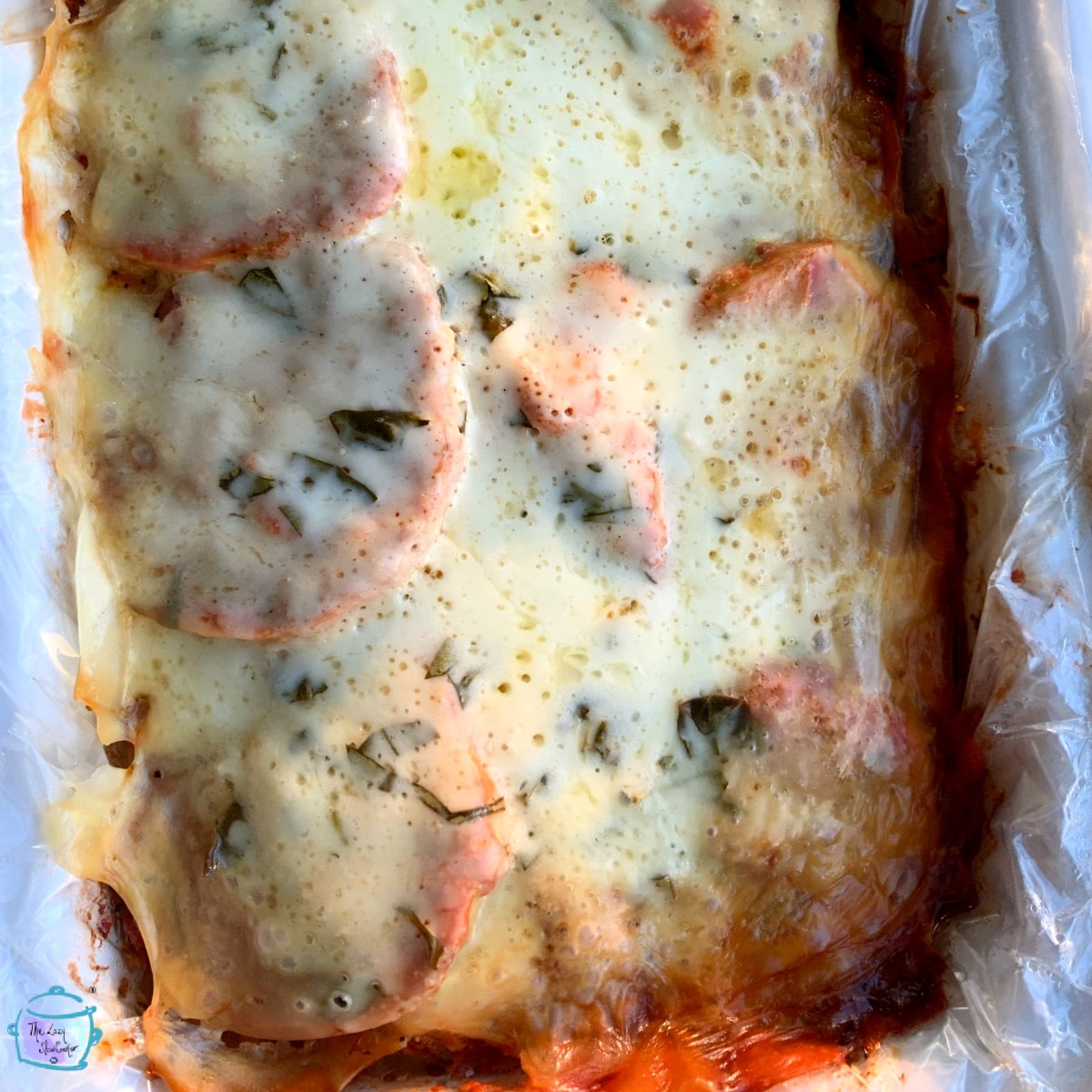 😉Hints & hacks
Have everything on the shopping list besides fresh basil? That's ok, you can mix 1 tablespoon of dried basil in with the parmesan, garlic powder and onion powder mixture instead.
You may have extra liquid in the dish after you start removing pieces from your slow cooker. That is ok! It's just water from the eggplant. The dish will still be delicious! If you are bothered by it, next time let your salted eggplant sit for a longer period of time to make sure as much water drains out as possible.
Slow cooker liners are an optional but helpful hack whenever using a crockpot. They allow you to cook with little to no cleanup. I like to buy mine in bulk for a better per-piece price.
In the market for a new slow cooker? I love mine!
Fun Fact 1: The mushroom used in this recipe can be spelled Portobello OR Portabella. For consistency purposes, The Mushroom Counsel has officially adopted the spelling Portabella.
❓FAQ's
Why salt the eggplant before cooking with it?
Eggplant naturally has a lot of water in it. Salting and allowing it to sit and drain for a while before cooking will draw out some of the water. Additionally, it will remove some of the natural bitterness some eggplant may have. This dish can come out pretty watery, so salting in advance helps to cut that down a bit .

Both the salt and the any excess fluid it draws out should be wiped off of your eggplant before cooking.
Why do I have to put a layer of sauce on the bottom of the slow cooker?
This is an optional step, but it is meant to help prevent the dish from sticking and to help make serving (and clean up) easier.
As an Amazon Associate, I earn from qualifying purchases and affiliate links.
📖 Recipe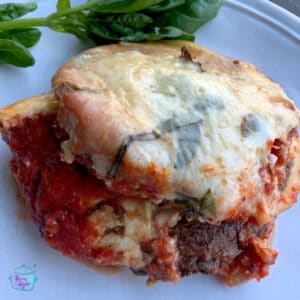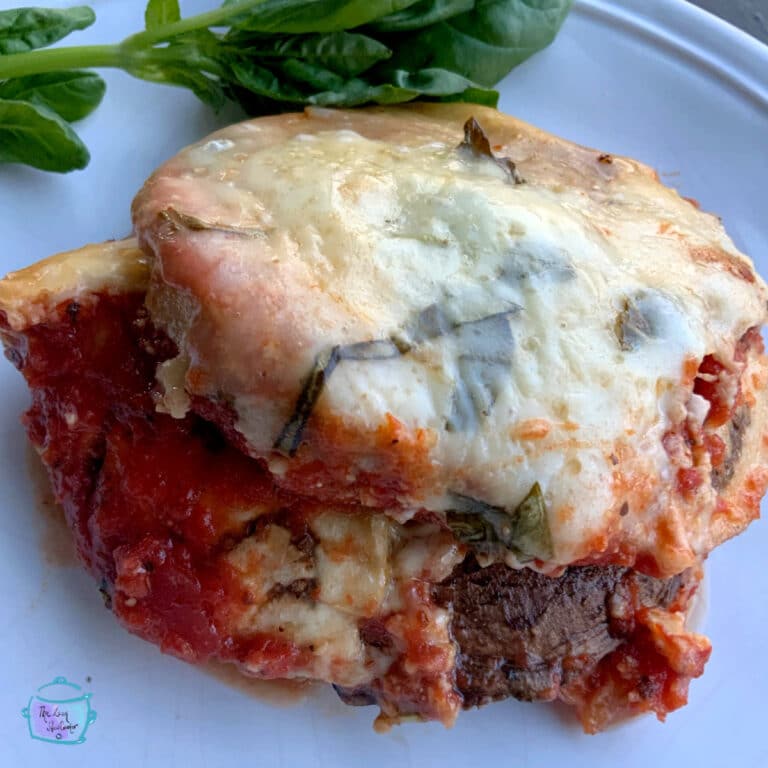 Slow Cooker Eggplant Casserole Recipe
Slow cooker eggplant casserole is an easy but amazing dish made with fresh eggplant, portabella mushrooms, sauce and lots of cheese. This vegetarian recipe works as both entrée and main course and will quickly become a fan favorite!
Print
Pin
Rate
Save
Saved!
Equipment
6 quart or larger slow cooker - or 3.5 quart or larger casserole style slow cooker

Knife and cutting board

crockpot liner (optional)

non-stick cooking spray of choice (I prefer olive oil)
Ingredients
1

large

eggplant

6

portabella mushroom caps

24

oz.

marinara sauce

1

lb.

sliced mozzarella cheese

1

cup

grated parmesan cheese

½

cup

chopped fresh basil

1

teaspoon

garlic powder

1

teaspoon

onion powder
Instructions
peel eggplant and slice into slices that are about 1-inch thick. Thicker slices (such as 2-inch slices) will take longer to cook

lay eggplant in a colander and toss with salt. allow to sit for 30 minutes or so.

pat eggplant with a paper towel to remove any excess moisture

remove stem from portabella mushrooms, if applicable

place grated parmesan, garlic and onion powder together in a small bowl and stir to combine

spray slow cooker with non-stick spray

spread a few tablespoons of sauce around bottom of slow cooker

cover with thin layer of sauce

sprinkle with a layer of the parmesan mixture

sprinkle some chopped basil on top

next, place of layer of sliced mozzarella until fully covered

repeat this 5 step sequence with portabella caps in place of eggplant (sauce - portabella - parmesan mixture - basil - sliced mozzarella)

repeat the 5 step sequence again with eggplant this time (sauce - eggplant - parmesan mix - basil - mozzarella)

Be sure to finish with a layer of cheese on top.

cover and cook. slow cooker time should be 4-6 hours on low until all vegetables are fully cooked through

cut into squares and enjoy a wonderful slow cooker meal!
Notes
Notes:
Peeling the eggplant is optional. You can cook and serve with the skin on.
The number of layers may vary based on the size and shape of your slow cooker. If you have a very deep slow cooker, you can add a 4th layer, if you choose.
When you cut this dish, you may see extra liquid laying in your slow cooker. The amount will depend on how long you allowed your eggplant to dry. This is normal and will not effect the flavor. If I have leftovers to store, I drain the extra liquid prior to storing.
See above instructions for additional information on how to prepare eggplant for cooking
Nutrition
Calories:
275
kcal
|
Carbohydrates:
13
g
|
Protein:
21
g
|
Fat:
17
g
|
Saturated Fat:
10
g
|
Polyunsaturated Fat:
1
g
|
Monounsaturated Fat:
5
g
|
Trans Fat:
1
g
|
Cholesterol:
56
mg
|
Sodium:
1000
mg
|
Potassium:
712
mg
|
Fiber:
4
g
|
Sugar:
8
g
|
Vitamin A:
952
IU
|
Vitamin C:
8
mg
|
Calcium:
447
mg
|
Iron:
2
mg
Check out our latest on Instagram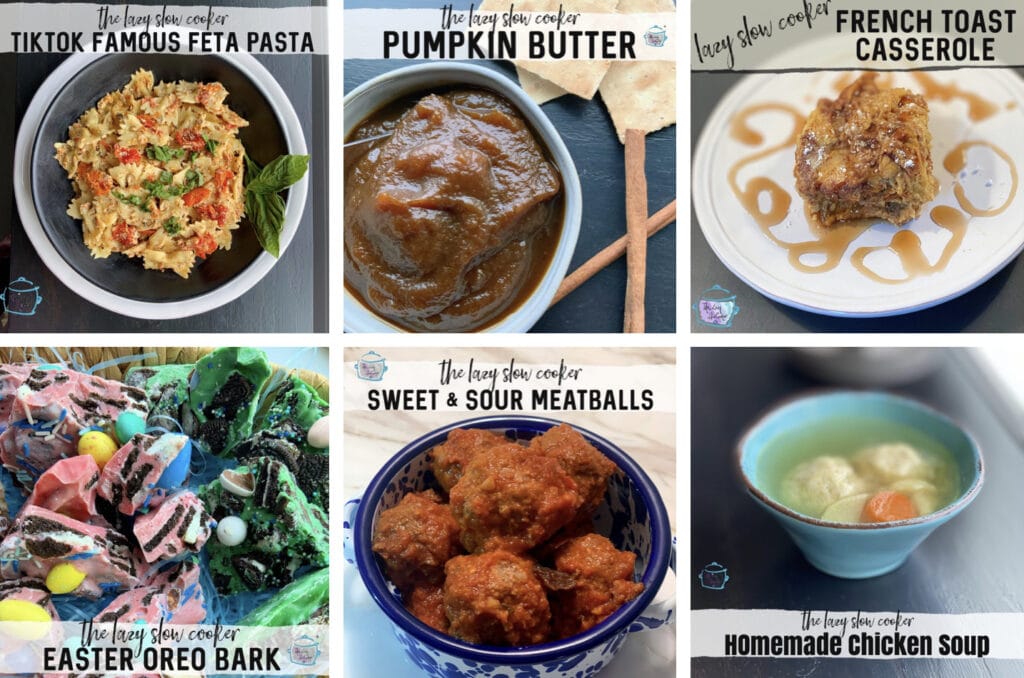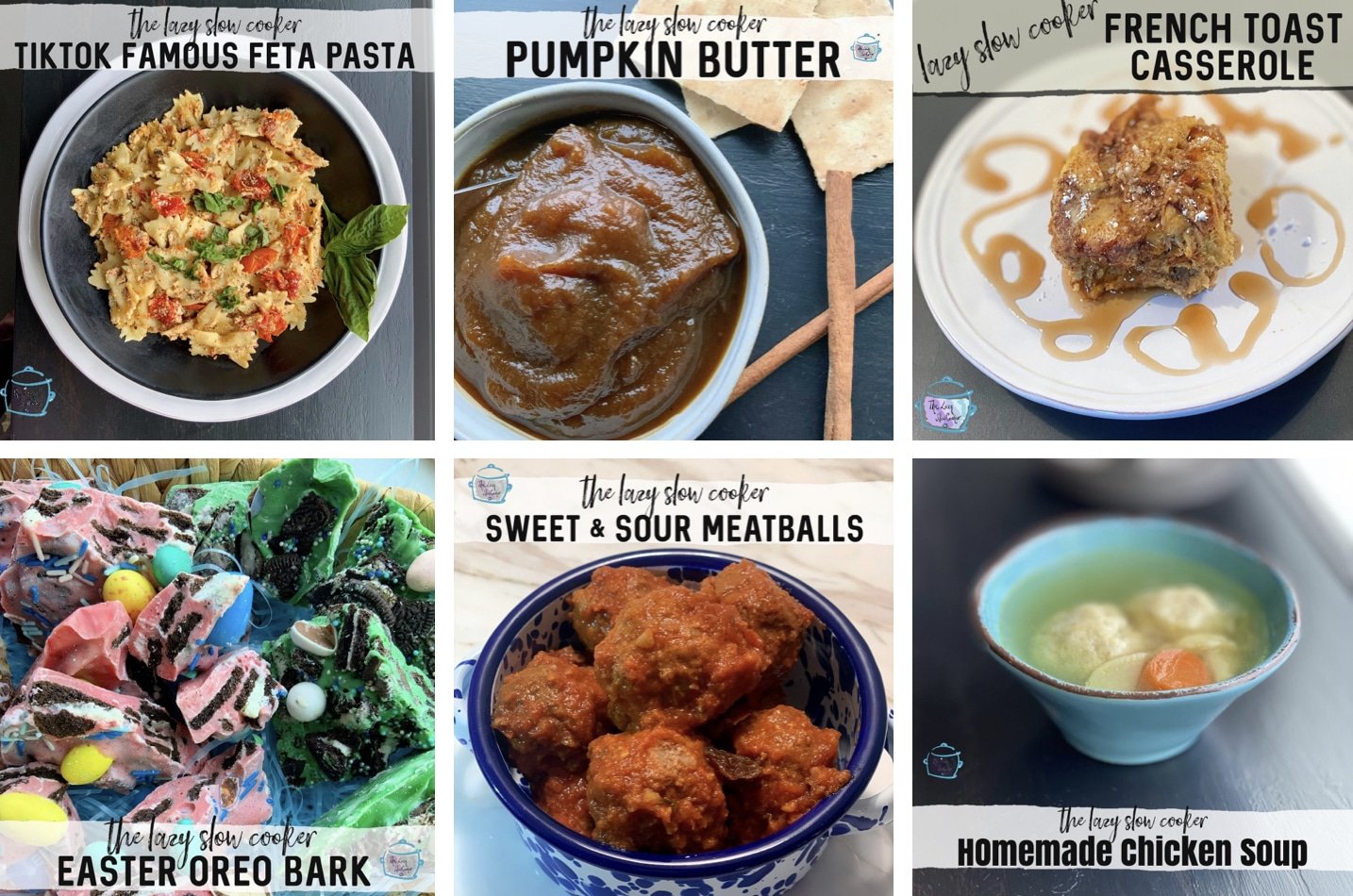 Have you tried this recipe? We would love to hear how it went in the comment section below!