Jump to Recipe
Slow cooker homemade pastrami is out-of-this-world good! Made with pre-brined corned beef brisket and topped with all the right spices. This delicious deli-style meat will quickly outshine anything you can buy in a market.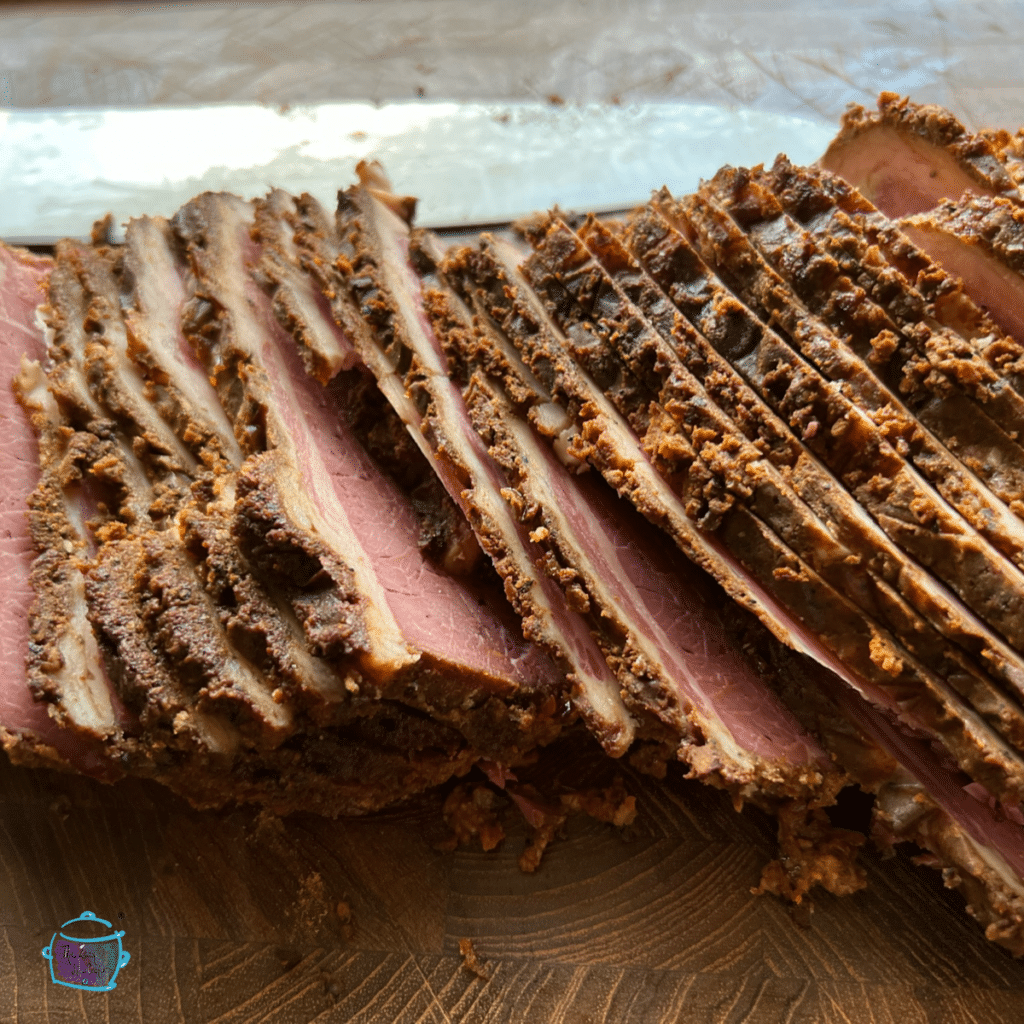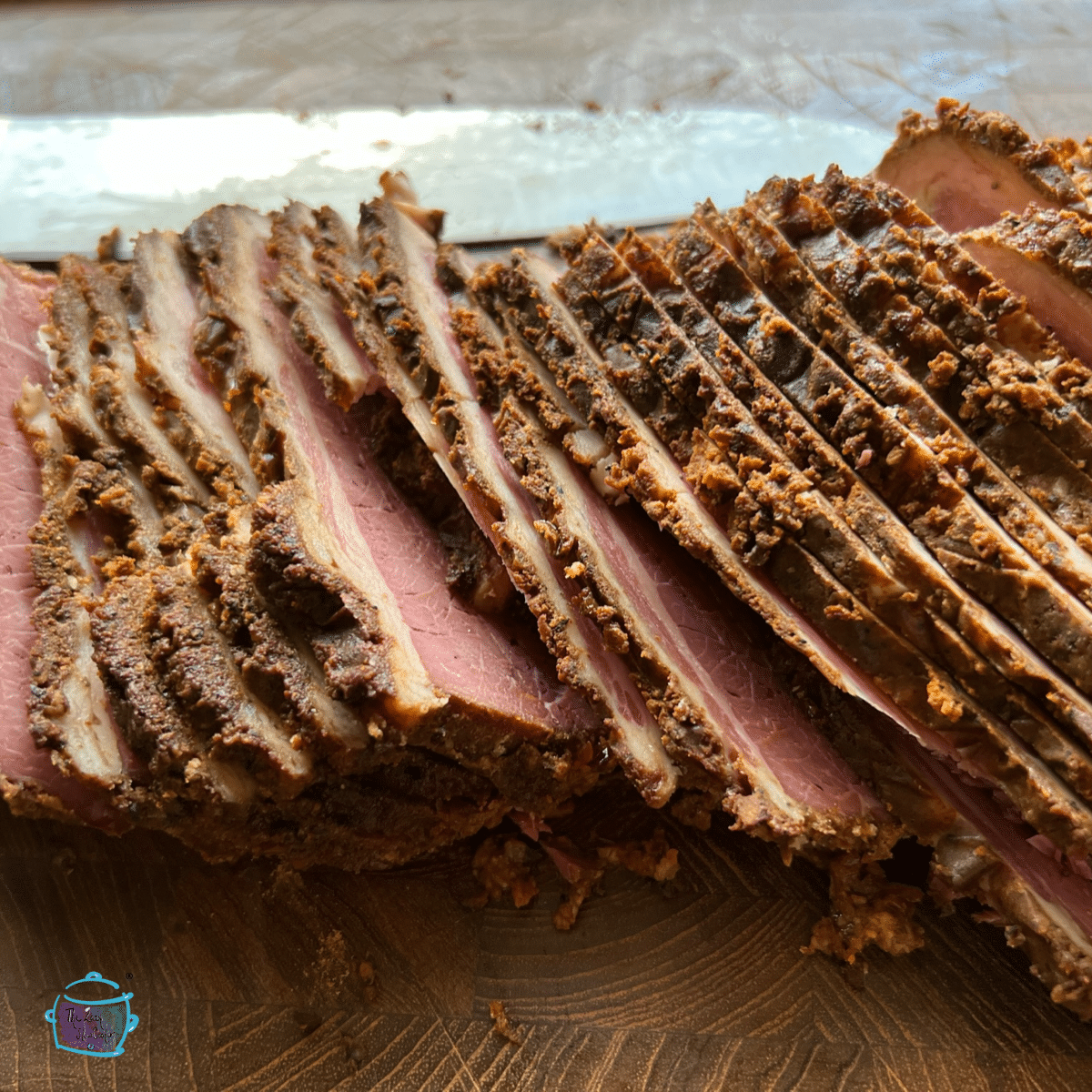 Every year, right after St. Patrick's Day, my local market has corned beef briskets on sale. I just can't help myself - when meat is on sale, I buy it! But, we can only eat so many corned beef sandwiches.
Pastrami is a long-time favorite in our house. There is a lot of bad pastrami out there, so I don't really buy it often. Our favorite is the kind that comes from a good Jewish deli.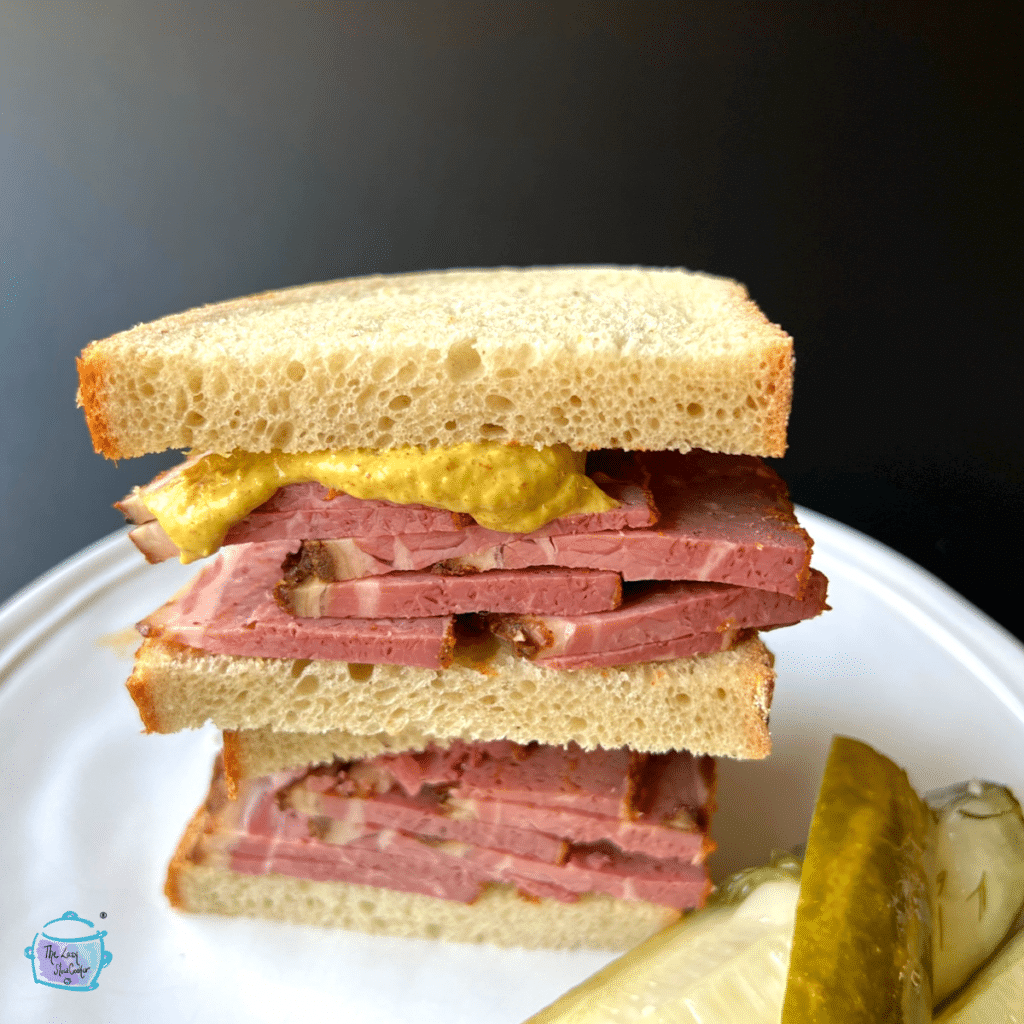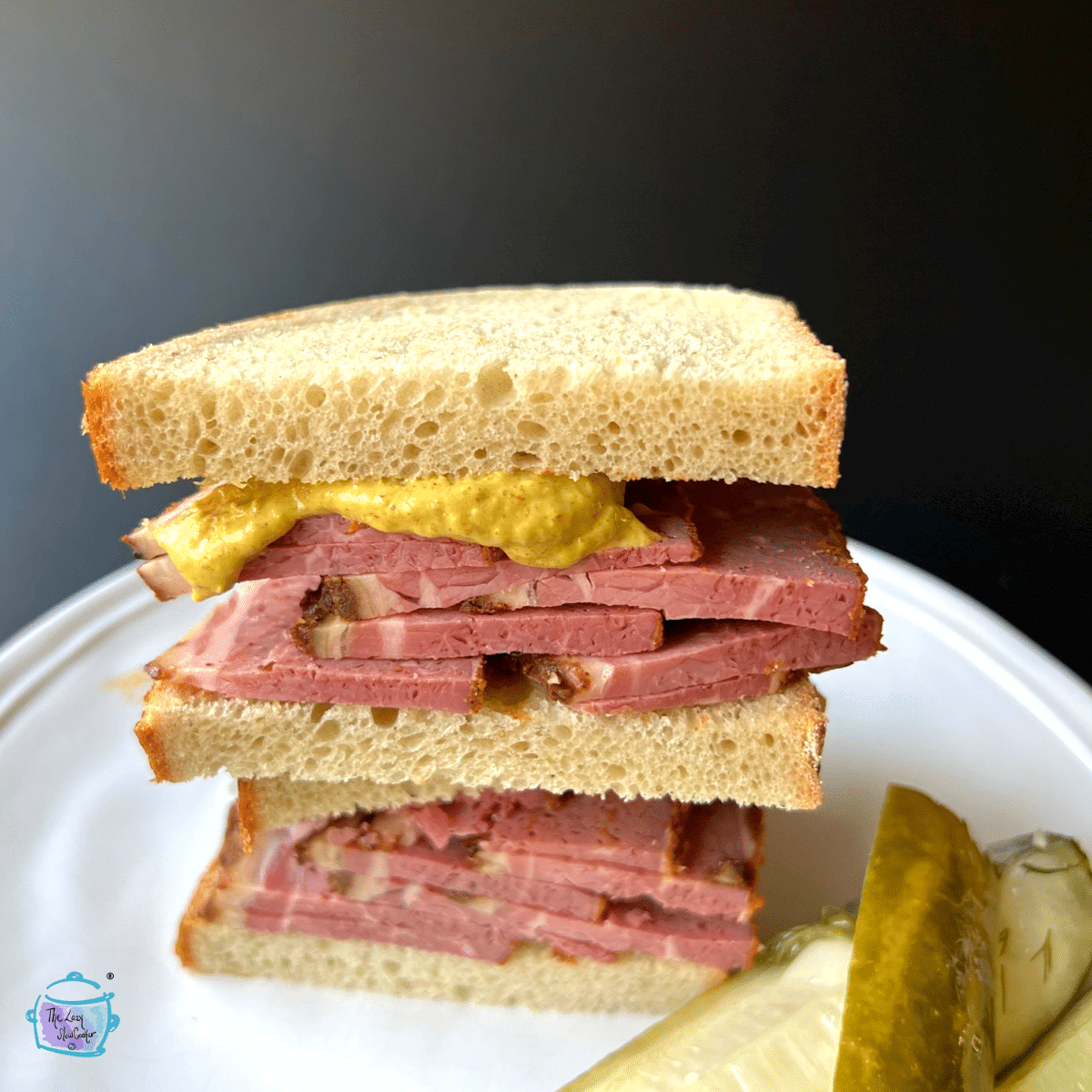 So I set out to see if I could replicate good deli pastrami by slow-cooking some corn beef. And the answer is YES! With the right spice rub and a large slow cooker, easy homemade pastrami can be made right in your kitchen
Look out New York City, your delis have got competition!
📝Shopping list
Jump to recipe card for exact quantities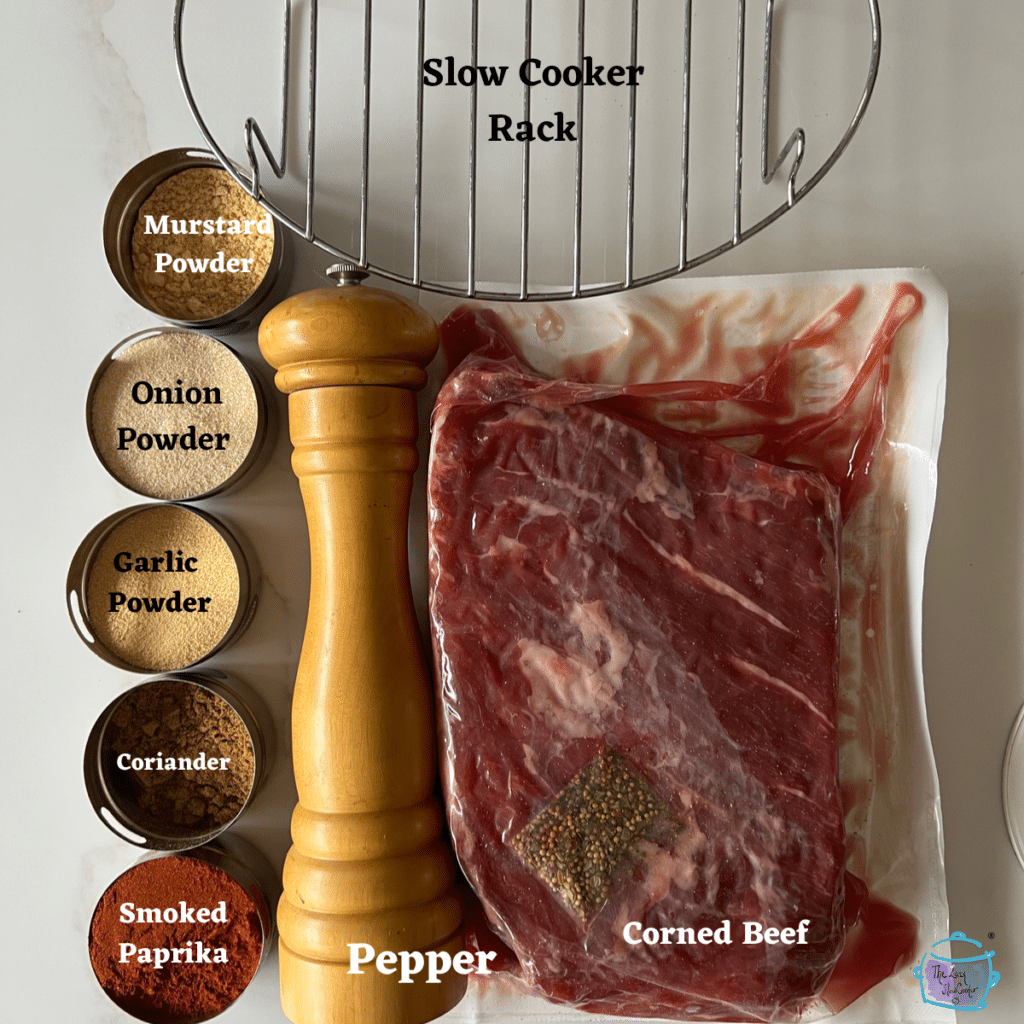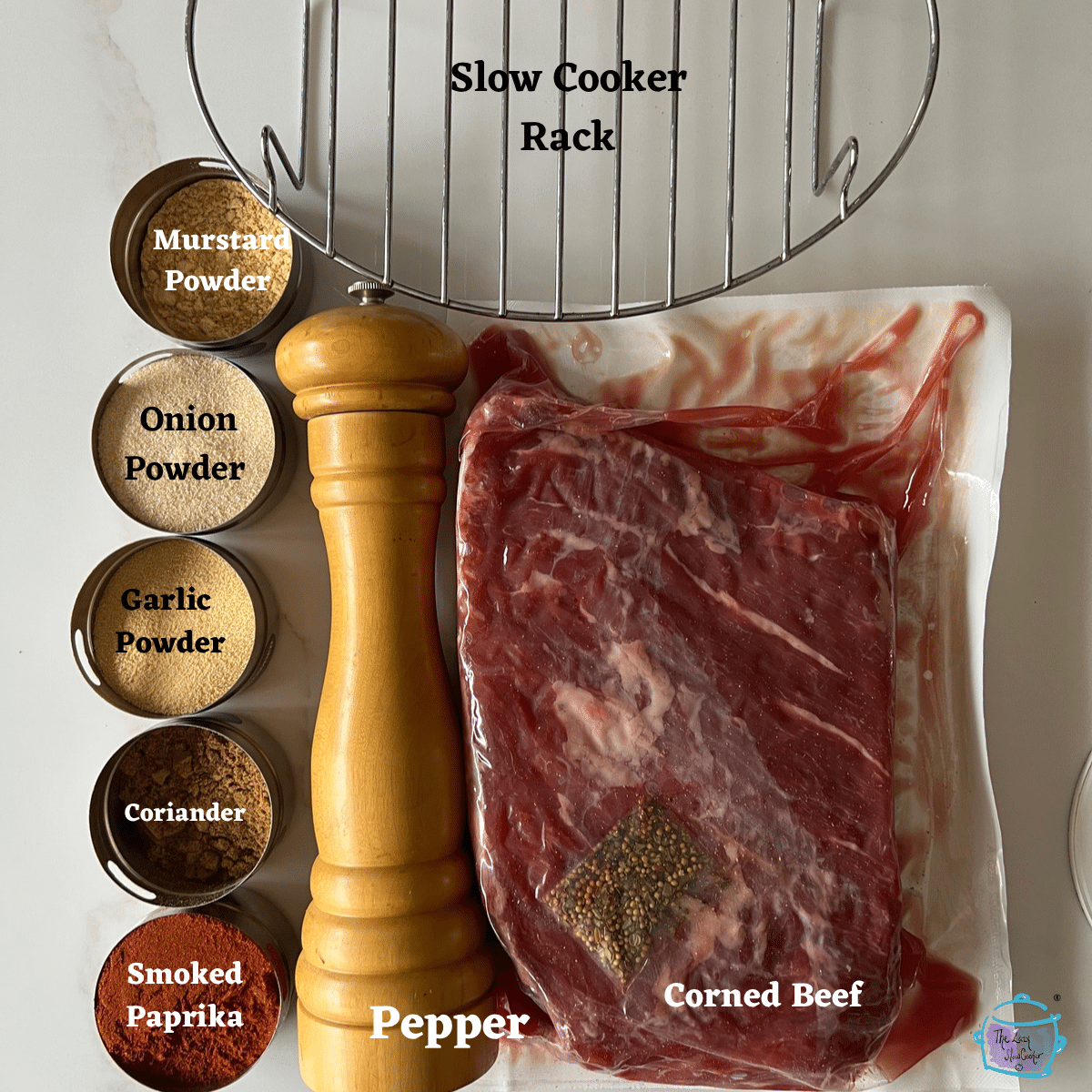 To make this delicious beef recipe you will need:
Corned beef brisket - Grocery stores sell these pre-brined and ready to cook. They are always on sale right after St. Paddy's day! If you prefer, you can brine your own (but I am way too lazy for that!)
Black Pepper - fresh ground whole black peppercorns are a must for this recipe.
Corriander - ground
Smoked paprika )
Mustard powder
Garlic powder
Onion powder
🥣Making Pastrami
ASSEMBLY
Your first step is to mix all of the flavorful seasonings together in a small bowl and set them aside.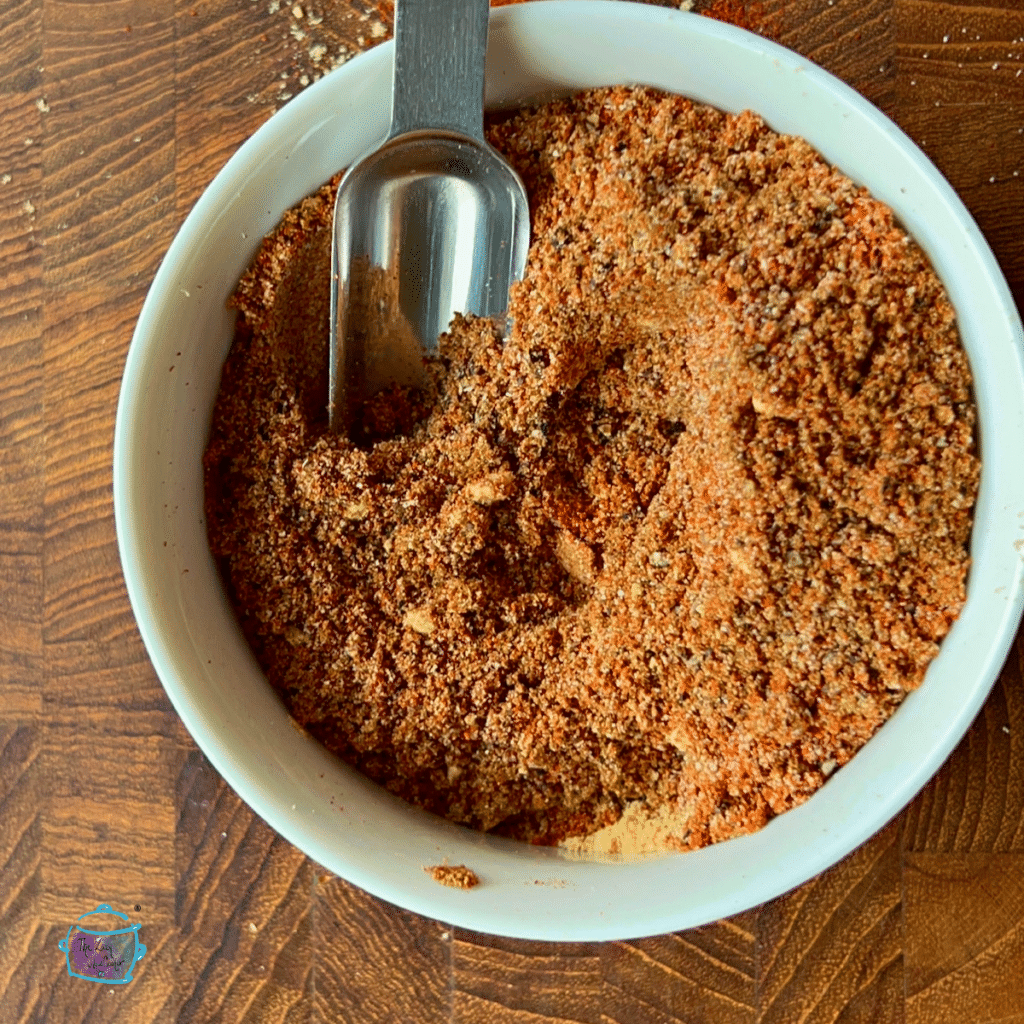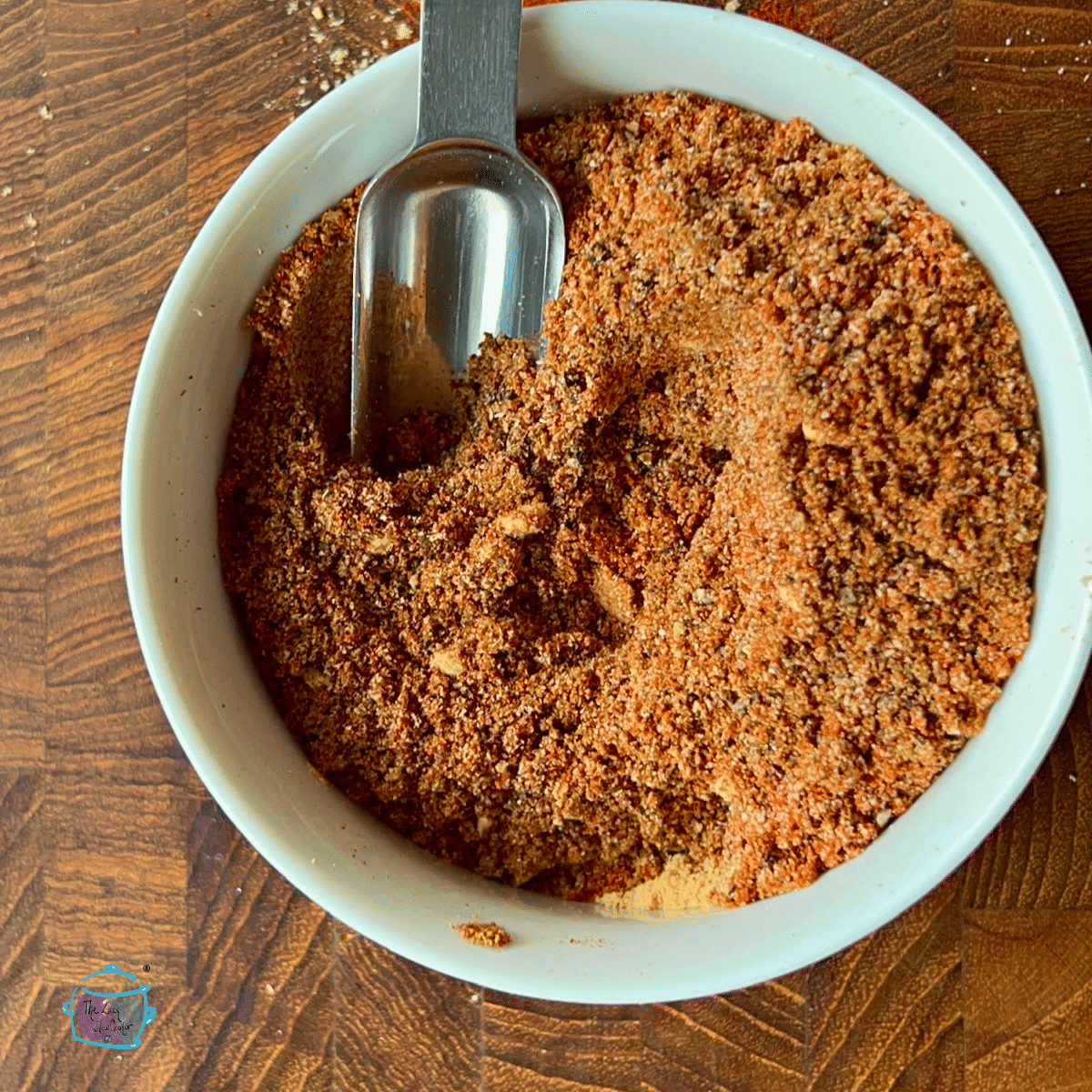 Next place two large pieces of foil in and "x" on a counter or tabletop. Make sure each sheet of foil is long enough to fully wrap around your piece of beef. Rinse your brisket, pat it dry. and place it fat cap side down in the center of the X.
You can discard the seasoning packet that comes with your corned beef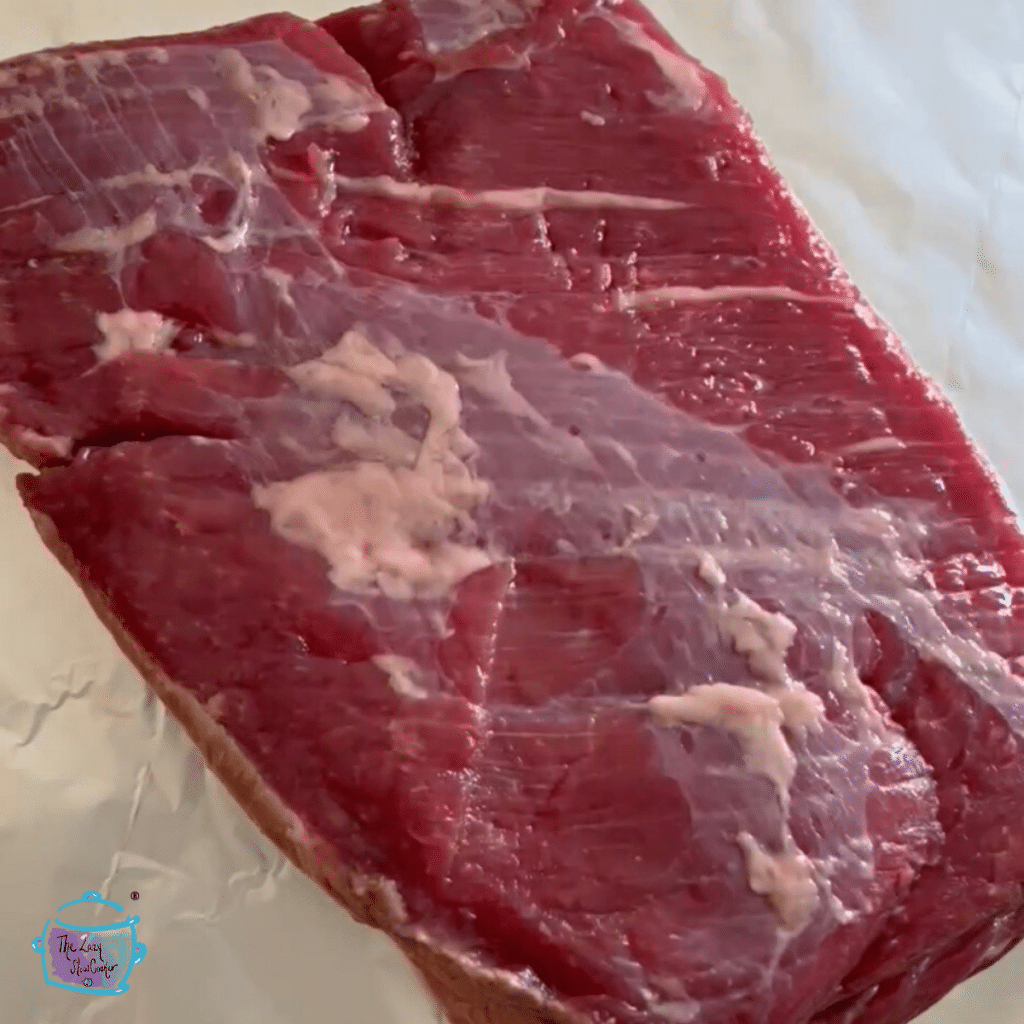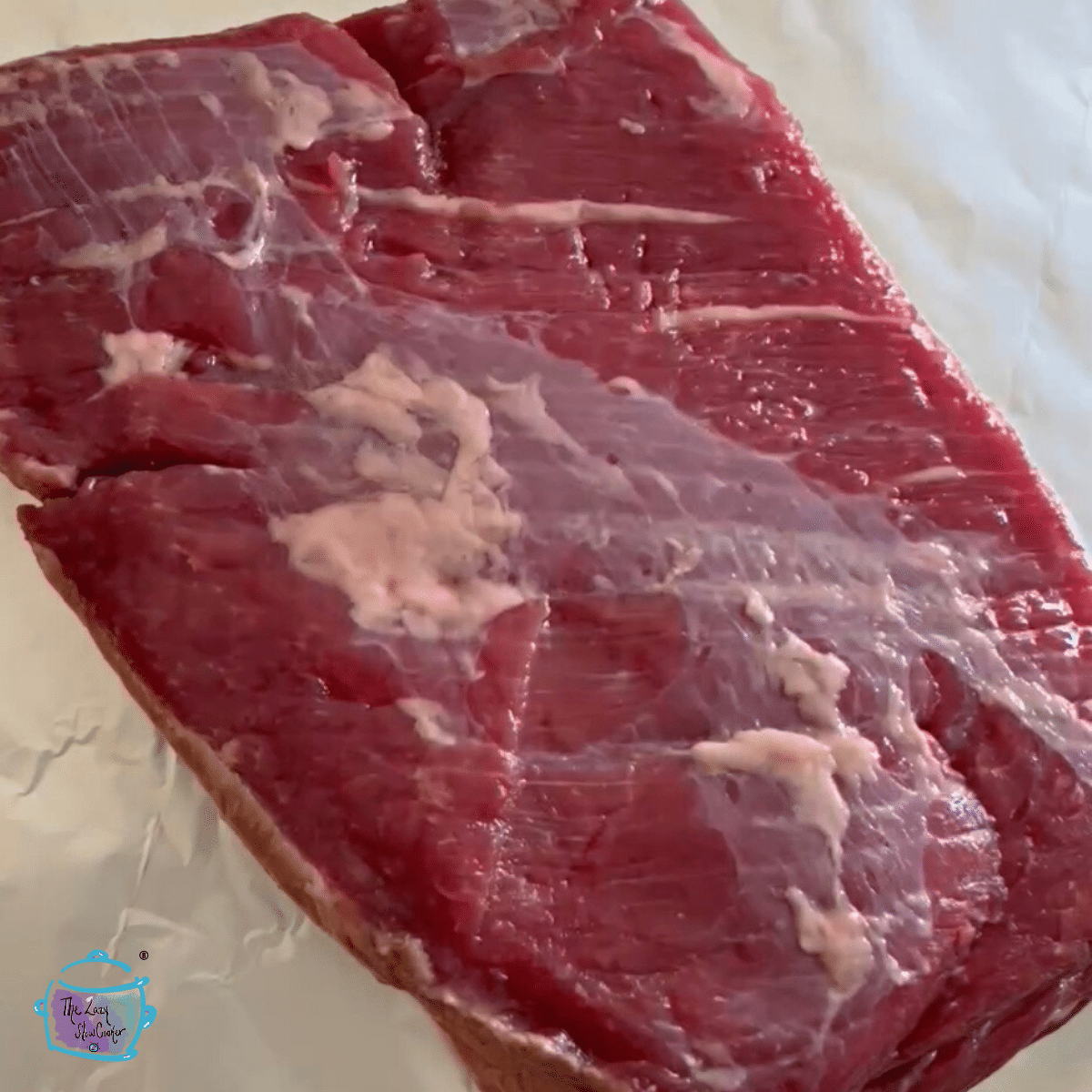 Use your hands to fully coat your brisket with the spice mixture. After the top and sides have been fully coated, turn your beef over and coat this side as well.
Once fully coated with its signature pastrami spice crust, wrap one piece of foil fully around the meat. Then double wrap it in the other direction using the second piece of foil.
IN SLOW COOKER
Beef pastrami needs to be elevated during the slow cooking process. This can be accomplished by using a slow cooker rack or several foil balls. Place rack or foil balls on bottom of slow cooker. Next, place pastrami in its foil wraps fat cap side up on top.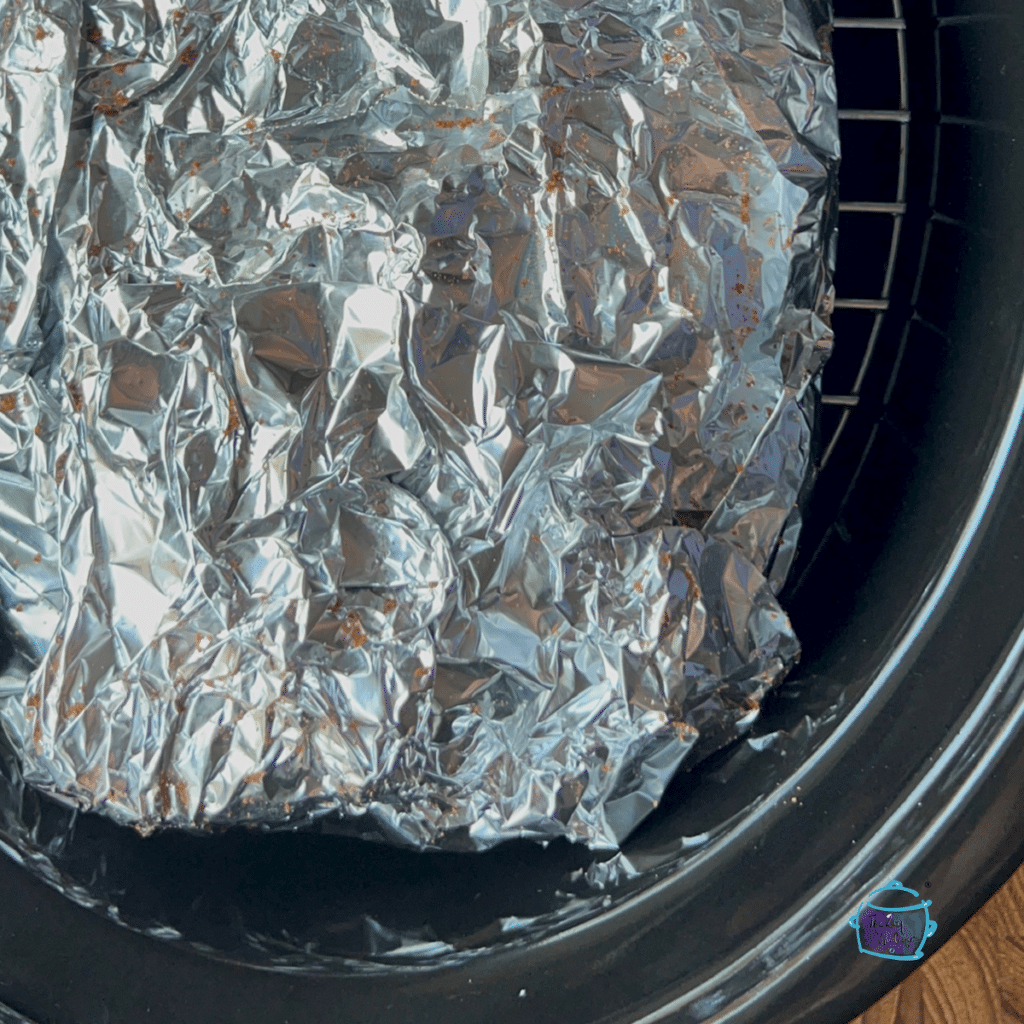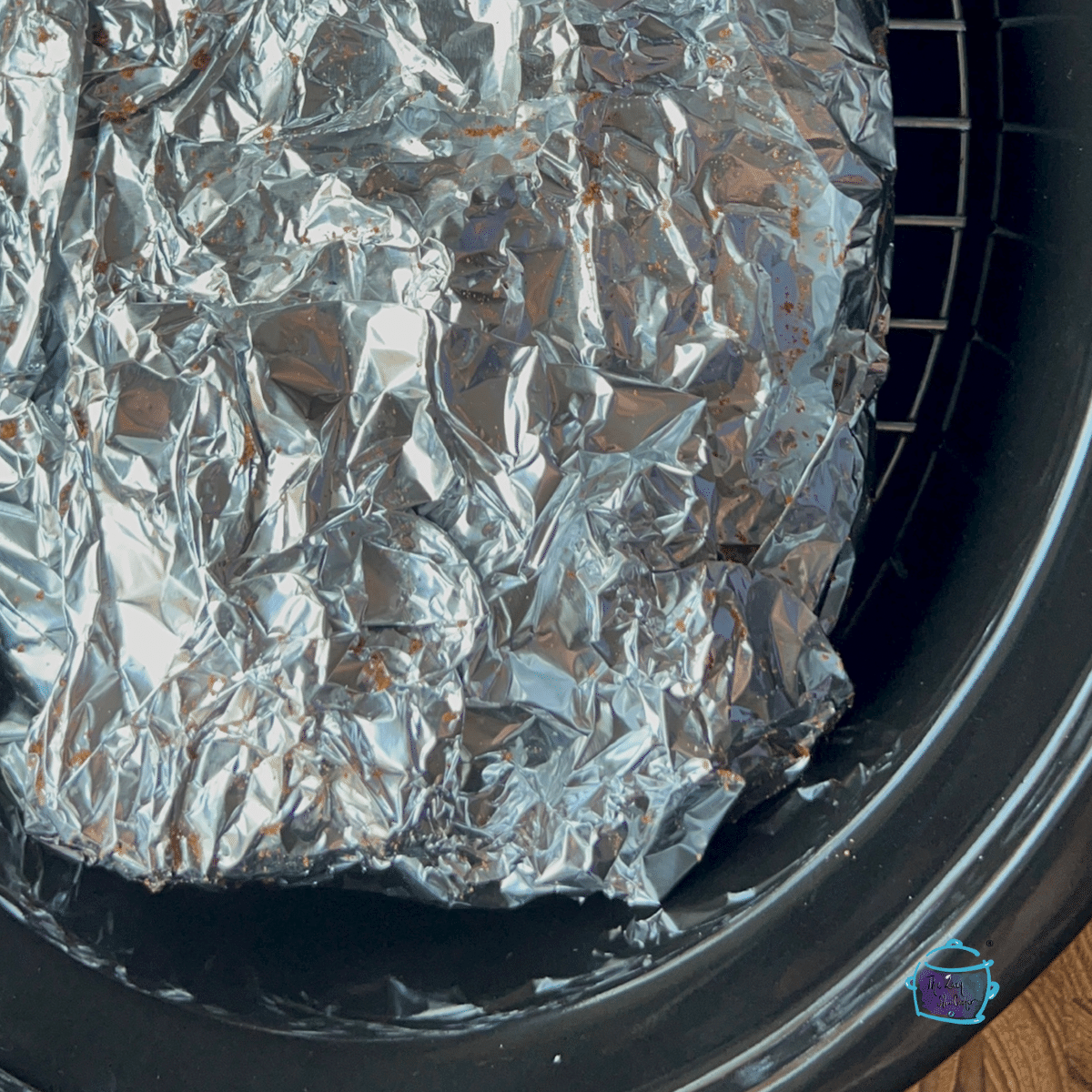 Cover and cook on low heat for 10 hours.
AFTER COOKING
Once your pastrami is fully cooked, turn your slow cooker off and remove the lid. Allow your beef to rest for at least 30 minutes. My preference is to allow it to fully cool and spend the night in the refrigerator prior to slicing.
Remove pastrami from its foil wrap and place on a cutting board. You want to cut it into thin slices. The key is to cut it against the grain so it doesn't fall apart.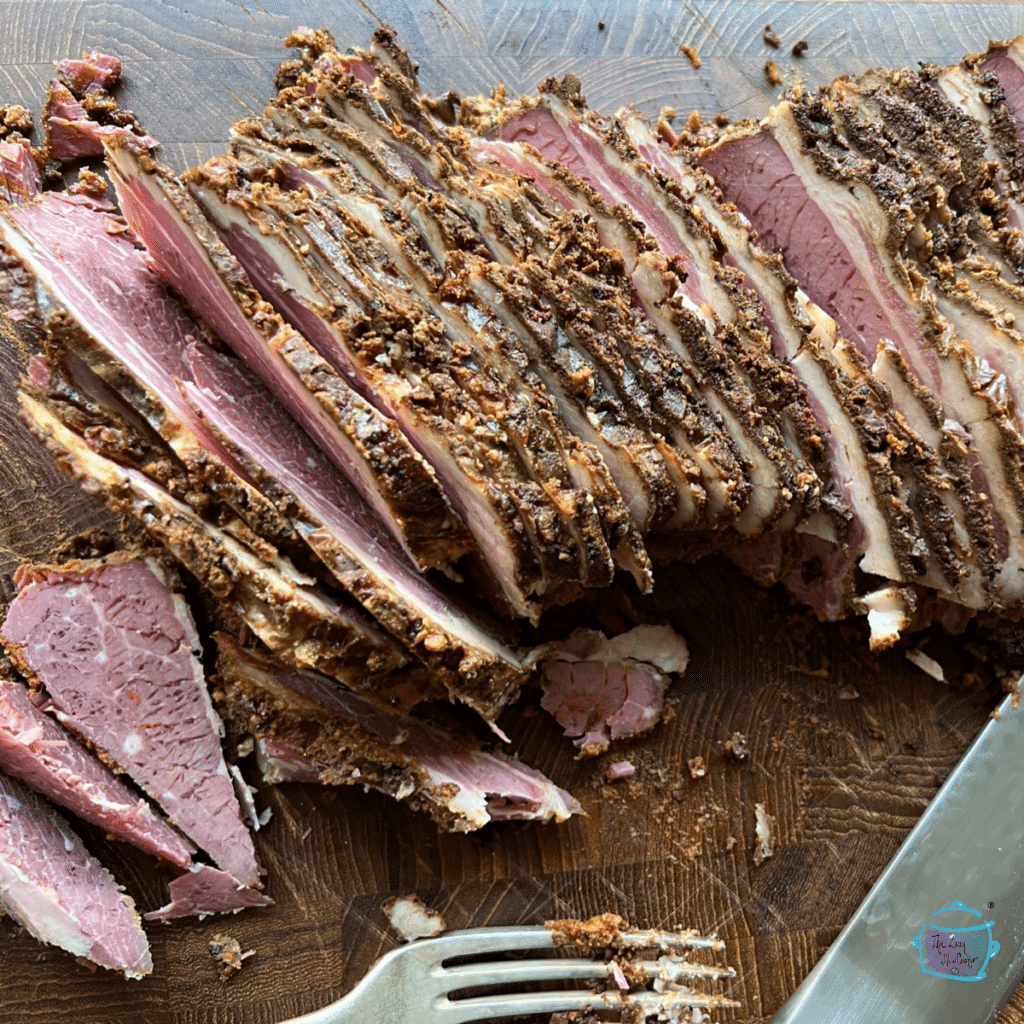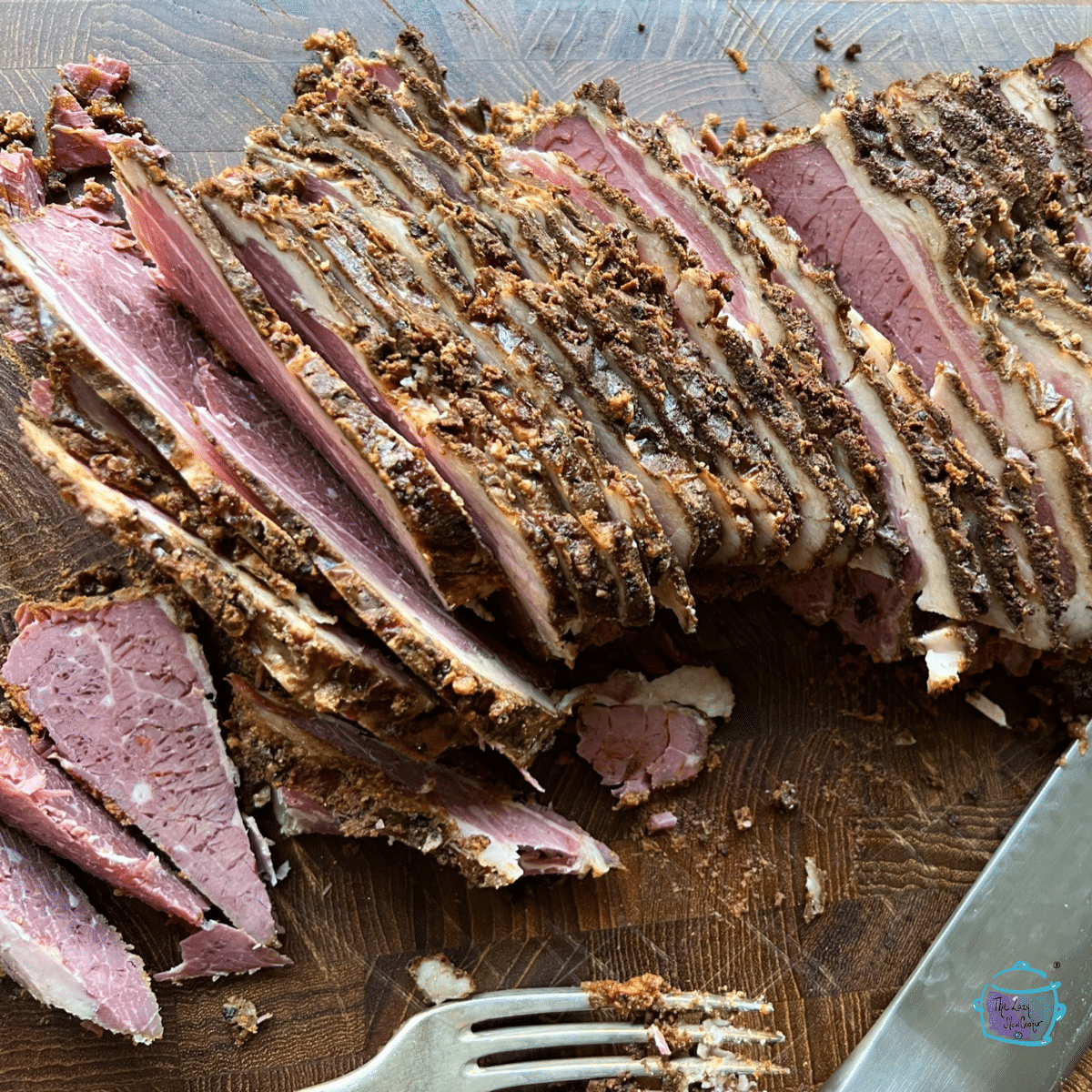 Try to slice your pastrami as thin as possible. An electric knife or a super sharp carving knife are both helpful with this
🍽Serving suggestions
Slow cooker pastrami sandwiches are beyond delicious. There are almost endless varieties to choose from.
The most basic and quite popular is just to place it between two slices of dark rye bread with some spicy brown or whole grain mustard.
A grilled sandwich on rye with pastrami, coleslaw, swiss cheese, and Russian dressing is my favorite way to serve this deli classic.
SIDE DISHES
Pastrami sandwiches are always great served with pickles and chips! Cheesy potatoes, corn spoon bread, garlic mushrooms, and some creamy coleslaw are also great go-withs. As is a steaming hot pile of fries!
Snacking on this easy pastrami recipe right out of the fridge is also popular in my house!
Storing leftovers
One sliced, this easy recipe can be stored in either the refrigerator or freezer. I like to wrap small packages of it in plastic wrap and save some in the freezer for later servings.
Homemade pastrami will last up to 3 months in the freezer and 3-5 days in the refrigerator. Keeping it on hand in the freezer is an easy way to serve a great dish on super busy days.
😉Hints & hacks
Hot pastrami meat is delicious as is cold. Although it is never safe to leave meat out of the refrigerator for a long time, if you aren't serving hot, room temperature pastrami is my favorite.
Be sure to defrost frozen meat in the refrigerator and not on the countertop.
I am a huge fan of slow cooker liners for the easiest clean-up.
In the market for a slow cooker? I love mine!
As an Amazon Associate, I earn from qualifying purchases and affiliate links.
📖 Recipe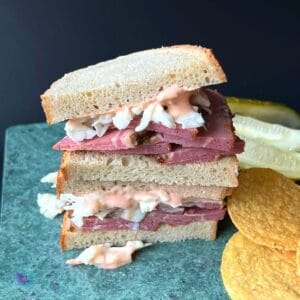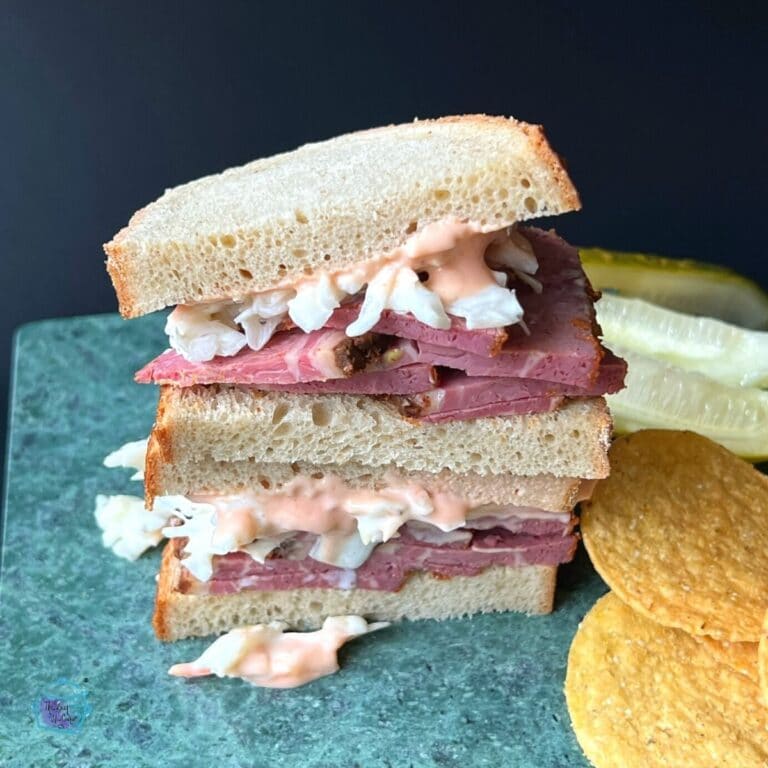 Slow Cooker Homemade Pastrami
Slow cooker homemade pastrami is out-of-this-world good! Made with pre-brined corned beef brisket and topped with all the right spices. This delicious deli-style meat will quickly outshine anything you can buy in the market.
Print
Pin
Rate
Save
Saved!
Ingredients
3 - 4

lb

corned beef brisket

¼

cup

coriander

2

tablespoon

smoked paprika

1.5

tablespoon

black pepper

freshly ground

1

tablespoon

mustard powder

2

teaspoon

garlic powder

2

teaspoon

onion powder
Instructions
take two long sheets of foil and lay the in an "x" on the counter

rinse off beef, pat dry, and lay on top of the center of the "x", fat side down

3 - 4 lb corned beef brisket

in a small bowl, mix together remaining ingredients

¼ cup coriander,

2 tablespoon smoked paprika,

1.5 tablespoon black pepper,

1 tablespoon mustard powder,

2 teaspoon garlic powder,

2 teaspoon onion powder

rub ½ of the dry ingredient mixture over top of the brisket

turn the brisket over and rub the other side (fat side) with remaining spices

wrap one slice of foil around the brisket

wrap the second piece of foil around the brisket the other way. beef should be full covered with foil

place beef, fat side up, into slow cooker

cover and cook on low for 10 hours

turn off slow cooker, remove lid and allow to rest for at least 30 minutes prior to slicing.

Slice as thin as you can and enjoy
Notes
Notes:
If you like your pastrami very peppery, feel free to add an extra tablespoon of ground black pepper to the rub.
I find the pastrami is easiest to slice thin when it is cold. I prefer to allow it to rest overnight in the refrigerator before slicing.
Nutrition
Calories:
546
kcal
|
Carbohydrates:
4
g
|
Protein:
40
g
|
Fat:
40
g
|
Saturated Fat:
13
g
|
Polyunsaturated Fat:
2
g
|
Monounsaturated Fat:
19
g
|
Cholesterol:
143
mg
|
Sodium:
3224
mg
|
Potassium:
890
mg
|
Fiber:
2
g
|
Sugar:
1
g
|
Vitamin A:
1203
IU
|
Vitamin C:
72
mg
|
Calcium:
37
mg
|
Iron:
5
mg
Check out my latest on Instagram