Jump to Recipe
This crockpot French toast casserole is a "Must-Try" recipe. Fresh sweet strawberries and dolops of creamy cheesecake slow cooked together with the classic flavors of French toast. Brunch will never be the same!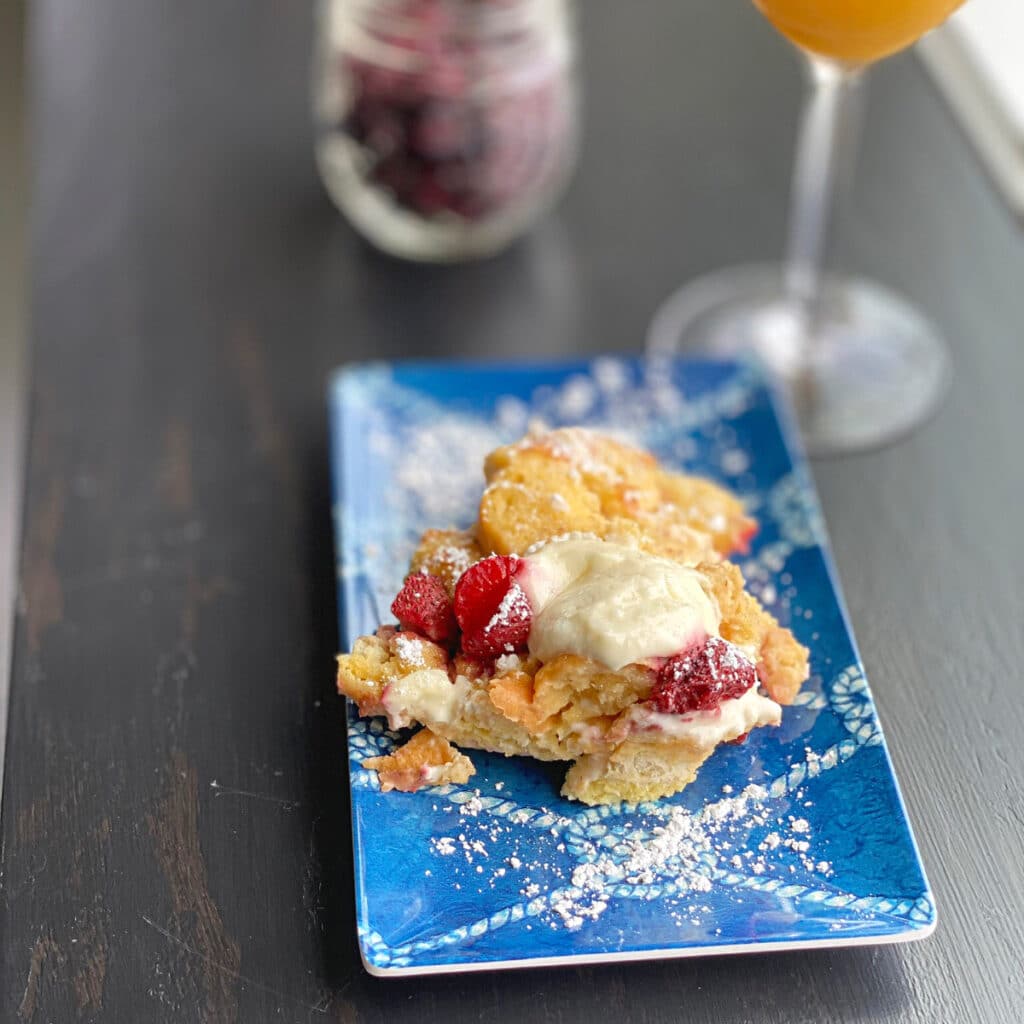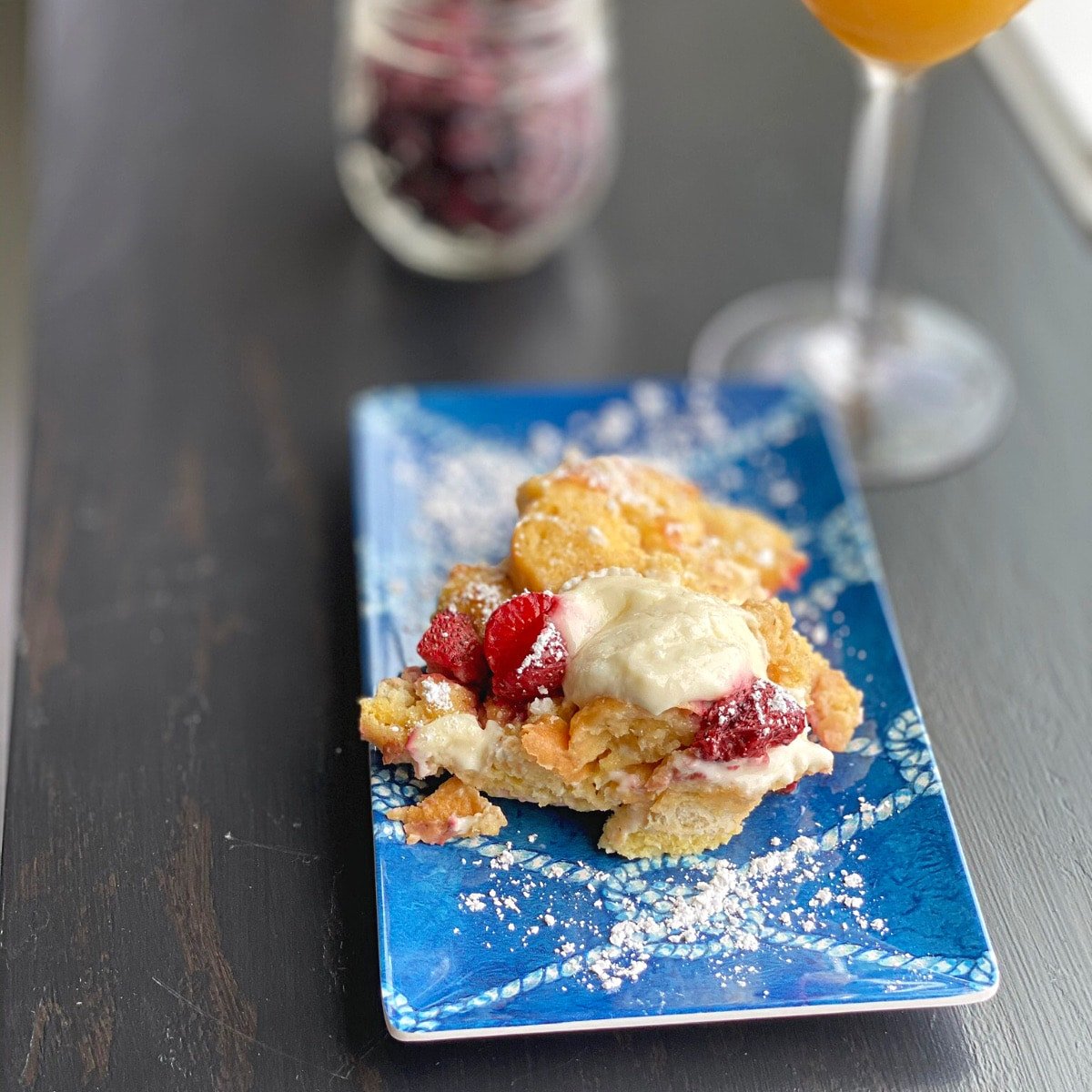 Not really sure there is much to say – the title says it all. This delicious combination will be the highlight of any brunch, office party, shower or other occasion for which you choose to serve it. Bring this to a potluck just once and you will instantly be the most popular person there!
How To Make Easy Strawberry French Toast
Step One:
In addition to French bread and strawberries, you will need eggs, heavy whipping cream, milk, vanilla, cream cheese and powdered sugar. Start by whisking together milk (any milk will do. I tend to use fat free just because it is what I have on hand), cream, vanilla and eggs. Cut your French bread into cubes and allow them to soak up the egg/milk mixture until all of the liquid is fully absorbed.
Step Two
While the bread is soaking, clean strawberries and remove their stems. Cut the berries in half, or if they are very large, cut them in quarters. In a separate bowl, mix whipped cream cheese and sugar together and set aside.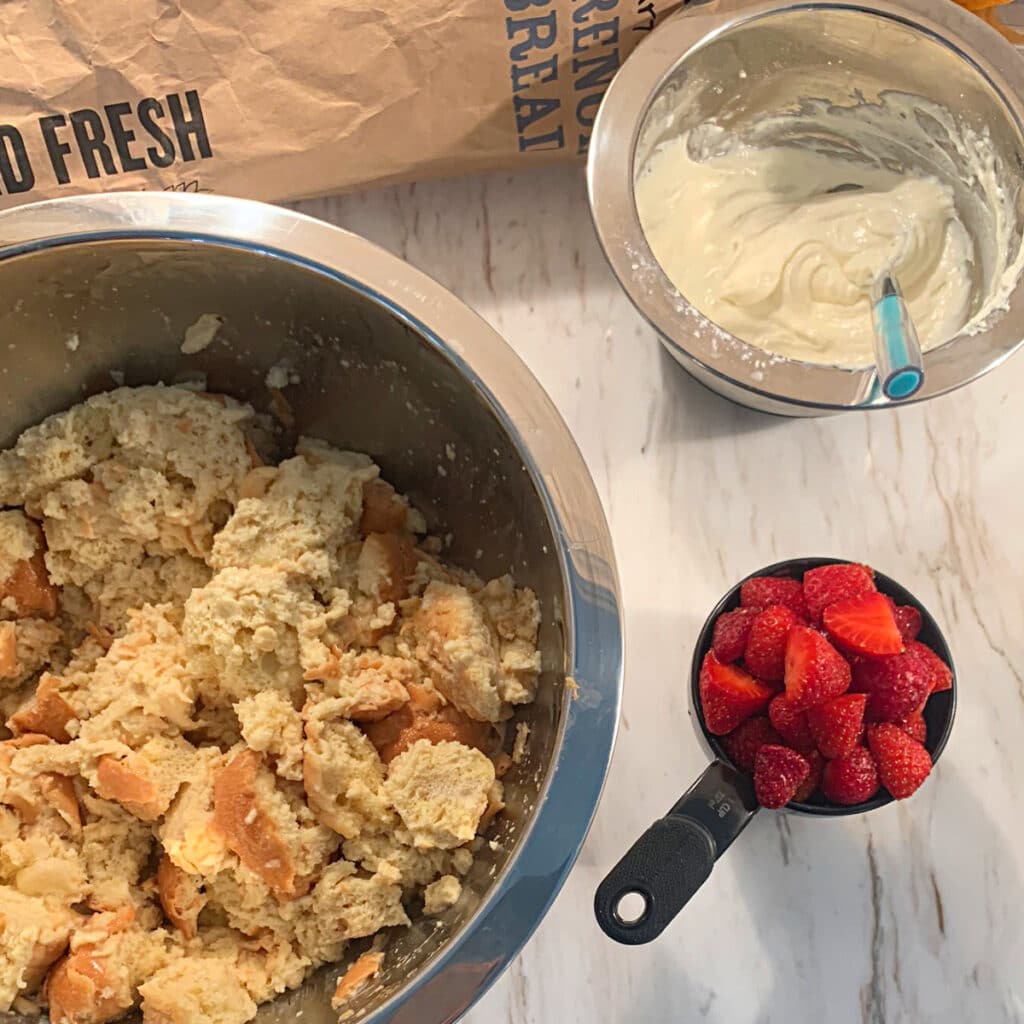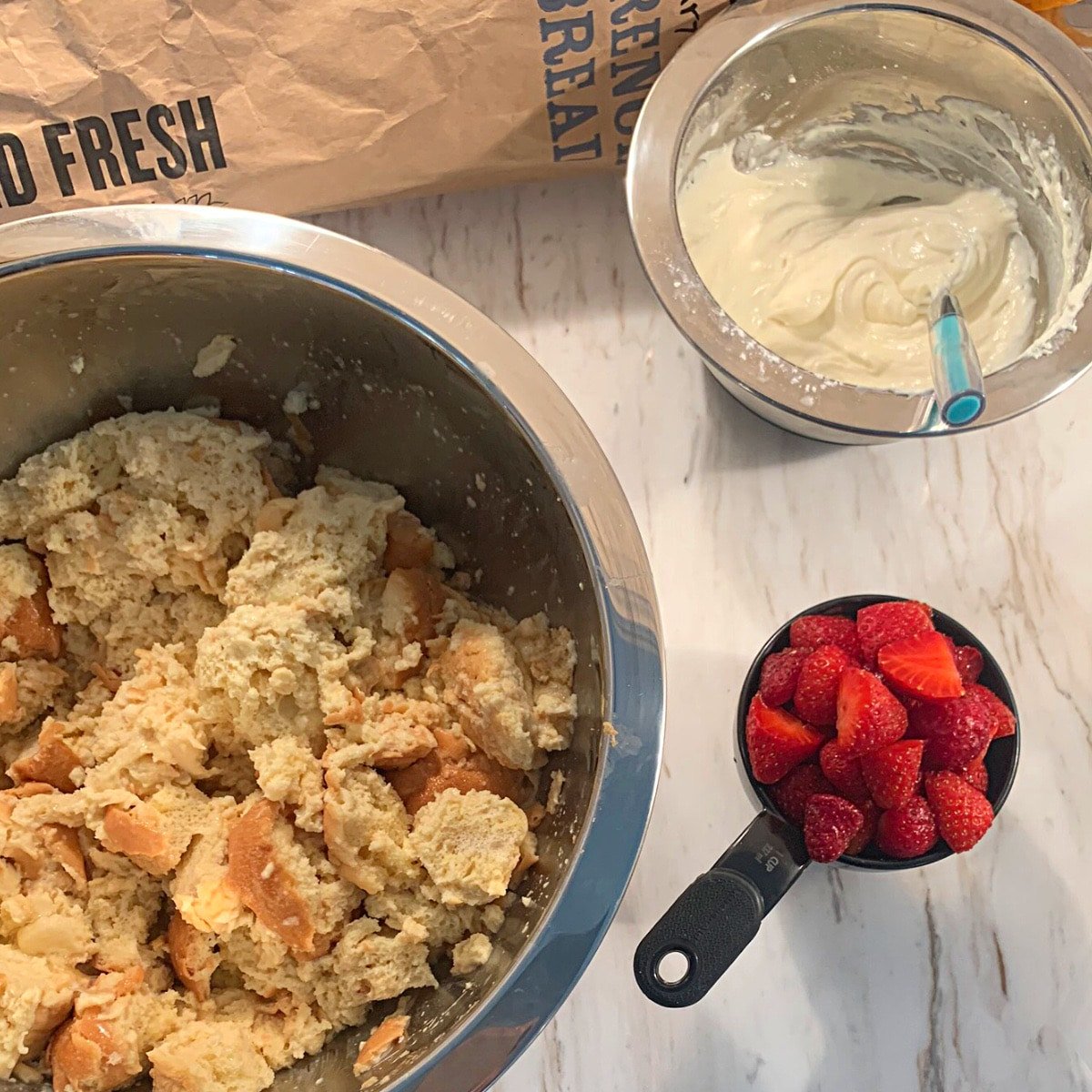 Step Three
Spray slow cooker (or slow cooker liner, if using) with non-stick spray of choice. Gently mix strawberries into soaked bread mixture. Pour half of this bread/strawberry mixture into your slow cooker. Drop teaspoon sized dollops of half of the cream cheese mixture randomly on top. Pour remaining bread mixture in to slow cooker and repeat with remaining cream cheese mixture
Step Four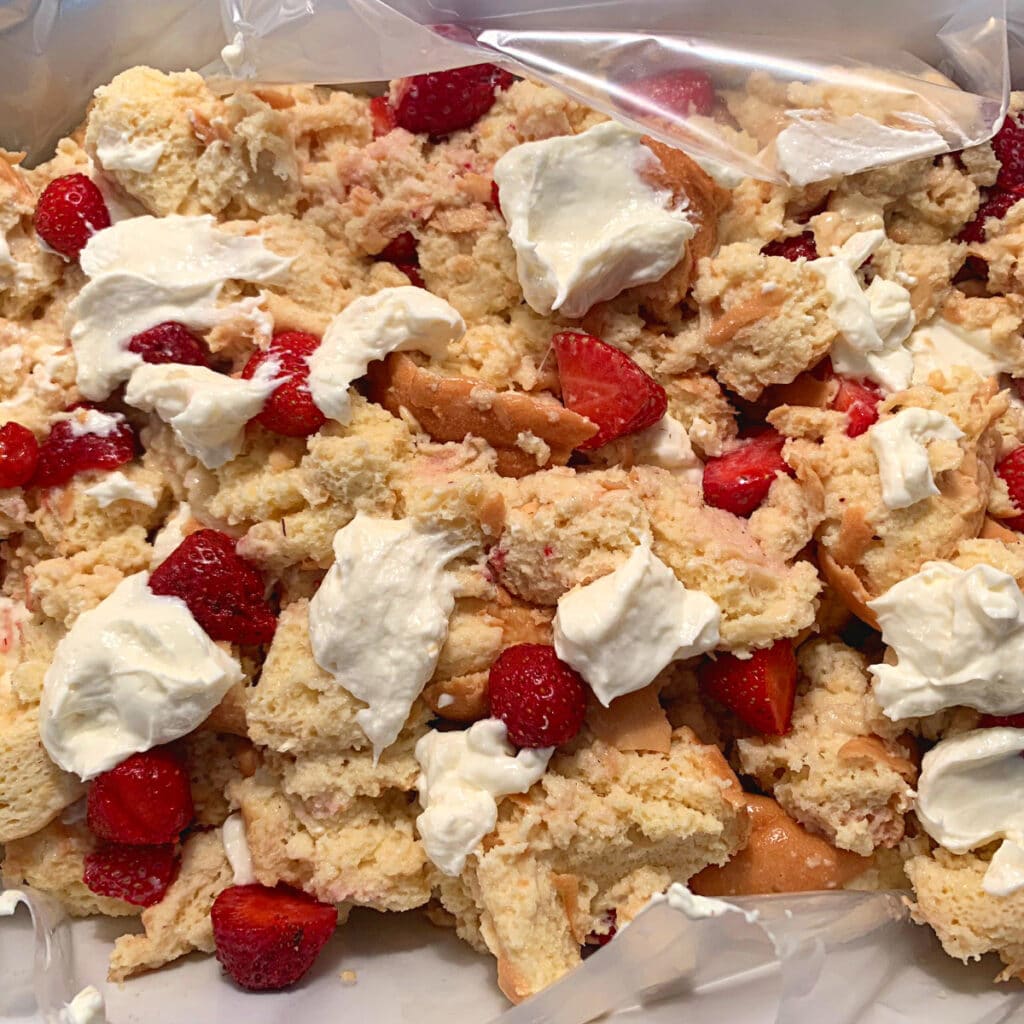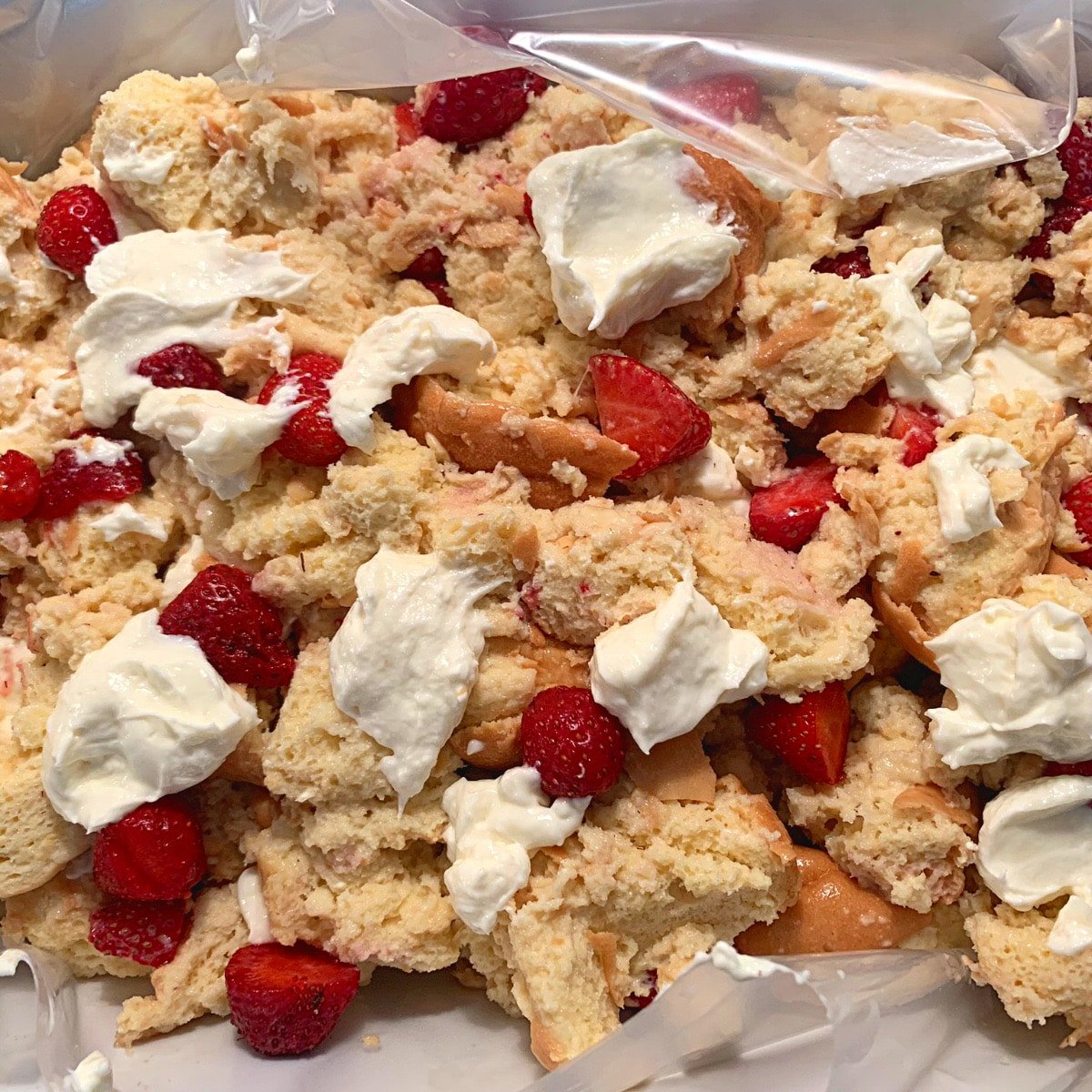 Cover and cook on high for about 2 hours. Your casserole will be finished when the middle reaches 165ºF on a food thermometer. Sprinkle with powdered sugar and watch as everyone around you drools!
How To Serve This Strawberry Cheesecake Casserole
This dish is really high on the YUM scale! If you choose to serve it just as is at this point, you can't lose! However, there are a few toppings that take this dish from wow to – O! M! G! They are:
Whipped cream
Agave nectar
Maple syrup
Chocolate chips (add when the dish is warm to let them melt in!)
and of course – ice cream (like waffles and ice cream on steroids!)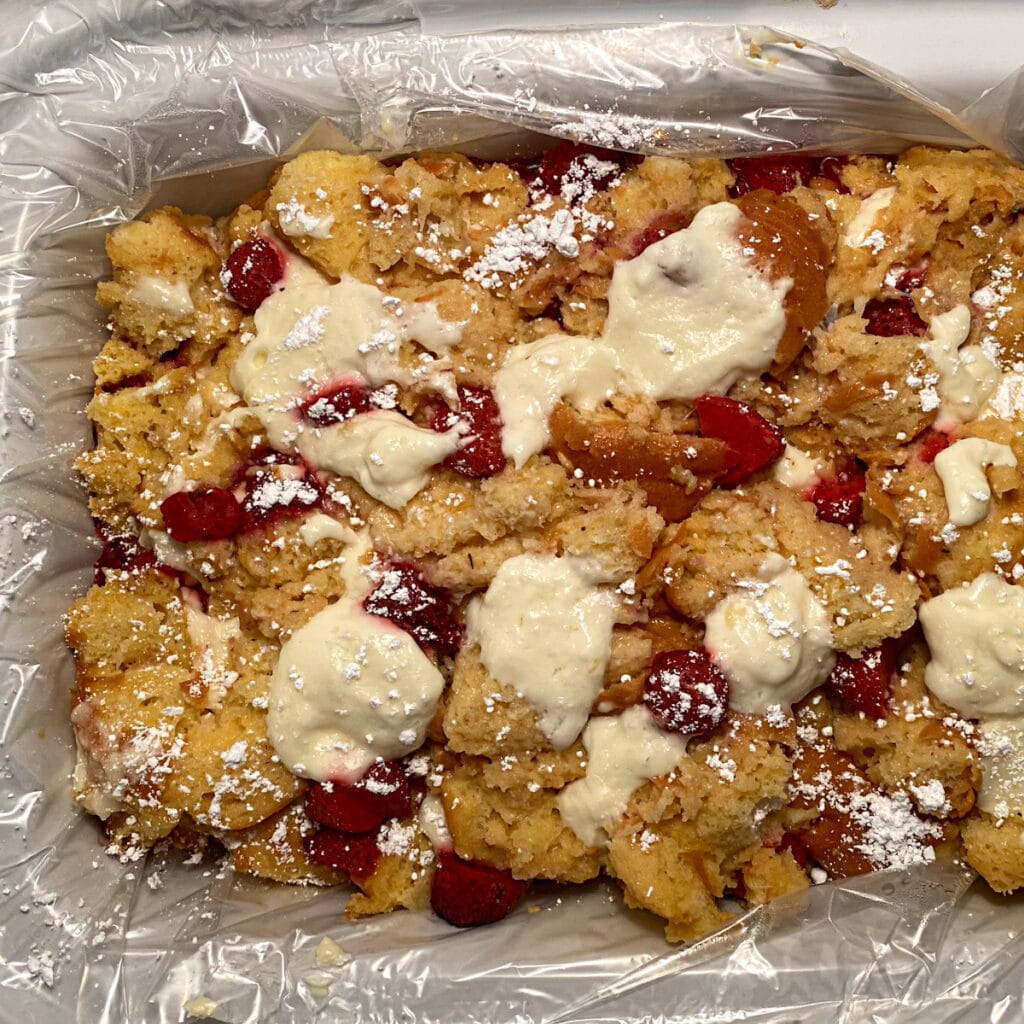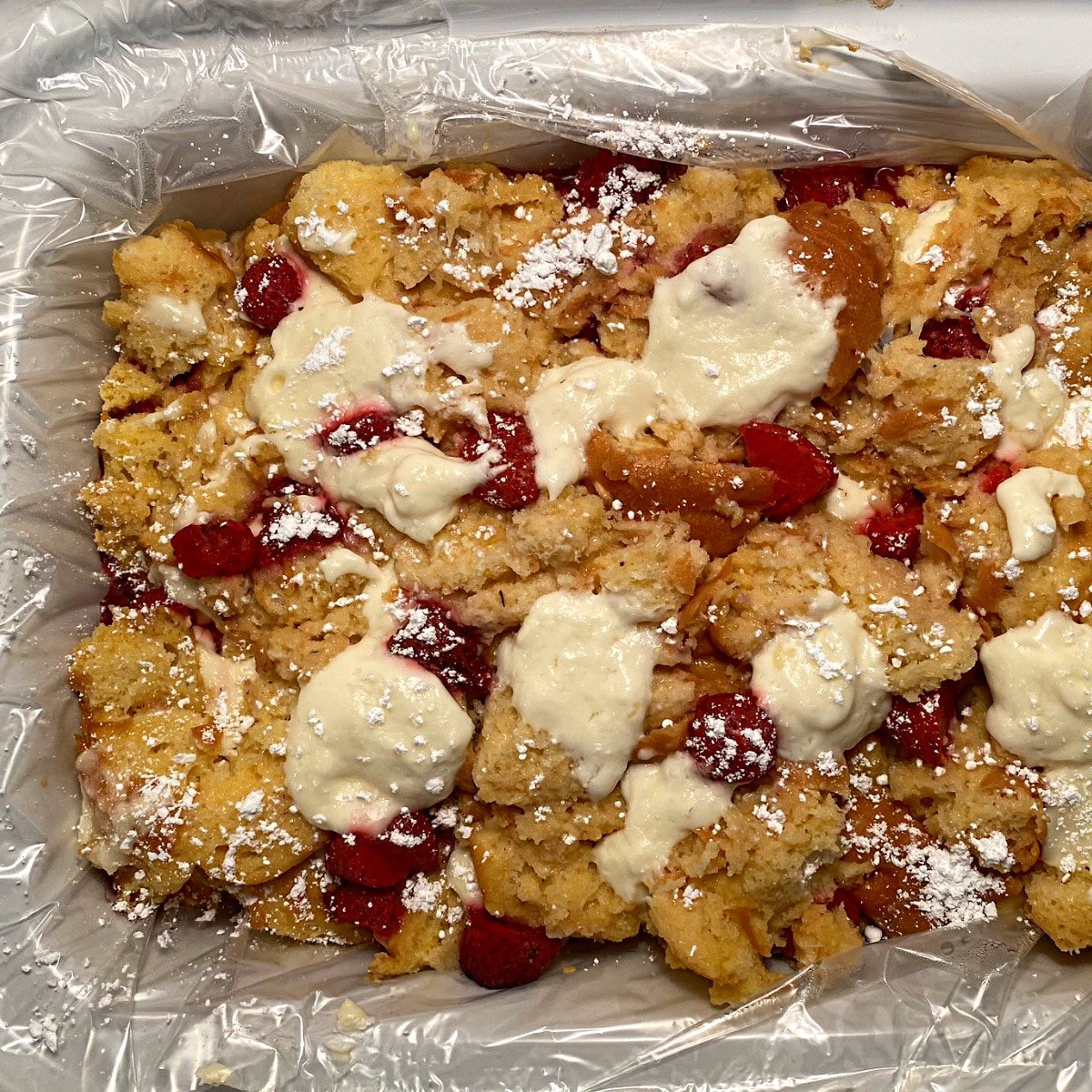 Crockpot French Toast Hints and Hacks
Stale French bread works well. In fact any stale bread would be great!
Although I am a big fan of slow cooker liners, I often forgo them when making this dish for aesthetic reasons. When serving to guests right out of slow cooker vessel, it is much nicer looking without a liner. Regardless of which method you use, you should spray either your slow cooker pot or liner with a non-stick spray.
This is a great way to use up extra strawberries, or berries that are just about to turn. It is an especially great family activity if you live in an area where you can pick your own fresh strawberries when they are in season!
Although any vanilla extract will work, there is just something about the flavor of pure vanilla extract and the amazing flavor it adds. Here is a great one
If your slow cooker cooks unevenly (as some of mine do) lifting your slow cooker pot out of the heating element and rotating it 180 degrees before putting it back in will help to even things out. I try to do this about half way through the cooking time. Just beware that the pot will be HOT! Pot holders are a must!
In the market for a new slow cooker? Here is the one I am currently lusting after.
Lazy Strawberry Cheesecake French Toast
This crockpot French toast casserole is a "Must-Try" recipe. Fresh sweet strawberries and dolops of creamy cheesecake slow cooked together with the classic flavors of French toast. Brunch will never be the same!
Equipment
3.5 oz slow cooker or larger (works well with a casserole crockpot

knives and spoons

measuring spoons and cups
Ingredients
1

large loaf

stale french bread

8

eggs

1¾

cup

milk of choice

I use skim milk

¾

cup

heavy whipping cream

1

tsp

pure vanilla extract

1

heaping cup

fresh cleaned and cut strawberries

6

oz

whipped cream cheese

¼+

cup

powdered sugar

non-stick cooking spray
Instructions
cut french loaf into large cubes (about 2" each)

beat eggs together with milk, cream and vanilla

add bread into egg mixture and stir. set aside and allow the bread to absorb all of the egg mixture

While bread is absorbing, clean and cut strawberries into bite sized pieces.

in a separate bowl, mix together whipped cream cheese and ¼ cup powdered sugar

when all egg mixture has been absorbed by the bread, gently stir in strawberries

spray slow cooker or slow cooker liner with non-stick spray

add half of bread/strawberry mixture into slow cooker

use a teaspoon to drop dollops of the cream cheese mixture on top of the bread/strawberry mixture

add remainder of bread/strawberry mixture to slow cooker

use teaspoon to distribute dollops of remaining cream cheese mixture on top

cover and cook on high for approximately two hours. You can confirm cooking is complete by checking the temperature of center most point of the dish (middle) with a food thermometer. Cooked egg dishes are considered safe to eat at 165°F

sprinkle top with powdered sugar and enjoy!
Notes
**  calories estimates do not include any toppings
More Great Crockpot Brunch Dishes
*This post contains Amazon Affiliate links. As an Amazon Affiliate, I earn from qualifying purchases. This helps to offset the costs of running this website. **Please note that all nutritional, serving size and calorie information is estimated and based solely on the ingredients used, not the offered replacement options or any other substitutions.
Check Out Our Facebook Page For More Slow Cooker Recipes!!
If you try this recipe, please let me know in the comments below! I'd love to hear your thoughts!
Sign up here to have new recipes delivered right to your inbox!