Jump to Recipe
Homemade slow cooker pumpkin puree is the perfect, easy-to-make ingredient for many wonderful dishes. Far better than anything you can buy in a can!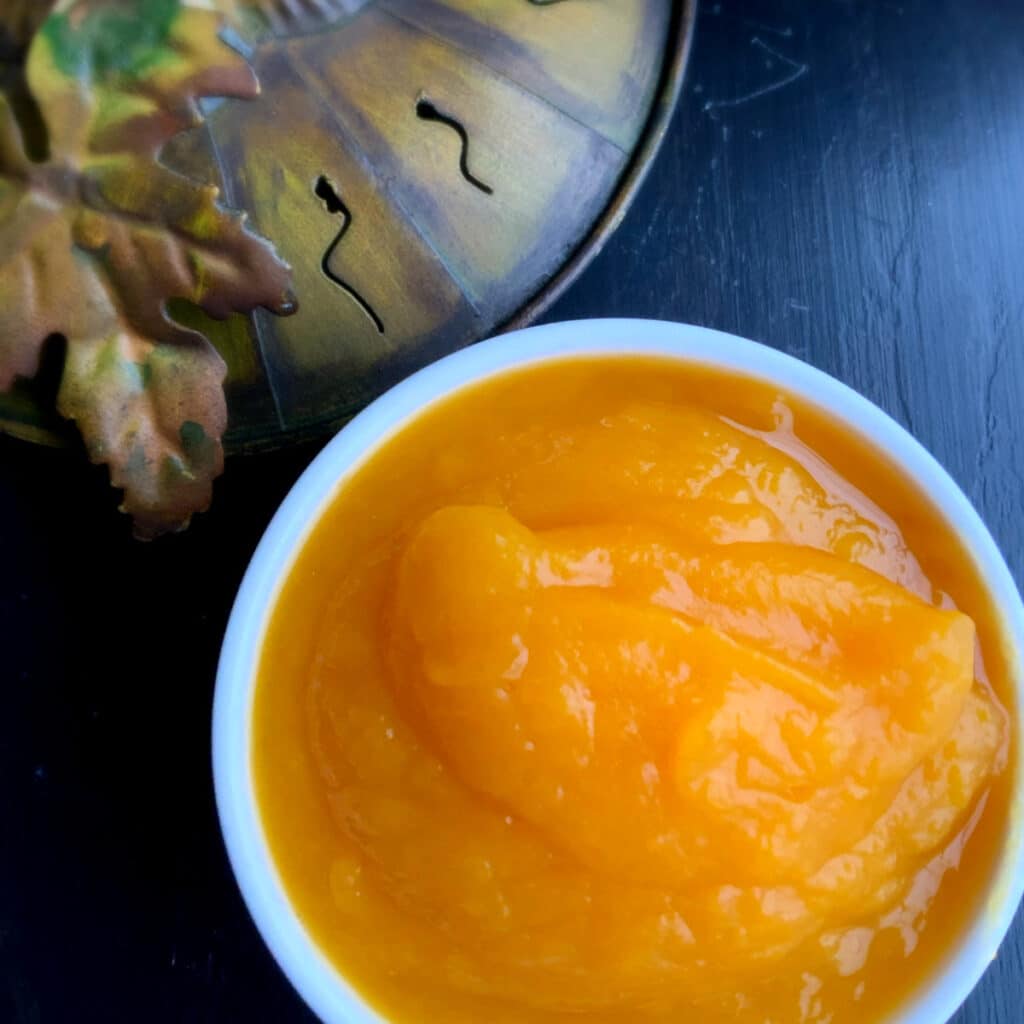 Ok... I hear you. Making your own pumpkin puree doesn't exactly count as lazy. BUT (there is always a but) if you have already bought pumpkins anyway - maybe to use as Halloween or Thanksgiving decor- isn't it better to use them rather than just waste them?
Plus, the hardest part of this is literally cutting up the pumpkin. Everything else is embarrassingly easy. Your crockpot does all the work for you.
And when it is done, you will have bowls full of delicious, homemade puree that will allow you to take so many other easy, slow cooker recipes to the next level. Everyone will be asking what your secret ingredient is!
How To Make Pumpkin Puree
Choosing The Pumpkin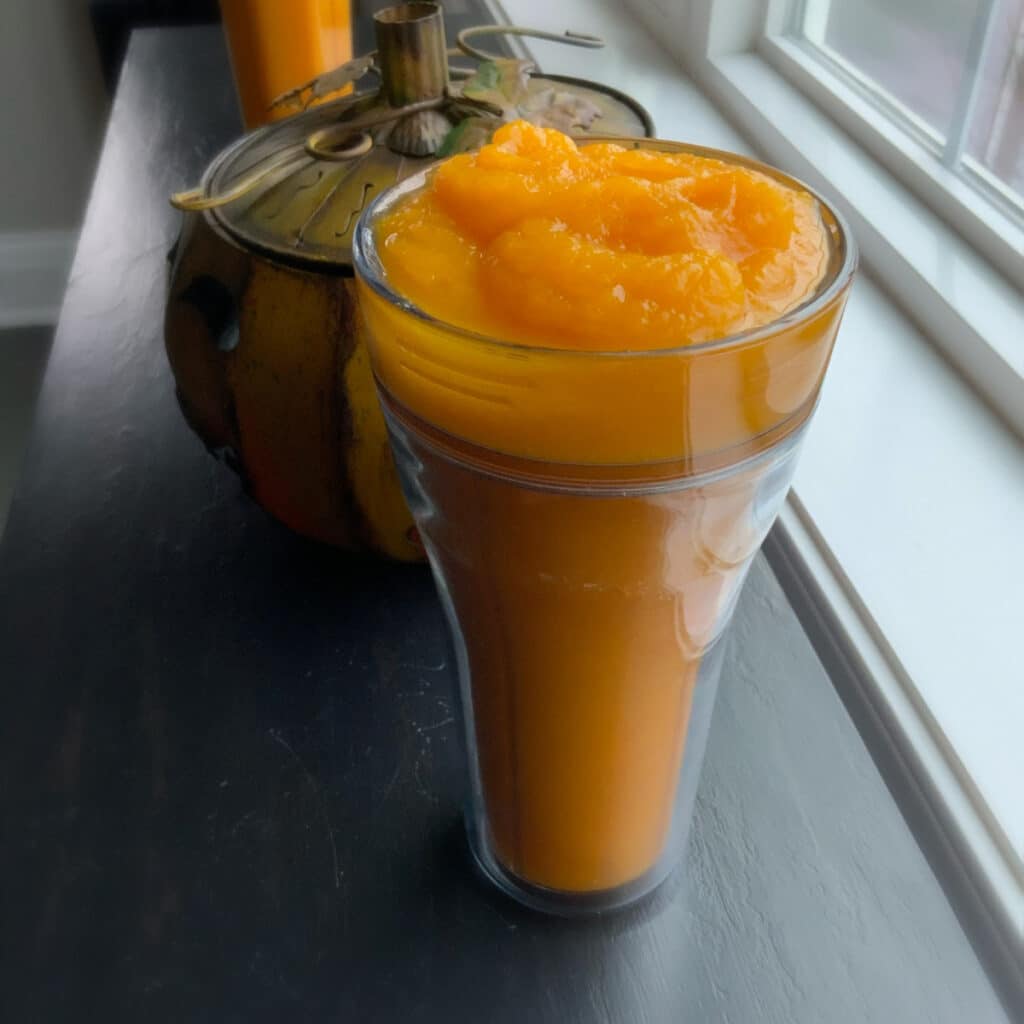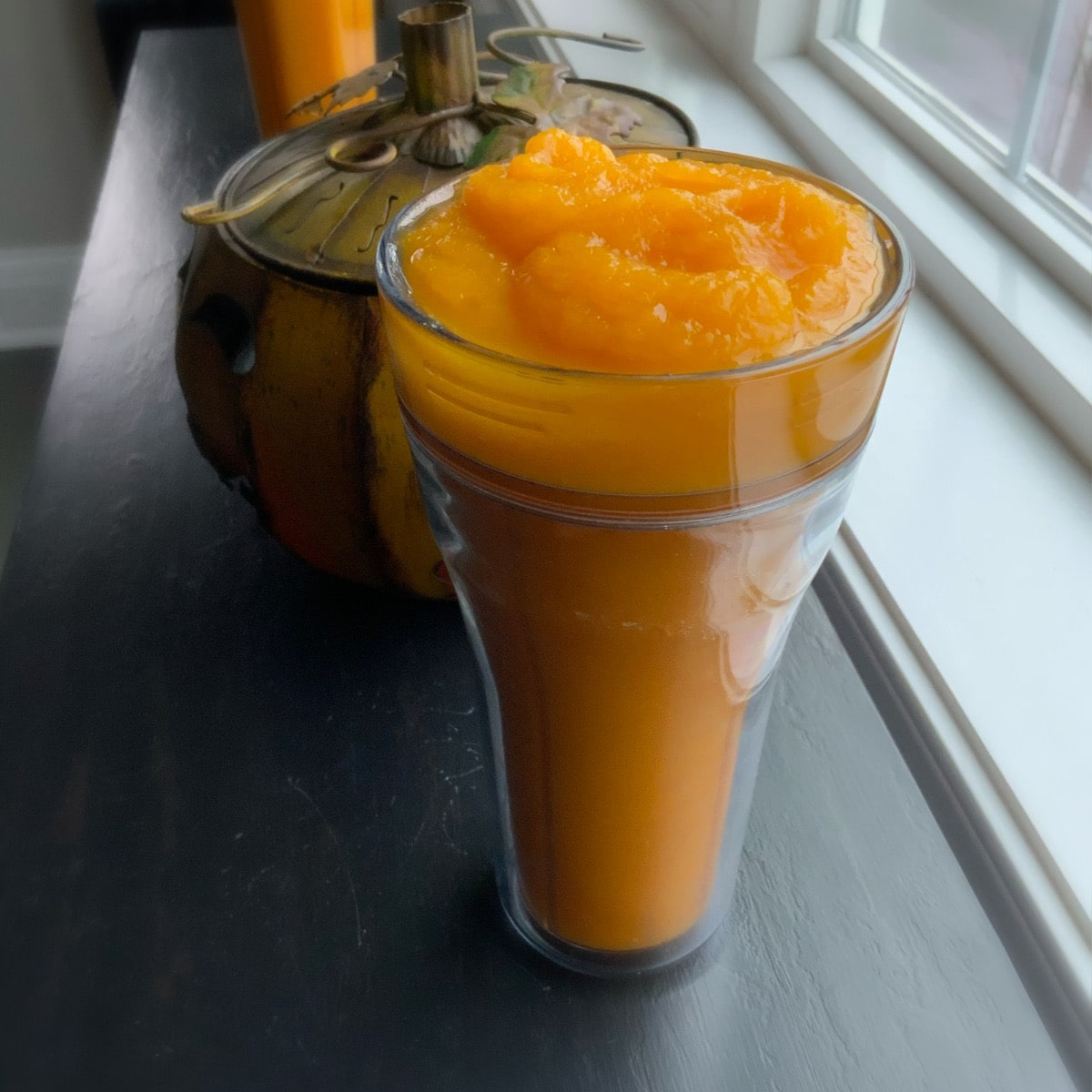 Pumpkins are hearty. They thrive outdoors in cooler weather. This means that even If you have had a pumpkin sitting on your front porch for the last month, you might still be able cook it!!
Just check first for soft spots or signs of animal/bug nibbles. Whether you buy it from a local farm, the market or repurpose it from Halloween decor duty - If you there are any bites, bugs or soft mushy spots, it is not the pumpkin for you.
Pumpkins that have been painted or otherwise decorated are also not good for use in this recipe.
If you are buying pumpkins specifically for the purpose of cooking them, Sugar Pumpkins or Pie Pumpkins tend to be the sweetest. They are also smaller and easier to handle.
Cleaning and Cutting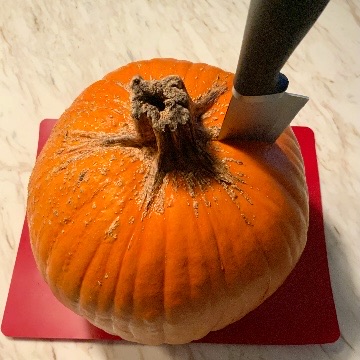 The first step is to wash the outside of the pumpkin really well and inspect the skin to make sure it is fully intact.
The next step is to cut the pumpkin in half. The best way to do this is to put the knife into the pumpkin flesh right below the stem. Make one solid cut from the top to the bottom. Remove the knife and repeat the exact same cut on the other side until you can pull the pumpkin apart.
After your pumpkin is cut, you will need to clean out all of the pumpkin seeds and the stringy pulp that binds it. An ice cream scoop can be very helpful for this task. If you want to continue with your DIY, there are tons of great recipes for roasting your own delicious pumpkin seeds.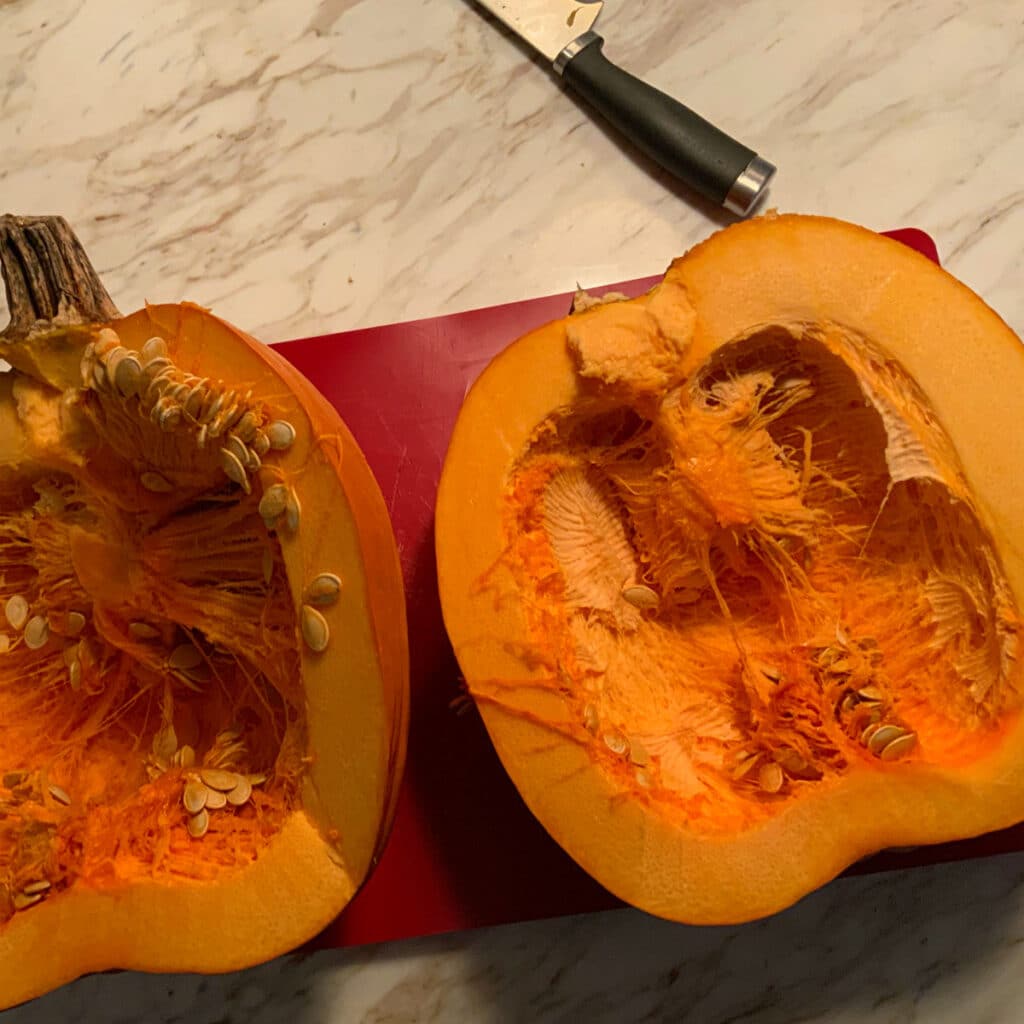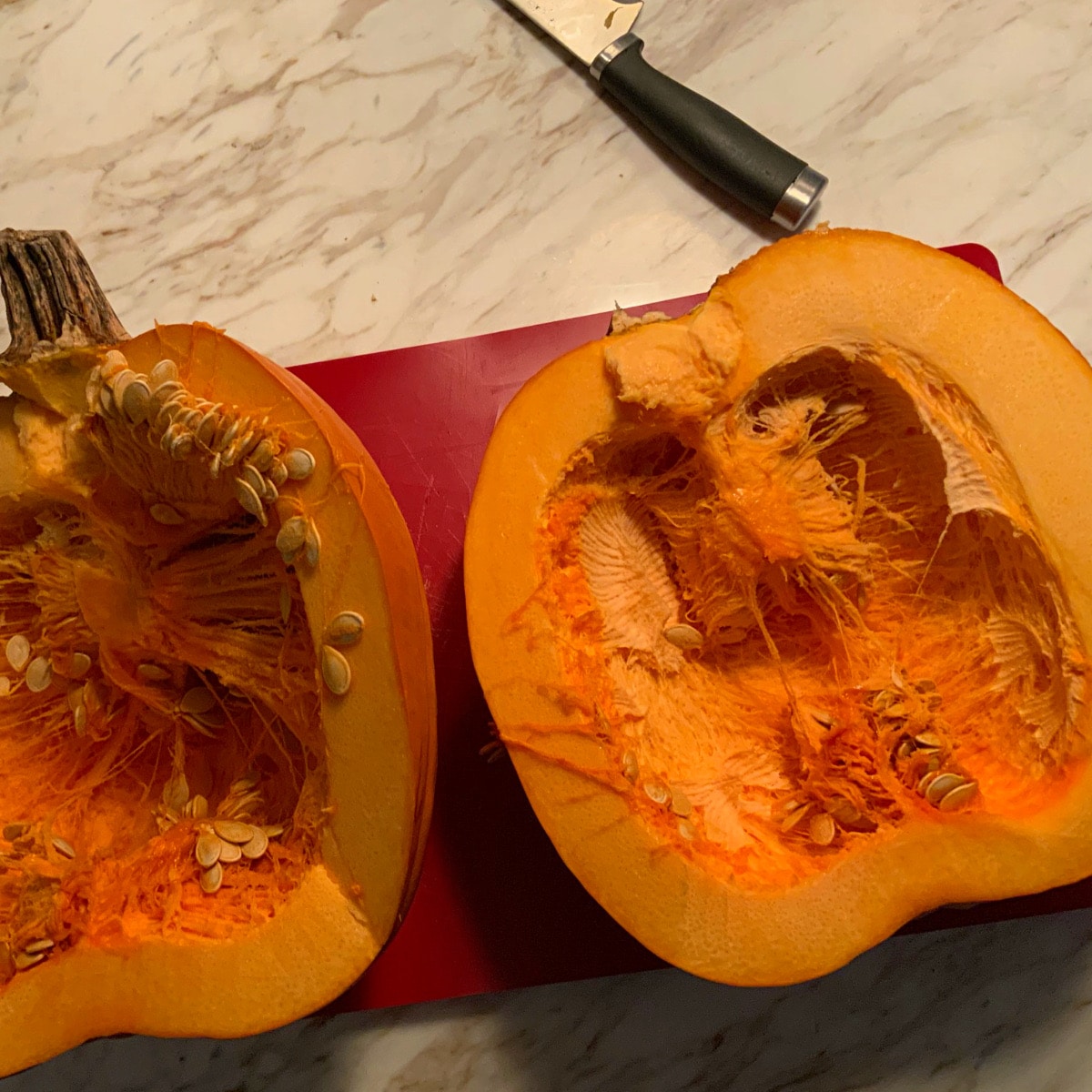 After you have removed the seeds, cut your pumpkin(s) into pieces small enough to fit into your slow cooker. No need to remove the skin. Larger pieces are fine here as long as you can fit them all in with your slow cooker lid securely in its place on top.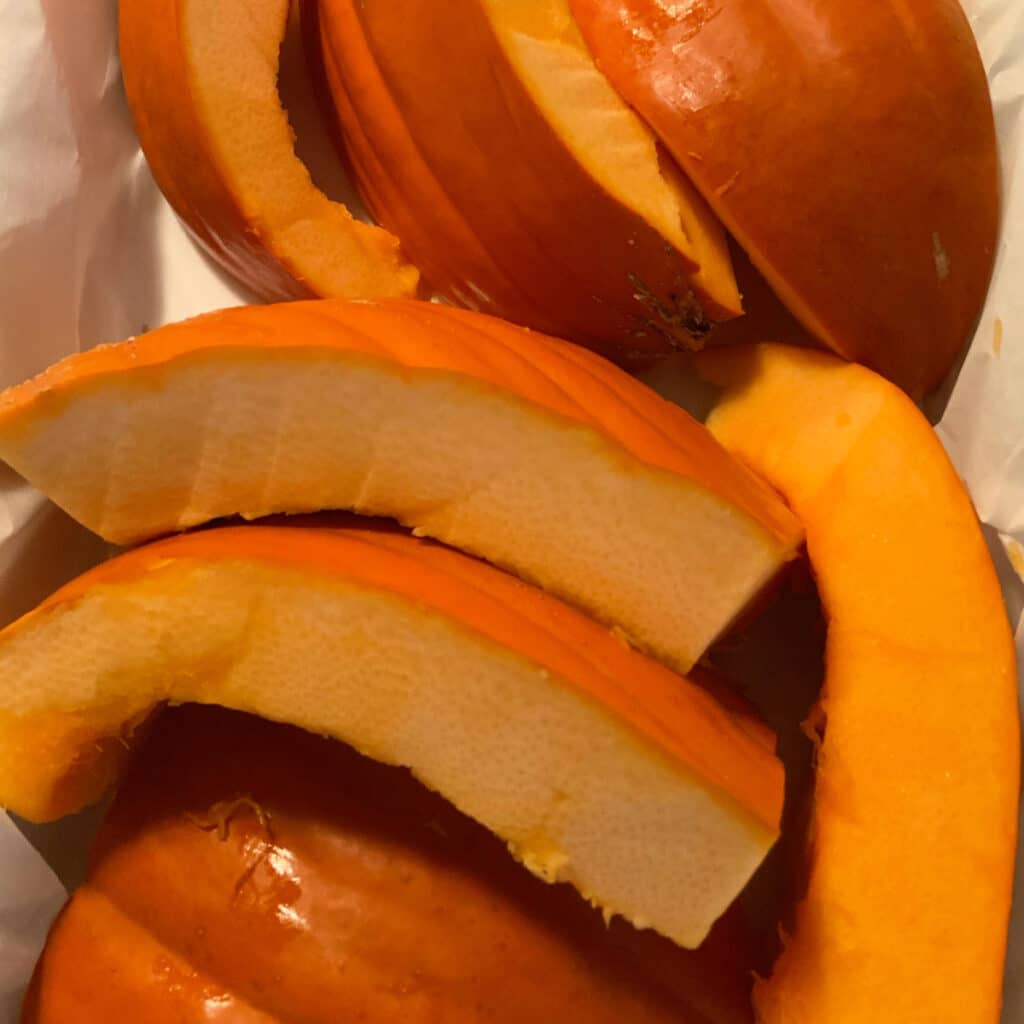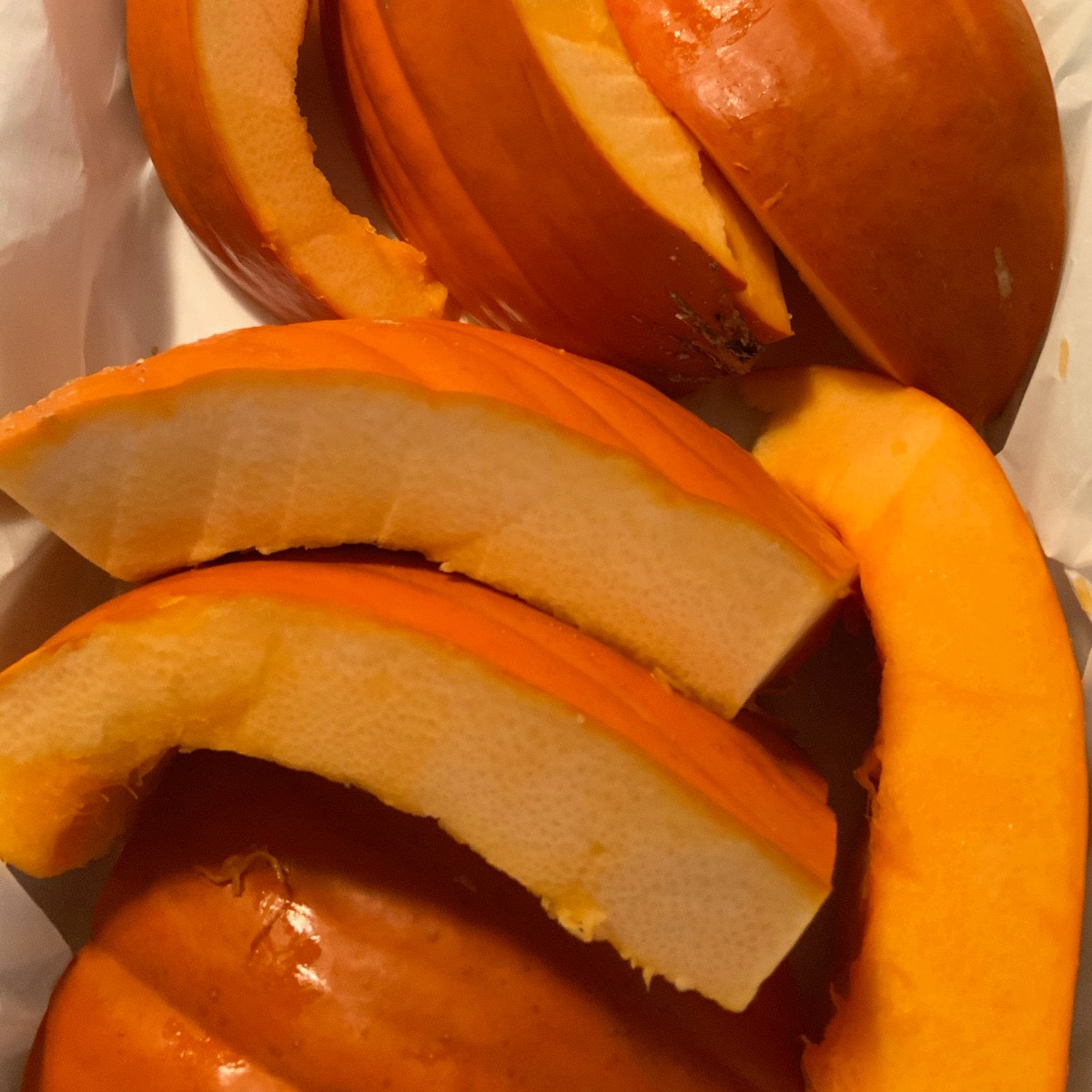 Cooking The Pumpkin
Turn your slow cooker to high and allow it to cook for 3-5 hours depending on how hot your crock pot runs. In crockpots that run hotter, your pumpkins should be done in closer to 3 hours. Your pumpkins are ready to go when you can easily pierce the flesh with a fork.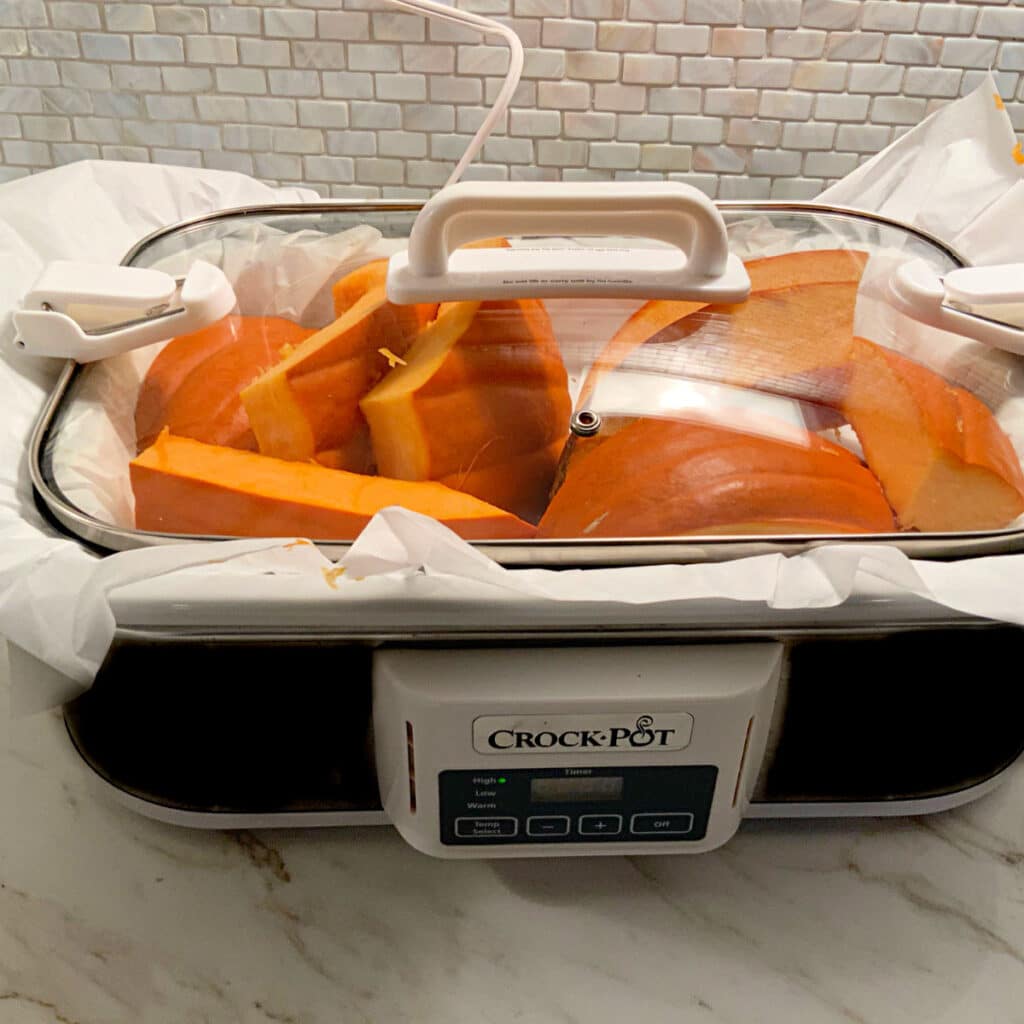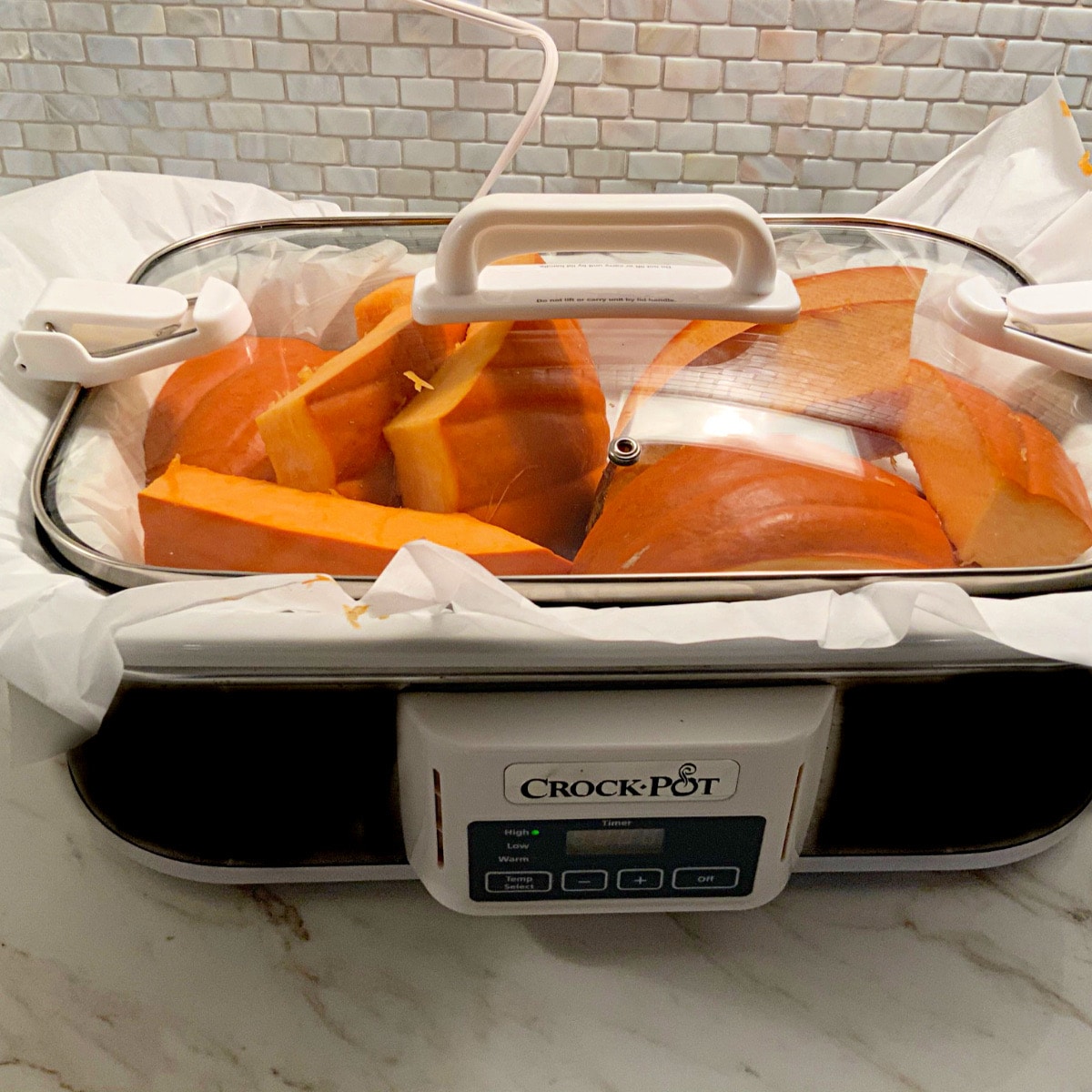 Finishing Your Pumpkin Puree
Once the pumpkin has been fully cooked, allow it to cool. Scoop cooled, soft pumpkin flesh out of the skin into a blender or food processor and puree into a smooth paste.
This won't take long, so take care not to overdo it. If you let your processor or blender run too long, you will wind up with a liquified pumpkin product.
How To Store Slow Cooker Pumpkin Puree
Pumpkin puree is great to make in large batches and save for future recipes. You can store your puree in airtight jars, containers, or bags. It will last for 4-6 days in the refrigerator or about 1 year in the freezer.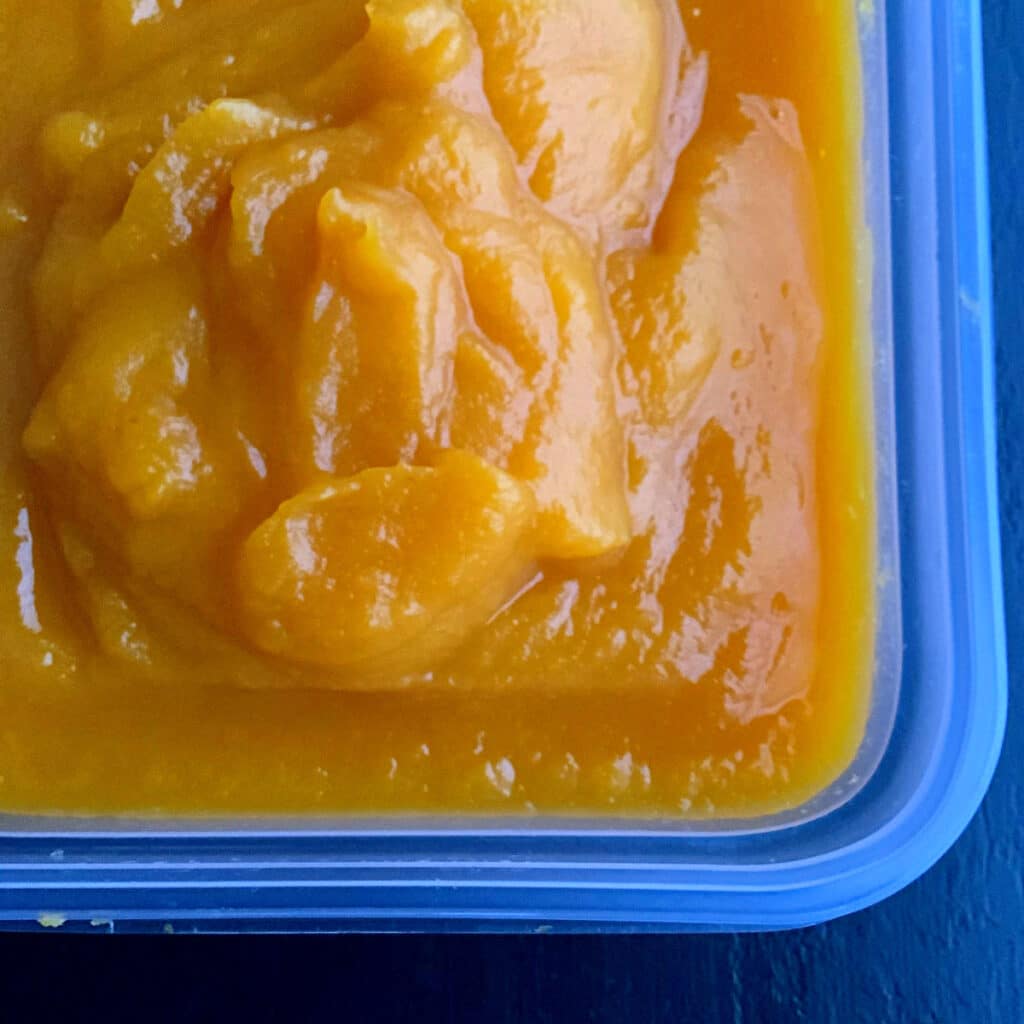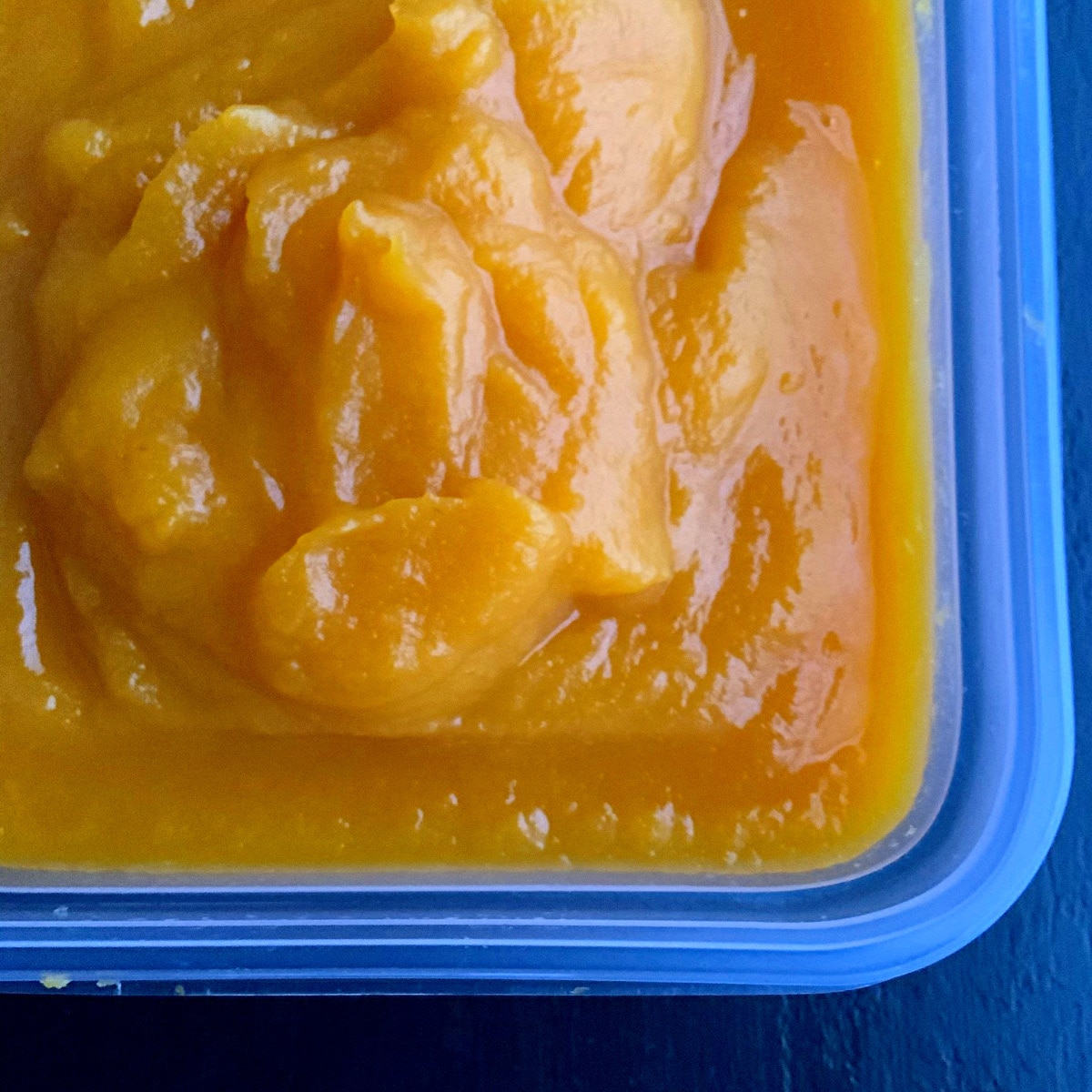 How To Use Pumpkin Puree
This is the fun part! Pumpkin puree can be used so many different ways. It is a great mix-in for yogurt or oatmeal. It's the perfect homemade baby food.
It also makes a great ingredient in so many home-cooked dishes such as pumpkin soup, pumpkin butter, and of course slow cooker pumpkin cheesecake bars!
If you love this recipe, please let me know in the comment section below!
Pumpkin Hints & Hacks
Pumpkins have tough skin. You will need a good, strong, sharp knife
Pie pumpkins or sugar pumpkins tend to be smaller and sweeter, but any variety will work with this recipe.
This recipe calls for a food processor or blender. If you have a smoothie maker such as a Ninja Personal Blender, Nutri-Bullet or, my personal favorite, the Breville Boss To Go, it is great for this purpose. You can blend your pumpkin in the accompanying smoothie type cups, cover and store. Just be sure not to over blend or you will wind up with a pumpkin smoothie!
The easiest way to remove pumpkin seeds from an uncooked pumpkin is with an ice cream scoop!
I always recommend lining your slow cooker with a slow cooker liner or parchment paper for easy clean up. This is, of course an optional step.
In the market for a new slow cooker? Here is the one I am currently lusting after.
As an Amazon Associate, I earn from qualifying purchases and affiliate links.
📖 Recipe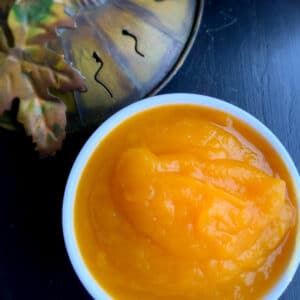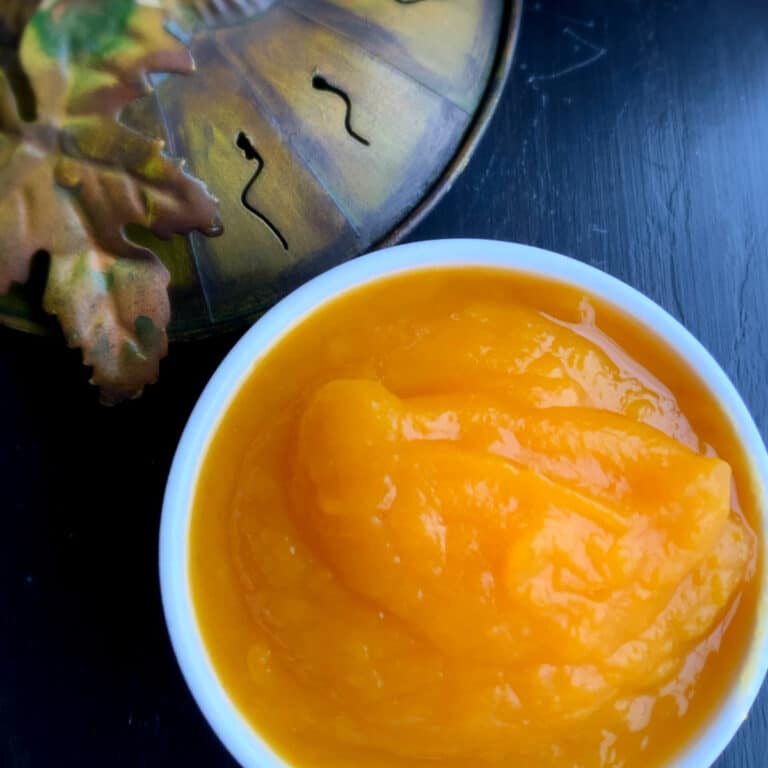 Lazy Slow Cooker Pumpkin Puree Recipe
Homemade slow cooker pumpkin puree is the perfect, easy to make ingredient for many wonderful dishes. Far better than anything you can buy in a can!
Print
Pin
Rate
Save
Saved!
Equipment
6 quart or larger slow cooker, casserole crockpot

sharp, large knife

cutting board

slow cooker liner or parchment paper (optional)

ice cream scoop (optional)
Instructions
place parchment paper or slow cooker liner into slow cooker, if using

wash and carefully inspect pumpkin(s) to make sure there is no trace of damage from animals or bugs

scoop out seeds and pulpy web that holds seeds. An ice cream scoop can be very helpful with this step.

cut pumpkin into pieces small enough to fit into slow cooker (see pictures above)

arrange all pumpkin pieces in slow cooker so that lid can fit on securely

cook on high 3-5 hours until all flesh is easily pierced with a fork.

allow pumpkin pieces to cool and scoop flesh away from skin.

place flesh in blender or food processor and puree (be careful not to overprocess or liquify)
Nutrition
Check out my latest on Instagram