Jump to Recipe
A creamy, cheesy and decadent crockpot potato soup that you will want to make over and over. This easy recipe is warm, rich, filling and wholly satisfying!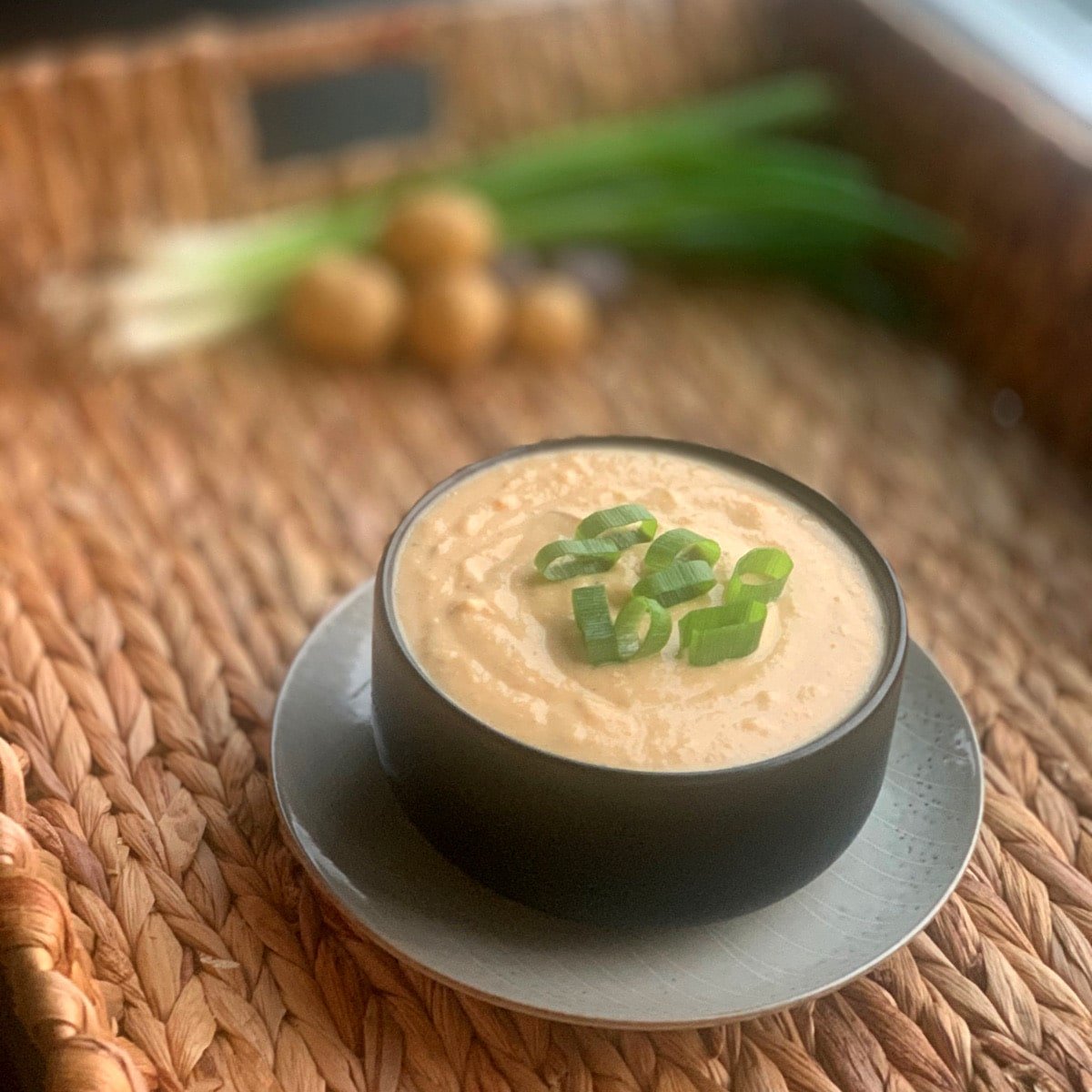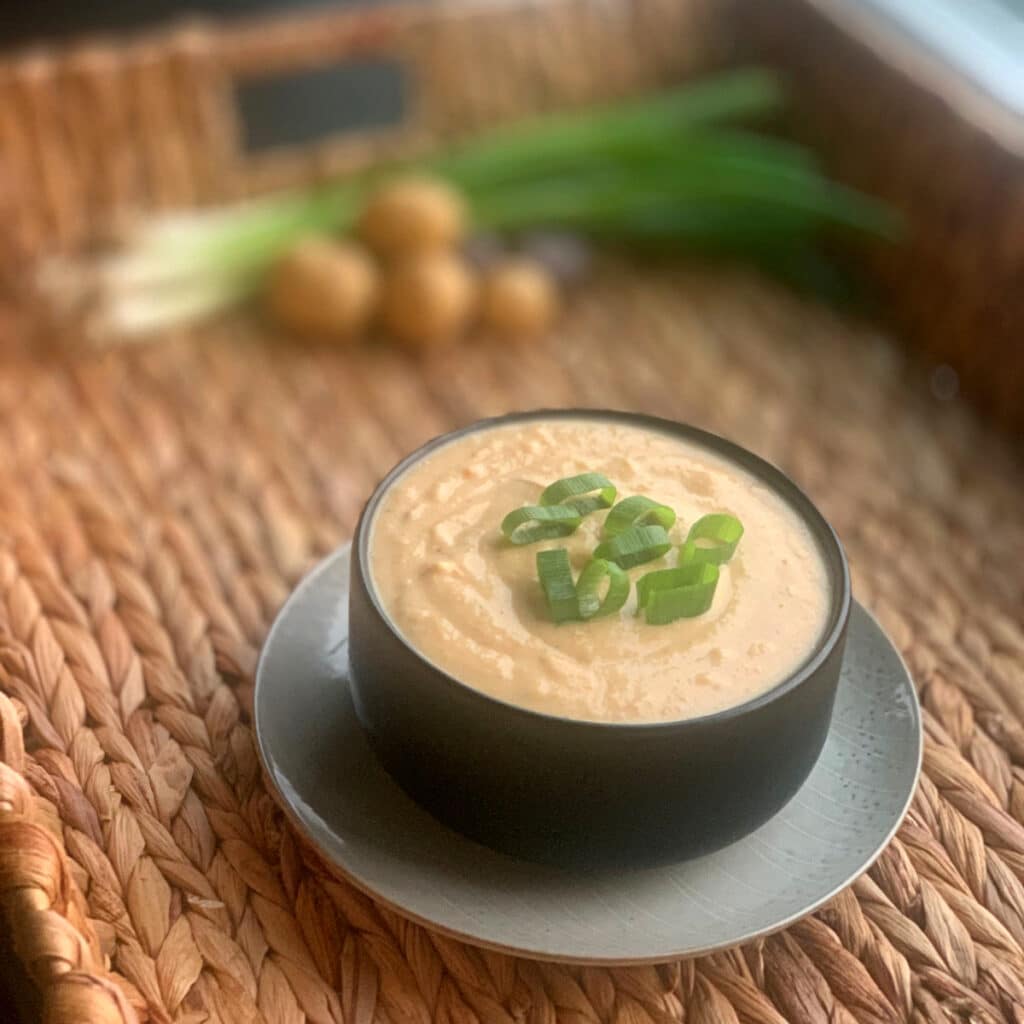 I know some people consider soup a cold weather dish. And I admit, I am guilty of treating it as such, from time to time. However, every once in a while, I crave a bowl of soup in the summer and as I indulge i wonder - why? We eat hot steak, hot seafood, pasta and more all year long. Why does soup have such a winter connotation to it?
Having said that - this soup, while delicious anytime of year, does have a certain "stick to your ribs" quality to it that can really warm you from the inside out. So, while I will admit to indulging in soup year-round, this is one soup I particularly love in the colder months.
Jump to: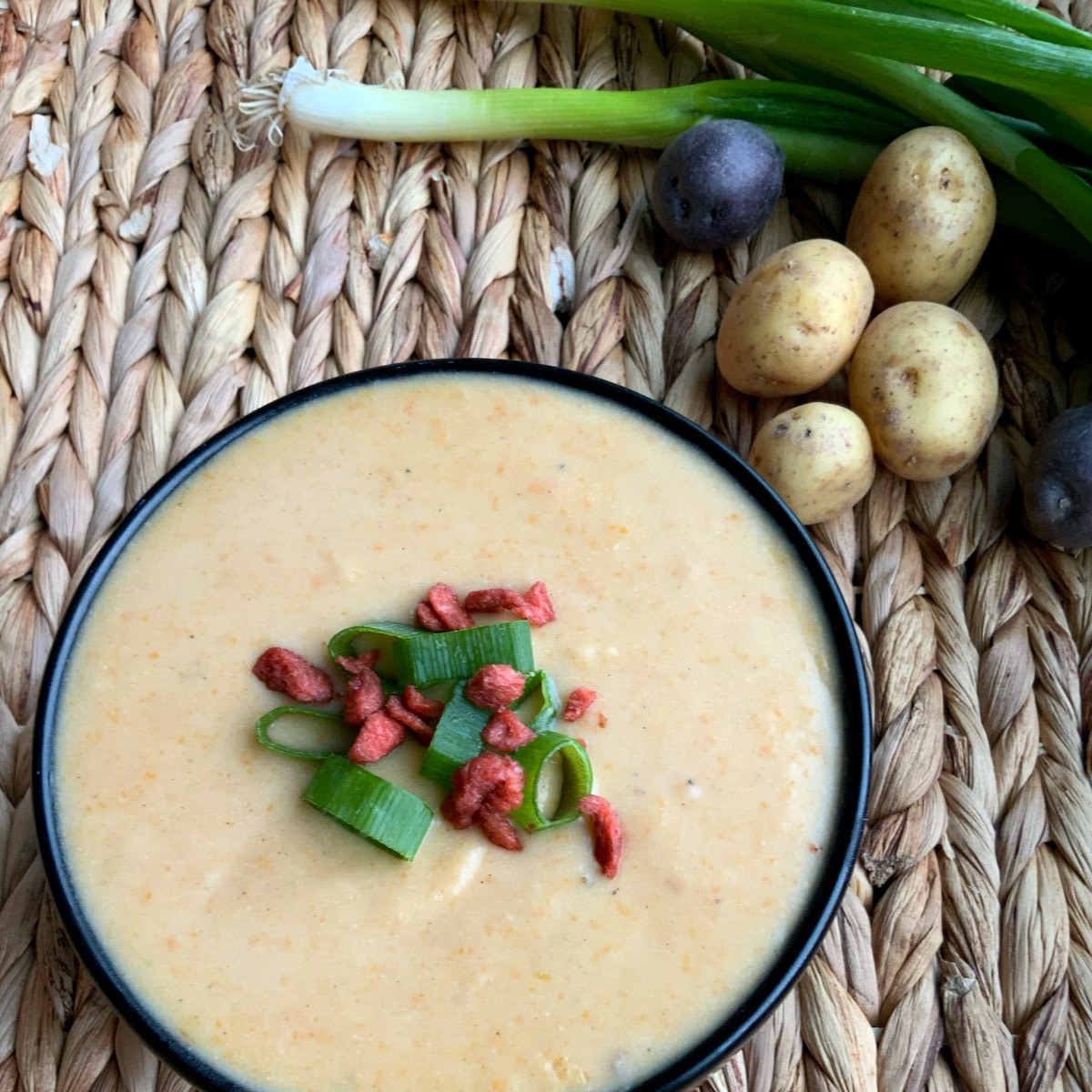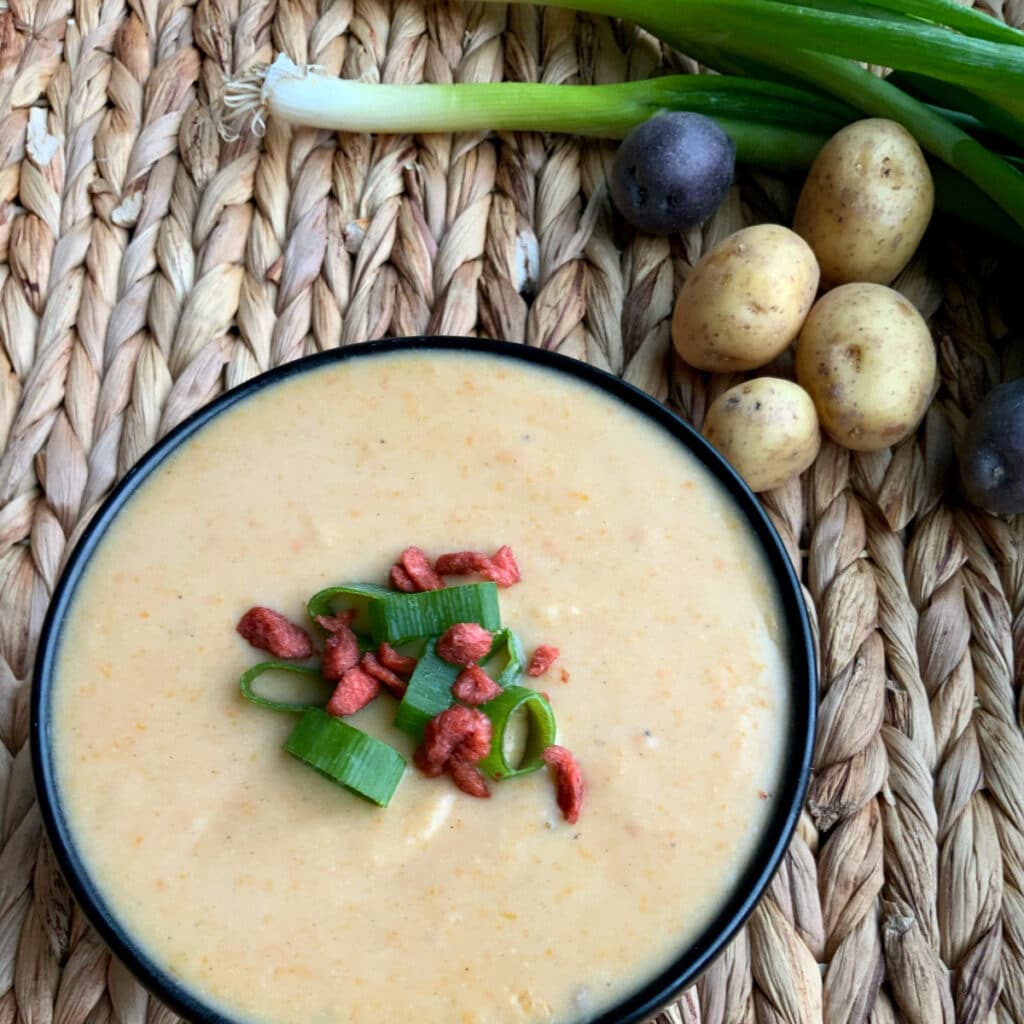 🍅Ingredients
To make this delicious soup, you will need:
shredded frozen potatoes
mirepoix (or diced onion, carrots and celery
garlic
rosemary
sage
ground pepper
salt
veggie or onion broth/prepared soup base
shredded cheddar cheese
half and half
sour cream
Click here for exact quantities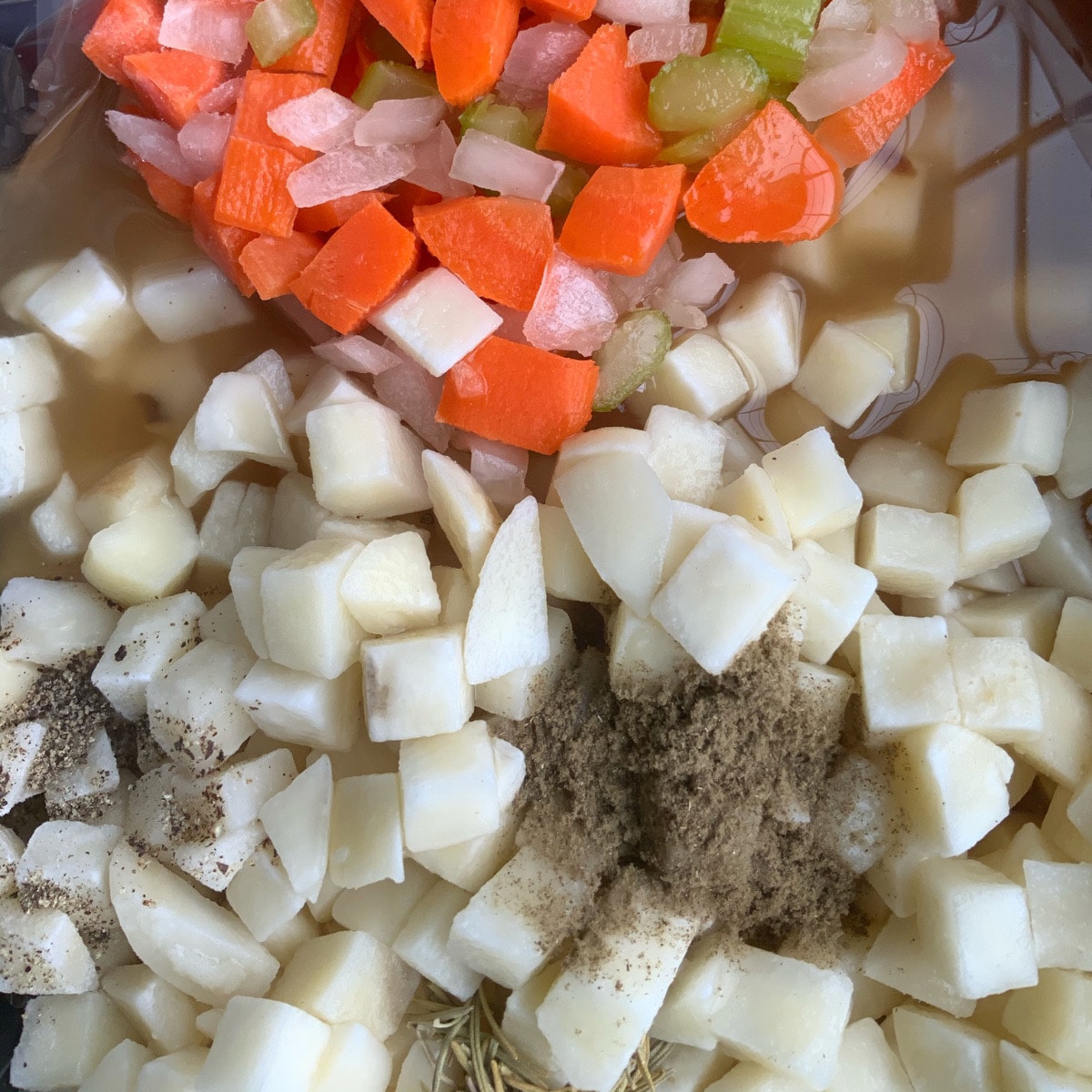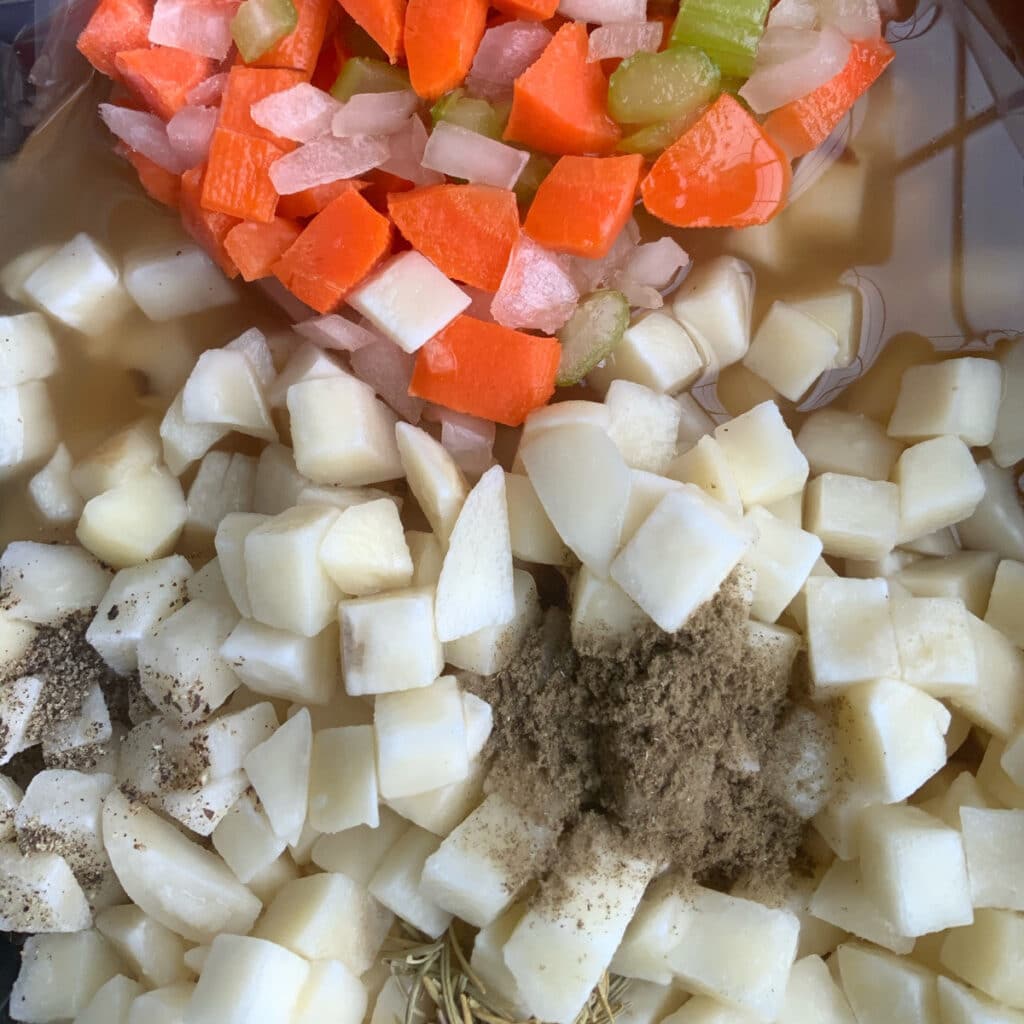 🥣Method
Start by adding the potatoes, vegetables, spices and liquid to slow cooker. Cook on low for 5 or so hours until the potatoes are soft. After cooking, remove lid and use an immersion blender to blend ingredients. For a smoother texture, I would recommend blending longer than you think you should.
After all is well blended, add shredded cheese and stir while the cheese melts to fully combine. Next temper the half and half by mixing it in a small bowl with a few tablespoons of hot soup from the crockpot. Add tempered half and half mixture and sour cream to slow cooker. Stir, re-cover and allow soup to heat back up another 30 minutes or so before serving,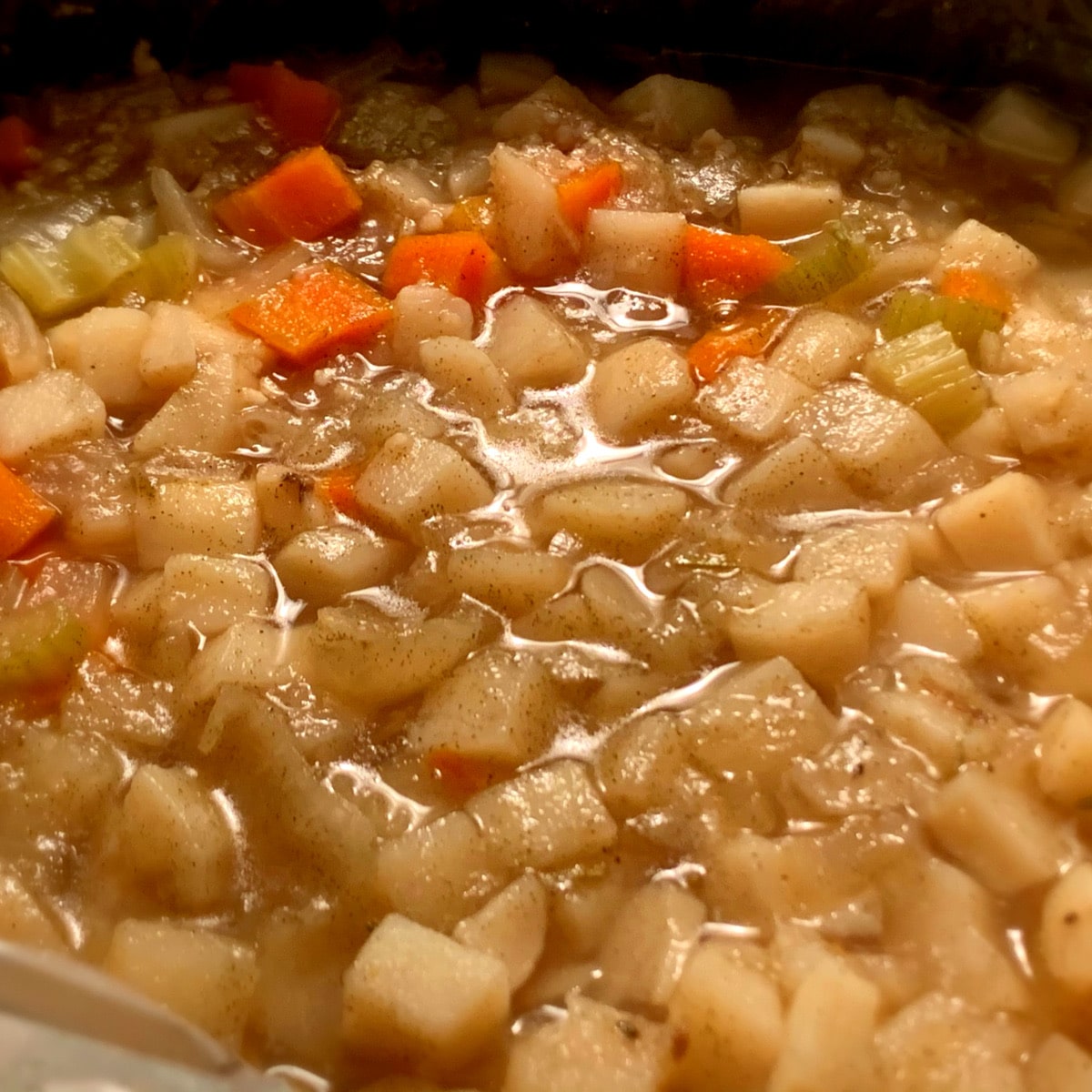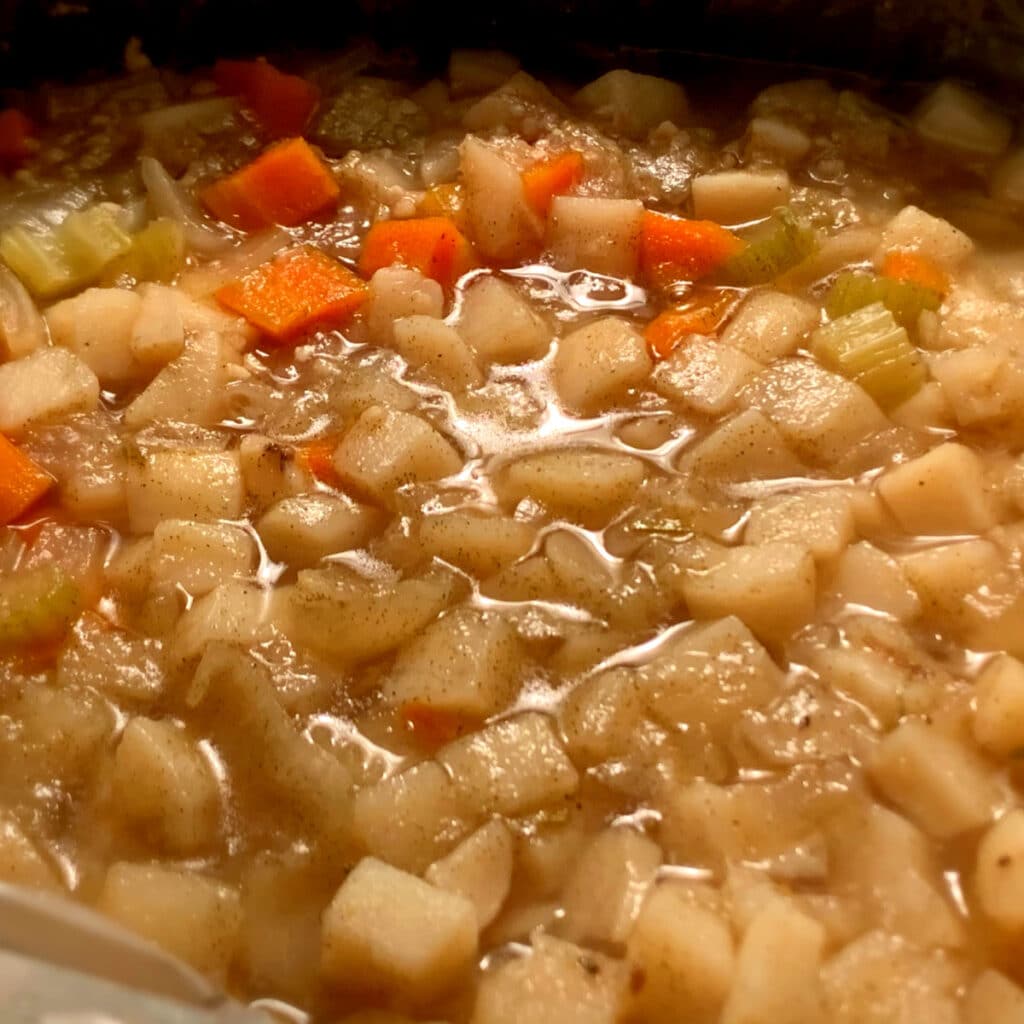 🍽Serving suggestions
Certainly hard to do this part wrong! Creamy potato soup is great served in a bowl, a cup or a bread bowl. It is great topped with a little shredded cheese, some sliced green onion and (if you want to keep it vegetarian) some imitation bacon bits. Serve with crackers, breadsticks or a wedge of thick crusty rolls because dunking is a must! It also can be complimented very well with a cool crisp salad served alongside of it. Or with a light, warm veggie dish like zucchini and squash Parmesan.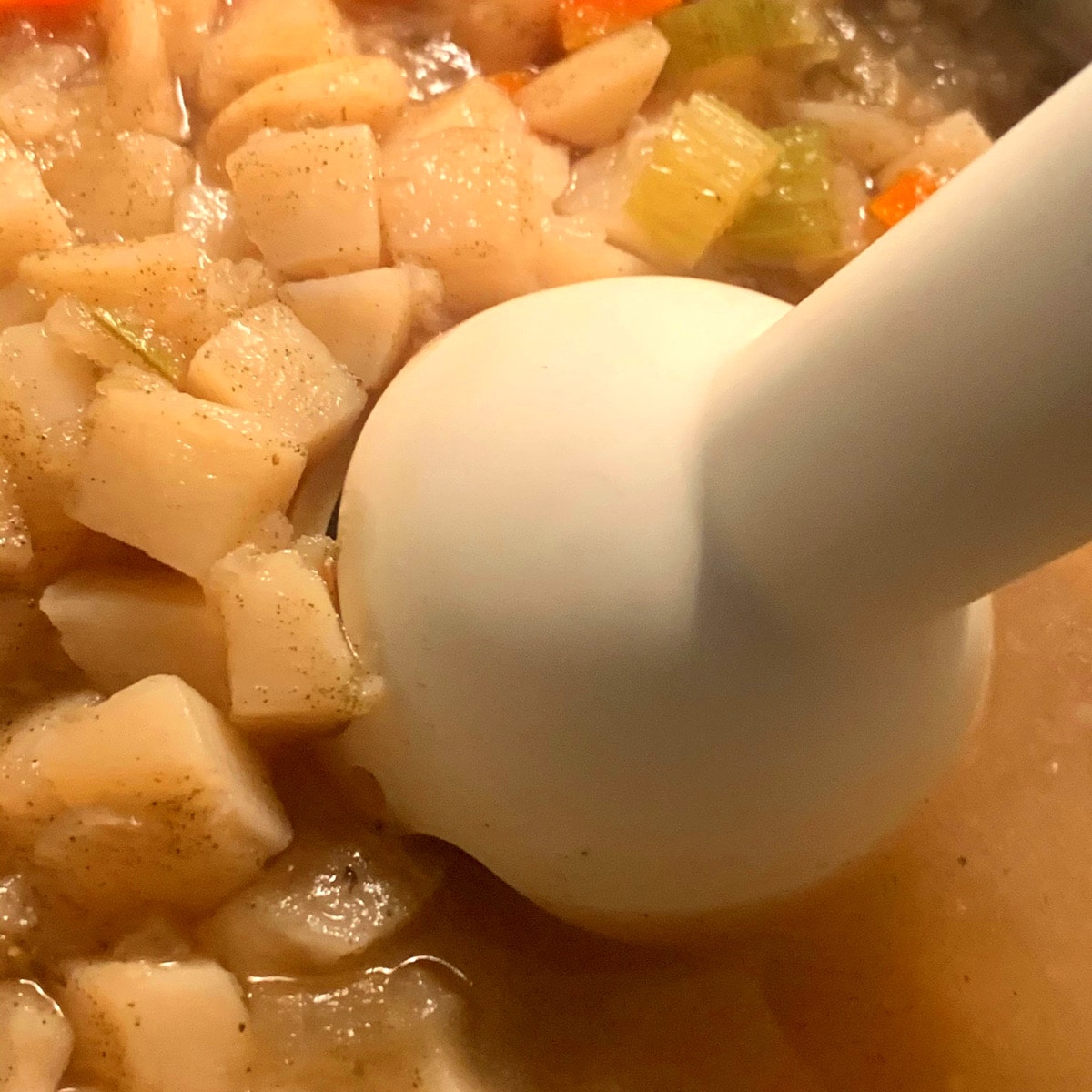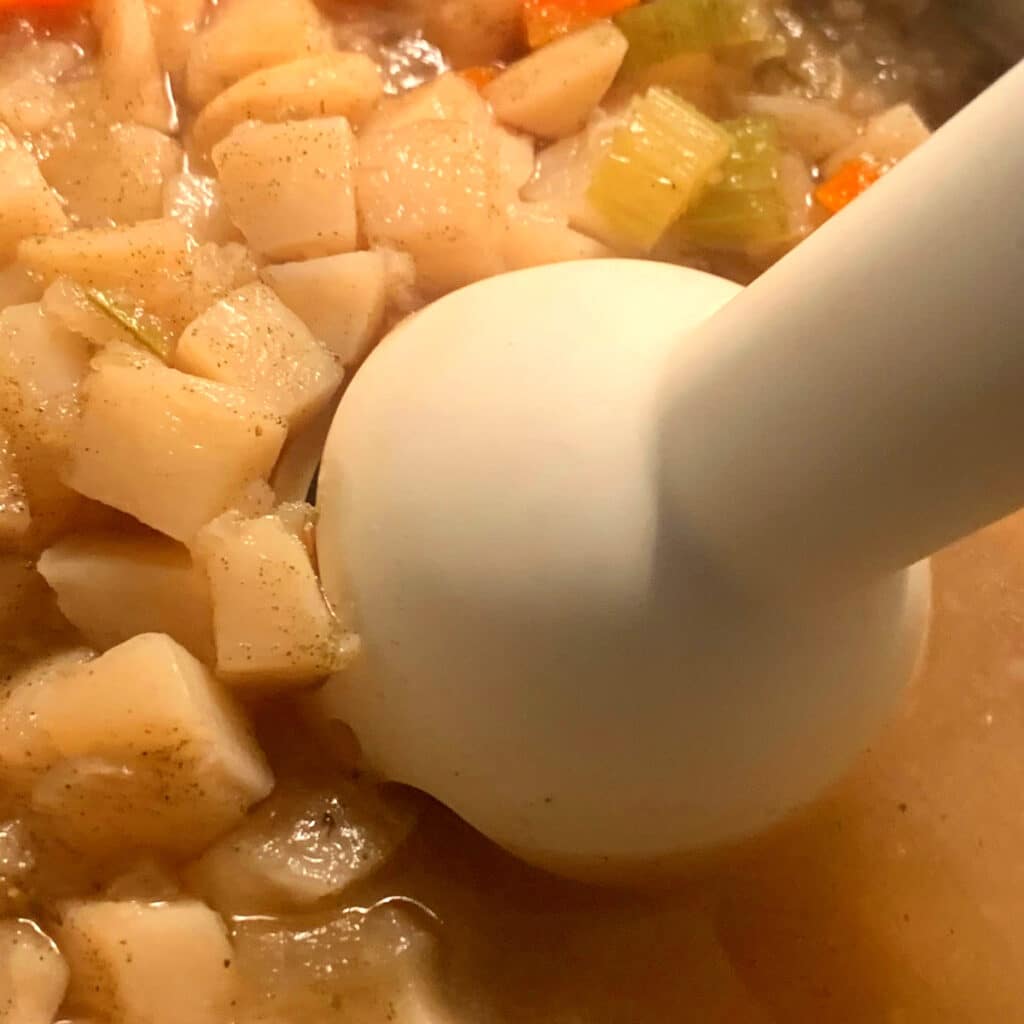 Storing
This soup can be stored in airtight containers in the refrigerator for about 5 days or so. Most people recommend against freezing soups with cream or milk. I have never had a problem with it. They key is not to let the look of the soup deter you. The ingredients will separate upon freezing. It is best to let it defrost in the refrigerator overnight. When you are ready to serve it, make sure to mix it up really well and reheat it either in the microwave or stove top. It will keep in your freezer for 2-3 months.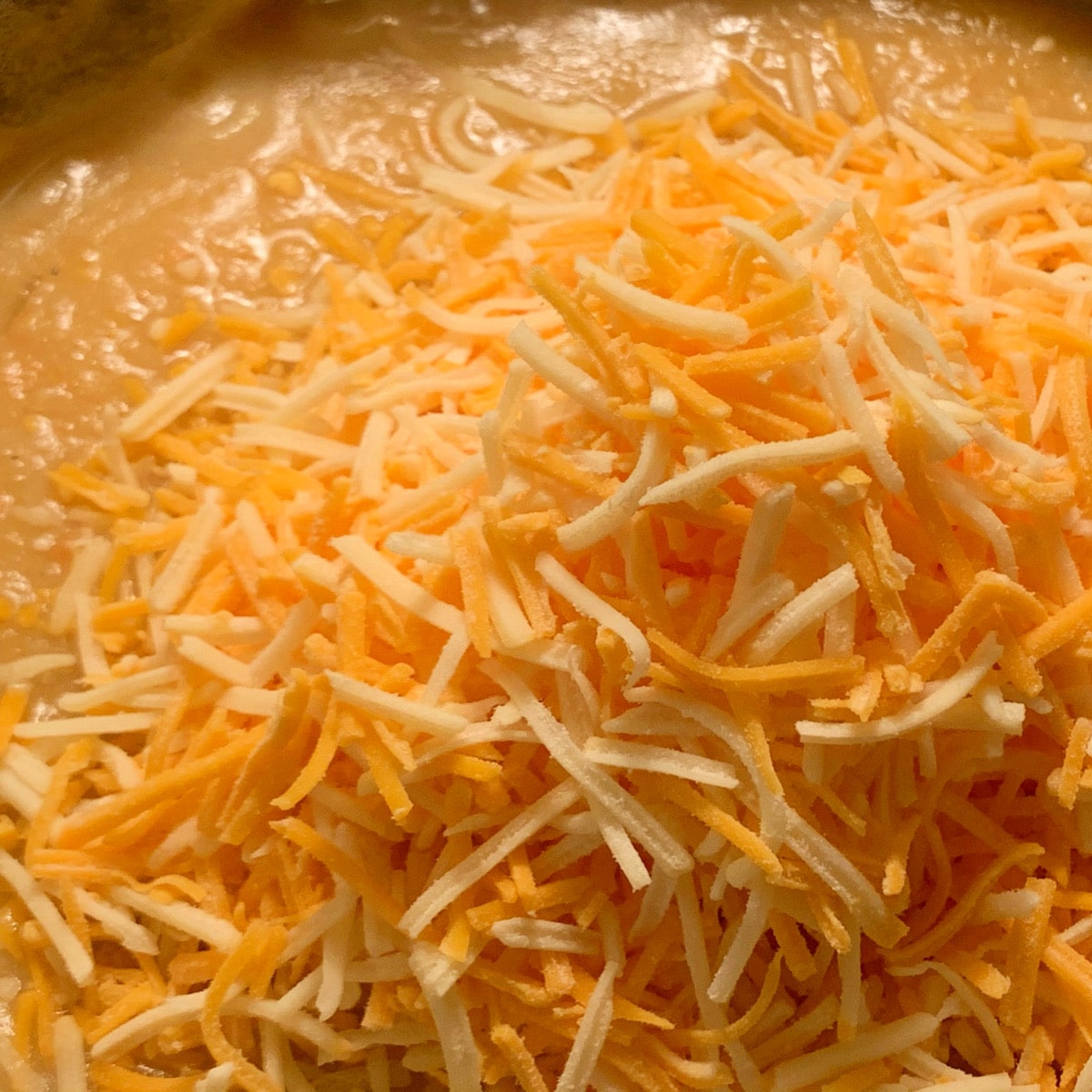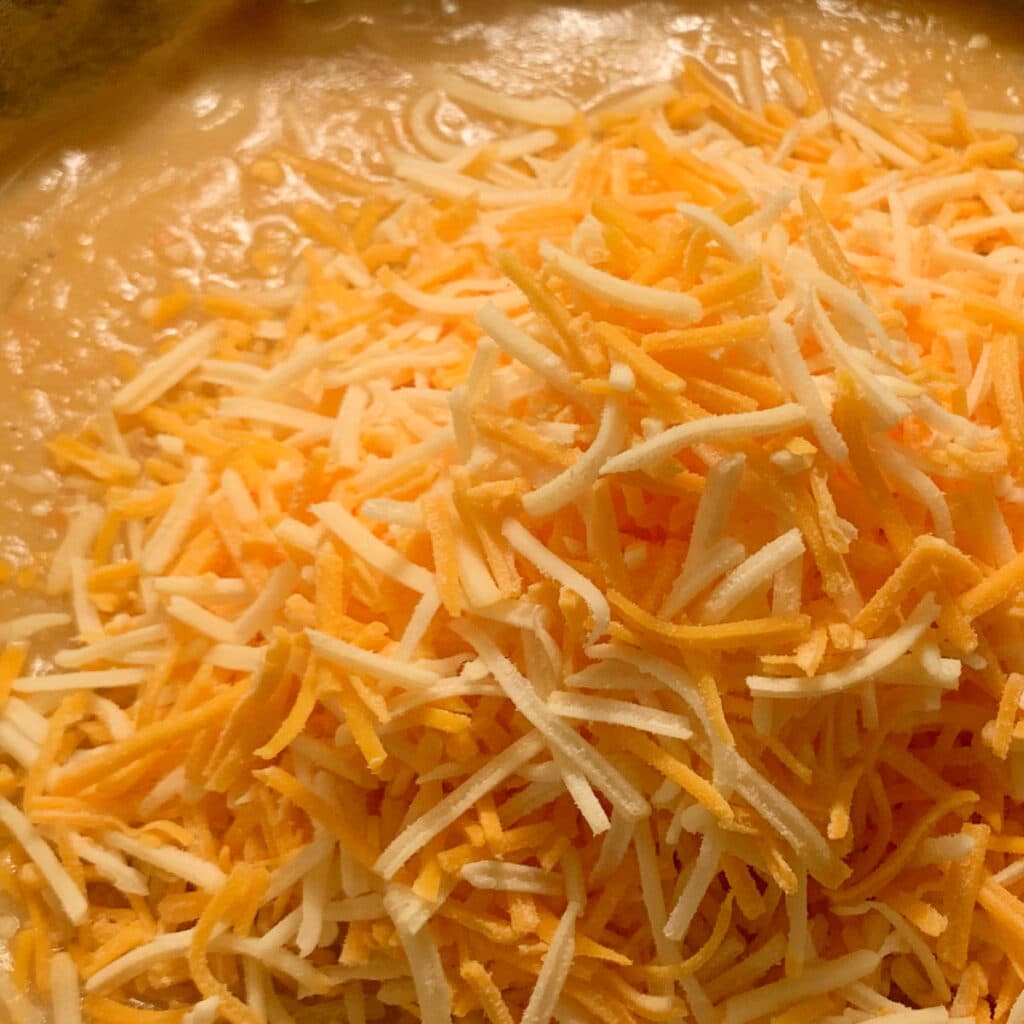 😉Hints & Hacks
Potatoes can be grainy when they are first blended. The longer you blend them, the creamier the texture will become.
Not a fan of cutting onion? Stay lazy like me and skip this step by buying frozen chopped onion in the frozen veggie section of your market. It is very inexpensive and saves a lot of tears!
The cheddar cheese I use in this potato soup recipe was purchased already shredded. Some people have commented that cheese melts better when it is freshly shredded. This is true, but I have only made this soup with pre-shredded cheese and it has always worked perfectly well for me.
I recommend using an immersion blender for this recipe. Much less messy and more "lazy" than pouring the soup into a blender. Click here to see the immersion blender I use.
I always recommend using a slow cooker liner for easy clean up. This is a fully optional step. I usually buy liners in bulk for the best per-piece price. Click here to see what I buy.
If you choose to use a liner, please keep in mind that it is easy to catch a piece of the liner on the immersion blender and chop it up – essentially ruining the entire soup. To avoid this, don't allow the blade of the blender fully touch the sides or bottom of the slow cooker.
More great crockpot recipes
📖 Recipe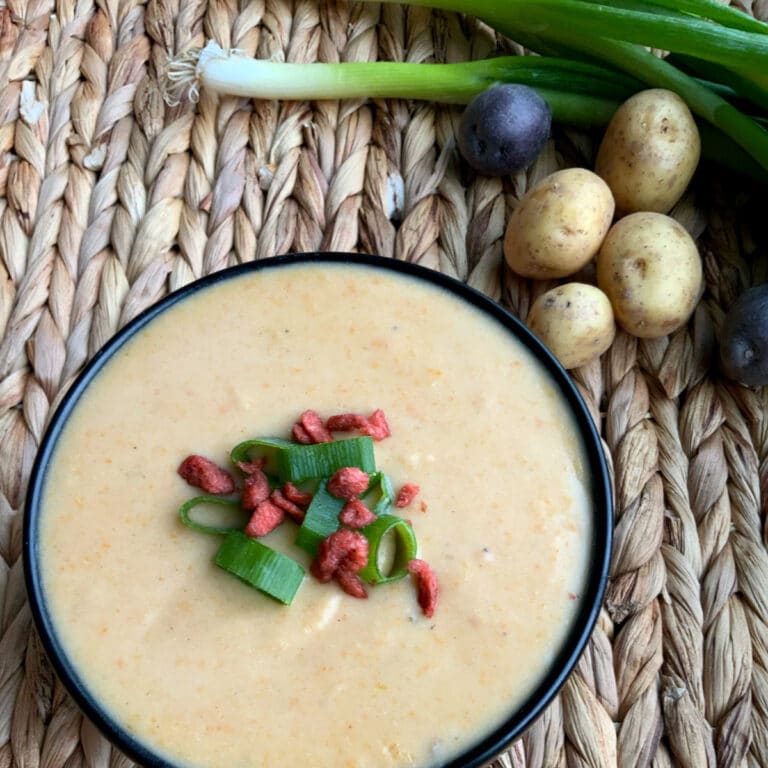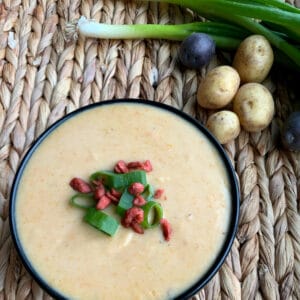 Lazy Slow Cooker Potato Soup Recipe
A creamy, cheesy and decadent crockpot potato soup that will be requested over and over. This easy recipe is warm, rich, filling and wholly satisfying!
Print
Pin
Rate
Save
Saved!
Equipment
4 pt or larger slow cooker
Ingredients
1

lbs

frozen hash brown potatoes chunks

2

cups

mirepoix

or one large carrot, one large celery stalk and one small onion, diced

1

tablespoon

minced garlic

½

teaspoon

dried rosemary

½

teaspoon

dried sage

¼

teaspoon

fresh ground pepper

½

teaspoon

salt

4

cups

onion broth or prepared onion soup base

2

cups

shredded cheddar cheese

1

cup

half and half

⅓

cup

sour cream

chopped green onion (optional)

chopped bacon or imitation bacon bits if you want to keep recipe vegetarian (optional)
Instructions
Place slow cooker liner into slow cooker, if using.

place potatoes, vegetables, garlic, rosemary, sage, salt and pepper into slow cooker

add onion broth, cover and cook on low for 5 hours or so

when potatoes and veggies are soft (after about 5 hours or so), carefully use an immersion blender to combine all ingredients. The longer you use it, the smoother the final soup will be.

30-45 minutes before serving, mix about 1 cup of half and half with a few tablespoons of hot soup in a separate bowl to temper the half and half. set aside.

add shredded cheddar into slow cook and stir as it melts to fully combine

Add sour cream and tempered half and half mixture into slow cooker, stir to combine and cover.

keep on low for another hour or so and then set to warm until ready to serve.
Nutrition
Check Out Our Facebook Page For More Slow Cooker Recipes!!