Jump to Recipe
Slow cooker pasta e fagioli is an easy, warm and satisfying soup filled with ground beef, pasta and beans. This thick and flavorful dish is a full meal in a bowl!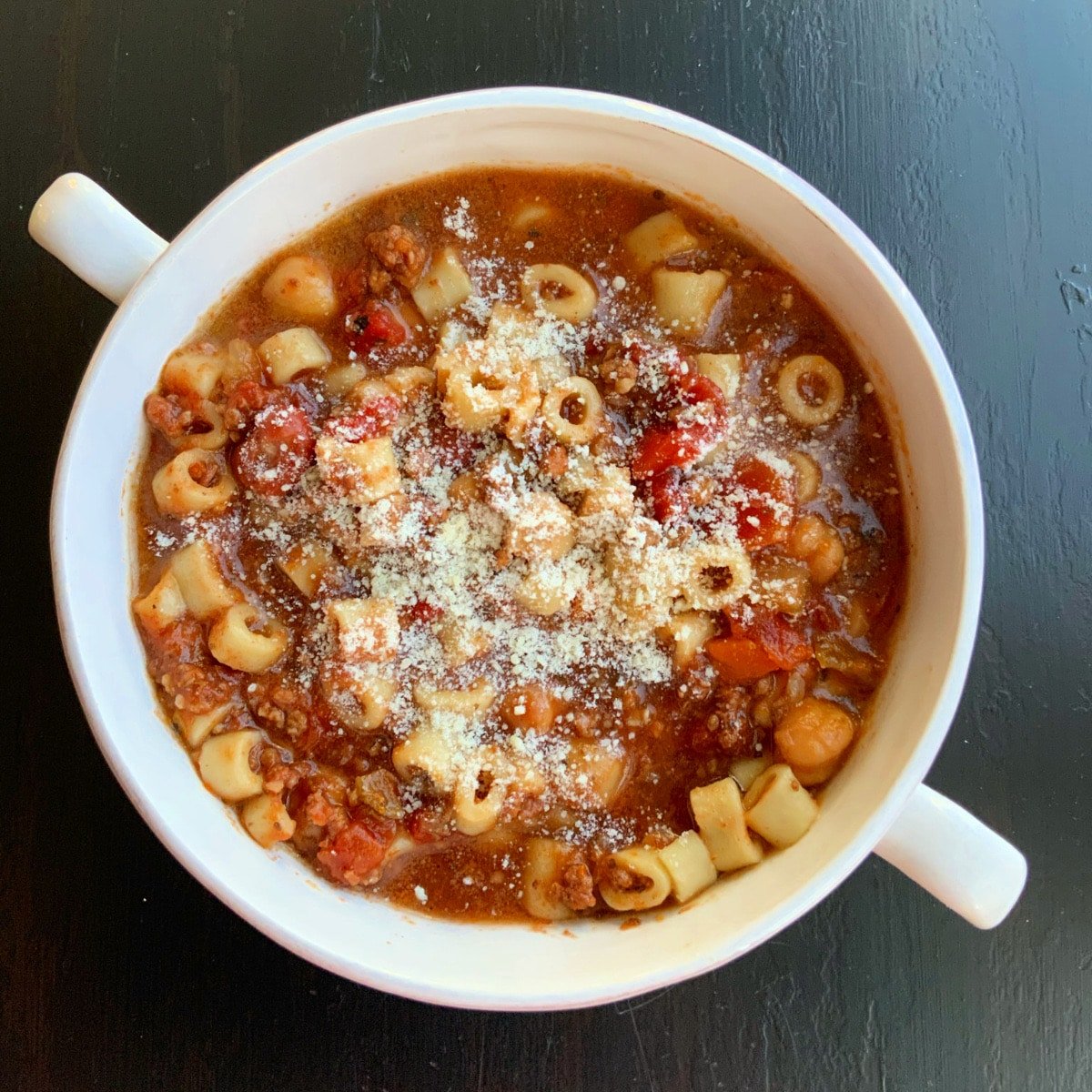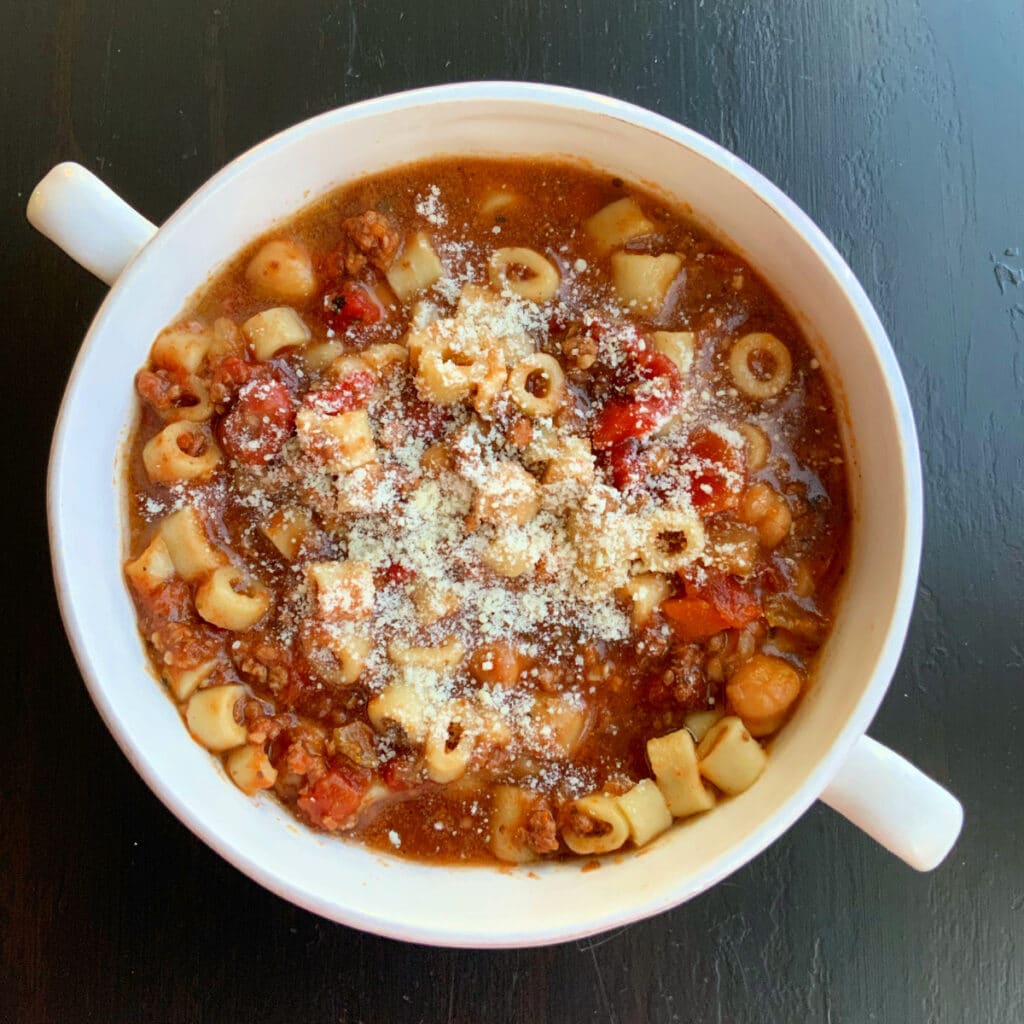 I have never seen one dish spelled so many different ways. If you Google it, you can find all of the following: pasta fagioli, pasta e fagioli, pasta fazool, pasta fasul, pasta fasule, pasta fajule and more. There are also multiple online tutorials on how to pronounce it. Everything from the authentic Italian to some very Americanized versions.
Luckily no matter how you say it or spell it, it is still delicious! Literally translated, it means pasta and beans. And that, on its own, is enough information to tell you that it is hearty, filling, warm and wonderful!!!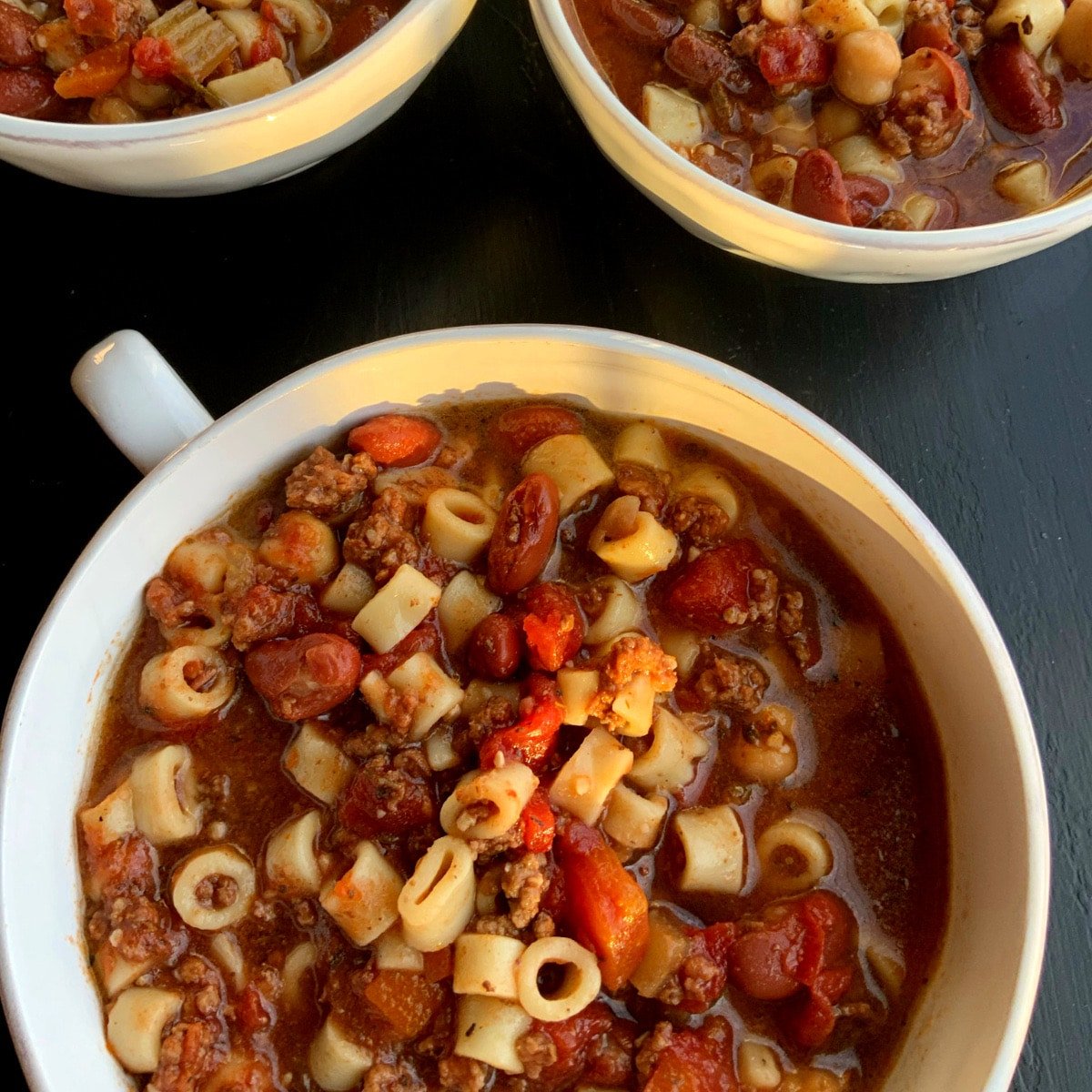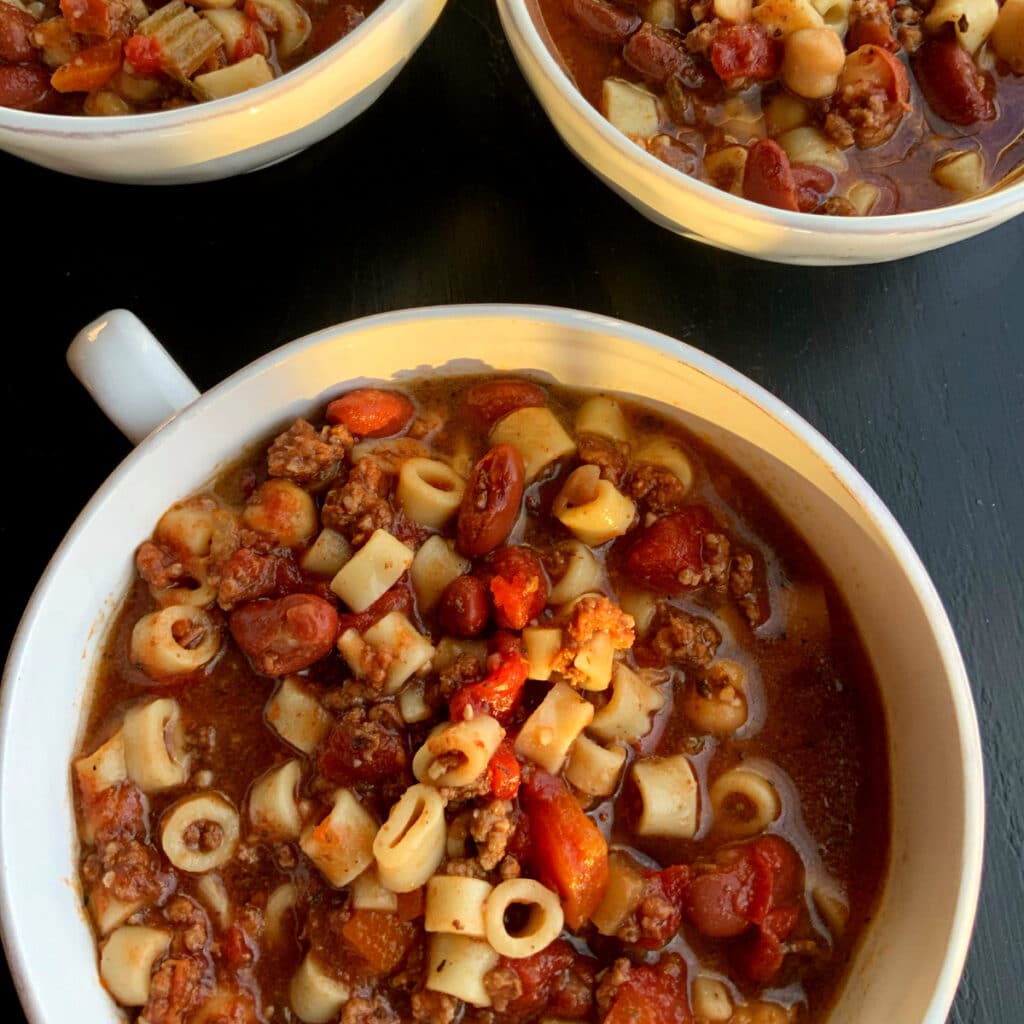 How To Make Slow Cooker Pasta e Fagioli
This recipe starts off with cooked ground beef. This can be accomplished stove top. Just make sure to (carefully) drain all of the melted fat that will accumulate in the pan after cooking. To keep things easy, I prefer to use my slow cooker to cook the beef in large batches (click here to see how) . Cooked ground beef can then be frozen in recipe sized portions so that it is always on hand and ready to go. In addition to ground beef, you will also need:
garbanzo beans
kidney beans
diced tomato cans (with all liquid)
tomato sauce
onion
carrot
celery
beef stock/broth
salt
pepper
Italian seasoning
garlic
rosemary
ditalini pasta
Note: Exact quantities can be found in recipe card below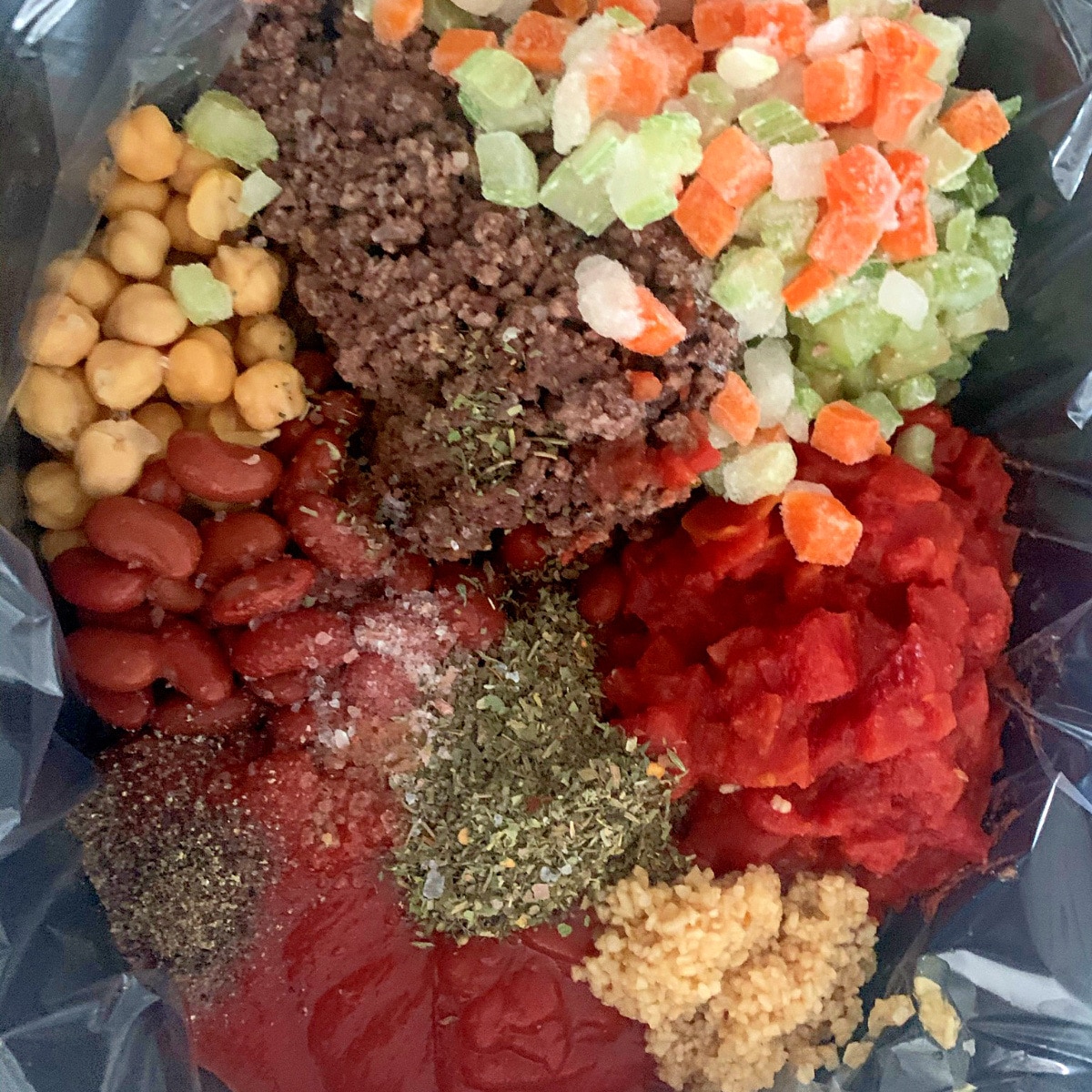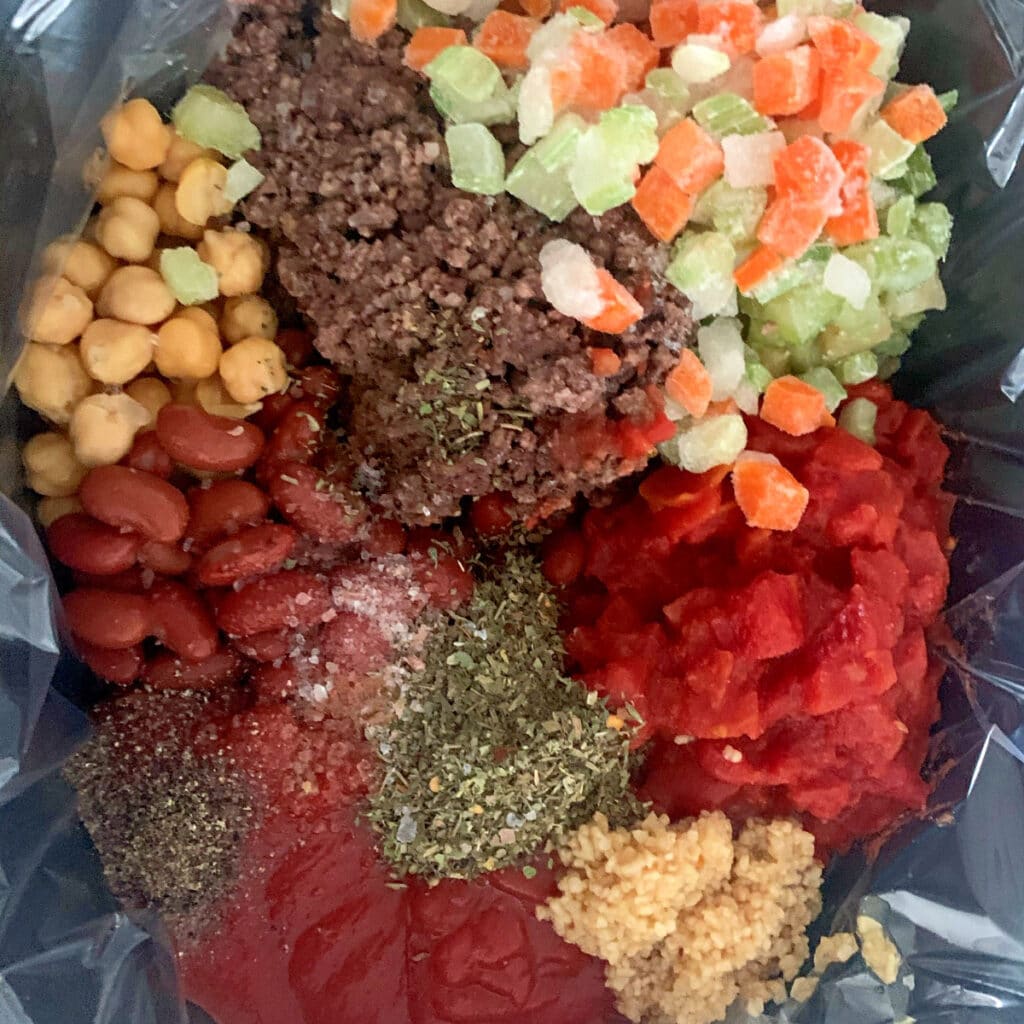 Once you have assembled all of your ingredients, add ground beef, beans, diced tomatoes (with all liquid), tomato sauce, vegetables, and seasonings (other that rosemary) to slow cooker. Add stock/broth to slow cooker and stir all to combine. Lay rosemary sprigs on top of other ingredients, cover and cook on low for 6-8 hours. 30 minutes prior to serving, add uncooked ditalini pasta and stir to combine.
How To Serve This Crockpot Soup
A large, hot bowl of this soup is hearty enough to be a full meal on its own. To balance it out, a crisp garden salad adds a great balance of crunch and cool to your meal. A thick, crusty Italian style bread also make a great side for this soup (and is great dipped in the soup!). Breadsticks are another crunchy and dip-able pairing. It you are not worried about keeping it dairy free, this soup is terrific served with some fresh grated parmesan cheese on top.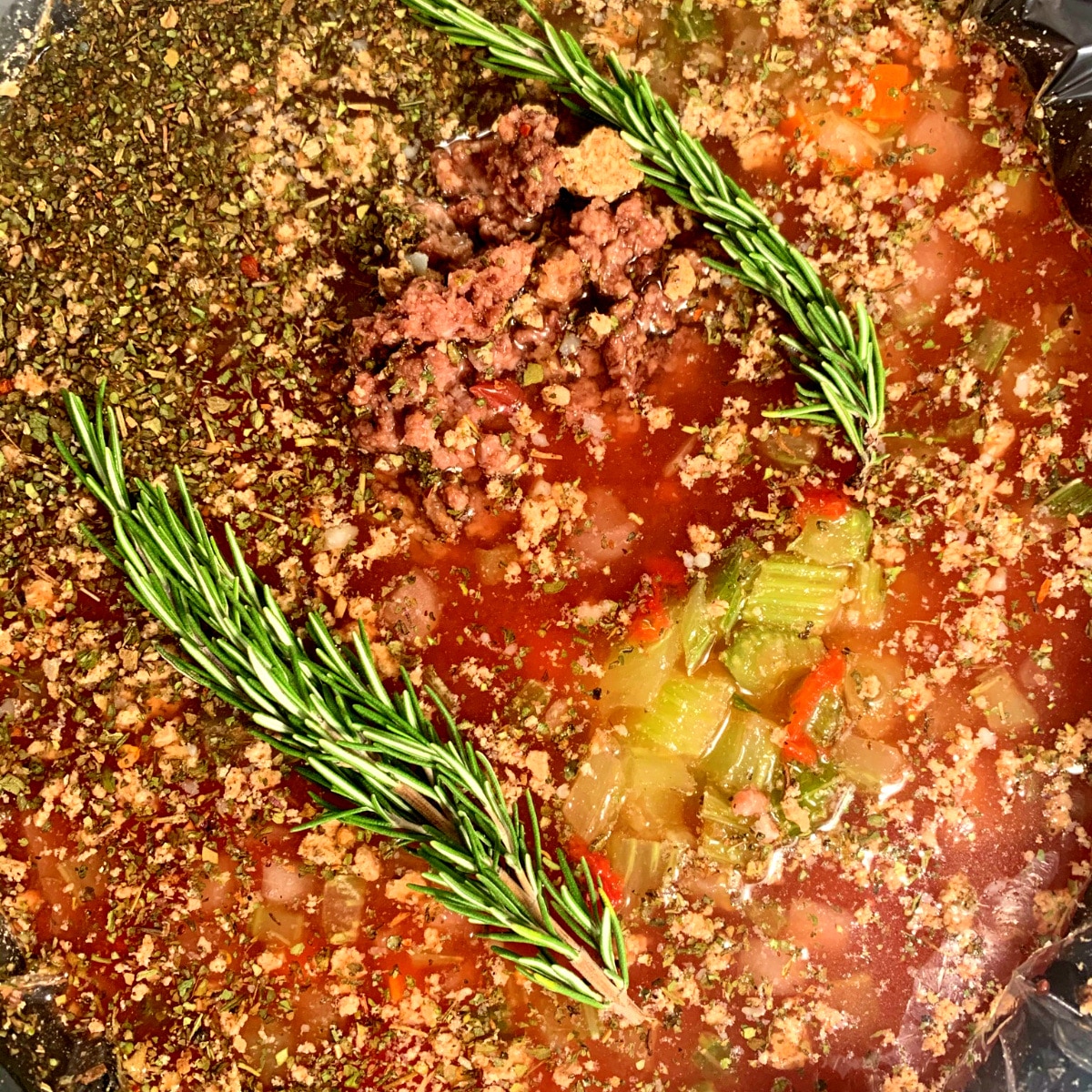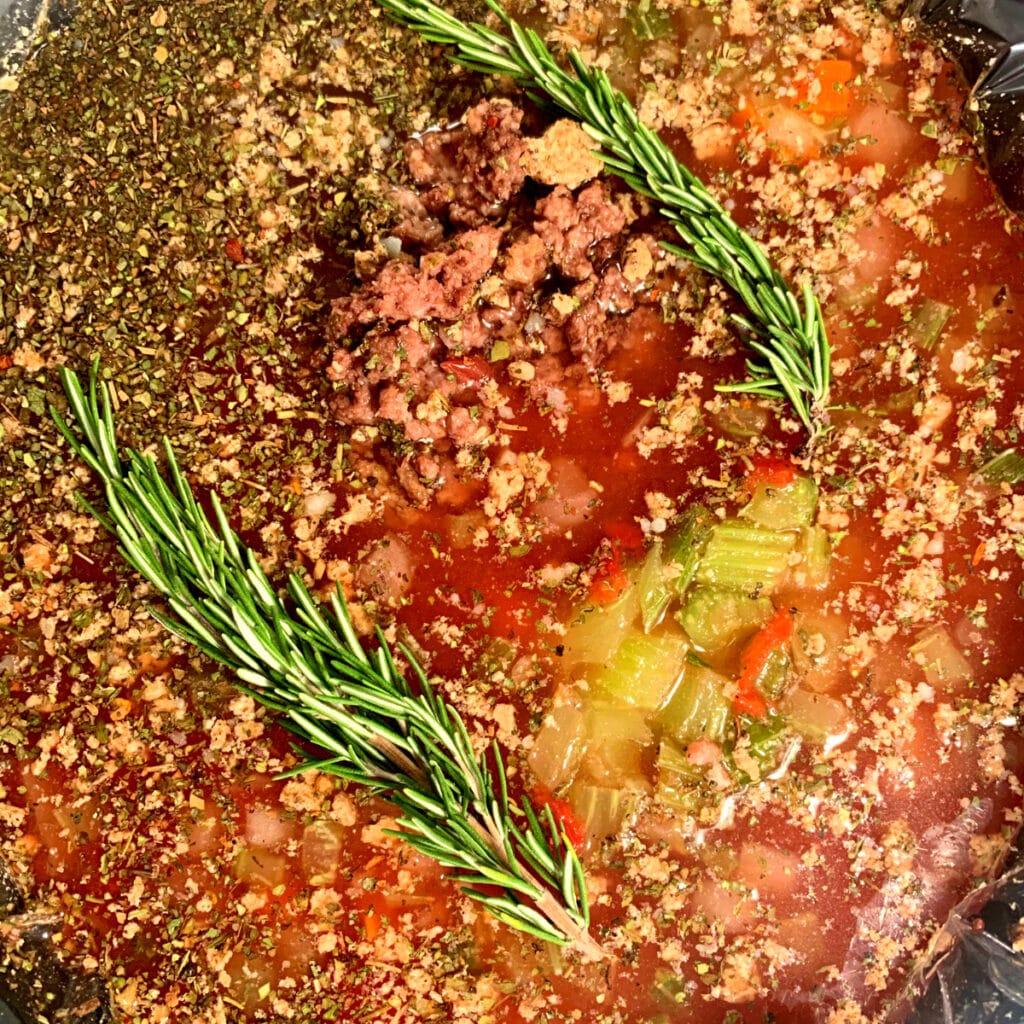 How To Store Soup With Pasta
Soup with Pasta generally doesn't store well. The pasta will absorb much of the liquid from your soup as it sits. This will make the pasta mushy and possible even cause it to break up. This is true of soups stored in the refrigerator and even more pronounced with soups stored in the freezer.
So, the big question is can you store leftovers of this dish? And the answer is: Yes! You have three options:
One option is to remove the pasta prior to storing and add freshly cooked pasta in when defrosting. This route will give you a great end product - but it does not qualify as "lazy"!
A lazier option is to store it as is with the noodles. This is doable as long as your recognize that, when reheated, it will not be exactly the same as when you stored it. The pasta will have absorbed much of the extra liquid, giving it more of a stew-like texture. If you want a more liquidy soup, you can add extra beef broth to it, but this may change the flavor a bit. Is this bad? That's up to your personal taste.
A third option is to cook the pasta al dente prior to adding it to your soup. You can then stir pasta into each bowl individually, just before serving. This method eliminates the need to worry about having to accommodate pasta in your leftovers. You can just add fresh pasta at encore servings.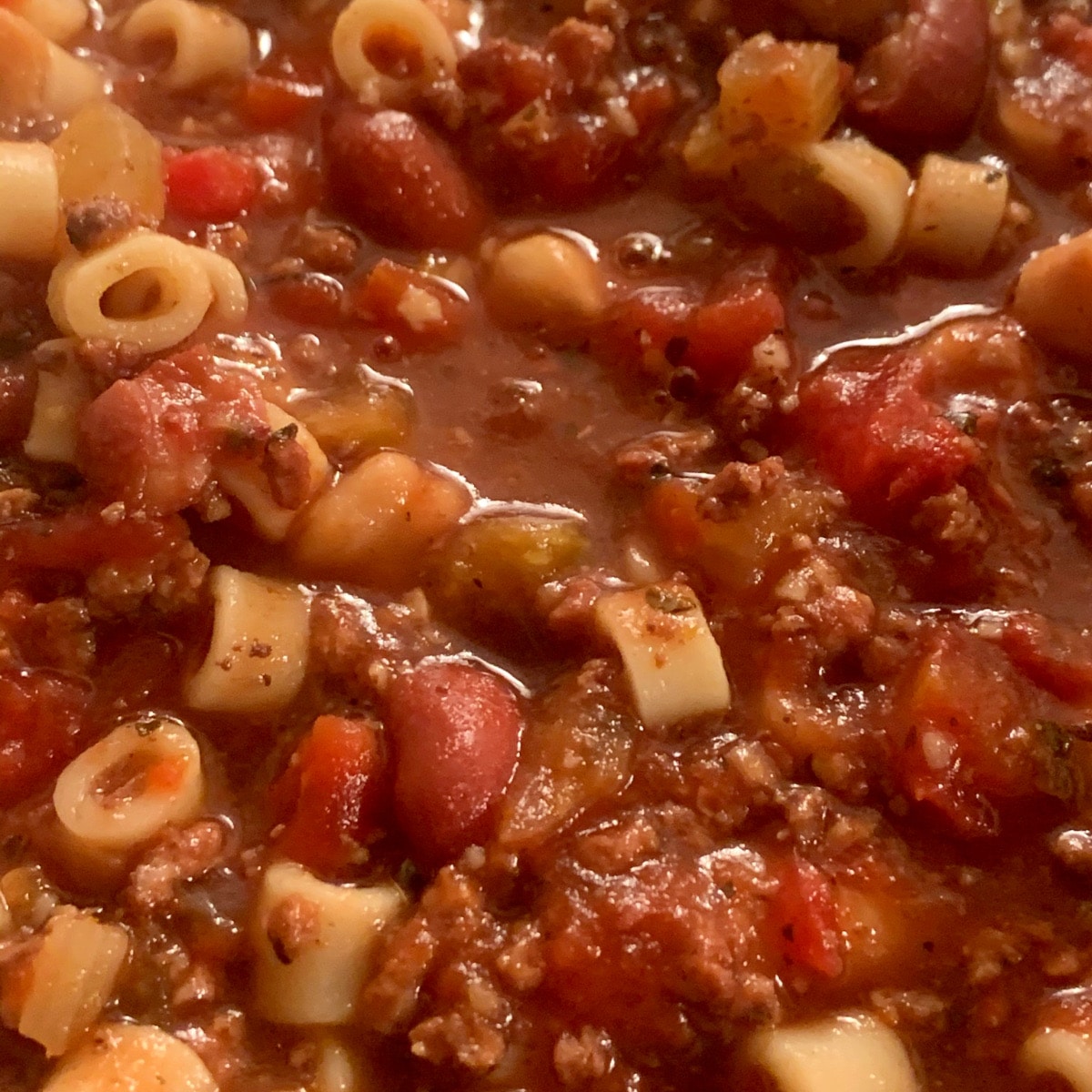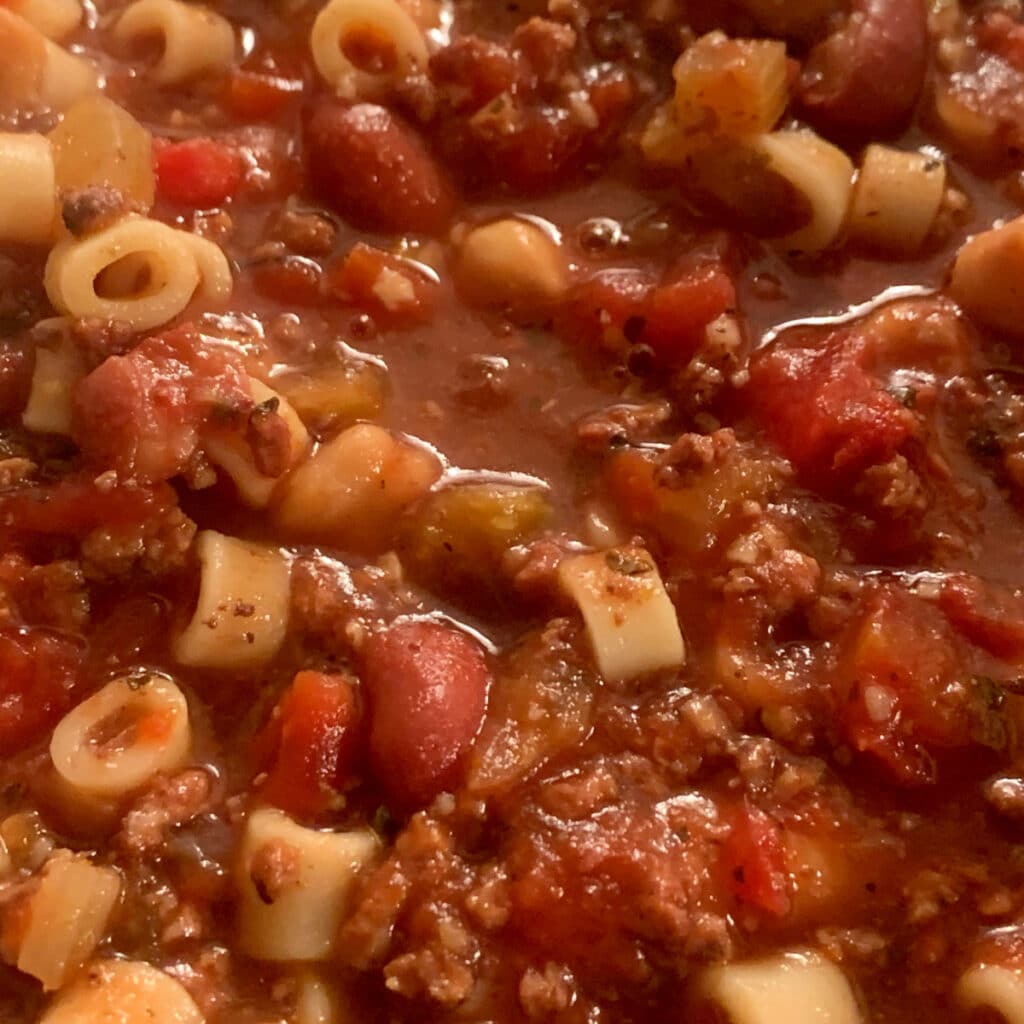 However you choose to store it, your slow cooker pasta e fagioli will last 3-4 days in the refrigerator and 6 months in the freezer.
Soup Hints & Hacks
Slow cooker pasta e fagioli calls for diced celery, carrots and onion. To keep things extra lazy, you can buy prepackaged cut veggies or mirepoix. Both fresh or frozen work equally well. Because I am always looking for shortcuts, I cut up celery, carrots and onion in advance and freeze them so they are always on hand for dishes like this one.
This is a great dish if your people will be eating at different times. After the cooking time, turn your slow cooker to warm (or have it automatically switch to warm if your slow cooker has this feature) and everyone can have a hot and filling meal, no matter what time they are ready to eat. If you choose to serve at different times, you may want to consider adding already cooked ditalini pasta to each bowl of soup individually as mentioned in option 3 above.
I always recommend the use of a slow cooker liner. Of course, this is an optional step. I like to purchase my liners in bulk for a less expensive per-piece price. Here are the liners I buy.
In the market for a new slow cooker? Here is the one I am currently lusting after.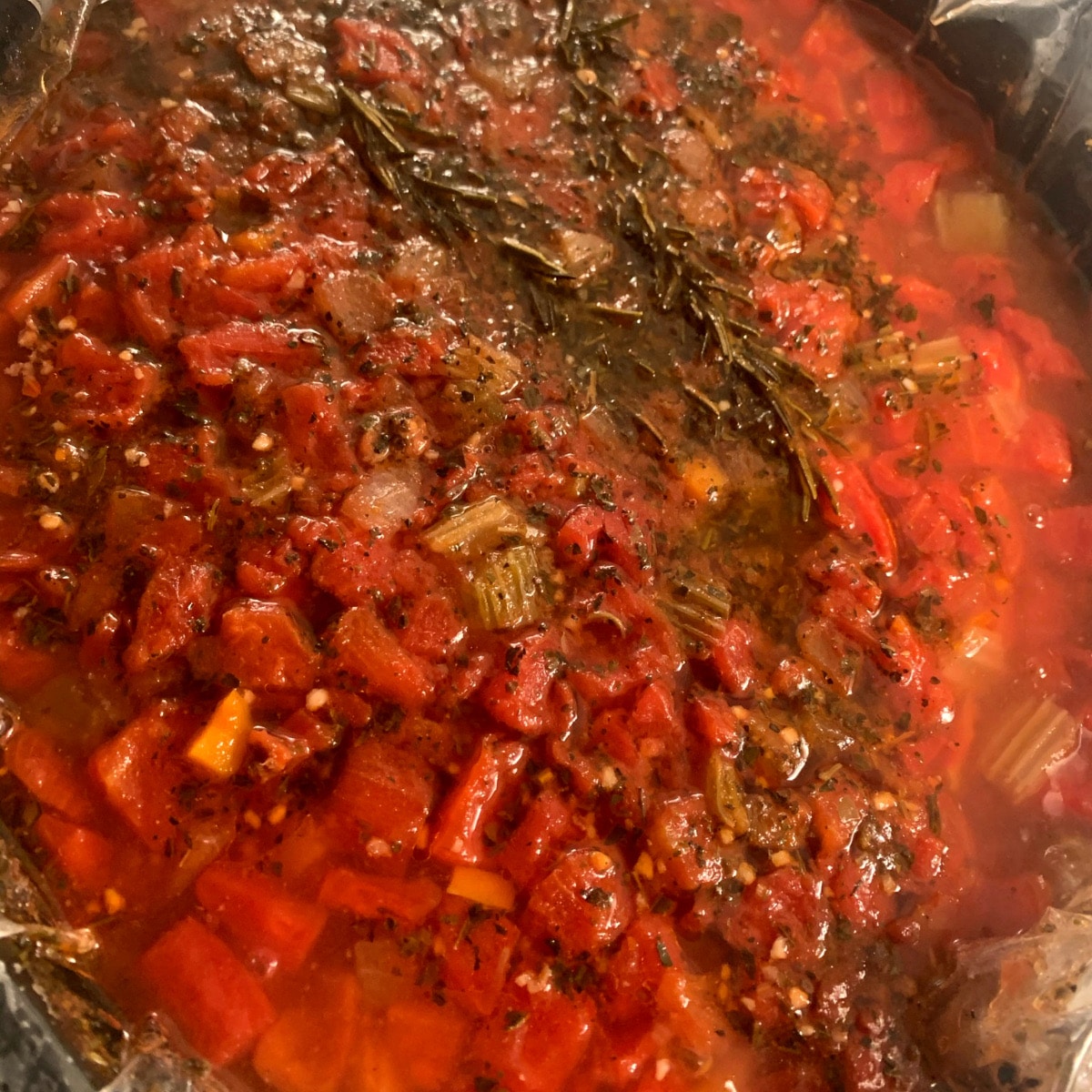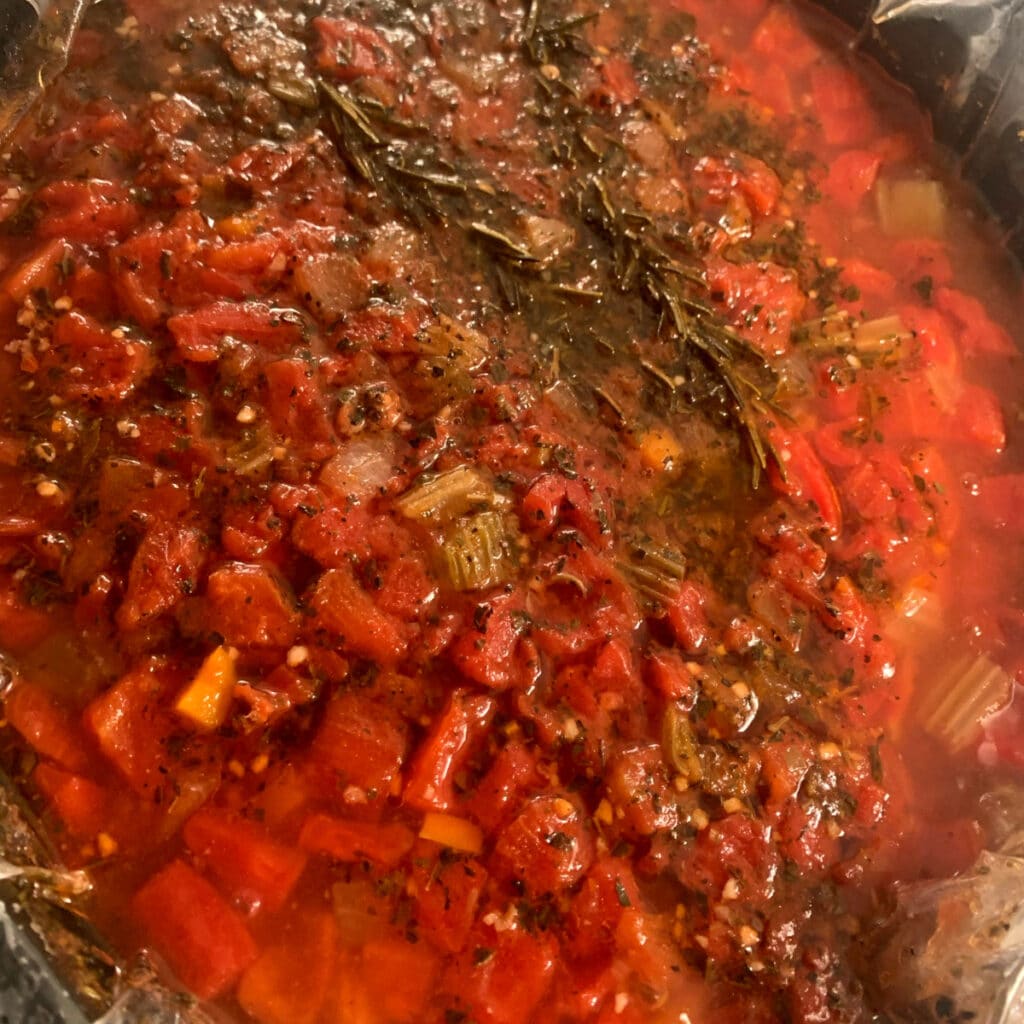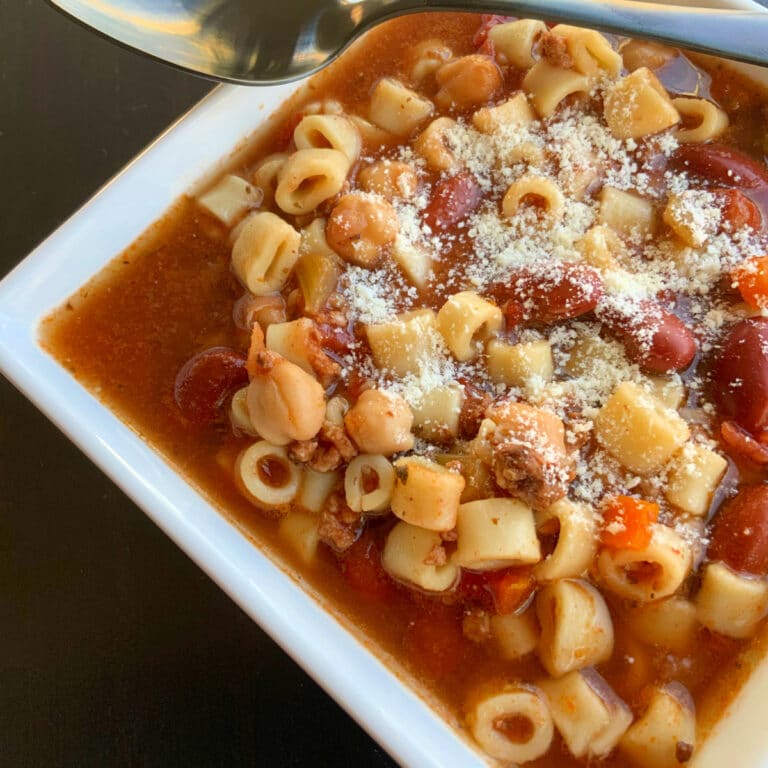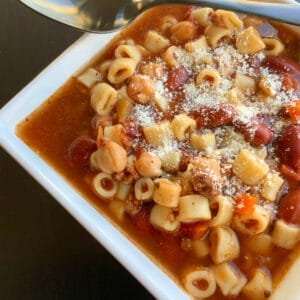 Lazy Slow Cooker Pasta E Fagioli Recipe
Delicious warm and satisfying soup filled with ground beef, pasta and beans. This thick and flavorful soup is a full meal in a bowl!
Print
Pin
Rate
Equipment
6 quart or larger slow cooker

measuring cups and spoons

slow cooker liner (optional)
Ingredients
1½

lbs

browned ground beef

19

oz

can red kidney beans, drained

15

oz

can garbanzo beans, drained

2

cups

chopped mirepoix

or one small onion, two carrots and 2 large celery stalks

2

14.5 oz

cans diced tomatoes with liquid

15

oz

tomato sauce

2

tablespoon

minced garlic

1

tablespoon

Italian seasoning

½

teaspoon

sea salt or kosher salt

½

tsp

fresh ground pepper

6

cups

beef stock (or reconstituted base)

1-2

sprigs

fresh Rosemary (optional)

2

pieces

parmesan rind (optional)

skip this if you want to keep dairy free

8

oz

ditalini or other small pasta
Instructions
add browned ground beef, beans, vegetables, tomato sauce, chopped tomato and all seasonings to slow cooker

add salt, pepper, Italian seasoning and garlic to slow cooker

Place parmesan rind into slow cooker, if using

carefully pour beef stock into slow cooker and stir gently to mix

lay rosemary sprigs on top of mixture, cover with lid and cook on low for 6-8 hours.

30 minutes prior to serving remove rosemary and add pasta to slow cooker. stir to mix and re-cover until serving.
Nutrition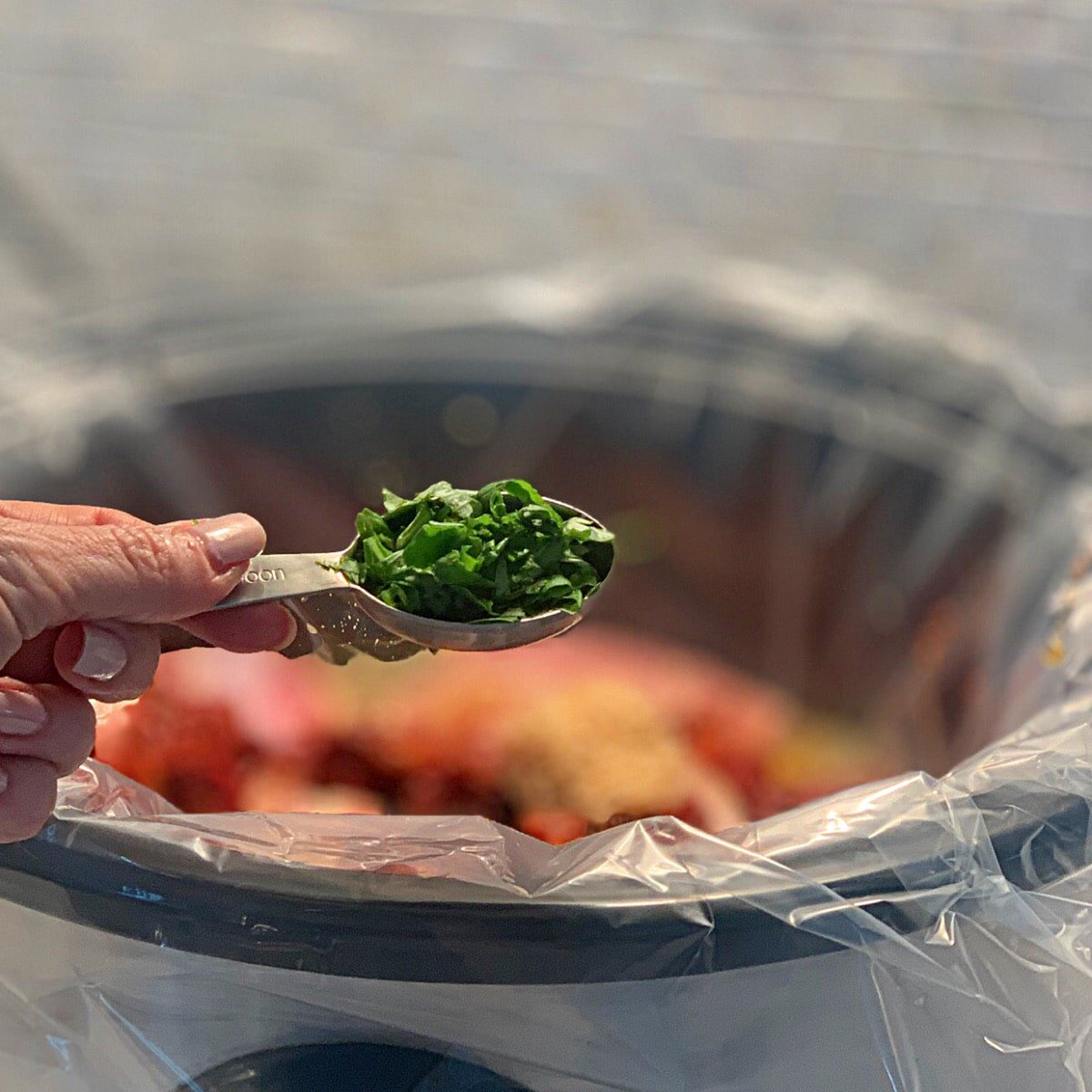 Great Crockpot Soup Recipes
Check Out Our Facebook Page For More Slow Cooker Recipes!!
Check out my latest on Instagram