Jump to Recipe
Two fabulous slow cooker candied sweet potato casseroles that you will want to serve on your holiday table, but are easy enough to make on a regular basis.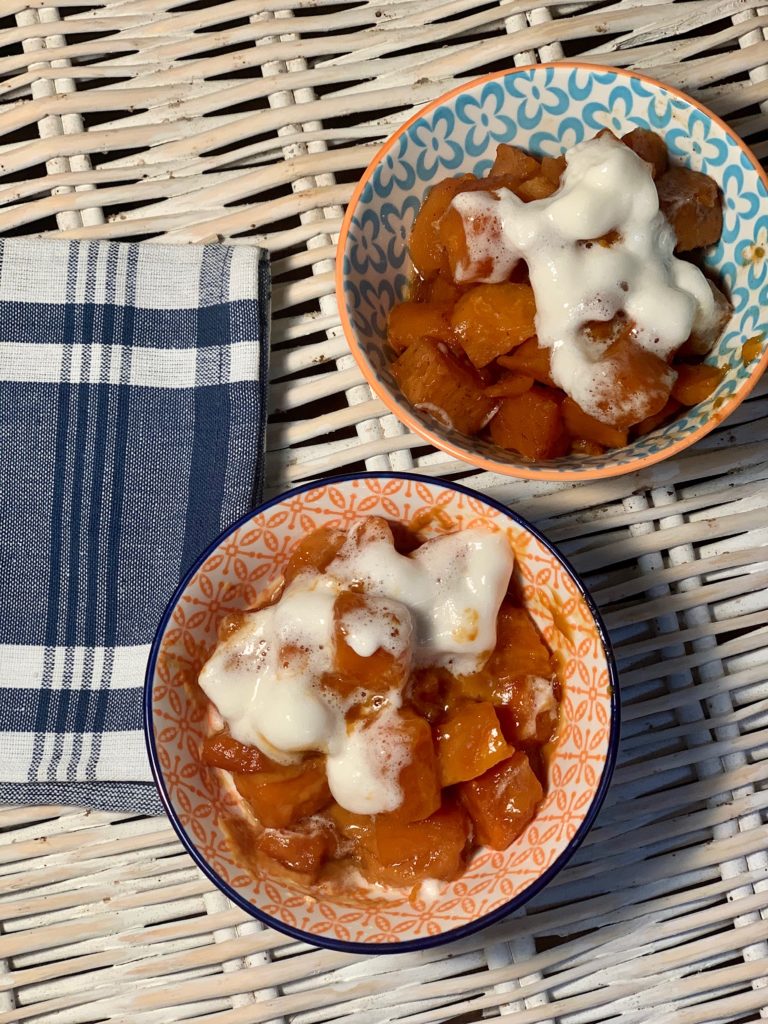 I have been asked why I use my slow cooker when everything I use it for can be prepared in alternate ways: oven, stove top, microwave, etc. My slow cooker is and always will be my BFF. Why??? Lots of reasons!
With super long cooking recipes, the benefits are fairly obvious....you can go to work and come home at the end of the day to a cooked meal. But for recipes that don't take as long, some people feel there aren't enough benefits to using a slow cooker. I disagree! Here are some of the reasons my slow cooker lives on my counter top and gets more use then any other appliance.
The Ability To Walk Away
Food placed in the oven or on the stove top requires constant checking. It can burn or dry out quickly. But the slow cooker is nice and slow. There is no exact moment that food needs to be removed. That doesn't mean you can't over cook or burn food...you can and I have!!! But, the window of completion is much larger when cooking slowly. Need to run and errand? Attend a soccer game? Hop on a conference call? The slow cooker is the perfect kitchen assistant. If I turn my back on my oven or stove top for even a second, they seem to take revenge by burning, over cooking or boiling over (or so it seems). My crockpot treats me better then that!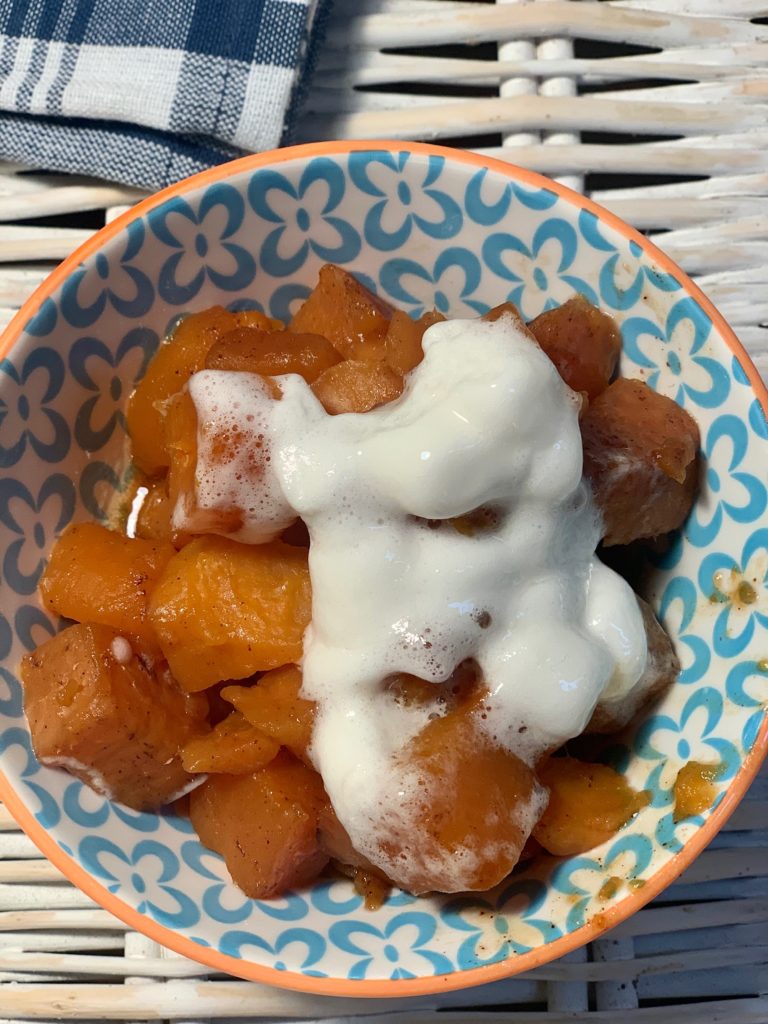 Time and Temp
Looking to prepare a few different dishes that cook for different periods of time at different temperatures? Slow Cooker to the rescue! Its like having a second (or third or fourth) oven. Throw that side dish in the slow cooker, prep and cook your main dish and dessert and, if you time it properly, all can be ready at the same time. Need to cook most of your meal at 350F but have one item requiring more or less? Use a slow cooker adapted recipe to get that one pesky item done perfectly on its own.
Enjoy your guests
If your food is basically taking care of itself in your slow cooker, grab a glass of wine and join the party! This is a big one around the holiday. You may want to use one of these two easy ways to make candied sweet potatoes just for this benefit alone.
Keeps your kitchen cooler when it is hot out
An oven or cook top can radiate a lot of heat on a hot summer day. Slow cookers keep their heat pleasantly to themselves.
These candied sweet potato recipes are perfect examples of a side dishes that can either take up precious oven real estate OR can go into the slow cooker. You can start them hours before you plan to serve them and they can still be warm and ready whenever you need them - without any extra effort. The recipes below are two easy ways to make candied sweet potatoes and are the perfect examples of a how to turn your slow cooker into an entertaining workhorse!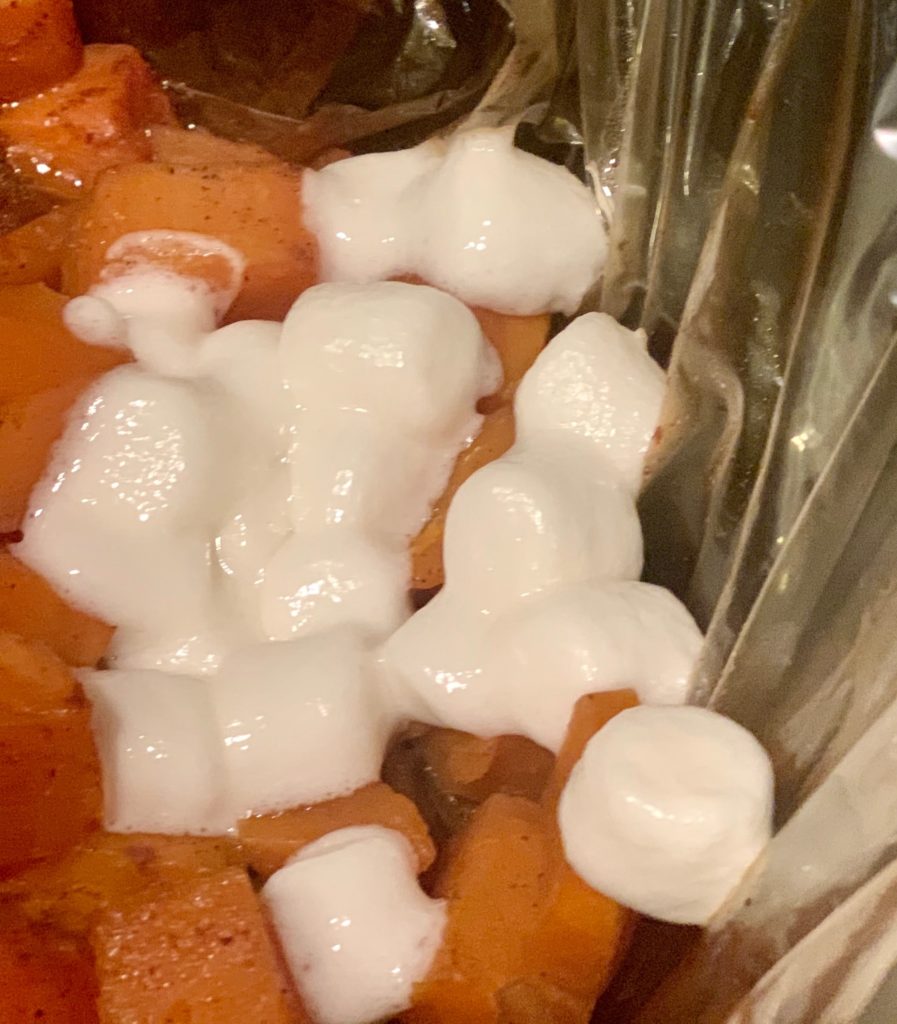 Lazy Slow Cooker Candied Sweet Potato Hints and Hacks:
Method 1 is easier (slightly) but sweeter. The Team felt it was more like dessert. I personally don't believe in the concept of "too sweet" and I loved it!
I topped both recipe with marshmallows because.....marshmallows! But, this is optional so feel free to leave then off to tone the sweetness down in either recipe.
The beauty of both recipes is that you can leave them in your slow cooker on the warm setting right up to (and even including) serving.
I actually used yams for this recipe. I personally prefer them, but sweet potatoes will work as well. Interested in learning the difference between yams and sweet potatoes? Click here.
I always use slow cooker liners for easier clean up (another reason to love your slow cooker!)
Lazy Slow Cooker Candied Sweet Potato
Two fabulous slow cooker sweet potato casseroles that you will want to serve on your holiday table, but are easy enough to make on a regular basis.
Ingredients
Method 1
2

lbs

diced fresh sweet potato/yams

1.5

Cups

Caramel dipping sauce

Such as Marzetti

2 (Or so)

Cups

Mini marshmallows
Method 2
2

Lbs

diced fresh sweet potato or yams

I generally use yams

2

tbsp

butter

1

cup

maple syrup

½

tsp

ground cinnamon

½

tsp

pure vanilla

pinch

kosher salt

2

cups

mini marshmallows
Instructions
Method 1
I always use a slow cooker liner to start. Cleanup is a breeze!

Add sweet potato/yam cubes to slow cookers

Place caramel dip in to pot on top of potato chunks

Cook on low for 4 hours then switch to warm until ready to serve.

After about an hour or so, stir all to mix

Cook on low for 3 - 3.5 hours, top with marshmallow and cook on low for another 30 minutes. Turn pot down to warm until ready to serve.
Method 2
line slow cooker with a slow cooker liner for easy clean up (optional)

place diced sweet potato into slow cooker

add remaining ingredients except marshmallows and stir gently to mix

cook on low for 3.5 hours. Open pot an stir contents. Top with marshmallows and cook for another 30 minutes. Turn pot down to warm until ready to serve.
Great Crockpot Side Dishes
Sign up here to have new recipes delivered right to your inbox!