The easiest way to make a fun hotdog pull-apart
Jump to Recipe
This recipe was made specifically for all of you out there who have pretty boring, pre-conceived notions of what a slow cooker can do. Yes, it makes great stews and soups. Of course, it slowly warms up leftovers. But, it also has a much more fun side.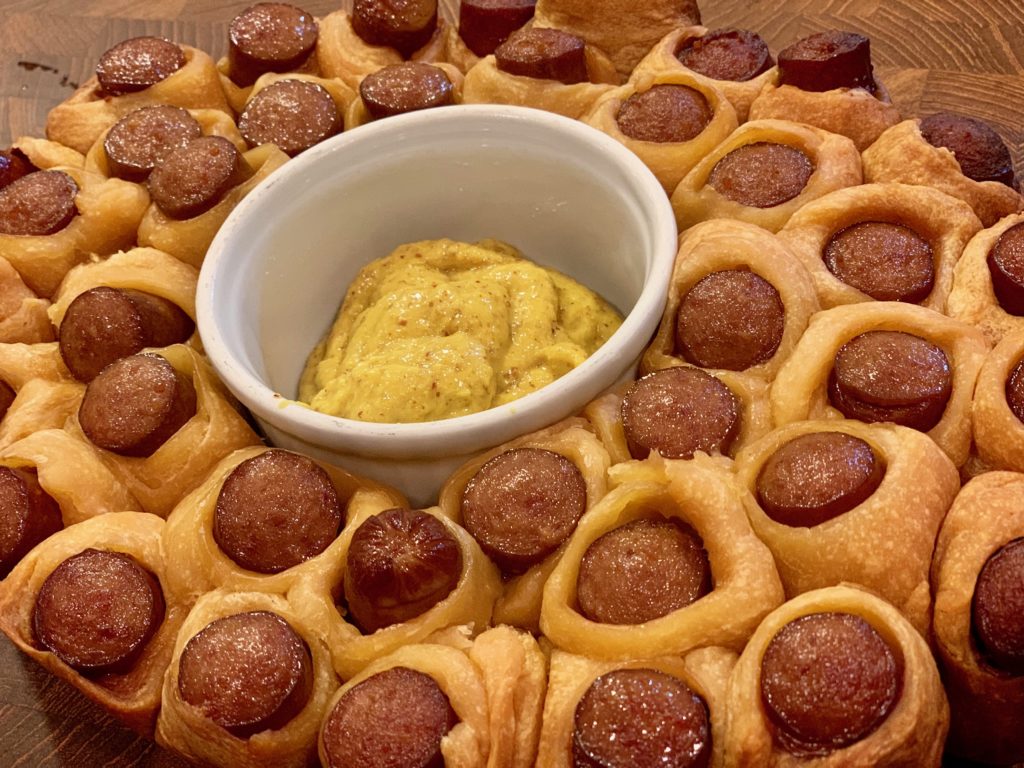 Lazy hotdog pull-apart is fun to make and even more fun to eat! It is a great active recipe to make with kids. It is also a really cool looking appetizer. that will be devoured in mere seconds.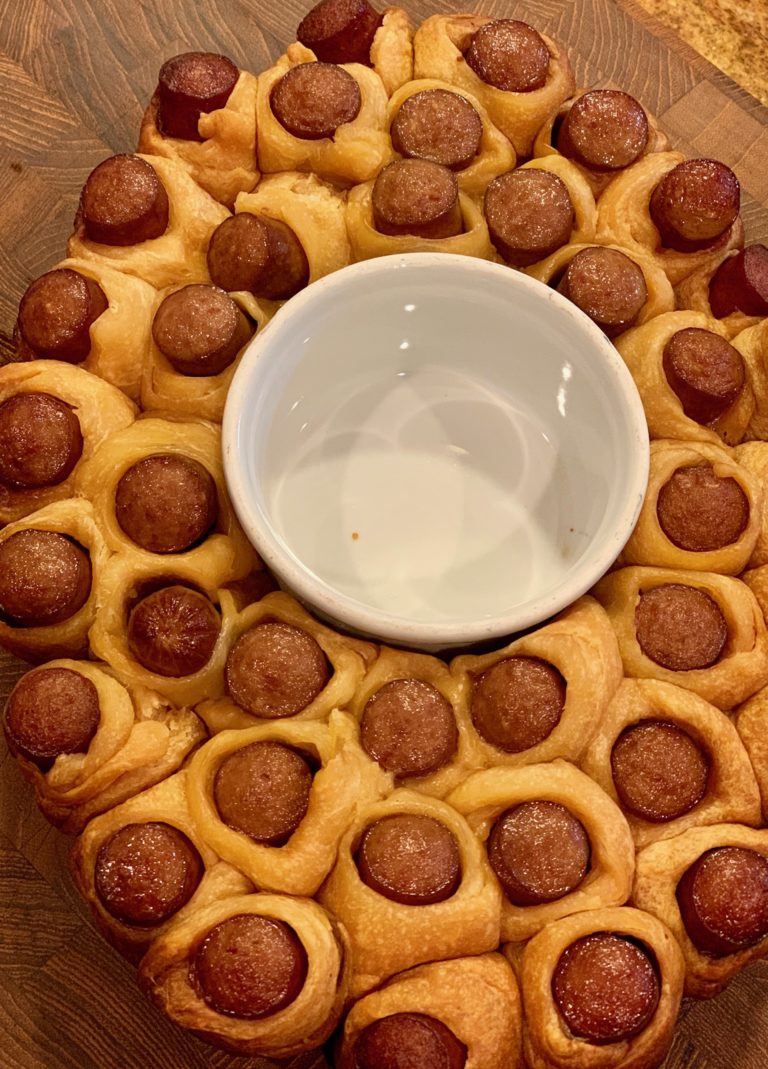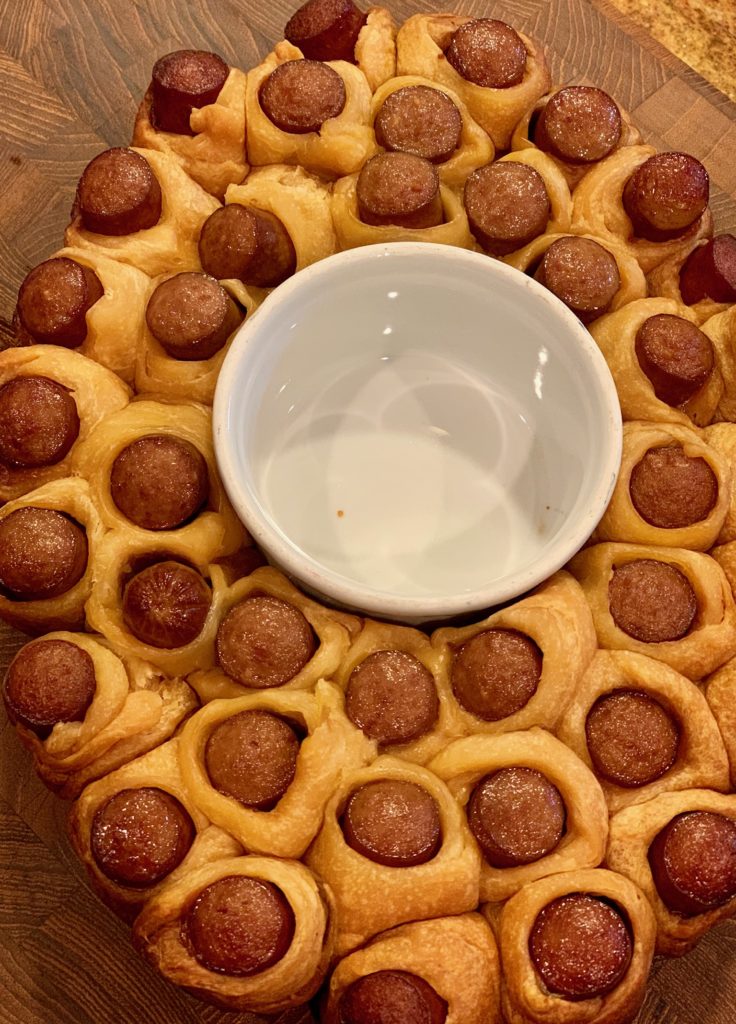 Hacks and Hints
When making a dish such as a hotdog pull-apart, that cannot be stirred, I often find that my slow cooker will burn the outside before the inside is fully cooked. To compensate, I make this recipe with an oven safe ramekin in the middle as seen in the pictures. I keep it empty during cooking. When serving, it can be filled with a dip or even a complementary item. It is important to always select an oven safe dish for this so it doesn't melt or crack. And remember to handle it very carefully when removing it from the slow cooker as the ramekin will be VERY hot,
When cooking or baking an item that is not moisture based, I find it helpful to leave a cloth or paper towel under the lid of the slow cooker to absorb extra condensation. I am however, not completely comfortable doing this if I will be leaving the house for an extended period of time. If you will not be home while this cooks, omit this step. You can always just use a towel to wipe the accumulated condensation off of the underneath portion of the lid when you return.
I use Hebrew National all beef hotdogs. They are The Team's favorite. I have not tried this with veggie or turkey dogs, but I bet it would be delicious. If you try it, please let me know.
I like to use parchment paper for this recipe. There is virtually no clean up and it allows for a easy way to remove the finished product.
Looking for more slow cooker appetizers:
Lazy Hotdog Pull-Apart
Hotdogs nestled in crescent rolls baked toghether in a slow cooker
Equipment
6 qt slow cooker

small oven safe ramekin

parchment paper
Ingredients
11

hotdogs

I prefer Hebew National all beef

1

8 oz

crescent roll cans

such a pillsbury
Instructions
Line slow cooker with parchment paper. Made sure paper comes far enough up the insides of the pot to use the edges as a sort of handle to lift the finished dish out of the pot.

Place wrapped hot dog pieces in slow cooker vertically (dough to the sides, one end of each hotdog facing up)

Cook on low for 3 -3.5 hours (depending on your slow cooker). You will know it is finished when the internal dough is flaky and the internal temperature of the hotdogs reaches 160°.

Remove from slow cooker carefully using edges of parchment paper.

Place your favorite hotdog dip into the center when you are ready to serve (I am a mustard lover!)
*This post contains Amazon Affiliate links. As an Amazon Affiliate, I earn from qualifying purchases. This helps to offset the costs of running this website. **Please note that all nutritional, serving size and calorie information is estimated and based solely on the ingredients used, not the offered replacement options or any other substitutions.
Sign up here to have new recipes delivered right to your inbox!