The easiest way to make homemade vegetarian baked beans
Jump to Recipe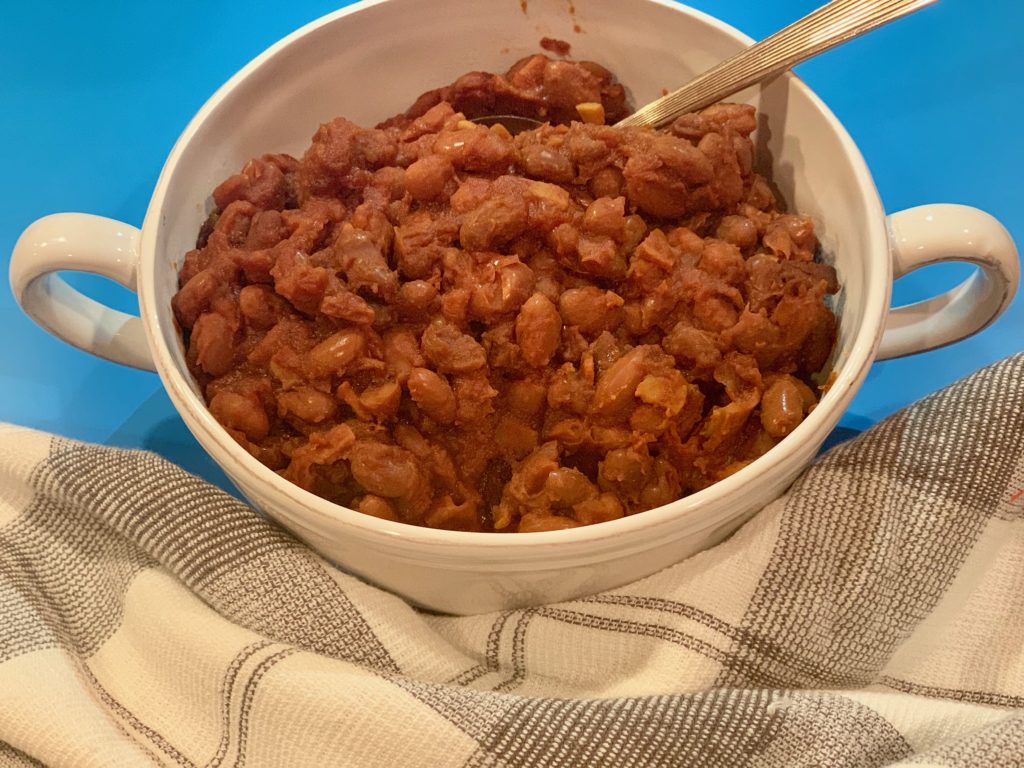 Questions frequently asked of The Lazy Slow Cooker:
Q: Are you a chef
A: Nope! Just enjoy playing around in my kitchen and documenting my results
Q: Do you ever use fresh veggies? A: yes! But a lot of my recipes use frozen because they are: inexpensive, always available, easy to store for longer periods of time and allow for great meals without extra trips to the market. All of which meet my "lazy" requirements
Q: Do you ever brown meat before putting it in the slow cooker?
A: Nope!! I am sure browning various meats before cooking enhances the flavor, adds to the juiciness and improves a whole host of other culinary markers. But, this is real life. Who has time for that extra step? I want to throw stuff in my pot and move on to the next thing. I don't post anything that hasn't been approved by my Team of taste-testers, and that is all the proof I need that a wide variety of food can come out of a slow cooker without mucking up extra pots and and along the way.
Q: Why did you start this blog?
A: Because I never made the same recipe the same way twice. If a dish was amazing and The Team requested it a second time, I could never duplicate it. I was always an open- the-pantry-and-throw-in-what-is-there kind of person. Keeping this blog is my way of documenting what works (and what doesn't). I hope to save innocent children from having to eat the dinner disasters my kids have had to endure (think of it as a kind of community service😉)
Disclaimer: This is the not laziest way to make vegetarian baked beans in a slow cooker. That would be buying them pre-made in a can and dumping them into your slow cooker to heat up. If you choose that route, click here to see my favorite. However, this is the easiest way to make homemade vegetarian baked beans.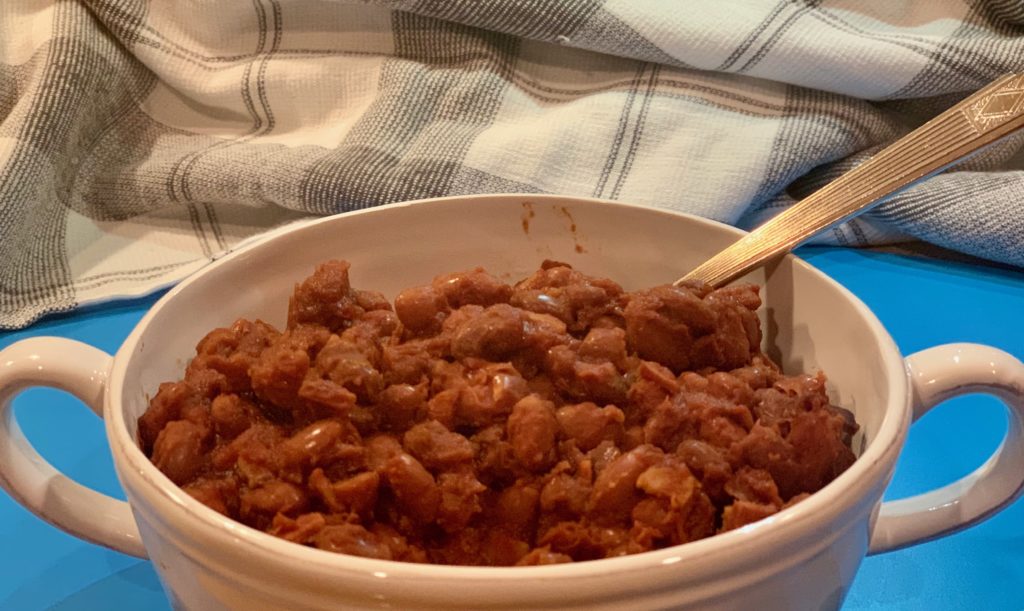 Lazy Homemade Baked Bean Hacks
line your slow cooker with a Slow Cooker Liner. If you would rather not, I would suggest spraying with this to help avoid sticking.
Use canned beans. Just one less thing to worry about and they are very inexpensive
Optional step: If you are around and can stir the beans and or turn the pot about half way through cooking, it will help keep things even.
If you really like a smoky flavor, you can cook the veggie bacon in advance. I don't do this because that would involve more clean up, but it is always an option
Looking for a delicious, non-vegetarian baked bean recipe? Check out these Great Bacon Beans!
As an Amazon Associate, I earn from qualifying purchases and affiliate links.
📖 Recipe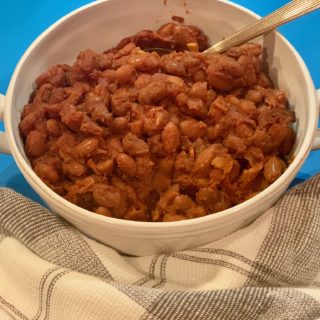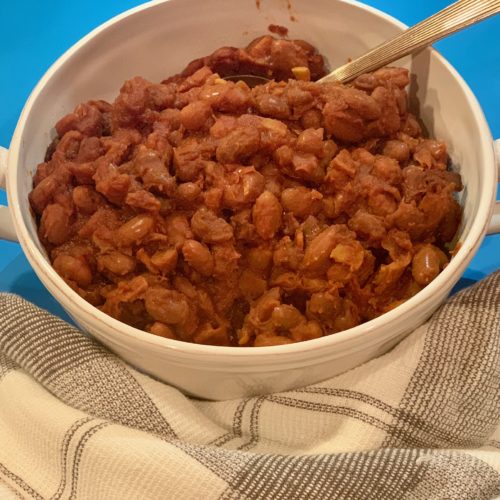 Lazy Slow Cooker Vegetarian Baked Beans
Easy Slow cooker vegetarian baked beans are a sweet and tangy addition to any meal
Print
Pin
Rate
Save
Saved!
Ingredients
3

cans

pinto beans, drained

½

cup

chopped onion

4

strips

raw veggie bacon, diced

6

oz

tomato paste

⅓

cup

molasses

¼

cup

brown sugar or brown sugar substitute (such as Swerve)

1

tablespoon

Dijon mustard

1

tablespoon

apple cider vinegar

½

teaspoon

smoked paprika

¼

teaspoon

pink Himalayan sea salt
Instructions
Nutrition
Check out my latest on Instagram