Jump to Recipe
Delicious, sweet and creamy crockpot noodle kugel (casserole) is a real treat! Soft, fluffy noodles combined with sweet cream cheese, eggs and dried cranberries make for an unforgettable dish everyone will love.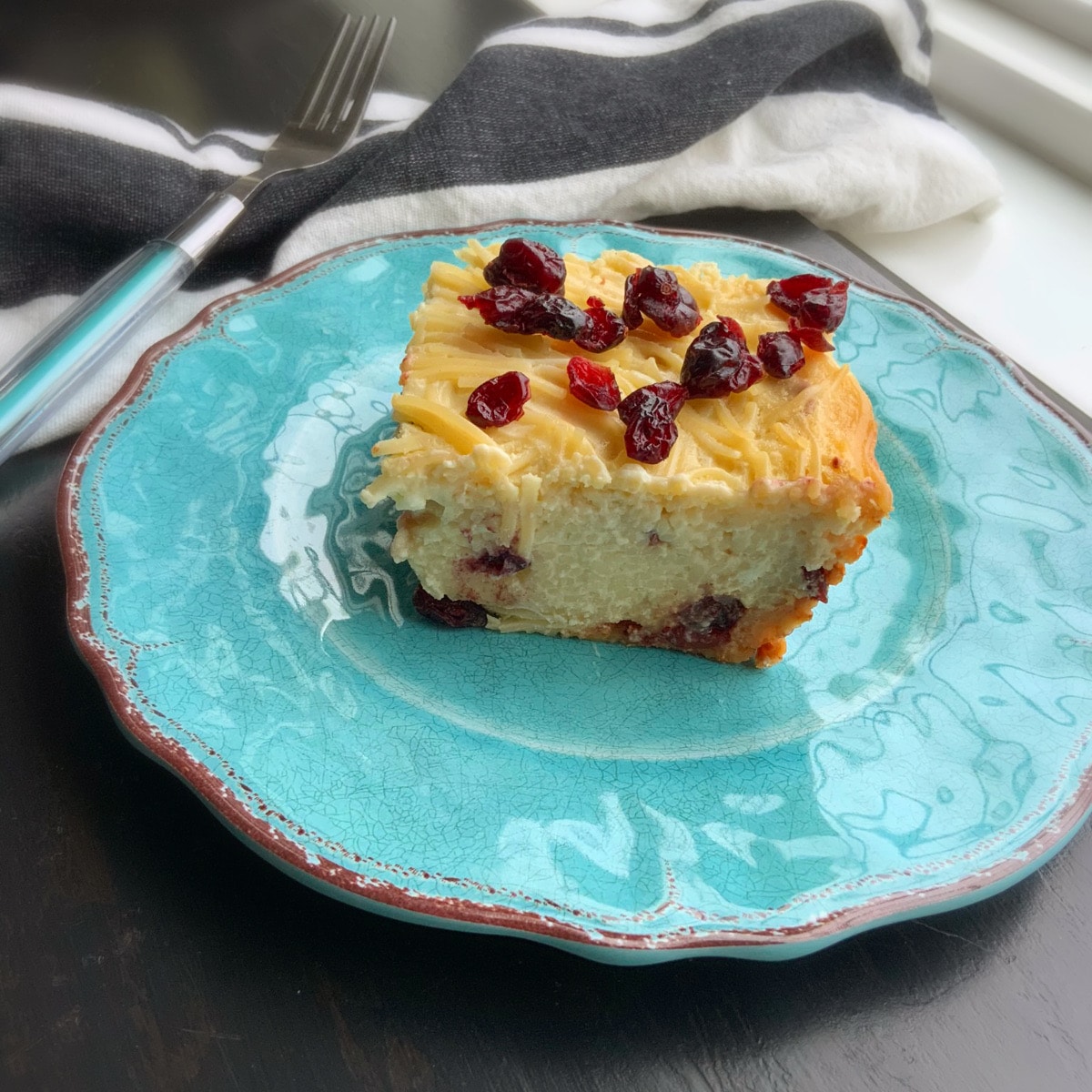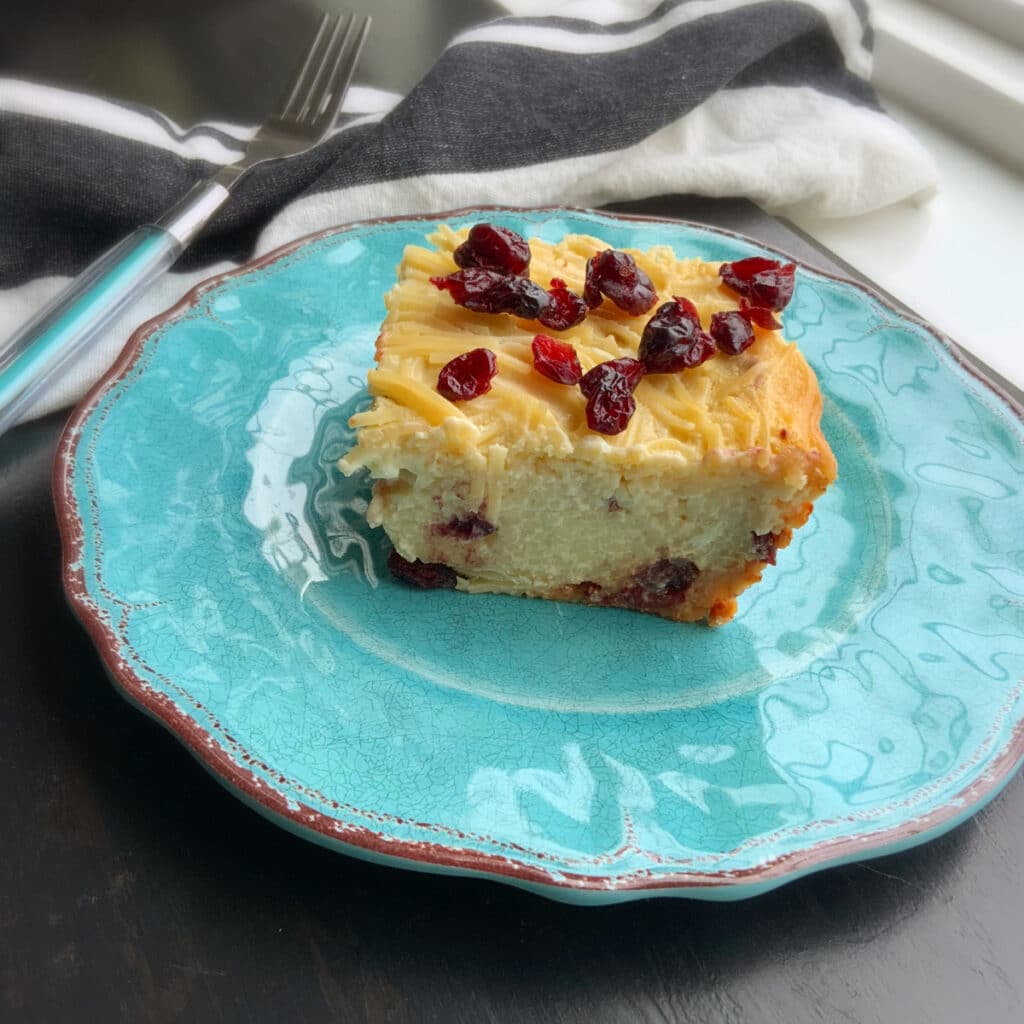 What Is Kugel?
Kugel is the Yiddish name for a traditionally Jewish dish that is part noodle pudding and part casserole. The name is actually the German word for ball, globe or sphere and it relates back to the origins of the dish itself. Today, kugel is made either sweet or savory, usually with noodles or potato. It is a staple on most Jewish holiday tables - although it made and served all year long. This recipe is for a sweet noodle version. It is easy, delicious and a wonderful addition to any meal.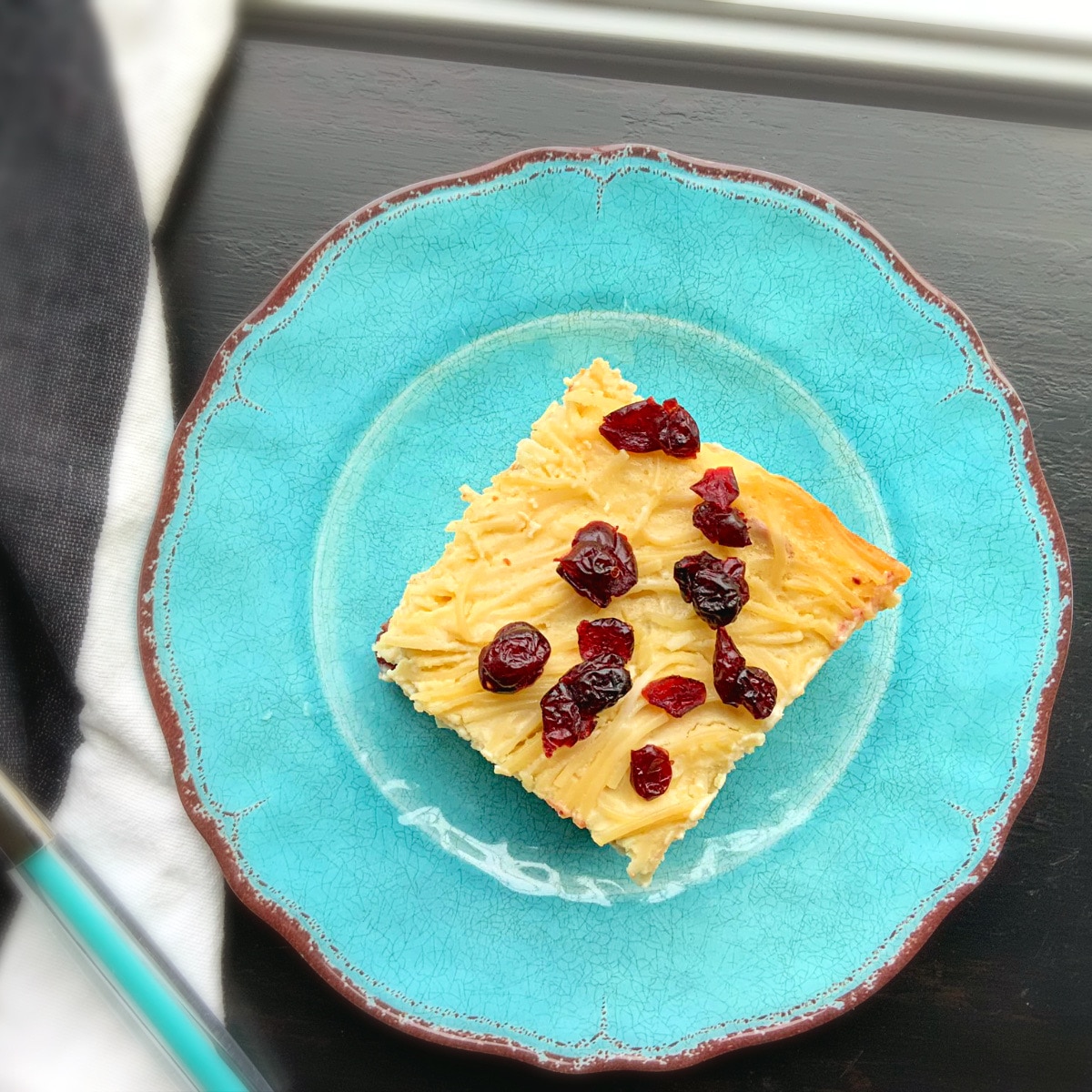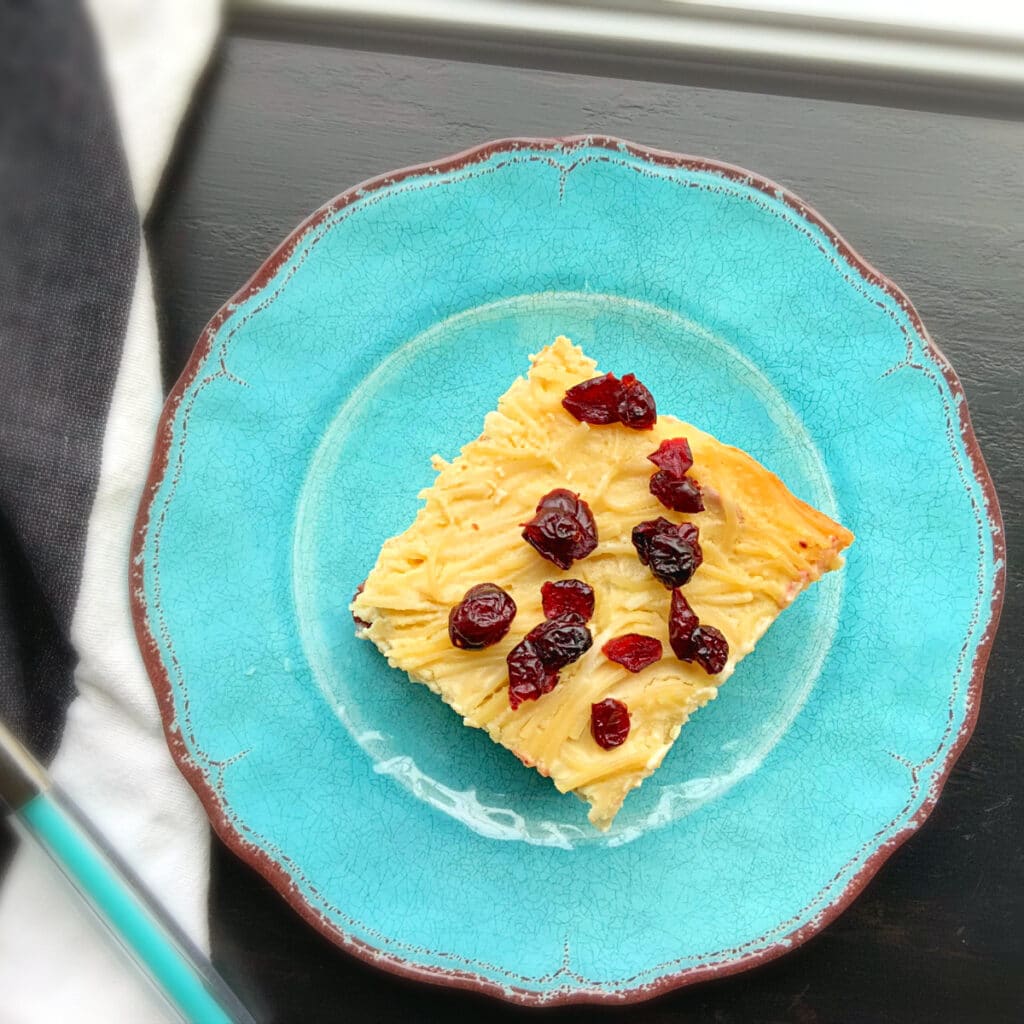 Why Use A Crockpot For This Dish
Of course you can make kugel in the oven. But there are a bunch of great reasons to use your slow cooker. Including:
Using your crockpot to make noodle kugel is great when you don't have the time to babysit a dish in the oven. Oven baked goods can go from done to overdone in the blink of an eye. Since crockpots are slow and steady, they are a little more forgiving of people who (like me) sometimes run late or lose track of time. If crockpot cooking time says 2 hours but you have an errand, call or meeting that runs 15 minutes over, chances are your dish will be just fine! Additionally, many slow cookers are programmable and can be set to turn off or down to warm at a predetermined time.
Using your crockpot to make a side dish like this leaves more space in the oven for other things. If you already have an entree, appetizer and dessert going in the oven, using your slow cooker to make this dish can be lifesaving!
When using in your crockpot, you can use either parchment paper or a slow cooker liner leaving you with virtually zero clean up!
Crockpots are a great way to cook with children! Since they don't get super hot the way ovens do AND since you generally don't turn them on until all ingredients are in, they are very family friendly. (Please note that you CAN still burn yourself with a slow cooker so always supervise children carefully anytime you are in the kitchen!).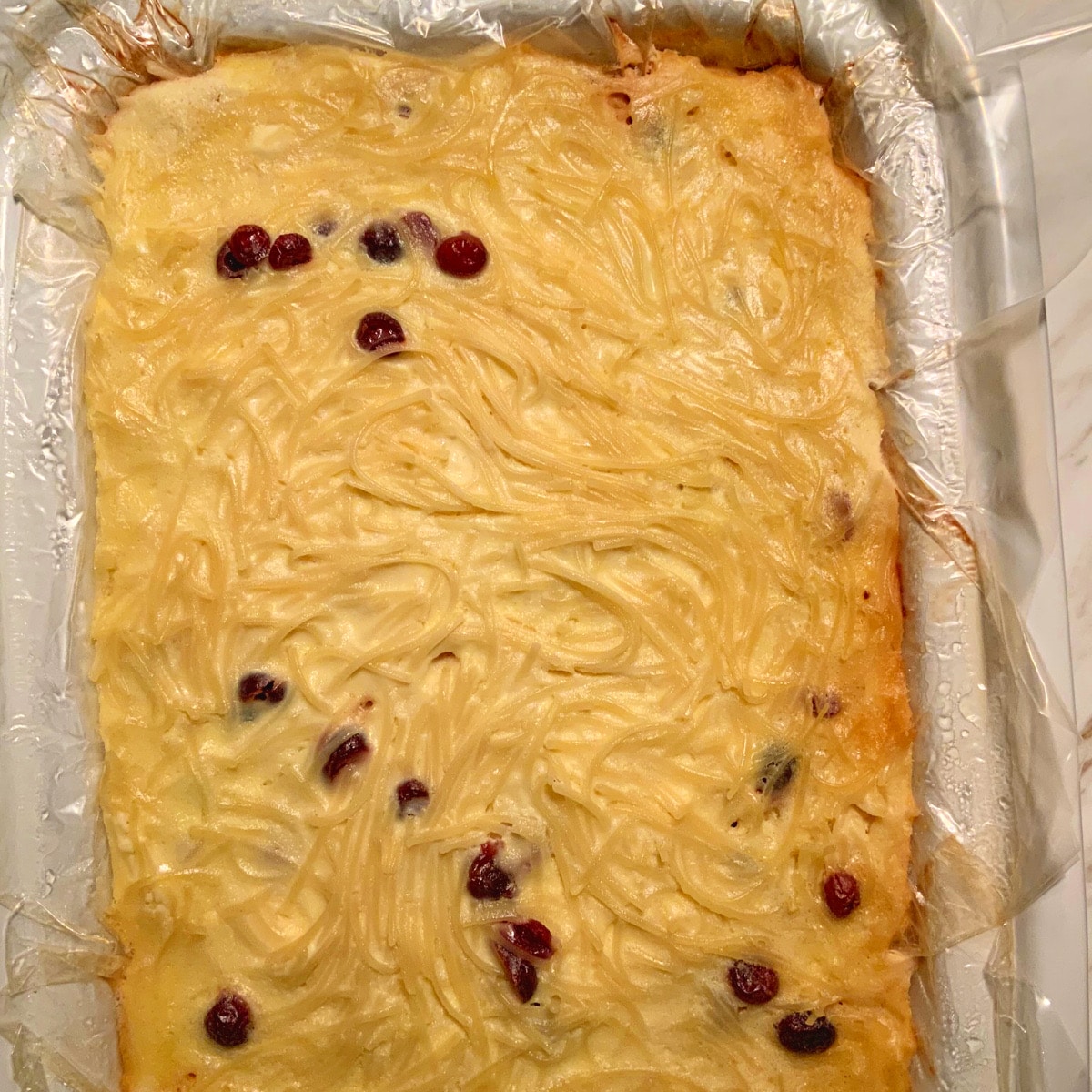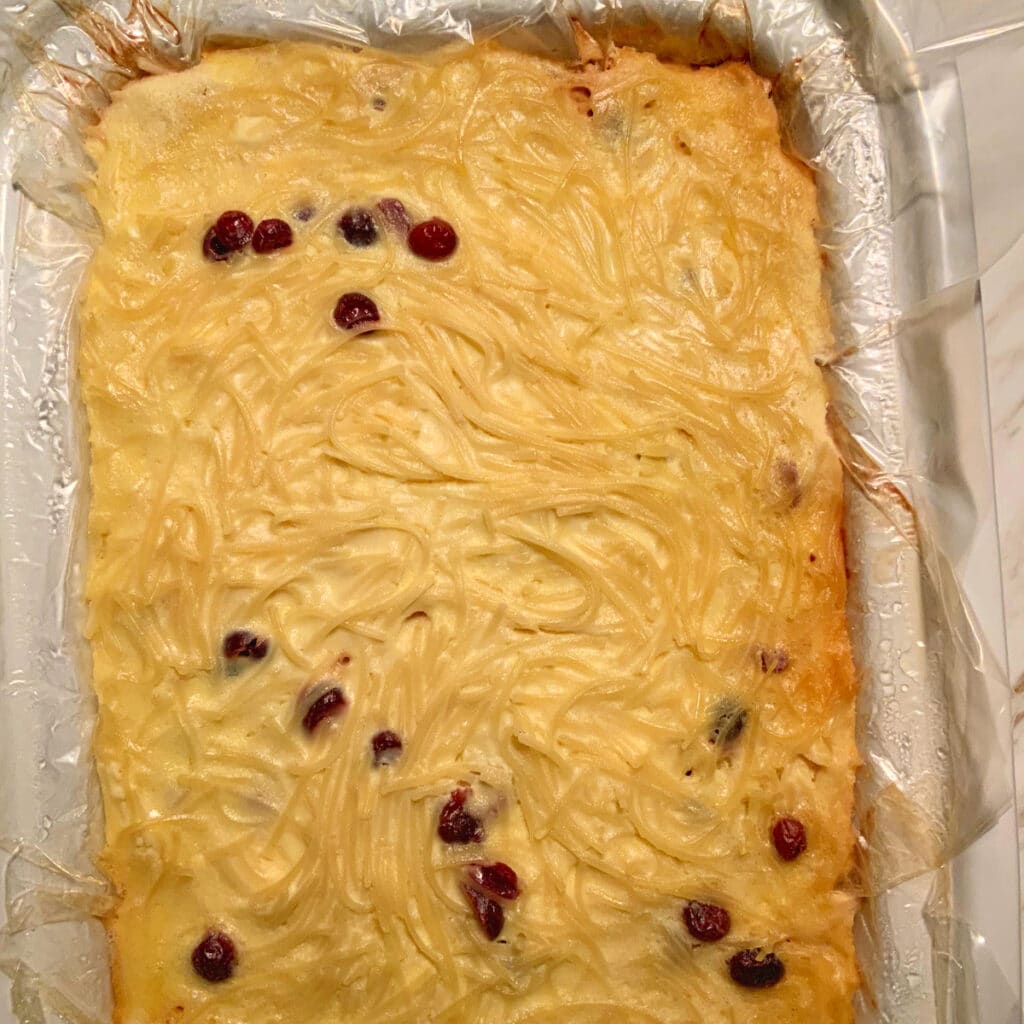 How To Make Slow Cooker Kugel
To make this easy sweet kugel, you will need:
fine egg noodles, cooked
butter
cream cheese
sugar
vanilla
eggs
milk
dried cranberries or raisins
cinnamon
The Noodles
This noodle kugel recipe calls for fine egg noodles however, it also works really well with wide egg noodles. When cooking the noodles, follow the instructions on the package, but be sure to stop cooking at the minimum suggested cooking time to keep them slightly al dente.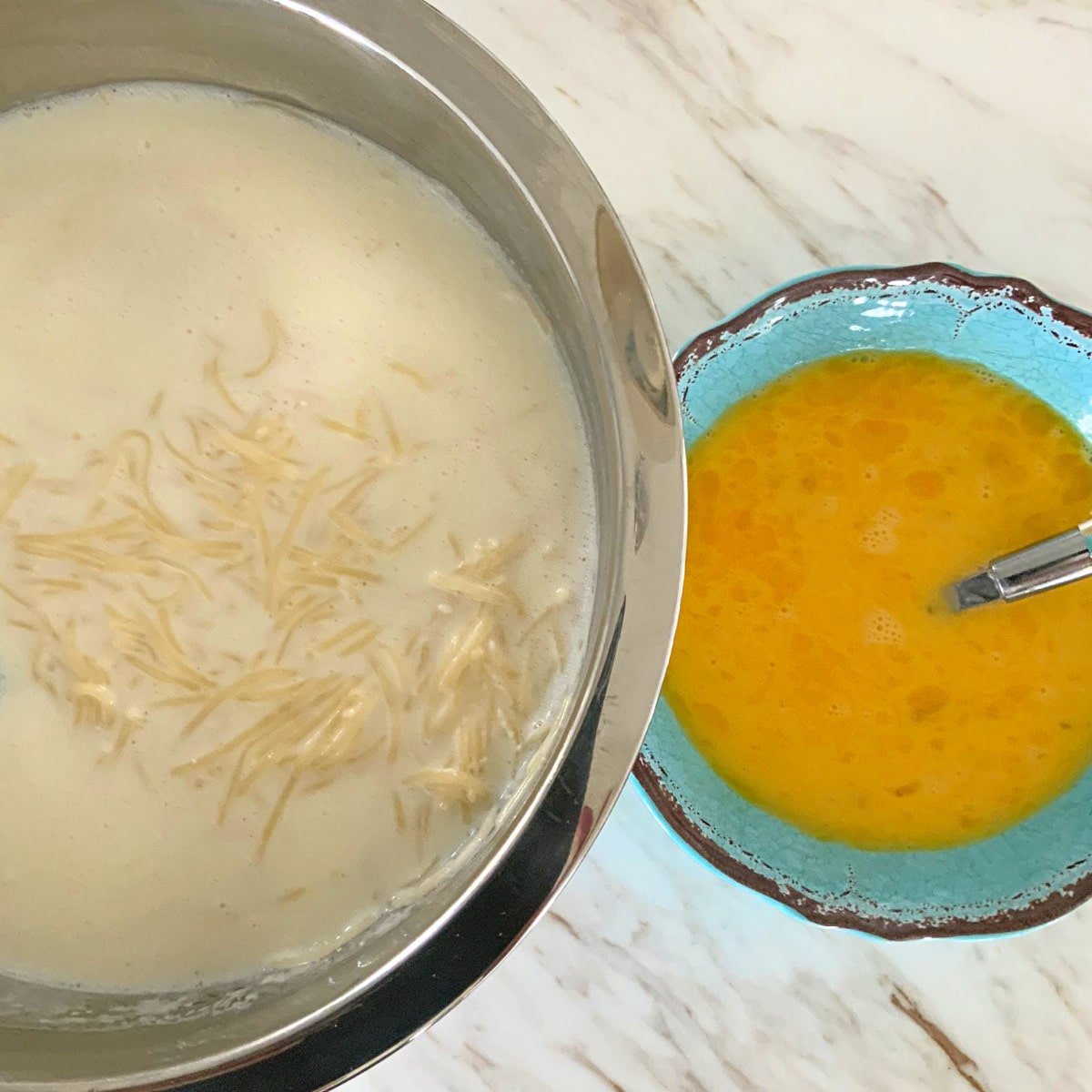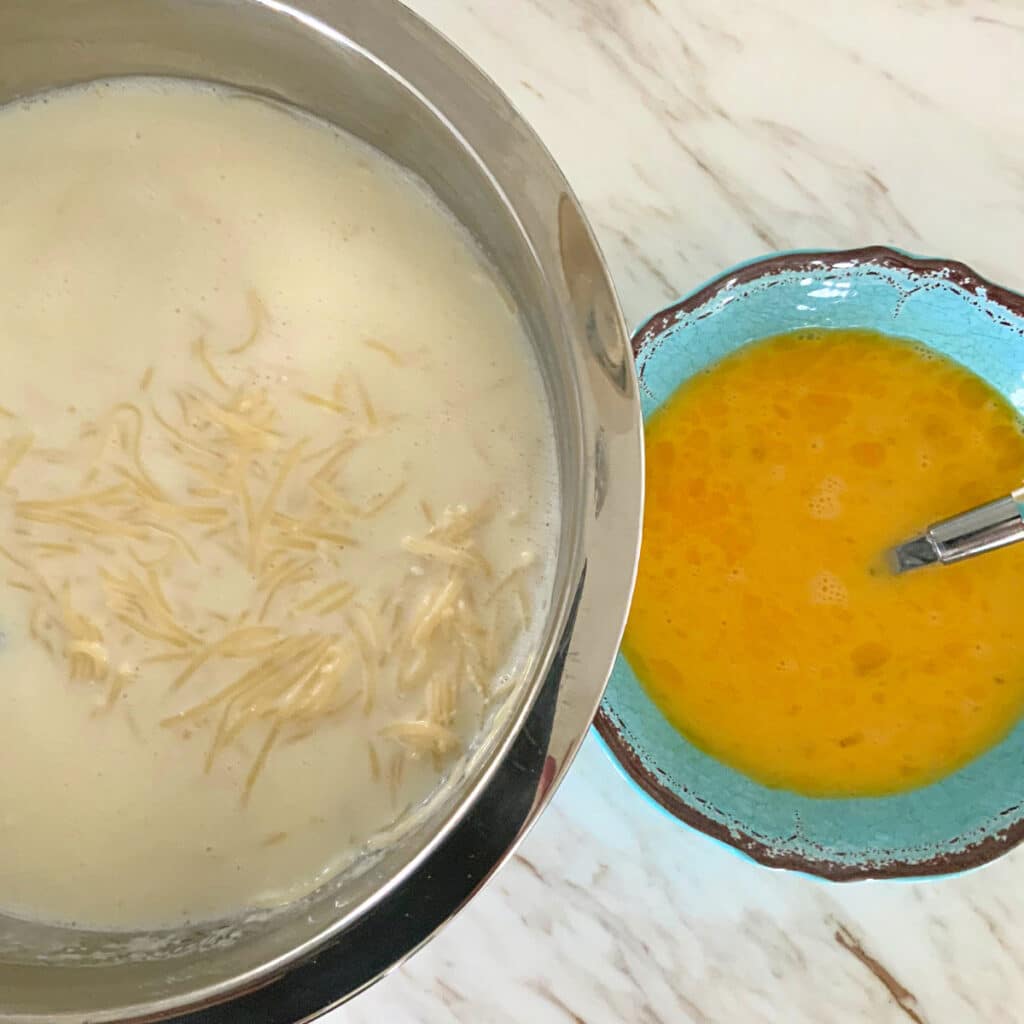 The Kugel
Place butter and cream cheese into a large mixing bowl. Add hot, cooked and thoroughly drained noodles to the bowl. Allow these ingredients to sit together for a few minutes to help the butter and cream cheese soften/melt a bit. When soft, stir the butter, noodles and cream cheese to fully combine. Next, stir in sugar and vanilla and allow to cool slightly. In a separate bowl, beat 6 eggs. Add these to the mixture and stir. Finally, add the milk and dried cranberries (or raisins, if your prefer) and stir all ingredients together. The mixture will be very liquidy at this point. Carefully pour into your lined slow cooker. Cover and cook on high for 3.5 - 4 hours until fully set. Before serving, you can sprinkle the top with cinnamon and additional dried cranberries, if you would like.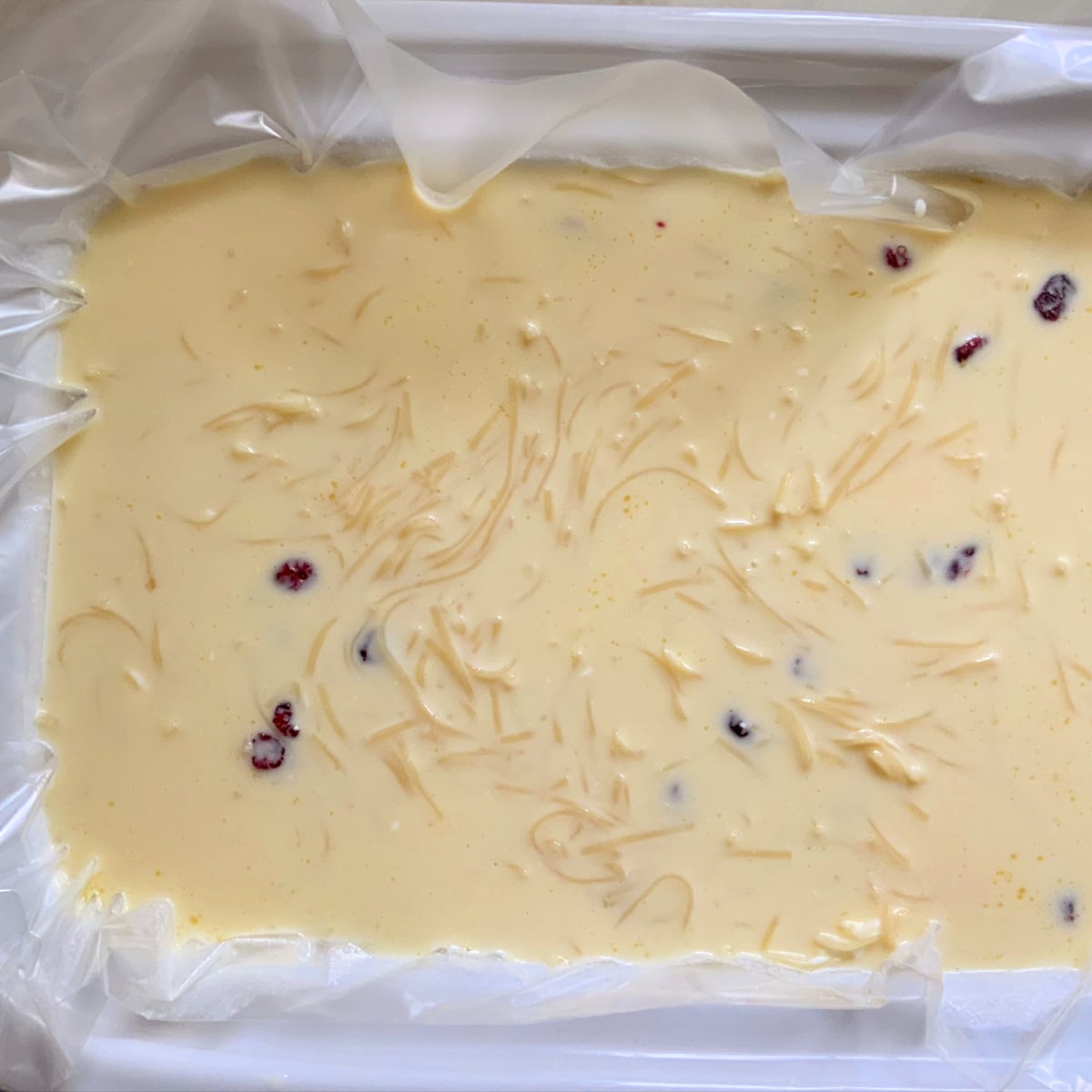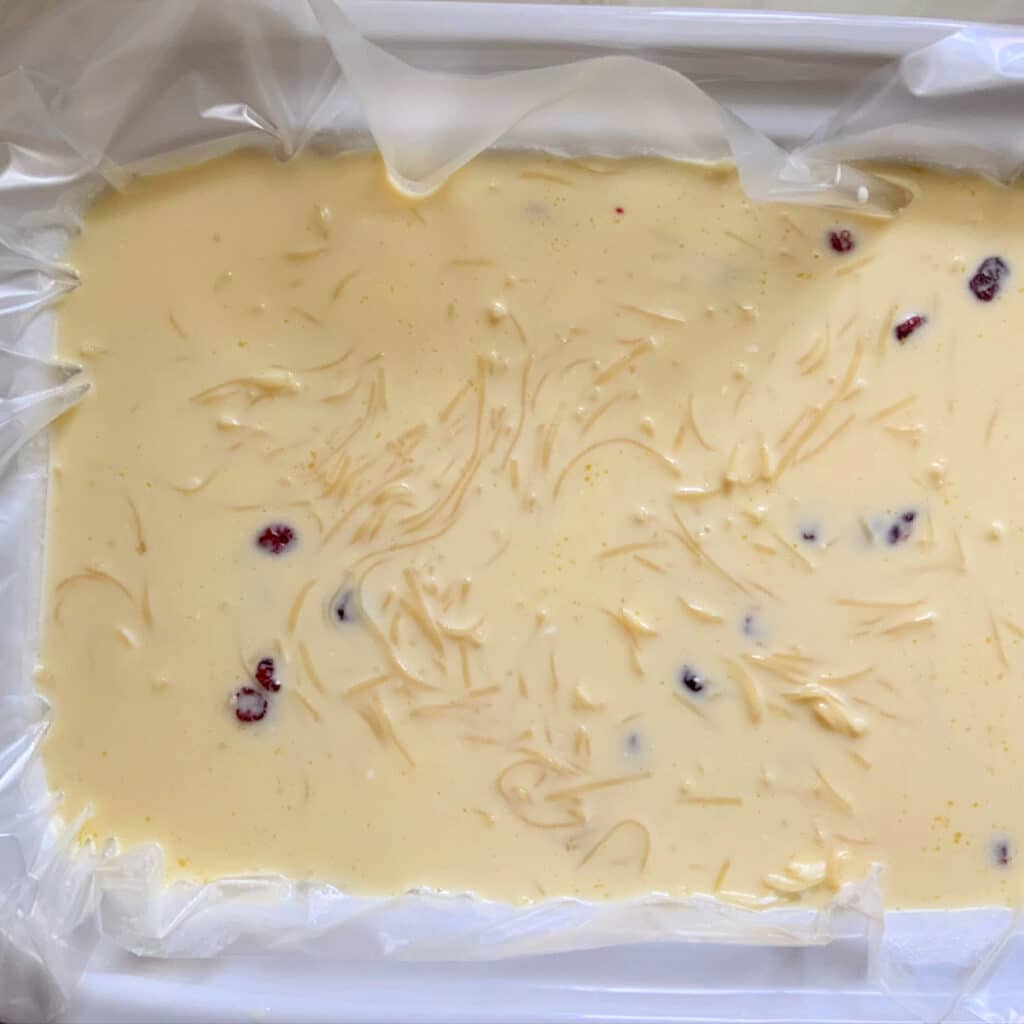 Kugel Hints & Hacks
If your slow cooker cooks unevenly (as some of mine do) lifting your slow cooker pot out of the heating element and rotating it 180 degrees and then replacing it will help to even things out. I try to do this about half way through the cooking time. Just beware that the pot will be HOT! Pot holders are a must!
Since each slower cooker is different, I suggest using a good meat thermometer to help you confirm that your kugel is cooked through. According to the American Egg Board, any dish containing eggs like this one should reach an internal temperature of 165 F to be considered ready to eat.
Whether you choose to line your slow cooker or not, non-stick spray is a helpful step.
Although any vanilla extract will work, there is just something about pure vanilla extract and the amazing flavor it adds. Here is a great one.
Storing leftovers in the refrigerator will help to extend the shelf life of this dish up to about a week. Leftovers reheat really well in the oven or microwave (but are also delicious cold!!).
I am a huge fan of slow cooker liners and usually recommend them for everything. However, for this type of dish, parchment paper is even better. Here is the kind I use.
In the market for a new slow cooker? Here is the one I am currently lusting after.
📖 Recipe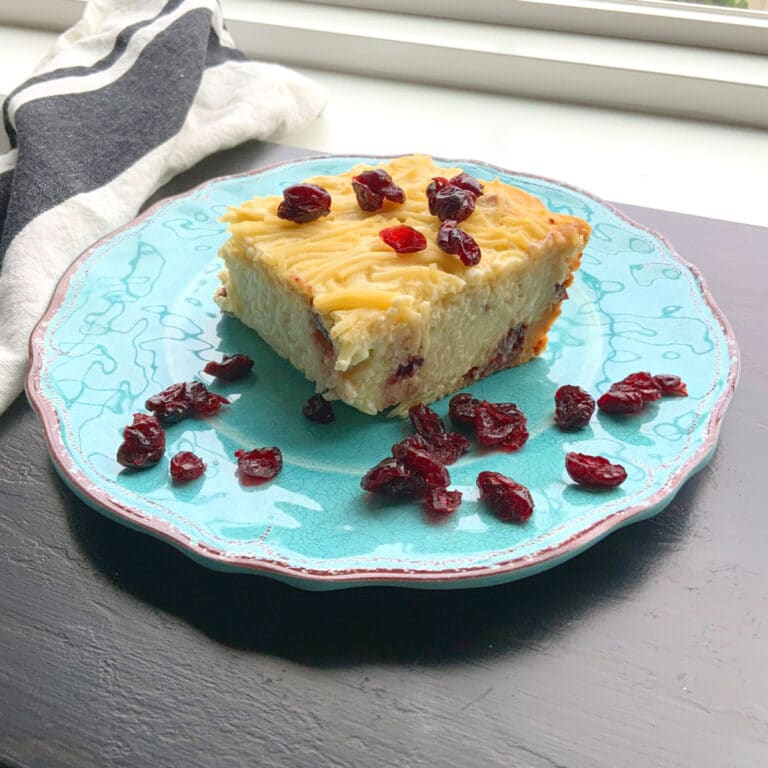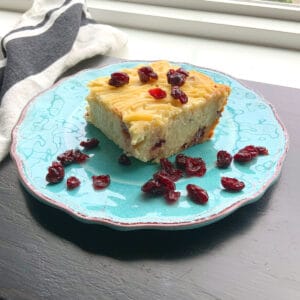 Lazy Slow Cooker Kugel (Noodle Pudding)
Delicious, sweet and creamy crockpot kugel (noodle pudding) is a real treat! Soft, fluffy noodles combined with sweet cream cheese, eggs and dried cranberries make for an unforgettable dish everyone will love.
Print
Pin
Rate
Save
Saved!
Equipment
4 quart or larger slow cooker

slow cooker liner or parchment paper

2 mixing bowls

Stove top pot to cook noodles

strainer for noodles

non-stick spray
Ingredients
12

oz

egg noodles

I like fine noodles, but wide will work just as well

4

cups

milk

I use fat free, for a creamier finished product, use whole milk.

6

eggs, beaten

12

oz

cream cheese

1.5 bricks

6

oz

butter

1.5 sticks

1

scant cup

sugar

1

teaspoon

vanilla

2

cups

dried cranberries

can be substituted with raisins, if you prefer

cinnamon

(optional)
Instructions
Line slow cooker with liner or parchment paper and spray with non-stick spray, set aside

Cook noodles according to instructions on package

Add butter and cream cheese to a large mixing bowl

drain noodles after cooking and place the hot noodles in the bowl with cream cheese and butter

allow the hot noodles to melt/soften the butter and cream cheese a bit.

stir noodles together with cream cheese and butter until thoroughly mixed

add sugar, vanilla and dried cranberries to noodle mixture and allow to cool slightly

In a separate bowl, whisk eggs together

add eggs and milk to noodles and stir to combine

Pour mixture into lined slow cooker

cover and cook on high 3½-4 hours until fully set. If you want to confirm that your dish is cooked through, the middle should reach 165°F - the temperature at which is considered safe to eat cooked eggs.

Allow to cool, slice and serve
Nutrition
Great Crockpot Side Dishes