🔽 JUMP STRAIGHT TO RECIPE🔽
Slow cooker chicken fajitas are an easy, crowd pleasing dish. They are perfect served everywhere from an average weeknight dinner to a wild weekend get-together. Made with tender chicken, peppers and onions, this fun meal is one you will want to add to your regular rotation.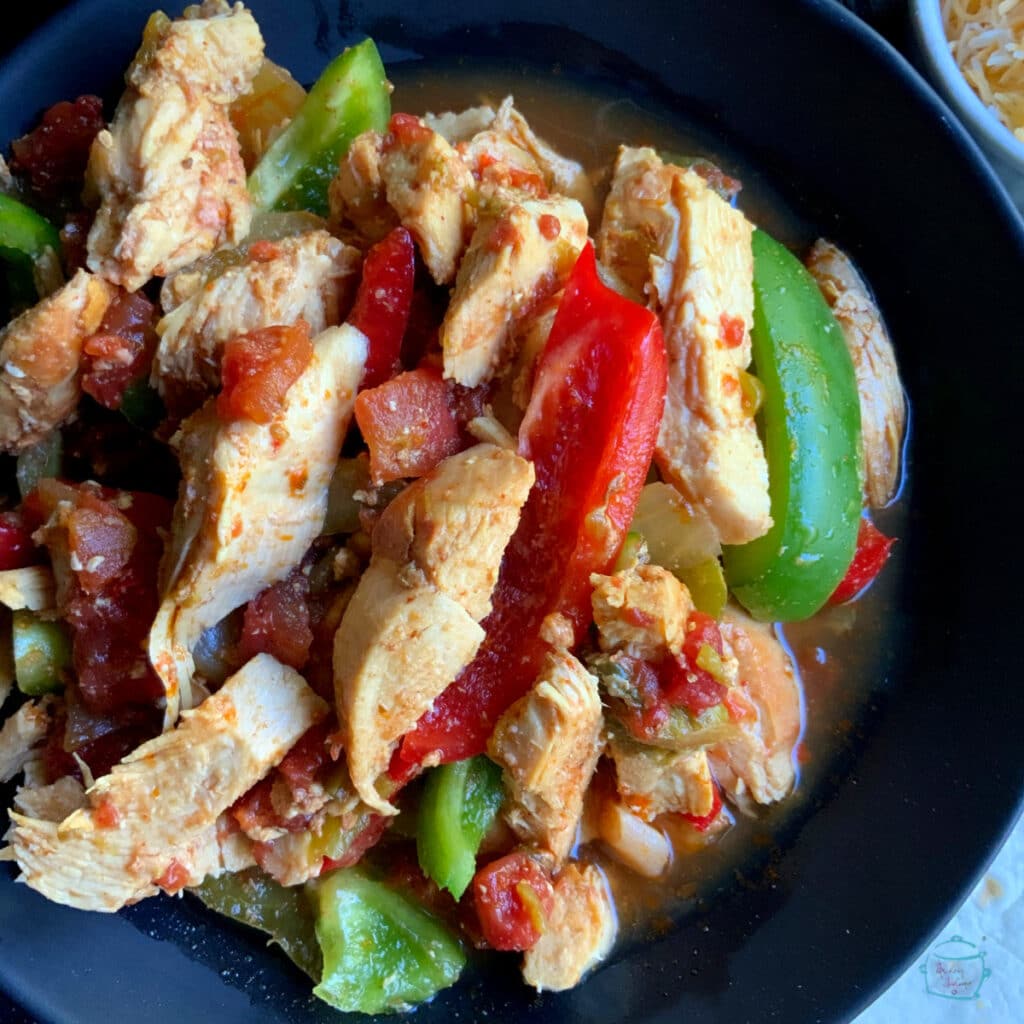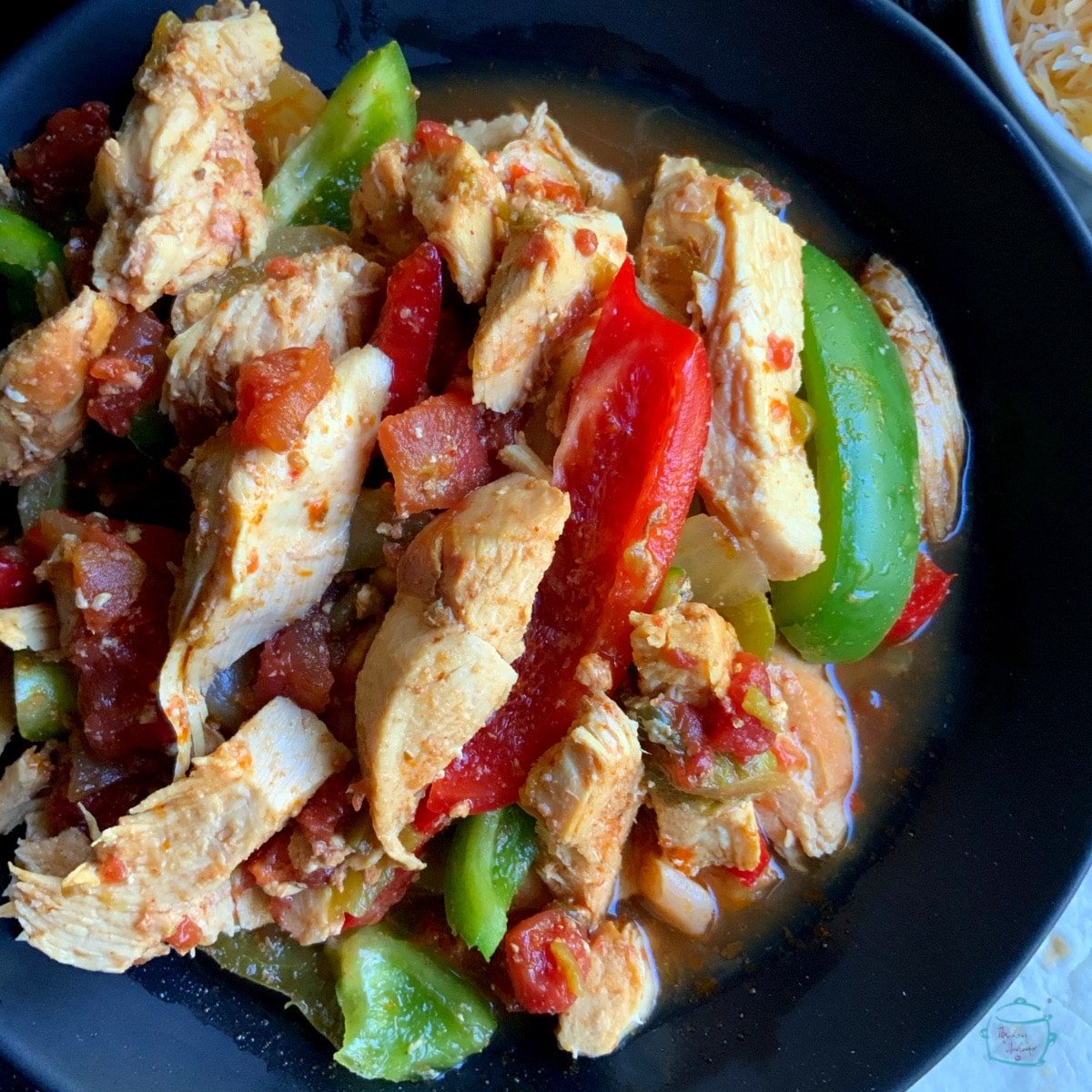 Fajitas are fun! Somehow just the word "fajita" makes me think "fiesta", so fajitas are basically the closest dinner can become to a party on a plate. Add to that the fact that they are customizable and you have a meal that can only be described as: perfect!
Jump to:
🍅Shopping list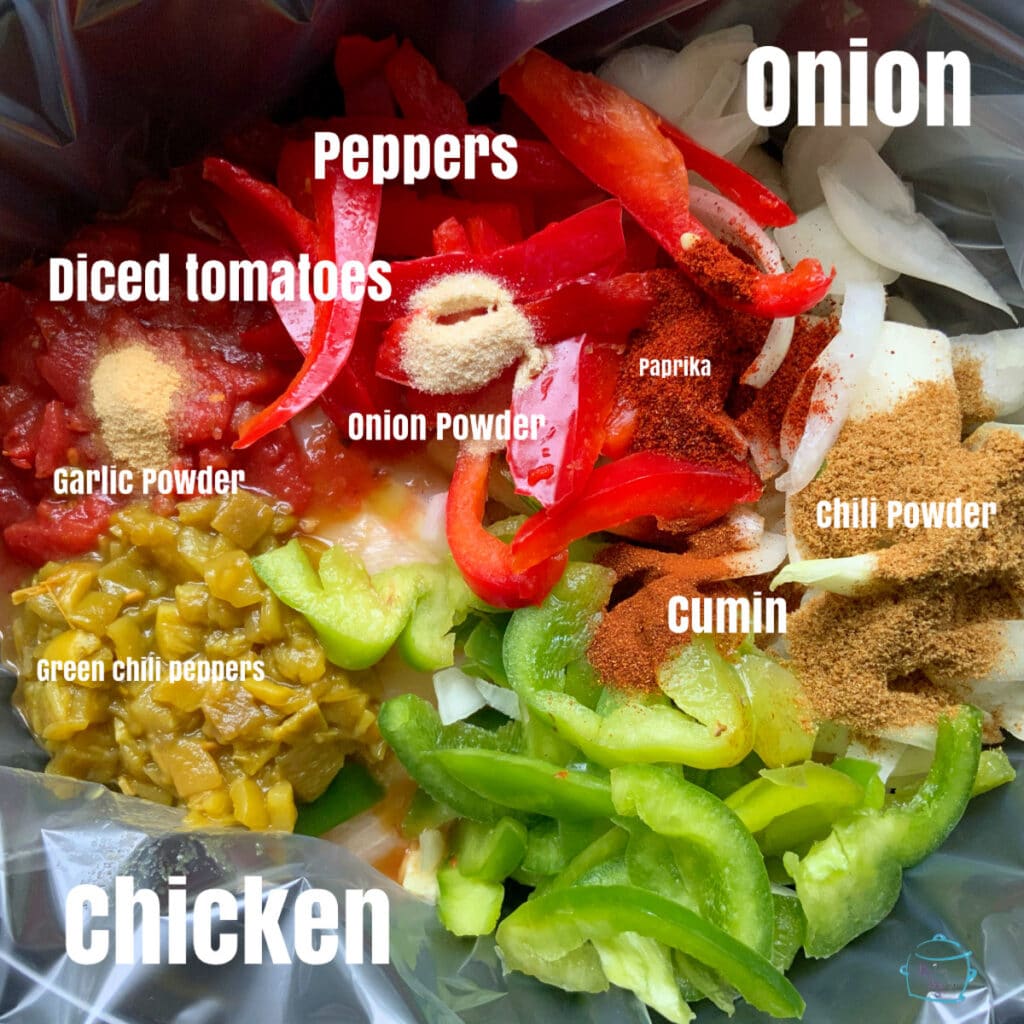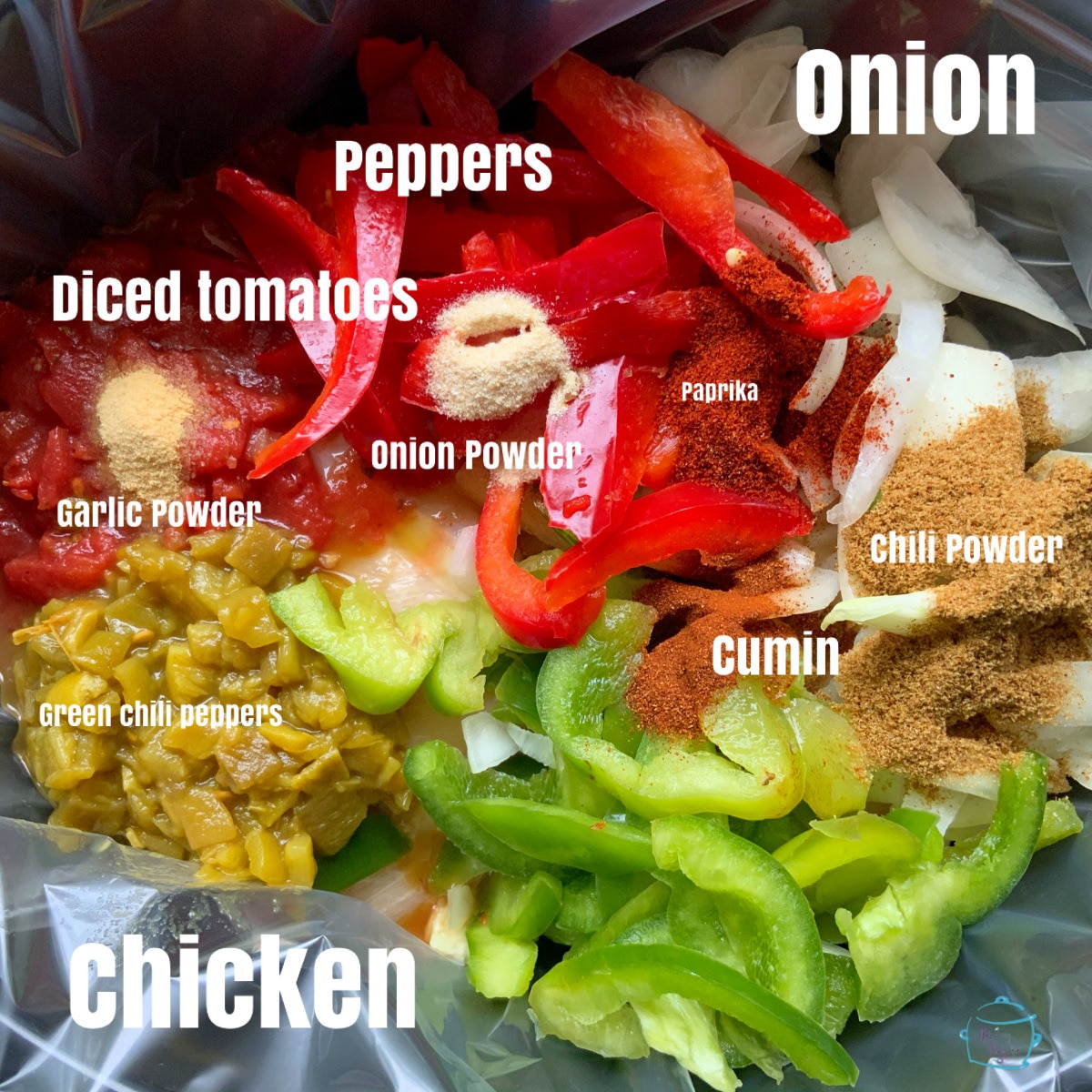 To make these amazing slow cooker chicken fajitas, you will need the following:
skinless, boneless chicken breasts
peppers (any color)
onion
canned diced tomatoes
canned diced green chili peppers
cumin
chili powder
garlic powder
onion powder
paprika
flour tortillas
🥣How to make this dish
If you are planning to use a slow cooker liner, placing it in your crockpot is always the first (and most forgotten) step. If you prefer not to use a liner, start by spraying your slow cooker with some sort of non-stick spray. Next slice 2 good sized peppers and one small onion into strips.
Start by placing two large boneless, skinless chicken breasts into your slow cooker. Add peppers, onions, diced tomatoes (with liquid), diced chili peppers and all spices. We are not heat lovers, so I use mild peppers. However to add some heat, medium/hot diced chili peppers are a great way to dial it up.
Cover your crockpot and cook on low for 4-6 hours. Use a meat thermometer to confirm when chicken is fully cooked. Chicken is safe to consume when it reaches an internal temperature of 165ºF.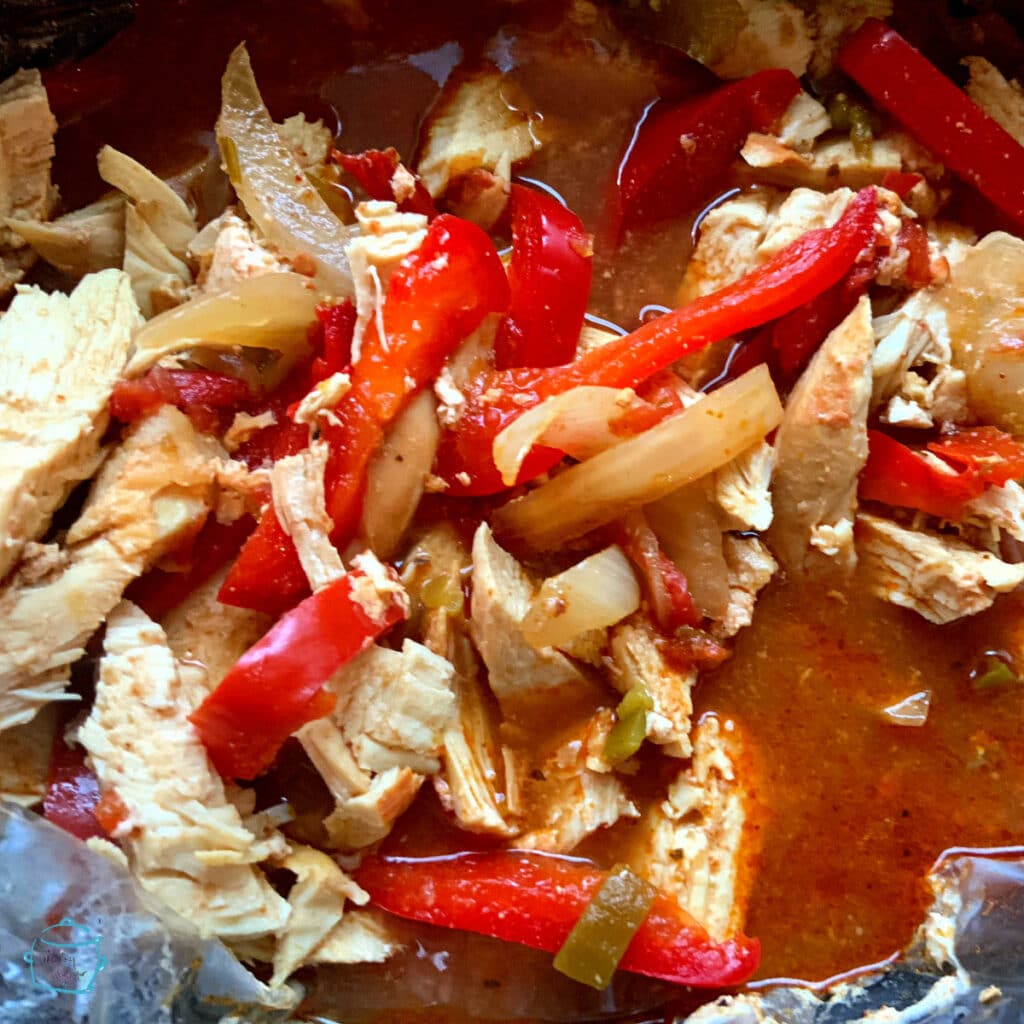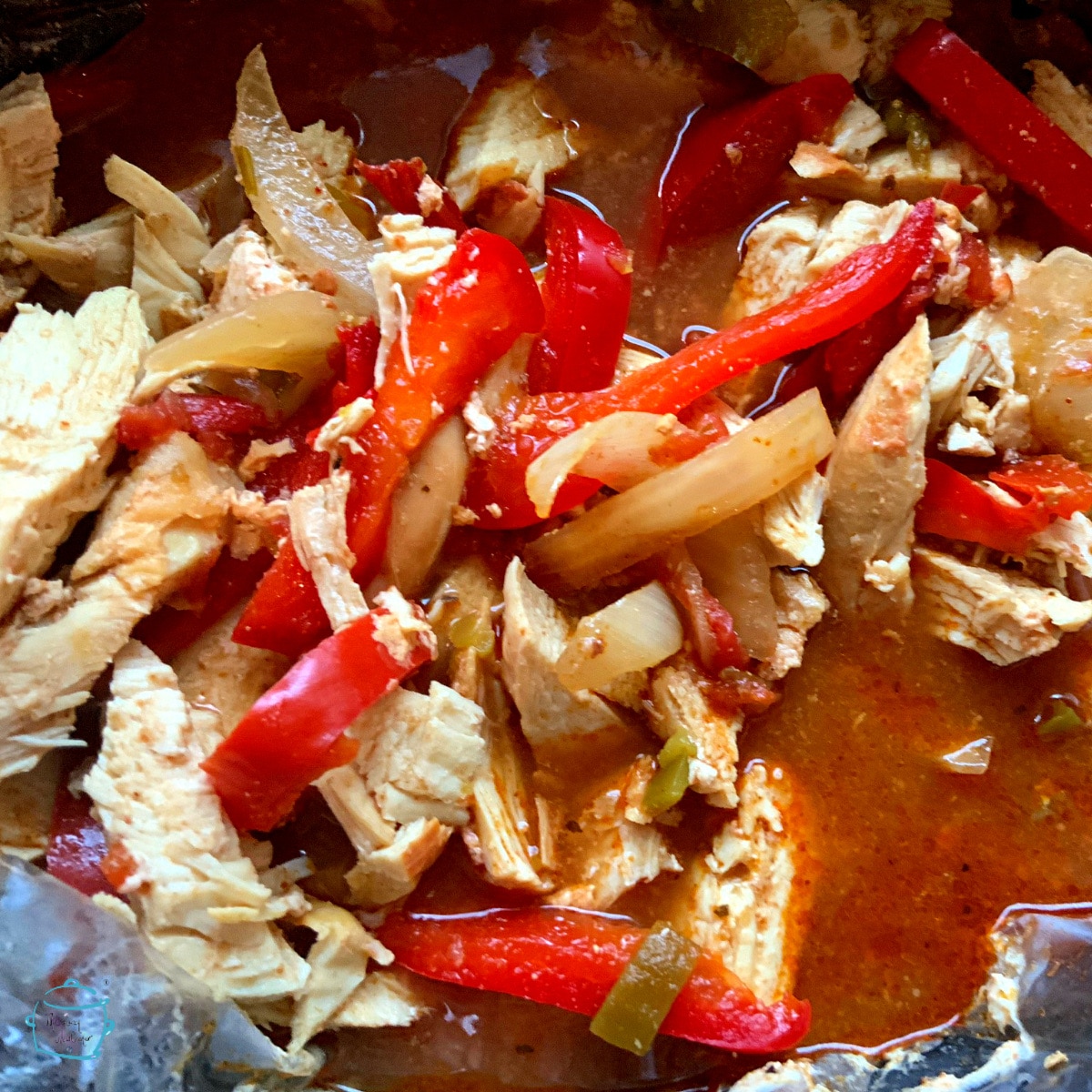 Remove fully cooked chicken breasts and slice into strips. Return chicken strips to crockpot and mix with other ingredients. Your fajitas are now ready to serve!
🍽Serving suggestions
Slow cooker chicken fajitas are great to serve "make-your-own" style. Just put out round flour tortillas, the contents of your slow cooker and some toppings and let your folks create their own masterpieces.
Suggested toppings include: sour cream, guacamole, salsa, refried beans, tomatillo sauce, hot sauce and pickled jalapenos. I particularly love serving it with a side of sweet corn spoonbread!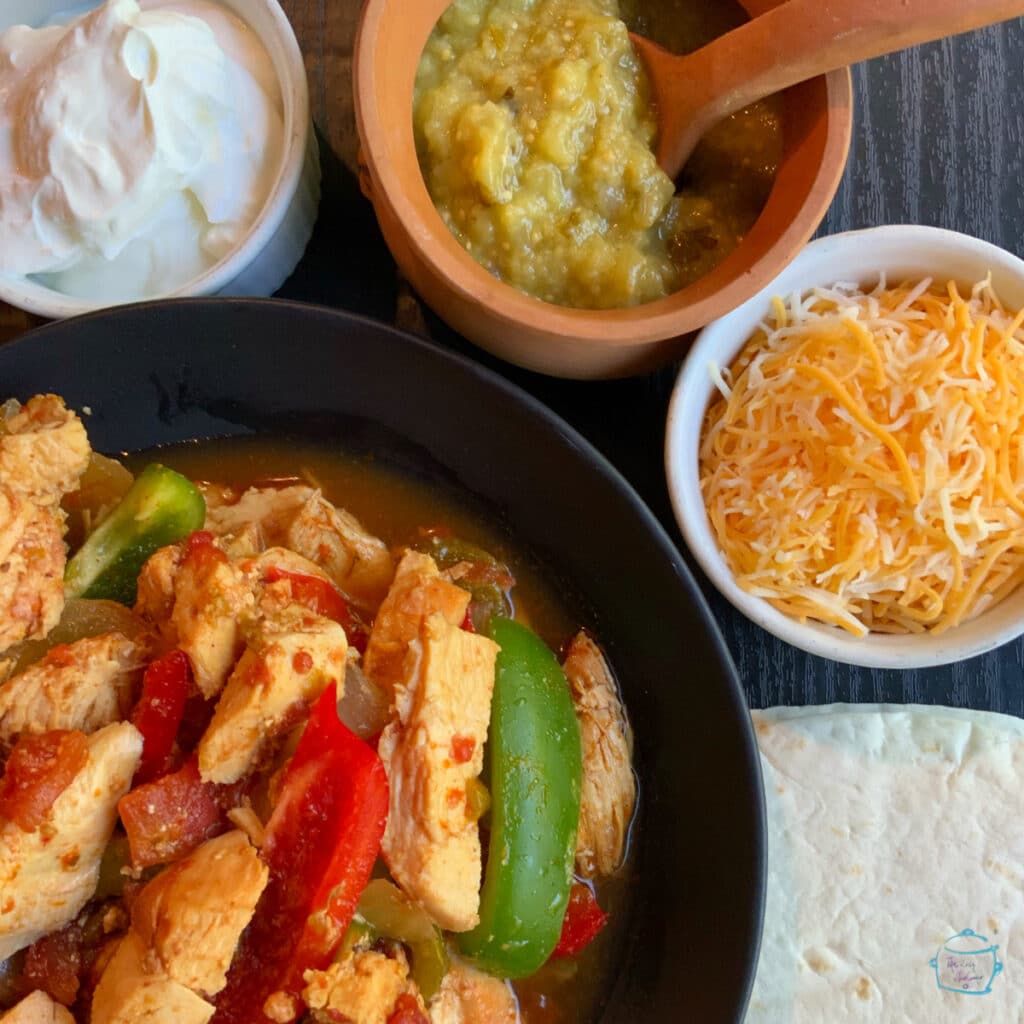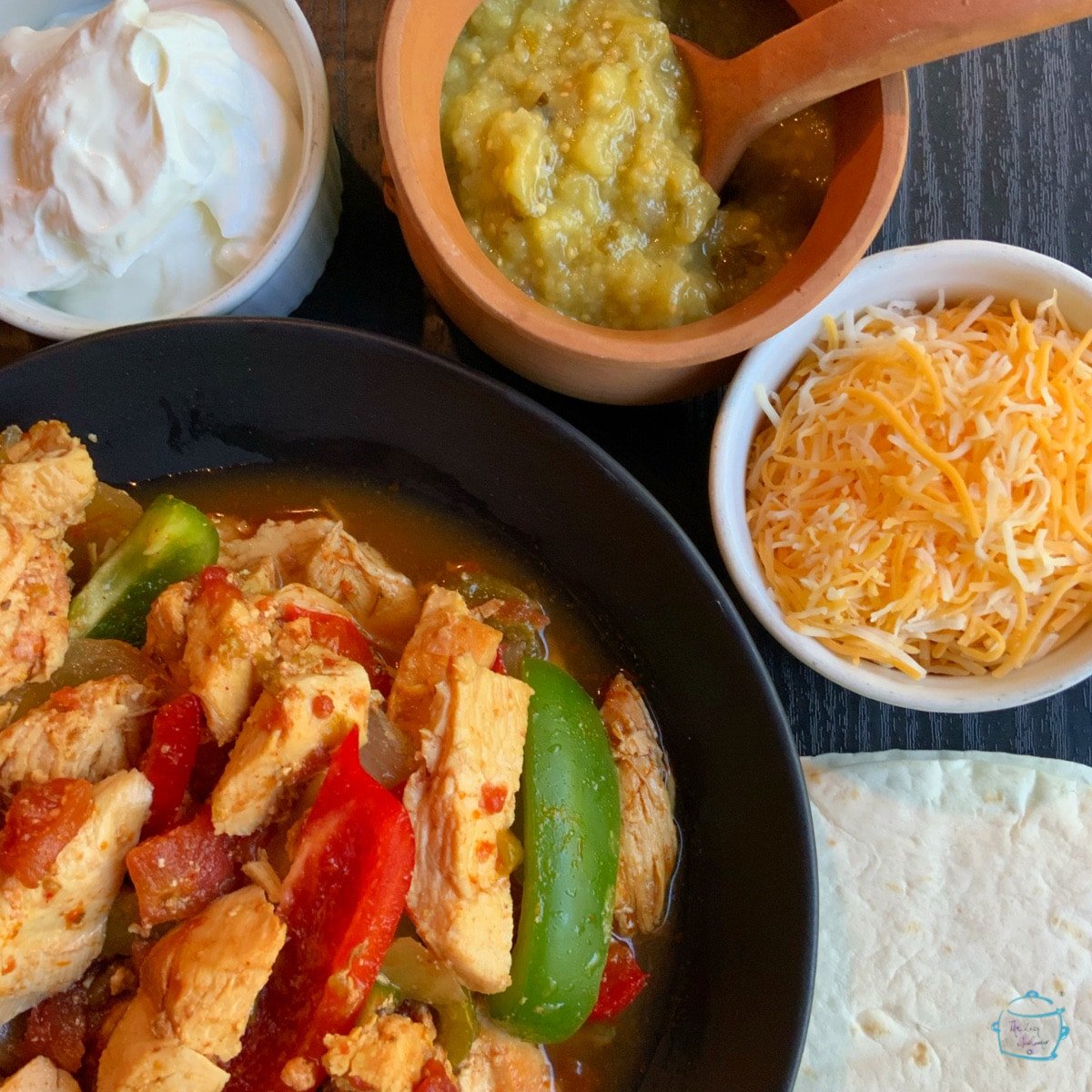 Storing leftovers
The leftovers from your crockpot will store beautifully in airtight containers. I suggest storing in meal sized containers or storage bags for easy reheat and eat future meals. Fajita leftovers will last for up to 6 months in the freezer and about 4-5 days in the refrigerator. They reheat beautifully in the microwave.
😉Hints & hacks
Looking to make this easy recipe even lazier? You can use pre-cut peppers and onions which are readily available in many larger markets.
Do you prefer to have your peppers a little firmer than the ones that come out of your slow cooker after 4 hours of cooking? Just add some (or all!) of your raw, sliced peppers into your slow cooker 30-45 minutes before serving time. The shorter cooking time will allow them to stay a bit crunchier.
Use a meat thermometer for confirmation that chicken is safe to eat. According to the FDA, chicken is safe to eat when it reaches an internal temperature of 165°F
Slow cooker liners are an optional but helpful hack whenever using a crockpot. They allow you to cook with little to no cleanup. I like to buy mine in bulk for a better per-piece price.
In the market for a new slow cooker? I love mine!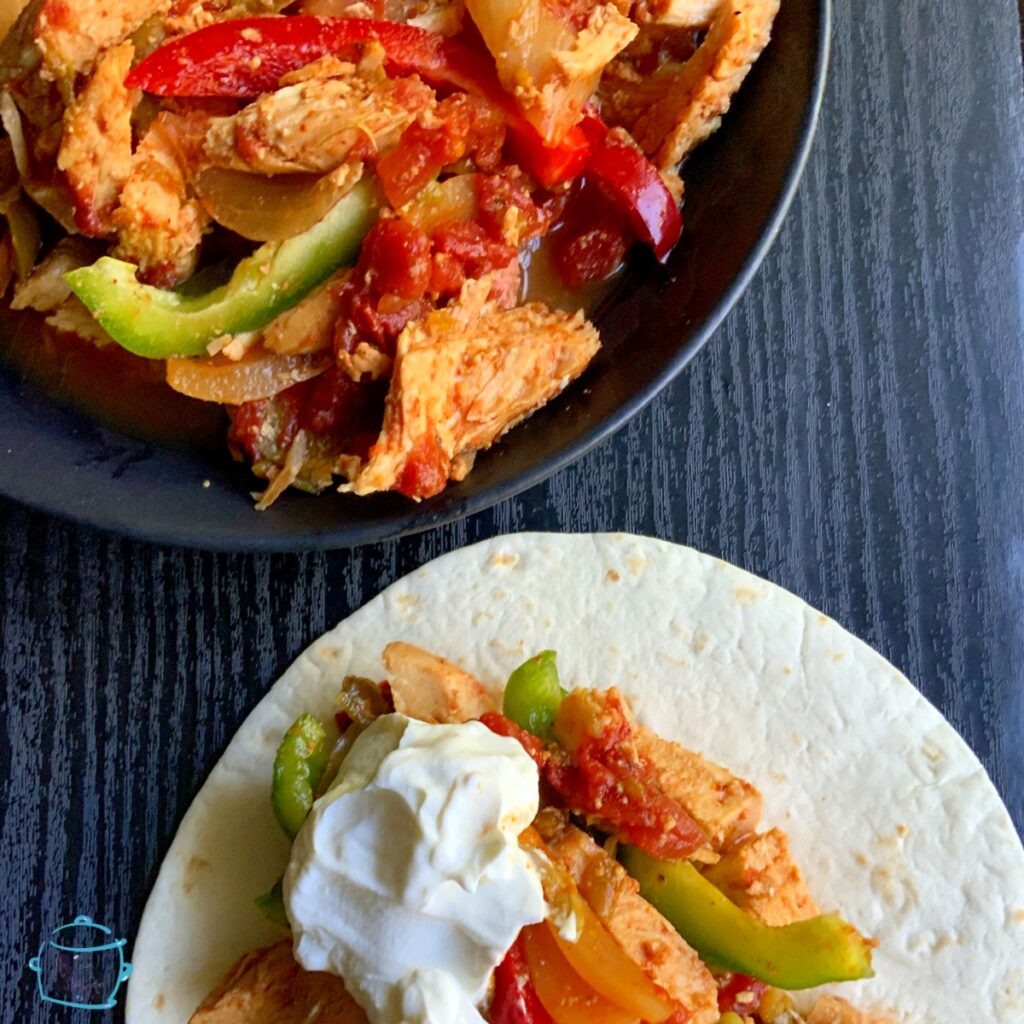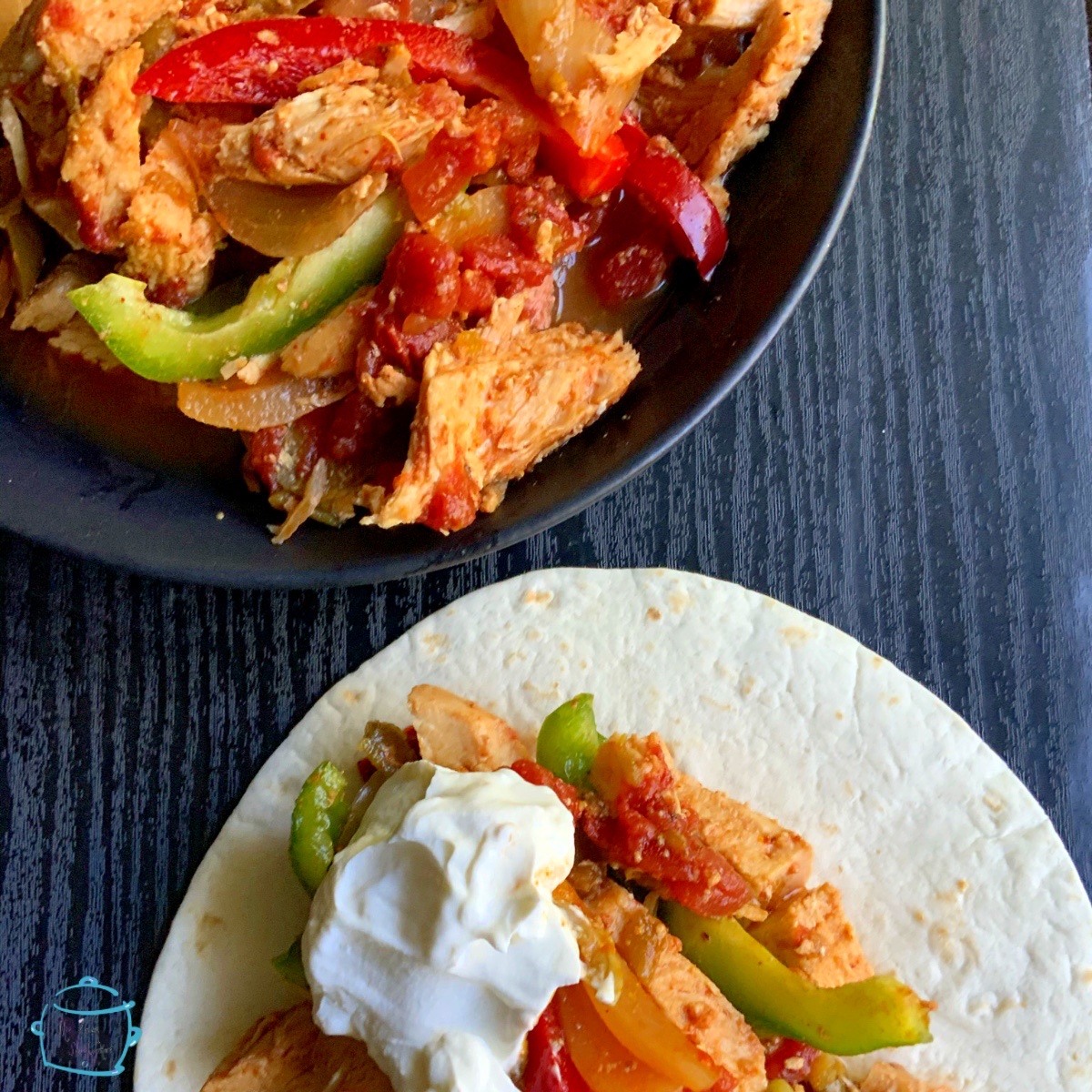 ❓Frequently asked questions
Are you sure it is ok to cook raw chicken in a slow cooker?
Yes! As long as your chicken reaches an internal temperature of 165ºF, it is safe. Slow cooking included.
Don't I need to turn the chicken half way through cooking like with other cooking methods?
No. As long as you keep the lid on your slow cooker, your chicken will cook evenly all around and throughout. In fact, it is recommended that you not open your slow cooker lid at all during the cooking process (although it is sooo tempting!).
Does chicken need to be fully submerged in liquid to cook in a slow cooker?
No. There is a myth out there that all meat, needs to be completely submerged in order to fully cook/stay moist in a slow cooker. This is not the case. There is plenty of hot air and steam created by the heating element in your slow cooker to cook fully cook the chicken without drying it out. Dry crockpot chicken is usually a result of cooking too long.
Why use a slow cooker to make this dish?
This is a very commonly asked question. In the case of this particular dish it all comes down to timing. It is certainly possible to make a chicken fajitas stove top. However, that requires a lot of kitchen time while you oversee each step. Not to mention spatter mess and clean up.
Made in the crockpot, this dish could be easily prepped the night before. You can toss your chicken mixture in to cook before heading out to a soccer game, work meeting, yoga session etc and when you return, just slice up the chicken and serve dinner. Additionally, with the use of a liner of some sort, clean up is close to nothing when compared to other cooking methods.
As an Amazon Associate, I earn from qualifying purchases and affiliate links.
📖 Recipe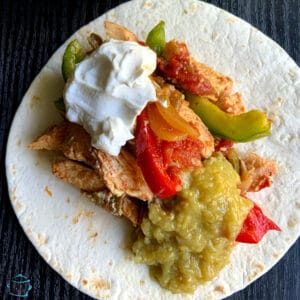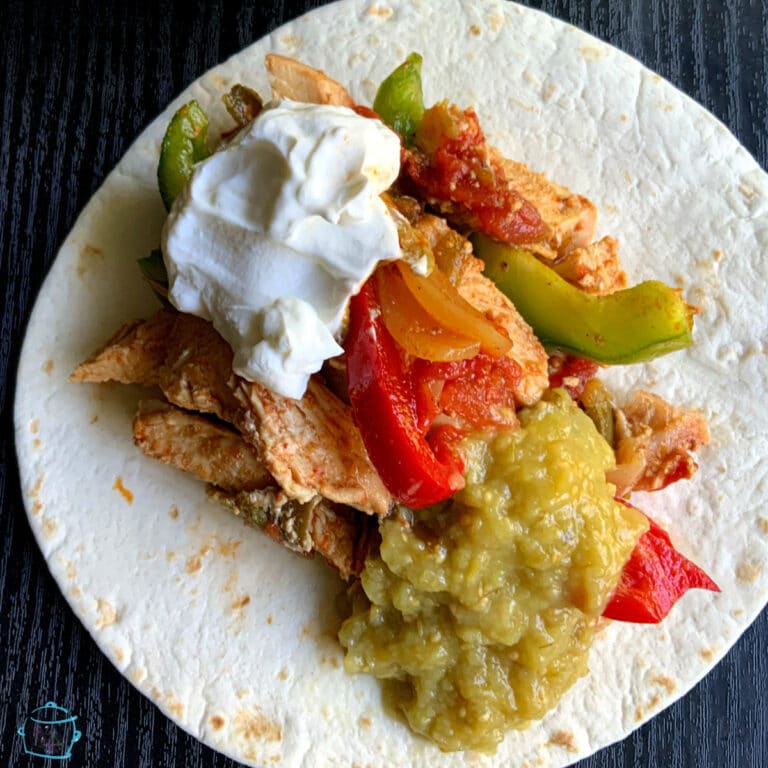 Lazy Slow Cooker Chicken Fajitas Recipe
Slow cooker fajitas are an easy meal - any day of the week. Tender chicken and pepper strips cooked together with tons of onions and spices all wrapped up in a soft flour tortilla with each diner's favorite toppings. A really winner!
Print
Pin
Rate
Save
Saved!
Equipment
slow cooker liner or parchment paper (optional)

Mixing Spoon
Ingredients
2

large

chicken breasts

14

oz

can, diced tomatoes

4

oz

can, diced chili peppers

heat level is your choice, we prefer mild

2-3

red, green yellow or orange

sliced into strips

1

onion

sliced

2

teaspoon

cumin

1

teaspoon

chili powder

½

teaspoon

garlic powder

½

teaspoon

onion power

½

teaspoon

paprika

soft flour tortillas

Toppings of choice

including but not limited to: sour cream, salsa, guacamole, and tomatillo sauce.
Instructions
add liner to slow cooker, if using

place chicken breasts in slow cooker

add peppers, onions and all spices

cover and cook on low 4-6 hours depending on your slow cooker. You can confirm that your chicken is cooked through by using a meat thermometer. Chicken needs to reach an internal temperature of 165°F to be considered safe to consume.

once chicken is cooked through, remove from slow cooker and slice into strips or shred

return chicken to slow cooker and mix

keep on warm until ready to serve

serve with flour tortillas and your choice of toppings including, but not limited to, shredded cheese, sour cream, guacamole, salsa verde
Nutrition
Calories:
182
kcal
|
Carbohydrates:
21
g
|
Protein:
19
g
|
Fat:
3
g
|
Saturated Fat:
1
g
|
Polyunsaturated Fat:
1
g
|
Monounsaturated Fat:
1
g
|
Trans Fat:
1
g
|
Cholesterol:
48
mg
|
Sodium:
120
mg
|
Potassium:
889
mg
|
Fiber:
7
g
|
Sugar:
12
g
|
Vitamin A:
6469
IU
|
Vitamin C:
66
mg
|
Calcium:
47
mg
|
Iron:
3
mg
Check out our latest on Instagram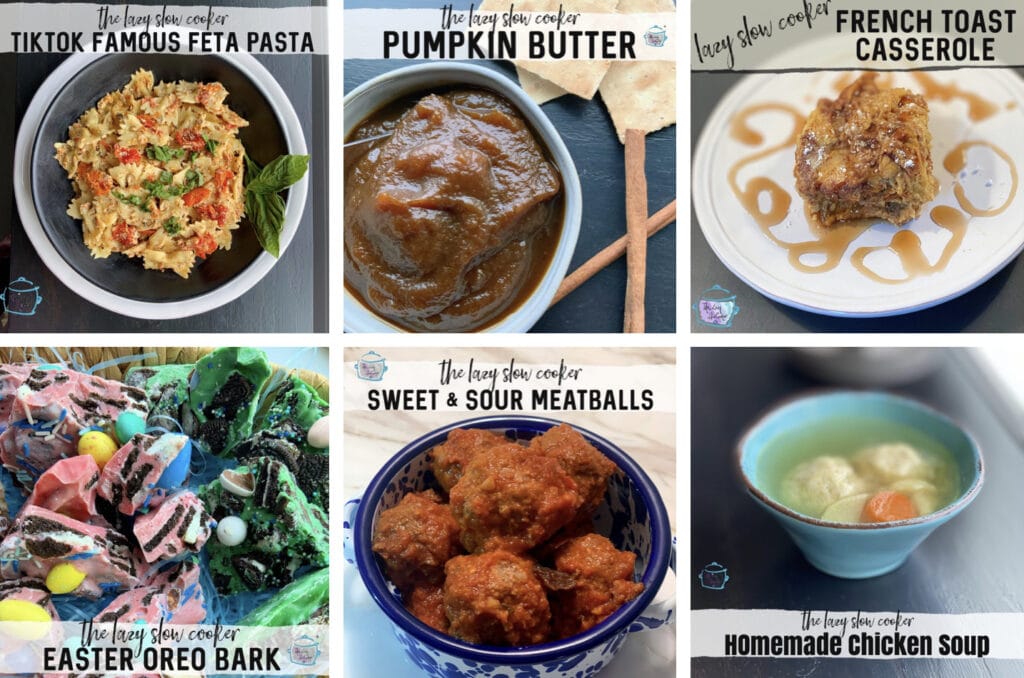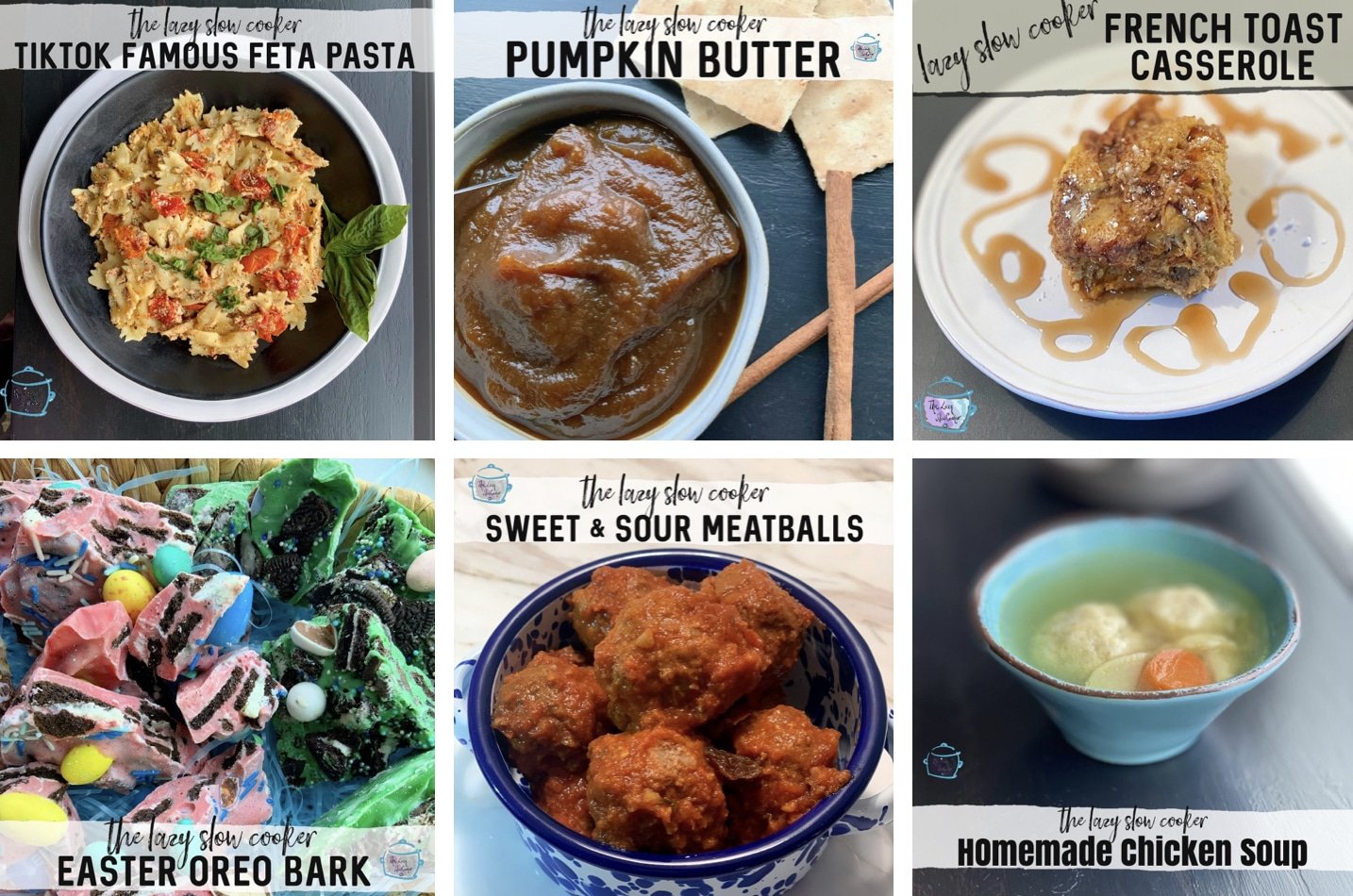 Have you tried this recipe? We would love to hear your thoughts in the comment section below.