Have breakfast waiting for you when you wake up with Lazy Overnight Chocolate Chip Cookie Dough Oatmeal
Jump to Recipe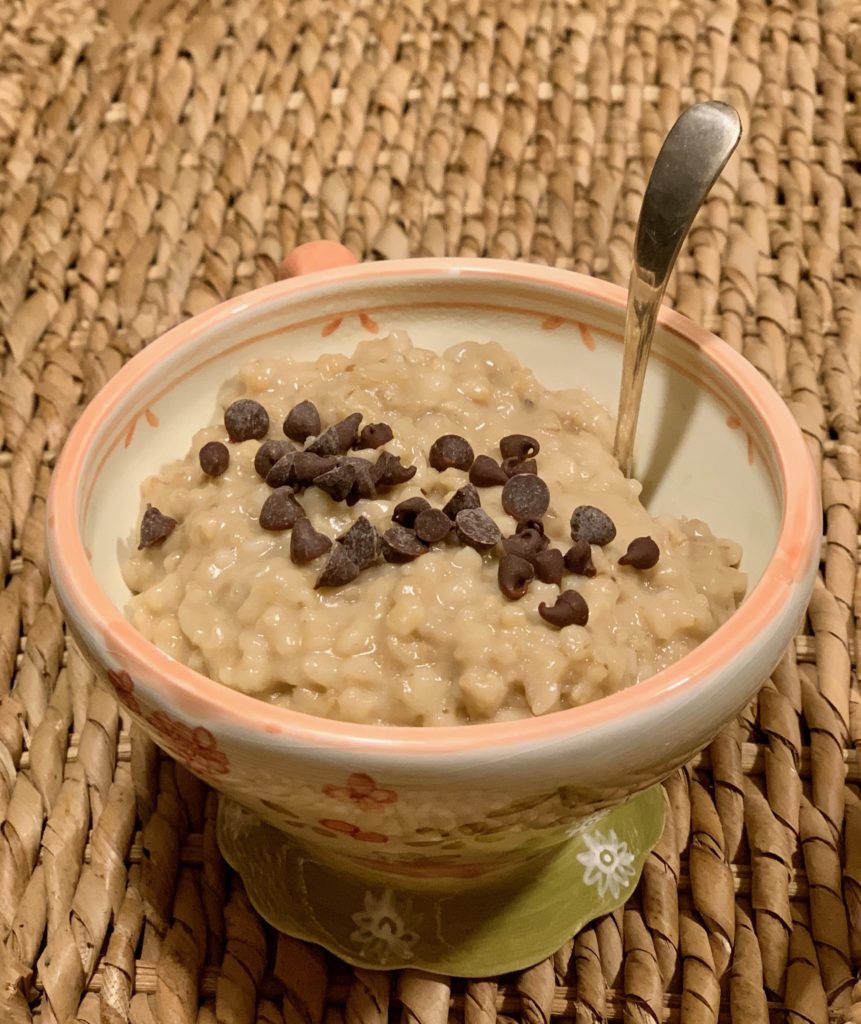 I love chocolate. I mean - I really, really love chocolate! And, as far as I am concerned, chocolate chip cookies are pretty much about as close to perfection as possible. In fact, I would argue that they are the true Superfood. After all, they contribute way more to my mental well-being than any kale or blueberries ever could.
Fun fact about me: before the internet was a household given, (does anyone out there remember that?) I owned a mail-order chocolate chip cookie business. During the holidays, I worked around the clock and ate only cookies to sustain myself.
Every job has its perks! It was not the healthiest time in my life, but I always had a smile on my face!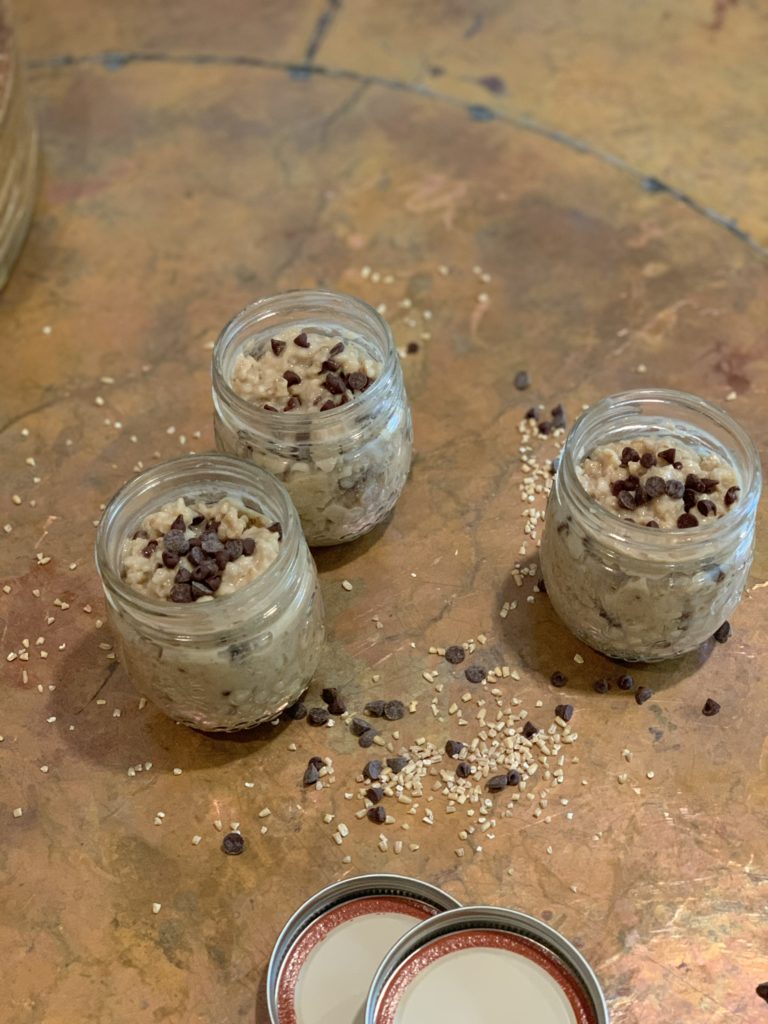 This recipe takes me back to that time, but with a healthier twist. It is great to make for yourself, but it is also the perfect dish to serve overnight guests. Just toss the ingredients into your slow cooker before heading off to bed.
It is healthy, tasty, wholesome and who is going to turn down anything with the name "chocolate chip cookie dough" in it?
Overnight Oatmeal Hacks:
Despite its name, this is not an overly sweet dish. So, you may want to keep some sweetener nearby for any guest who wants to dial up the sweet a bit. Adding bananas can help to sweeten it up in a healthy way.
While cooking, this can form a thin skin on top. You can scoop it off and toss it out if you like, but if you stir it, it will dissolve right back in.
I always recommend a slow cooker liner for easy clean up. This is, of course an optional step.
This recipe calls for steel cut oats. I have not tried it with any other kind of oats.
Looking to up the nutritional value of this dish? Try adding some flax seeds into the mix!
This dish stores really well in the fridge for about 5 days or so. I like to store it in breakfast sized containers so that I can make it once and be set for the week. It tastes great cold too!
I prefer to make this recipe sugar free. My favorite non-sugar sweetener is Swerve. Click here to read more about it.
Be sure to let your oatmeal cool a bit before attempting to stir in chocolate chips. If oatmeal is too hot, they will melt and you will have chocolate cookie dough overnight oats instead of chocolate chip (although that's not necessarily bad!!) If you want to keep it sugar free, I like Enjoy Live Brand.
As an Amazon Associate, I earn from qualifying purchases.
Looking for other slow cooker breakfast suggestions?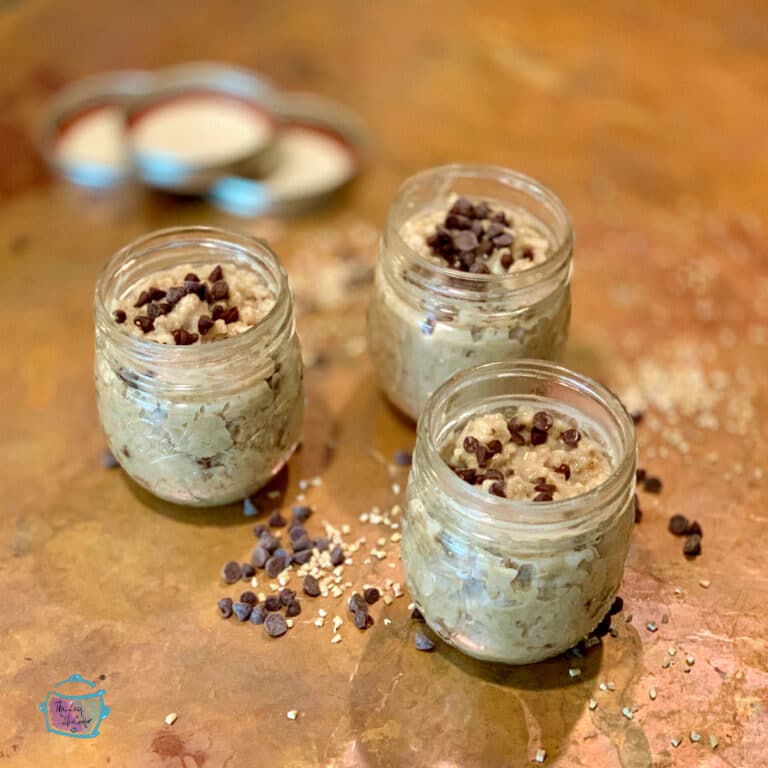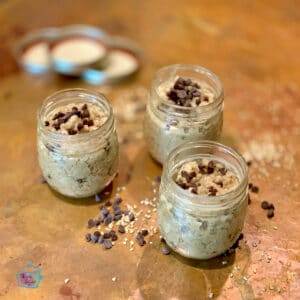 Lazy Chocolate Chip Cookie Dough Overnight Oats
Easy oatmeal that cooks overnight in your slow cooker. Dairy free and sugar free instructions included
Print
Pin
Rate
Save
Saved!
Ingredients
1

cup

steel cut oats

4

cups

milk of choice

I use cashew/almond milk

¼

cup

butter or butter like product of choice

I use Smart Balance Olive Oil buttery spread

⅓

cup

brown sugar of choice

I am a huge fan of Swerve (see "hacks" above for link)

1

tablespoon

pure maple syrup

1

teaspoon

vanilla

pinch

salt

mini chocolate chips (personal preference on just how much to add!)

If you want to keep it sugar free choose sugar free chocolate chips. (see hacks for a suggestion). Calories per serving were estimated assuming ¼ cup of mini chocolate chips were used
Instructions
line slow cooker with liner (optional)

add butter (or alternative), sugar (or alternative), maple syrup, vanilla and salt

pour milk (or alternative) over top of other ingredients and gently stir. ingredients will not fully mix at this point

set slow cooker on warm for up to 12 hours

remove some oats from pot an let cook a bit if you don't want your chocolate chips to fully melt right in. Add chocolate chips to taste (for me, that means by the handful!) and stir. Then add some more chocolate chips on top!

Store leftovers in refrigerator up to 5 days in a sealed container
Notes
Ingredient swapping notes:
This recipe calls for milk. You can use dairy, lactose free, almond, oat or any other "milk" of your choosing. I use cashew-almond milk.
One of the listed ingredients is butter or a butter like product. I use Smart Balance Olive Oil spread
One of the sweeteners says " brown sugar of choice". I have made this recipe with actual granulated sugar and with Swerve (which is erythritol and is a one for one substitute with actual brown sugar). I am imagine this would taste great with some of the other sweeteners on the market, however, it may change the consistency somewhat since different measurements would have to be used.
Calories per serving are based up my using the ingredients I indicated I have used and ¼ cup chocolate chips.
Nutrition
Calories:
377
kcal
|
Carbohydrates:
49
g
|
Protein:
8
g
|
Fat:
17
g
|
Saturated Fat:
3
g
|
Polyunsaturated Fat:
4
g
|
Monounsaturated Fat:
7
g
|
Sodium:
464
mg
|
Potassium:
43
mg
|
Fiber:
5
g
|
Sugar:
21
g
|
Vitamin A:
507
IU
|
Vitamin C:
1
mg
|
Calcium:
345
mg
|
Iron:
2
mg
Check out my latest on Instagram