The easiest way to make delicious chicken pho
Jump to Recipe
Not sure exactly why, but the idea of attempting to make pho always intimidated me. Somehow I felt that all the delicious flavor had to the be the result of some ancient cultural magic I was not privy too. When I combined that with the idea of trying to translate it into an easy and workable slow cooker recipe, I shied away. I just couldn't imagine being able to figure it all out.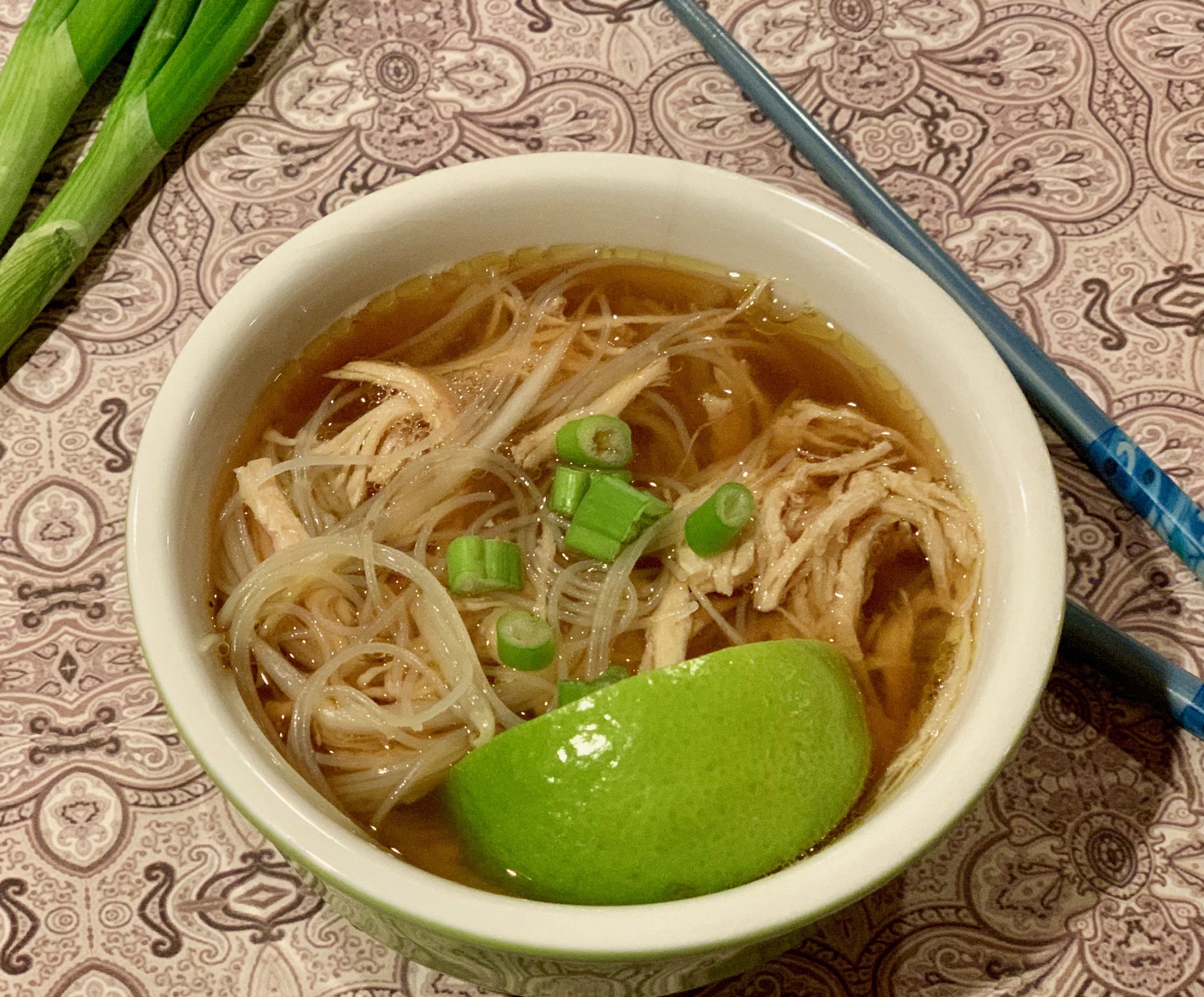 But ultimately, curiosity got the best of me. So, I decided to do some research and conducts some trials. The result: this delicious and quite easy recipe. No ancient magic involved. At least not in my version. Can't speak for what happen in the kitchens of some of the restaurants that make this delicious soup....
Either way, I feel confident saying that this is the easiest way to make delicious chicken pho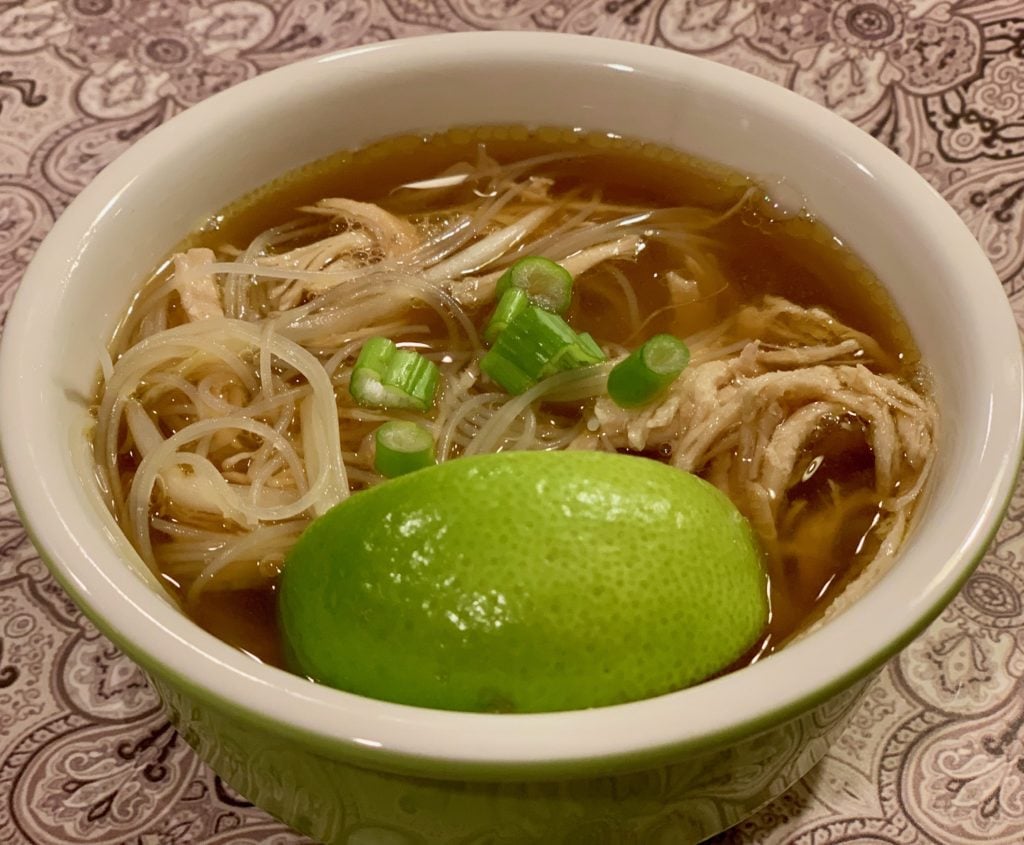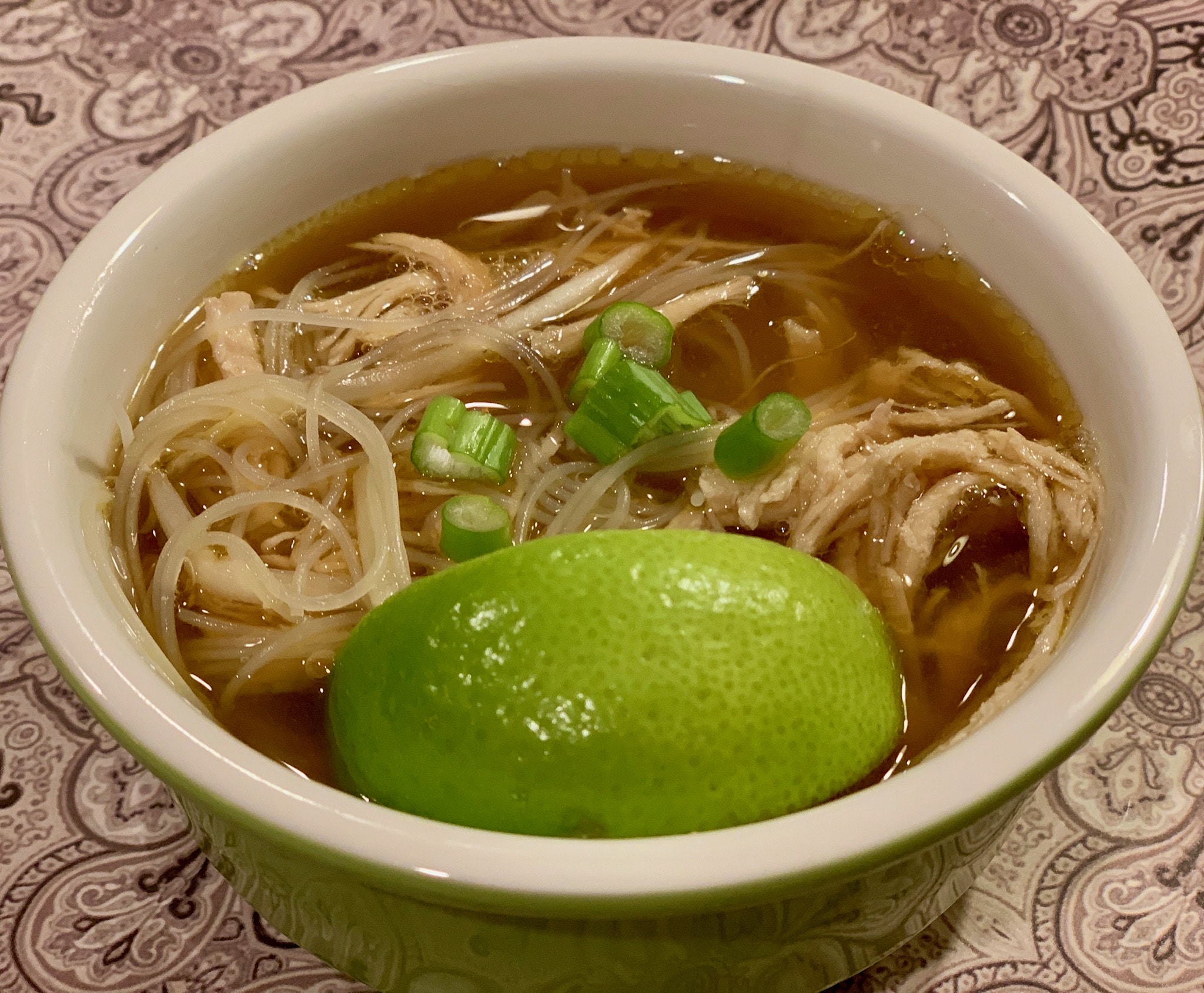 Lazy Slow Cooker Chicken Pho Hacks
In keeping with my usual lazy self, I put frozen chicken breasts right from the freezer into my slow cooker. Some people have expressed concern about the chicken fully cooked this way. I have never had an issue with it, but to be on the safe side, it is always best to have a meat thermometer on hand. Chicken must reach an internal temperature of 165 degrees before it is considered safe to eat. You can find my favorite meat thermometer here. There are even slow cookers out there that come with built-in thermometers which will automatically switch your slow cooker to the warm setting once your meat has reached its desired internal temperature! Click here to see. I don't have one of these (just mentioning that in case anyone wants to buy me a gift 😂😂).
I like to use frozen prechopped onion. Just recently, I realized that this is available in the frozen vegetable section of the market, and (at my store) it was less expensive than fresh onion. Plus...no tears were involved! 😉
This recipe calls for dried shiitake mushrooms. Allowing them to re-hydrate right in the broth while it cooks adds an intense, earthy flavor. The mushrooms I used were so huge, that I wound up removing some of them from the finished product. The rest I cut up into smaller pieces.
This recipe calls for the cooked chicken breasts to be shredded after cooking. I prefer to shred with two large forks. I have read about some interesting alternative methods, though. One involved a potato masher. The other used the beaters on a hand held mixer. If you have any thoughts on this, please comment below. I am curious!
As an Amazon Associate, I earn from qualifying purchases and affiliate links.
📖 Recipe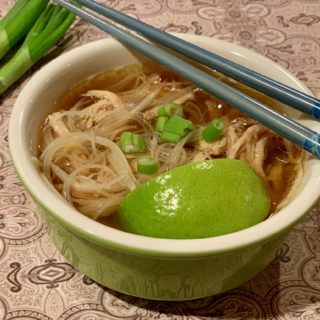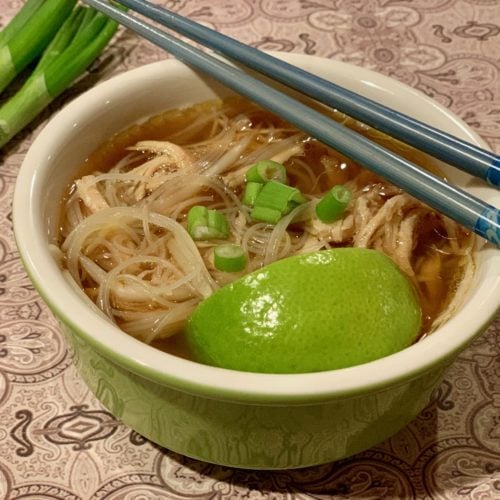 Lazy Slow Cooker Chicken Pho
Easy slow cooker Chicken pho is made of warm golden chicken broth, rice noodles and bean sprouts
Print
Pin
Rate
Save
Saved!
Equipment
6 qt or larger slow cooker
Ingredients
8

cups

chicken or bone broth

2

boneless, skinless chicken breasts

½

cup

chopped onion

1

oz

dried shiitake mushroom

1

tablespoon

mined garlic

1½

tablespoon

fish sauce

3

oz

rice sticks or thin rice noodles

1

teaspoon

dried Thai basil

8

oz

bean sprouts

salt and pepper

to taste if needed

chopped scallions

lime wedge
Instructions
I always use a slow cooker liner first to save on clean up

Stir to submerge mushrooms

Cook on low for 7 - 8 hours

Remove chicken from pot, shred and return to pot

If your mushrooms are overpowering the soup (as mine were) you can remove some at this point. If they are in large pieces, I would suggest cutting them in to smaller pieces.

Add noodles and bean sprouts for last half hour or so of cooking.
Nutrition
Check out my latest on Instagram