The easiest way to make lentil soup with hot dogs
Jump to Recipe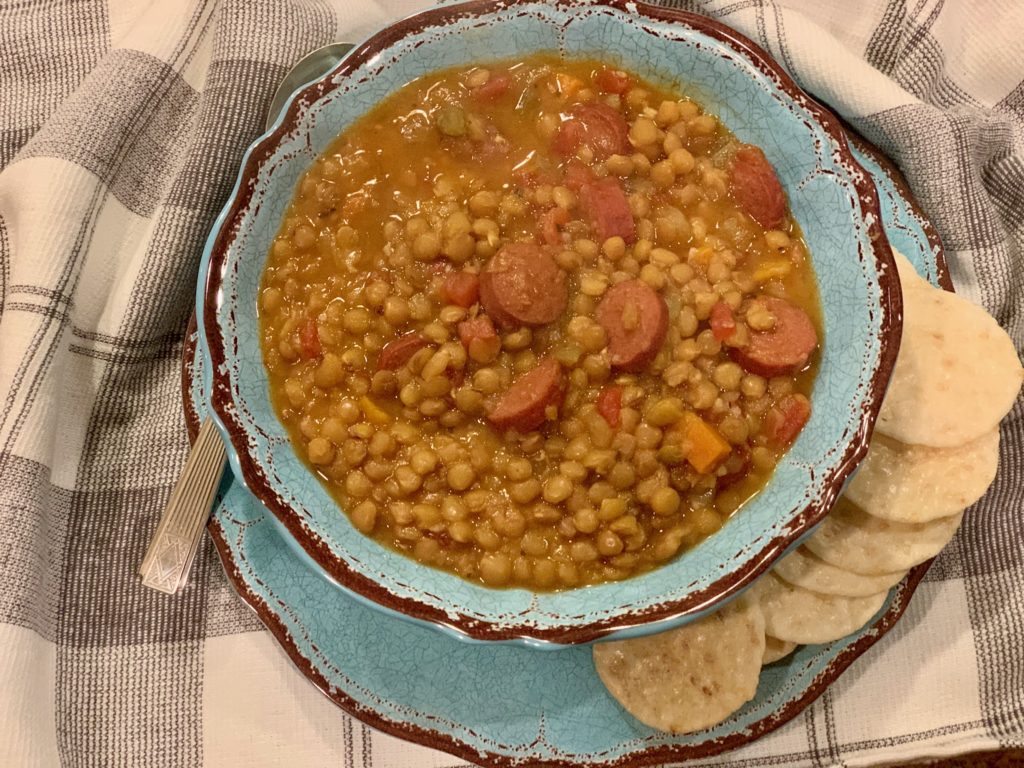 Every now and then, when I am feeling inclusive, I will ask The Team if they have any dinner requests. When Mr. Wonderful first suggested I try making lentil soup with hot dogs, I thought he was joking.
Lentil soup to me is a warm and filling meal worthy of a snowy day. Hot dogs are something you eat at the ballpark in the summer. In my mind, they were completely incompatible and I sort of laughed him off. However, he was pretty insistent that this was a combo worthy of trying.
So, I did some research, tried some different combinations, and ultimately came up with a recipe that won the approval of the team. The hot dogs actually add a really interesting flavor and texture to the soup. I am sold! And, of course, the recipe below is the absolute easiest way to make lentil soup with hot dogs. A win-win for sure!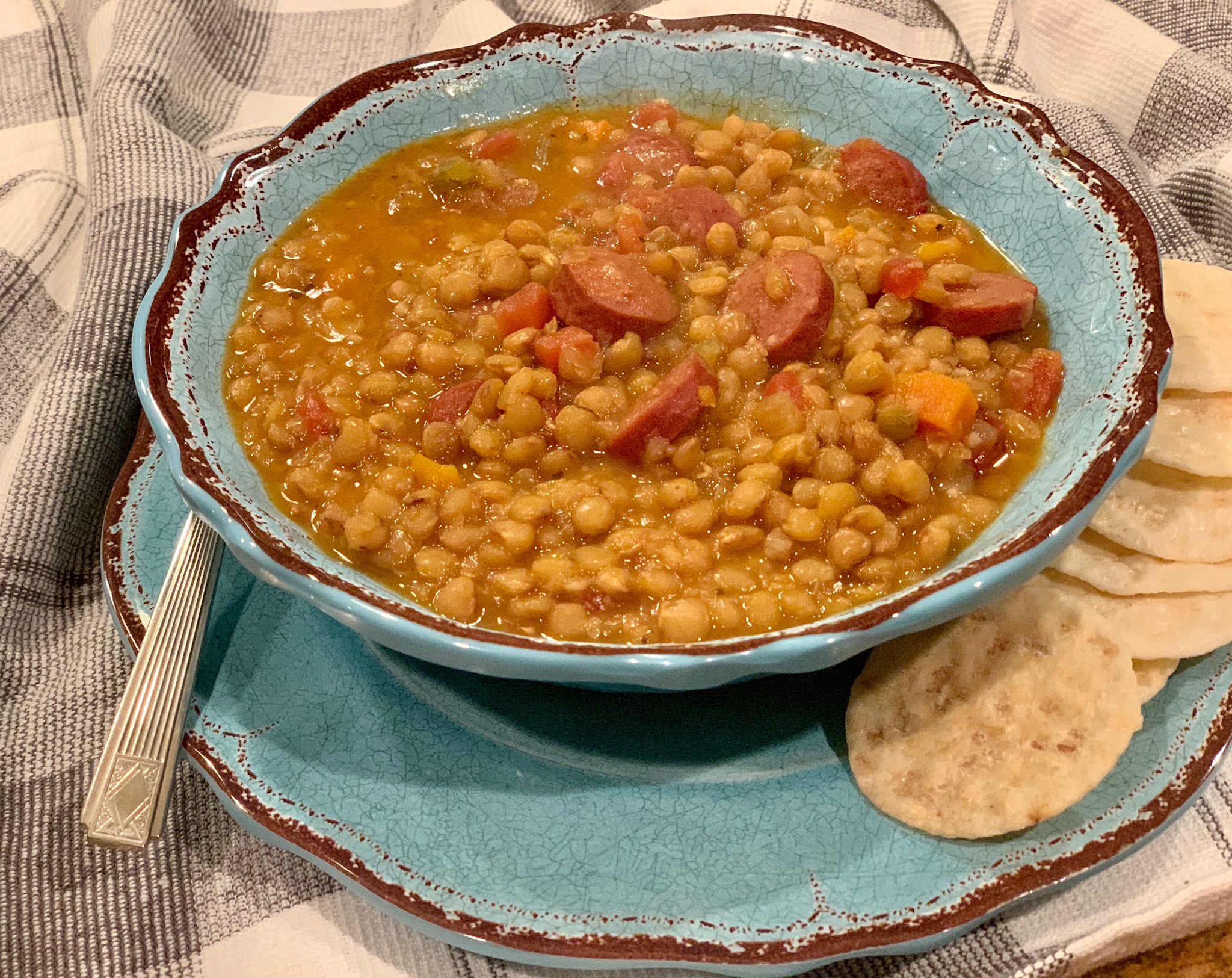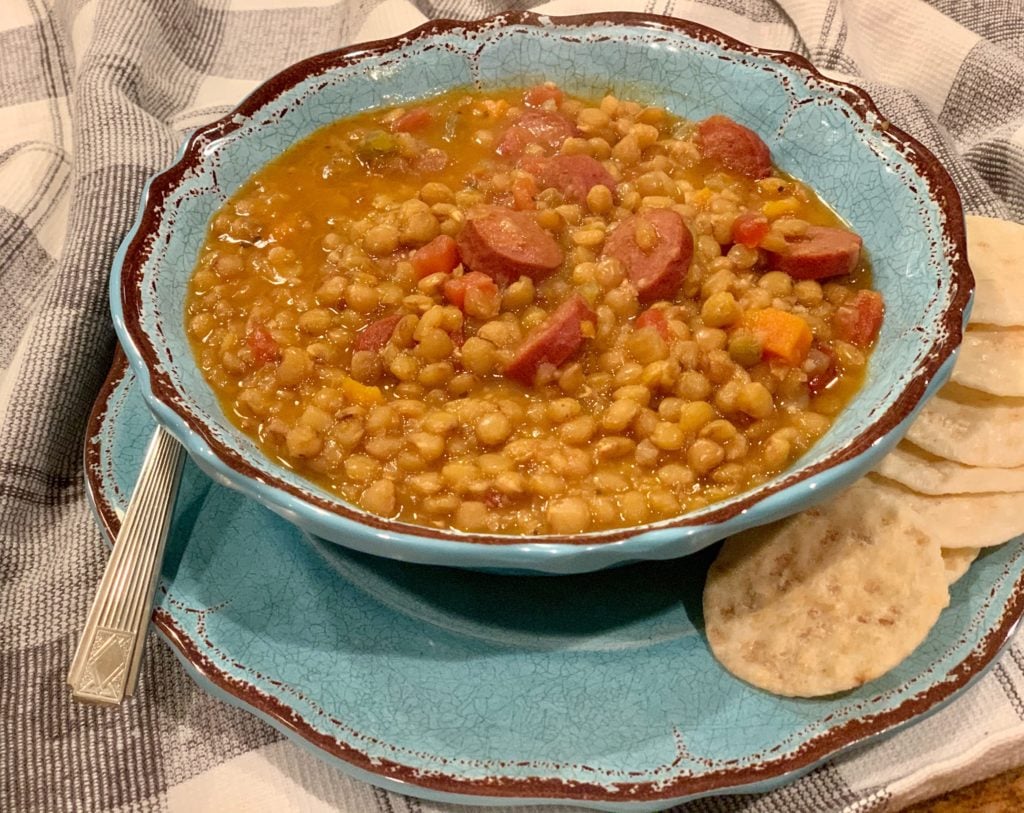 Lazy Lentil Hot Dog Soup Hacks:
Lentils are inexpensive and easy to find in most markets. Make sure that prior to placing them in your pot, you rinse them thoroughly. Sometimes rocks can sneak into your package of lentils during the harvesting process. No one wants to eat rocks! I use a colander to sort and rinse the beans prior to cooking,
I am a fan of Hebrew National all-beef hot dogs and I feel they mesh really well with this recipe.
Due to various team member preferences, I generally don't make anything overly spicy. (However, at least one member of the team is always adding hot sauce to whatever I put on the table.) This recipe calls for some hot pepper sauce during the cooking process. My favorite is Tabasco's green sauce. It give the flavor of pepper sauce without over doing it. As I regularly remind my spice-loving Number One: you can always add spice, but you can't take it away.
To keep this as lazy as possible, I used a bag of frozen mirepoix. I almost always keep at least one of these in my freezer. They are readily available in the frozen veggie section at the market. I also often make my own by cutting up fresh, but older, veggies and freezing them rather than letting them go bad. In the recipe below, I include this info as well as the fresh equivalent if you prefer that route.
I am a huge fan of buying garlic that has already been minced. My favorite is Spice World
As always, I suggest using a slow cooker liner for easiest clean up.
Love the dishes pictured? I do and the best part is they are melamine. Great for indoor/outdoor entertaining! If you are interested in learning more about them, you can contact my friends at The Tempting Table.
As an Amazon Associate, I earn from qualifying purchases and affiliate links.
📖 Recipe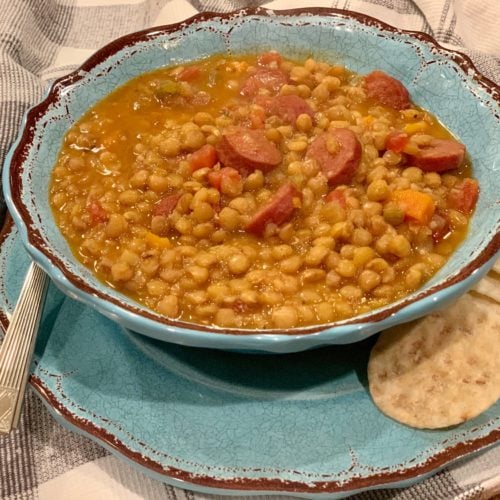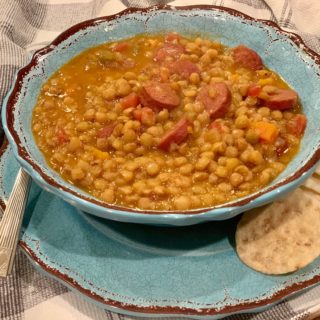 Ingredients
2

cups

lentils

Use strainer to rinse, sort and remove any stones

6

cups

chicken stock or broth

1

14 oz can

diced tomato

1

12 oz bag

frozen mierpoix

fresh equivalent= 1 small onion, 2 carrots and 2 celery stalks, chopped

1

tablespoon

minced garlic

2

teaspoon

salt

optional

½

teaspoon

pepper

1

teaspoon

Worcestershire sauce

½

teaspoon

hot pepper sauce

I like Tabasco green sauce. Not too hot.

1

Bay leaf

4

jumbo

Hot dogs, sliced

I am a fan of Hebrew National, all beef dogs
Instructions
Nutrition
Check out my latest on Instagram