Jump to Recipe
Delicious crockpot pepper steak is an easy recipe that turns any cut of beef into a delicious meal. Red, yellow and green peppers slow cooked together with beef allowing the flavors to meld into a savory delight!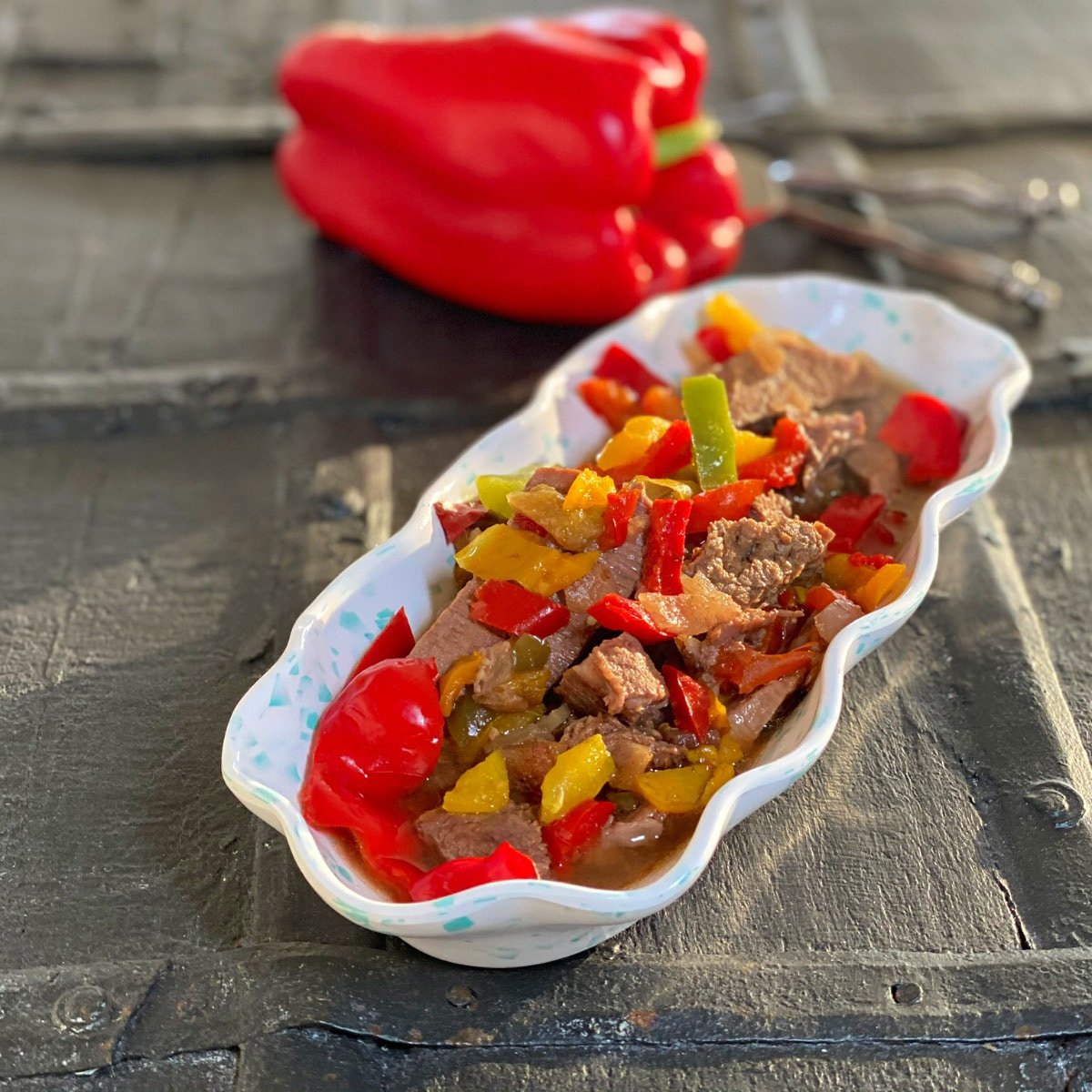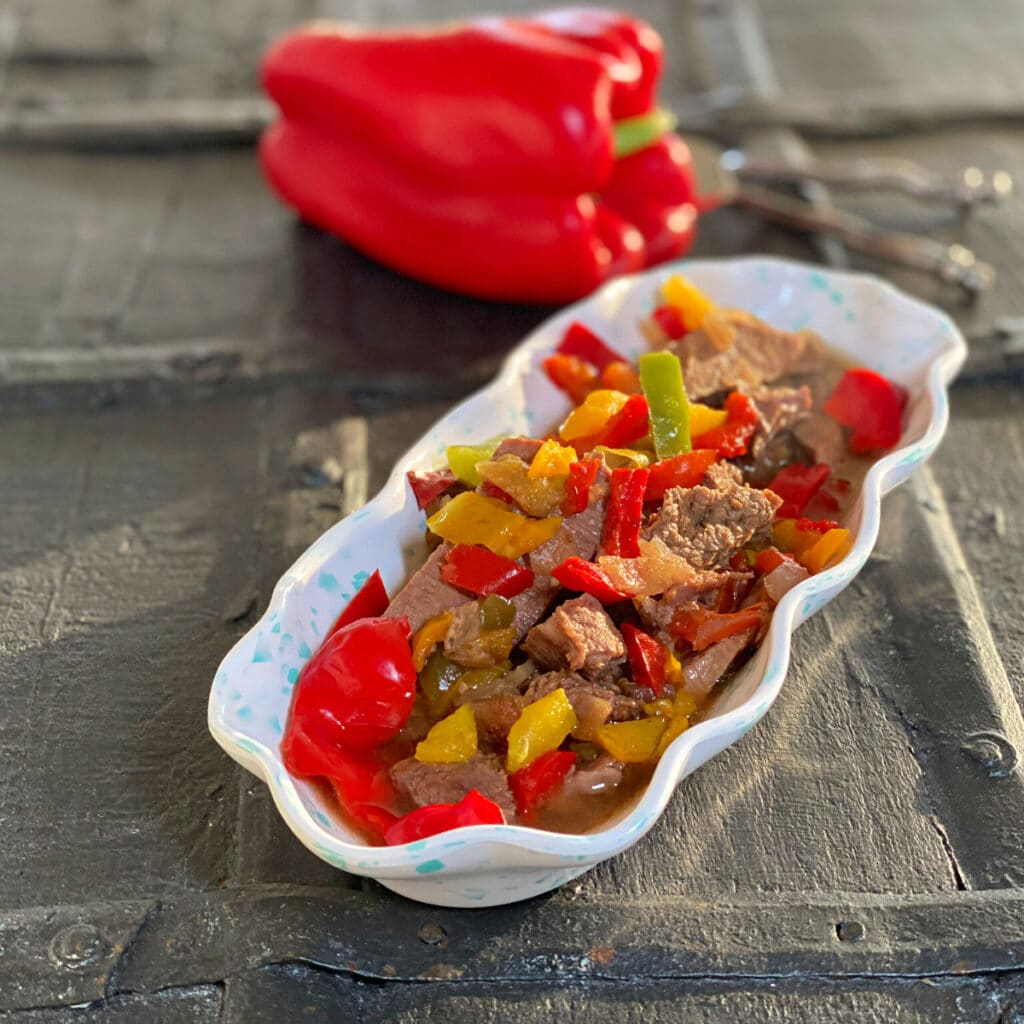 You can't always get what you want! Famous words to a famous song and so true. This recipe was born during a time when I couldn't get the cut of beef I wanted. All I was able to find was eye of round roast steaks and chuck steaks. Both were cuts of meat that I had never developed recipes for, but that I knew would do well cooked low and slow. Luckily, I love to experiment and I wound up with a delicious dinner that has made its way into our regular meal rotation!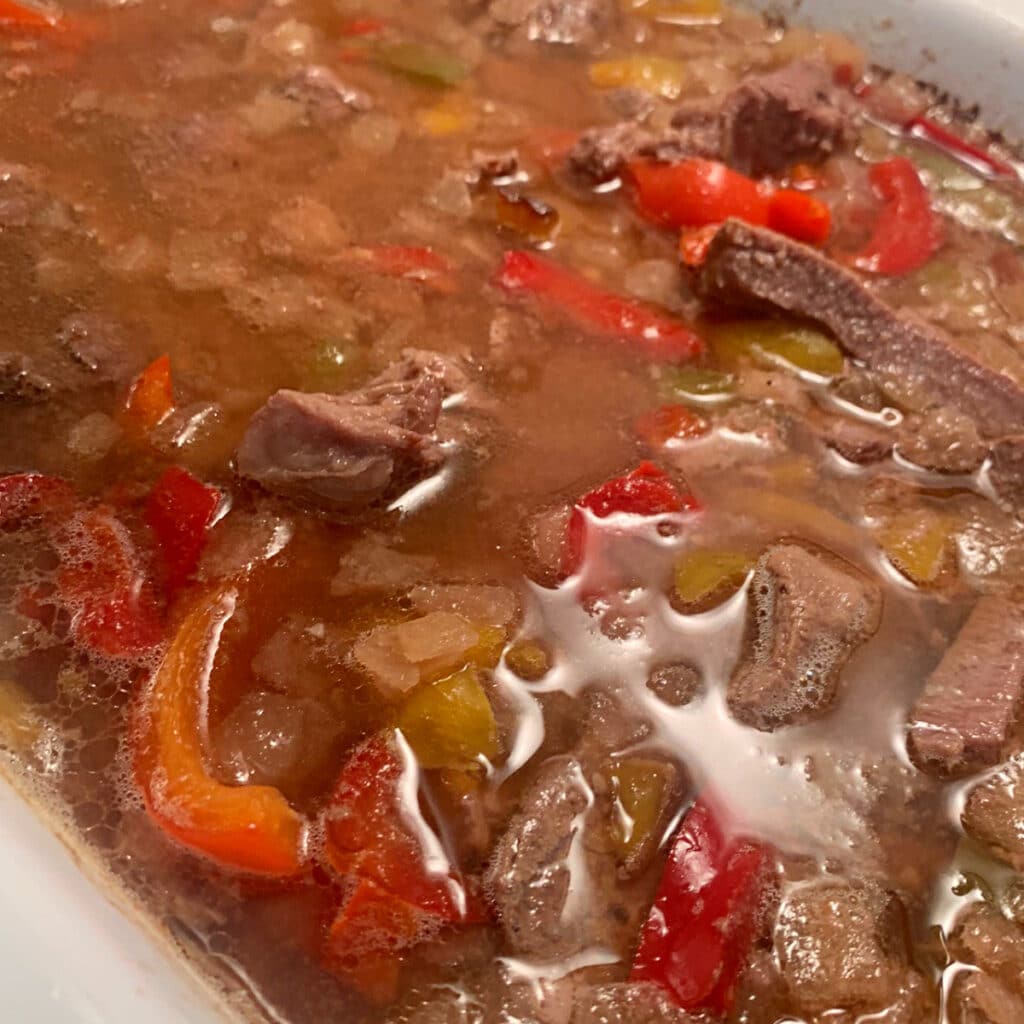 How To Make This Easy Slow Cooker Steak Dish
Beef
Buying beef that is already cut into strips, would be the easiest way to make this dish. Stew meat would work as well. Alternatively, you can do what I did: cook the full beef steaks according to this recipe and then cut them into strips. All of these options will taste equally delicious, so go for whatever works best for your time and financial budget
Peppers
Just because you are cutting beef strips, doesn't mean you have to cut tons of veggies too! I prefer to use frozen red, yellow and green pepper strips. These are readily available in the frozen veggie aisle of your market and are delicious!! If you prefer cutting fresh, that works equally well! The peppers in this recipe add a lot of flavor to the dish. When possible, use all different colors to help add to the varied flavors. Both frozen and fresh pepper strips work interchangeably here. In fact, I have even occasionally used both in the same dish, depending on what I had on hand.
All Other Ingredients
onion
soy sauce
ground ginger
minced garlic
brown sugar
black pepper
potato flakes (optional)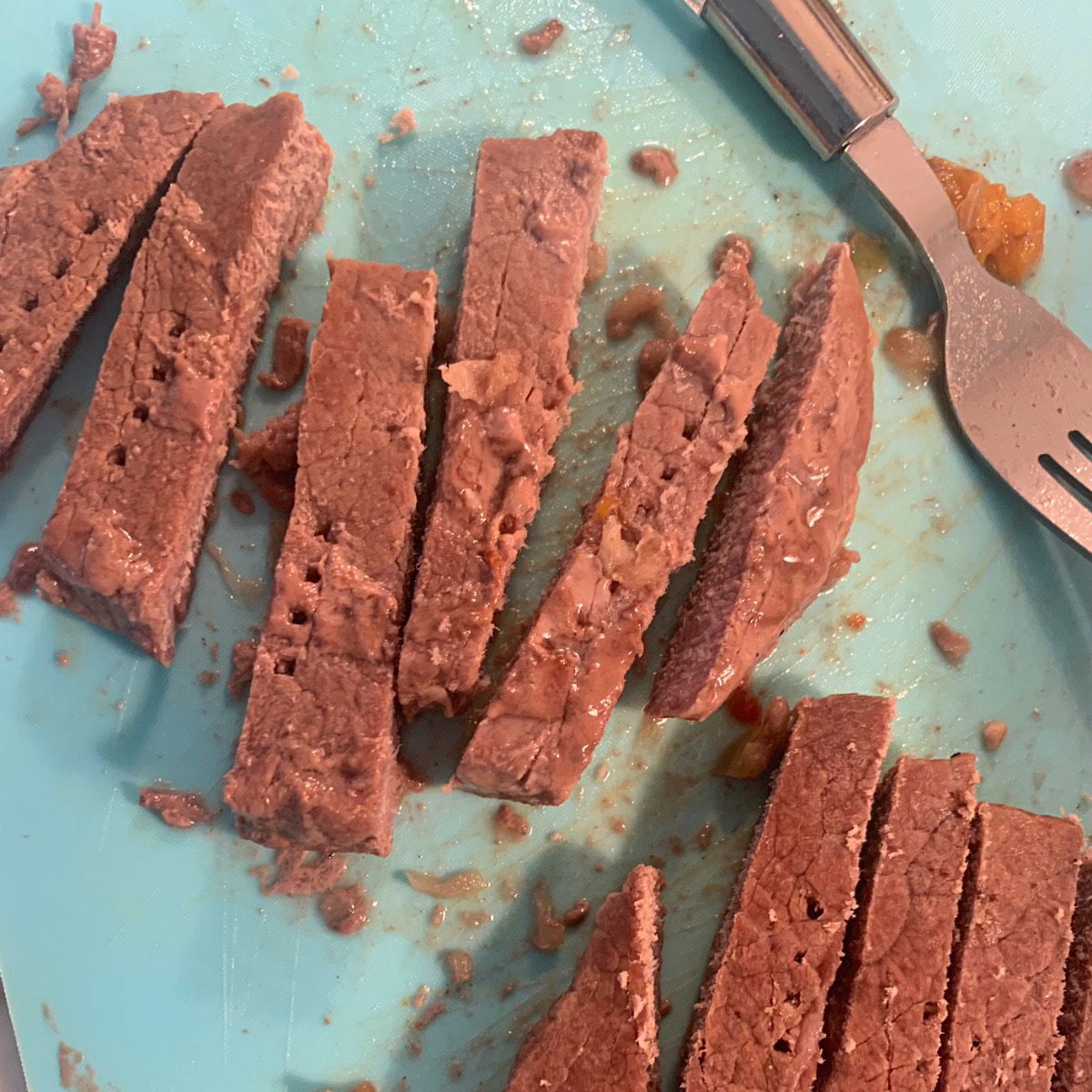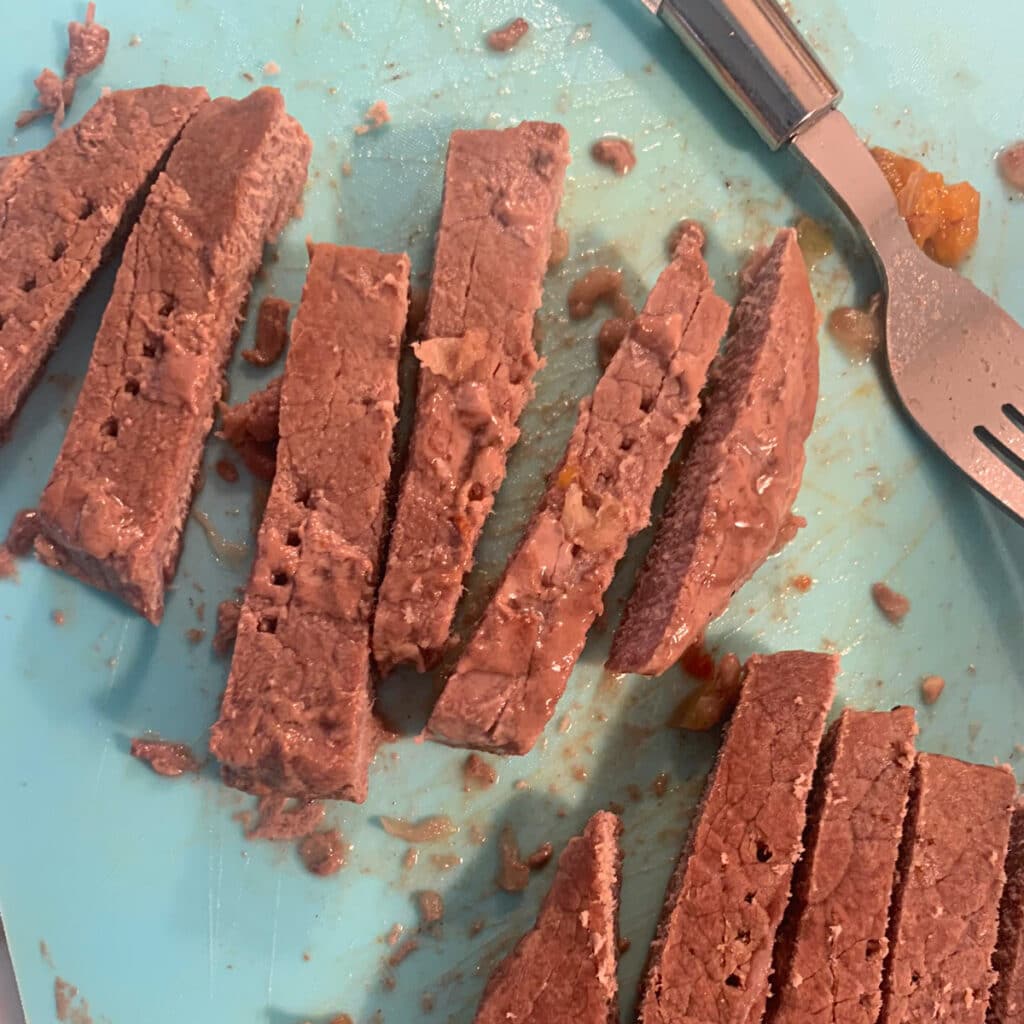 In order to dirty as few dishes as possible, add all ingredients other than the beef and peppers to the slow cooker and stir to mix. Next carefully place the steaks into the liquid in the slow cooker making sure the meat is as submerged as possible. Last add the peppers on top and cover with the slow cooker lid. Now, you can go relax/work/jog while your slow cooker does the rest!
Hints and Hacks
This pepper steak recipe is great if your people will be eating at different times. After the cooking time, turn your slow cooker to low and everyone can have a warm and filling meal, no matter what time they are ready to eat.
This slow cooker recipe calls for chopped onions. To keep things as lazy as possible, I purchase these pre-cut. They are very inexpensive and generally readily available in the frozen vegetable section of your grocery store. This saves a lot of tears!
One of the listed ingredients is potato flakes. While these are technically dehydrated potatoes that become mashed potatoes when mixed with water, they also make for a great, gluten free thickening agent. Just mix one tablespoon at a time into the sauce at the bottom of your pot until desired thickness is reached. This is an optional step and does not affect the taste of the dish.
I always recommend the use of a slow cooker liner. This is, of course, an optional step. I like to purchase my liners in bulk for a less expensive per-piece price. Here are the liners I buy.
In the market for a new slow cooker? Here is the one I am currently lusting after.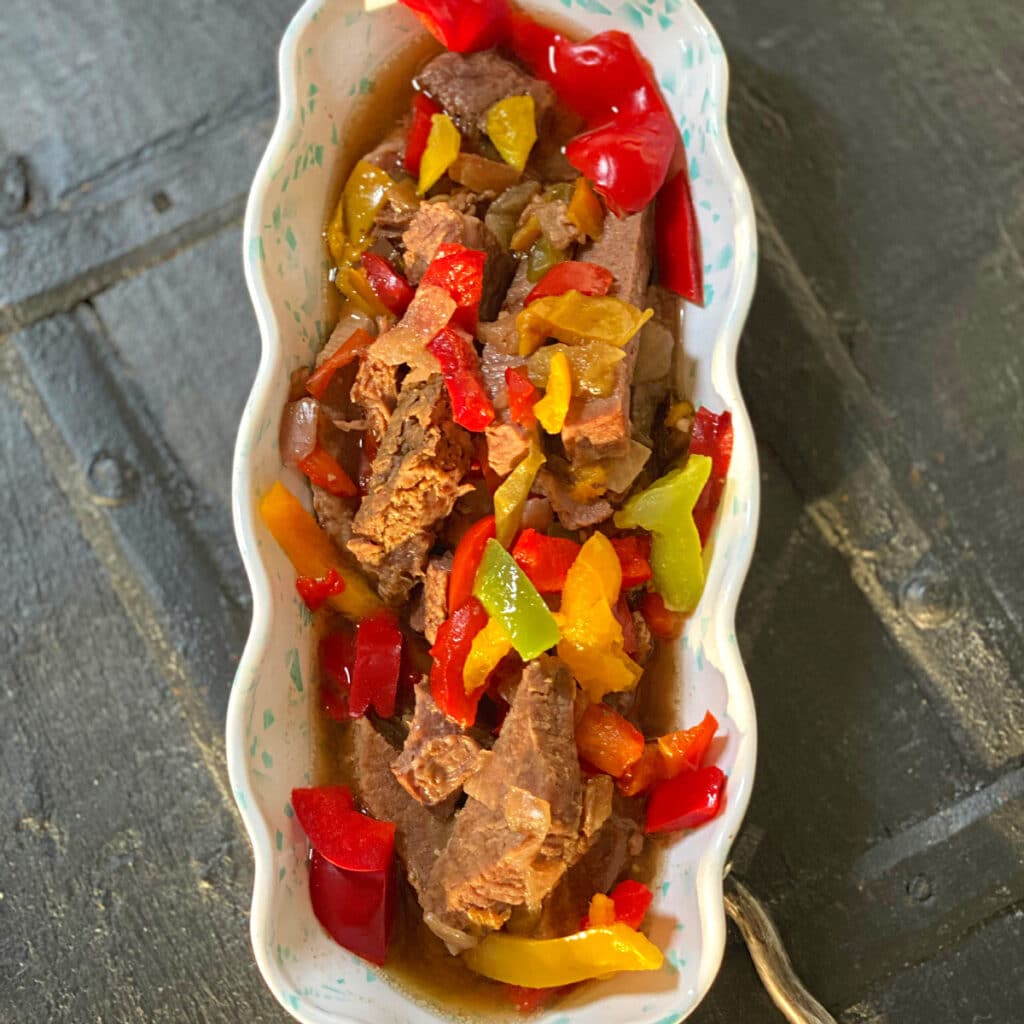 What to Serve With This Easy Beef Dish
The sauce generated by this pepper steak recipe is so delicious you won't want to miss a drop. To be able to enjoy as much of it is possible, serve with a side dish that will absorb some of the sauce. Mashed potatoes, rice, riced cauliflower and mashed cauliflower would all work really well with this delicious entree. It is also delicious stuffed inside of a baked potato!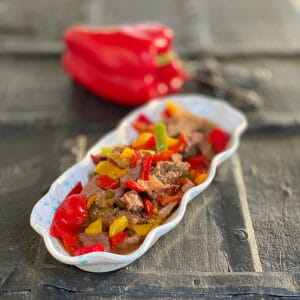 Lazy Slow Cooker Pepper Steak
Delicious crockpot pepper steak is an easy recipe that turns any cut of beef into an amazing meal. Red, yellow and green peppers slow cooked together with beef strips meld together into a savory delight.
Print
Pin
Rate
Save
Saved!
Equipment
3.5 quart slow cooker or larger

Knife and cutting board
Ingredients
2

lb

beef strips or stew meat or steak cuts that can be cut into strips

I have made this with both eye of round roast steaks and chuck steaks

2

cups

beef stock

14

oz

yellow, red and green frozen pepper strips

if you would prefer to use fresh peppers - 1 large pepper of each color, cut into strips

1

cup

diced onion

frozen works here as well

¼

cup

low sodium soy sauce

for gluten free, use liquid aminos

2

teaspoon

minced garlic

2½

teaspoon

brown sugar

for sugar free, you can use a brown sugar alternative such as Swerve.

⅓

teaspoon

ground ginger

¼

teaspoon

ground black pepper
Instructions
place slow cooker liner into slow cooker, if using

add stock, onion, soy sauce (or alternative), ginger, garlic, brown sugar and black pepper to slow cooker and stir

place beef into slow cooker

cover and cook on low 8-10 hours

after at least 6 hours, remove beef (if it is not already cut) and cut into strips, then return to slow cooker mixture and finish cooking.
Nutrition
More Asian Inspired Dishes You Will Love!
Check Out Our Facebook Page For More Slow Cooker Recipes!!